A Berkshire Boar has its fat marbled throughout which makes the meat so desirable!
The flavour of the fat is another reason this boar is so sought after.
I bought ten pounds of back fat from Alan at Irving's Farm Fresh (City Market downtown or OSFM) for $0.50 cents a pound. Yes. I got ten pounds of very tasty Berkshire Boar fat for $10.00. But, why?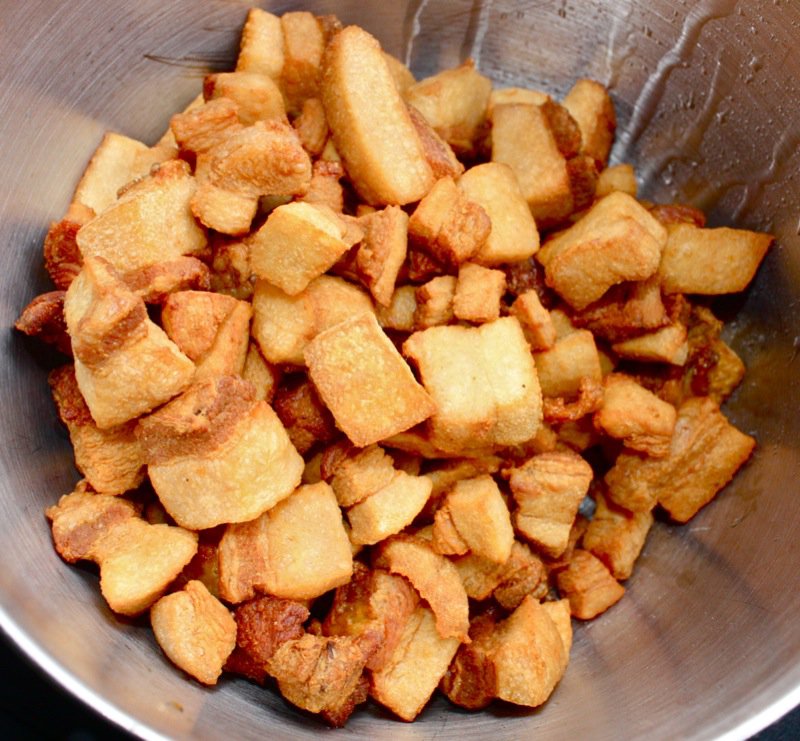 The primary reason was to confit an incredible Berkshire Boar Pork Belly (having just eaten some for dinner, I had to make my own) and I needed a truckload of the fat to do that just like you need a lot of duck fat when making duck confit. I did not want to buy manufactured lard. That thought made me a little ill. I had to render my own.
Vanja was beside himself when he say this huge bag arrive in the kitchen. His family has raised and butchered many a pig, and he definitely knew how to render the fat. But, that is not why he was jubilant. It was because of the by product created through the rendering process. The crispy cracklin' tidbits that are fried into golden heaven when salt is added are called čvarci in his country and like candy to every child from the Balkans. Hungary, and maybe even the entire Eastern Block.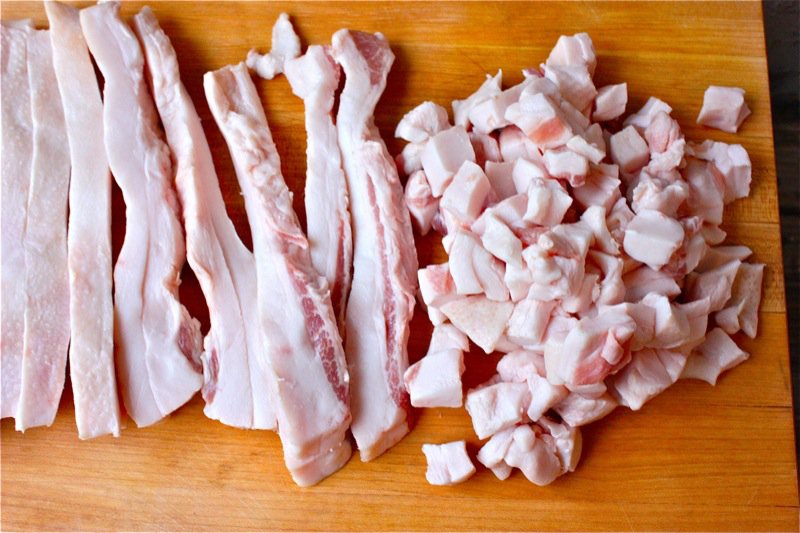 Because of the love for čvarci, the fat used for rendering is traditionally a bit meatier than what I got from Allan so that more meat is threaded throughout the cracklin' bits. Vanja was disappointed there was such a little bit of meat. I wasn't, but, in the future, I will ask for a "meatier" chunk of fat to please my partner who loves his country food and misses these kinds of treats here.  When our friend, V, saw we had made it, he also went nuts, and he is a health fanatatic. He only had four or five bites, but he was thrilled to have them.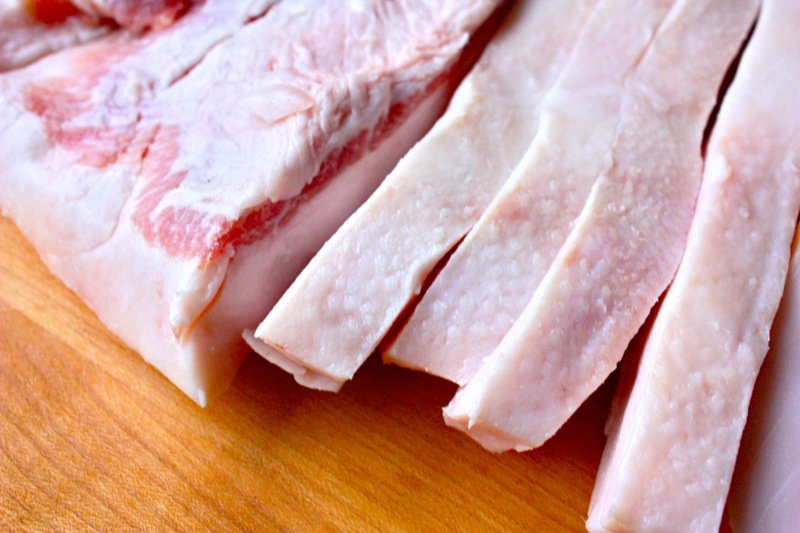 This is how Vanja cut the fat. We did one pan one night so I could learn how, and two pans the next night. I would do them all at once in my three heavy pans in the future. It took about an hour.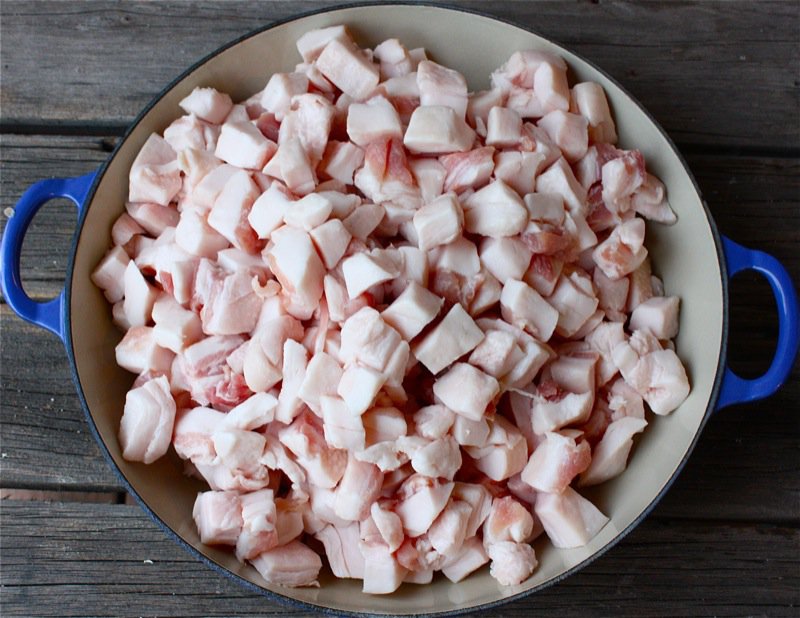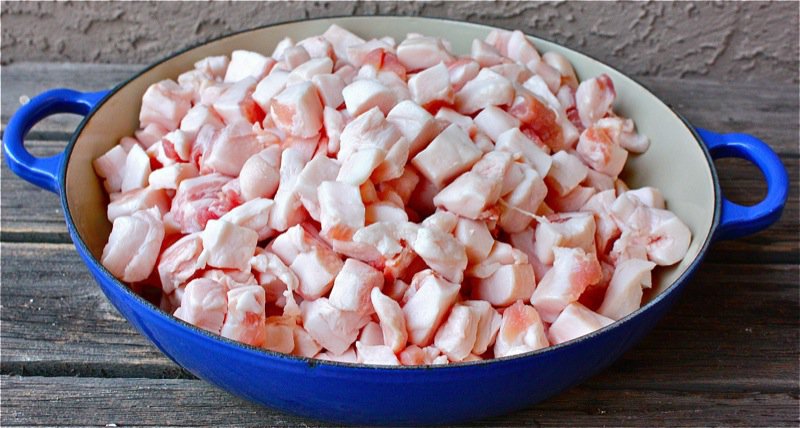 I started with the pan filled with the fat on my gas burner set to medium high heat and never left the side of the pan for a second in the beginning (about 10 minutes). I stirred every few minute (or seconds) to ensure that there was no sticking to the bottom of the pan, and no initial browning on the bottom of the pan. Once the fat started to melt, and there was a skiff of liquid fat that the bits were frying in, the heat was turned to medium and I stirred far less often. I even left the čvarci frying on their own for 10-15 minutes at the end. The key is to not let any caramelization happen in the bottom of the pan, initially. The pieces will brown, but that will not colour the fat. If the pan browns, or if the pieces stick to the pan, that will colour and flavour the fat in an undesirable fashion.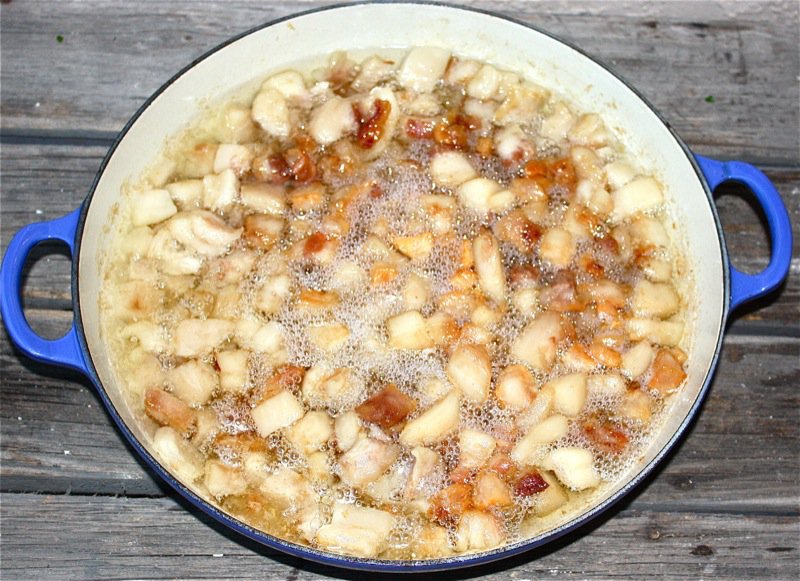 These are not quite ready., but they are close.
I was surprised how fast the process really was once it got started. It was not too messy, either, but we did the pouring outside.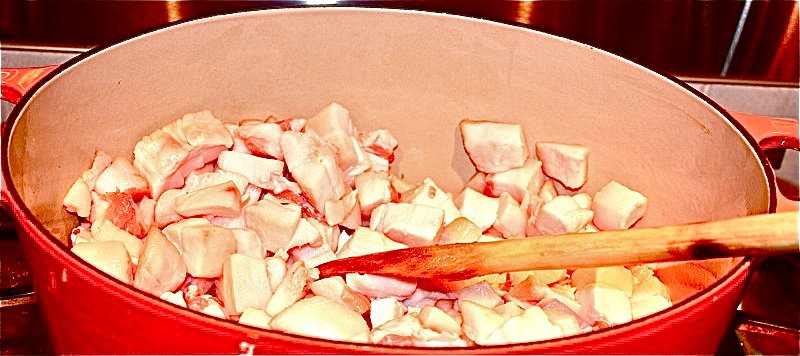 I have piled some of the pieces up for you to see, below. This pot is about half done.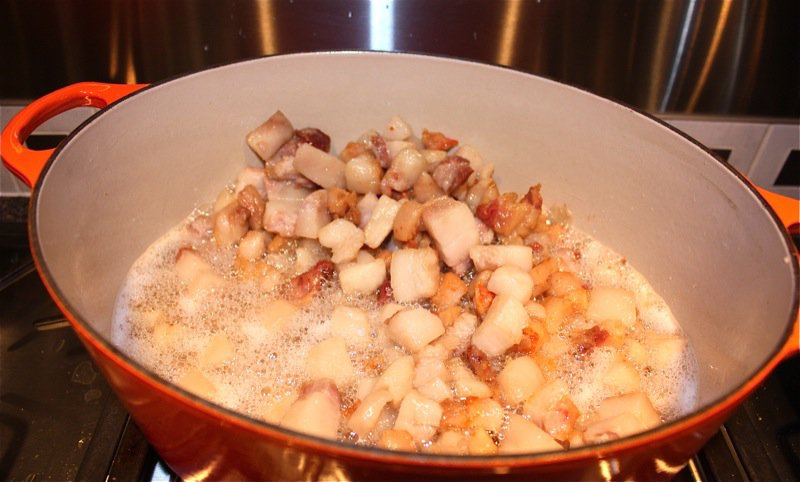 Below, the čvarci is done. You can see how lovely and golden the bits of fat finished rendering are. Vanja could barely wait for them to cool to try them.
See how clear the fat is in the pot, below?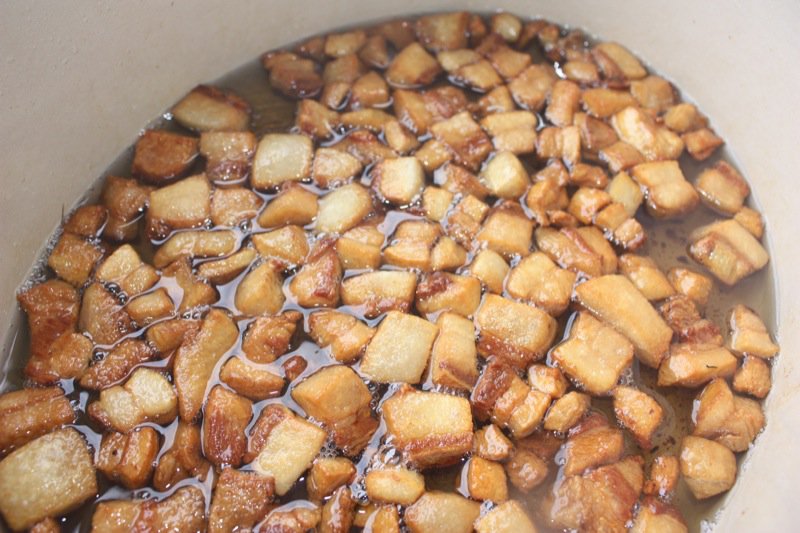 We scooped out the čvarci and  then strained the fat. Do you see the two bowls of čvarci. Vanja did the colourless bowl. I did the nice golden ones. Isn't he a great teacher?
Can you smell those crunchy, fatty, flavourful little tidbits below? Yummers! I am usually repulsed by the oozing fat in these, but have actually had some really tasty ones with meat in them that were deadly delicious. However, for years, I was disgusted by them. Vanja always bought a little bag for himself whenever we went to the Budapest Deli. They are always on the counter. That is how they came to be known as "crapola" at our house.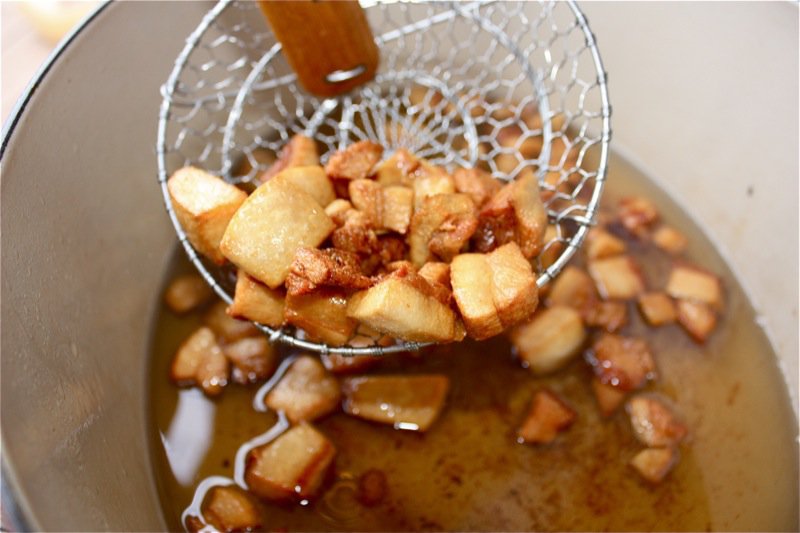 Waiting for the fat to cool a bit before straining it is a good idea.
After it is strained, into the jars it went. I like to keep my lard in jars as I find it easiest to use and store this way. Pastry lard would be better stored in blocks similar to how it is sold to enable using the same recipes, me thinks.
The reason there is some solid lard on the bottom of the jar is because I did some the day before and I am adding to it now. Look at the beautiful clear fat.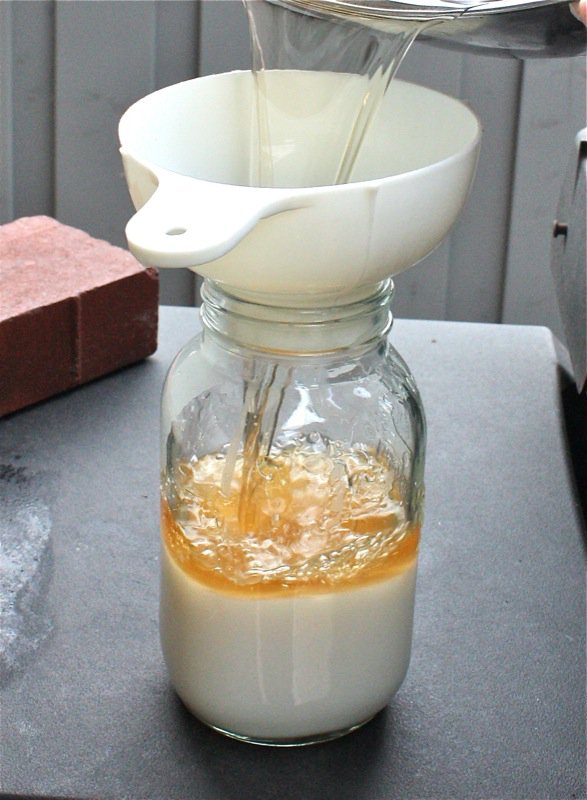 The first day, I was worried that it would not be white as the liquid fat was so golden, but it did turn into this beautiful white lard, below.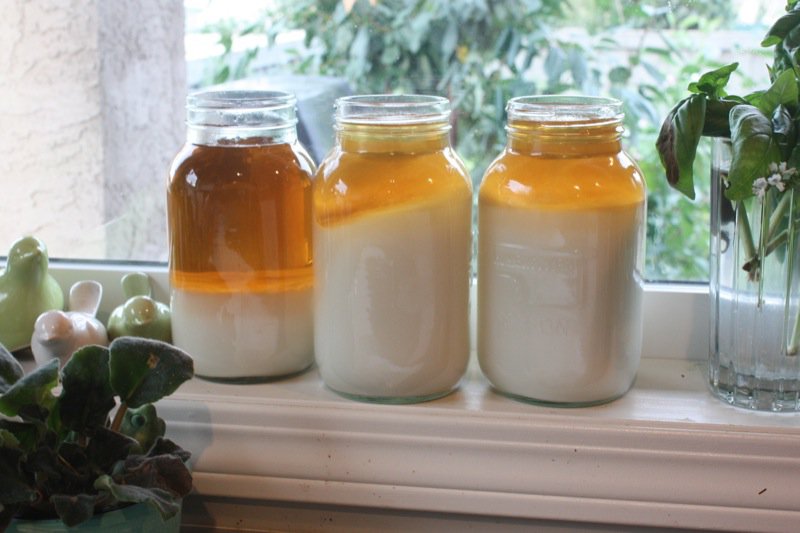 Then pounds of the fat made three full litres of lard and a little more than a pound of čvarci. All that for five dollars is a steal of a deal, isn't it? And the time to make it? Priceless family bonding time.
Just add salt (preferably when it is still hot) and enjoy! Have you ever had čvarci or rendered your own fat? I am going to try pastry lard, next… but first, I must get to my pork belly!