This is a very tasty really lovely ketchup!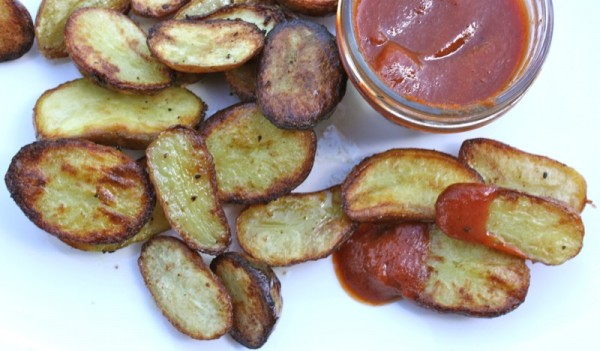 Artisan fries with homemade artisan ketchup: now, that is NOT junk food! Vanja is nuts over these potatoes. So is my dad. I am nuts over this ketchup!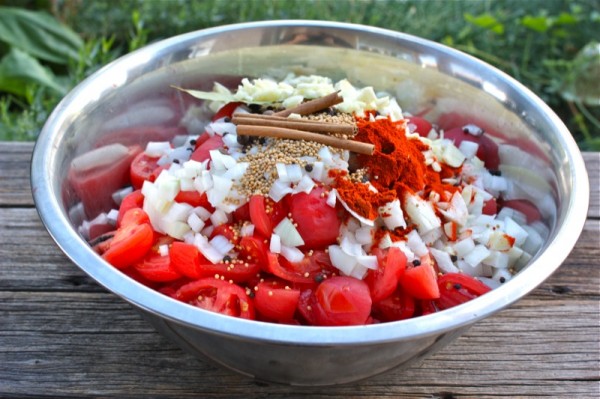 I searched high and low for ketchup recipes, read them all, and then mulled them over and did what we all do: took the best ideas from each one and made up my own. However, I was most influenced by the two part recipe I found that was at one time on the White on Rice Couple's website, but is no longer there. I used 15 pounds of roma tomatoes from the Italian Centre because that is how many I had left from making my salsa. They were beautiful, flavourful tomatoes brought in from BC. I grow a very similar tomato called Amish Paste which I will use to make this next year. I didn't plant enough this year.
I made two batches with seven and a half pounds of tomatoes in each batch, and made the recipe up for that amount. After cooking everything in the above bowl for about 90 minutes at a low simmer until completely "done", I removed the bay leaves and the cinnamon and ground the remaining ingredients in my Thermomix (you can use a food processor or a blender) and then pushed it all through a fine sieve. That is when I added the remaining ingredients: sugar, vinegar, salt and lemon and cooked it for about 30 minutes, stirring constantly, until it thickened into my desired consistency.
I couldn't wait to taste it. Of course, I had been tasting all along, and wasn't so sure it was such a great idea to grind all the peppercorns, cloves, allspice… etc. into the sauce. But, I did. And WHOOT! It was mighty tasty and mighty hot! I was panting and sweating for a minute or two after taking a little lick off of my spoon. The flavour was dynamite, but I have a pansy of a palate regarding heat. It has definitely betrayed me over the years as I used to love to pay penance over a considerable amount of heat in a dish. No more.
What to do? Batch two: cooked it for the 90 minutes, definitely tending to it, and then let it cool just enough to remove all of the peppercorns. Yes, all. And the cloves and the allspice.I left the other seeds in to blend with the tomato mixture. You can see just how much I pulled out of that sauce, below. It was not an easy task, but had to be done to save the first batch. I was hoping to combine the two.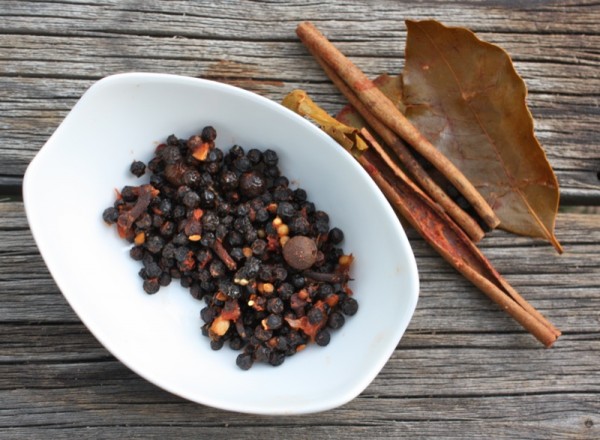 The bowls below had each been fairly full of ingredients and cooked down to this amount, per batch. There was a significant colour difference that doesn't show up here. The batch on the right is the first batch and it was considerably browner, but still a beautiful appealing brick colour. I started with one cup of each when they were both cool (as we eat our ketchup cold, or at room temperature, so that is how I had to taste this) and mixed it together to see if this would work. I was a bit worried that the spicy batch might be just too spicy to use. It was a perfect balance of flavours! I was so happy!
I was also pleased with the texture. Interestingly, the second batch with all spices removed was really lovely, but when blended with the first was elevated to a more sophisticated complexity. Best of all, Vanja just didn't "like" it, he "loved" it. Pardon me? "I love it!" Now, that is rare with anything to do with plant life for this man. I was really pleased.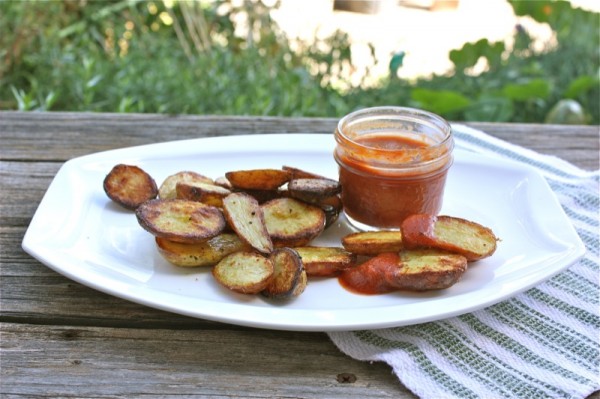 Yes, I did too have to compare "mine" with Heinz. Can you guess which is which. Oh, I know it is all too obvious, but really, I was not disappointed at all!  I would have to add something unnecessary to get the gel consistency of the Heinz and definitely some colouring to get it that red. But, I was worried about the side by side taste test. Really. I had no idea what to expect. I loved what I had made, but how would it compare to the icon of all ketchups?
Pretty bloody well! Better! I actually like mine better. A lot better. I surprised myself, being a child of the 60′s when everything was better with Heinz. The Heinz was much sweeter and much more "vinegary". OK: acidic. I liked that about it. Until now. Standing ovation for me!
(Thank you! Thank you! Thank you very much!)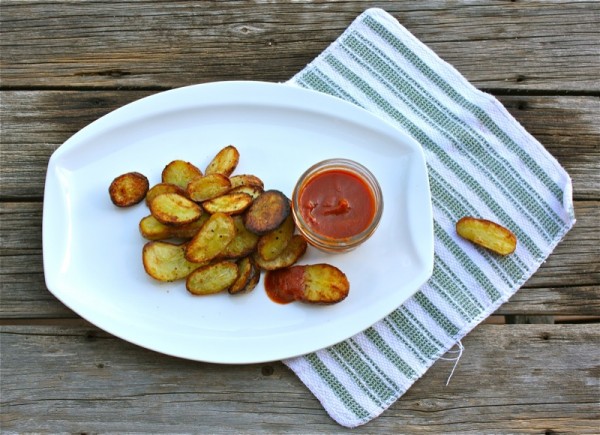 Tomato Ketchup
makes 4.5 pints
Ingredients:
Step 1
7.5 lbs. ripe tomatoes, peeled and chopped
21/2cup onion, diced
5 large garlic cloves, crushed
5 t black peppercorns
5 t mustard seeds
5 allspice berries
5 whole cloves
5 t celery seeds
two 1/2″³ cinnamon sticks
1 tbsp. paprika
1 t cayenne pepper
3 fresh Bay leaves
Step 2
1 cup of brown sugar
1 cup of apple cider vinegar
juice of two large lemons or three medium ones
1 tbsp sea salt
Instructions:
Place all the step 1 ingredients into a large stockpot and simmer slowly for about 90 minutes, or until 1/3 of the juices have been evaporated; stir frequently
Remove from the heat and allow the mixture to cool (I didn't do this as I used my Thermomix at this point)
Once cooled, take out the cinnamon and Bay leaves; place the tomato mixture in a food processor or blender and blend on HIGH for about 1 minute; strain the blended mixture through a sieve and into a sauce pan, making sure you have extracted as much juice as possible from the pulp
Place the saucepan on a medium heat and add the step 2 ingredients; simmer for about 30 minutes, depending upon the consistency you prefer
Once cooked, store in a sterilized jars for up to 3 weeks in the refrigerator, or process for 10 minutes
Note: I found this very tasty, but hot for my palate, so the next time I made it, I also took out the Allspice, the cloves, and the peppers before blending it, and enjoyed it much more this way. However, the best version is actually a mixture of the two: I actually made a double batch, one with all the spices blended in, and one with taking out every peppercorn, etc, mixed them together and loved it!
The 15 pounds of tomatoes made 36 half cup jars.