Print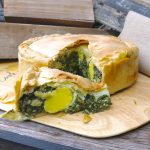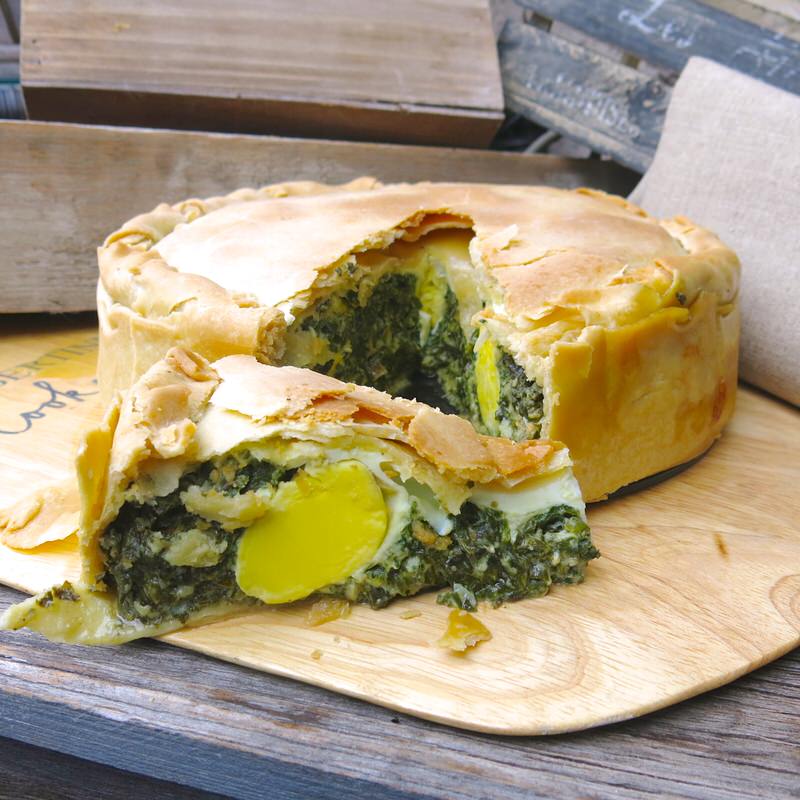 Italian Torta Pasqualina: Savory Spring Vegetarian Torte


Torta Pasqualina is a Celebration of Spring in the form of a Traditional Italian Savory Easter Vegetarian Pie (Step-by-Step Images)
Ingredients for the Dough:
Ingredients for Filling One:
1

kilo Spring greens: 500 grams organic baby spinach and 500 grams organic tender small leaf chard

, stems removed

100

grams

onion

, minced

1

clove

garlic

, whole

1

teaspoon

dried marjoram

3

tablespoons

olive oil

1

tablespoon

butter

600

grams

fresh cow Ricotta

(see note)

2

tablespoons

plain yogurt

(see note)

2

organic know-your-farmer eggs

50-75

grams

Parmigianino Reggiano

, grated

½

teaspoon

ground white pepper

½

teaspoon

freshly ground whole nutmeg

(about ½ a nutmeg)
Ingredients for Preparing the Pan:
Springform pan with removable bottom

, size 20/22 cm with high sides or 10 inch Springform (12 inch will work, but deep dish torte is better with smaller circumference and higher sides)

Olive oil
Ingredients for Butter-Oil Mixture:
½

teaspoon

salt

1

tablespoon

water

1

tablespoon

butter

3

tablespoons

olive oil
Ingredients for Filling Two:
Instructions for Making the Dough:
In medium bowl, place 300 grams flour, olive oil and salt; while stirring, slowly add ½ cup lukewarm water until ingredients clump into a ball

Work or knead, still in bowl, to obtain soft, elastic ball that no longer sticks to hands (Do not add more flour than 350 grams, as dough will become tough.)

Lightly flour work surface; knead till dough becomes smooth, silky and compact

Form into ball; set to proof in bowl for at least 1 hour, covered with damp cloth
Instructions for Making the Dough in the Thermomix:
Weigh flour, olive oil, salt and water into TM bowl; set time at 10 seconds, speed at 5-6 and combine until ingredients just begin to clump into ball

Set knead for 1.5 minutes; ingredients will cluster into small balls

Remove from TM bowl; form into ball and set to proof in bowl for minimum of 1 hour, covered with damp cloth
Instructions for Filling One:
Wash and spin-dry spinach and chard leaves; mince onion

Add spinach, chard and marjoram to pan, in two batches; sauté until wilted then cook gently for about 15 more minutes, until chard stems are tender

Place greens in colander; set aside to cool and drain

In large bowl, combine ricotta add yogurt; stir to completely combine

Finely chop and gently squeeze cooled greens; add to ricotta mixture, stirring to fully incorporate

Whisk an egg into ricotta mixture, stirring until completely absorbed; add and repeat for second egg

Add grated Parmigiano, pepper and nutmeg; stirring to fully incorporate

Taste, adjust seasonings; set aside
Instructions for Preparing Pan:
Oil pan very well, bottom, sides and upper rim
Instructions for Preparing Butter-Oil Mixture:
In small pan over low heat, add ½ teaspoon salt and ¼ teaspoon few drops of water ; stir until dissolved

Add 1 tablespoon butter and 3-4 tablespoons olive oil; when melted, remove from

heat and set aside
Instructions for Rolling Dough:
Weigh dough; divide into 5 pieces: 2 larger for covering bottom of pan and 3 smaller for top (my dough was 500 grams: 2x125 gram pieces and 3x80 gram pieces)

Work each piece of dough at a time, starting with larger two; leave remaining pieces covered

Dust work surface sparsely with flour; with rolling pin, roll until sheet size circumference of spring form pan is achieved

Place dough, gently, on back of floured hands; work to stretch until obtaining a round dough sheet large enough to cover bottom, come up and hang over sides of spring form pan (do this for two larger pieces, only)
Instructions for Putting it All Together:
Pre-heat oven to 180° C or 350° F, ensuring rack is in middle

Place first dough sheet into prepared pan; gently push into place around bottom and up sides to leave hangover

Lightly and gently brush sheet with butter-oil mixture starting from center, then inner and outer edges of pastry and top rim. (Be very gentle to not break dough when brushing)

Place second sheet on top of first; repeat same light brushing process (If air bubbles form between the layers, lift sheet from edge of pan to release)

Place filling into bottom of pan in middle; gently spread toward edges until evenly filling pan
Instructions for Filling Two:
With back of spoon, create 7-9 "cradles" in filling (depending upon circumference of pan), equal distance from one another: 6-8 around sides and 1 in center (indentations should be halfway into filling, but not to bottom)

Carefully break each egg into separate bowl; separate yolk and lift yolk out with hand

Starting with middle, use spoon to enable yolk to sink into indentation "hole" by holding sides of filling back and deepening the indentation; release yolk into deepened indentation

Repeat until all yolks are in nestled in position; cover each with albumen (will be very little used from each egg)

Season each with a pinch of salt (or Vegeta), a dash of pepper, and grated Parmigiano (optional)

Prepare each of remaining three pieces of dough to approximately 2 inches larger than circumference of spring form pan; cover filling with 1 sheet of dough to overhang generously (at least 2 inches)

Brush with butter-oil; layer second sheet and brush repeating with third sheet
Finishing the Edges of the Torta:
Remove more than 2 inches of overhanging dough from around edges of spring form pan

Fold excess dough overhanging edges and roll gently inside of pan to create a "rope" around edge

Brush top of torte with butter-oil mixture

Bake on middle rack for 55-60 minutes, or until golden brown (see note); check oven from time to time to prevent surface from becoming too dark (cover with foil, if necessary)

Remove from oven; cool for 20 minutes to set inside firmly enough to slice

Serve warm or cold for Easter breakfast, brunch, lunch or anytime !
Chard
If the chard leaves are big and not tender, blanch in boiling water for 1 minute, until tender
Pastry
Butter-oil must be well dissolved and completely cooled to not break through dough when brushing on
It's important that the upper rim of the pan is well-oiled to prevent the dough from sticking and breaking
Baking Time
Torta will be completely baked in one hour; if top isn't golden, turn oven on to broil and watch carefully 2-3 minutes until good colour is achieved
Serving Temperature
It is delicious hot or cold, but you must try it warm, or hot. I find it exceedingly better that way! MMmmmmm1