Print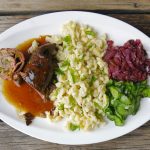 German Fleisch Rouladen


Scrumptious German Fleisch Rouladen with spatzle is the specialty with step by step images with Valerie Cooking in the Kitchen with Margaret Bose-Johnson!
Cook Time
2
hours
15
minutes
Ingredients 6 Rouladen:
6

thin slices of a know-your-farmer beef

(partially frozen inside round works well)

¼

cup

Dijon mustard

12

slices

bacon

6

dill pickles

, julienned

1 ½

cup

chopped onion

toothpicks or cotton kitchen string

¼

cup

olive oil
Ingredients for Each Roulade:
1

thin slice from a beef roast

(the inside round works well)

about 2 teaspoons Dijon mustard

2

slices

bacon

1

dill pickle

, julienned

¼

cup

(60ml) chopped onion

toothpicks or cotton kitchen string

1

tablespoon

olive oil
Ingredients for Gravy Thickener:
¼

cup

flour

¼

cup

water

jar with lid
Ingredients for the Gravy:
1

cup

(240ml) red wine

2

bay leaves

5

juniper berries or 2 whole cloves

water to cover

salt and freshly ground black pepper to taste
Instructions for Filling each Roulade:
Lay one roulade out on your cutting board thin side toward tummy in vertical position; spread lightly with Dijon

Place 2 bacon slices side by side lengthwise along roulade, leaving 2 inches (5cm) of beef at one end free of bacon (less bacon, widthwise, depending upon width of roulade)

Lay pickle strips horizontally along bacon slices; sprinkle chopped onion over bacon and pickle, also leaving the same 2 inches (5cm) of beef free of bacon
Instructions for Rolling:
Start with the full end of beef closest: roll as tightly as possible, using both hands to tuck in filling

Pull 2 inches of uncovered beef over to cover filling; secure with round toothpick
Instructions for Browning Rolls:
Pre-heat oven to 325°F; select heavy casserole or braising pan with lid that will hold rouladen in single layer

Heat oil in heavy pan; sauté rouladen, turning to brown all 4 sides (about 4-5 minutes per side)

Remove and place each in casserole in single layer; deglaze pan with red wine and pour over rouladen

Tuck in bay leaves and juniper berries or cloves; add water until rouladen is sitting in liquid ¾ way up sides
Instructions for Braising:
Cover casserole with lid; bake at 325°F for 2 hours until meltingly tender

Remove rouladen to serving platter; cover with foil
Instructions for Making Gravy Thickener:
Place flour and water in jar with lid; shake until lumps dissolve
Instructions for Making the Gravy:
Pour braising liquid into saucepan and place on stove top); bring to a boil

Whisking boiling broth with one hand; set sieve into sauce and pour in a little slurry with other hand into sieve, stirring inside sieve and pushing liquid though to avoid lumping

Continue, a little at a time, until gravy has reached desired thickness; taste and season

Serve gravy over rouladen and on side with mashed potatoes, or spätzle, and a side of Braised Red Cabbage and a crispy cucumber salad.
Freezing Rouladen Method One for Small Crowd Entertaining on the Fly:
Freeze after fully braised individually on parchment covered cookie sheets (gently slide out toothpick to avoid holes in bag later); store in labeled and dated freezer bags

Make gravy and freeze in amounts to serve with 4 rouladen as this enables serving a lovely company dinner on short notice
Freezing Rouladen Method Two:
Freeze after fully braised in serving casserole with juices; heat and make gravy just before serving
Rouladen freezes exceptionally well
Flat toothpicks tend to break; use round ones
Rolling roulade tightly in plastic wrap and refrigerating for 4 hours or more before browning will help keep the shape of the roll (mustard must be spread thinly to do this)
The amount of thickener needed depends on how much broth you have from your rouladen. If you don't have much broth left, or if it tastes too salty, you can add more water to thin it out.
Freeze your Entire Meal in Advance!
Rouladen can be completely frozen, as can the Spaetzle and the Braised Cabbage Recipe. Make all three ahead and have a party with very little last minute effort!