Print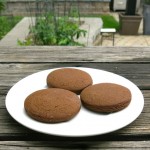 The Famous Pubnico Molasses Cookie
This iconic recipe from Pubnico, Nova Scotia, can be sampled at the Historic Acadian Village/Le Village Historique A cadien. ( The recipe is from Le Village Historique Acadien cookbook: Recipes to Treasure, page 65) Makes 80 thick, soft cookies.
Pre-heat oven to 350F

Cream sugar and butter

Add molasses and egg; blend well

Combine dry ingredients: add to the above, alternately with milk

Bring dough together; refrigerate tightly wrapped

Roll to 1/4 inch thick (this is quite thick; these cookies should not be thin)

Cut into shapes (They are round at Le Village Historique Acadien)

Bake at 350F for 10 minutes; serve warm or cold

Delicious with milk
Dough can be kept in the fridge, wrapped tightly, and cookies baked, as needed.