Print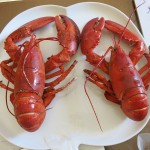 Pubnico Heritage Recipe: Fisherman Steamed Lobster
Lobster fishermen in Pubnico steam lobster to maintain its delicate flavour and texture; Réal d'Entremont shares this local heritage recipe from the Acadian Fishermen of Pubnico and the Nova Scotian South Shore Lobster Fishermen.
salt and water or Atlantic Ocean water: enough salt to cover the bottom of the pan

, and enough water to go up 1 to 11/2 inches up the side of the pan

whole know-your-fisherman lobster
Accompaniments:
melted butter

mayonnaise

white bread
Place the salt in a pot large enough to hold the amount of lobster you are steaming

Add the lobster

Cover bottom of pan with 1 to 11/2 inches of water OR

Add the lobster and cover bottom of pan with 1 to 11/2 inches of Atlantic Ocean salt water

Place the lid on the pan; turn heat to medium high

As soon as the water starts to boil, time the steaming of the lobster; 9 minutes if one lobster, or until the tomalley has set
Check to see if the tomalley is set by prying up the body of the shell, just above the tail, and peaking in
Serve with lots of napkins, the accompaniments and one small knife per person (unless you have one shucker amongst you who will do them all.)
This recipe is for 2 whole lobsters.