Print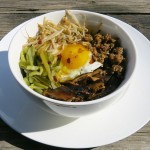 Chef Butler: Bimimbap
The main recipe of three provided in the Chef Butler Box for April 2014.
Instructions for the chili sauce:
Combine the following in a small bowl: ¼ cup soy sauce, 2 tablespoons rice vinegar, and 2 teaspoons chili flakes (to taste)
Instructions for the nori:
Crumble nori into a small bowl
Instructions for the mushrooms:
Soak the dried shiitake mushroom in a large bowl with warm water for 20 minutes, or until softened (place stems down in the water, and ensure mushrooms are submerged)

Remove tough stem; slice thinly

Sauté in medium skillet medium-high adding 1 tablespoon of soy sauce and 2 teaspoons of sugar; stir for 2 minutes
Instructions for the bean sprouts:
Rinse sprouts under water several times; add to a large pot with 1 teaspoon salt and cover with water

Place lid on pot and bring to a boil; cook for 20 minutes

Drain water and mix sprouts with 1 clove of minced garlic, ½ tablespoon sesame oil, 1 tablespoon soy sauce, and ½ tablespoon rice vinegar
Instructions for the cucumber:
Sprinkle cucumber pieces with ½ tsp salt; sauté in pan over medium-high heat approximately 10 minutes or until translucent
Instructions for the rice:
Rinse rice in warm water several times

Combine 2 cups rice and 2½ cups of water in medium-sized pot, and cover

Bring to a boil, reduce heat to low, and simmer until liquid has been absorbed, and rice is tender (exactly 20 minutes)
Instructions for the ground beef:
Heat medium pan on medium-high; once hot, add ground beef and stir constantly

When fully cooked, drain excess liquid from pan and add 1½ tablespoon soy sauce, 2 teaspoons sugar, 1 teaspoon black pepper, 1 teaspoon sesame oil, and 6 cloves of minced garlic; mix well to combine
Instructions for the eggs:
Fry 4 eggs sunny-side-up, or over-easy, until whites have been cooked, but yolk is still runny
Serve in 4 large individual bowls:
Add rice first, sprinkled with sesame seeds; add all other ingredients (to taste), in quadrants, inside of the bowl, including the crumbled nori over the mushrooms, sprouts, cucumber and beef

Top each dish off with the fried egg

Place chili sauce on the table for guests to add to taste

Each person is to then mix ingredients together inside of the bowl, and enjoy!
Bibimbap is a combination of ingredients prepared separately, and served together over rice. Keep prepared ingredients warm in the oven until ready to serve. Place a dish of water in the oven to keep the ingredients from drying out while you keep them warm.
Ingredients in bold were the only ones not in the box.