Print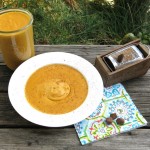 Thermomix Sweet Potato Soup with Yams
This is comfort in a bowl: rich, velvety yams scented with ginger. Divine, low fat, and smoother than silk on the tongue.
50

g

onion

10

g

ginger

, washed and unpeeled

20

g

olive oil

400

g

yams

, roughly cubed, washed and unpeeled

200

g

potato

, roughly cubed, washed and unpeeled

30

g

roasted

, unsalted cashew nuts

450

g

chicken homemade or organic

, free range stock

200

g

whole milk

1

teaspoon

salt

pepper to taste

whole grated nutmeg

(optional)
Scale onion and ginger into TM bowl; chop for 5 seconds at speed 0-7

Add oil, and sauté for 3 minutes at 100°C at speed 1

Scale chopped yam, potato, cashews, stock and salt into the TM bowl; cook for 12 minutes at 100°C on speed 1

Pulverize for 30 second at 0-10, two times (one minute, total)

Scale in milk; add pepper to taste; blend for 30 seconds at speed 2

Serve garnished with freshly grated nutmeg
The smaller you chop the potato, the faster the soup will cook; as I am preparing this for a demonstration, the cook time is shorter as I took longer with my preparation before the client arrived. To save preparation time, chunk the veggies and extend the cooking time.
I also cook until the yam is just beginning to mash; is is a firm mash. Then I puree to preserve the nutrients as much as possible.