Print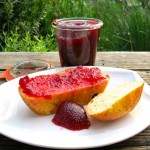 Nanking Cherry Jelly


This is a very delicious jelly that works in both sweet and savoury dishes. A three cup batch will make 3 1/2 cups of jelly.
Nanking cherry juice

same amount of sugar to juice

( 1 cup to 1 cup)

squirt of fresh lemon juice

(about a teaspoon or so per cup of juice)

one package of liquid pectin for every three cups of juice
Clean berries and heat to a low simmer for about 2-3 minutes (at the simmer) until they release their juice; hang over night to glean juice (I had to use my hands to squish the berries)

Measure juice and add the same amount of sugar to a heavy pan

Add lemon juice

Bring to a boil, skimming any foam from the top; add pectin after it has boiled for 2 minutes and all sugar is dissolved

Boil for one more minute; ladle into hot, clean jars and seal
If you do a very small batch, you might get a paste!