Print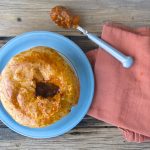 Laureen's Cheddar Stout Crust to Top an Irish Stew


Laureen's Cheddar Stout Crust is a delicious topping over a Classic Irish Stew or cut the pastry into Valerie's Cocktail Crackers: easy cheesy peasy!
Weigh flour and salt into TM bowl with butter and cheese; pulse for 1 second 2 times on Turbo

until pastry flour is a coarse meal with pea sized bits of butter

Set timer for 10 seconds and speed at 3.5: drizzle 6 tablespoons of beer through hole in lid until ingredients clump into a ball (add another tablespoon of beer, if needed)

Form into pastry disc; wrap dough in plastic and refrigerate one hour or overnight
Rolling the Pastry
Flatten the disc; divide into 4 equal portions

Roll to 1/8 inch, one at a time, on lightly floured surface in rustic shape; size should cover individual oven proof bowls and enable a sizeable overhang

Remove stew from oven; ncrease temperature to 375F

Ladle into individual oven proof bowls; center pastry over each and lay without securing, ensuring generous rustic overhang

Cut vents in top; brush with egg wash

Bake until crisp and golden, 35-40 minutes; rest 10 minutes before serving
Best placed on individual bowls as the crust is delicious and if served over a large skillet, there likely would not be enough crust for each to enjoy with their stew: it is delicious!
Crackers
When making crackers, brush with egg, sprinkle with a finishing salt and bake for 15 minutes or until golden.