Print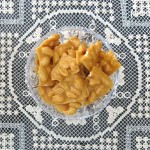 Helen's Famous Homemade Peanut Brittle made with raw peanuts


Mom has been making this recipe for 40 years. She calls it "Raw Peanut Peanut Brittle". She is 85 and makes it several times a year, and never less than 5 batches at a time. She and dad used to make it together and would take a day and make 20 batches. Obviously, she gives it away, and over the years, it has become the most coveted gift by all in our area.
2

cups

white sugar

2/3

cup

white corn syrup

1/2

cup

water

2

cups

raw peanuts

1 1/2

teaspoon

baking soda

1/2

teaspoon

salt

2

tablespoons

butter
Grease large teflon coated cookie sheet with butter; prepare counter top by greasing with butter or lay out a rubberized mat for candy making

Combine first three ingredients in a heavy pot; bring to a boil at 230F

Add raw peanuts; stir rigorously and constantly until thermometer reads 300F

Remove from heat; add soda, salt and butter

Stir well to combine; pour onto prepared cookie sheet and shake to spread mixture over surface of cookie sheet

After about 30 seconds, loosen edges of brittle in cookie sheet with well greased spatula

Turn cookie sheet upside down on prepared counter top of working mat; put on gloves

The peanut brittle will release from the pan and fall onto the counter; with hands in gloves, push down on hot brittle to thin it and spread it out as much as possible while pliable (about 30 more seconds)

Start next batch if making more than one (and you will be, after making one); then break somewhat pliable brittle into large pieces and move onto other cookie sheets to prepare the counter or candy mat and the large teflon cookie sheet for the next batch

If not making another batch, simply wait about 15 minutes, break the brittle into individual pieces and store in an air tight container (We use ice cream buckets)

Enjoy!
Three batches fills 2 four litre ice cream buckets.
Don't use anything but raw peanuts in this recipe. They can be purchased at Bulk Barn if there is one in your area.
Mom's Preparation Procedure for Batches
If making 5 batches have:
5 containers filled with the measured sugar
5 containers filled with the measured peanuts
5 small containers filled with baking powder and salt
5 small containers with measured butter
have the water and corn syrup out to measure separately for each batch
Special Note: Mom pours the measured corn syrup into the heavy pot with the sugar, and then measures the hot water. She then pours the hot water into the measuring cup the corn syrup just came out of to get it all and to clean out the cup. That pre- measured hot water then goes into the heavy pot with the corn syrup and sugar.