My mom, Helen McKinney, is famous for her homemade peanut brittle!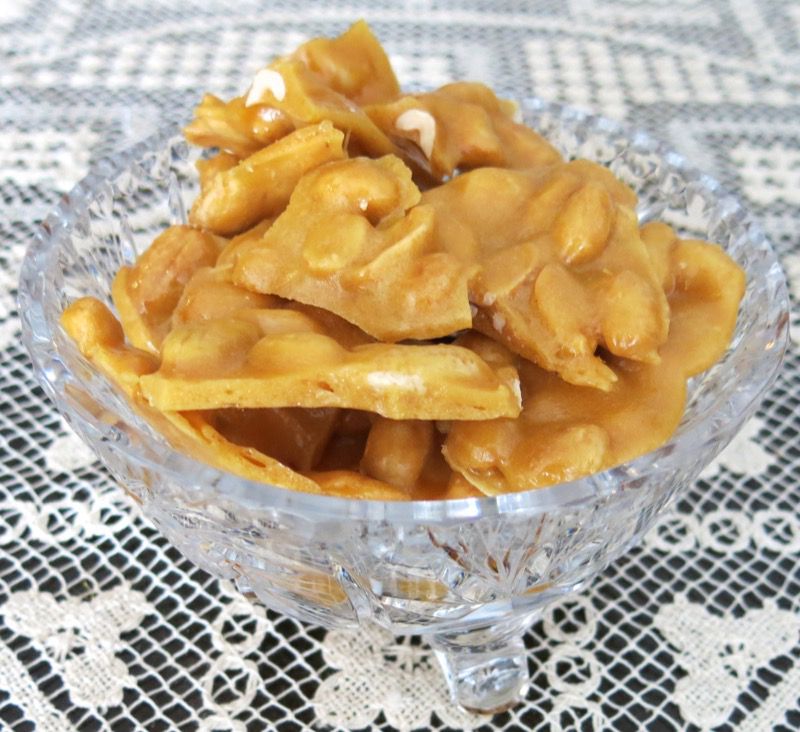 Mom is 85 April 21, 2015. We are hosting an afternoon tea party on April 19 to celebrate this milestone that so few reach in life, and she is treating her guests with her famous homemade peanut brittle!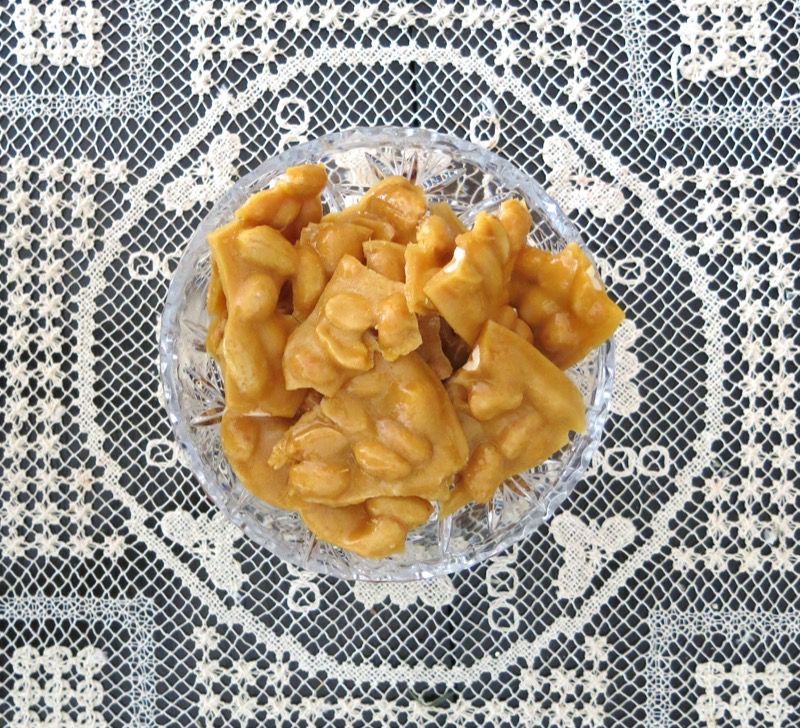 Mom held a huge celebratory party for her own mother, and my grandmother, Maude, in 1984, when she turned 85. Mom baked 15 homemade angel food cakes, made hundreds of fancy tea sandwiches and so much more. Grandma Maude was in her glory; the celebration was unforgettable. Fast forward 31 years to mom's 85th: she baked 11 angel food cakes and just finished 5 batches of homemade peanut brittle! "Mom, I bet you never imagined you'd be making your own birthday cakes for your own 85th celebration?" Oh, how we laughed! I still recall her looking at me at the end of Grandma Maude's party with "that eye" she has. "Now you know what I expect when I turn 85!"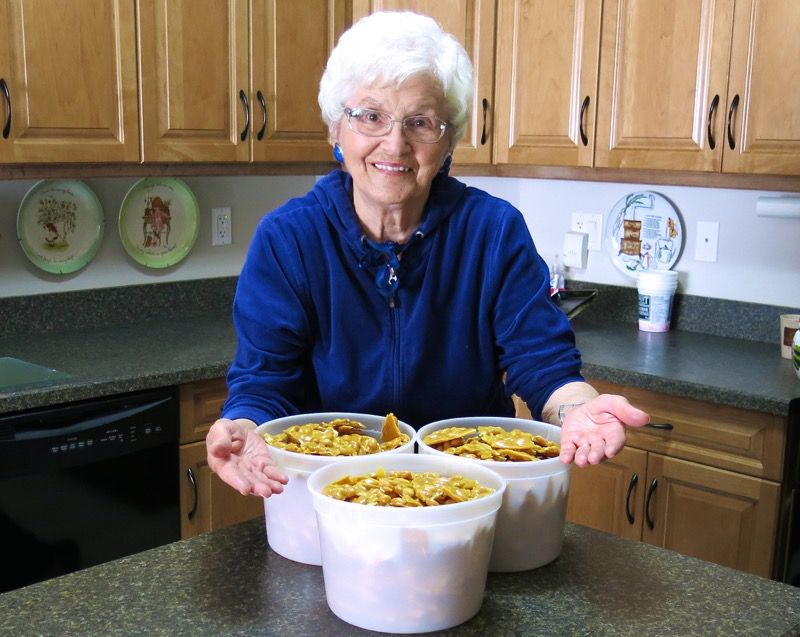 And so it is. Hahaha! With one hilarious exception: she is doing it herself. My mom is unstoppable!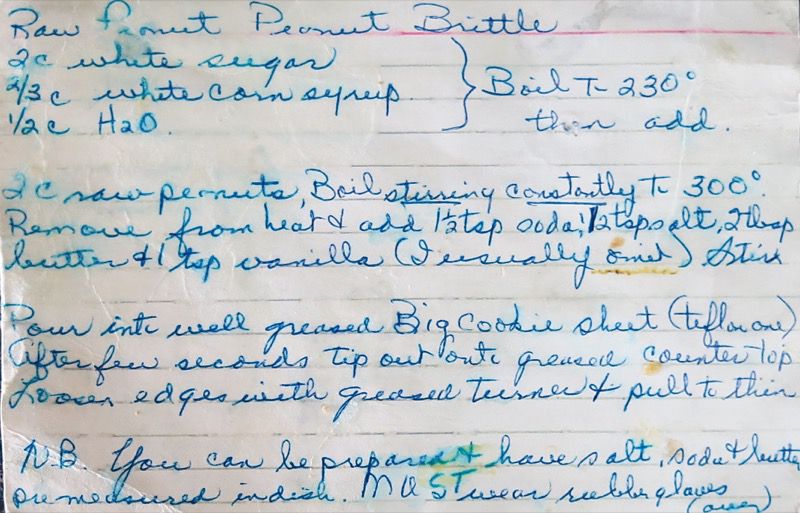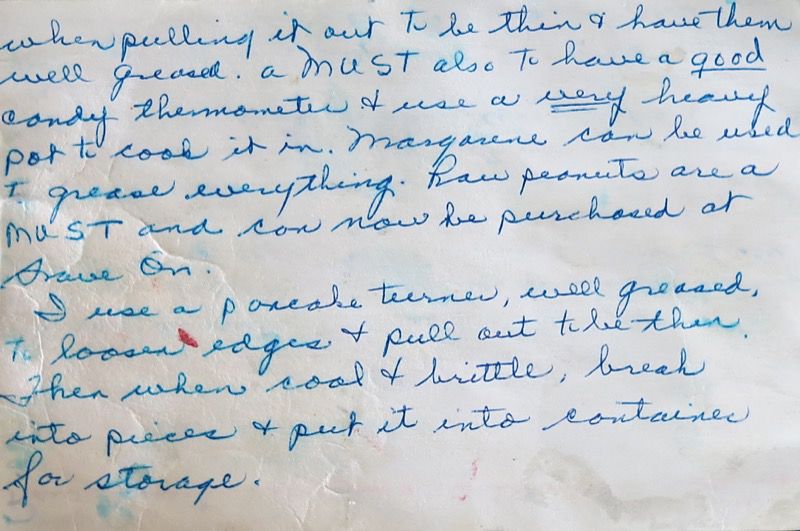 During a visit to Ruth Harrison, Grandma Maude's sister-in-law, in her North Dakota farming community in the late 1960's, Grandma Maude was served homemade peanut brittle and was smitten. At that time, the raw peanuts were encased in the bright brick red peanut paper-like covering. Home witmh the recipe, she and mom followed it to a "T" then eventually made it with the raw white peanut. This has been our traditional family recipe for the past 50 years (almost).

Mom never makes one batch. Born and raised on a central Alberta farm, she has "cooking for the trashers" ingrained in everything she does in the kitchen, even now. She and dad used to make up to 20 batches at one time, before Christmas, in the 70's and 80's. They could just not keep up with the demand. Once it was gifted to anyone, that person would beg for it the following year. So, if anyone "new" was shown appreciation with such a parcel, that person would also be looking for more the following year. Mom lines up 5 containers of pre-measured sugar, 5 containers of pre-measured peanuts, 5 little papers with pre-measured salt and baking soda and adds the 5 pre-measured pats of butter on each.

She actually owns a 2/3 measuring cup, and has it and her 1/2 cup out for the corn syrup and water; pre-filling each as she prepares each batch.

I arrived to record this process after she had made the first three batches. Ingredients for the last two line her kitchen counter wall.

Heavy pot a must. Good thermometer a must (with large numbers for we blind elderly gals). Into the pot goes the sugar, corn syrup and water.

It doesn't take long to reach 230ºF; at that point, raw peanuts are added and the mixture is stirred rigorously and constantly until the final temperature of 300ºF is reached.

The pot is then taken off the heat….

…butter, salt and baking powder are stirred in very well to combine, and…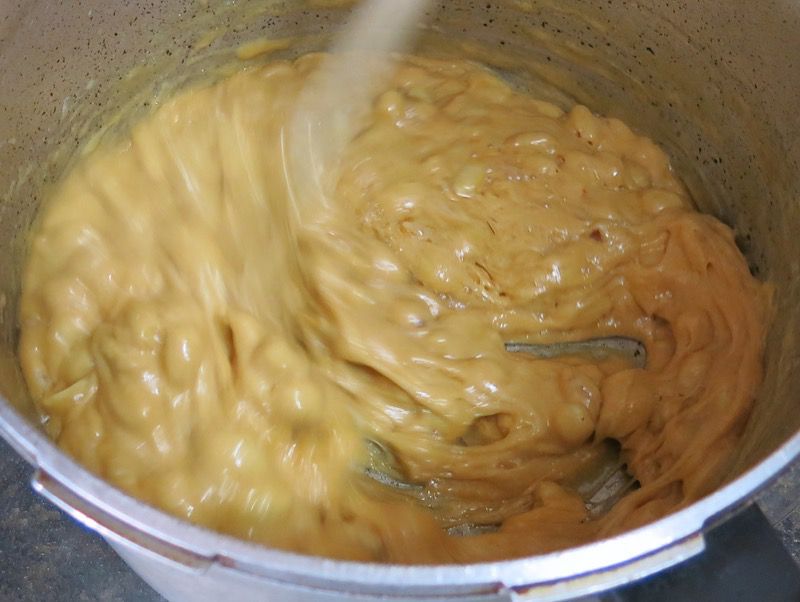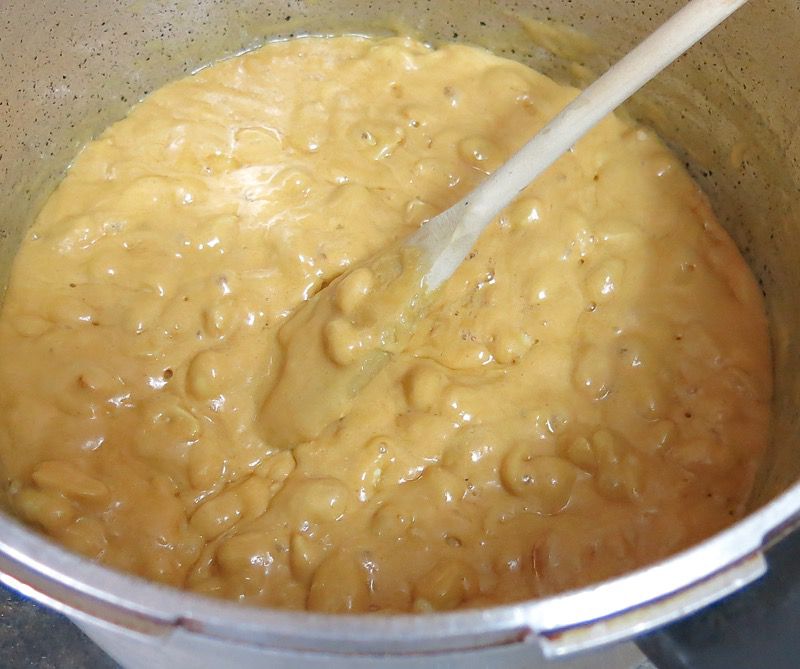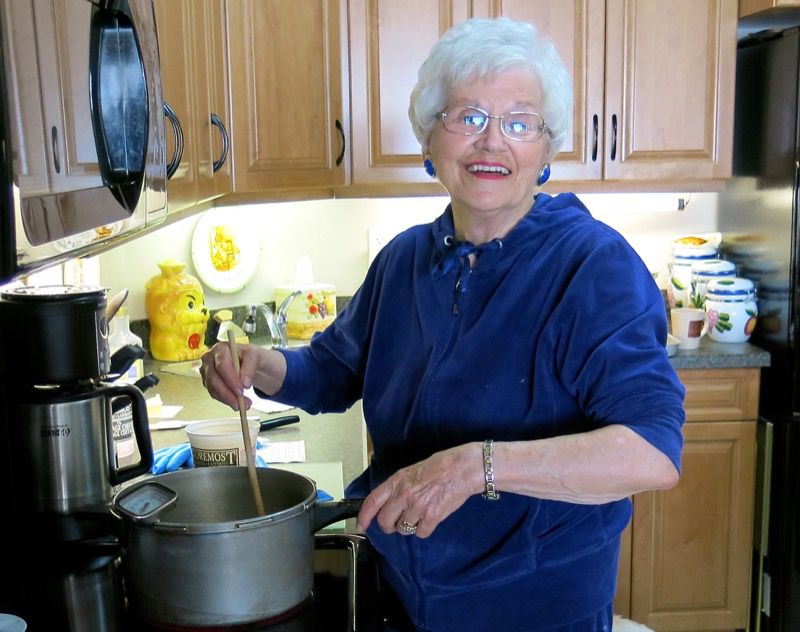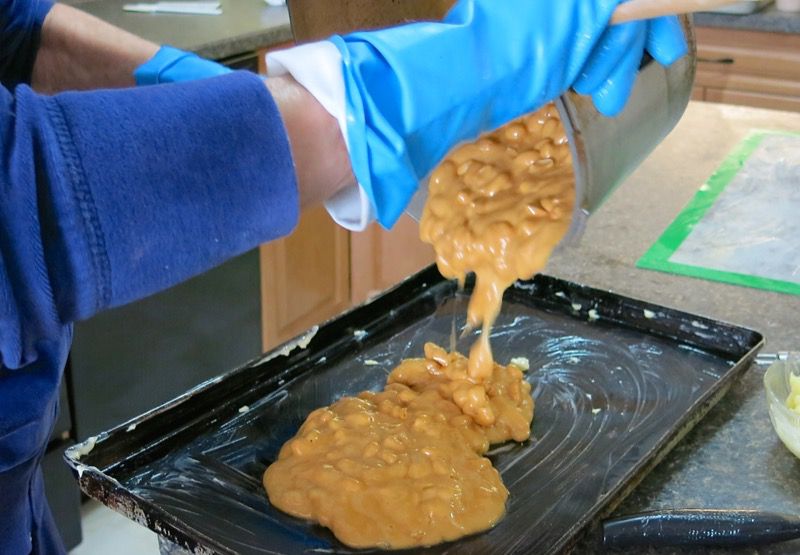 … all ingredients are poured onto a well buttered teflon coated cookie sheet. The pot is heavy and it is not easy to hold with one hand while using the other to scrape all ingredients out with a spatula. It cools very quickly, so must be done fast. It is great to have a second set of hands at this time. Of course, I wasn't thinking or helping. Just taking photos!

Gloves go on at this point. Mom picks up the pan and gives it a good shake to distribute and thin out the brittle, then upside down it goes onto the prepared counter top, to the thermo-mat. First, she did loosen the edges and corners of the brittle on the cookie sheet to ensure it would flop out.

Quickly, the "skin removing" hot brittle must be thinned with the gloves on before it is no longer pliable.

Confidence is a good part of this process. I would be freaking out to see the holes and the pulls in the candy, but there is no problem with this. It is necessary and adds to the varied appearance and homemade quality of this delicious concoction.

What focus! What determination!

What humor! (But, it is so hot!)

My baby sister, Penny, watches on.

Reminding me of the time I was here with mom making her angel food cakes, I turned to take a photo of her living room where Penny watches, and there was the chair that dad was grinning in at that time. You can see him when I wrote about mom's angel food cakes. Immediately, I was overcome with sadness. I miss my dad. Oh, how he loved mom's peanut brittle.

When doing several batches, mom moves the brittle from the thermo-mat on the counter to another couple of cookie sheets or containers, as above, to cool to room temperature so she can prepare the mat and the teflon cookie sheet for the next up-coming batch.

She then breaks the brittle into chunks for serving and storing.

Five batches made the amount above. Mom made it look super easy. Everything was spotless at all times.

Interestingly, only mom and dad love this famous family sweet. I appreciate it, but it is not my thing. My gals and my husband could take it or leave it. It was the same with my sister. Yet, each of us recognizes that it is the best peanut brittle any of us have ever eaten; peanut brittle is just not "our thing". Odd, no? Such a labour of love lost on those most beloved.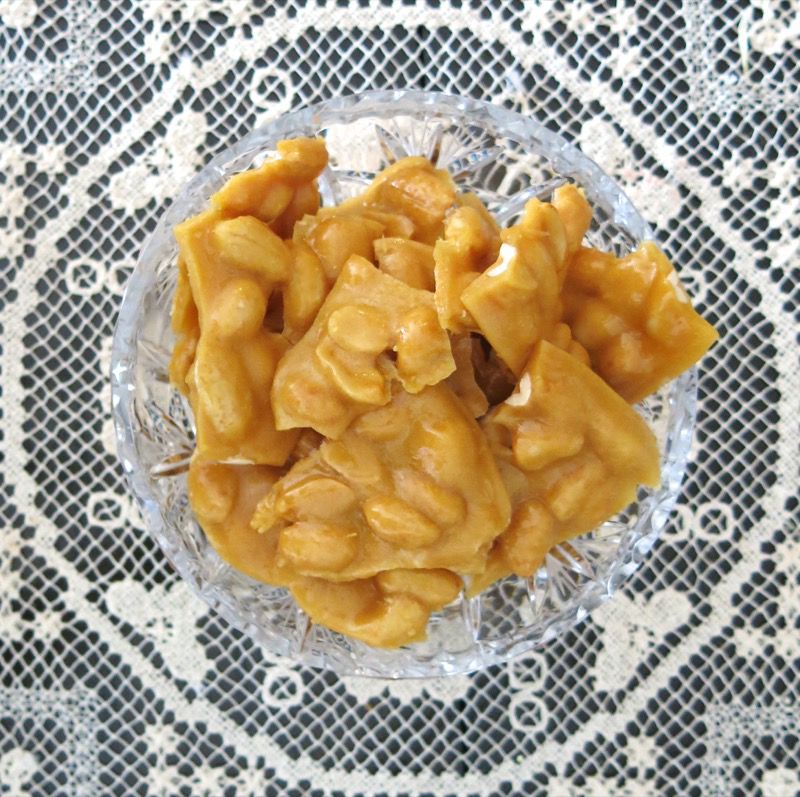 Yet, this recipe, preserving it, and learning how to make it is important to me. It is an important part of our family culinary tapestry and the tradition must be captured and preserved. So, I can see I will be giving this a go myself, next year! If you try it, chime in.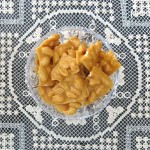 Helen's Famous Homemade Peanut Brittle made with raw peanuts


Mom has been making this recipe for 40 years. She calls it "Raw Peanut Peanut Brittle". She is 85 and makes it several times a year, and never less than 5 batches at a time. She and dad used to make it together and would take a day and make 20 batches. Obviously, she gives it away, and over the years, it has become the most coveted gift by all in our area.
Ingredients
2

cups

white sugar

2/3

cup

white corn syrup

1/2

cup

water

2

cups

raw peanuts

1 1/2

teaspoon

baking soda

1/2

teaspoon

salt

2

tablespoons

butter
Important Materials:
protective gloves

candy thermometer

working mat for hot peanut brittle
Instructions
Grease large teflon coated cookie sheet with butter; prepare counter top by greasing with butter or lay out a rubberized mat for candy making

Combine first three ingredients in a heavy pot; bring to a boil at 230F

Add raw peanuts; stir rigorously and constantly until thermometer reads 300F

Remove from heat; add soda, salt and butter

Stir well to combine; pour onto prepared cookie sheet and shake to spread mixture over surface of cookie sheet

After about 30 seconds, loosen edges of brittle in cookie sheet with well greased spatula

Turn cookie sheet upside down on prepared counter top of working mat; put on gloves

The peanut brittle will release from the pan and fall onto the counter; with hands in gloves, push down on hot brittle to thin it and spread it out as much as possible while pliable (about 30 more seconds)

Start next batch if making more than one (and you will be, after making one); then break somewhat pliable brittle into large pieces and move onto other cookie sheets to prepare the counter or candy mat and the large teflon cookie sheet for the next batch

If not making another batch, simply wait about 15 minutes, break the brittle into individual pieces and store in an air tight container (We use ice cream buckets)

Enjoy!
Recipe Notes
Three batches fills 2 four litre ice cream buckets.
Don't use anything but raw peanuts in this recipe. They can be purchased at Bulk Barn if there is one in your area.
Mom's Preparation Procedure for Batches
If making 5 batches have:
5 containers filled with the measured sugar
5 containers filled with the measured peanuts
5 small containers filled with baking powder and salt
5 small containers with measured butter
have the water and corn syrup out to measure separately for each batch
Special Note: Mom pours the measured corn syrup into the heavy pot with the sugar, and then measures the hot water. She then pours the hot water into the measuring cup the corn syrup just came out of to get it all and to clean out the cup. That pre- measured hot water then goes into the heavy pot with the corn syrup and sugar.
Mom will tell you, this is "the only recipe" worth making if you love peanut brittle.