Print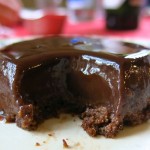 Bunet alla Piemontese


This dessert is similar to Crème Caramel, but with chocolate and Amaretti cookies. A traditional Piemonte dessert that will only be found in this one region of Italy.
Instructions for the Caramel:
Add 1/4 cup cold water to the sugar in a skillet over medium heat; do not stir, but swirl holding the handle until mixture turns to a deep caramel colour

Pour equal portions into each mould; immediately swirl mixture around bottom of each mould to ensure even coverage before caramel hardens
Instructions for the Bunet:
Preheat the oven to 320F; prepare a bain marie that will hold the 8 individual containers

Heat milk; add vanilla and infuse, turn off heat

Whisk eggs with sugar and cocoa to combine into an even silky mass, but do not beat to incorporate any air

Stir in biscuits; pour in warm milk, stirring constantly to temper the eggs (slowly, slowly)

Ladle equal portions of mixture into caramel coated ramekins

Bake at 320F for 25 minutes, or until wobbely

Remove from oven; rest until room temperature

Refrigerate overnight so caramel will soften and liquify

Use a knife to release the bunet from the edge of the ramekin; release well chilled bunet onto serving plate and serve immediately (Caramel will flow over the form and onto the plate)
While baking, the amaretti biscuits float to the top to form what will become a lovely crusty bottom and the caramel will become a gorgeous luscious sauce with the velvety chocolate concoction in the middle.
If preparing one large bunet, cooking time will need to be adjusted accordingly: 45-50 minutes