The Finale: Traditional Piemontese Chocolate Amaretti Crème Caramel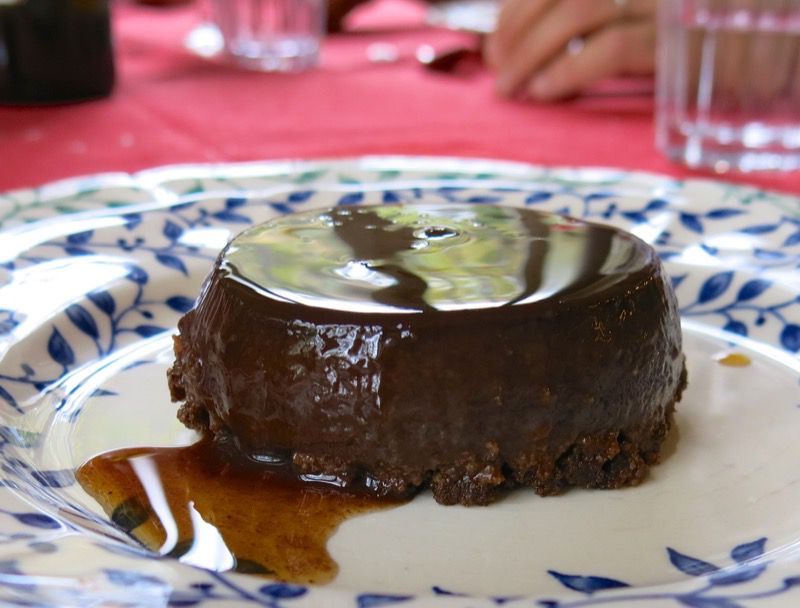 According to Federico, Cook in Italy owner and instructor, this dessert will be found nowhere else in Italy: only in Piemonte.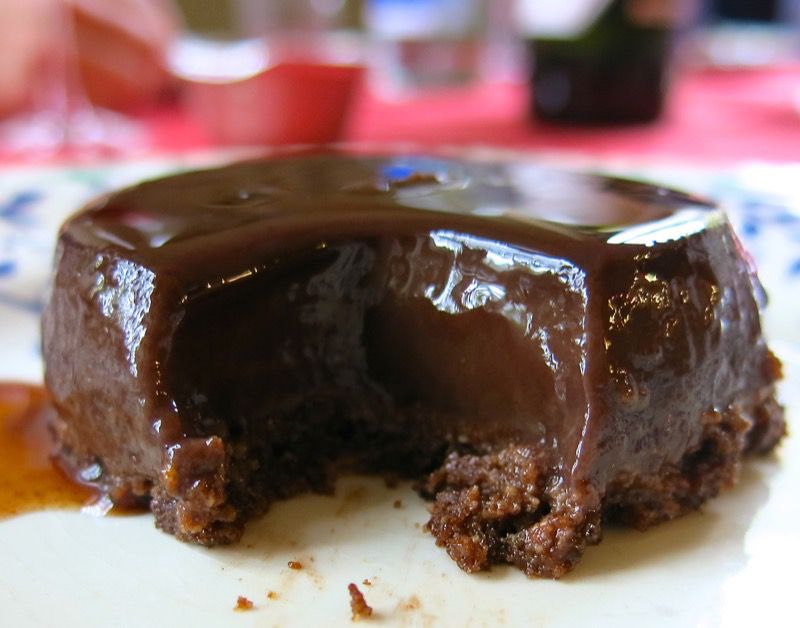 Similar to a crème caramel, yet, so different. Let's start with the amaretti cookings crunched into the mix. Now, that speaks Piemonte! Of course, the cookies are also claimed to originate in the Lombary region as well as in Venice. So it is, with all exceptional Italian creations. I learned how to make these from scratch at Christmas in November 2014 from Emily Richards, and I will be baking them for Christmas this year. Keep your eye out. There is nothing like homemade amaretti!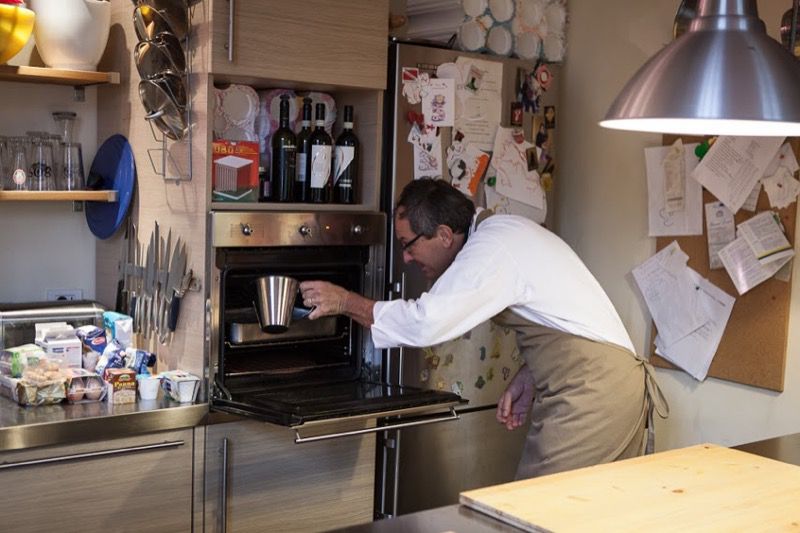 The bain marie in the oven, Federico adds hot water to pans immediately after our arrival to ensure there is enough volume there while we work.
Cook in Italy with Federico Crova
After planning a day trip for Canadian Terra Madre Delegates while in Torino, I also planned a cooking class. The thought of being in Northern Italy without attending a cooking class was unfathomable. Fortunately, Jens and Dennis joined me, and what a wonderful experience this day was.
Federico Crova owns and operates Cook in Italy from his home and studio kitchen in Torino, Italy. We were able to take advantage of a class in his home with our small group. Love getting into Italian homes. He and his wife have refurbished this 200 year old home, but sadly, are moving to Geneva in the Spring. I will include his email at the bottom or this post for those of you interested in Italian cooking classes in Geneva. I would most definitely take another from him, where ever I was – keeping in mind, it would be traditional Piemontese food.
Our three course meal included an appetizer called caponet which is a traditional sweet cabbage roll filled with left over beef, traditional Piemontese Salami, herbs, a little garlic and vegetables typical of
the region. It is significantly different than any sweet or sour Eastern European Cabbage roll. Absolutely delicious and I look forward to making them at home. Agnolotti del Plin which is the Piemonte version of ravioli, and the Bunet Piemontese for the grand finale which I will detail here.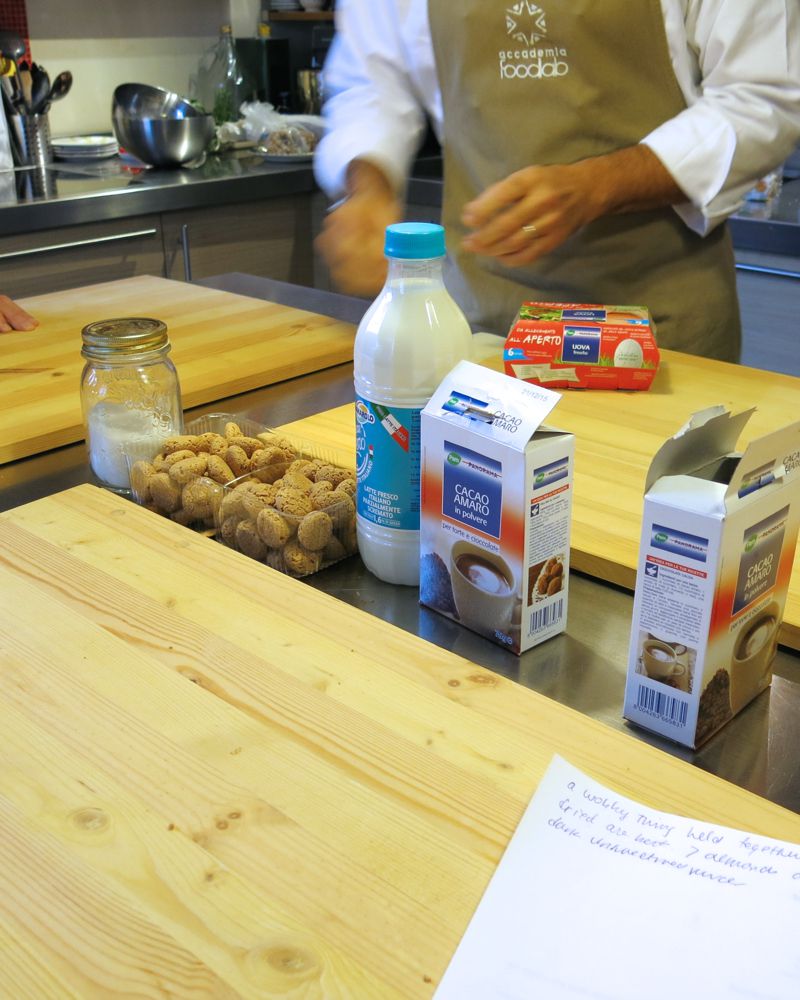 Mis en place, starting with dessert as it takes the longest to make and bake, we are completely focused.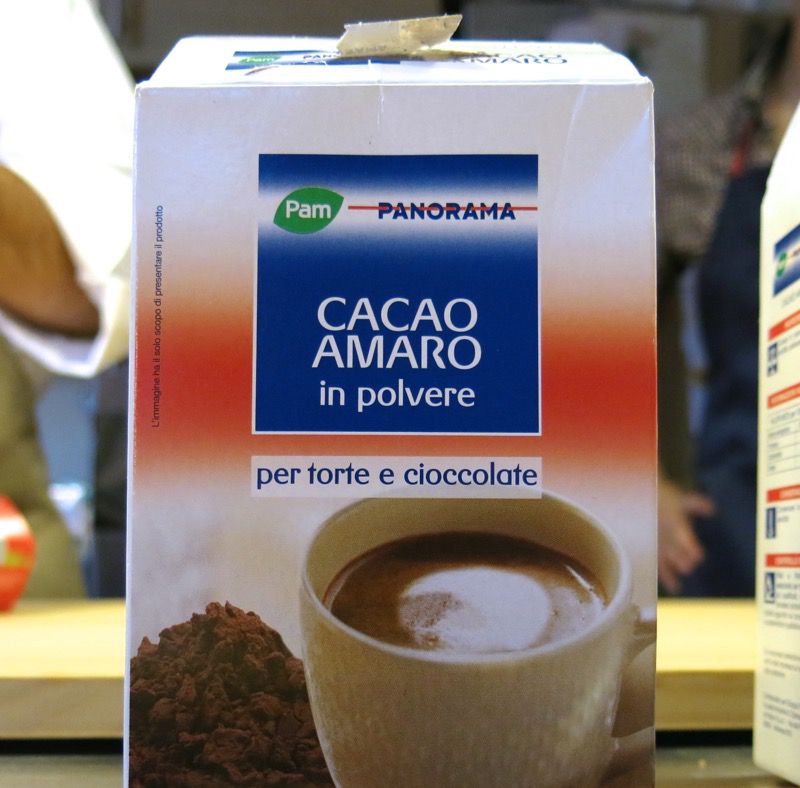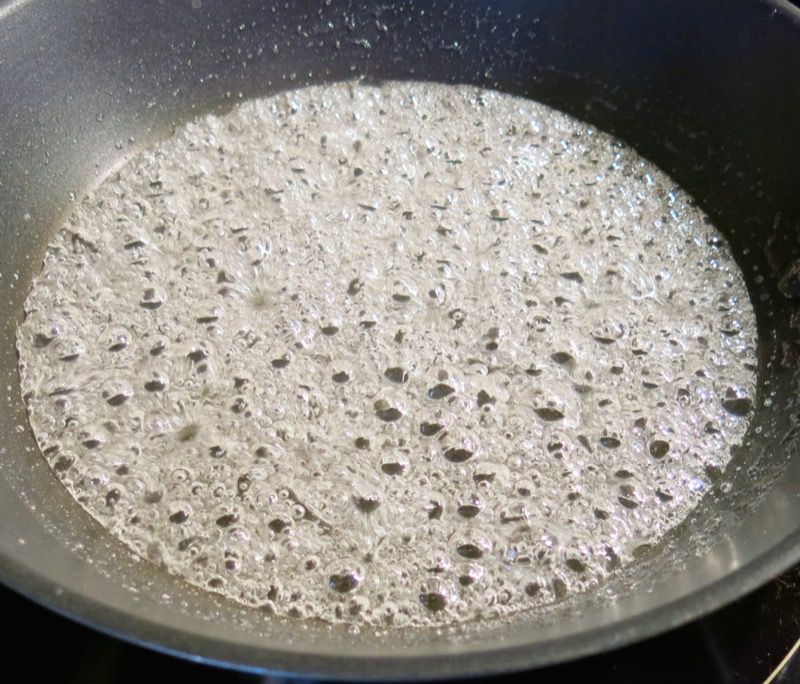 As with Crème Caramel, start with the caramel. Sugar and a bit of water to slow the cooking process, over medium heat until brown. No stirring allowed. Only swishing of the pan via holding the handle.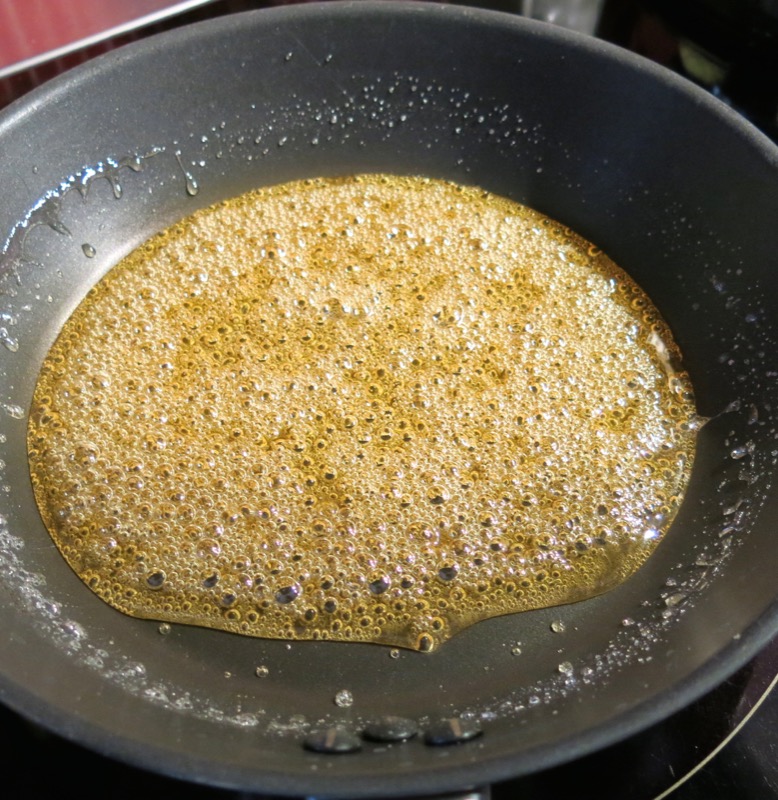 This is the desired colour, and remove from heat immediately as if left in the pan, the caramel will continue to cook. Pouring into the bottom of each serving vessel, in this case, small individual ramekins and one larger pan which is the more traditional service shape.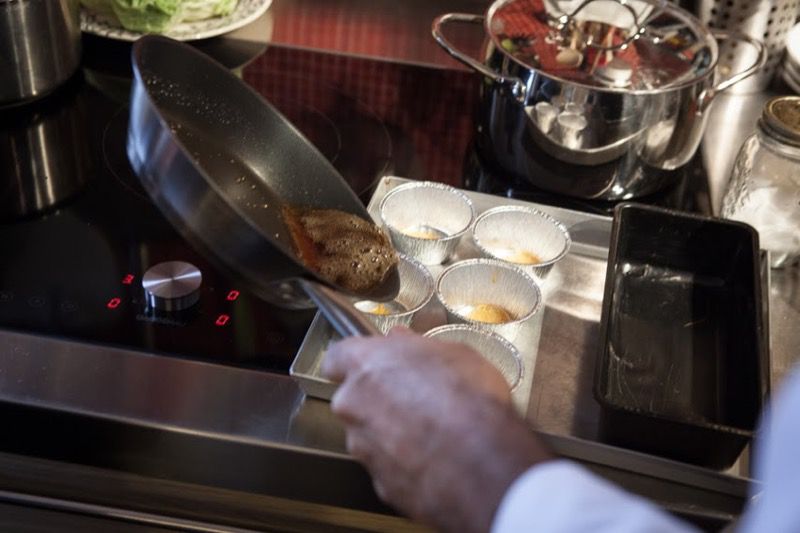 Below, a simple little trick for cleaning the hardened caramel off the pan: low and slow simmer with water filled in it.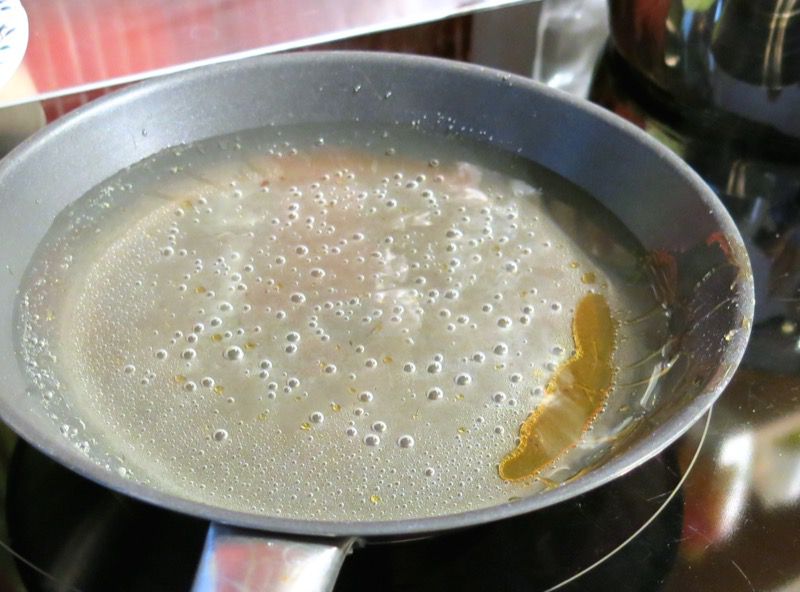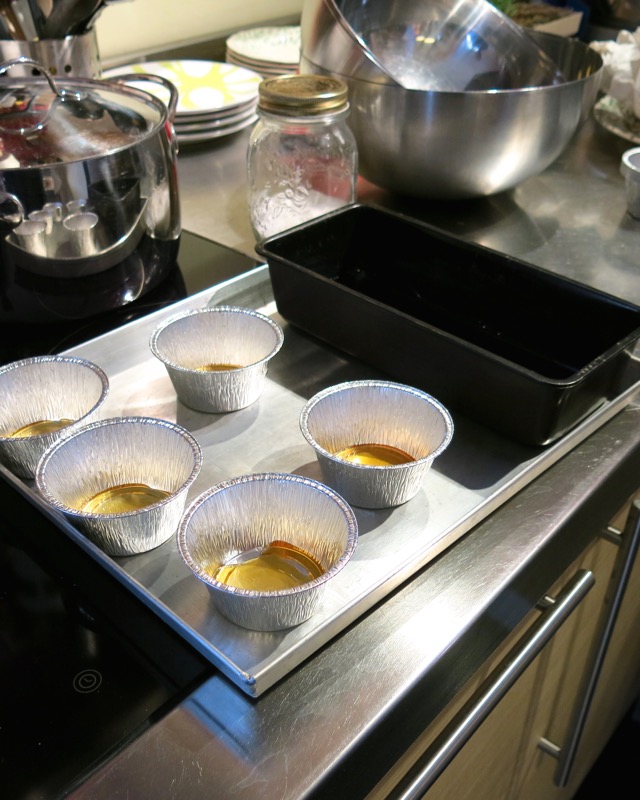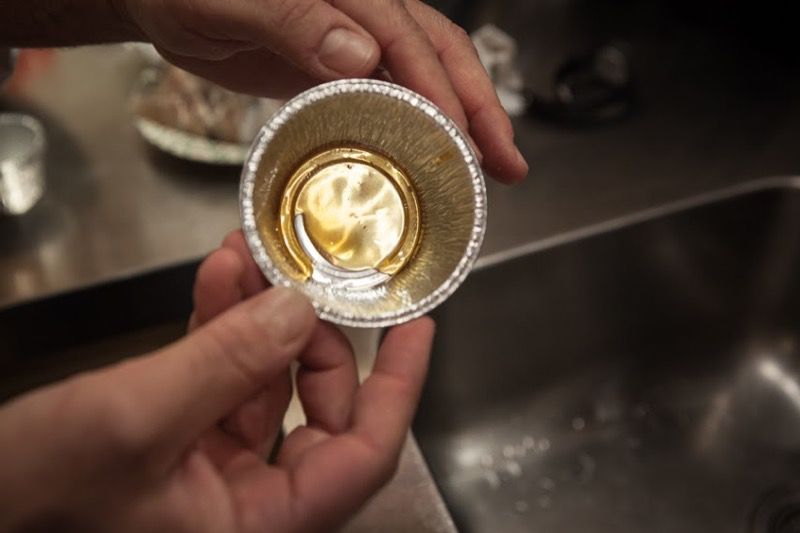 Immediately upon pouring the caramel into the ramekins, swish it around before it hardens to ensure full and even bottom layer coverage.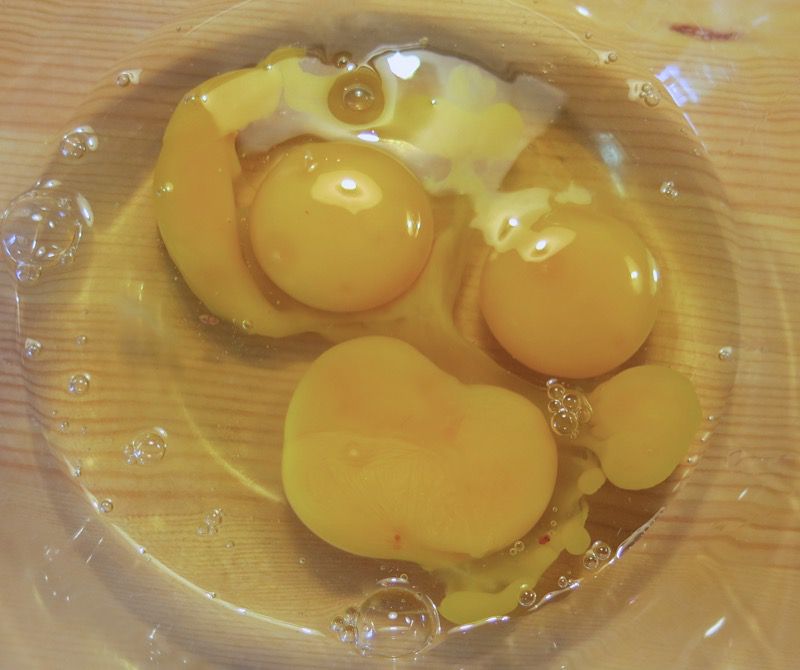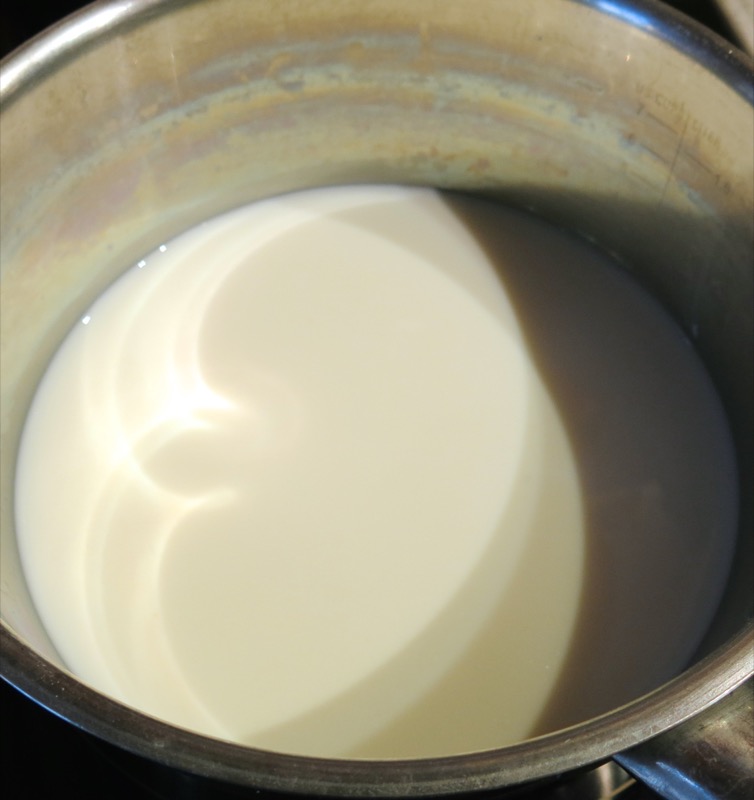 Milk is heating to infuse the vanilla. Flavours are extracted and trapped in the fat of the milk, so don't use skim or thin milk for this recipe.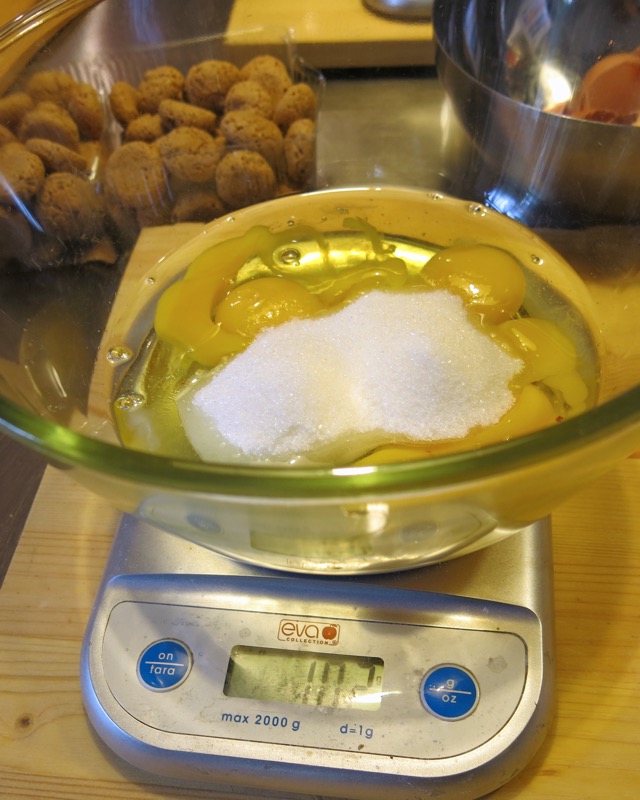 Sugar is weighed into the eggs as is the cocoa.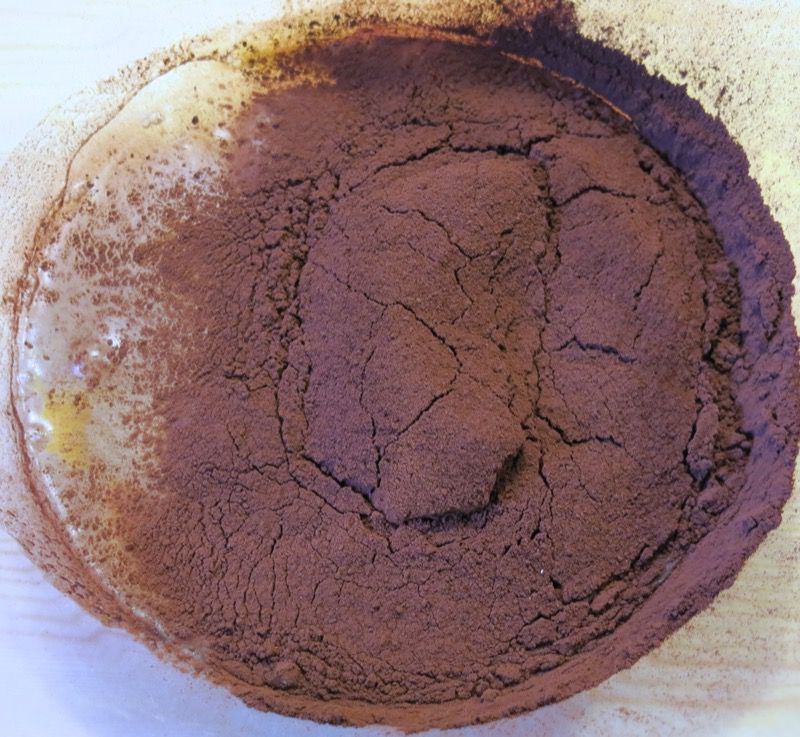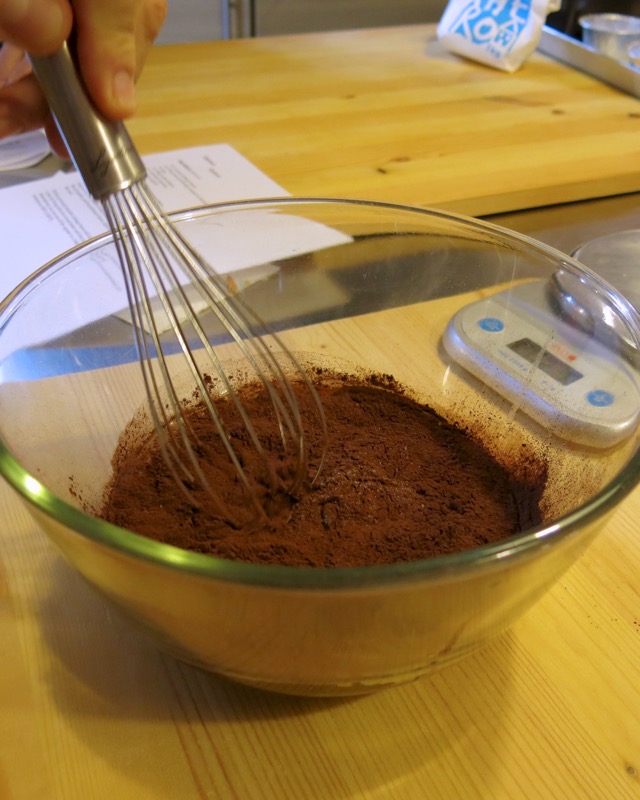 Sugar, eggs, and cocoa whisked together until smooth and then the milk is tempered into the mixture.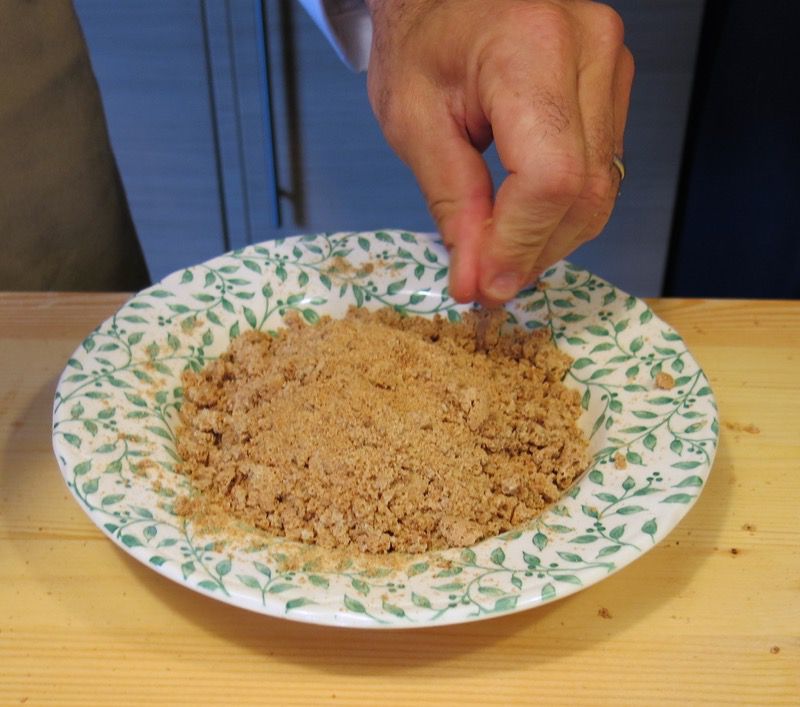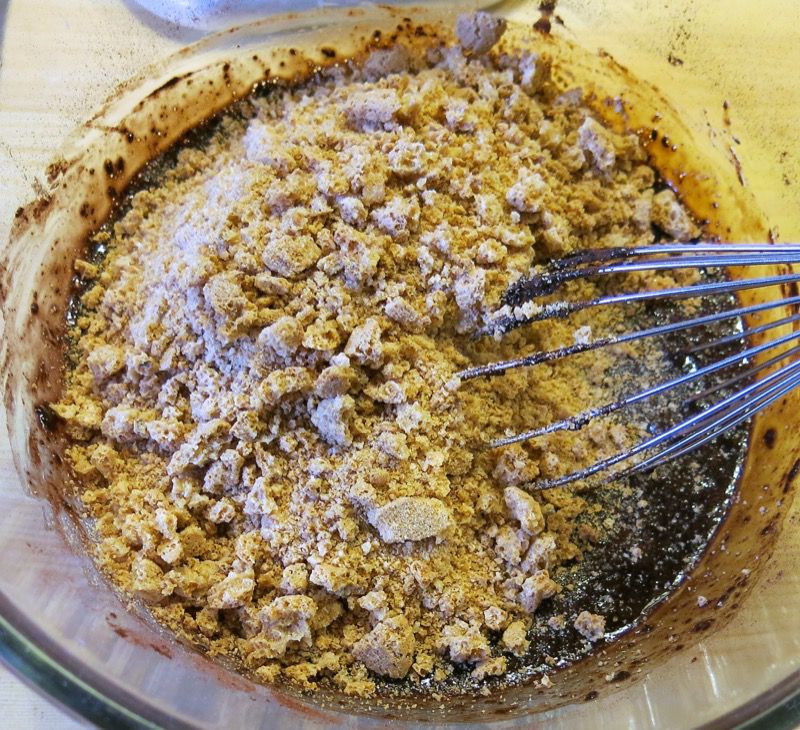 Crushed amaretti biscuits are combined last.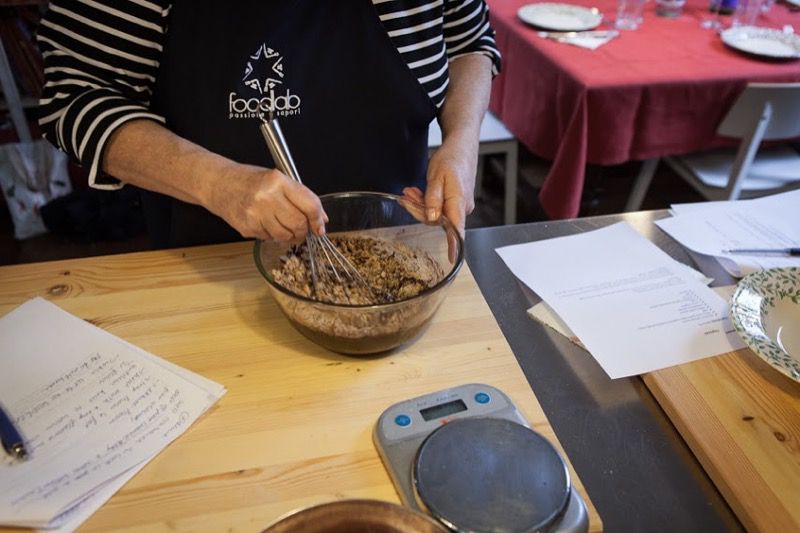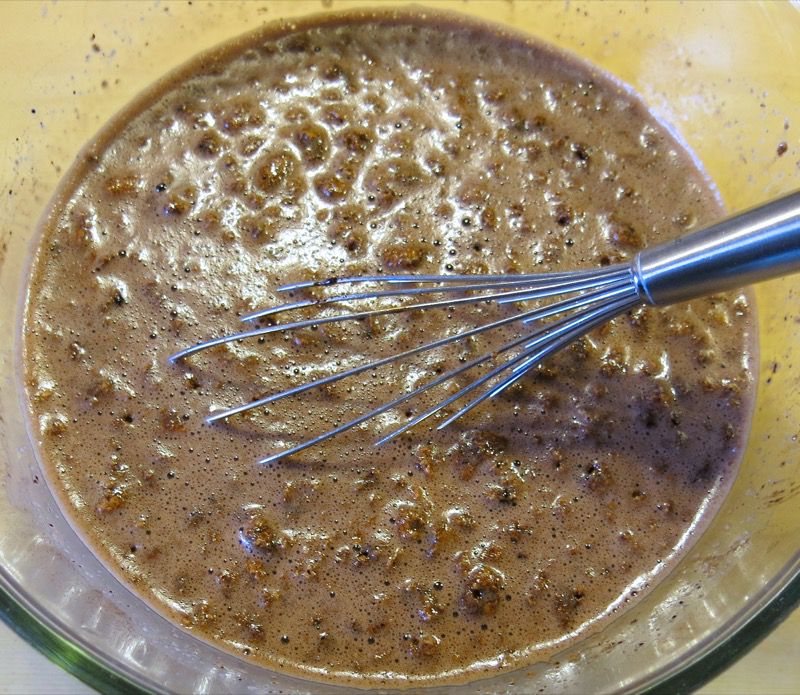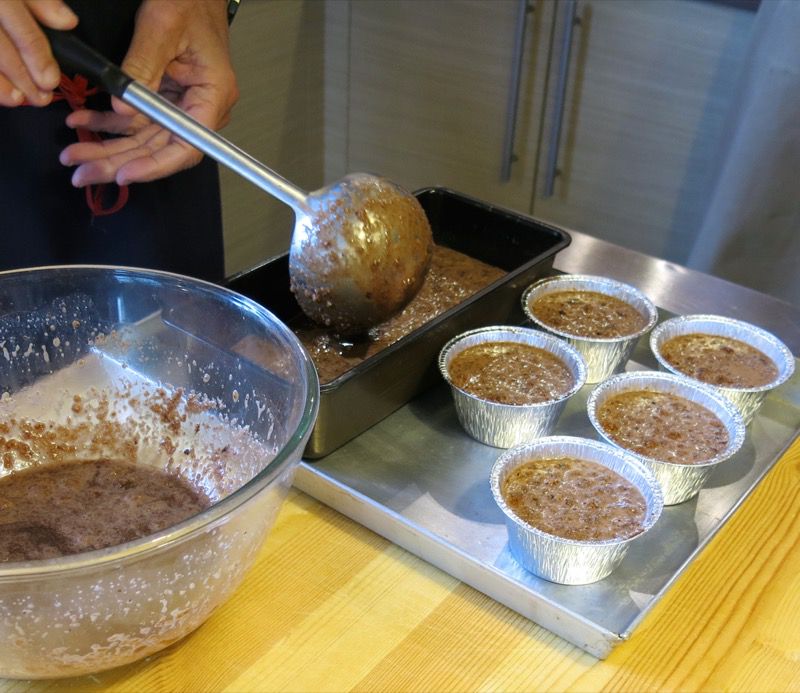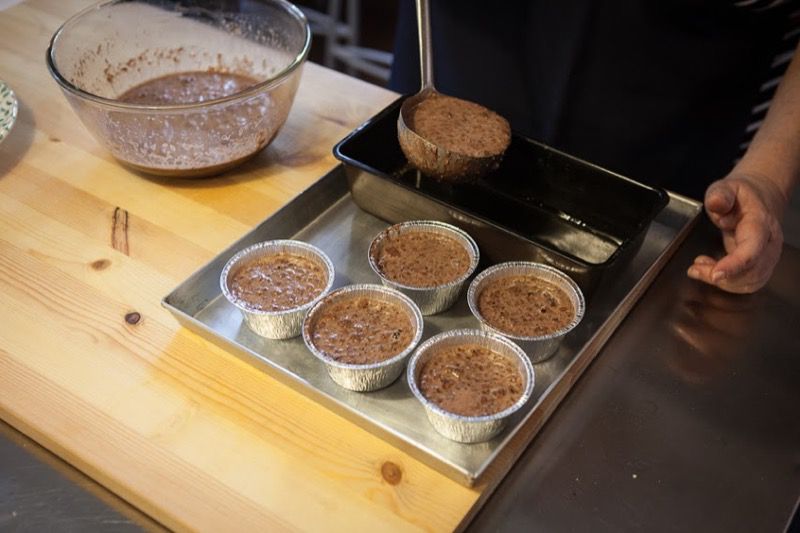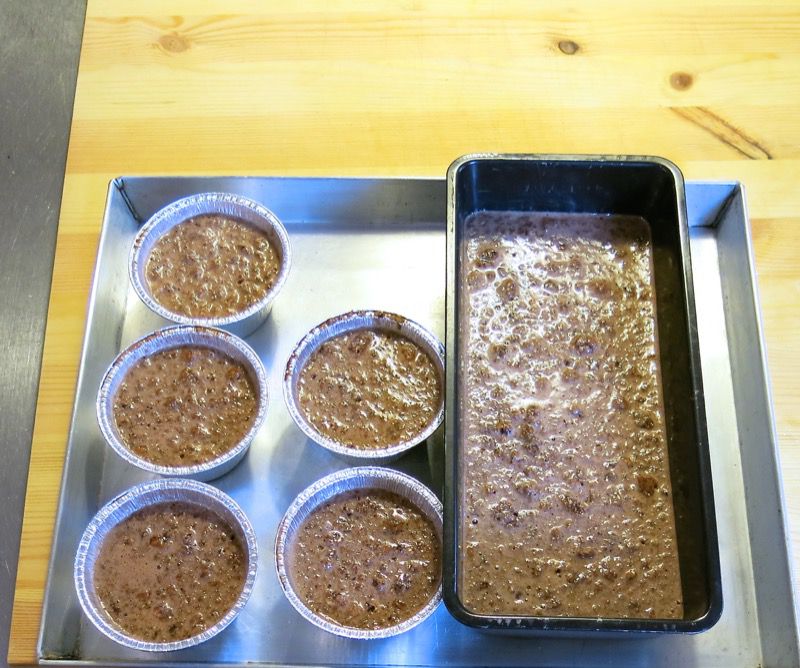 One would never imagine such a silken texture would result from this mixture. The bain marie should be at 200 F.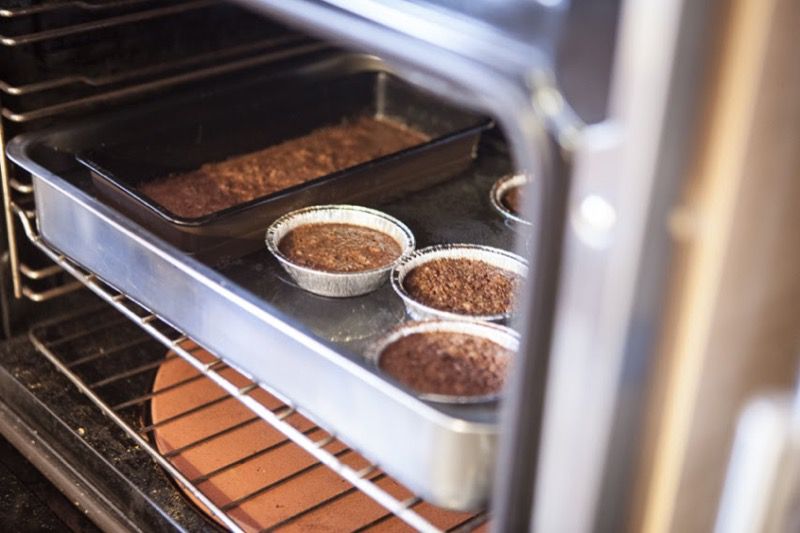 Place carefully in bain marie so water is 1/2 to 2/3 up on the side of each ramekin. Floating is fine.
Done when there is a give and very wobbly to the touch. This day, they took about 20 more minutes to bake, but that may have been because of the large mass in the same water as the smaller ramekins.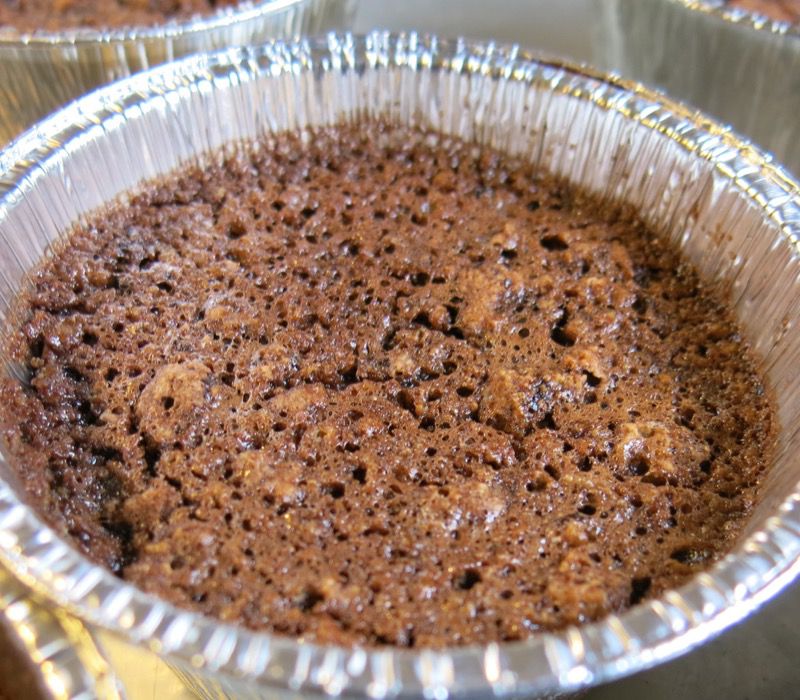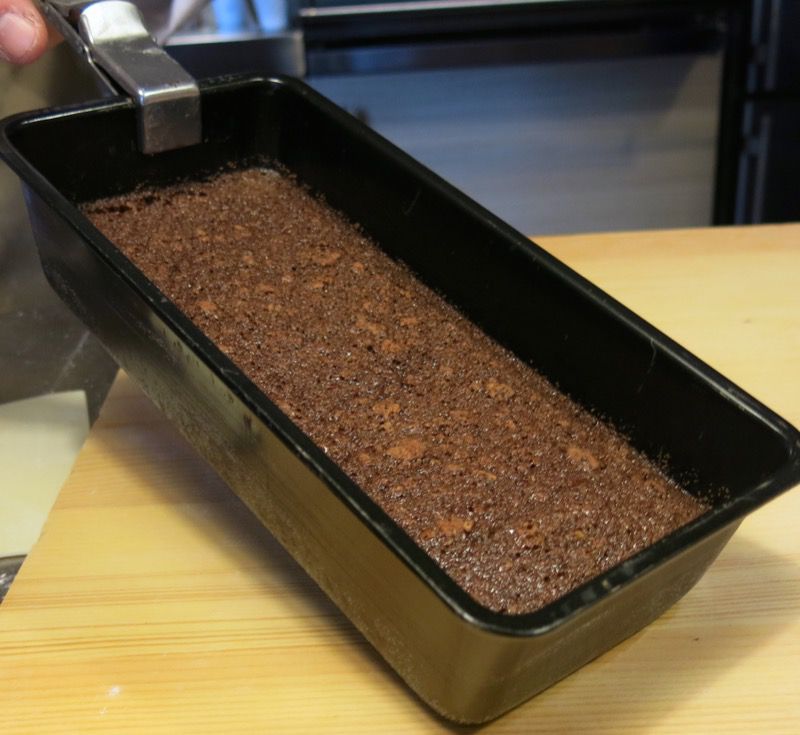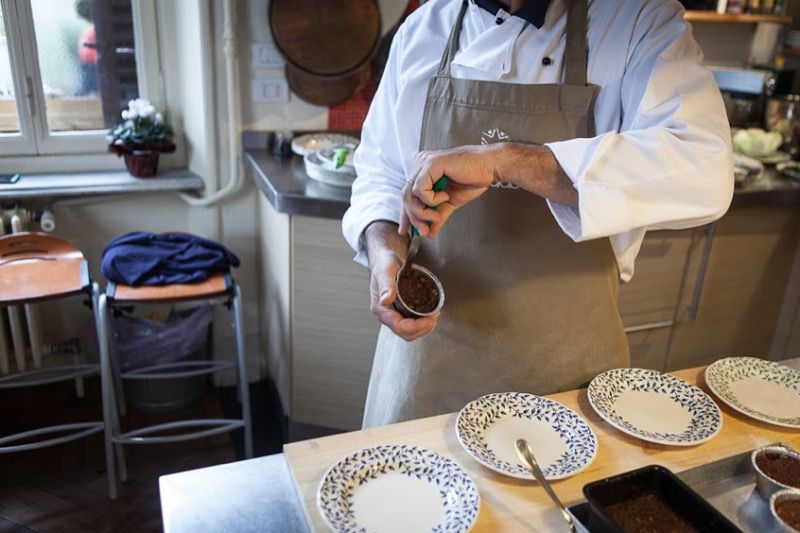 They must be completely chilled in the fridge and best overnight for optimum caramel sauce glory; however, as this is a cooking class, they were cooled to room temperature, and released from the ramekins with a sharp edge. Then, if they didn't plop onto the plate, Federico stabbed a hole in the top of each foil mould to release the bunet to the plate.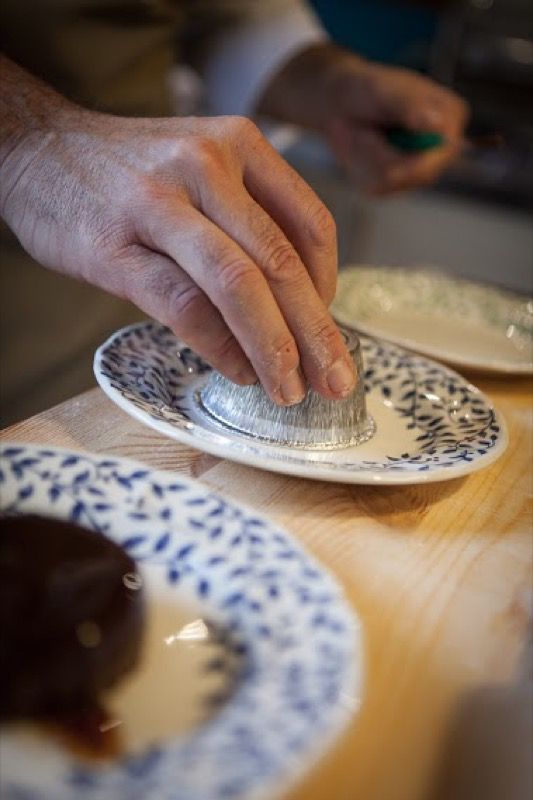 Some of the caramel did flow onto the bunet, but as you see below, most did remain in the mould. Evidence for the importance of the refrigeration process.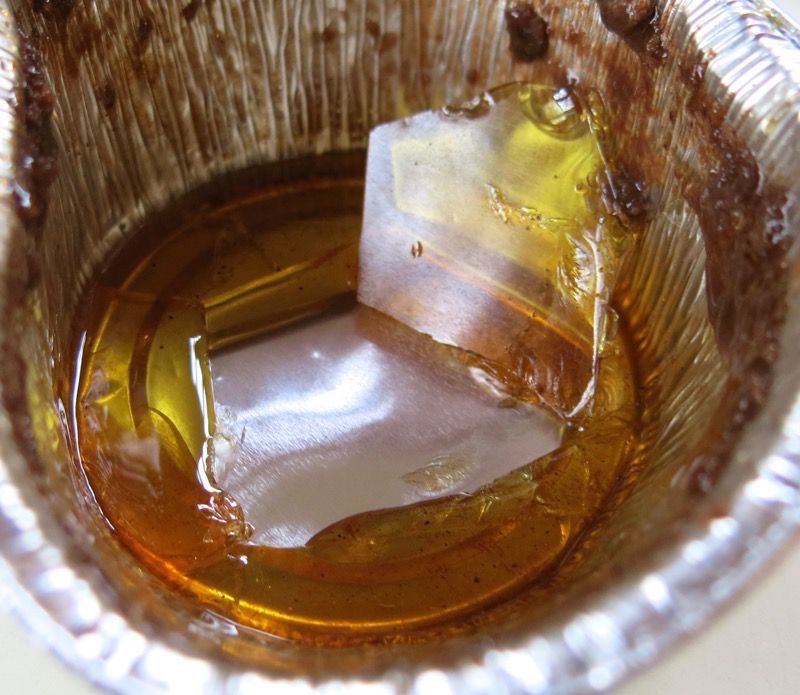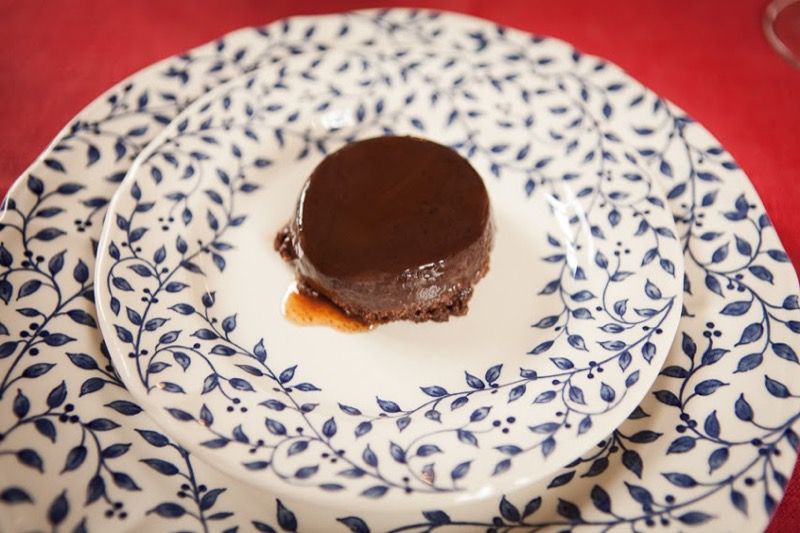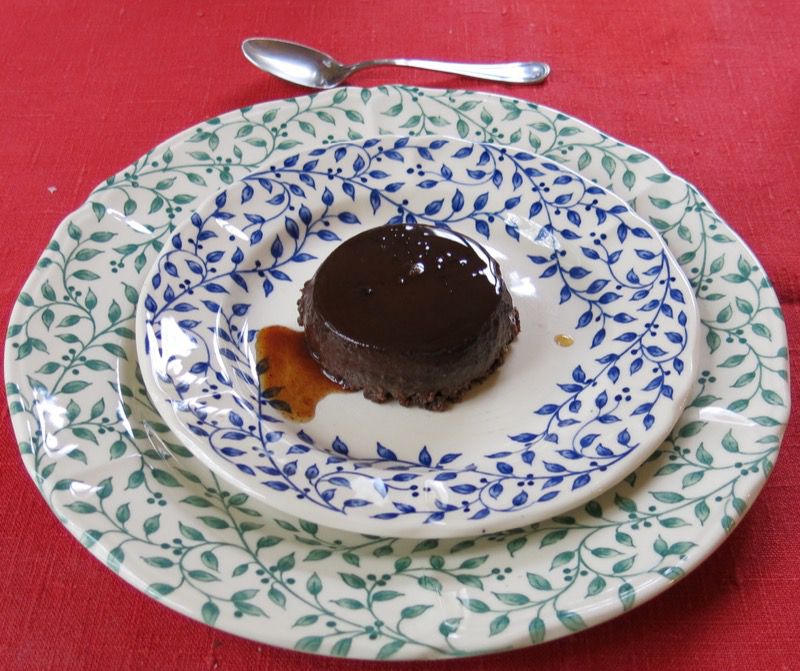 A mint leaf or berries would enhance the plate visually as a garnish, but the flavour and texture of this divine little ditty needs no assistance whatsoever! The unctuous silken texture is absolutely unexpected. Coupled with the chocolate and caramel, the bright little amaretti introduced an entirely new texture sensation and flavour sparkle to the mix. The Bunet alla Piemontese will be the dessert I make for our Christmas dinner this year. Yes, it is that special.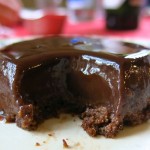 Bunet alla Piemontese


This dessert is similar to Crème Caramel, but with chocolate and Amaretti cookies. A traditional Piemonte dessert that will only be found in this one region of Italy.
Ingredients
100

g

sugar for the caramel

500

mL

milk

4

eggs

110

g

sugar for the bunet

40

g

cocoa powder

150

g

amaretti cookies

, crushed

vanilla bean or 1 teaspoon of vanilla
Instructions
Instructions for the Caramel:
Add 1/4 cup cold water to the sugar in a skillet over medium heat; do not stir, but swirl holding the handle until mixture turns to a deep caramel colour

Pour equal portions into each mould; immediately swirl mixture around bottom of each mould to ensure even coverage before caramel hardens
Instructions for the Bunet:
Preheat the oven to 320F; prepare a bain marie that will hold the 8 individual containers

Heat milk; add vanilla and infuse, turn off heat

Whisk eggs with sugar and cocoa to combine into an even silky mass, but do not beat to incorporate any air

Stir in biscuits; pour in warm milk, stirring constantly to temper the eggs (slowly, slowly)

Ladle equal portions of mixture into caramel coated ramekins

Bake at 320F for 25 minutes, or until wobbely

Remove from oven; rest until room temperature

Refrigerate overnight so caramel will soften and liquify

Use a knife to release the bunet from the edge of the ramekin; release well chilled bunet onto serving plate and serve immediately (Caramel will flow over the form and onto the plate)
Recipe Notes
While baking, the amaretti biscuits float to the top to form what will become a lovely crusty bottom and the caramel will become a gorgeous luscious sauce with the velvety chocolate concoction in the middle.
If preparing one large bunet, cooking time will need to be adjusted accordingly: 45-50 minutes
You can reach Federico at info@cookinitaly.org
About a third of the photos in this post were contributed by Jens Gerbitz, a much better photographer than I. I am ever so grateful for his lending them to me. You can browse his entire set here, but please note that he is the owner of these photos and they are not to be copied or used in any way without his express permission.