Print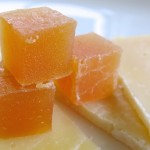 Homemade Quince Paste or Membrillo


The Thermomix is the perfect machine for making Quince Paste or Membrillo. This fragrant delectable sticky sweet fruit treat is lovely on any cheese board.
Total Time
1
hour
40
minutes
1.5

kilo quince

800

g

sugar

(approximately)

25

cm

x15cm tray

plastic wrap

oil to grease tray
Wash, peel and core the quince; preserve the core and the peel

Place core and peel into TM bowl; chop for 10 seconds at speed 5 (use a spatula to keep the mixture near the blades)

Cube the flesh; place in the Varoma

Scale 600g water into the core and peel mixture in the TM bowl

Place the Varoma into position with lid on; steam 25 minutes, speed 1

Remove the Varoma; set aside

Strain the ingredients in the TM bowl: use the straining basket, then place pulp in cheese cloth and strain remaining liquid; discard pulp

Scale liquid and steamed quince cubes into TM bowl (note weight); blend for 10 seconds at speed 5

Referrig to the weight of the steamed quince cubes and the juices, calculate 3/4 of that weight, and add that amount of sugar to the TM bowl; combine for 10 seconds at speed 5

Cook for 50 minutes at Varoma, speed 5, MC off (tea towel over the top of the machine to reduce splatter); cool for 5 minutes

Prepare 25cm x15cm tray while mixture is cooking

Pour cooled mixture into a cookie tray lined with plastic wrap and rubbed with oil; cool overnight

Slice into pieces for storing; wrap tightly and keep in the refrigerator to use as needed
To calculate your sugar, you are using a 1:0.75 ratio or a 4:3 ratio. If you have 1000g of the mixture, you would add 750g of sugar.