Quince Paste: A perfect compliment to my aged homemade cheeses!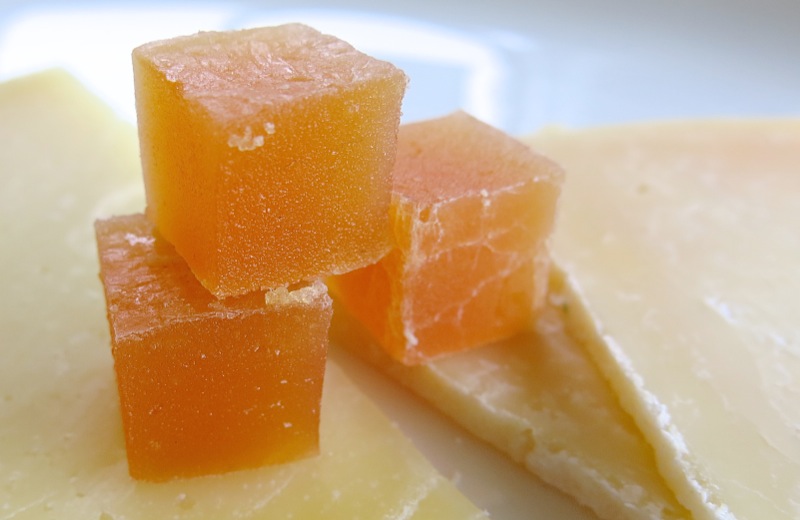 The Farmer's Market in Old Town Dubrovnik was my first introduction to quince paste. I had never seen a quince. Tasted the paste and thought, "Hmmm. Similar. Different. What is that?" The language barrier interfered with my understanding, but the lady kept saying, "Jesti sa sirom " which I knew meant, "eat with cheese." I thought one of us had lost our mind.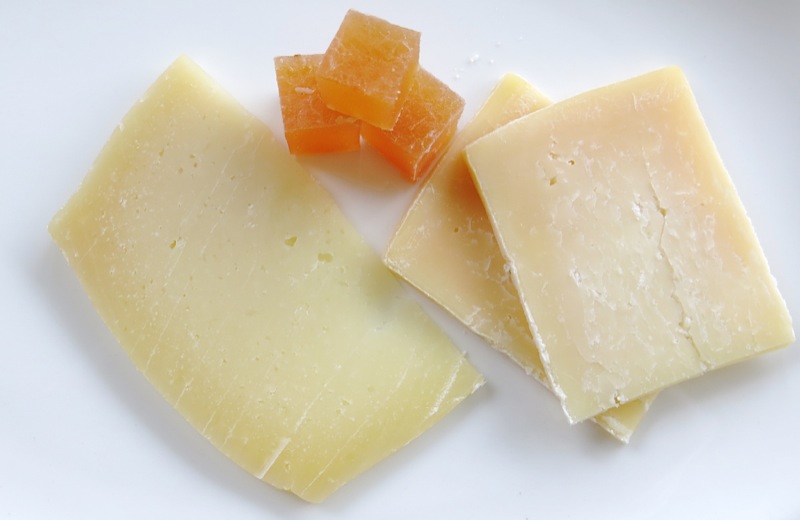 So, I bought a small slice wrapped tightly in plastic and tied with a ribbon with a lovely hand-crafted label: Quince. When I met up with Vanja later in the market, I asked him what it was. He had never heard of quince paste, but definitely knew what a quince was. "It is made from quince." From what? "From quince." Clearly, I was completely in a fog as he continued to expound: "They grow here and in the fall, and are inedible, but everyone brings them into the house and lines the ledges with them to perfume the air. Haven't you ever done that?"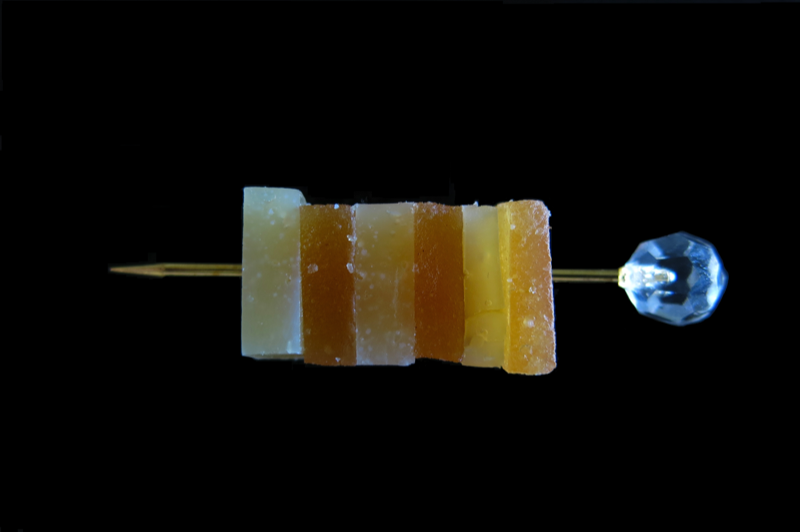 Another blank stare. It was like he was speaking a foreign language. What is a quince? What does it look like? "Round and hard and yellow." What does it smell like? "A quince." What does it resemble? "Well, maybe an apple or a pear in appearance, but much harder and firmer. Nothing similar in fragrance."
I tasted it. It was non-descript. Sweet. Sticky. Definitely a dried fruit, but without clarity of flavour. A bit like an apricot and a raison. I was obsessed. Immediately. Not because I liked the flavour, but because so many others did. Not because I liked the fragrance, but because I didn't know it, yet.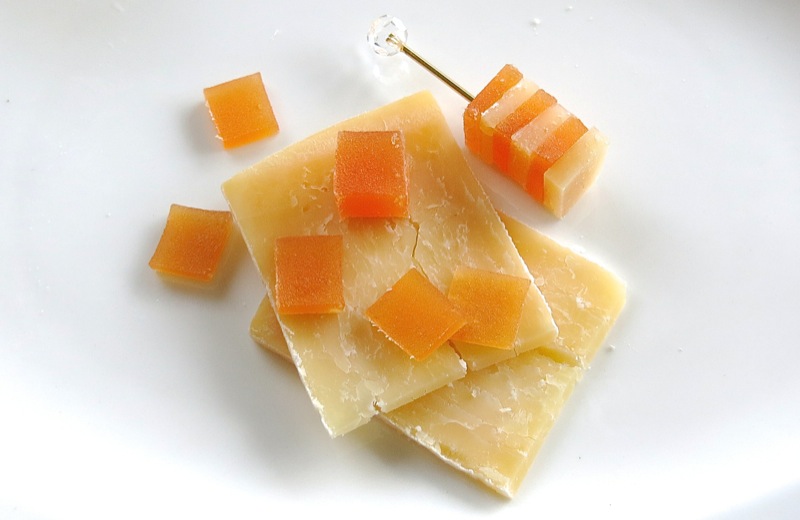 Get me to my ipad. Well, this trip was in 2003 and I didn't even have an iphone, let alone an ipad. It was July. Not quince season. All I could find was that it was in the same family as a starfruit. A star fruit is pretty, but also flavourless.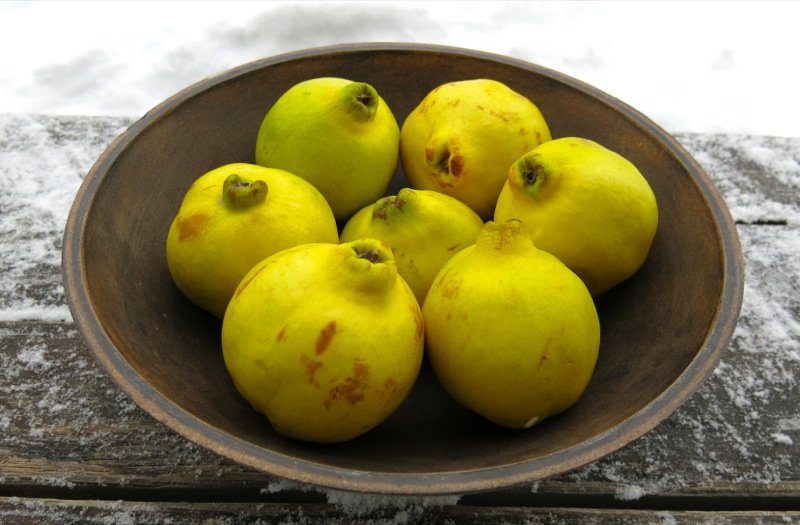 A few years later, I saw my first fresh quince in the Italian Centre Shop. I knew because there was a big, awkwardly written sign in all caps reading: QUINCE. The fruit went immediately to my nose. Nothing. Nothing. Nothing.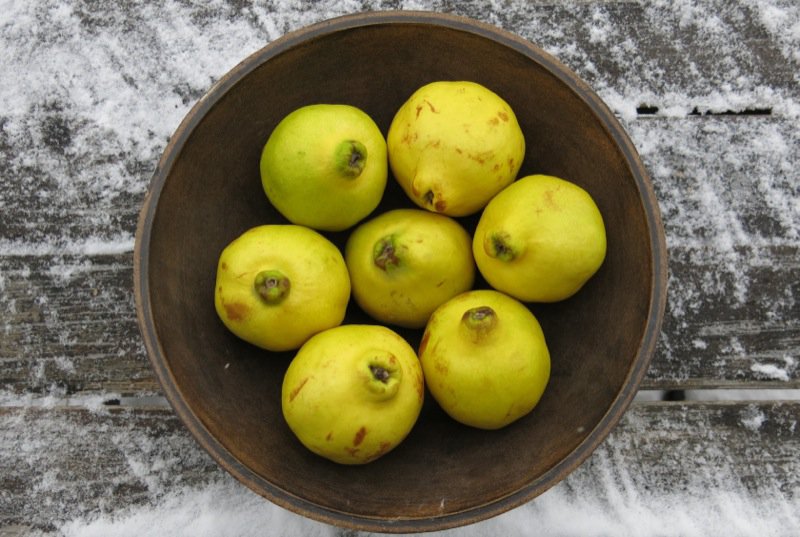 Yes. I kept turning it and sniffing. Breathing more deeply each time to catch just a whisper of the fragrance that was so magical it spelled h-o-m-e in the fall in many Eastern European homes. I almost hyperventilated. Sill, nothing. Vanja's mother, the thriftiest of the thrifty didn't do anything with them after they shriveled and had given up the very last gasp of aroma. Into the garbage.
Membrillo, as the quince is called in Spanish, is cooked into a reddish, jelly-like block or firm, reddish paste known as dulce de mambrillo and eaten in sandwiches or paired with their famous Manchego Cheese: a scintillating pairing. And the artisans in Dubrovnik have discovered that international appeal. Yet, I found it non-descript. What was all the fuss about?
Homemade Quince Paste: Let's Get Started!
Industrious concoctions of liqueurs, jams, tagines and marmalades have been made from quince by various cultures through the centuries.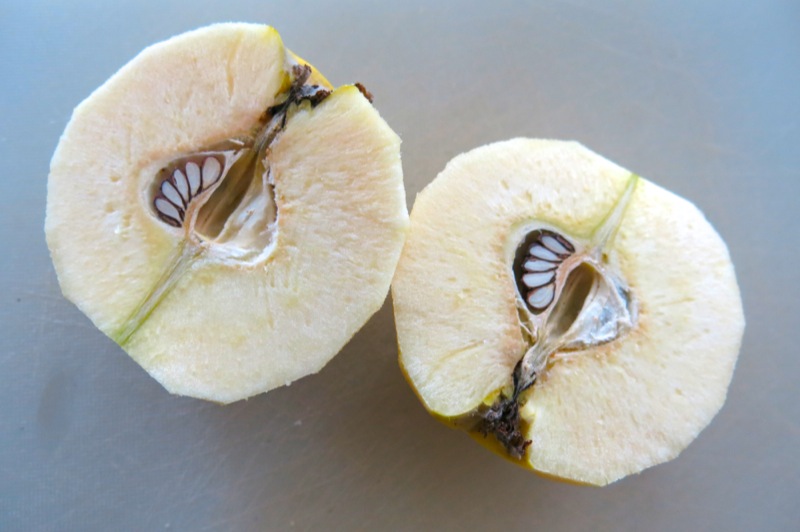 Through the years, I have found quince paste sold in every credible cheese shop all over the world from Neal's Yard Dairy at the Borough Market in London to The Cow Girls Creamery at The Ferry Market Building in San Francisco. But, it wasn't until I started making my own cheese that I developed a little side stash of items that offer a lively accompaniment to certain cheeses I make.
And this December, I reached out to the quince once more at the Italian Centre Shop and brought it to my nose. Expecting nothing. Swoon. Double swoon. Those of you that know the fragrance of a quince, how would you describe it? It is a very strong, exotic floral perfume. Nothing fruity about it. Intoxicating. Addictive. I bought a bunch, came home, and lined them along my kitchen window ledge.
Nothing happened. Each fruit exuded the alluring fragrance, yet the room was too large to hold the scent as the small, intimate country homes in the Balkans could. So, to make quince paste. As each sample of the paste I had tasted was very raisin like (sweet and earthy and definitely lacking clarity) that I needed to make my own from fresh and fragrant quince to understand the addiction. The hoopla. The cha-cha-cha! What all the raving about this pairing was about. In the Mix, a Thermomix Cookbook, complied by Dani Valent has this recipe by Jeff Brady in it.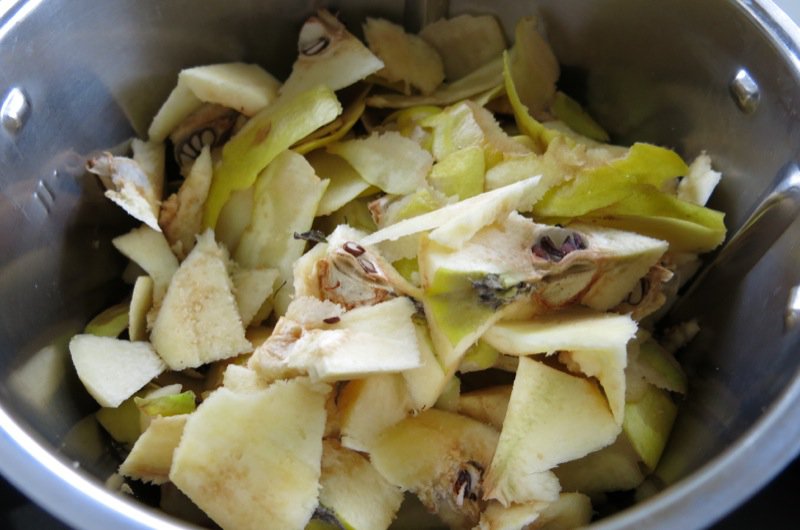 Homemade Quince Paste: Both the Bowl and the Varoma are used to make this recipe
The peel and core go into the Thermomix bowl with a small amount of water to be cooked and at the same time, will steam the cubed quince fruit on the Varoma tray, above.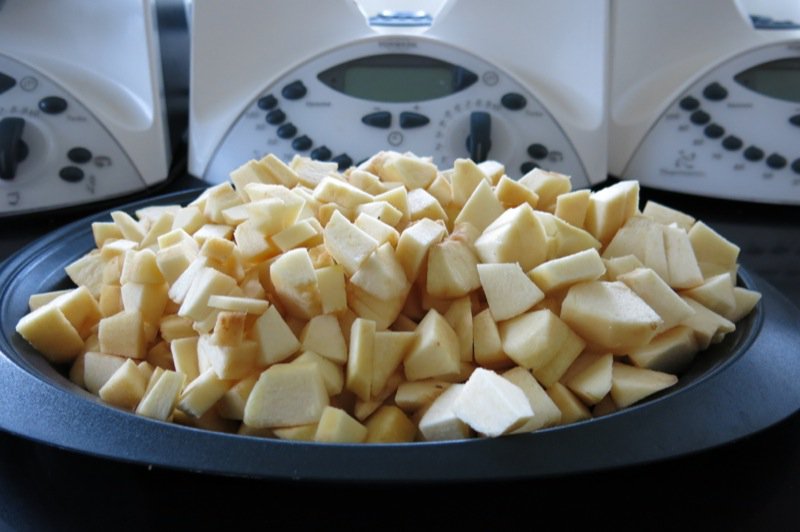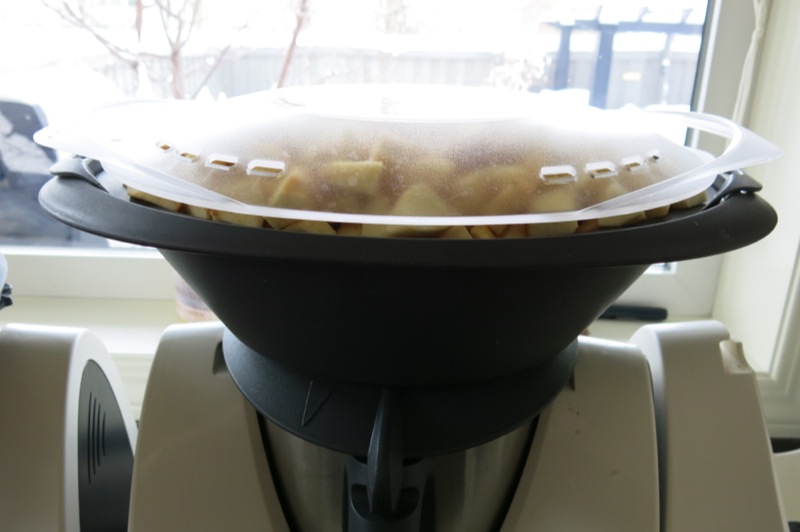 The peel and core was chopped finely to most easily release the juices from them as they cook.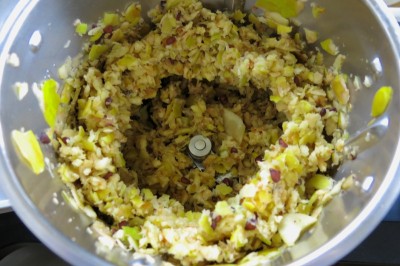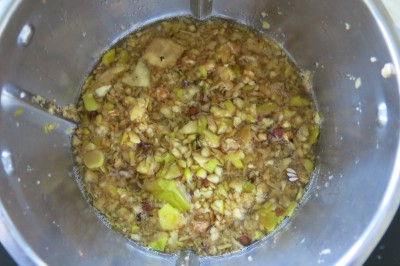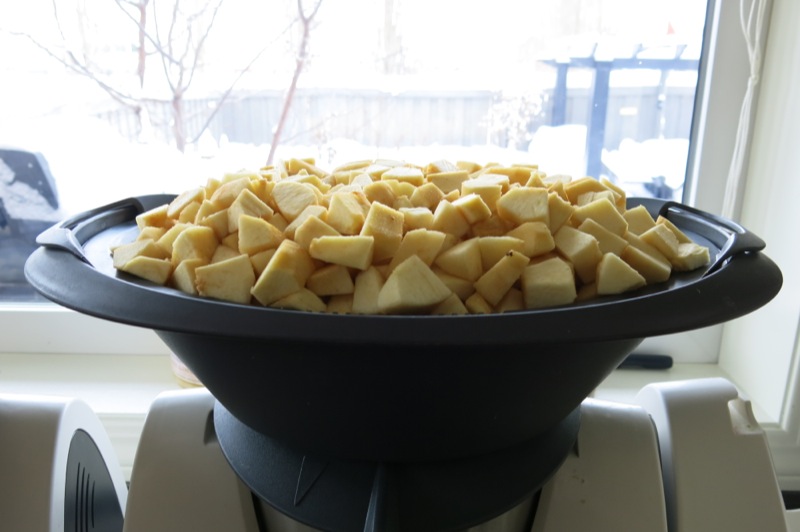 Above, uncooked quince cubes; steamed and tender quince cubes, below.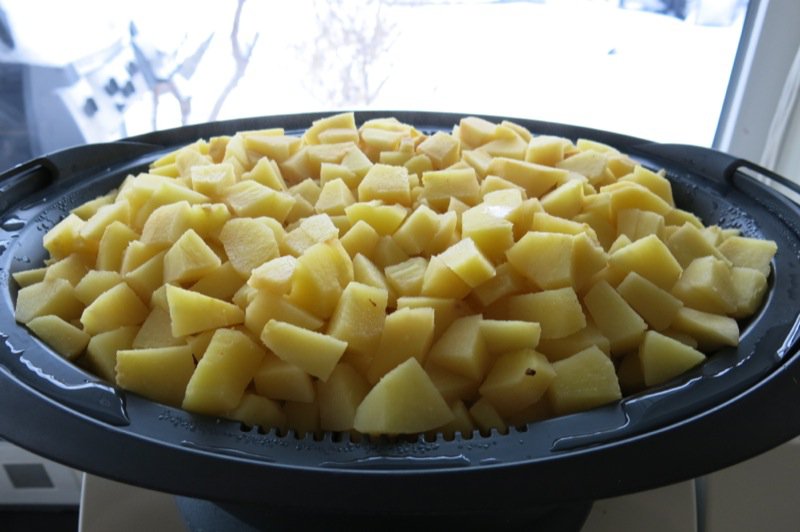 Homemade Quince Paste: Straining the Pulp
The skin and cores must be strained to separate the pulp from the juice.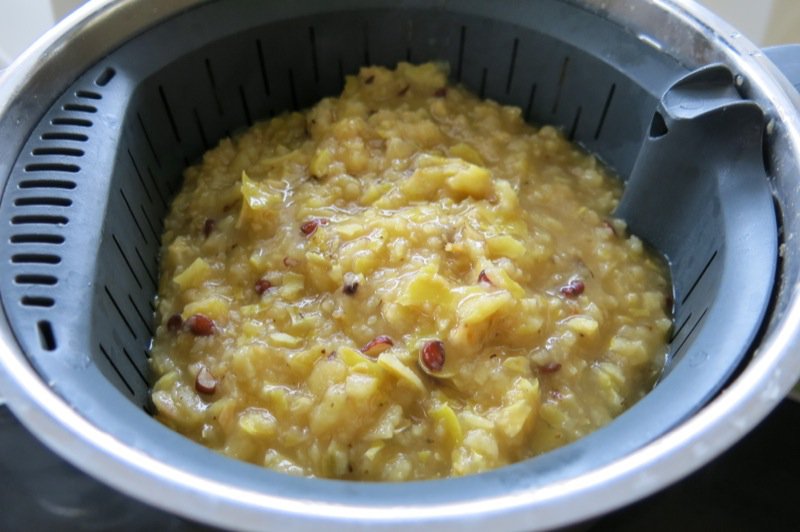 The strained pulp is then placed in cheesecloth and strained some more.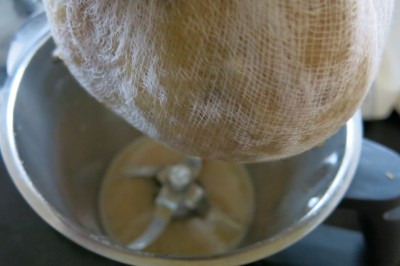 The lot on the left is the juice from the first straining and the lot on the right is the total amount of juice: it measured to be a scant cup.
Homemade Quince Paste: Puréing the Fruit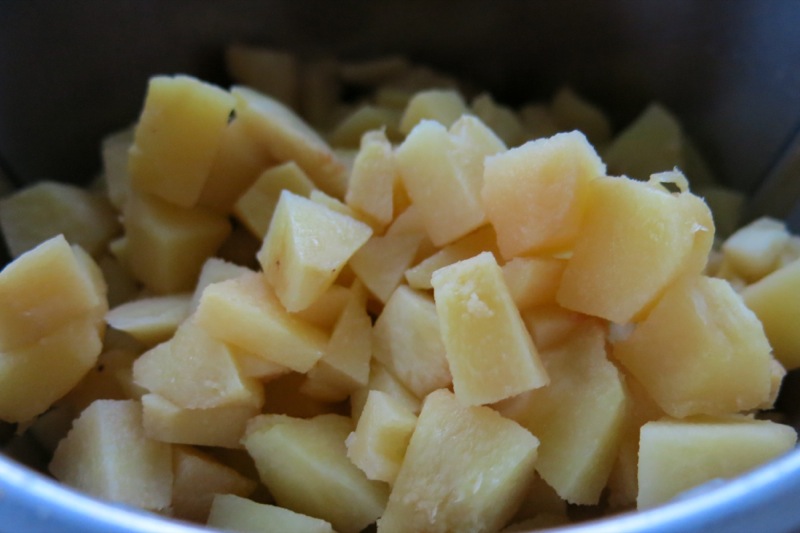 The tender steamed cubes are added to the juices and puréed.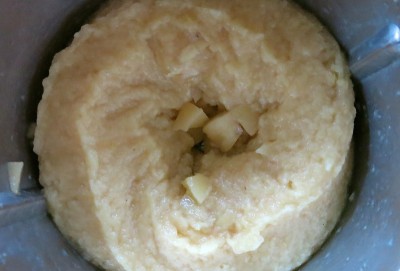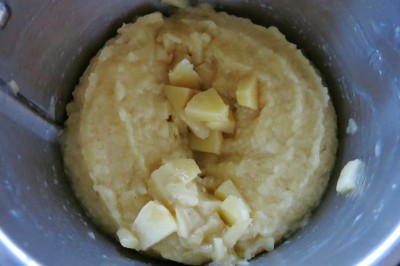 Homemade Quince Paste: Pulp and Purée Combined with Sugar and cooked a whole lot more!
At this point, the purée is weighed and the sugar added. Then the concoction is cooked, being stirred constantly by the machine, for almost an hour.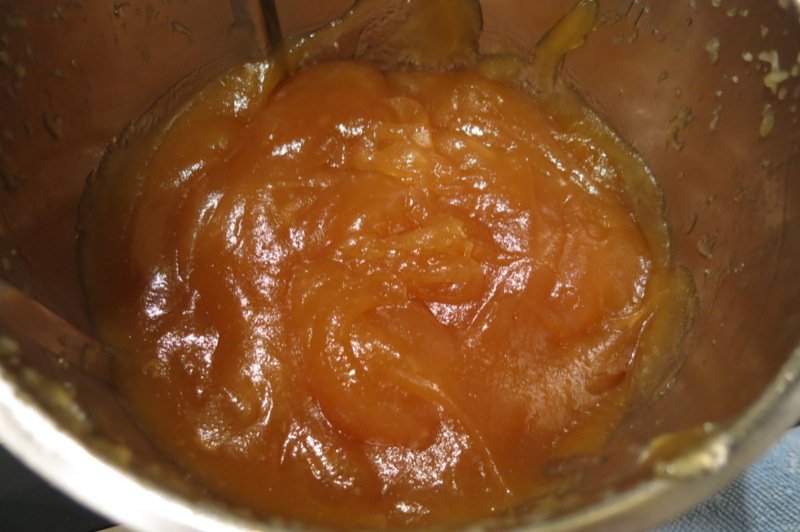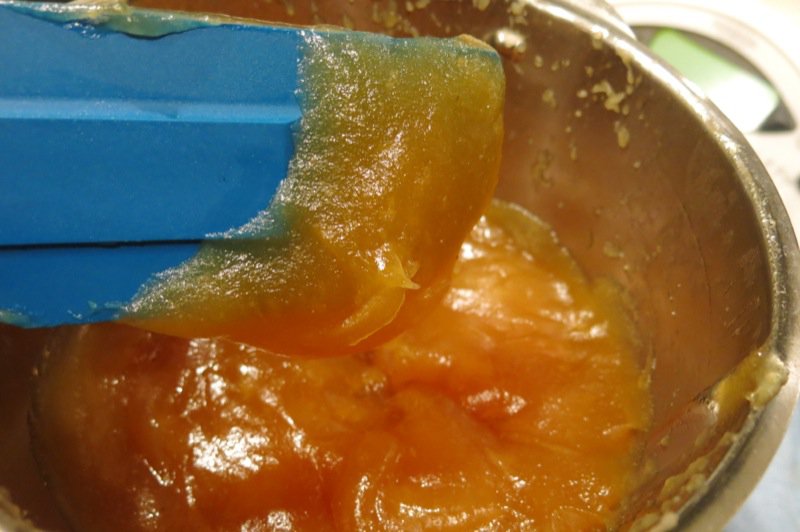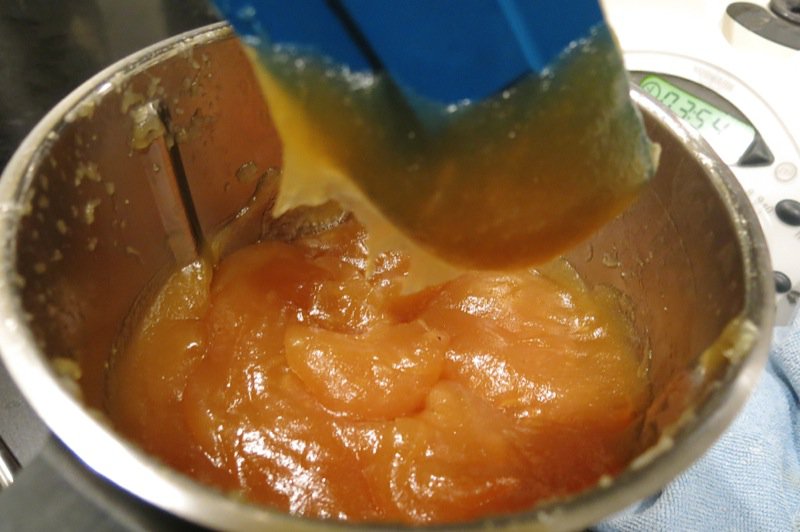 Homemade Quince Paste: Preparing the Paste
The colour change was dramatic. The paste was substantial and able to stand on its own, so I filled my cookie pan to the top and was able to secure the open edge with plastic wrap. It was that viscous.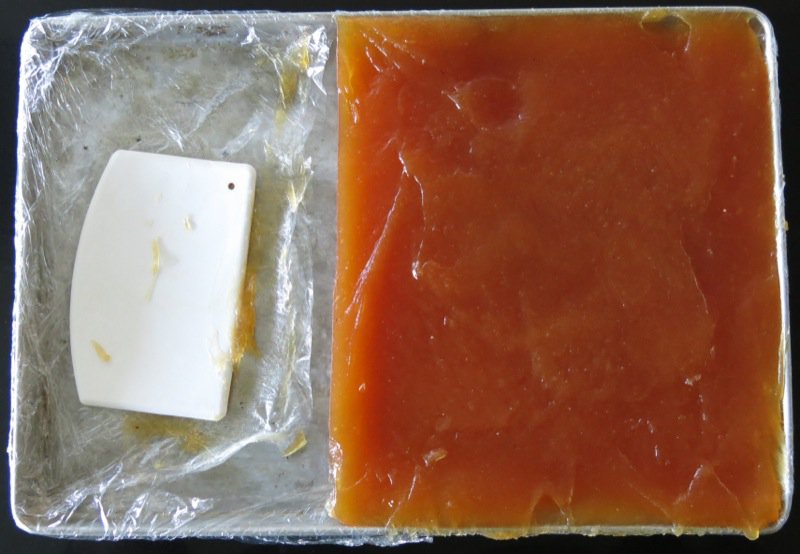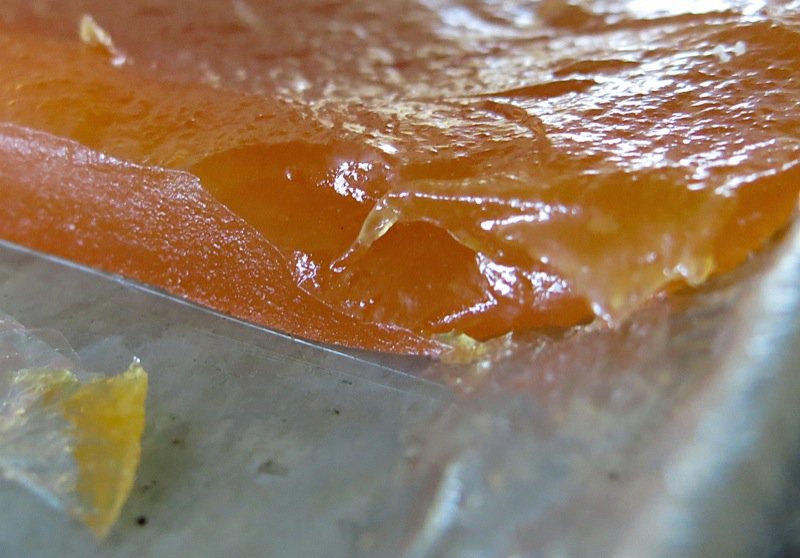 After the paste had cooled completely to room temperature, it came off of the pan with ease. I cut it into 4 "slabs" for storing. This paste will last a year or more, if wrapped tightly and kept in a cool place.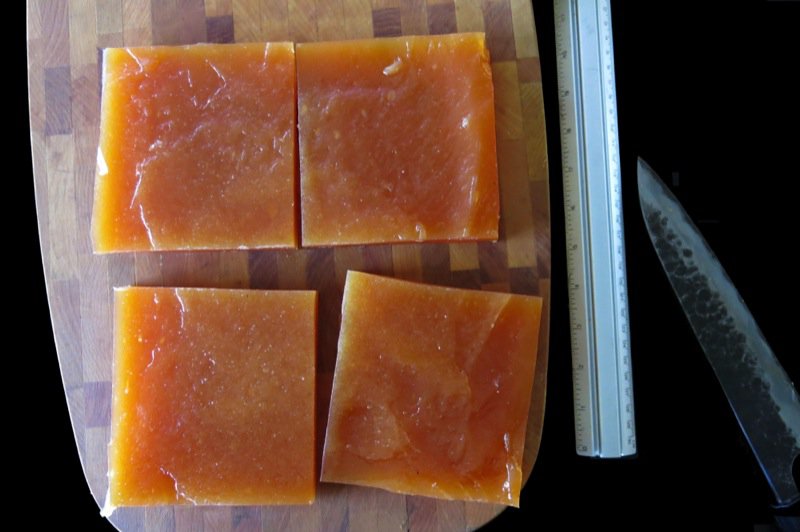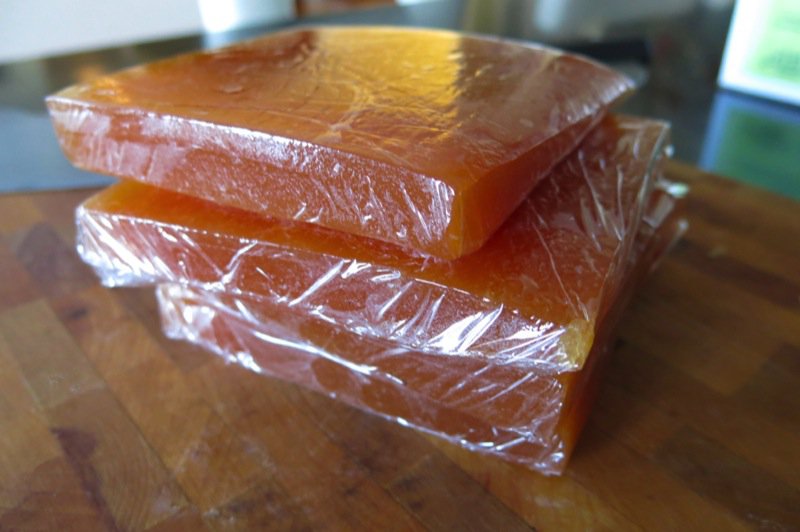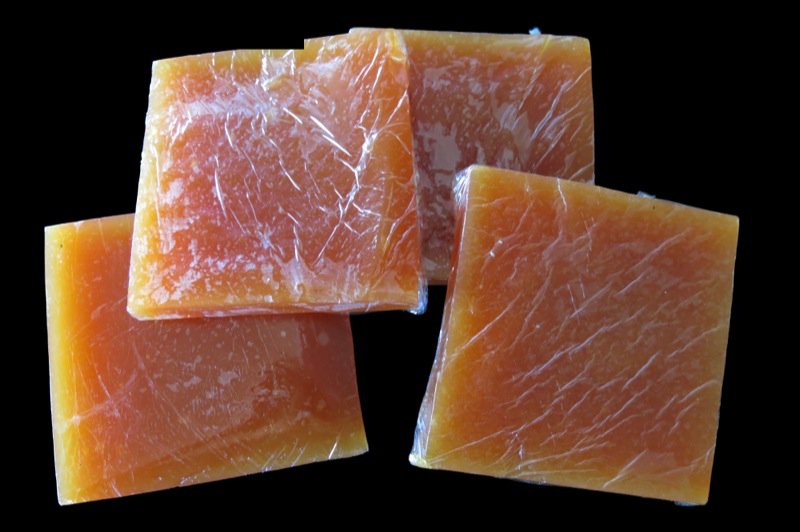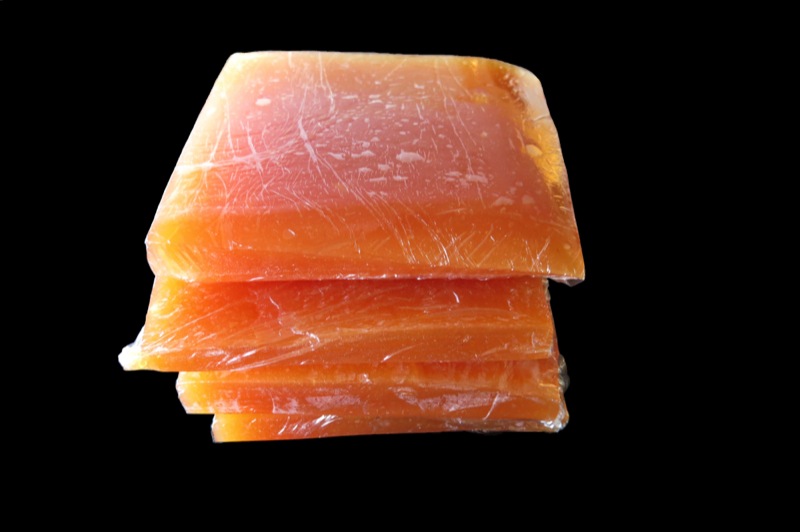 Homemade Quince Paste: Tasting and Serving
And the taste? Probably my imagination, but a wee bit brighter than the muddled quince pastes I have sampled throughout my travels around the world. Not as different as I expected, or had hoped. Usually, homemade anything is remarkably better. I guess I had some pretty great quince pastes on my travels. This one had a more pronounced apricot flavour, which I liked. It was still earthy with the complexity of a dark sweet raisin under the apricot notes. It was not addictive and I had no desire whatsoever to eat it on its own. I will add, however, that I did find it absolutely brilliant with my homemade Gruyere. That combination was a bit addictive and I spent a great deal of time cutting the paste and the cheese and stacking them up to chew, taste, and savor.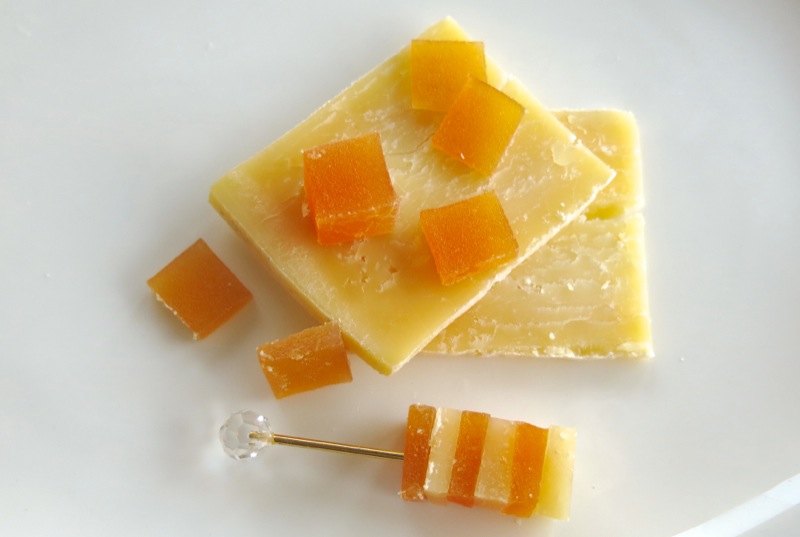 So, in the end, I have another lovely little addition to my homemade cheese pairing stash. It isn't necessarily an acquired taste, but it is a taste where your palate has to be at rest. Silent. Patient. And then in goes the cheese with the quince paste. No conversation can be had to appreciate the coupling here. In a quiet little moment, there is a lot to learn about that taste on my tongue.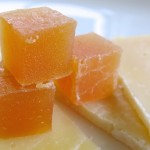 Homemade Quince Paste or Membrillo


The Thermomix is the perfect machine for making Quince Paste or Membrillo. This fragrant delectable sticky sweet fruit treat is lovely on any cheese board.
Total Time
1
hour
40
minutes
Ingredients
1.5

kilo quince

800

g

sugar

(approximately)

25

cm

x15cm tray

plastic wrap

oil to grease tray
Instructions
Wash, peel and core the quince; preserve the core and the peel

Place core and peel into TM bowl; chop for 10 seconds at speed 5 (use a spatula to keep the mixture near the blades)

Cube the flesh; place in the Varoma

Scale 600g water into the core and peel mixture in the TM bowl

Place the Varoma into position with lid on; steam 25 minutes, speed 1

Remove the Varoma; set aside

Strain the ingredients in the TM bowl: use the straining basket, then place pulp in cheese cloth and strain remaining liquid; discard pulp

Scale liquid and steamed quince cubes into TM bowl (note weight); blend for 10 seconds at speed 5

Referrig to the weight of the steamed quince cubes and the juices, calculate 3/4 of that weight, and add that amount of sugar to the TM bowl; combine for 10 seconds at speed 5

Cook for 50 minutes at Varoma, speed 5, MC off (tea towel over the top of the machine to reduce splatter); cool for 5 minutes

Prepare 25cm x15cm tray while mixture is cooking

Pour cooled mixture into a cookie tray lined with plastic wrap and rubbed with oil; cool overnight

Slice into pieces for storing; wrap tightly and keep in the refrigerator to use as needed
Recipe Notes
To calculate your sugar, you are using a 1:0.75 ratio or a 4:3 ratio. If you have 1000g of the mixture, you would add 750g of sugar.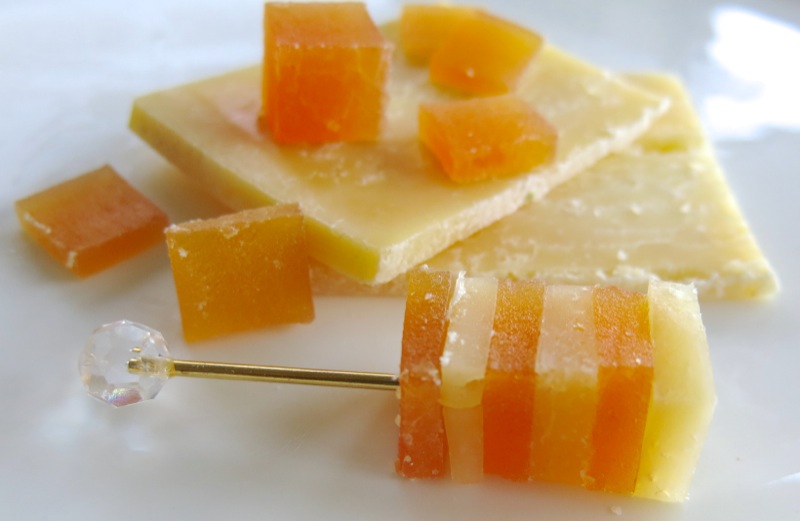 Cecilia's Membrillo! (see her comment below)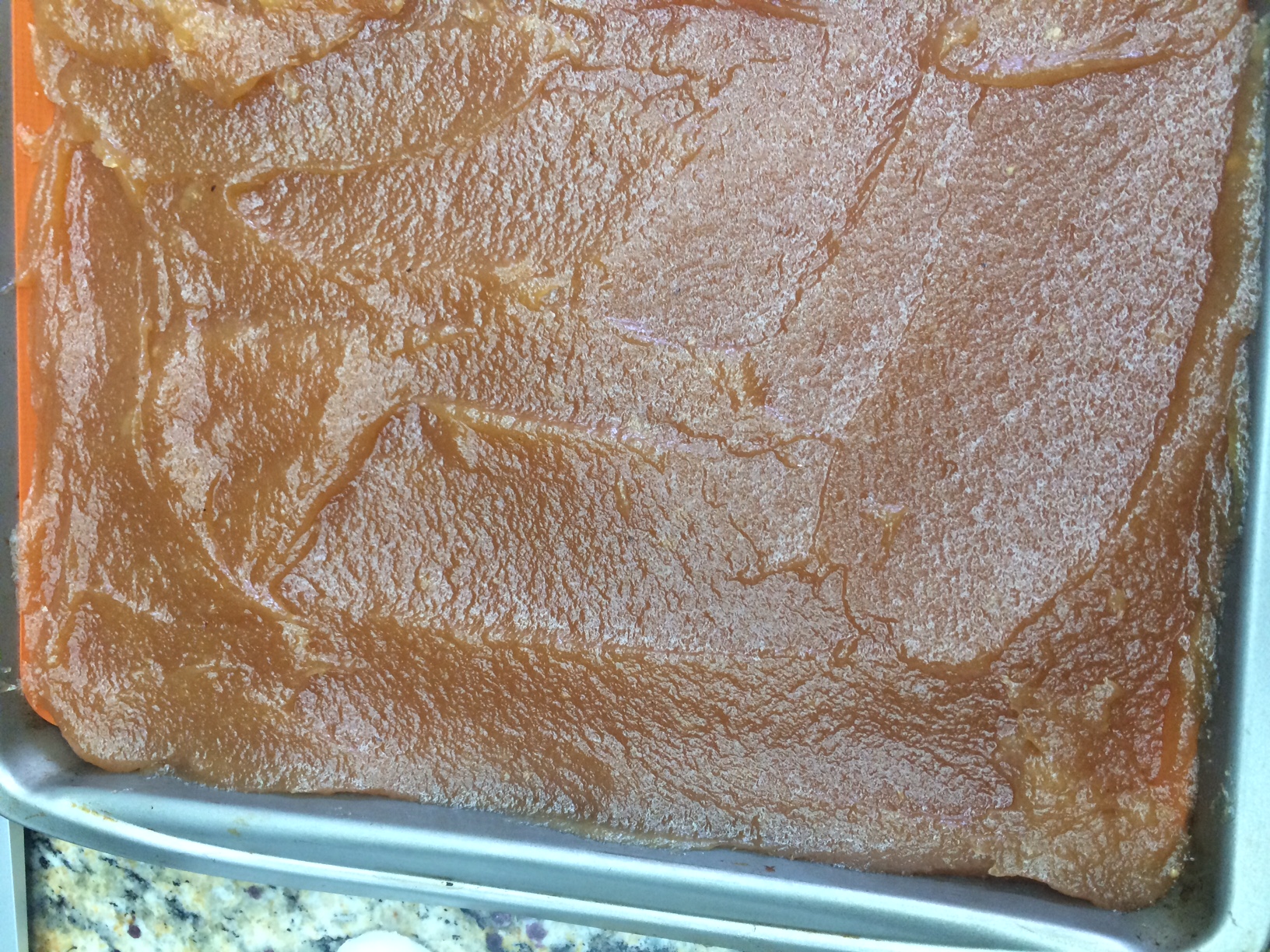 Thank you for sharing your success with us, Cecillia! Hugs, Valerie