Print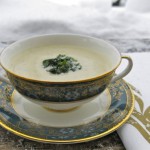 Humble White Turnip Soup
Makes two quarts of turnip soup. The humble turnip can be overlooked and underrated. If you're not already a fan of this flavorful root vegetable, this classic turnip soup might surprise you as it is so simple to make, delicious, nutritious and definitely economical.
900

g

baby turnips

, with greens attached

1

potato or 200g potato

30

g

unsalted butter

1

medium onion

, peeled and quartered

2-3

cloves

garlic

1

litre chicken stock

Kosher salt

, to taste

Freshly ground pepper

, to taste
Cut turnips into cubes, about ½ inch to 1 inch thick, depending on diameter

Peel potato; cube as turnips

In heavy-bottomed soup pot, heat butter over a low-to-medium heat; add onion, garlic and turnips

Cook 2-3 minutes, stirring continuously; add stock and potato

Increase heat to medium-high and bring to a boil, hen lower heat and simmer for 15 minutes until turnips and potatoes can be pierced with a knife (Don't let them get mushy)

Meanwhile, wash and dry reserved turnip greens; finely chop and sauté in a pan with a little oil or butter until tender and wilted

Season with Kosher salt

Remove soup from heat; purée in blender, working in batches, if necessary

Return puréed soup to pot; bring to a simmer, adding more broth or stock to adjust thickness, if necessary

Stir ¼ cup cream into soup

Stir in sautéed greens or garnish each bowl of soup with a cluster of greens in the middle

Season to taste; serve immediately
Instructions with the Thermomix:
Trim the greens off the turnips and reserve about a cup of the greens; wash, dry and finely chop greens

Sauté in TM bowl with 10g butter for 1 minute, 100C at speed 2; season with Kosher salt and set aside

Cut turnips into cubes to cook evenly; cube potato as turnips

Scale onion and garlic into TM bowl; mince for 3 seconds, speed 5

Scale butter and wine, if using, into TM bowl; saute aromatics for 2 minutes at 100C

Scale turnip, potato, and stock into the TM bowl; boil soup at 100C for 12 minutes, speed 2

Purée for 30 seconds, speed 0-10, or until velvet in texture (may need to do it twice)

Add broth, if needed to adjust texture; stir 100g cream into soup; season to taste

Place cluster of sautéed turnip greens into center of each bowl; serve immediately
Note: The soup can be thickened with rice instead of potato. Just substitute about 1/3 cup of uncooked rice for the potato, and simmer the soup until the rice is soft.