Root Vegetable Comfort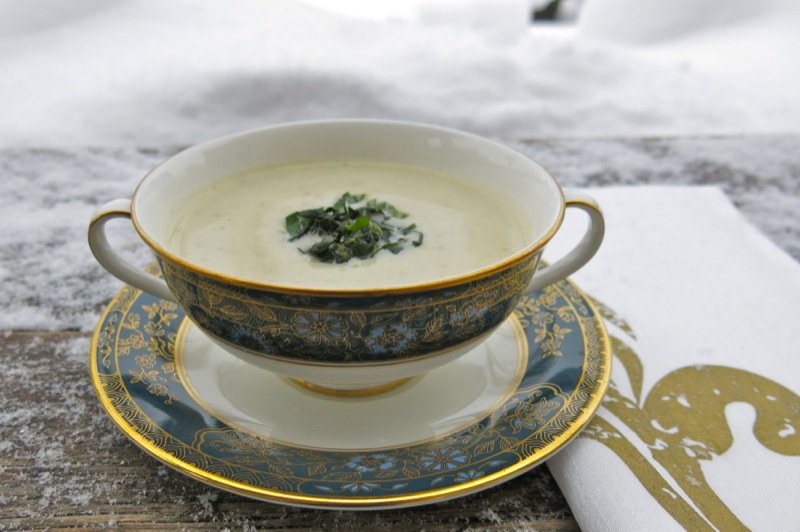 Vanja surprised me with a trip to Montreal for my 50th birthday. That was an August a year or two or few ago. Wandering around old Montreal one brisk summer evening, we came upon a rustic Eastern European restaurant. Wooden tables. Benches. Communal seating. Low ceilings, a piano and the food smelled like home. Anyone know the name? I so wish I could recall it. We ordered a three course meal and the soup that arrived was nondescript visually. Just beige. Beige. Yet, the texture was of velvet. The flavour familiar. Soothing. Warm. What was it? I could not identify it, yet I knew it well.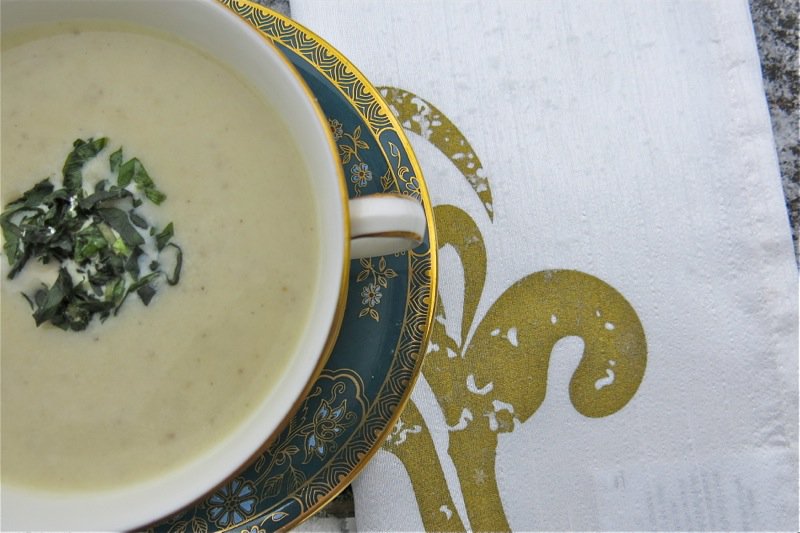 I was surprised when the waitress revealed that it was a White Turnip Soup. It was not strong in flavour as I would expect a turnip soup to be. Yet, why would I expect that. I usually eat rutabaga, not white turnip. I didn't remember ever eating white turnip. I certainly saw it often enough, yet grandma grew the rutabaga so that is what we ate. It was bigger. Maybe she liked it better? Mom had told me once that the white turnip was too watery and not as flavourful as the rutabaga. Yet, I was enjoying the most lush bowl of humble homey white turnip soup in old town Montreal that was unforgettable. Unforgettable? Yes. I have always wanted to replicate that soup. It was a moment in time that was that pleasurable.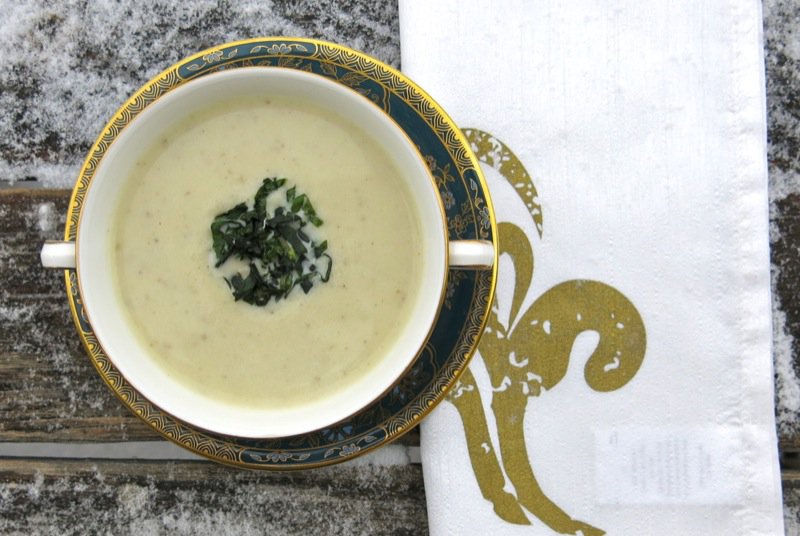 Success! This simple basic White Turnip Soup recipe is identical to the one in my memory that both Vanja and I relished that night in Montreal. We were hungry from exploring nooks and crannies within the old town, and ready for nourishment and a reprieve from the adventures of the day. Yet, at our home dinner table, served this soup by the "oh, so triumphant moi", Vanja turned up his not-so-little-nose, pushed it away, and grunted a barely audible, "nah" as he shook his head profusely.
Hrumph!
Mom liked it. Dad loved it. I know this soup was so similar to that one in old town Montreal. Possibly, identical. But, alas, it doesn't matter. We were no longer there. We are here. A few years later, and there was Quick Chicken in Wine warming on the burner. He would have nothing to do with this bowl of nondescript beige soup.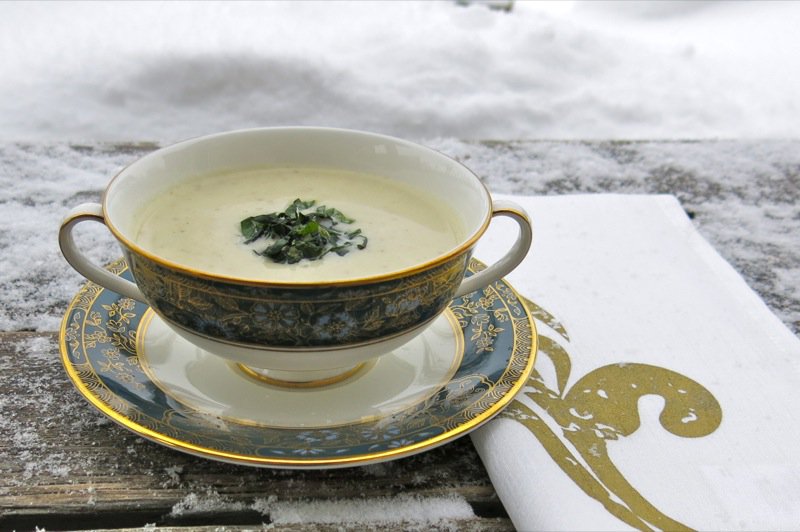 It is so peculiar how I yearned to recreate a moment in time that wasn't even on his radar. Or, anywhere within his compass of desire. I suppose serving this soup on an evening that mom and dad were over for dinner may not have been the proper setting, yet I was all too aware that he may not like this White Turnip Soup "here and now".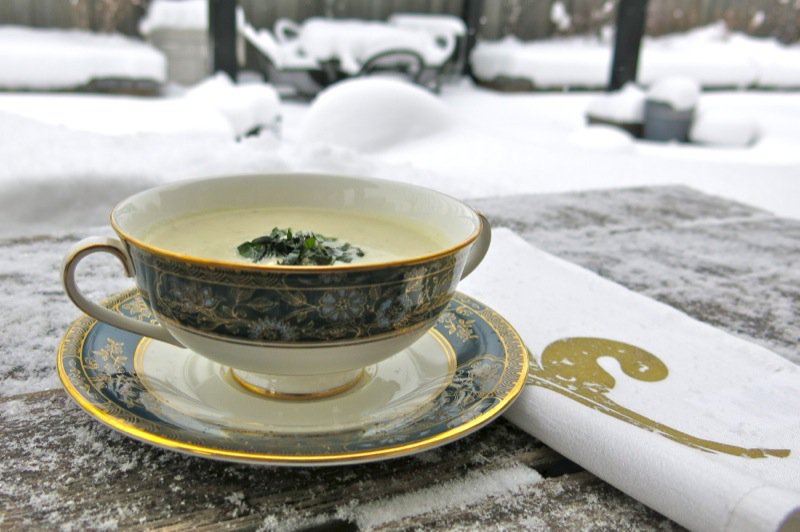 Mom and dad went home happily with a quart, and I enjoyed the remainder over the next couple of days. Reheated. Alone. The winter wind blowing gusts of snow through the trees and against the window pane. It is so cold outside. And here? Sipping this humble bowl of White Turnip Soup it is home as it should be. Warm. Humble. And so satisfying.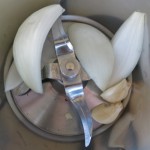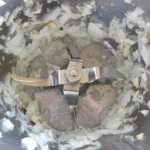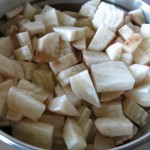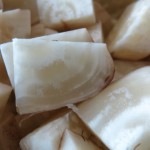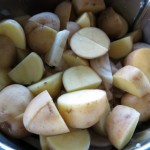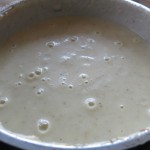 Simple. Chop and sauté the aromatics (garlic and onion), add chopped turnips, potato and broth. Cook for 12 minutes, pureé, season, add cream and greens.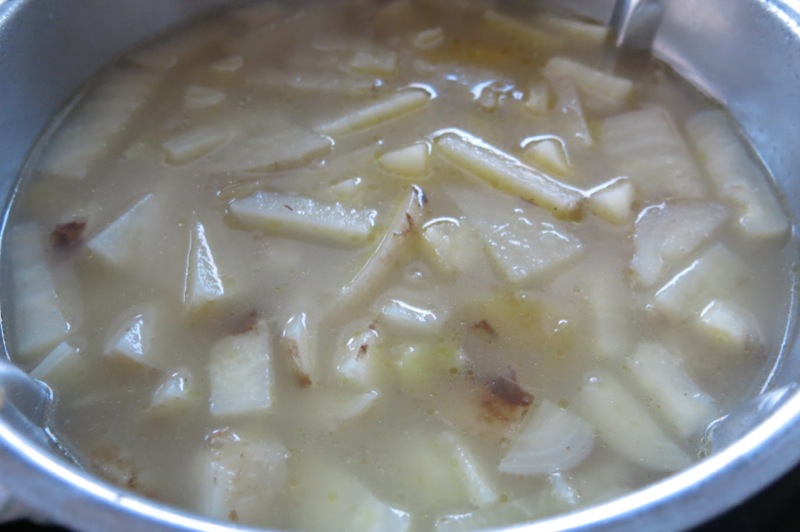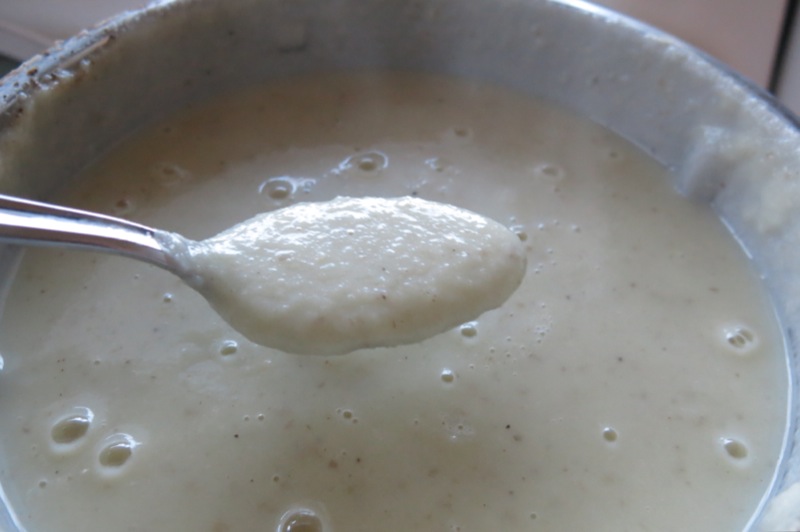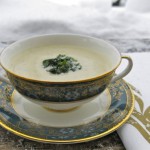 Humble White Turnip Soup
Makes two quarts of turnip soup. The humble turnip can be overlooked and underrated. If you're not already a fan of this flavorful root vegetable, this classic turnip soup might surprise you as it is so simple to make, delicious, nutritious and definitely economical.
Ingredients
900

g

baby turnips

, with greens attached

1

potato or 200g potato

30

g

unsalted butter

1

medium onion

, peeled and quartered

2-3

cloves

garlic

1

litre chicken stock

Kosher salt

, to taste

Freshly ground pepper

, to taste
Instructions
Cut turnips into cubes, about ½ inch to 1 inch thick, depending on diameter

Peel potato; cube as turnips

In heavy-bottomed soup pot, heat butter over a low-to-medium heat; add onion, garlic and turnips

Cook 2-3 minutes, stirring continuously; add stock and potato

Increase heat to medium-high and bring to a boil, hen lower heat and simmer for 15 minutes until turnips and potatoes can be pierced with a knife (Don't let them get mushy)

Meanwhile, wash and dry reserved turnip greens; finely chop and sauté in a pan with a little oil or butter until tender and wilted

Season with Kosher salt

Remove soup from heat; purée in blender, working in batches, if necessary

Return puréed soup to pot; bring to a simmer, adding more broth or stock to adjust thickness, if necessary

Stir ¼ cup cream into soup

Stir in sautéed greens or garnish each bowl of soup with a cluster of greens in the middle

Season to taste; serve immediately
Instructions with the Thermomix:
Trim the greens off the turnips and reserve about a cup of the greens; wash, dry and finely chop greens

Sauté in TM bowl with 10g butter for 1 minute, 100C at speed 2; season with Kosher salt and set aside

Cut turnips into cubes to cook evenly; cube potato as turnips

Scale onion and garlic into TM bowl; mince for 3 seconds, speed 5

Scale butter and wine, if using, into TM bowl; saute aromatics for 2 minutes at 100C

Scale turnip, potato, and stock into the TM bowl; boil soup at 100C for 12 minutes, speed 2

Purée for 30 seconds, speed 0-10, or until velvet in texture (may need to do it twice)

Add broth, if needed to adjust texture; stir 100g cream into soup; season to taste

Place cluster of sautéed turnip greens into center of each bowl; serve immediately
Recipe Notes
Note: The soup can be thickened with rice instead of potato. Just substitute about 1/3 cup of uncooked rice for the potato, and simmer the soup until the rice is soft.