Print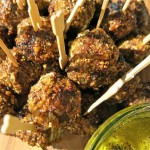 Dukkah Chicken Skewers
This amount makes 52 meatballs.
Ingredients for the Chicken
2

pounds

or one kilo of minced chicken or turkey

1

medium onion

, chopped fine (about one cup)

2

teaspoons

salt

2

teaspoons

pepper

2

teaspoons

sumac

2

teaspoons

paprika

2

teaspoons

cinnamon

2

teaspoons

turmeric

1

lemon

, juiced (about ¼ cup of freshly squeezed lemon juice)
Ingredients for Coating the Chicken
Instructions for the Chicken Dukkah
Mix the chicken with the onion, juiced lemon, and spices; season the chicken well

Pour flour one shallow dish, eggs in a second shallow dish, and dukkah in a third

Shape the chicken pieces (about one tablespoon each) onto a skewer; cover with flour, then egg, and roll in dukkah

Freeze until ready to cook
Instructions for Frying the Skewers:
Broil or fry in a skillet with hot olive oil about 6 minutes, front and back, until golden; remove when pieces feel firm and look toasted

Serve with sliced tomatoes and avocados in a pita bread, or as an appetizer on a stick with yogurt cheese balls or dipping garlic yogurt
I served this recipe with my famous yogurt cheese balls. YUM! The perfect accompaniment.