Print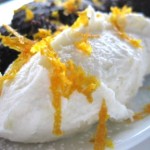 Nicole's French Grandmother's Créme Fraîche Recipe


The most sumptuous, scrump-tuous créme fraîch - ever. If you can't get a high fat cream, don't bother.
Total Time
2
days
1
minute
A GLASS jar with a lid

2

cups

heaviest cream available

(50+% was her choice)

3

tbsp

of full fat buttermilk
Put the cream in a pan and warm just to take the chill off (kind of "tepid" you'd probably say), or leave on the counter until room temperature

Put it into the glass jar and add the buttermilk; leave it on the counter, out of the sun, for 24 hours

Take the lid off the next day and give it a good swirl

Put it into the fridge for 24 more hours to thicken up: it will REALLY thicken
Final Notes from Nicole: That's it. Good for about a week. You can whip it, sweeten it, salt it, or just eat it that way. Amazing stuff!
When I make mine, I get all my milk supplies from Planet Organic so it's local AND organic. Just like when I was MUCH younger!!