Print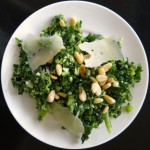 Kale and Pinetip Salad
Kale and Pinetip Salad made in my Thermomix with homemade Pecorino is my new "best thing I ever ate!' as it is nutritious, delicious, economical and NOVEL!
Ingredients for the Dressing:
1

sprig rosemary

, foliage only OR Fresh pine needle tip: start with one, and then use more next time if you want to intensify the

1/2

teaspoon

sea salt

(or more, to taste)

30

g

honey

85

g

olive oil

60

g

lemon juice

(about large1 lemon)

40

g

white wine vinegar

75

g

Pecorino

, cubed
Ingredients for the Salad:
Instructions for the Dressing:
Place pine tips, rosemary and salt into TM bowl; mill for 5 seconds on speed 7

Scale in vinegar and honey; heat for 2 minutes at 60ºC on speed 1

Add remaining ingredients; blend for 5 seconds at speed 8

Without removing the dressing, place 1/2 bunch kale into TM bowl; using the spatula to keep the kale close to the blades, chop for 5 seconds at speed 4

Remove kale with a pair of tongs leaving dressing in the bottom of TM bowl;

place into serving bowl

Scale onion and remaining kale into TM bowl; chop for 5 seconds at speed 4

Add to serving bowl;l toss gently to combine

Garnish with toasted pine nuts and shaved Pecorino

Serve immediately
Extra toasted pinenuts and Pecorino shavings are important as this is a very tart salad and some will need these to tone down that puckery punch.