Print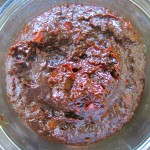 Mexican Chile Paste
Homemade Mexican Chile Paste is a basic recipe 101 for making a paste from dried chiles to be use in a variety of Mexican dishes: moles, enchiladas potosinas, etc.
Ingredients for Chili Paste:
600

g

dried peppers: Ancho

, Pasilla, Guajillo

400

g

water

, simmering
Ingredients for Enchilada Potosinas Chili Paste:
100

g

chili paste

, above

15

g

garlic

, peeled

5

g

salt

15

g

lard
Stem, devein and seed the chiles; place inside surface down in hot skillet or comal, using spatula to press lightly until there is a change in colour (this takes about 30 second a side, or one minute; be careful not to burn them)

Soak in simmering water for 25 minutes; cover with a plate, if necessary to submerge peppers

Remove from water; puree peppers

Reserve soaking water; package in freezer bags, label and date (for enchiladas potosinas etc)

Measure into 100g bags; label and freeze for future use
For Enchiladas Potosina Chili Paste:
Puree Garlic and salt with chile paste

Melt lard on small skillet, saute chile puree for 3-4 minutes

Preserve in tightly sealed jar until needed
If making this paste for Enchiladas potosinos, use 2 1/2 cups water for the soaking liquid, use only guajillo peppers, grind them into the paste with only 1/2 cups of the soaking liquid (push through a tami if you want the paste to be superfine) then add the remainder of the soaking liquid to the paste and combine with 500g of corn mesa for the dough. The addition of the onions and garlic is not traditional, but tastes good!