Homemade Mexican Chile Paste for Enchiladas Potosinas and so much more!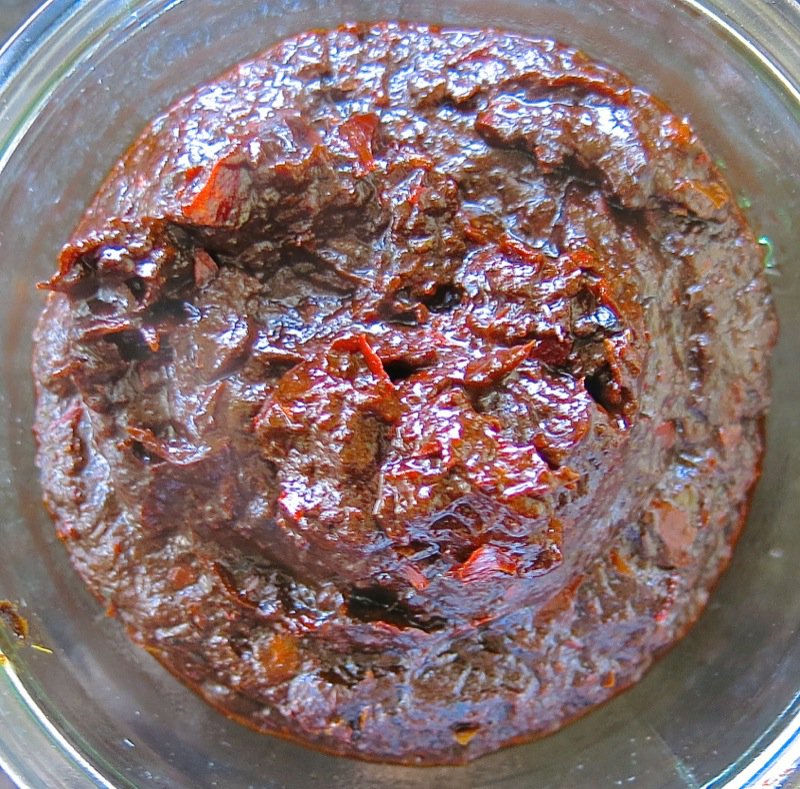 This is one gorgeous fragrant concoction, yet too bitter to be eaten as is. This paste is meant to be part of something else, not a stand alone condiment. It must be added to another recipe that will cushion its bitterness and transition the complex aromatic beauty of the peppers to the forefront of the palate. Enchiladas Potosinas is one recipe that transforms this paste to an ethereal level.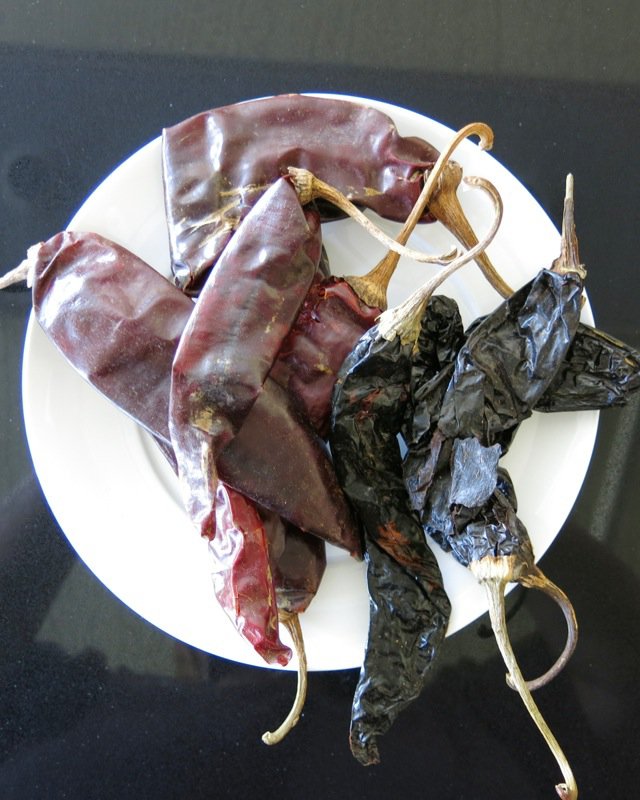 Chile paste flavours vary according to the dried peppers used in them. Learning the taste and heat within the dried pepper world is not an easy task unless you've been raised in it. Smelling and tasting and mixing and pairing will develop all sorts of tantalizing mixes. A simple enchilada potosina recipe will vary the choice of dried pepper for the paste. The most common chiles used are the Ancho and the Pasilla; however, this paste will be made with 75 grams of an equal mix of the redder guajillo pepper and the black pasilla pepper.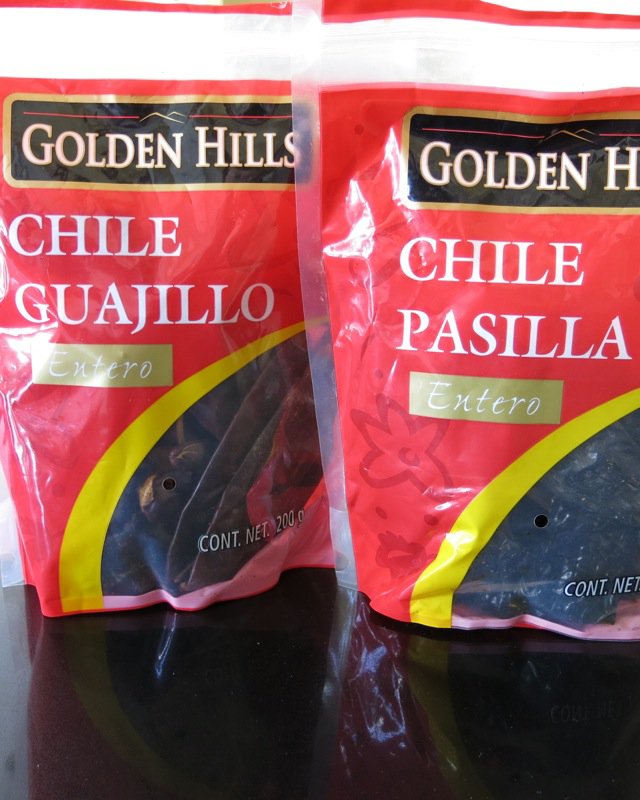 If you don't like heat, whatever pepper you use, will have to have every single hot little seed removed, as well as the inner seed membranes lining the innards of each pepper. There are a lot of seeds in each little maraca.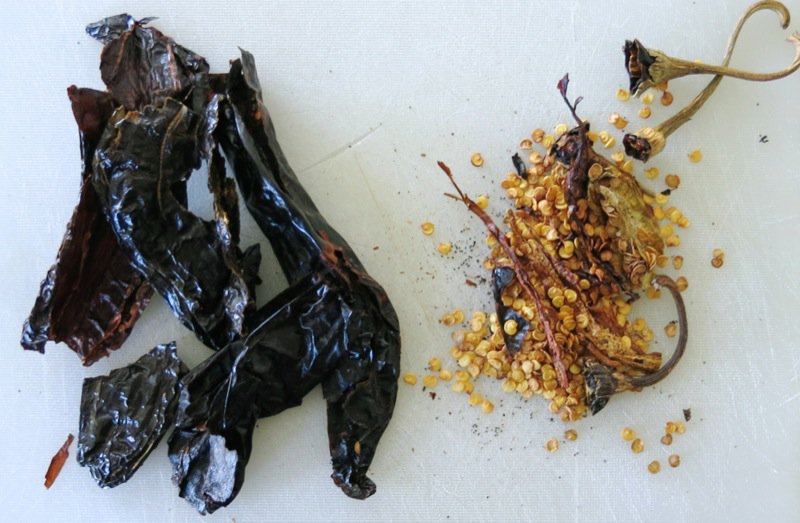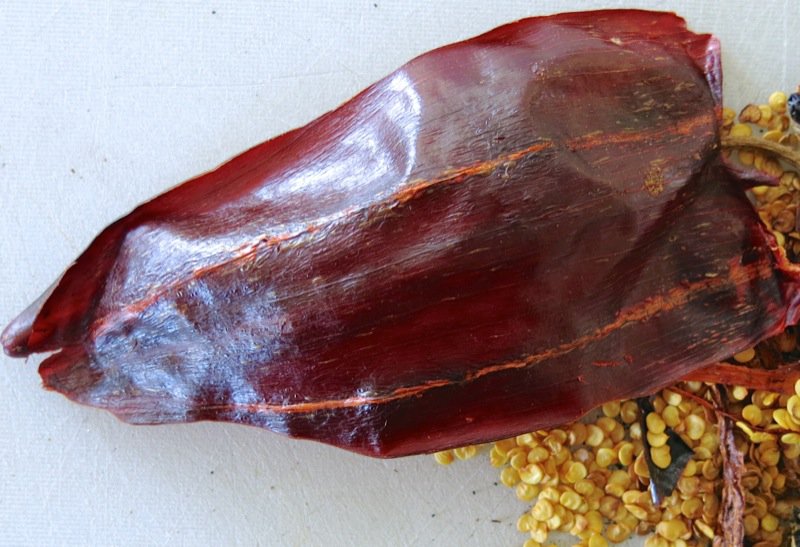 It is easy to see the line where the seed membrane used to be inside of the guajillo pepper, above.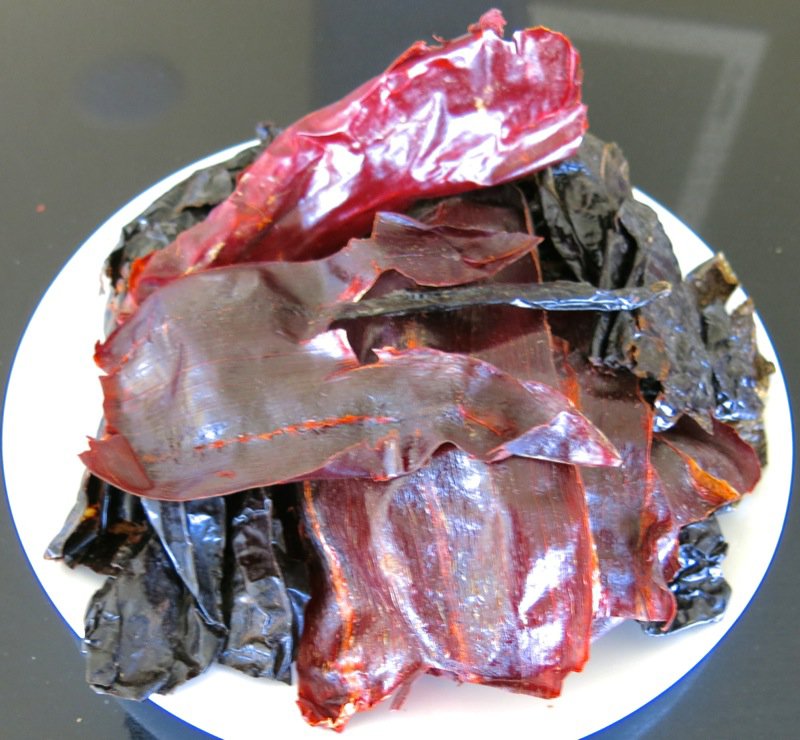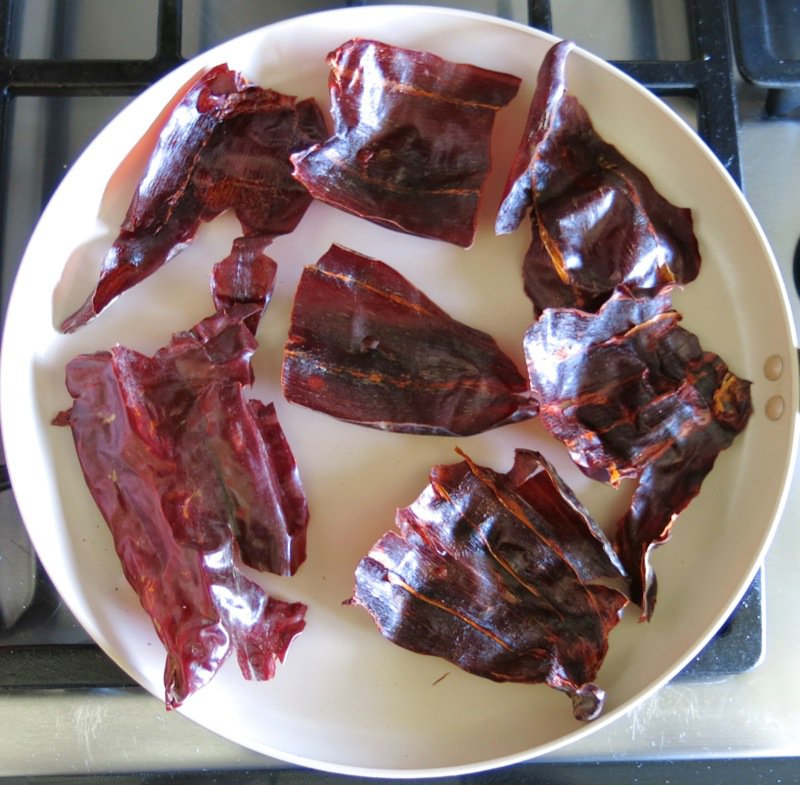 After destemming, seeding and deveining the peppers, they need to be toasted on a griddle, skillet or the traditional comal. Place each inside down facing the heat, press with a spatula and when there is a change of colour (about 30-40 seconds) turn the pepper over. They tend to curl when skin side to the heat, so try to keep the pepper flat and pressed against the heat to toast both sides.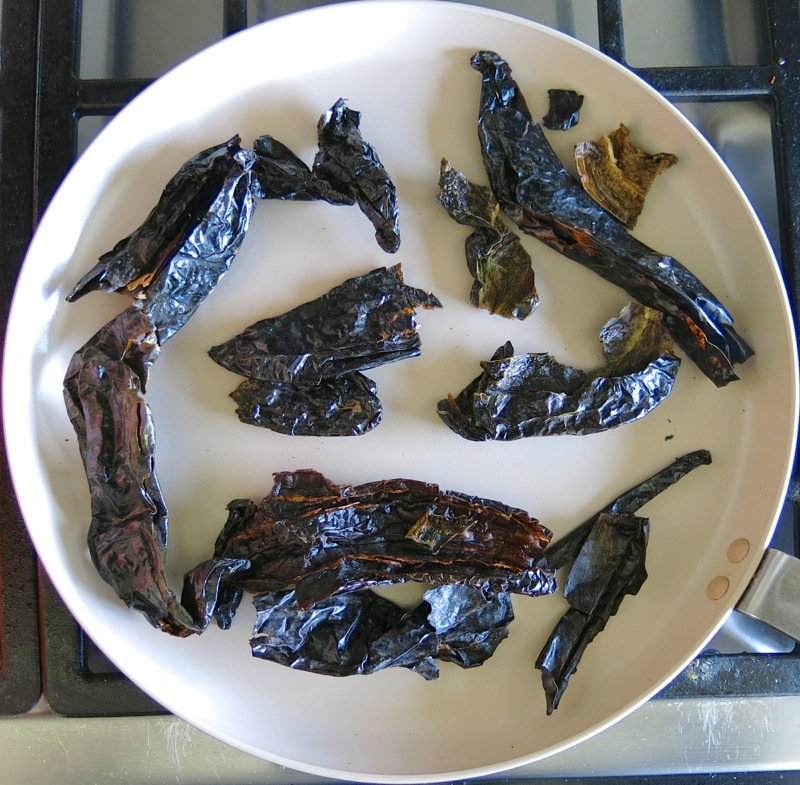 The colour change will be quite apparent. The guajillo turns a bright orange on the inside and the pasilla turned a darker orange-brown.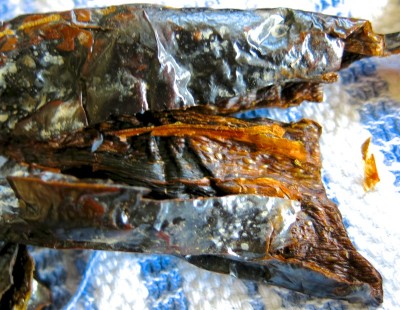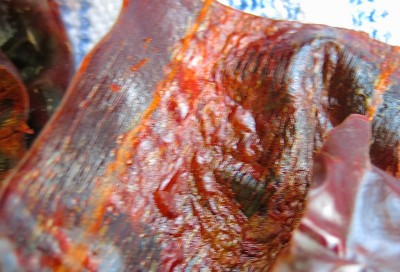 The toasted peppers must then be reconstituted somewhat in a cup of hot boiling water for about 25 minutes. A plate helped to hold all the peppers under the water. The garlic and onion inside of the Thermomix will be added to the peppers and the soaking water to make the paste.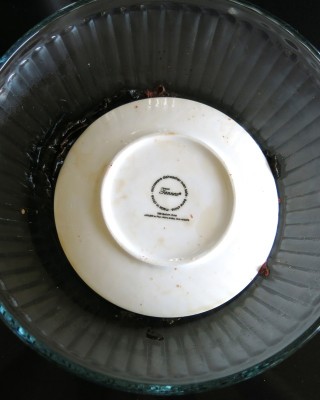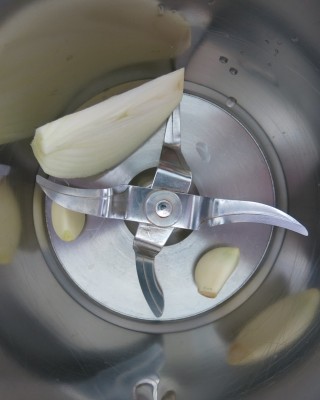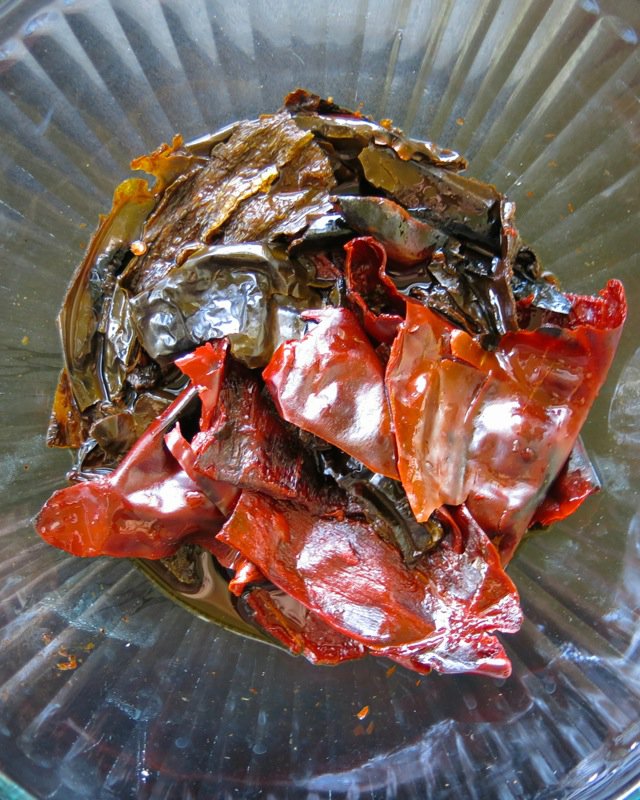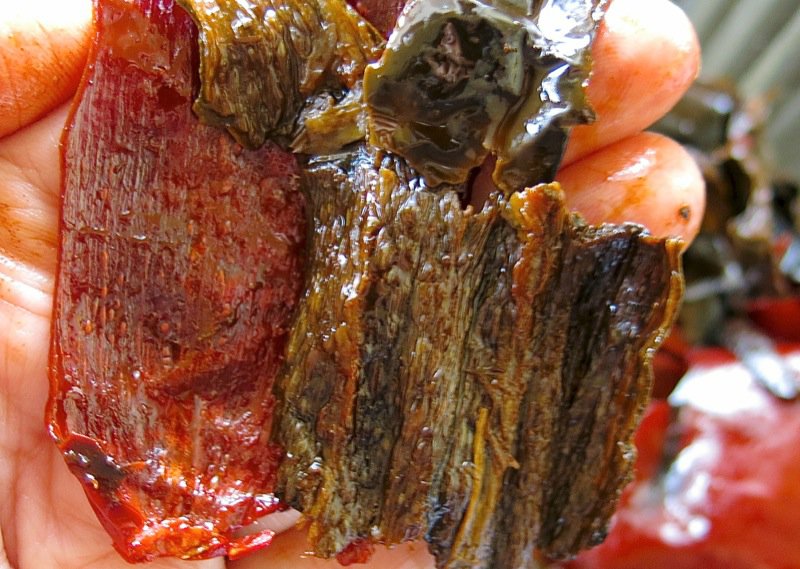 Fascinating to see the dramatic change of colour after the soaking. Below is the liquid remaining from the peppers after squeezing them.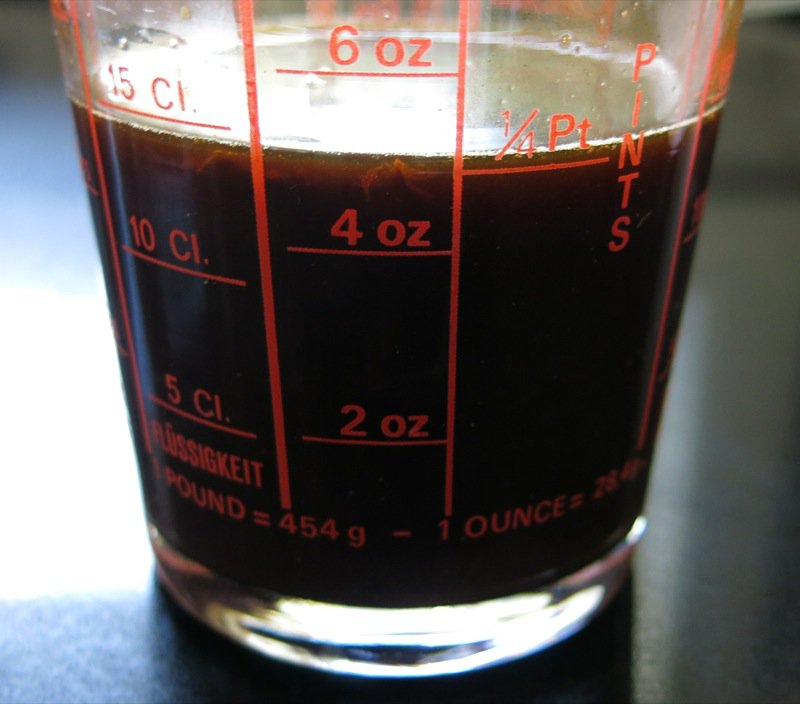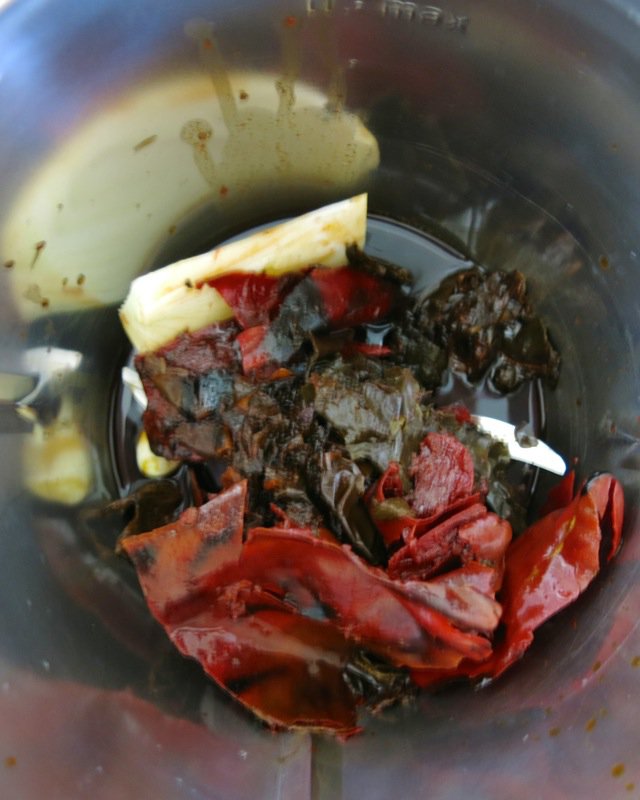 I did not push this paste through a tami to ensure it was as fine as could be, but left, instead, some rustic bits of pepper skin.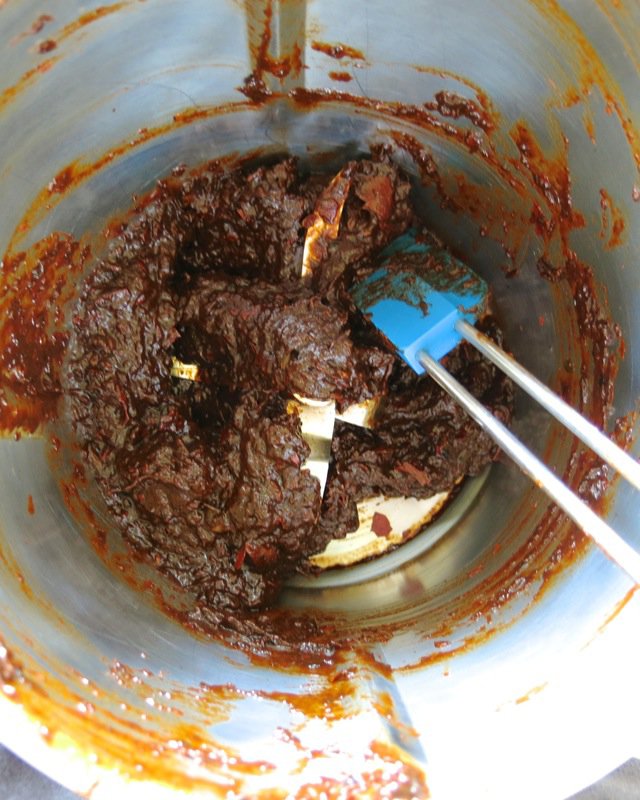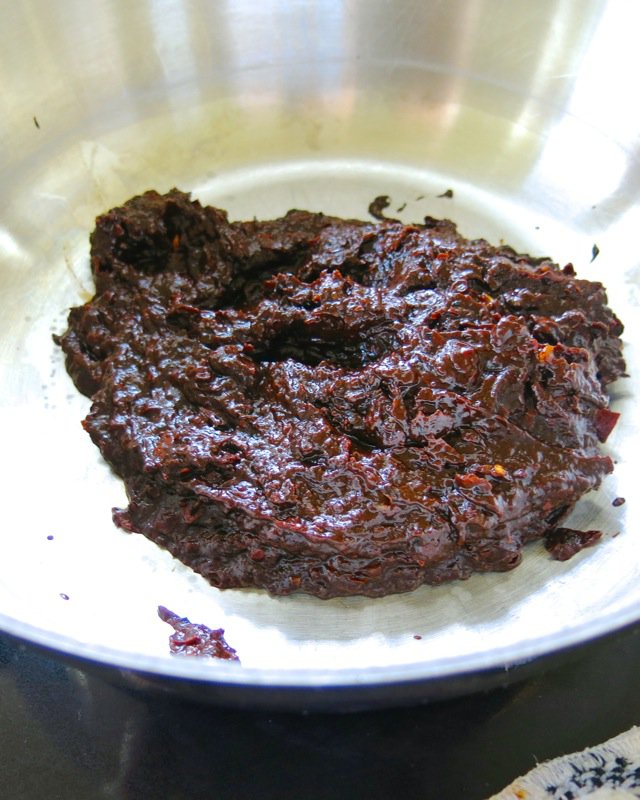 The paste is then fried for 3-4 minutes at medium heat with a tablespoon of lard.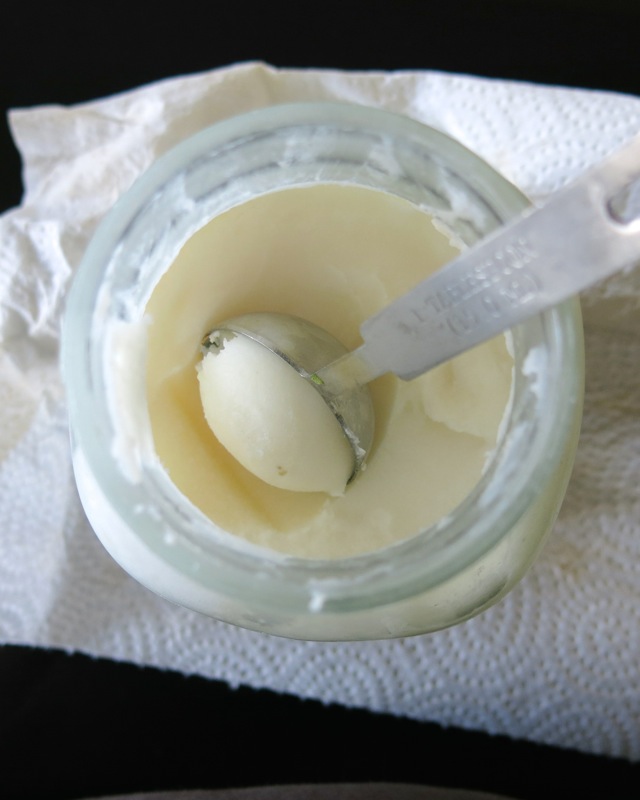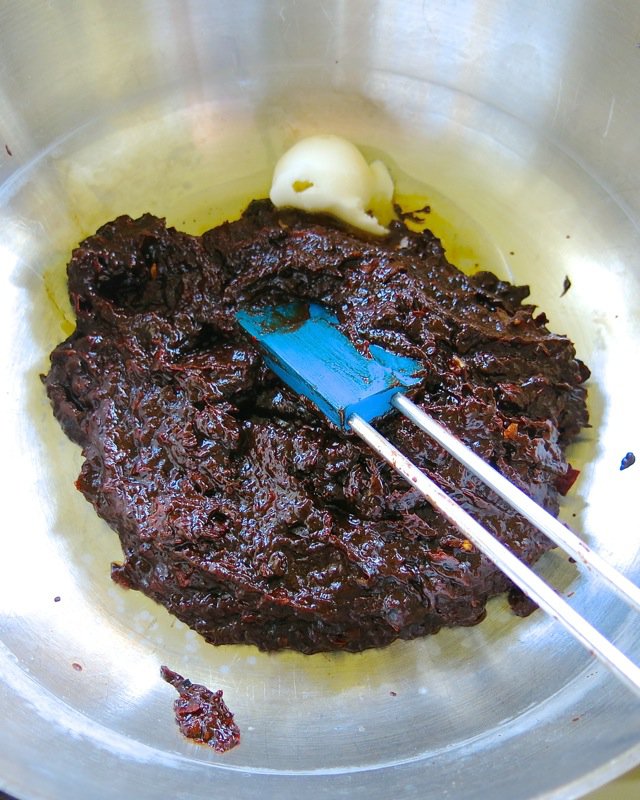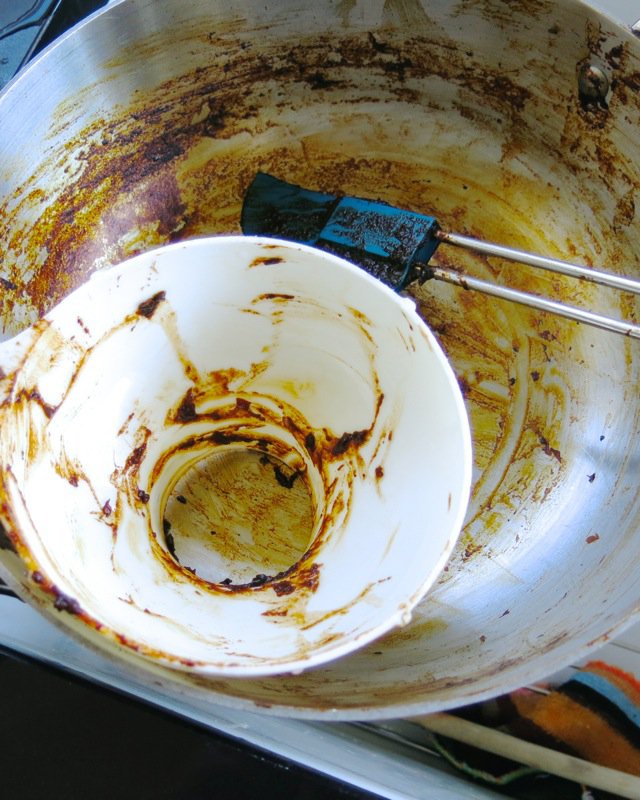 The frugal mama in me hates to see any residue this flavourful left on the pot. As this is a labour intensive process, I suggest making a big lot and storing it away by processing it, or freezing it. As it is, it will keep in the refrigerator a couple of months, but ensure a tight seal to avoid mold.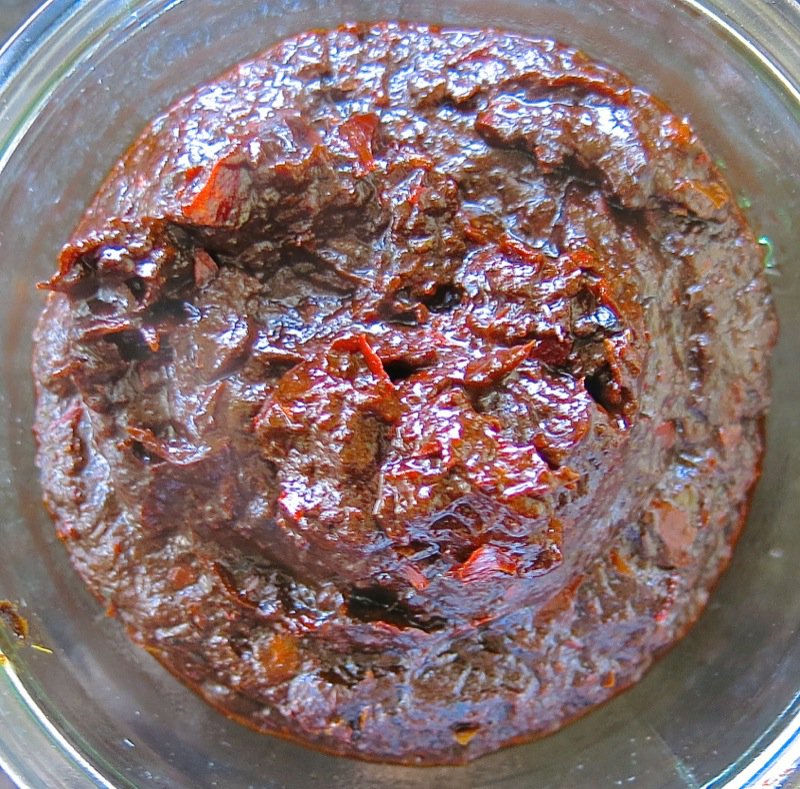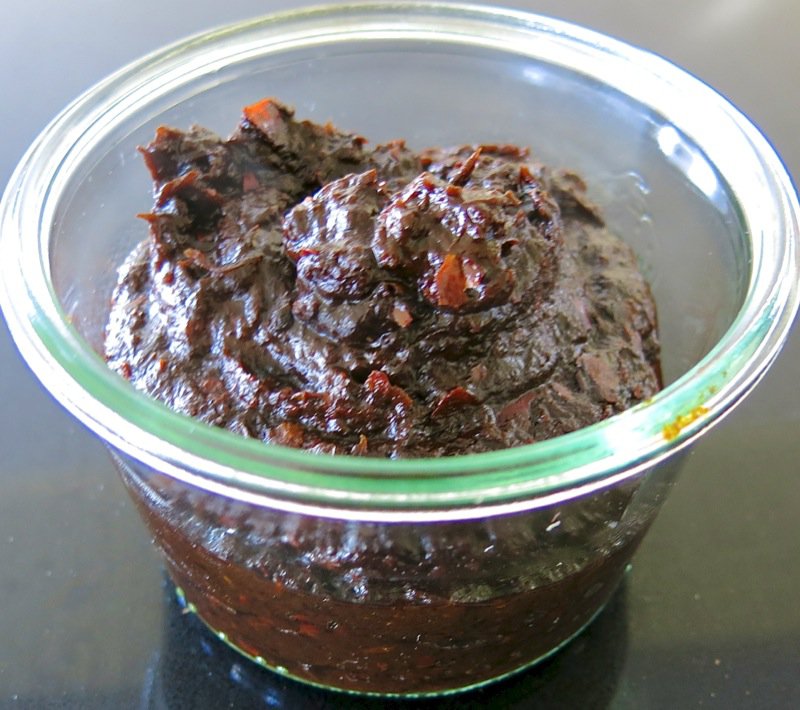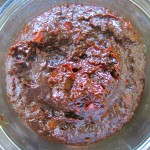 Mexican Chile Paste
Homemade Mexican Chile Paste is a basic recipe 101 for making a paste from dried chiles to be use in a variety of Mexican dishes: moles, enchiladas potosinas, etc.
Ingredients
Ingredients for Chili Paste:
600

g

dried peppers: Ancho

, Pasilla, Guajillo

400

g

water

, simmering
Ingredients for Enchilada Potosinas Chili Paste:
100

g

chili paste

, above

15

g

garlic

, peeled

5

g

salt

15

g

lard
Instructions
Stem, devein and seed the chiles; place inside surface down in hot skillet or comal, using spatula to press lightly until there is a change in colour (this takes about 30 second a side, or one minute; be careful not to burn them)

Soak in simmering water for 25 minutes; cover with a plate, if necessary to submerge peppers

Remove from water; puree peppers

Reserve soaking water; package in freezer bags, label and date (for enchiladas potosinas etc)

Measure into 100g bags; label and freeze for future use
For Enchiladas Potosina Chili Paste:
Puree Garlic and salt with chile paste

Melt lard on small skillet, saute chile puree for 3-4 minutes

Preserve in tightly sealed jar until needed
Recipe Notes
If making this paste for Enchiladas potosinos, use 2 1/2 cups water for the soaking liquid, use only guajillo peppers, grind them into the paste with only 1/2 cups of the soaking liquid (push through a tami if you want the paste to be superfine) then add the remainder of the soaking liquid to the paste and combine with 500g of corn mesa for the dough. The addition of the onions and garlic is not traditional, but tastes good!