Print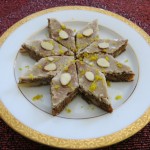 German Lebkuchen Bars


Lebkuchen is German for "Love cake" and there is a whole lotta love in each of these little cakey bars. These improve with time. No need to freeze. Keep in an air tight container, and enjoy with a freshly brewed coffee.
Ingredients for the bar:
1

cup

honey

1

cup

firmly packed light brown sugar

2/3

cup

white sugar

6

tablespoons

butter

, cut into 6 pieces

3

cups

flour

, sifted

1½

teaspoon

soda

3

teaspoons

cinnamon

2

teaspoons

cardamom

1

teaspoon

cloves

1

teaspoon

nutmeg

1

teaspoon

ginger

1

cup

sliced unbleached almonds

150

g

Marzipan

, chopped into small cubes

225

g

(small container) candied orange peel, minced

2

large eggs

, lightly beaten

4

tablespoons

freshly squeezed OJ

2

teaspoons

finely grated orange zest

2

teaspoons

vanilla

½

teaspoon

almond extract
Ingredients for the Glaze:
Instructions Day One:
In large, non-reactive saucepan, combine honey, both sugars and butter; cook over medium high heat, stirring occasionally until sugars are dissolved, butter is melted, and the mixture "just" begins to boil

Remove from heat; cool 15 minutes

Sift flour, soda, and spices together; set aside

Stir the remaining ingredients into the cooled honey mixture, then add the dry ingredients, and stir until blended

Poor onto a ½ sheet cookie sheet with sides, and spread as evenly as possible

Cover completely with a plastic wrap, and leave on the counter overnight, or a minimum of 8 hours
Instructions Day Two:
Bake at 350°F for 30 minutes, or until toothpick comes out clean (be very careful not to over bake, or bars will be dry)

Spread glaze over lebkuchen with offset spatula, while warm, immediately out of the oven

Cool completely, then cut into diamonds; garnish with candied orange peel and a tiny slice of candied cherry or fresh orange and ginger zest just prior to serving
Note: The diamond is the traditional shape, and pretty, but there is a lot of waste as you must cut off the sides (they grow higher) and then there will be more triangle bits for the cook, too. I do not complain. I have the little "family" container, and then the "company" container. They both taste delicious!