One bite of this traditional German "love cake" sings holiday rapture!

Think almond, orange, cinnamon, cardamom, cloves, nutmeg, and ginger. If Christmas was a flavour, this cake would be it.

It's not a pretty little ditty, but it is a tasty bit of pastry. The problem is that the glaze crackles when the bars are sliced. Any solutions?

The texture is moist and dense with little nuggets of marzipan and almond and orange. The flavour of this Lebkuchen Bar is alive. There is no other way to describe it. It is bright and lively and sparkles on the tongue. It refreshes the palate and awakens the senses. More. More.

And it, like moi, improves with age. No need to refrigerate or freeze or worry about it going bad. Simply store it in an air tight container in the pantry and dig in as often as the urge moves you. I dig in with my morning coffee. This is my December breakfast bar.

The difference is the syrup. This Lebkuchen Bar starts with a caramel-like syrup: butter, honey and brown sugar.

The almonds, marzipan, eggs, orange juice, zest and candied orange peel are all mixed into the syrup. The dry ingredients are sifted together and stirred into the sticky mass.

The thick, gummy batter can be difficult to spread evenly. I have actually left it settle overnight in the pan before baking it. This time round, it went tickety-boo and was not the problem to spread that it can be. That is completely dependent upon how long the syrup boils. I didn't let it do more than come to a boil, as per the instructions.

The glaze is a beautiful thing. Freshly squeezed orange juice. Fresh plum juicy grated ginger and powdered sugar. A vivid topping that has to be spread onto the hot Lebkuchen Bars, yet it does break when the bars are cut. Maybe the solution would be to cut them when warm? Yet they would have to be removed from the pan when cold. Just thinking aloud.

Another solution may be to use less glaze and make it thinner. Yet the flavour of the glaze is such an important part of the taste component of these Lebkuchen Bars.

In any case, I made sure that the glaze went over all of the edges. Those will be the family bits as they cannot be cut into diamonds, so they need the glaze, too.

You can see the "waste" around the edges that goes in to the morning breakfast bar bowl. Cutting any tray into diamond shapes is never as easy as our food TV icons would like us to believe. I have massacred many a tray in the past, so had Vanja etch out the plan for these.

With a little gussying up, they are presentable enough for company, should a guest be so lucky. Orange zest and a skin-on sliced almond on each piece announces that these Lebkuchen Bars are all dressed up and ready for the party.

The addition of the marzipan cubes into the bar was the idea of my good friend, Ray Wyshynski. She is the one who introduced me to this bar, and I was immediately enamored, even before the making, baking and tasting because my mother's family came from the area in Europe that is now Germany. I have no ethic identity from her German roots as they arrived at Plymouth Rock in 1729. Early, early settlers. That is why I have such strong Canadian country roots. I have no other identity. So, this was an exciting moment. A little German bar called a "love cake" that I could introduce to my family over the holidays as a nod to our ancestral past.

This little bar holds the story of my mother's family and their journey to the new world. And it is quite the story to tell while sipping a dark rich morning coffee and sharing Lebkuchen Bars with my daughters, and one day, their children.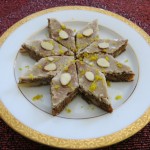 German Lebkuchen Bars


Lebkuchen is German for "Love cake" and there is a whole lotta love in each of these little cakey bars. These improve with time. No need to freeze. Keep in an air tight container, and enjoy with a freshly brewed coffee.
Ingredients
Ingredients for the bar:
1

cup

honey

1

cup

firmly packed light brown sugar

2/3

cup

white sugar

6

tablespoons

butter

, cut into 6 pieces

3

cups

flour

, sifted

1½

teaspoon

soda

3

teaspoons

cinnamon

2

teaspoons

cardamom

1

teaspoon

cloves

1

teaspoon

nutmeg

1

teaspoon

ginger

1

cup

sliced unbleached almonds

150

g

Marzipan

, chopped into small cubes

225

g

(small container) candied orange peel, minced

2

large eggs

, lightly beaten

4

tablespoons

freshly squeezed OJ

2

teaspoons

finely grated orange zest

2

teaspoons

vanilla

½

teaspoon

almond extract
Ingredients for the Glaze:
2

cups

icing sugar

4

tablespoons

freshly squeezed OJ or enough to make the glaze runny

½

teaspoon

finely grated ginger

(I use more)

½

teaspoon

vanilla
Instructions
Instructions Day One:
In large, non-reactive saucepan, combine honey, both sugars and butter; cook over medium high heat, stirring occasionally until sugars are dissolved, butter is melted, and the mixture "just" begins to boil

Remove from heat; cool 15 minutes

Sift flour, soda, and spices together; set aside

Stir the remaining ingredients into the cooled honey mixture, then add the dry ingredients, and stir until blended

Poor onto a ½ sheet cookie sheet with sides, and spread as evenly as possible

Cover completely with a plastic wrap, and leave on the counter overnight, or a minimum of 8 hours
Instructions Day Two:
Bake at 350°F for 30 minutes, or until toothpick comes out clean (be very careful not to over bake, or bars will be dry)

Spread glaze over lebkuchen with offset spatula, while warm, immediately out of the oven

Cool completely, then cut into diamonds; garnish with candied orange peel and a tiny slice of candied cherry or fresh orange and ginger zest just prior to serving
Recipe Notes
Note: The diamond is the traditional shape, and pretty, but there is a lot of waste as you must cut off the sides (they grow higher) and then there will be more triangle bits for the cook, too. I do not complain. I have the little "family" container, and then the "company" container. They both taste delicious!