Print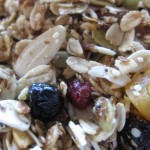 Valerie's 1970's Canadian Homemade Granola


My Canadian Alberta Prairie in a Bowl! This recipe has been revised to add hemp hearts, etc, but the base is my 1970's Granola Recipe from University days!
Total Time
2
hours
20
minutes
Preheat oven to 200F and use convection, if possible

Heat the ½ cup honey; combine thoroughly with oil

Place next 10 ingredients (all but fruit) into very large bowl; toss with warm liquid until well coated

Use parchment or silpat on three large cookie sheets; spread 1/3 of mixture evenly on each sheet

Place each into one oven on three racks; rotate rack position and recombine (mix) ingredients on each tray every 20 to 30 minutes

After 2 hours, oil and honey mixture should be dried onto ingredients and small seeds stuck to bigger morsels; place baked ingredients back into very large bowl

Add all dried fruit; gently combine to mix together

Pack into containers that seal well; date and label to use as needed
This will keep well for several months (at minimum three). I eat 1/4 cup each morning with a healthy dollop of homemade yogurt for the perfect day starter.