Print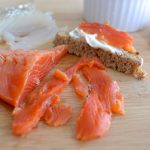 Salt Cured Gravlox
In Joel MacCharles and Dana Harrison's recently published cookbook
"Batch"
, they share a multitude of ways to preserve Canadian food. This is only one of many brilliant recipes. Eat within 10 days.
Total Time
2
days
15
minutes
1

pound

salmon filet

, skin on

1

tablespoon

maple syrup

1

tablespoon

powdered mustard

3

tablespoons

Kosher salt

3

tablespoons

fresh lemon juice

2

teaspoons

lemon zest

3

shallots shaved with a mandoline

3-4

bay leaves

2-3

large sprigs of dill

(or 2 teaspoons dried dill weed)

olive oil
Coat the salmon in maple syrup before scattering the mustard and salt on all sides. Press the dried ingredients into the fish to coat. Mix together the lemon juice and zest, shallots, bay leaves, and dill to make a cure. Place the salmon in a snug container, pour over the cure, seal tightly, and refrigerate for 24 hours.

Thoroughly rinse the fish under running water, discard any liquid, and clean the container and return the fish to it.

Cover the fish with olive oil, cover tightly, and refrigerate for another 24 hours.

To serve, cut into thin slices. As your knife nears the skin (which will be thick from curing), turn it away from you to remove the skin.
Eat within 10 days
Variations
Replace the maple syrup with honey, add black peppercorns to the cure, or cold smoke for 2 hours after curing and before resting in olive oil.
Note from Valerie:
Go to "Salmon Confidential" and watch the feature length documentary there (documentary on the right side bar of the site) to begin to understand why a Canadian should never eat Farmed Salmon. Fortunately, Black Cod (Sable Fish) or Halibut can also be preserved in the same manner as Salmon for a different, but delicious Canadian Food Experience.