The Local Good: Green Drinks Celebrates Edmonton Arts and Crafts
November 7, 2012 @ 7:00 pm

-

9:00 pm

$5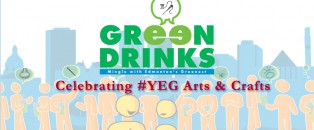 NOVEMBER THEME: YEG gets crafty! Come, mingle and meet the people behind Edmonton's coolest craftshows. You'll get to meet local artists, organizers, artisans and purveyors of hand made local goods (and get sweet ideas for your holiday shopping).
Why buy Box Store junk as gifts when you can support your local crafter and buy something with a story? At Green Drinks, you can actually Meet Your Maker!
ABOUT GREEN DRINKS: Every month people work in (or are just plain passionate about) all things green and sustainable meet up at informal mixers known as Green Drinks.
We have a lively mixture of people from NGOs, academia, government, community members and business owners (and this month – CRAFTERS!)
Don't worry if you're shy—just come along and we'll look after you and introduce you to whoever is there. It's a great way of catching up with people you know and for making new connections.
Everyone invites someone else along, so there are always a new faces. These events are very simple and unstructured, but many people have found employment, made friends, developed new ideas, done deals and had moments of serendipity.
Are you an ARTISAN/CRAFTER? Apply to show off your crafty savvy here: http://tinyurl.com/8zftdld.
TWITTER: @localgoodyeg and #greendrinksYEG