Halibut Cheeks are a delicacy and warrant simple companions

I was not expecting the ethereal ultimate pleasure composed when tasting this dish. Seriously. The Lobster near Peggy's Cove in Nova Scotia at Ryer's was my number one taste of 2014. A morsel from a leg of Alaskan King Crab dipped in clarified butter the day after the Feast of the Seven Fishes this past Christmas Eve was the second memorable bite of 2014 and this would stand shoulder to shoulder with either. So, 2015 promises to be spectacular as I have accomplished such profound pleasure so early this new year.

Plated above, on the ultimate mashed potatoes, is one halibut cheek. One. All eight are of similar breadth. These were four mighty halibut. The cheeks vary in size from scallop-sized, or silver dollars (anyone remember these?), to hockey pucks. I think we may have a set of the over sized hockey pucks. Bought from my favourite fishmonger far too far away from us, at Codfathers, last summer in Kelowna, British Columbia, I had no idea they were the delicacy they are. I just wanted them because I had never tasted them and they were there. Such hedonism. No apology, however. It is all a part of my taste education. They are from the Pacific Ocean, Northwest and fished using the Bottom Long Line method. I have included an excellent video below on how to fillet and skin a halibut and remove its cheeks. Not my video, but an excellent resource.

Why Beurre Blanc? Every time I cook fish, I write about what a treat it is as I have lived in the Canadian prairies all of my life. Fresh water fish abound, but only if you buy a license. No one sells them anywhere. So, fish is not local here. It is a specialty and I resist sauces or flavourings of any kind on my fish, as a rule. I don't get enough of it to warrant dressing it up with added flavours. I want the clean ocean to tingle on my tongue as the supple fish flesh melts upon my palate. Usually, I flour it, season it and fry it in butter. Is there anything better? I did the same with these cheeks, actually: 2 minutes per side as they were so massive. But the sauce? As these were Halibut Cheeks, I felt they deserved a little splash of somethin' somethin' to compliment their sweetness.

They are as different in texture and flavour from a halibut fillet as a short rib is from a tenderloin steak. The flavour is sweet and very Halibut subtle: lightly scented with Halibut, I would say, but a gorgeous, sweet fleshy clean bite of something quite unexpected. The texture is stringy, but not off-puttingly so. Think crab. It is stringy. Alaskan King Crab Legs are very stringy and exceptionally delicious and pleasurable to the palate. As is this.

You are looking at a bowl of eight cheeks, and yes, that is just one facing you.

Think scallop when frying Halibut Cheeks. Do not over fry. One to two minutes per side until opaque all the way through.

The yukon gold potatoes were steamed whole, peeled under running water and riced while hot. Butter, salt and pepper were then rapidly stirred into them with a little heavy cream. The asparagus was also simply steamed. Nothing fancy about this dish. Nothing difficult. Not even the beurre blanc (...if you own a Thermomix – forgive my pitch, but selling them is what I do. 🙂 You know you can make the sauce without the Thermomix. 🙂 It is effortless with one, is all. ).

The cheeks are divine with out the sauce. The entire meal would have been raved over by your family or guests without the sauce.

But with the sauce? Yes, I was speechless. There were no words. The butter and acidity from the wine and lemon – and proper seasoning (salt and pepper) is very important for the balance. The shallots dissolved into the sauce and the heavy cream toned down any sharp acidic notes. This sauce sent me over the edge. I could not stop tasting the fish and the potatoes and the asparagus with this sauce. Each was spectacular. Each was elevated past measurement possibilities on the Richter taste scale.

The sauce was tasty on its own, but not "to-die-for". Some sauces stand alone well. Think toffee sauce. Hollandaise Sauce. Zabaglione. I could almost drink each of them. Not this one. Beurre Blanc is a magic sauce. It brings out something spectacular in every ingredient it is poured over that didn't exist before meeting this sauce.I have heard of this sauce for many years, but never made it, nor tasted it as I had no reason to. No temptation. No one shared a taste revelation. So, I am testifying to each of you now. Try it. I am not wrong.

And Halibut Cheeks? They will be in my shopping cart every single time I find them at my local fishmongers. John from Codfather's has them in stock, fresh, right now. He ships all over Canada, but if you are in Kelowna, go, buy, cook and enjoy. And send me a photo!

Halibut Cheeks are cut from the head, behind the eyes. They used to just be discarded with the head; now, they are considered a delicacy and are more expensive than other parts of the fish because they are sweeter than the rest of the fish.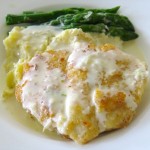 Halibut Cheeks with Asparagus and Beurre Blanc
The sauce is the key to this dish, but frying the cheeks is what this recipe is all about. The recipe for the Beurre Blanc sauce is
here.
Ingredients
8

large Halibut Cheeks

1/2

cup

all purpose flour

1/4

cup

unsalted butter

Salt and Pepper

Vegeta
Ingredients for Potatoes:
12

large Yukon Gold potatoes

1/2

cup

unsalted butter

1/2

cup

heavy cream

Salt and Pepper
Ingredients for Asparagus:
16-20

asparagus

One Beurre Blanc Recipe

(possibly a double batch)
Instructions
Instructions for the Potatoes:
Wash and do not peel the potatoes; just cover with salted water in a very heavy pot

Simmer at low heat for 2 hours, or until potatoes are done; quickly run each under cold water to peel (return to pot to keep warm)

When peeled, rice potatoes with a potato ricer (they should still be very warm); add butter, freshly ground black pepper and salt

Stir vigorously, adding cream until smooth and fluffly: season and stir well to combine

Keep warm until cheeks are fried
Instructions for the Asparagus:
Start the asparagus 4 minutes before cooking the fish and just before staring the sauce.

Barely cover asparagus with salted water in a pan at medium heat; steam for 6- 8 minutes, or until vibrant green

Remove from pot and plate immediately
Instructions for Beurre Blanc
These are with the recipe, but start the sauce just before frying the cheeks to align the finish time of the sauce with the finishing time of the cheeks
Instructions for the Halibut Cheeks:
Pat cheeks dry, dip in flour; season each cheek with salt, pepper and vegeta

Fry in butter at medium to low heat for 1-2 minutes per side, or until opaque
To the Plate:
Scoop mashed potatoes into a bowl; place asparagus over the potatoes and top with Halibut cheeks

Pour sauce over the plate, or offer it on the side for guests to pour on their own.

Serve in a bowl over buttery mashed potatoes and steamed asparagus with Beurre Blanc sauce

Enjoy!