The Thermomix Machine is….
The World's Smartest and Smallest Kitchen
Valerie Lugonja, A Canadian Foodie, (ME!) is a Canadian Thermomix Consultant situated in Edmonton, Alberta, Canada.
I would love to sell you a Thermomix machine.
I use my machine every day and make so many foods effortlessly, such as:
bread dough in 3 minutes
soup from scratch in 10 minutes
lemonade in 6 seconds
ice-cream in 30 seconds
Often called "the world's smallest, smartest kitchen", the Thermomix is more than just a blender and food processor.  Designed and engineered in Germany, manufactured in France, and with more than 40 years of innovation, the Thermomix TM31 is the most unique product of its kind on the market today, combining into one the functions of at least 10 kitchen appliances.  It crushes, juices, whisks, whips, emulsifies, weighs, mixes, kneads, grinds, chops, purées, grates, mills, blends, sautés, cooks, stews and steams, all in one bowl that even washes itself!
Thermomix Product Benefits

It weighs food

It turns itself off

It cooks to 120°C or 250°F

It washes itself

It stirs constantly
Thermomix Health Benefits:
Thermomix cooking is a healthy way of cooking.
You have control over the food you eat, as you can eliminate the majority of artificial flavours, colours and other food additives.
Thermomix is able to retain flavour and nutrition due to control of speed and temperature.
Thermomix does not oxidise food, therefore all colours are fully retained. Food is gorgeous when using the Thermomix machine!
A superior texture of food results due to the speed and temperature the machine is able to achieve; incredible creamy soups and sauces can be made without using cream.
Thermomix enables you to cook wholesome and whole foods from scratch with ease.
Steaming is a very healthy way to cook. Thermomix retaining colour and juices within the food when steaming.
Using the Thermomix Saves Time

You have an extra pair of hands in the kitchen doing all that stirring.
You save time due to:
Less preparation
Shorter cooking times
Weighs ingredients, so no measuring supplies to clean
The machine "washes itself"
Using the Thermomix Saves Money

The machine is very economical to run and saves on power
The Varoma uses heat generated by the machine that is energy that would otherwise be wasted to cook and steam food.
Saves a great deal on your grocery bill as the processed, prepared and convenience foods you used to buy you can now make yourself effortlessly, much more healthier and more economically.
The food that most people throw out every week will get used in soups and stews as it is now much easier to use over ripe food in the Thermomix.
The average family can save a minimum of $25 per week by using the Thermomix
I save much more than that, as well as the time I save, which equates to money as time is money.
Using the Thermomix Saves Space

Replaces over 10 major appliances, complementing the stove and oven
It is small, compact and portable, if you buy a case
The Thermomix Machine is Muliti-functional

One set of blades does it all: there is no need to switch blades to perform functions
Mixing, crushing, grinding, milling, cooking, chopping, kneading, emulsifying, steaming, pulverising and so much more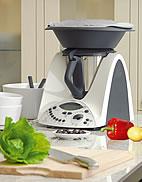 Promotions:
1. Payment Plan: 12 months
2. Free Shipping: if paid in full
3. Cookbook of your Choice: with each purchase
For Thermomix Purchase:
Contact me for pricing information.
Immediate Delivery

Thermomix Specifications:click on the title above to read all about the specifications and on the title below for my facebook page!
---
 My Thermomix machine does all this:
mills grains
makes granulated sugar into powdered sugar
kneads dough
juices
sautés
stir fries
boils
purées
chops
minces
whips
steams
THERMOMIX OFFICIAL YOUTUBE CHANNEL
There's an app for that: YUP! Click here for information about BOTH Thermomix APPS! OR Click here for Dani Valent's app for her cookbook "in the Mix" where I have a featured recipe for making yogurt!
Product

Purchase

 

Homemade in the Thermomix

You Save!

Mushroom Risotto (4 servings) eating out

72.00

10.50

61.50

Pasta Sauce 500g

3.57

1.60

1.97

GratedMozzarella Cheese 250g

6.20

2.50

3.70

Spinach Dip 100g

4.99

2.80

5.45

Bread homemade

3.59

1.20

2.39

Hummus 200g

3.29

1.80

1.49

Butter 250g

2.52

1.90

0.62

Oasis Juice

4.99

2.00

1.70

Dip 200g

2.69

2.30

0.39

Icing Sugar 375g

0.93

0.45

0.48

Jam 284g

3.54

1.40

2.14

Mayonnaise 235g

2.57

1.60

0.97

Nutella/Hazelnut Spread 400g

4.50

2.50

2.00

Peanut Butter 375g

2.99

1.80

1.19

Orange Juice (35%) 2L

4.29

1.20

3.09

Pizza Base (2)

2.59

1.20

1.39

Soya Milk 1L

2.61

0.40

2.21

Yoghurt Plain 500g

2.59

0.70

1.89

Ice cream 2L

4.81

2.80

2.01

Shortbread Biscuits 200g

2.49

0.75

1.74

Wholemeal Flour 1kg

2.46

1.00

1.46

Lemonade 1.25 l

1.57

0.80

0.77

GRAND TOTAL

$135.39

$38.90

$98.46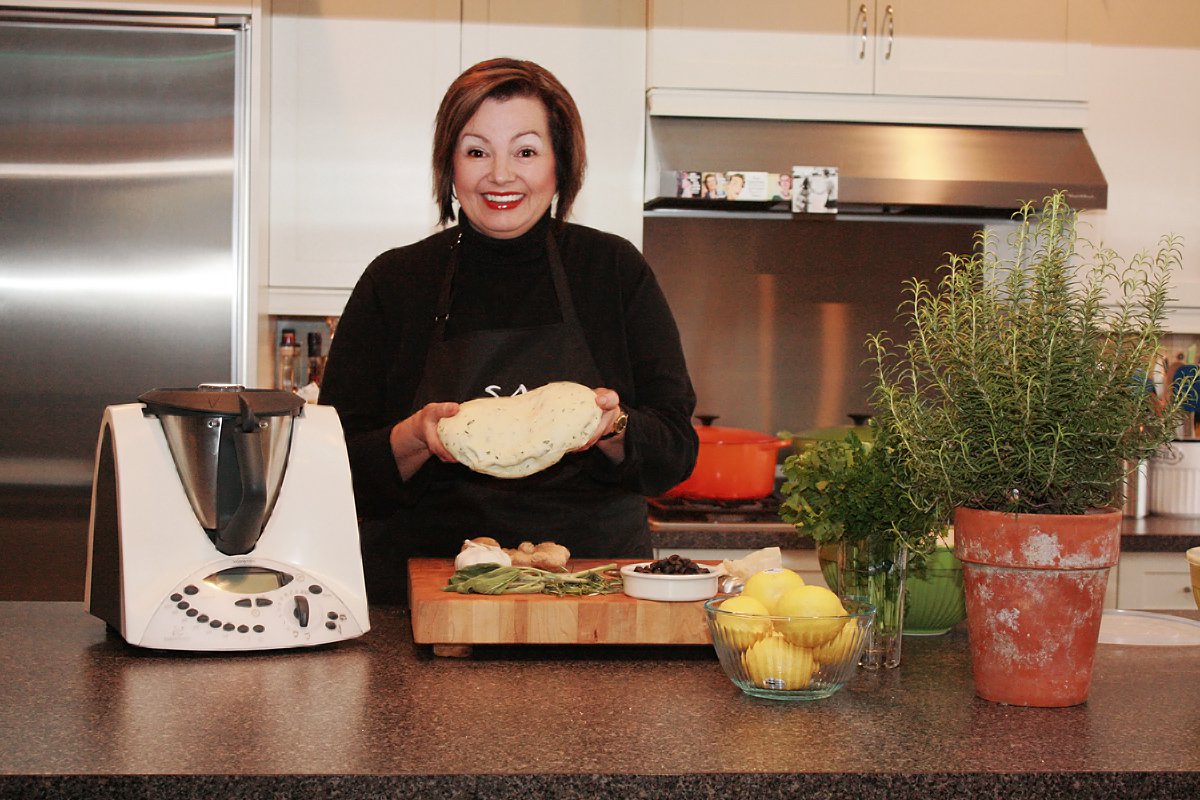 The THERMOMIX RECIPE menu bar is above the bright green menu bar…in a "whisper" …when you hover over it, the words turn green and you can select them and see the recipes I have prepared, in detail, with my Thermomix machine!