Another food of our Edmonton Locality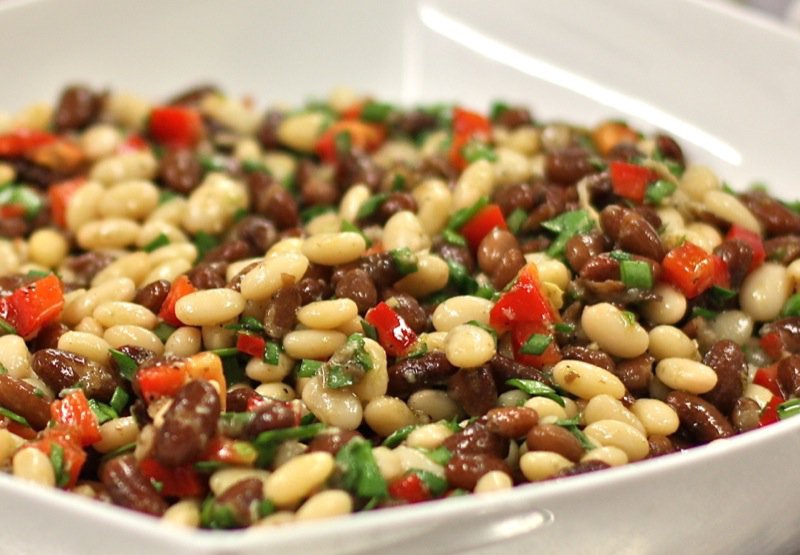 Bean there, done that? Oh, no you haven't! This is not your mama's Bean Salad! Oh, My!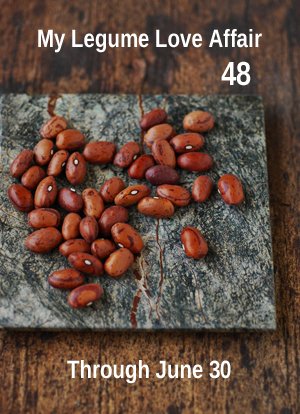 This is a first for me! I am participating in My Legume Love Affair initiated by Susan of The Well Seasoned Cook. Last year, I came across this lust for the legume on a site I read regularly at that time and signed up immediately. I never do things like that. But, I wanted to cook more with legumes and this was going to move me toward making that commitment. I thought.
I did make The Great Northern Bean Vegetarian Cassoulet for Eat Alberta 2011. I made it again in 2012. I used garbonzo beans I had personally prepared instead of canned ones after attending Christmas in November in 2010 and seeing the Spice Goddess. No comparison! I adore beans in soups like my own original Spicy Tomato and Chickpea Soup!
I learned to use lentils in soups, but prefer them ground first to use as a thickener. Yummers: delicious, nutritious and economical is my mantra and this fits that bill.
Thus, this is my invitation to each of you to participate in My Legume Love Affair and get your local pulse, bean, legume or lentil recipes into me before the end of the month: complete instructions are at the bottom of the post.
What is a Legume?
fresh or dried beans, lentils, pulses, and/or the sometimes edible pods that contain these seeds, and derivative products like tofu or beans
interestingly,tamarind, fenugreek, carob, peanuts, etc. are among some of the other edible plants in the legume family which ARE included in the event
a spoonful or soupçon of a legume does not qualify. MLLA is really about legumes of any sort as the main draw
Participation Requirements:
Please email me with the following information by June 30th 2012:

URL to your yummy legume recipe post
your NAME; BLOG NAME; LOCATION (for purpose of prize drawing/s; will not be published); and
a PHOTO of your dish (approximately 400 x 300 pixels, portrait or landscape orientation) to valerie AT acanadianfoodie DOT com

A Canadian Foodie Requirements:

please try to focus on the use of fresh seasonal ingredients for your locality whenever possible
recipes from your archives will not be accepted; recipes must be recent or updated and

Multiple recipes are permitted but limited to 10 per participant and I understand many of you will actually submit 10!

NOTE: only one submission will be counted towards the random draws

Round up will be posted the first week of July

Prizes:
Pops! Icy Treats for Everyone:This prize is offered by Susan, without influence, at her expense and she will also absorb worldwide shipping charges.

F.T.C. Notice: Susan does not receive any compensation from Amazon.

Hurst Bean Box: A case of six bags of the winner's choice of Hurst Beanproducts, suitable for every diet, sponsored by Hurst Bean.

Due to shipping restrictions, this prize can only be awarded if the winner is a U.S. resident.
F.T.C. Notice: In May 2010, Susan, at her request, received two Hurst Bean complimentary products which are not available for purchase in her local markets. Susan does not generally accept free products from Hurst Bean nor is she financially compensated by them.

Drawing Structure: If the winner is a U.S. resident, she/he will be the recipient of both Prizes 1 and 2 above. In the event that an international winner is drawn, a second drawing will be conducted from the U.S. pool of entrants to ensure that the Hurst Prize is awarded every month; in these instances, the international winner will receive the book, and the U.S. winner will receive the Hurst Prize.
The Great Northern Bean
The Great Northern Bean is truly a bean of our locality in Edmonton. These are a creamy coloured bean that is delicately flavored with a smooth velvety texture and similar in appearance to a lima bean, but smaller. Any recipe calling for Navy beans and Cannellini beans can be replaced with this larger bean with excellent results. The Great Northern Bean is sought after and used in two classic famous recipes: French Cassoulet and Boston Baked Beans. After soaking overnight, picking though to ensure best quality, the bean takes only about an hour to cook until tooth tender.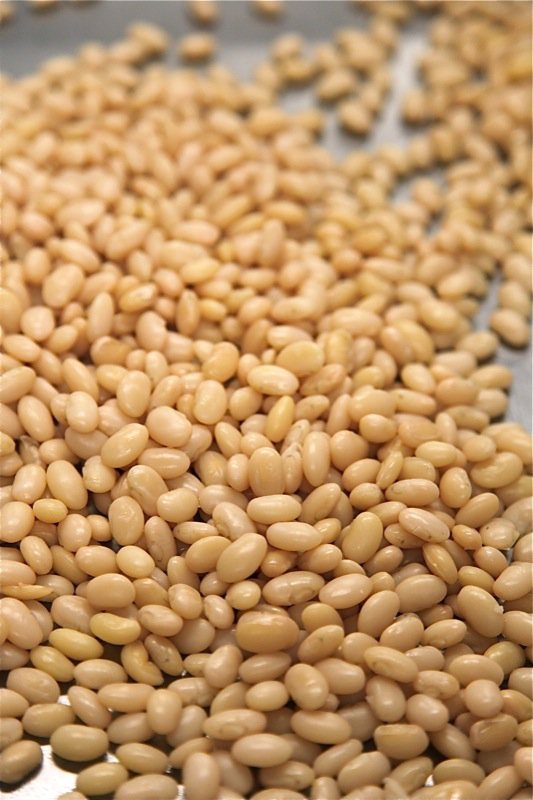 Pulses are a very significant agricultural product in Alberta. There are 4,700 pulse producers in Alberta which contributed approximately $200 million to the Alberta economy in 2008. Pulses grown in Alberta include: yellow and green Peas, pinto, great Northern bean and small red and black beans, chickpeas, faba beans, large and small green beans, and small red lentils.
Resources:
What is a pulse?
The term pulse is reserved for crops harvested solely for the dry seed. This excludes green beans and green peas which are considered vegetable crops. Pulse crops are grain legumes including field pea, lentil, chickpea, and dry bean. The plants produce pods that hold between one to six dry seeds. The seeds are edible and highly nutritious with high levels of protein, complex carbohydrates, fibre, vitamins, and minerals.
You can purchase this local bean from the Columbia Seed Company in Vauxhaull, Alberta. Live Local used to carry it, but you can also purchase it from this Alberta company at Planet Organic. All of the pulses that the Columbia Seed Company sells are beautiful products: maybe worth a lovely country drive one day to pick up a year's supply! It would actually be a weekend trip: 5 hours from Edmonton, 3 hours from Calgary and 90 minutes from Lethbridge. I am sure they ship.
Wild foods? The foraged wild onion (below) and wild horseradish (above) were the background chorus that drove this concoction home right down a scenic and fragrant winding Alberta gravel road. Talk about the flavours of one's locality! Ming and Elaine were quite the ingenious pair when in the kitchen preparing a dish for the Slow Food Canada Conference in Edmonton Cook Together night. There was no preconceived plan: just fresh ingredients waiting for an artful orchestration. Beans were soaked.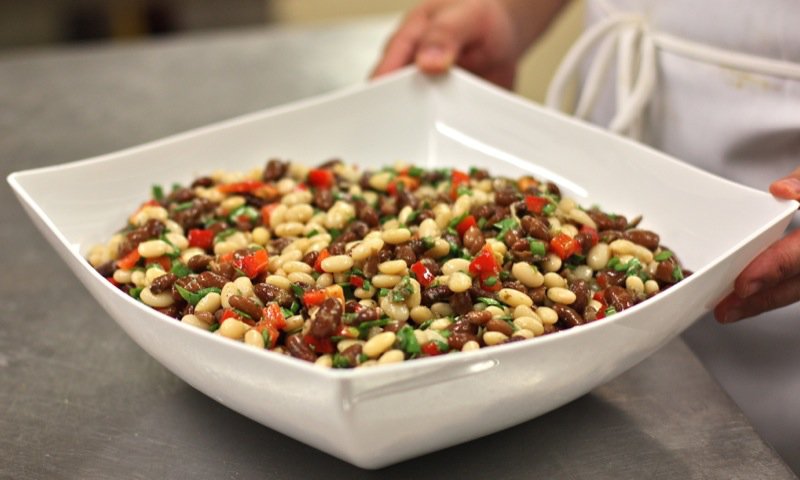 And they worked to combine flavour and texture until they were pleased. This is not your mama's Bean Salad. No siree! Just because it looks familiar, do not make assumptions. I wasn't even going to have any when Ming asked me if I had tasted the salad. I dug my spoon in sheepishly and was astounded.
The bright bite of the wild horseradish coupled with the acid from the lemon and vinegar had me digging in again. MMMmmmm. The Mighty Trio Organics cold pressed Hemp Oil enhanced the nutty flavour of the beans and the wild onion was behaving itself so unexpectedly adding depth to the harmony within the mix, yet a sparkle of unexpected pleasure. I wanted to dive in head first. This is the kind of salad that "happens" unexpectedly and one runs to recall every detail of the creation process as it was just that good.
I asked Ming to make it again for the Slow Food Canada Volunteer Appreciation Pizza Class and Party. She did. It was just as delicious, so today, I am sharing it with each of you.
The caveat: you must forage for fresh wild horseradish; it makes all the difference. The nodding onion in my backyard worked very well as a replacement for the wild onion. But, the wild onion was still better; it was up before any would be in your own garden and kept for 3 weeks in perfect condition in my fridge.
You will read the recipe below and ask: How can something with so few ingredients be as delicious as Valerie says? Truly, if I hadn't tasted it myself, I wouldn't bother to make it, reading the ingredients. But, you should. no, you must. You MUST. This is one of the best things I have ever eaten this Spring!
Ming and Elaine's Northern White Bean and Wild Foods Salad
for a much smaller batch than above

Ingredients for Salad:
1/4 c wild onion, sliced (garlic chives, scallion, nodding onion)
1 red bell pepper, diced
4-5 cups of cooked Great Northern Beans combined with red speckled beans (soaked overnight, cooked and cooled)
Ingredients for Dressing:
1 Tbsp grated wild horseradish, or to taste
zest of 1/2 lemon
juice of lemon
2-3 Tbsp white wine vinegar or white balsamic vinegar
1/3 cup hemp oil
salt and pepper, to taste
Instructions:
prepare all salad ingredients and toss together
do not mix dressing and then pour over the salad, instead:

grate wild raw horseradish over salad with a rasp
zest lemon over salad with a rasp
juice lemon and add juice of half to start
add hemp oil
season with salt and pepper
at this point, add more zest or lemon juice, as desired, and then add vinegar until correct acidic balance is achieved
Note: The amount of vinegar depends on its type and acid, as well as the acid in the lemon