Homemade Tomato Sauce: Spaghetti (or Pizza) Soup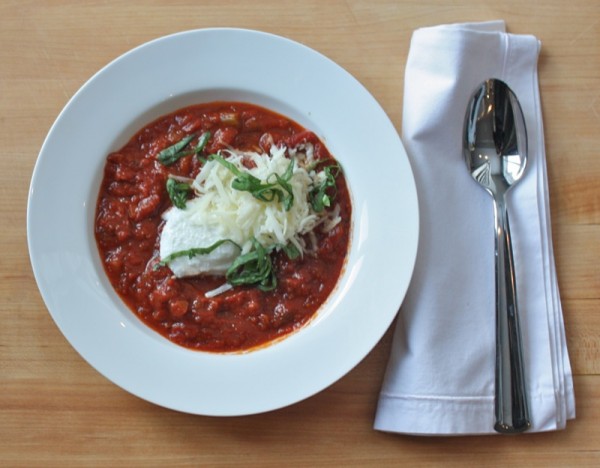 Tomato Soup never sells at the school store. Ever. Pizza Soup? Well, that is a whole other story. It sells out in minutes! There doesn't need to be any difference: we have sold regular tomato soup to very happy students with pizza garnishings (basil and oregano mixed in) with a generous amount of shredded cheese on top and they rave for days about it and beg for more.
However, rarely do I have tomato soup available at school for our students. However, we always have our special homemade tomato sauce. With half of the batch puréed and the other half left chunky, a dollop of yogurt (homemade, of course) with the addition of cheese and basil… well, sing me a song, Piano Man! It is pure Rock 'n Roll in a bowl for kids!
Look at it!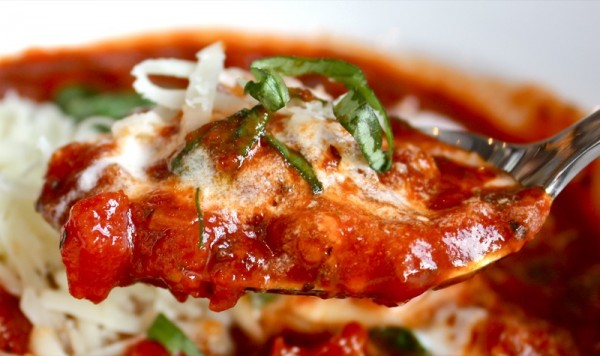 Man cannot live on bread alone. He needs tomato sauce. And, not just any tomato sauce. A tomato sauce that knocks your head back and opens your eyes wider as you taste it; a tomato sauce so full of fresh garden goodness that you feel healthy energy surge through you after the first bite; a tomato sauce that distills the essence of the quintessential Italian kitchen so well that you lose your footing and plop in the nearest chair. Now, that is tomato sauce. And, you shouldn't bother with any other.
Homemade Tomato Sauce: Getting Started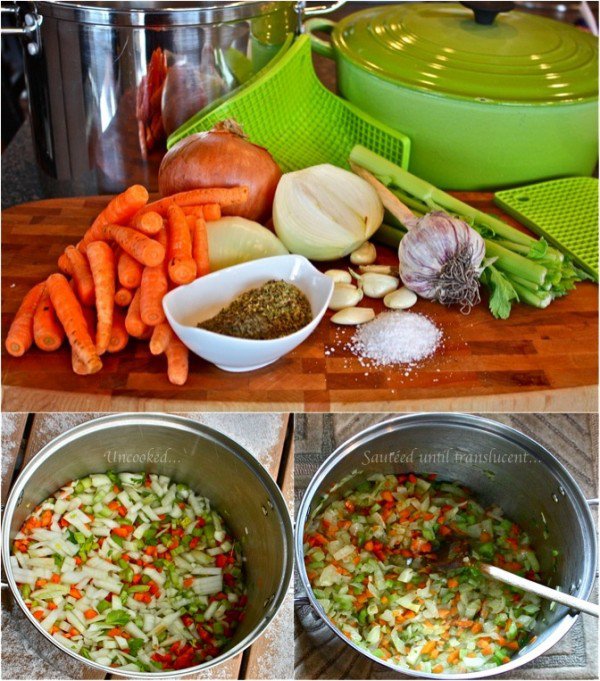 Homemade Tomato Sauce: The Holy Trinity
When I first decided to share my "secret" recipe with my students a few years back, I knew immediately that I had changed each person, forever. The peeling and the cleaning and the chopping, dicing and mincing were all met with quiet sighs as each rendered himself helpless to resist. I coached and kept up the pace and the passion and the enthusiasm: "Stop, everyone! Look at this onion! Did you ever see such a perfectly sliced onion? Come on!! Standing O!"
We cheered one another on to completion… then, mise en place, good to go to the stove… and the magic started to happen. The aroma. The sizzle. The glistening of the fragrant vegetables transformed through this specific combination: onions, carrots, and celery (2:1:1) "The Holy Trinity"
"Stop! Stop! Everyone! Can you feel it? Can you hear it? Can you smell it? It's a religious experience!!! The holy trinity is in our skillet!" And it was a religious experience. Students were stirring, breathing it in, tasting, and dropping to their knees. "Oooooohhhh! Mrs. Rodgers! You sure know how to make a good sauce. This is mighty tasty. I didn't believe that carrots and celery were in a tomato sauce, but they make it so so so yummy!"
Homemade Tomato Sauce: I Can Make it Myself
Nothing bonds people together: woman to man, mother to children, teacher to students – like food. It really is a religious experience. It is so empowering to do it yourself. "It's not hard! It is work, but it is not hard! I can do it! I can do it! I cannot wait to get home and make my own!"
I cannot wait for you to either, sweetie.
And there is nothing like making your own. Nothing. Just look at that!
It smelled so good, I had to eat some. I never eat a bowl of tomato sauce, but a bowl of Pizza Soup with my homemade yogurt embraced by the thick warmth of the Holy Trinity topped with shredded cheese and garnished with a fresh basil chiffonade? Now, that is an entirely different matter. MMMM MMMM good! (NOT Campbell's Good: Homemade Good!)
Homemade Tomato Sauce: Versatile
I use it on pizzas and on pasta. It is incredible. It goes very far as I have my massive batch on a low simmer at the back of the stove 8-10 hours. It is not at all a soupy sauce. It is a thick, deeply flavourful, thank-God-in-Heaven I am alive to eat this kind of sauce. I freeze it in 1/2 cup portions, 1 cup portions and 2 cup portions.
Make this with your kids. See if I am fibbing. You will have the time of your life, and so will they!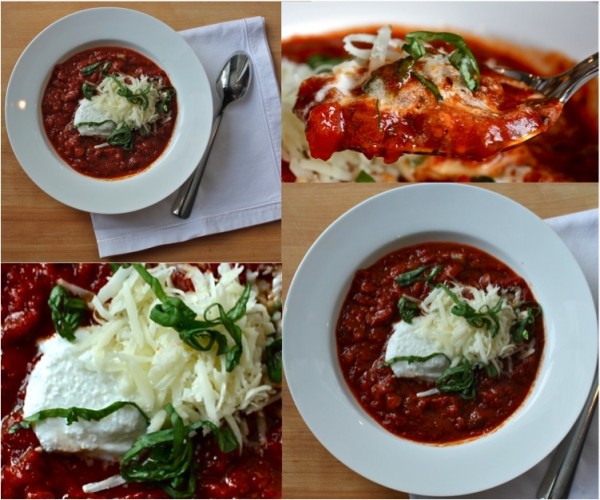 What is your go-to tomato sauce?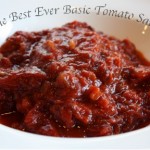 Best EVER Basic Tomato Sauce Recipe
This is a rich, condensed flavourful multi-purpose tomato sauce. Once you make it, you'll never make another recipe.
Cook Time
2
hours
10
minutes
Total Time
2
hours
20
minutes
Ingredients
Ingredients
2

tablespoons

olive oil

100

grams

or 1/2 medium onion

diced

75

grams

or medium carrot

diced

75

grams

or one stalk of celery

including green tops, diced

2

tablespoons

fresh parsley

minced

3

cloves

garlic

minced

2

teaspoons

dried basil

2

teaspoons

dried oregano

1 28

oz.

can whole tomatoes

including juice (DOP tomatoes make ALL the difference OR fresh from the garden heirloom tomatoes)

85

grams

or 3 ounces tomato paste

1/2 small can

Salt and freshly ground black pepper, to taste (start with a teaspoon of salt)
Instructions
Instructions
Heat olive oil in heavy wide skillet on medium heat

Add chopped onion, carrot, celery and parsley

Stir to incorporate; saute for 3 minutes

Reduce heat to low; cover and cook for 5 to 10 minutes, stirring occasionally until vegetables are softened and cooked through

Remove cover; add garlic and stir for 30 seconds

Add tomato paste, basil and oregano; stir to coat (about 30 seconds to a minute)

Add canned tomatoes; simmer (reduce heat to low) uncovered, until thick (about 90 minutes to 2 hours)

Puree in blender, if preferred (I don't)

Taste and season with salt and pepper, as needed (start with a teaspoon of salt)

Cool and measure 1/2 cup portions of sauce into freezer bags; label and date
Recipe Notes
This is a lovely thick condensed sauce: I only use 1/4 cup for a pizza (use sparingly, it goes a long way). I make 4 times this recipe as it takes no longer and makes much more.