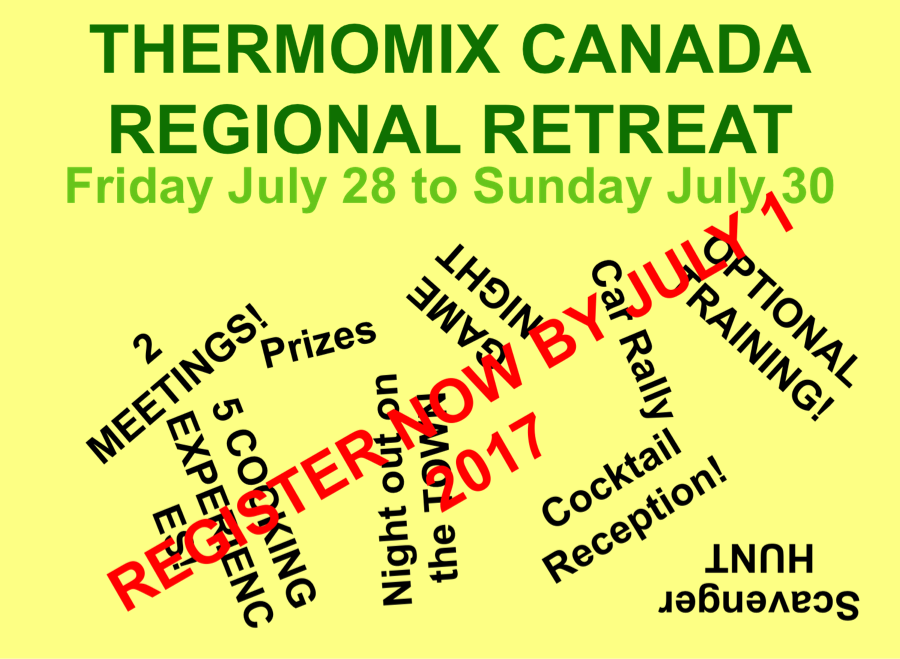 REGIONAL RETREAT 2017
REGISTER NOW



Thermomix Canada Retreat Registration Form
Make it Happen
We can only make this happen if you come! I will need to know by FRIDAY JUNE 30th
---
Friday, July 28th 5:00 PM to Sunday, July 30th 2:00 PM REGISTER by June 30
2017
Who: all regional consultants and Team Leaders
Where: 874 Proctor Wynd, Edmonton, Alberta 780-456-5073
Why: to develop and deepen our personal relationships with one another; to learn, share, inspire and motivate, to receive practical hands on "to be used immediately upon returning home" Thermomix tips, tricks, recipes and techniques!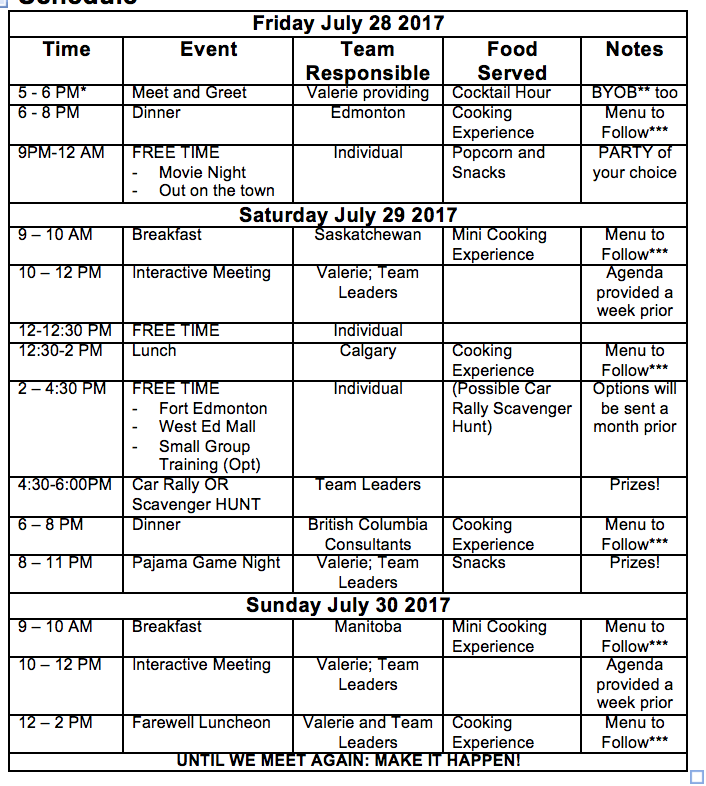 * all times in MST (Mountain Standard Time)
** Valerie will serve cocktails the first evening and have non-alcoholic beverages available for all (and leftovers from Friday); otherwise, BYOB, but indulge only during or after dinner time each day, please (Nope. No Mimosas for Breakfast!)
***Please let us know of dietary restrictions so all meals will accommodate everyone
Transportation
Will be the responsibility of each individual; Team Leaders will help arrange group transportation via car pooling, where possible
Accommodation
Valerie will ensure each attendee is billeted out to either a local consultant or another home for the two nights. Valerie will accommodate the team leaders and Edmonton Team out of town consultants, if possible.
Cost
Individual cost should be:
Transportation
Sharing the cost of the ONE meal your team or area is responsible for
Spending Money
$50.00 DEPOSIT

*

upon Registration (fully refundable upon arrival
We have worked to keep cost at a minimum to ensure as many as possible can attend!
*The Leadership Team is working to make this experience inspirational, motivational, memorable and one that will exponentially increase your Thermomix Business. We need to know who is coming. There needs to be a commitment from you. Please support our efforts and your commitement to be a Thermomix Consultant by registering for the retreat asap.

REGISTER NOW



Thermomix Canada Retreat Registration Form
Make it Happen
We can only make this happen if you come! I will need to know by FRIDAY JUNE 30th