Fruit Bread: A Traditional Family Christmas Morning Favourite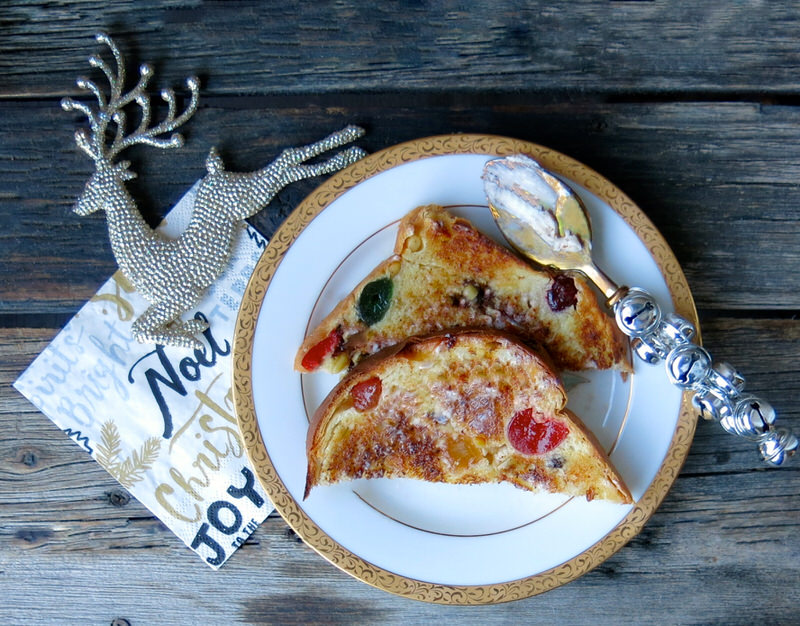 This Christmas, Ragan asked mom to remember to make her famous Holiday Fruit Bread. As our family ages, we tend to prepare less of the staples we all know and love as we just cannot eat them all. Yes! It has been a few years since this Christmas Tradition has graced our table. Now, was definitely the time.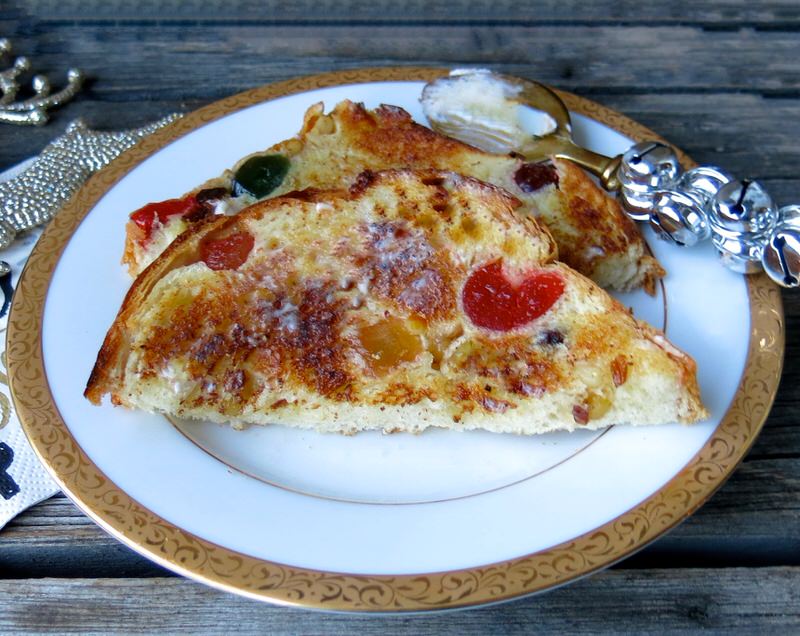 However, mom neglected to get the message: no cinnamon buns this year. She made those, too! Whatever comes from mom's kitchen is delicious and timeless. This fruit loaf is at its best, however, when toasted. We all heartily agree with that. Golden brown, slathered with butter and every bite a mixture of savoury yeasty goodness, salty butter-rich crunch with sweet chewy bobbles of fruity jewels bursting of bright fruit coupled with sticky sweetness. Does it get any better?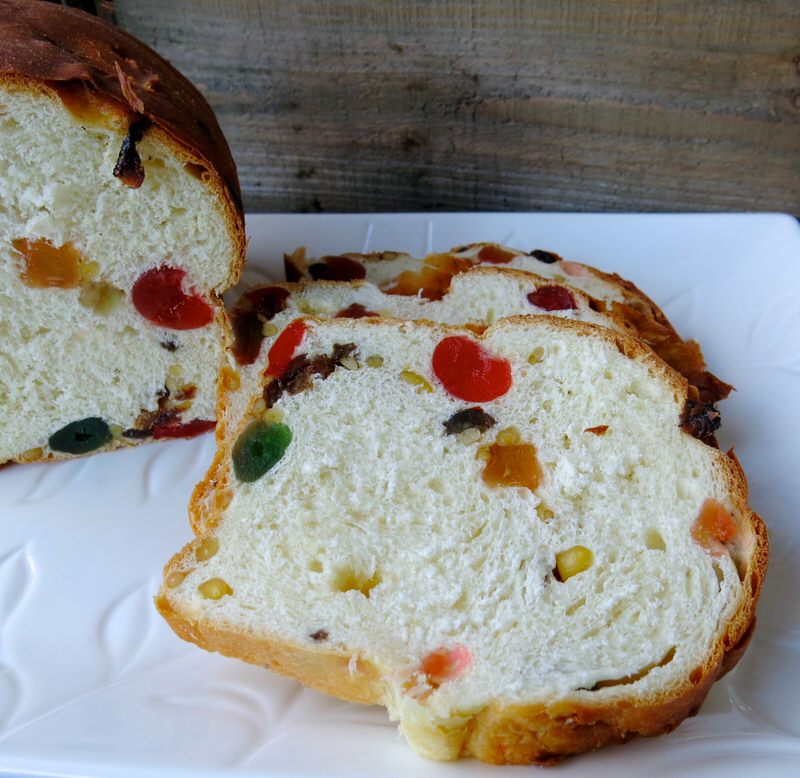 It just does not. The key to Helen's Famous Canadian Holiday Fruit Bread is using the "Fancy" glazed fruit mixture that provides large morsels of fruit instead of the finer chopped blend available at most grocery stores.
Fruit Bread: Mis and Mom en Place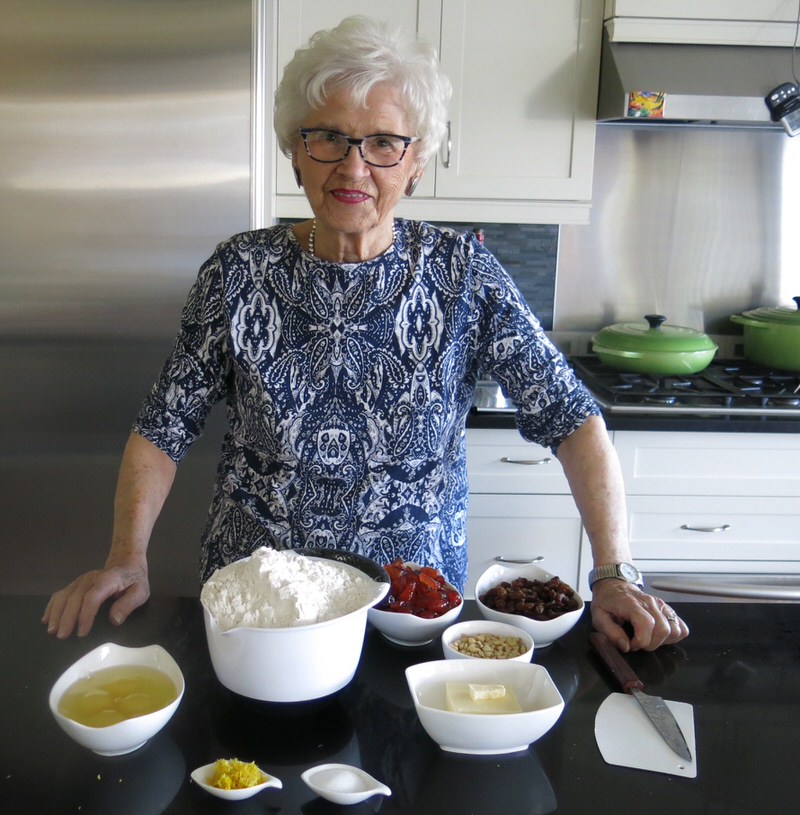 Ready to go, as always, my mom Helen never leaves the house without her hair done, her lipstick and earrings in place and her perfume on.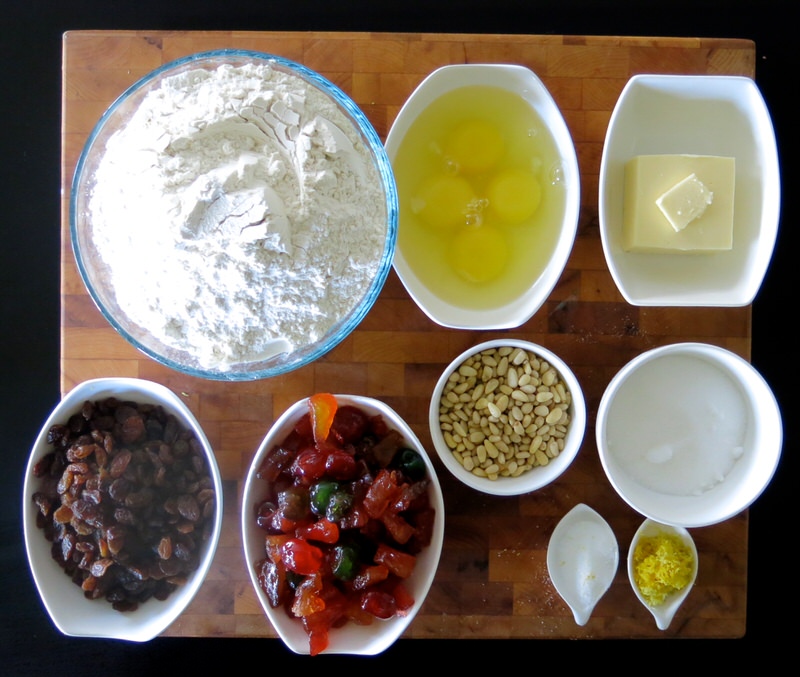 Above, the ingredients for the dough and the filling. The raisins, fancy glazed fruit mixture and pine nuts are added after the dough has proofed.
Fruit Bread: Making the Dough with Helen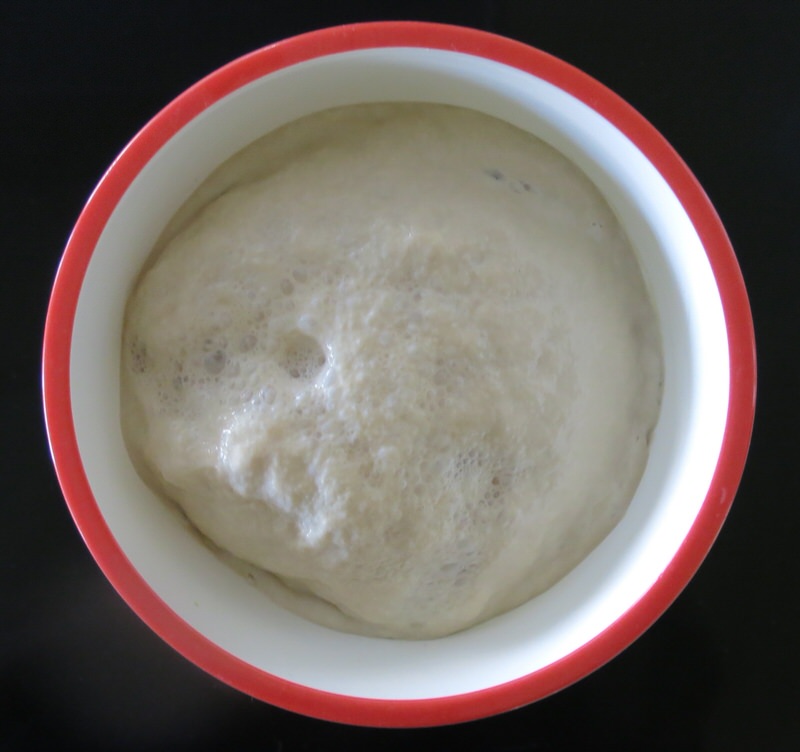 Baking beside my mom has enabled me to capture so many of our traditional family recipes here and to translate most of them to make in the Thermomix machine. I will be doing that with her, today.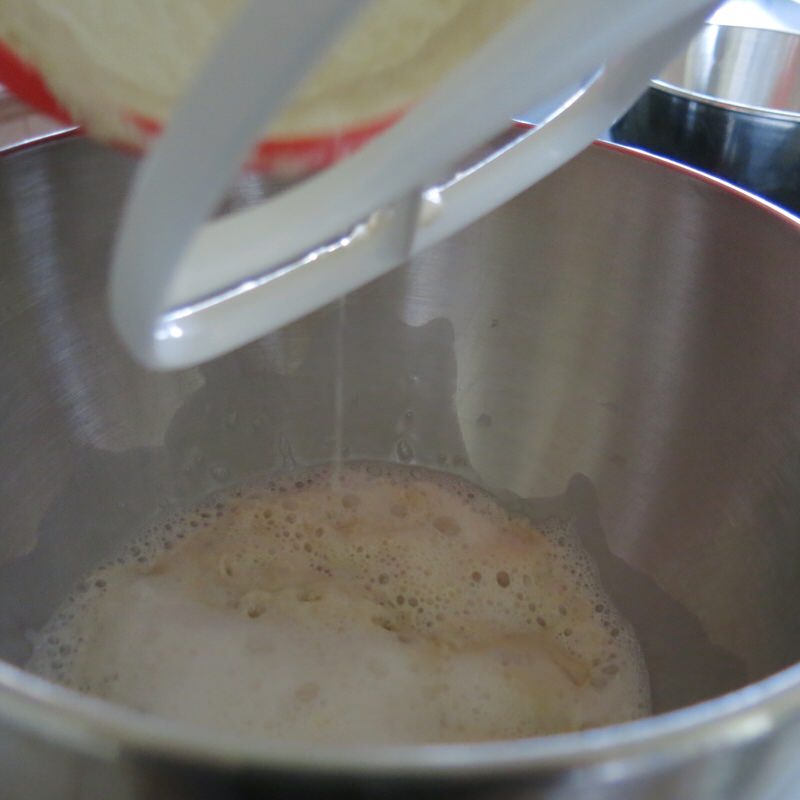 She proofs her yeast and then adds it to the bowl of her mixer.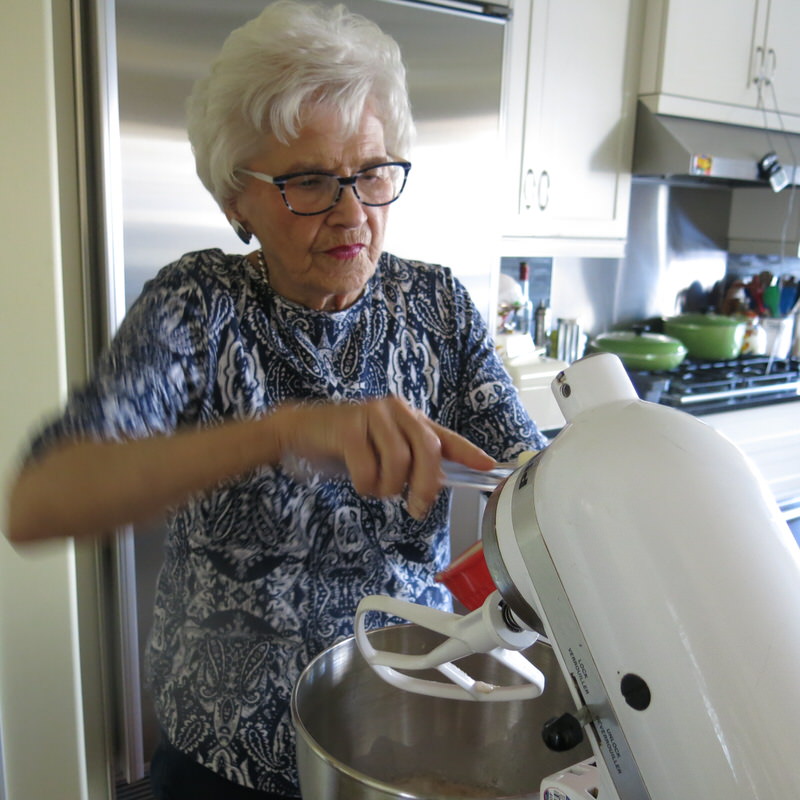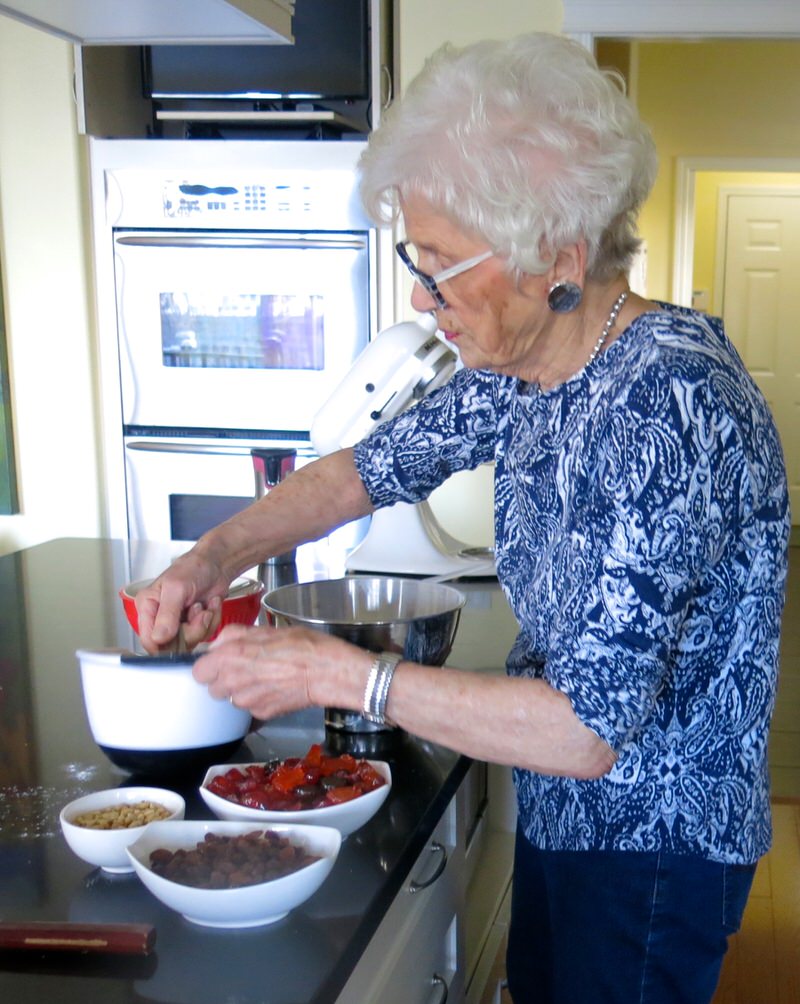 Mom carefully adds sugar, butter, salt, rind and 2 cups flour into her mixing bowl with the yeast mixture, above, and below left is what the dough looks like once combined.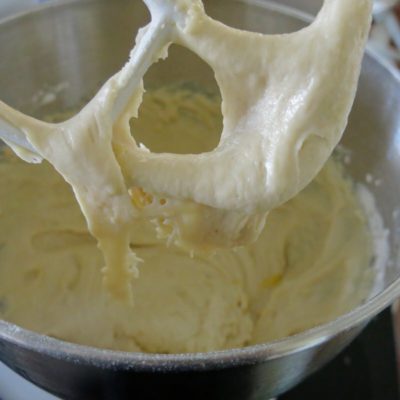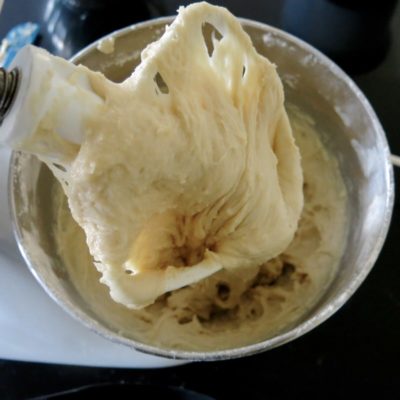 She then added more flour and eggs and continued to whisk as above, right.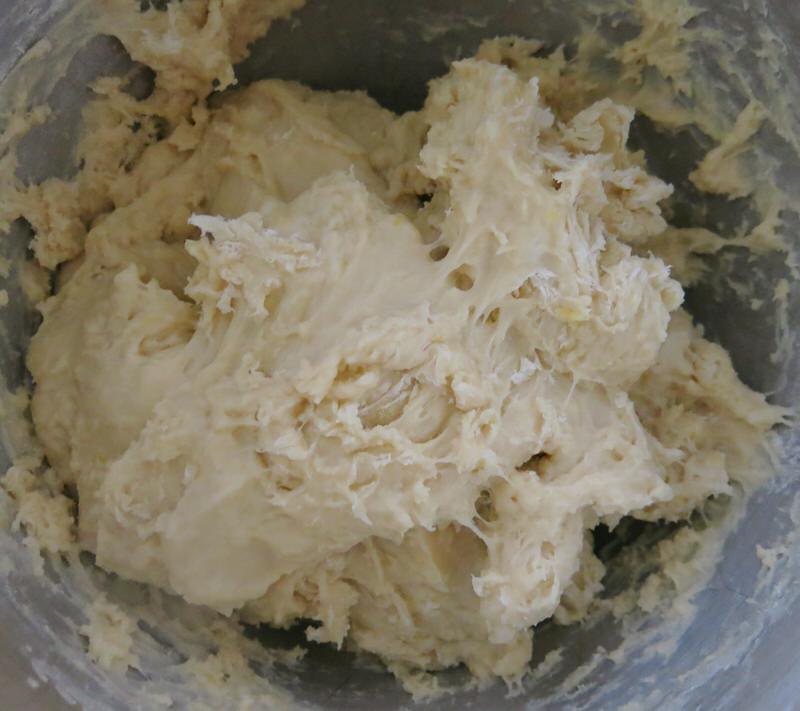 Finally, after stirring in the remaining flour, the dough has clumped together and formed a softball. She is ready to knead it.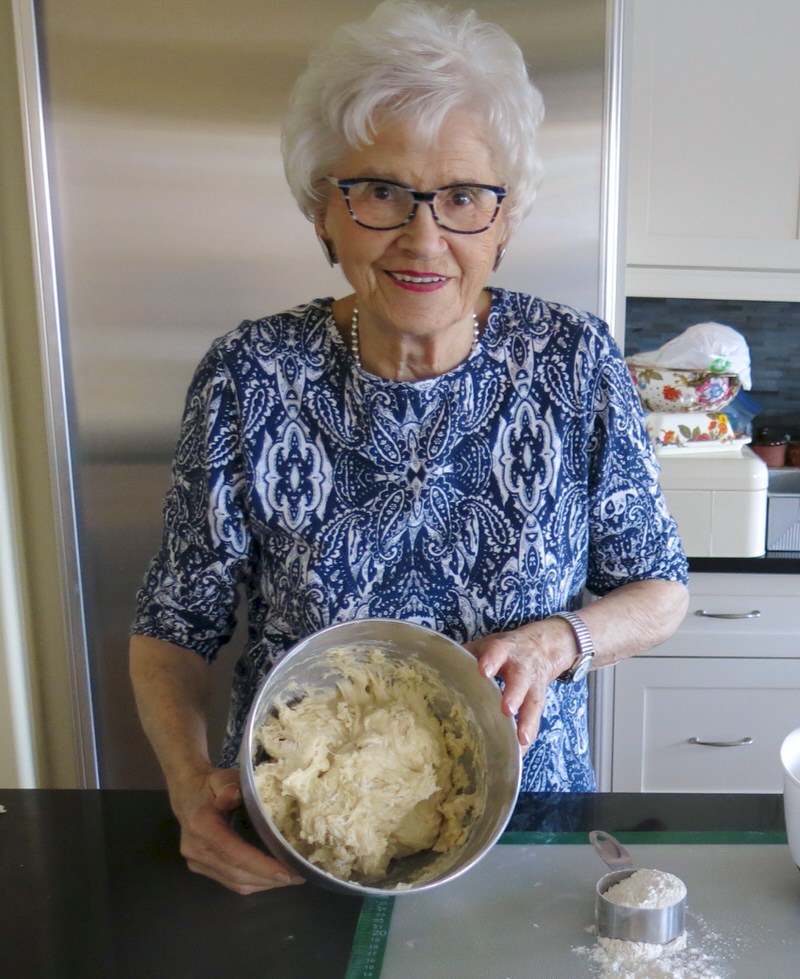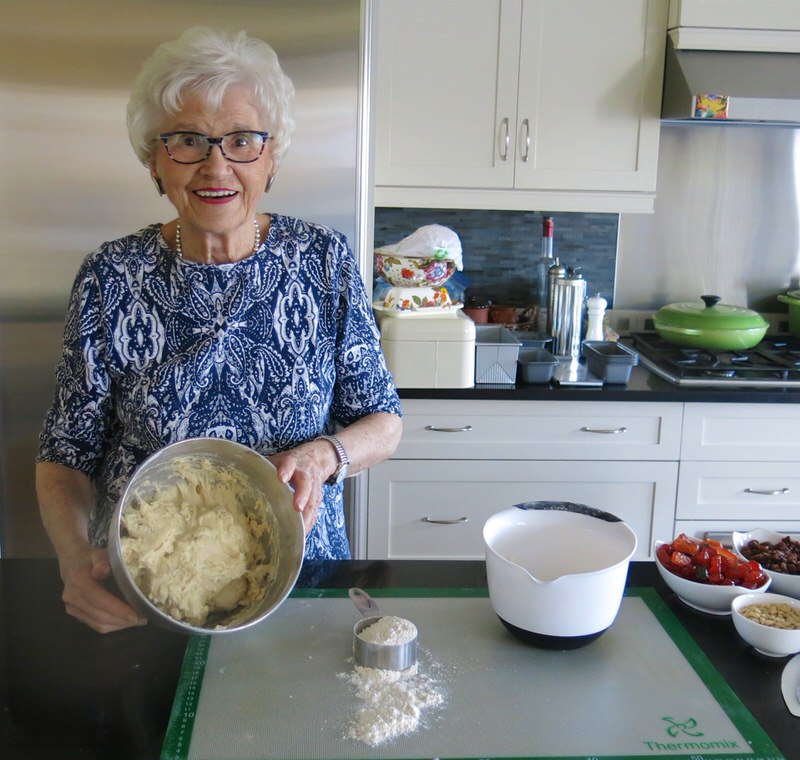 Fruit Bread: Kneading the Dough with Helen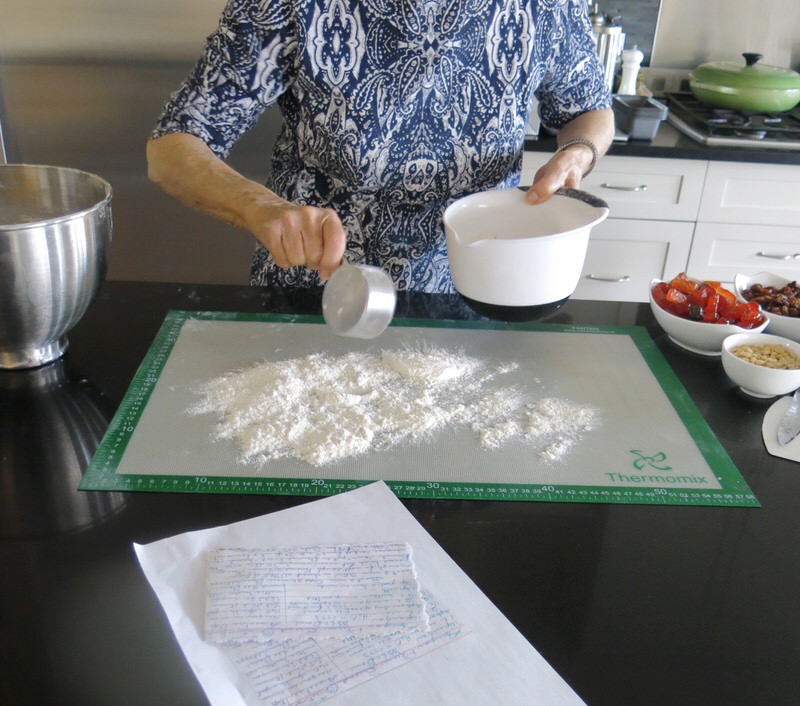 Placing her dough on a lightly floured work surface; she then kneads vigorously for 8-15 minutes until the dough pops and is elastic. Kneading is daunting and does require skill and practice. However, the resulting loaves are so worth the effort!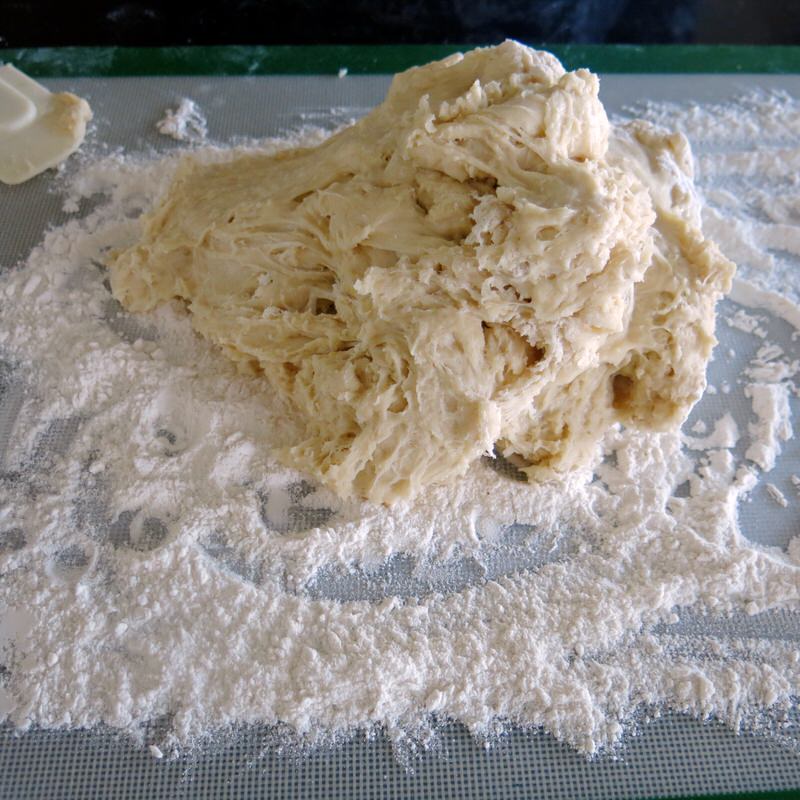 Did I say "lightly floured workbench"? Yes, I did! That is definitely my advice, but my mom makes her bread "old school". I have managed to rewrite her recipe to include all this bench flour (maybe not all), but as much as necessary, to create her famous recipe.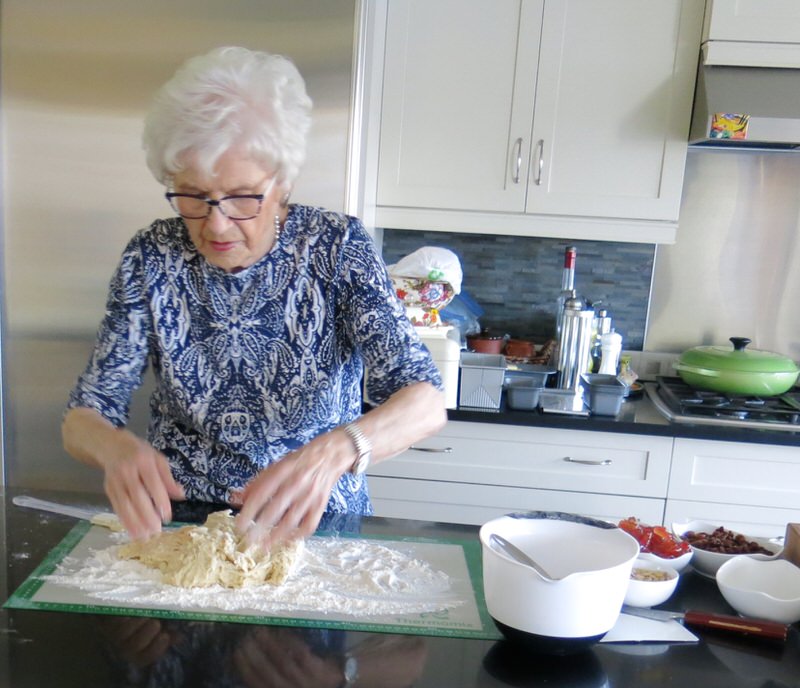 Granted. It is a very sticky dough. Even when I translated the recipe to make in the Thermomix machine, I did honour mom's process and recipe. The dough is very sticky which is part of the success of its gorgeous flavour and texture.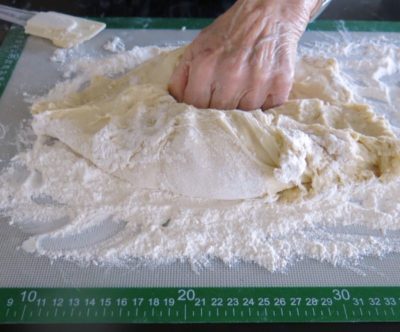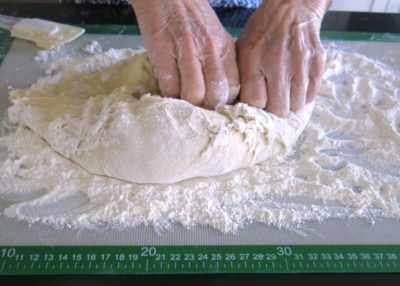 Like riding a bike, mom knows what to do with her dough. She is not afraid. Her confidence is inspiring as I watch her create a vibrant, elastic dough ready to proof.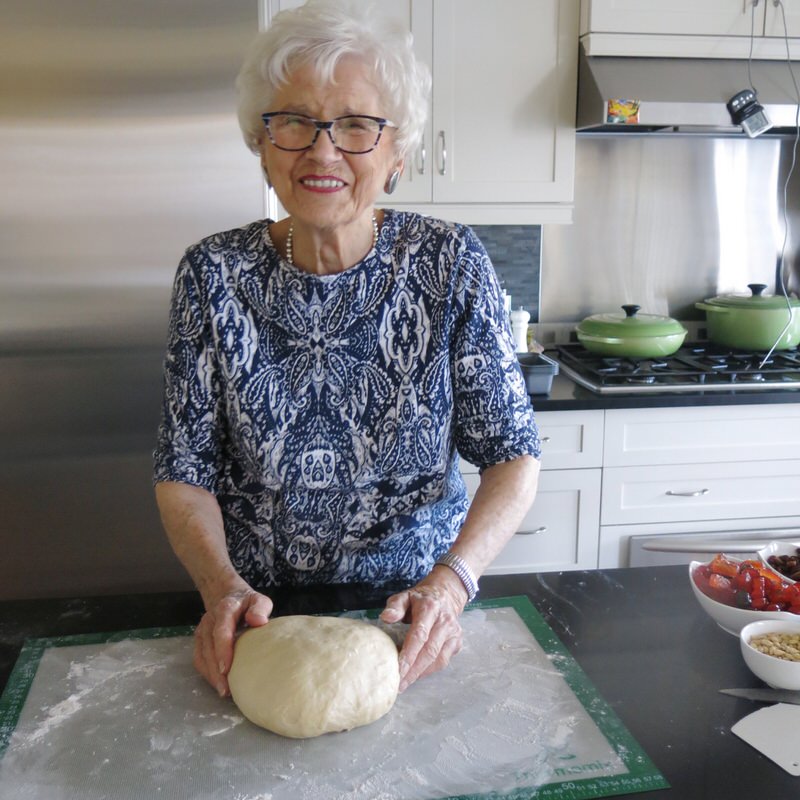 See? Now, into a well-floured bowl with a damp cloth to cover and it will take a couple of hours to double in size.
Fruit Bread: Proofing the Dough with Helen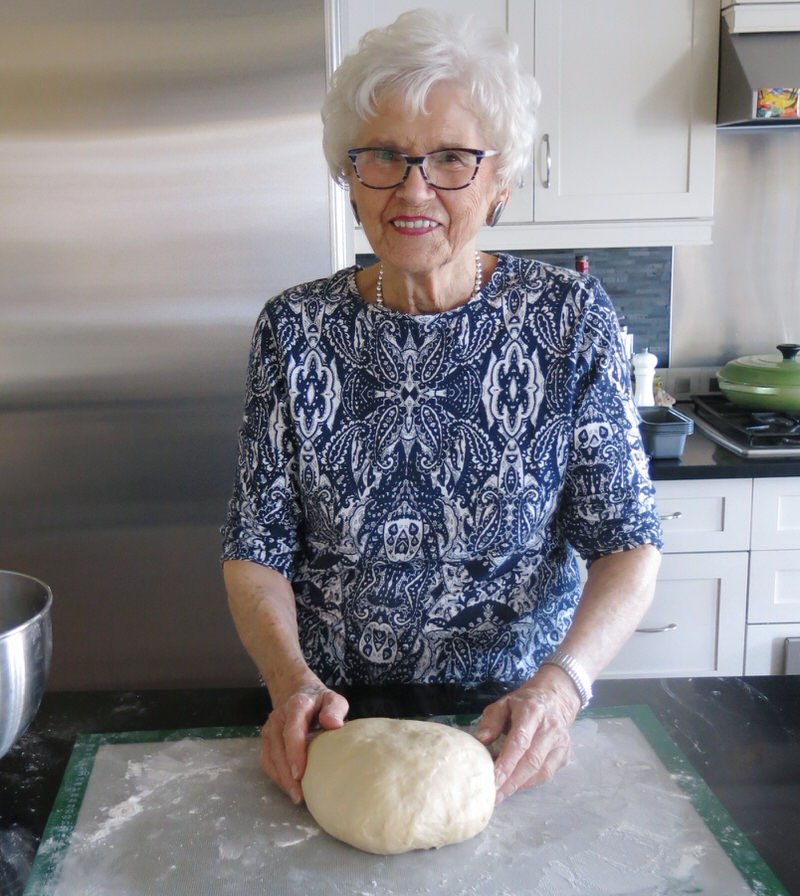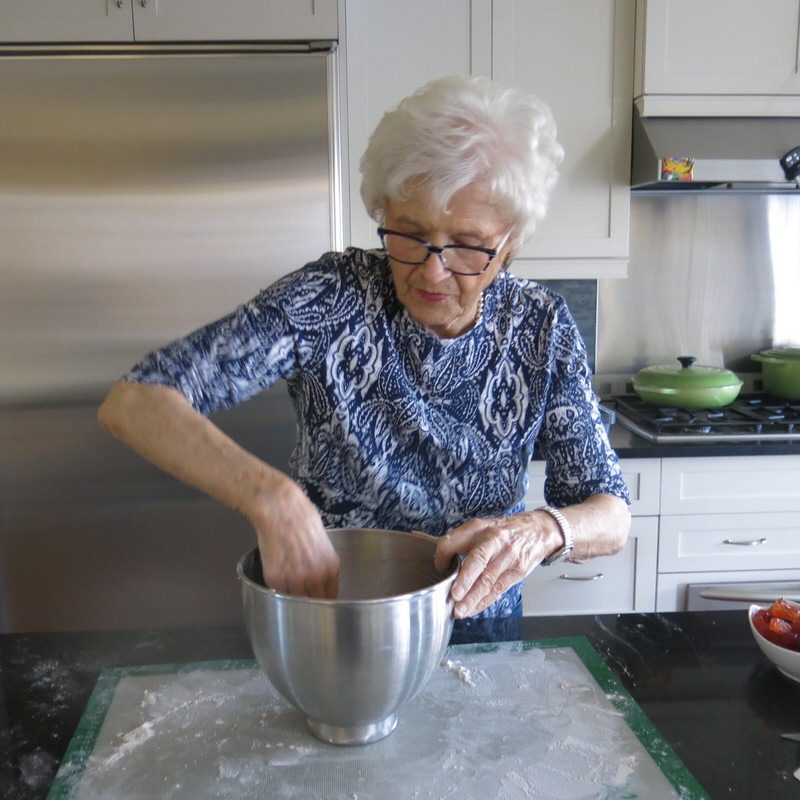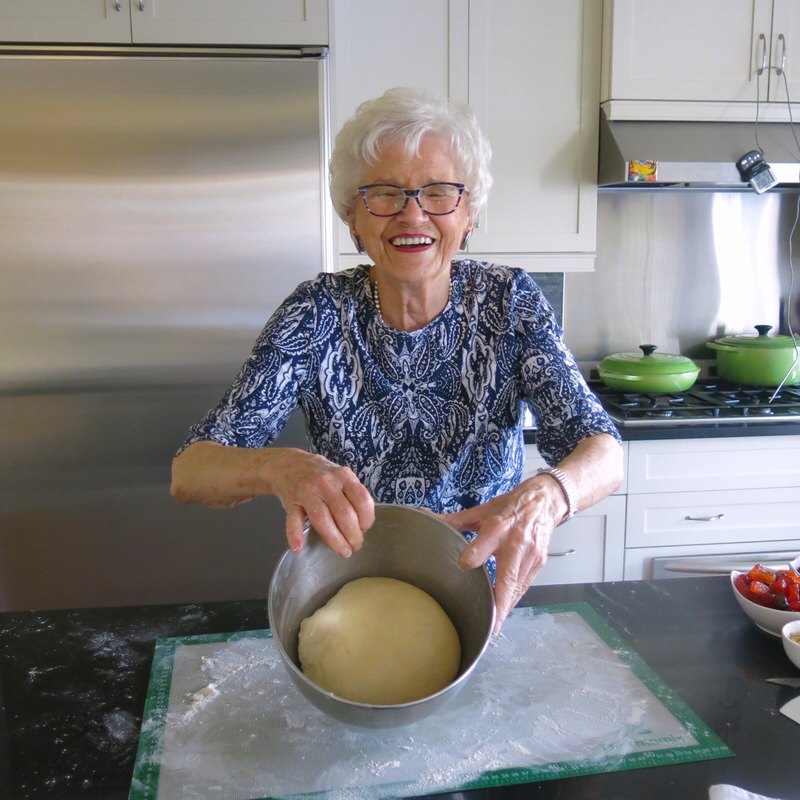 It is so gratifying to get that little dough ball sitting proudly in its proofing bowl.
And two hours later, almost… look at that rise!
Fruit Bread: Making and Kneading the Dough in the Thermomix Machine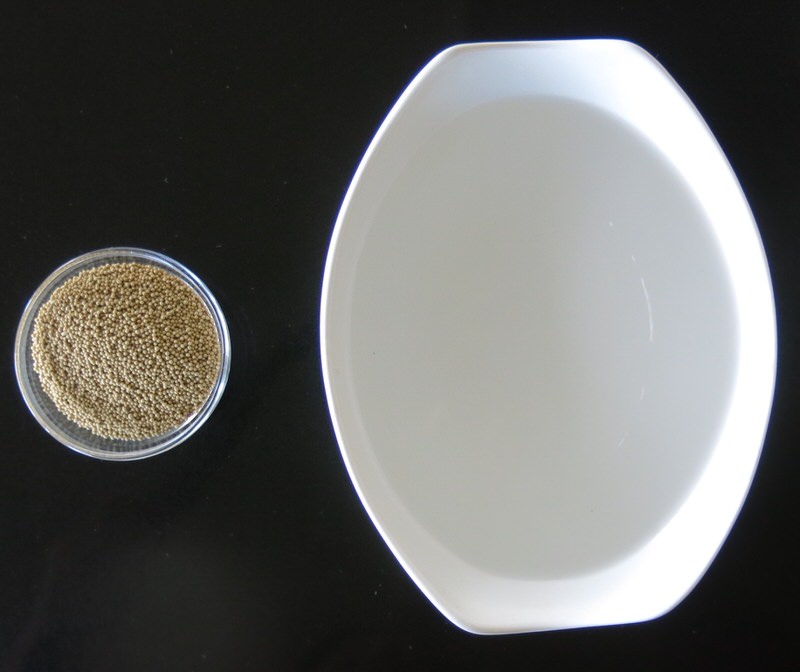 When making the dough in the Thermomix machine, or even without it, if you use your yeast often and store it in the fridge, you do not need to proof it. Proofing yeast used to be important to be sure it was alive as we only made bread on holidays. If you make bread often, no need to proof. You know your yeast is alive and well.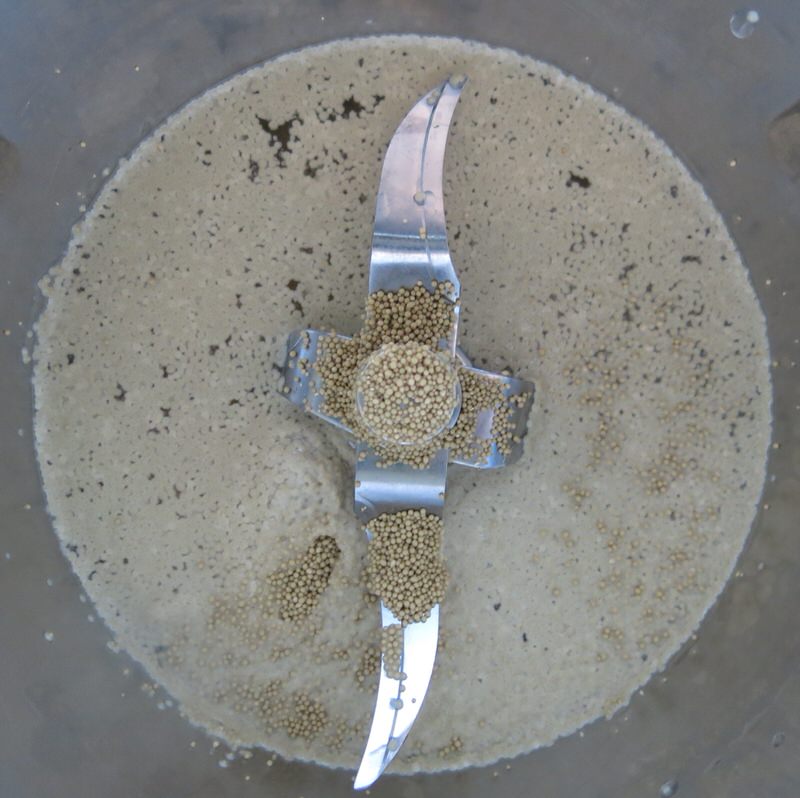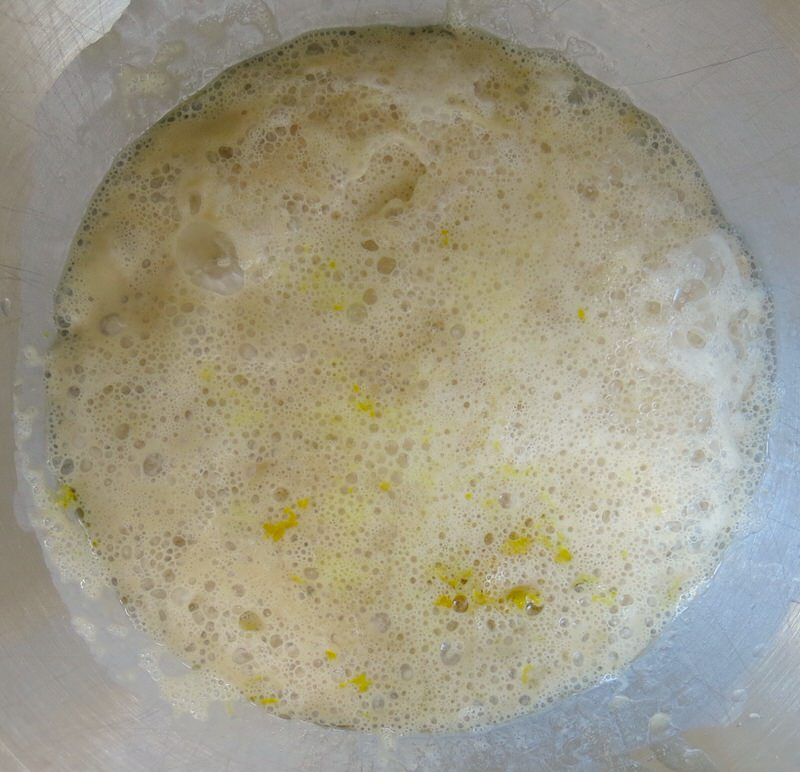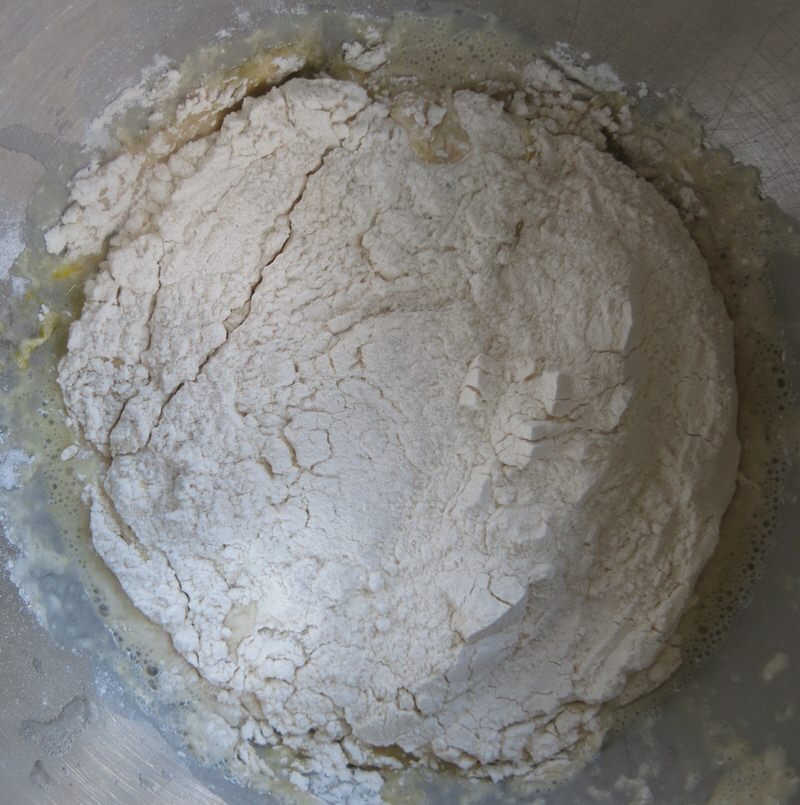 So, I weighed the items into the Thermomix mixing bowl, not exactly in the same order mom did hers in, but in a similar fashion.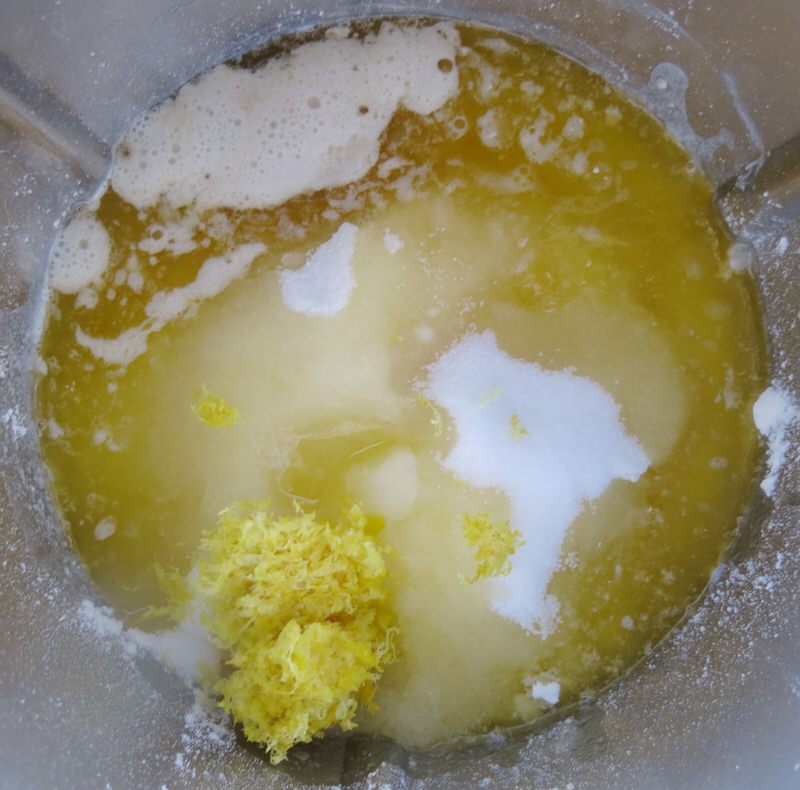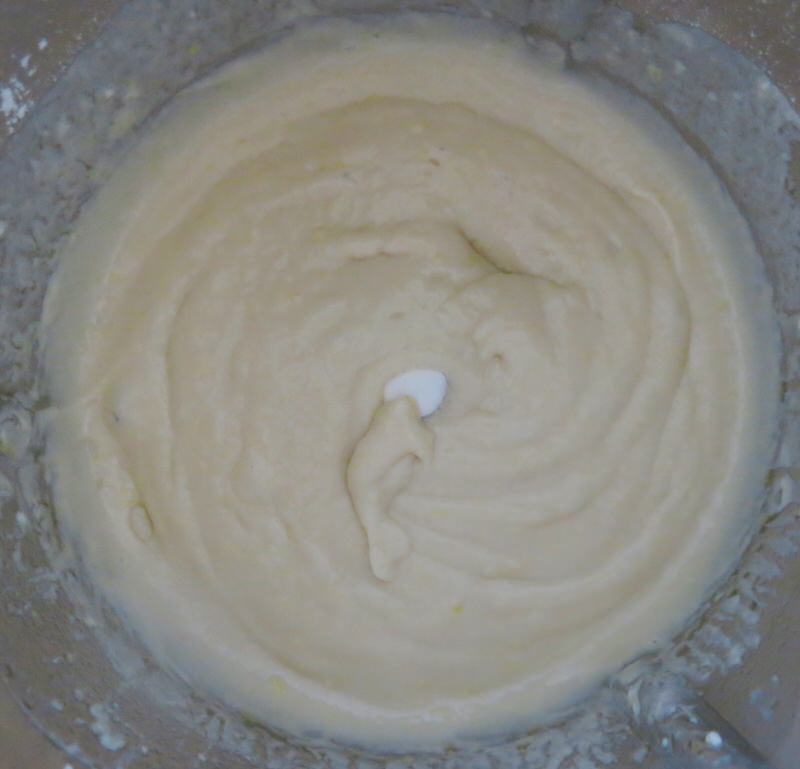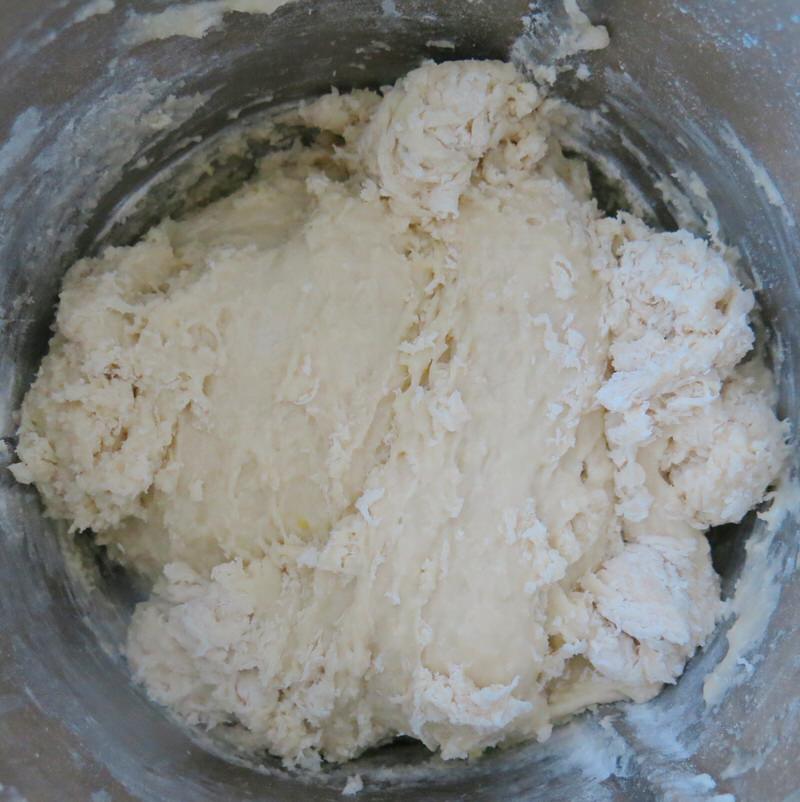 Adding the flour until the dough clumped and then kneaded mine in the machine. No sweating for moi.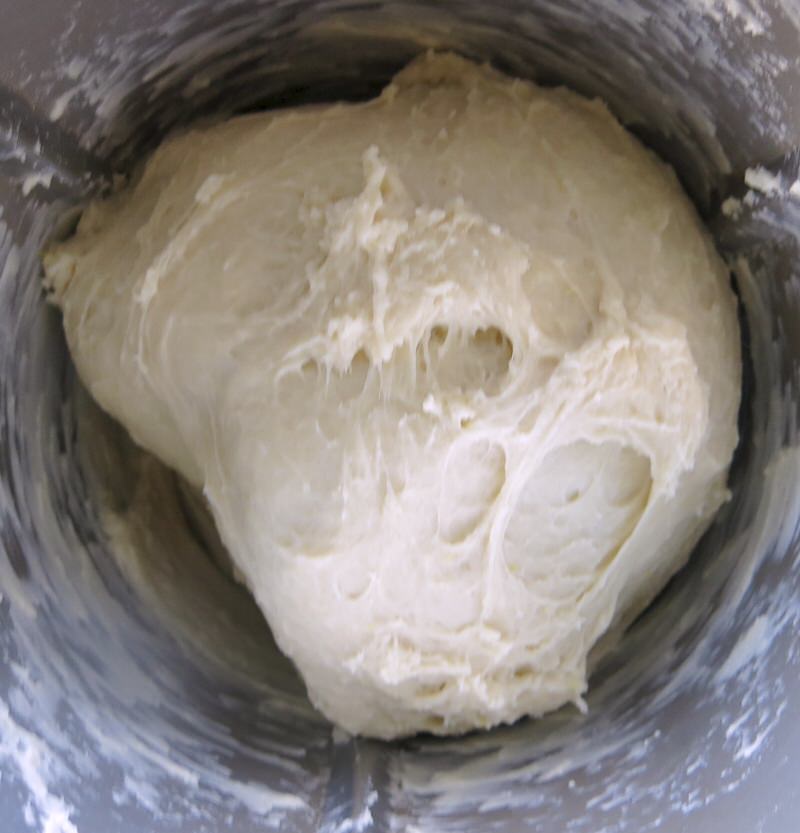 Clearly, the dough is elastic and ready to proof.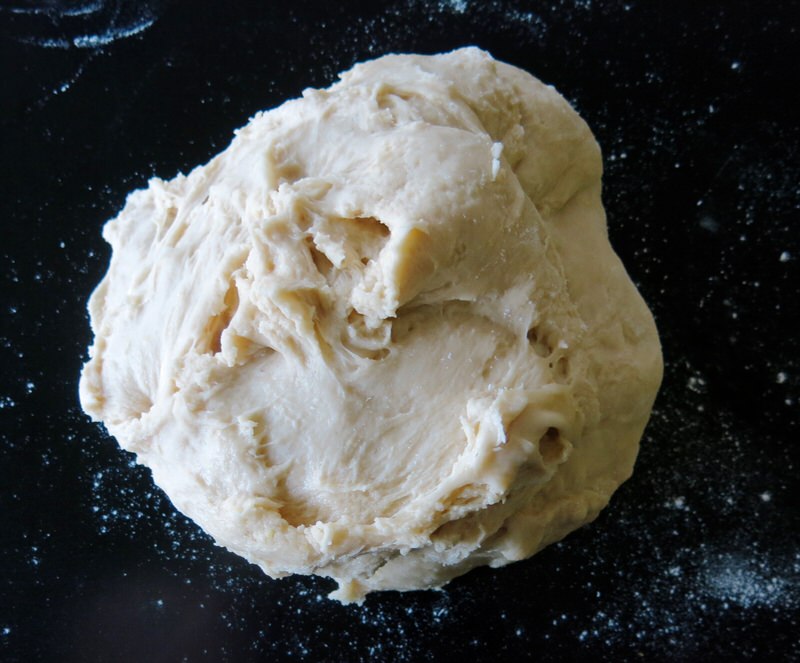 So gorgeous!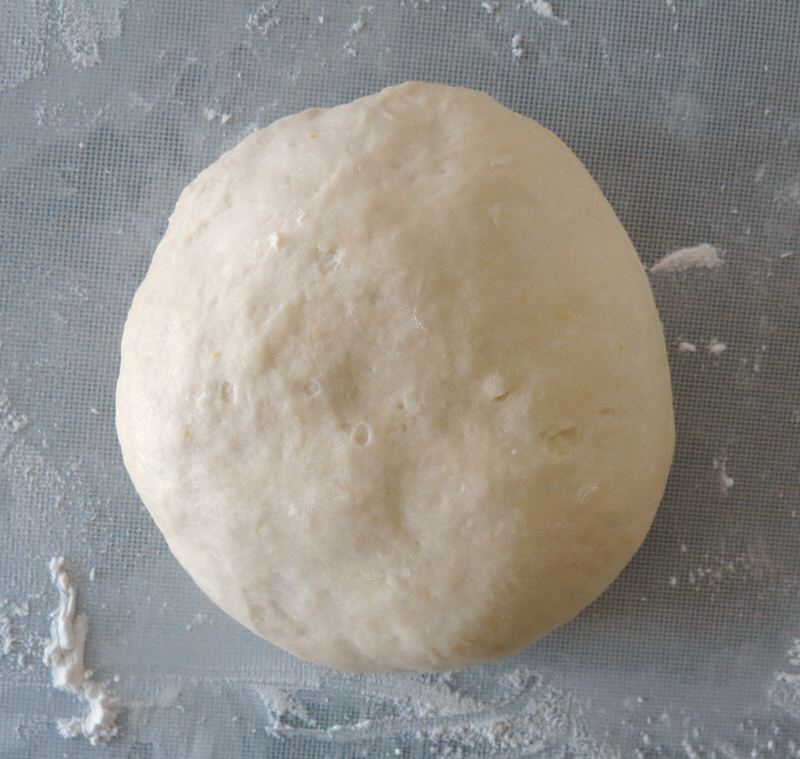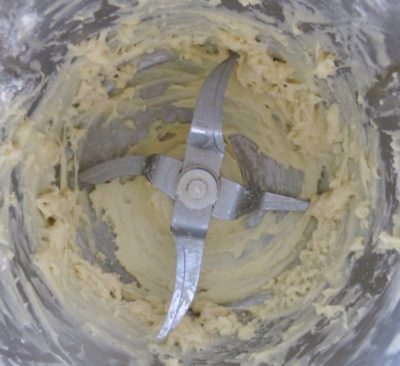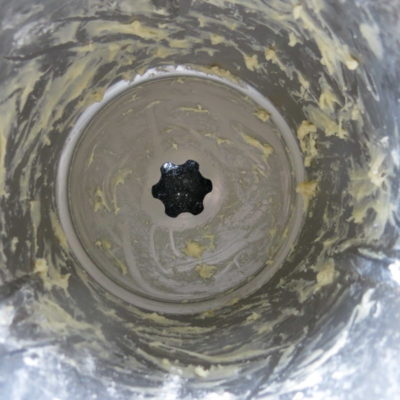 However, it is mightly sticky, remember? I put the bowl back on the base and whisked it on high to remove the sticky dough from the blade, far left. Then, removed the blade and rolled out the rest of the bits before washing, as best I could.
Fruit Bread: Rolling the Dough and Incorporating the Filling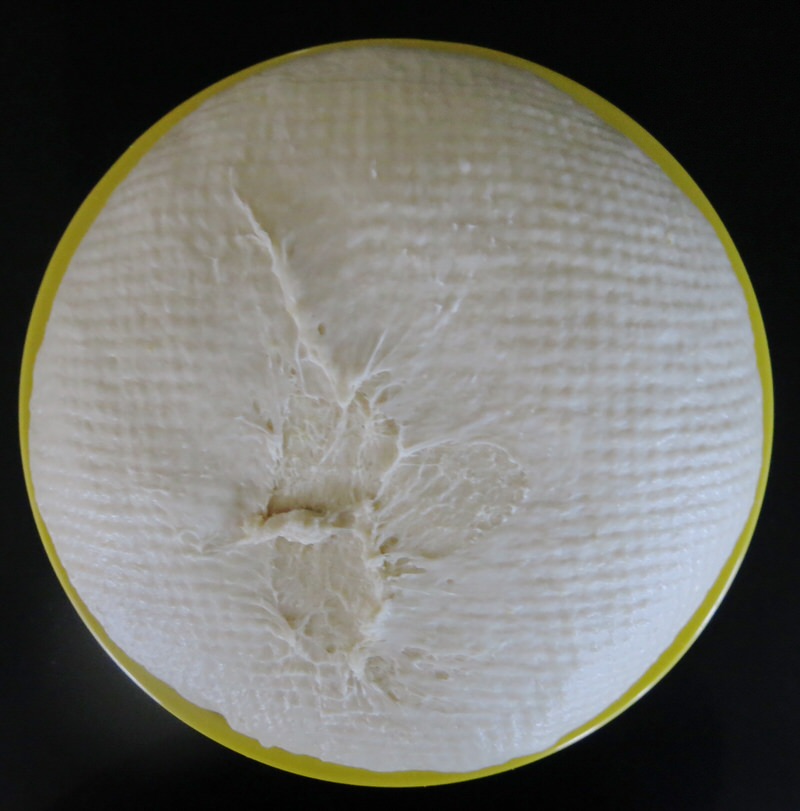 I did not knead my sticky dough further by hand. I simply put it in a bowl, just like mom, and proofed it.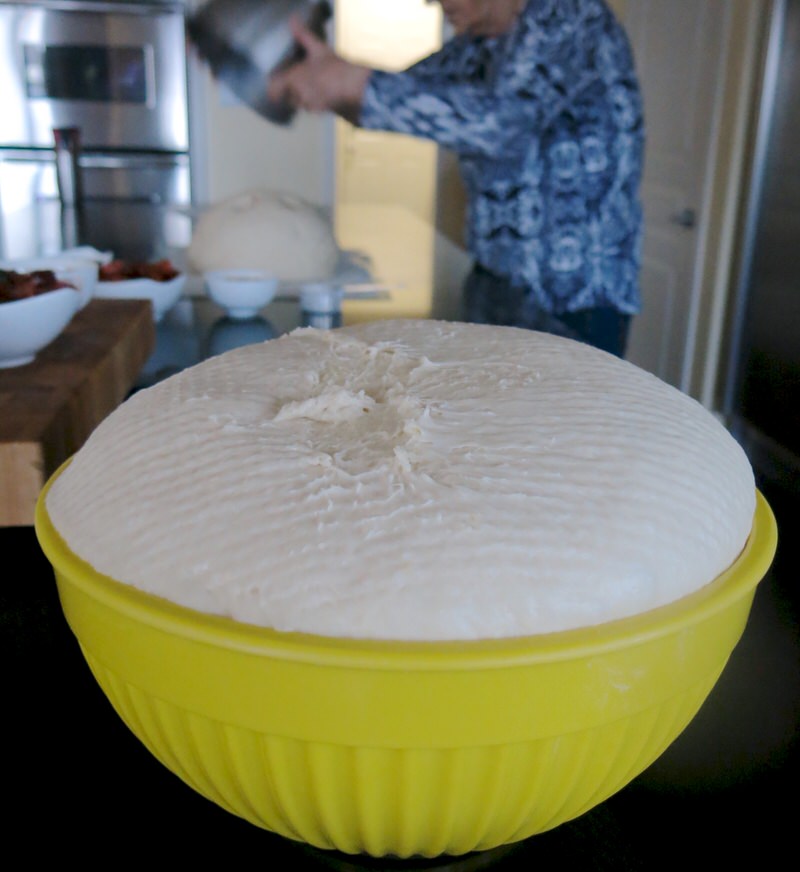 Gorgeous looking dough, too!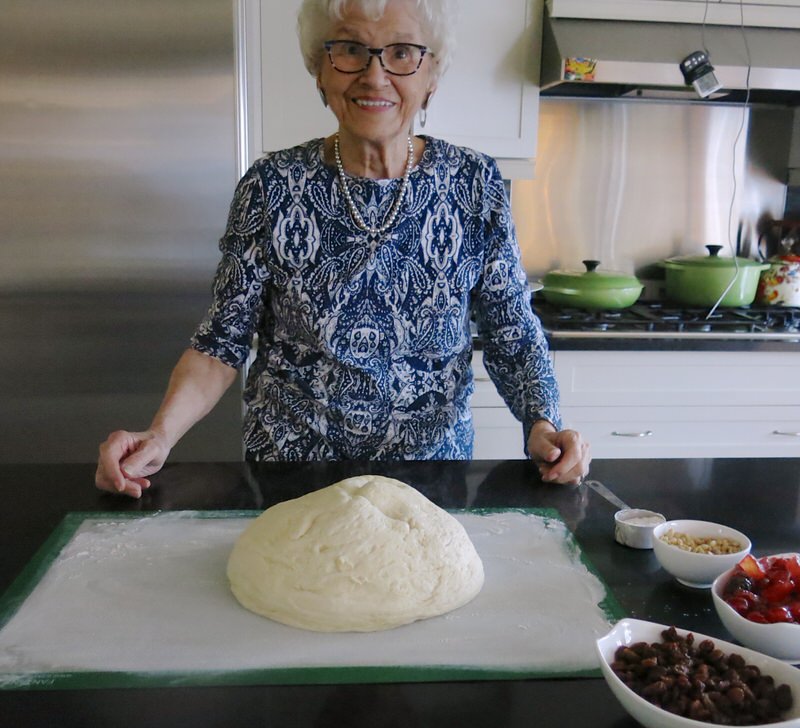 Time to rock and roll! Let's get this famous holiday citrus scented loaf filled with fruit!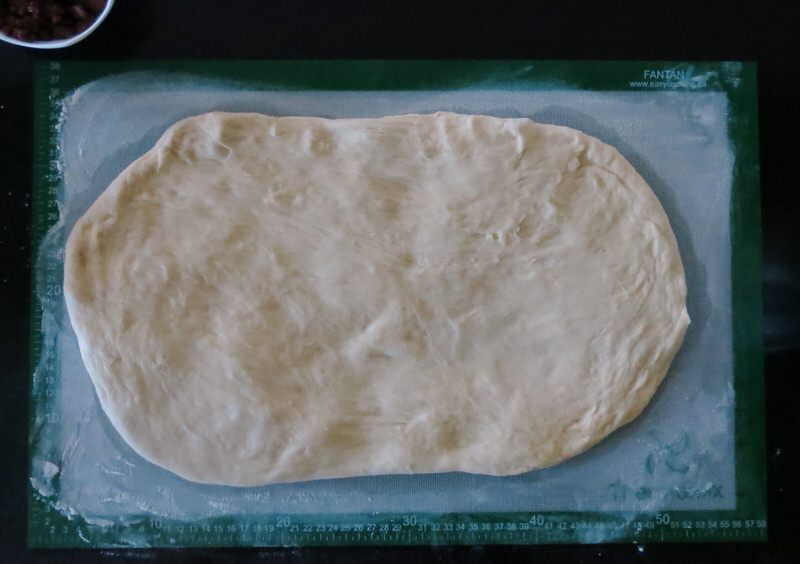 This recipe makes two loaves. You can divide the dough and fillings in half and do each separately, or do as we did: all together. Roll out one great rectangle.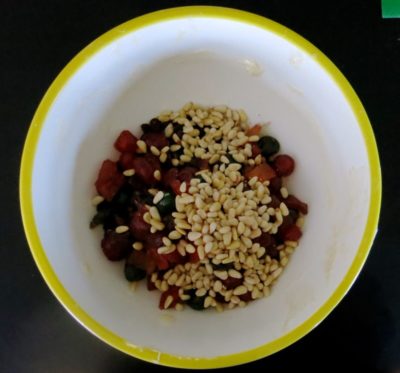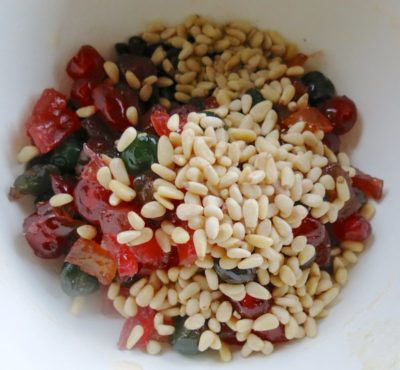 Mix the filling ingredients in a bowl to combine well.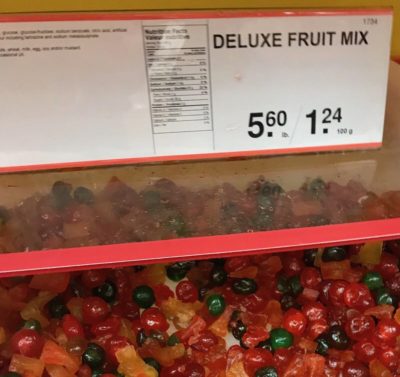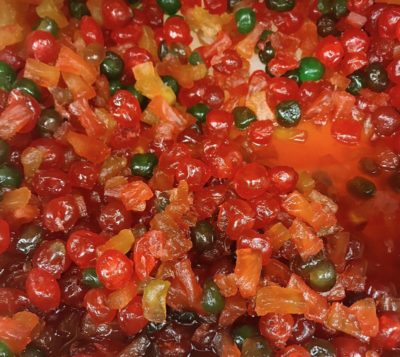 Ragan found the Fancy or Deluxe glazed fruit mixture at Bulk Barn.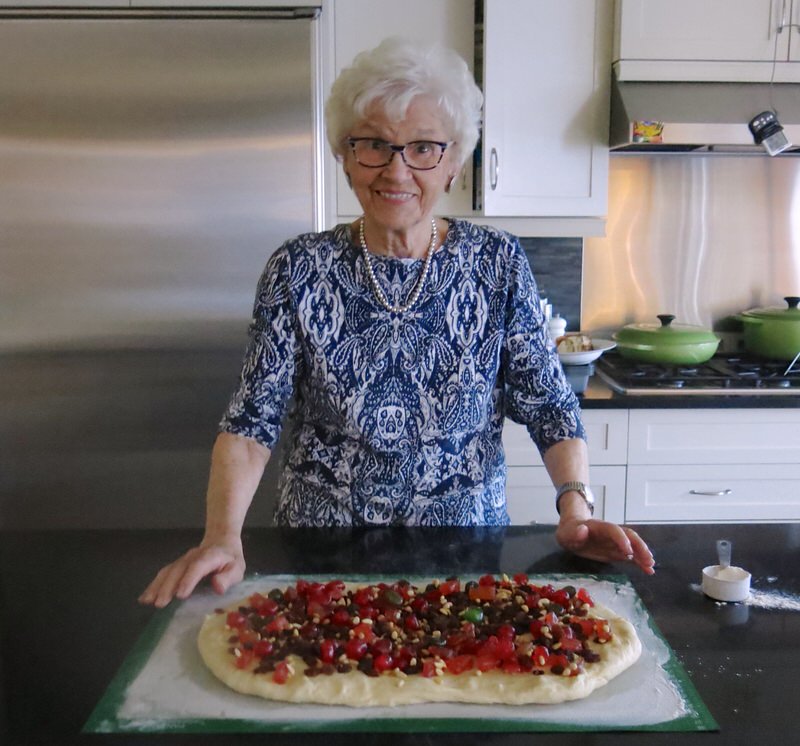 Mom has the entire filling mixture spread evenly over the rectangle of dough.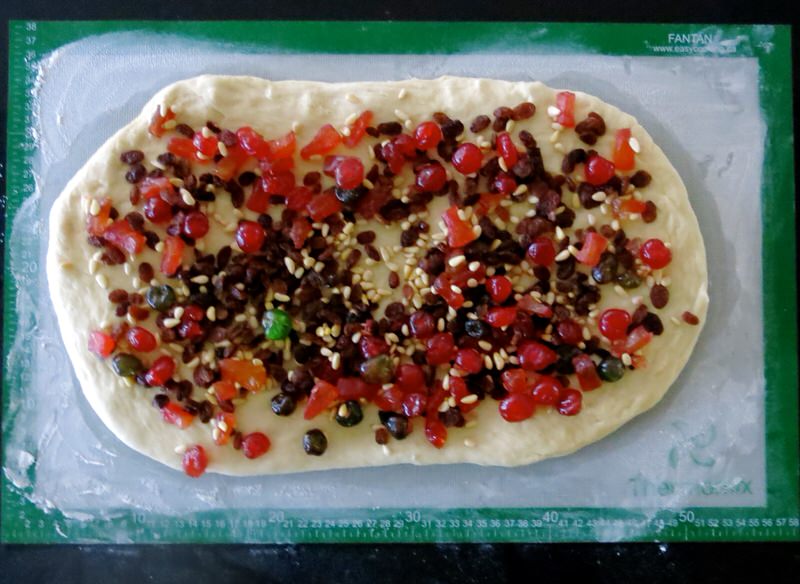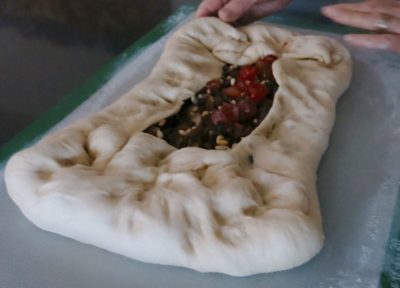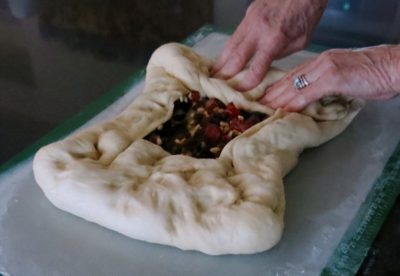 She folded the sides over to the middle with the fruit and then the ends over to the middle, as well.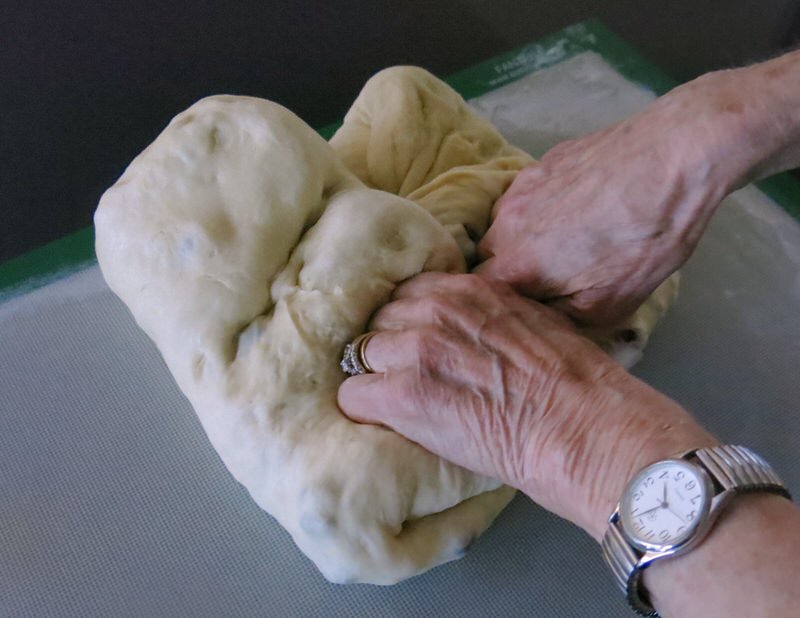 Then rolled both ends into the middle and kneaded the filled dough to fully encase the fruit.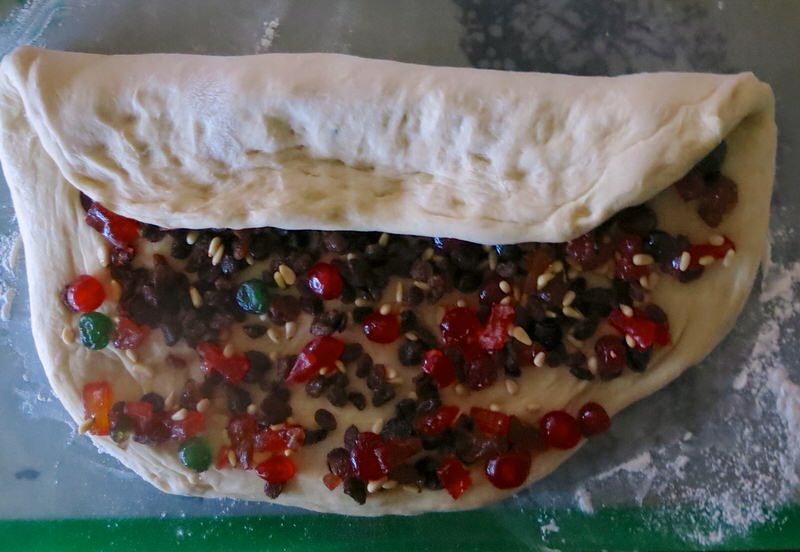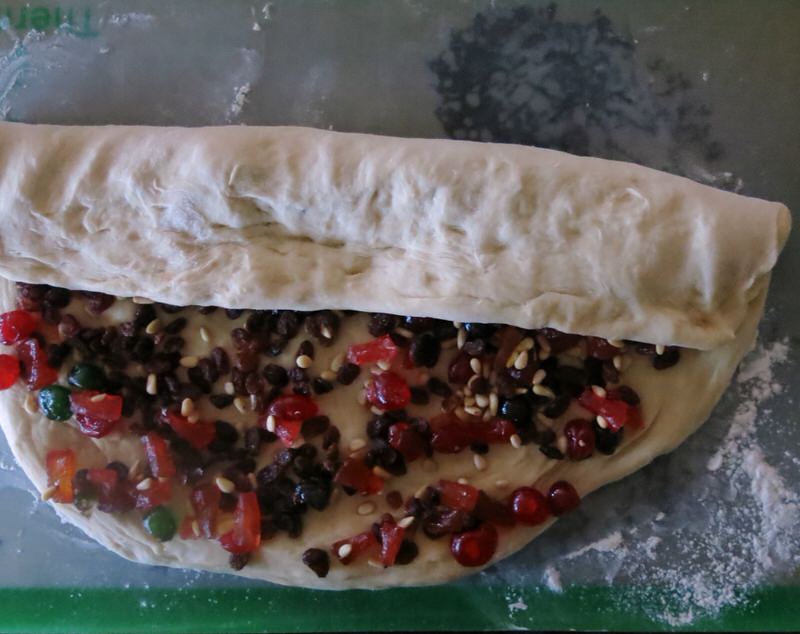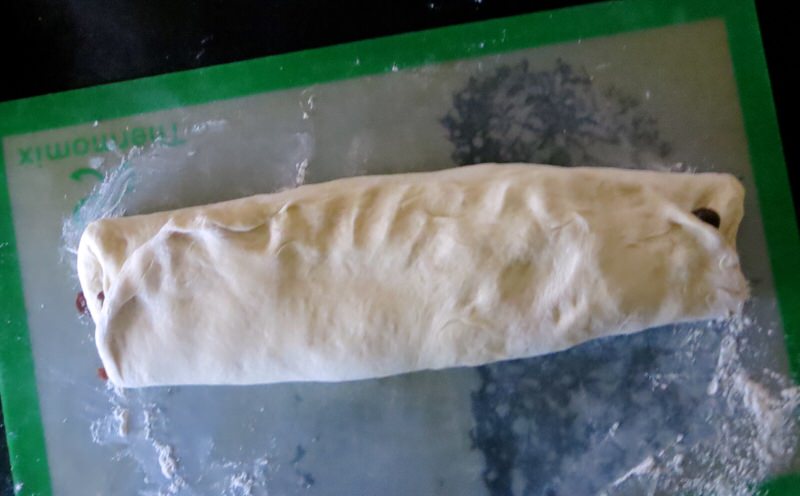 I did mine a little differently. I folded the dough with the fruit over to cover 1/3 of the rectangle lengthwise, then pulled the bottom up and over to create a loaf-like cylinder.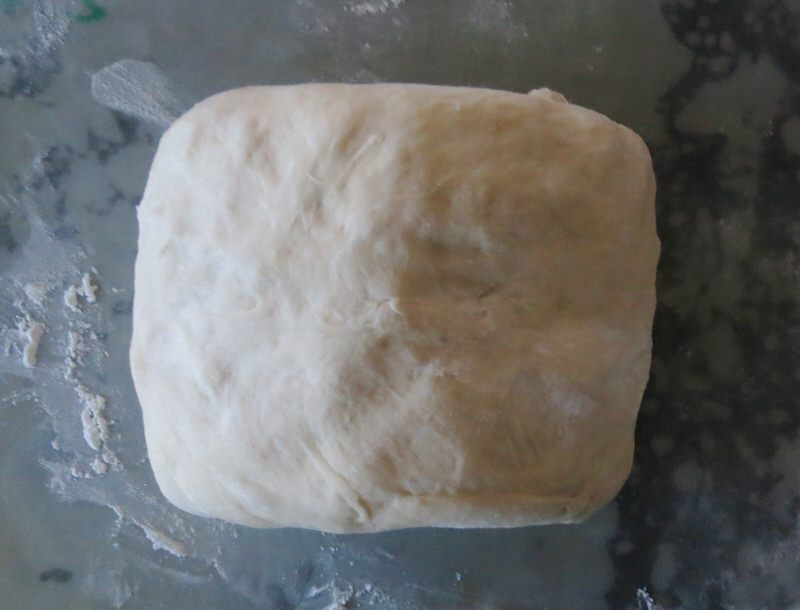 I then rolled it into a spiral from one end to the other.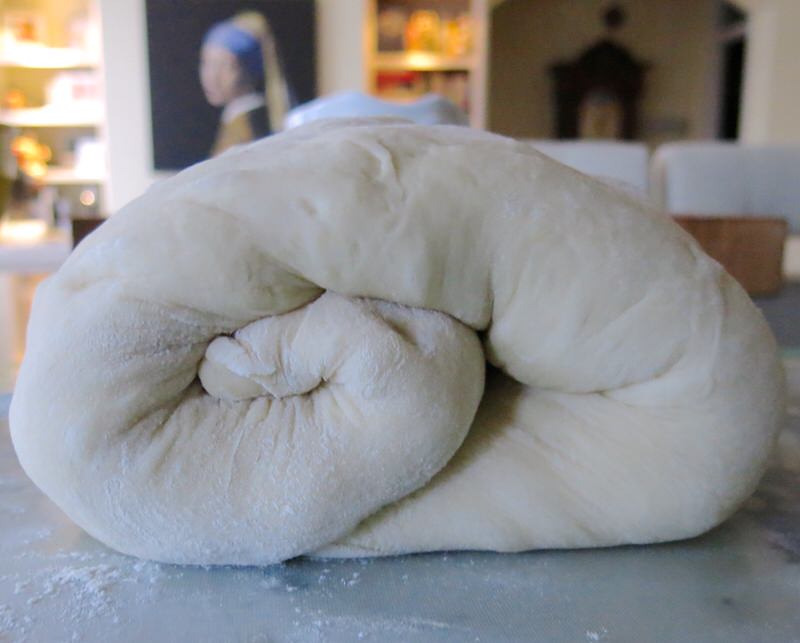 Fruit Bread: Forming the Loaves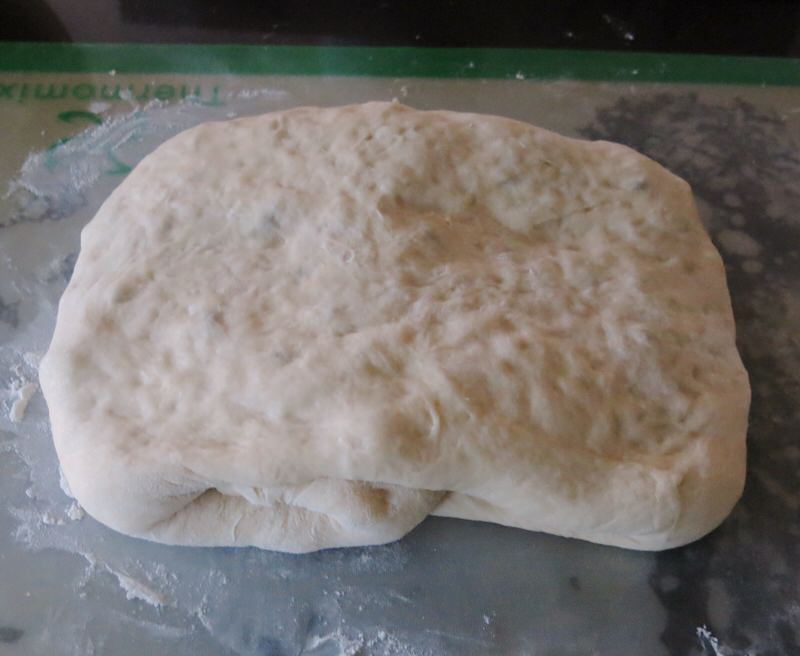 I did what mom did, at this point. I simply flattened my spiral to encase all of the fruit.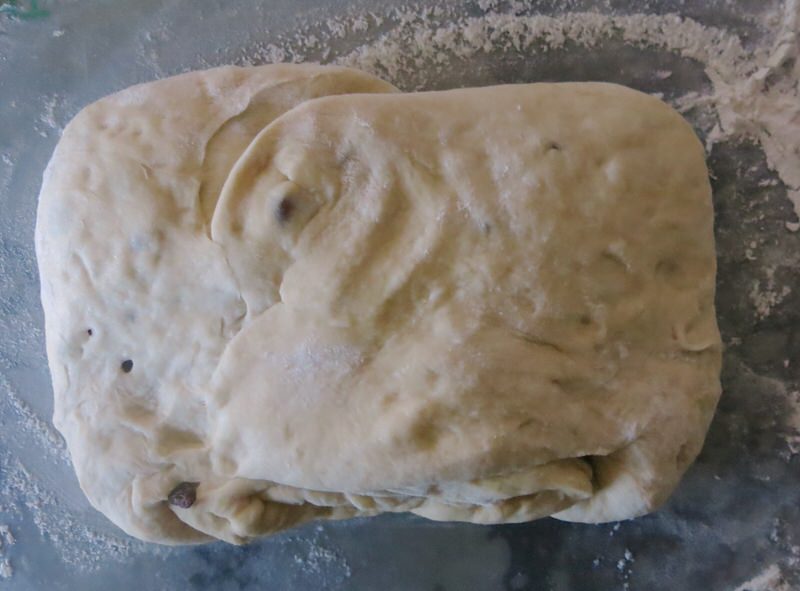 Now, how many loaves will we make? I made one recipe and she made another, so between us, we had enough dough for 4 full loaves. However, we had only 2 loaf pans. One regular sized and a pull-man style loaf pan that is more narrow and longer. Then I had small individual pans (dough from one loaf makes 3-4 of these) and I also had a flower-shaped loaf pan in a tin. Mom wanted to give some away and I just wanted a couple of loaves for the holidays.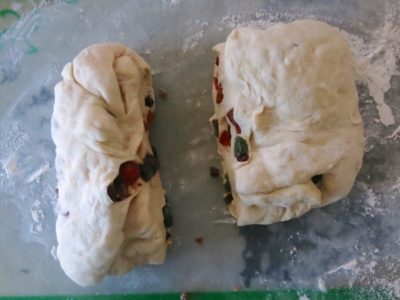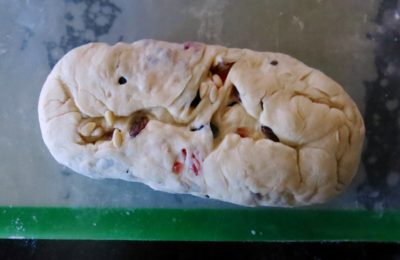 Don't panic. It looks daunting once you cut through the dough to make two loaves, but it really isn't. I rolled it, as above, right, to contain the filling, and placed it in a pan, seam sides down. You will see the texture and appearance once baked, is lovely.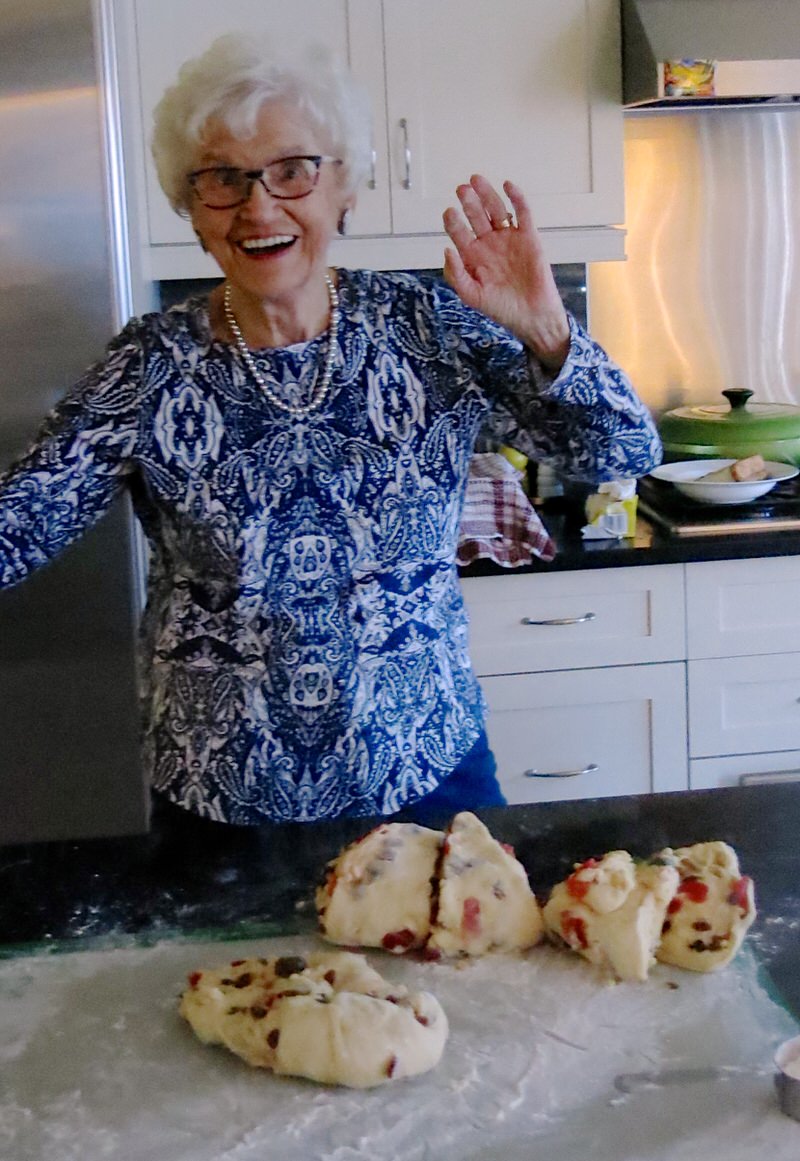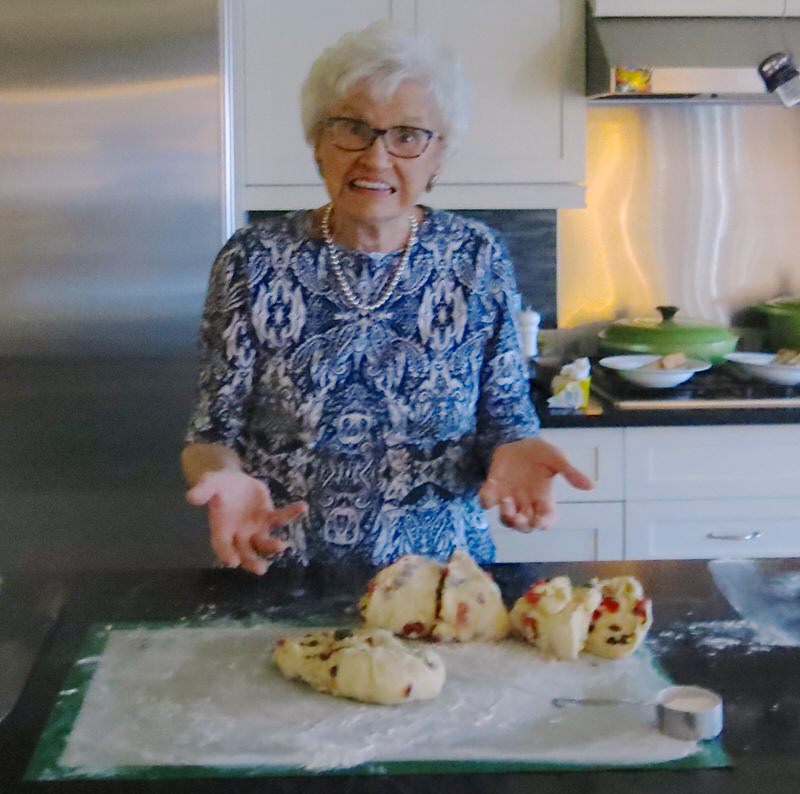 Mom did the same with hers. I was making two larger loaves and she was making the four small ones as well as the flower loaf.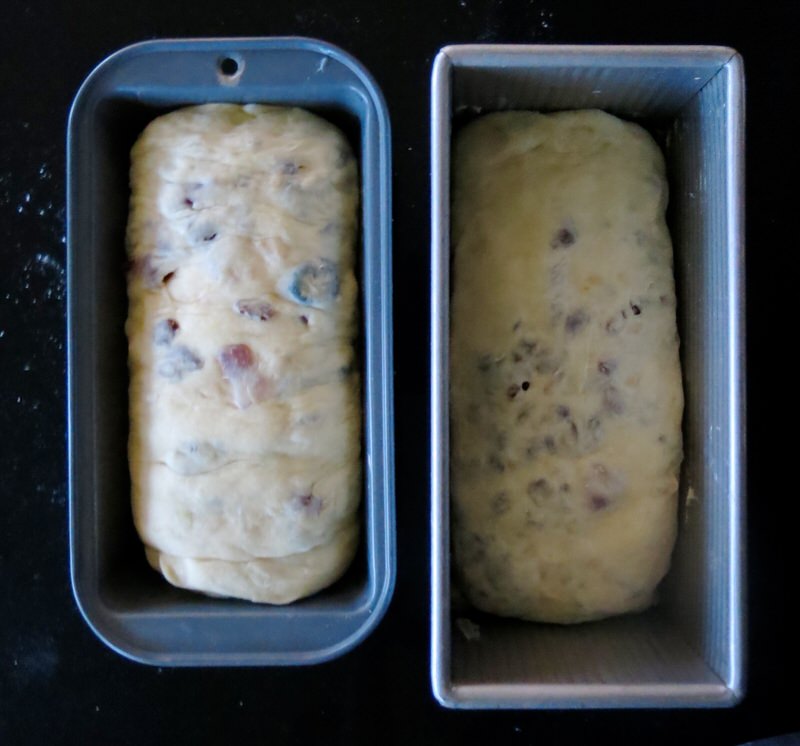 My dough, above, set to proof.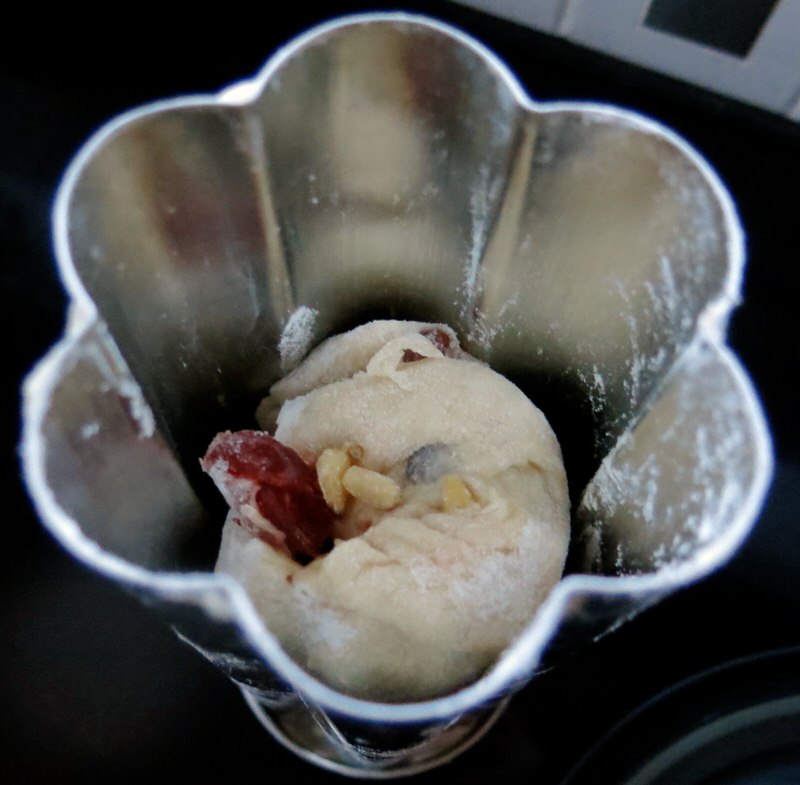 We filled the flower loaf pan perfectly, about 2/3rds full. Put the end on, and let it proof with the others.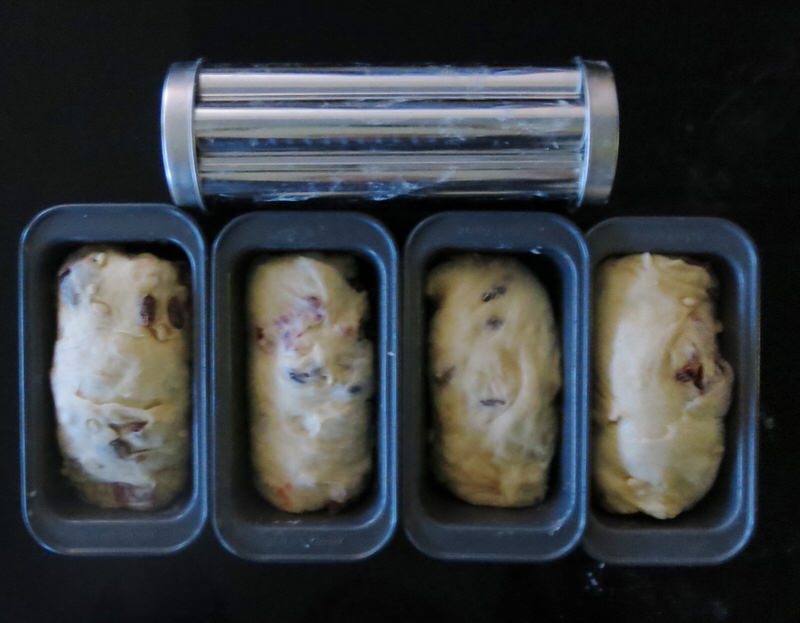 Mom would have 4 lovely little individual loaves to gift and a flower loaf to slice for a fancy little tea sometime in the new year.
Fruit Bread: Proofing Formed Loaves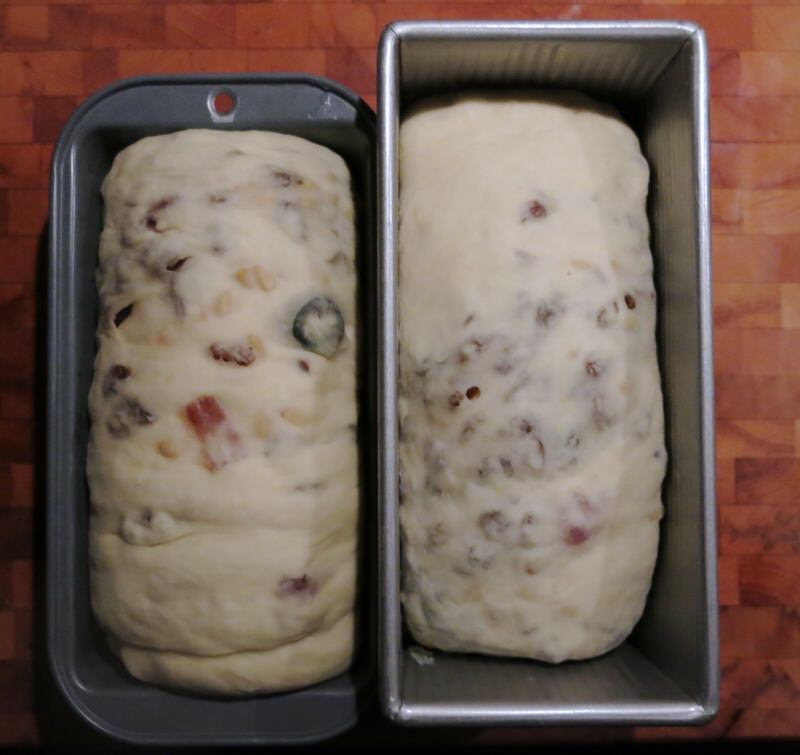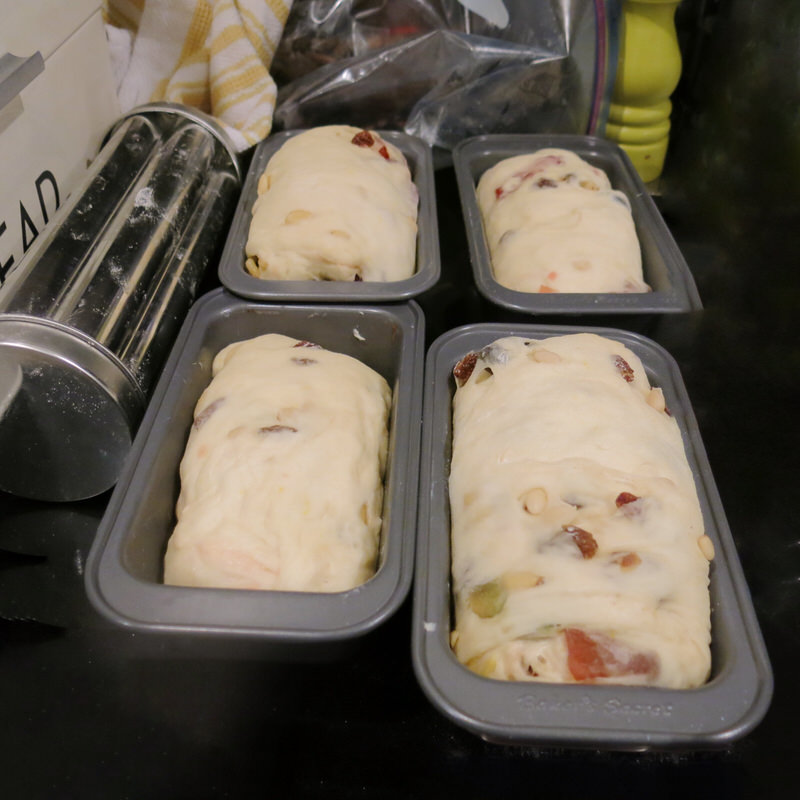 An hour or so later, the dough is lovely and puffy. Ready to go into the oven.
Fruit Bread: Baking the Bread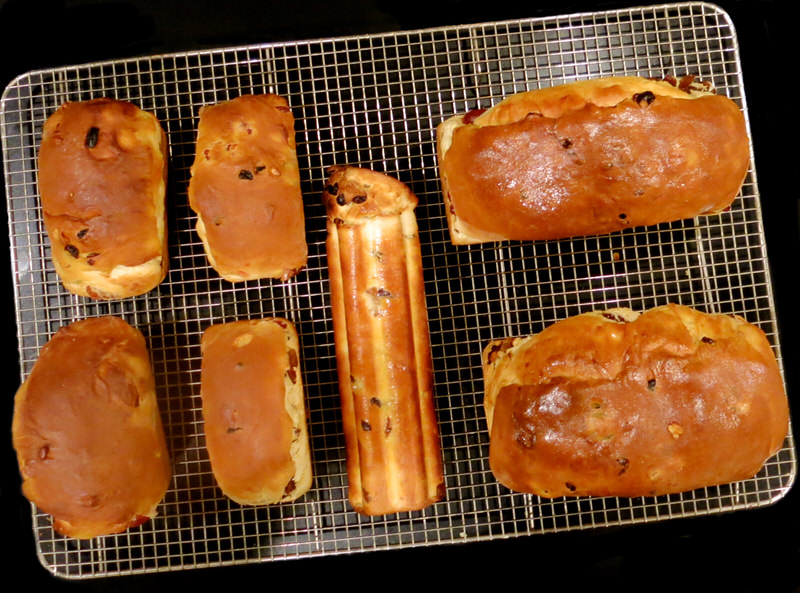 Look at that! Look at that! You can see, as you follow this day with us that the daylight faded and the baked loaves are out of the oven after dusk. It is December, and night falls here at around 5 pm so it doesn't take as long as it might seem it does.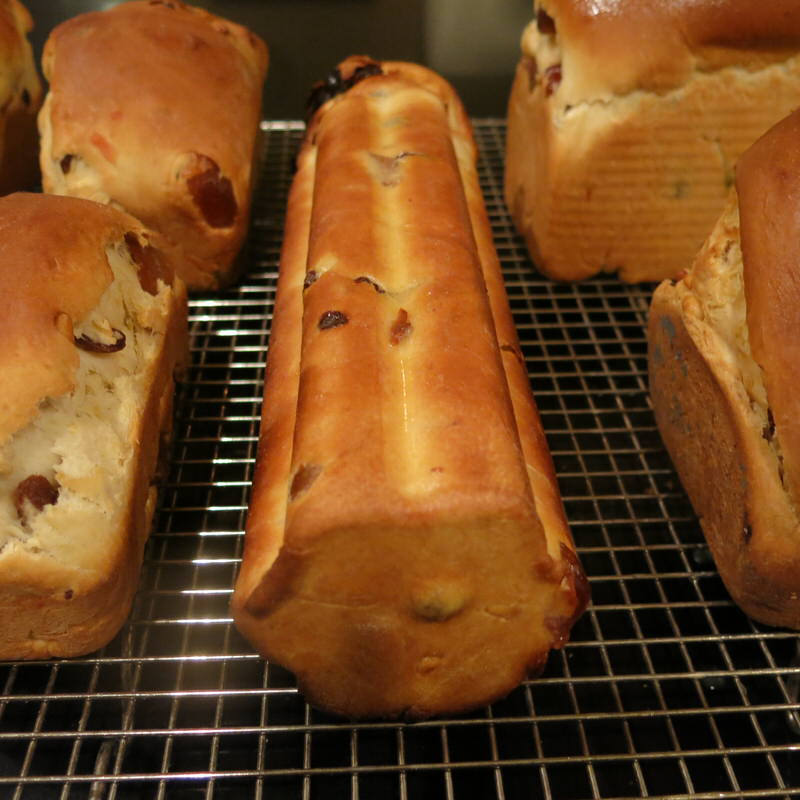 The flower loaf is my favourite but I love them all.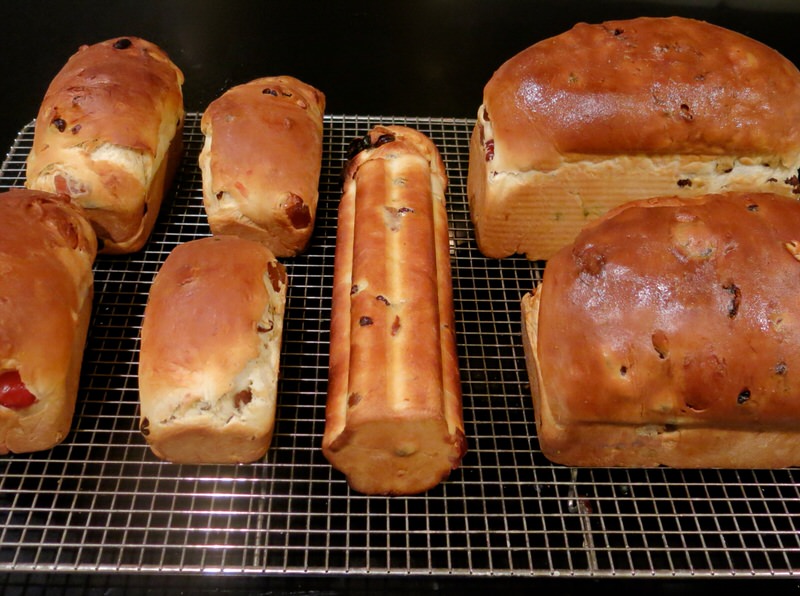 Fruit Bread: Serving the Bread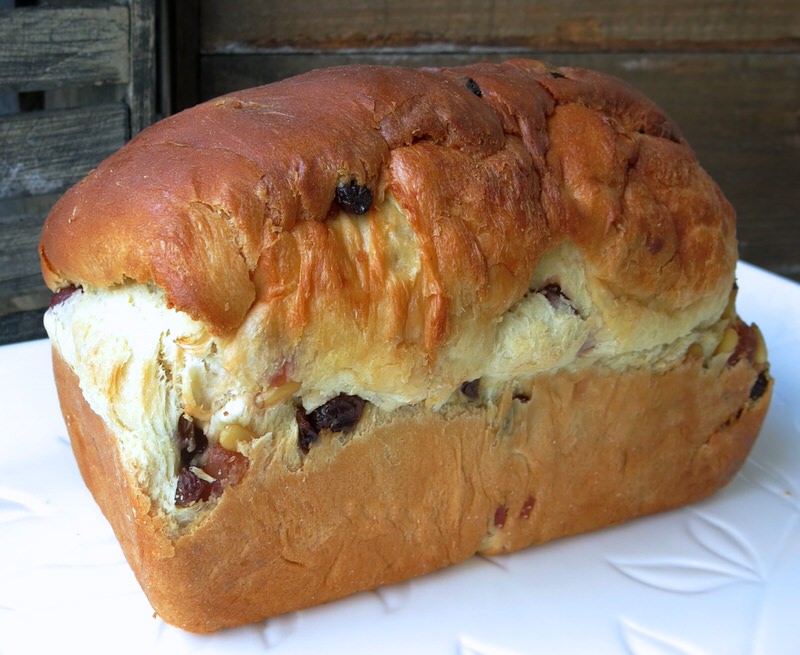 Look at this proud homemade loaf studded with jewelled fruit and oozing deliciousness. I cannot wait to slice into it.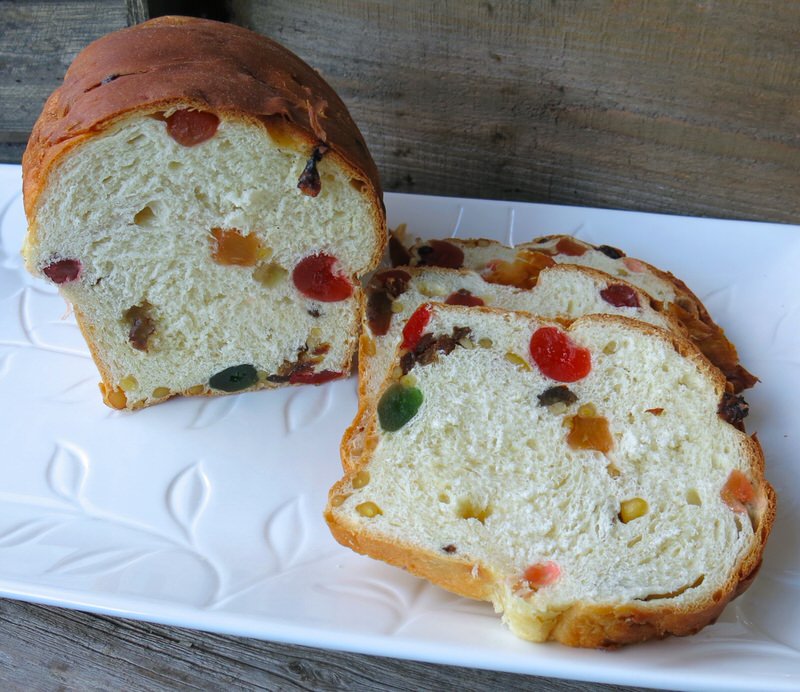 Every year, I am surprised. Mom tweaked this recipe over 50 years ago and doubled the fruit at that time. Over the years, with the addition of the fancy fruit which presents each fruit piece in a much larger portion, it is more difficult to contain the filling within the dough. But that is part of the charm. It is a Holiday Fruit Loaf stuffed to the brim with fruit and though that is so very true when slicing each loaf, it always appears that more fruit could easily be added. I challenge you to add more fruit to this dough. Send me a photo if you succeed.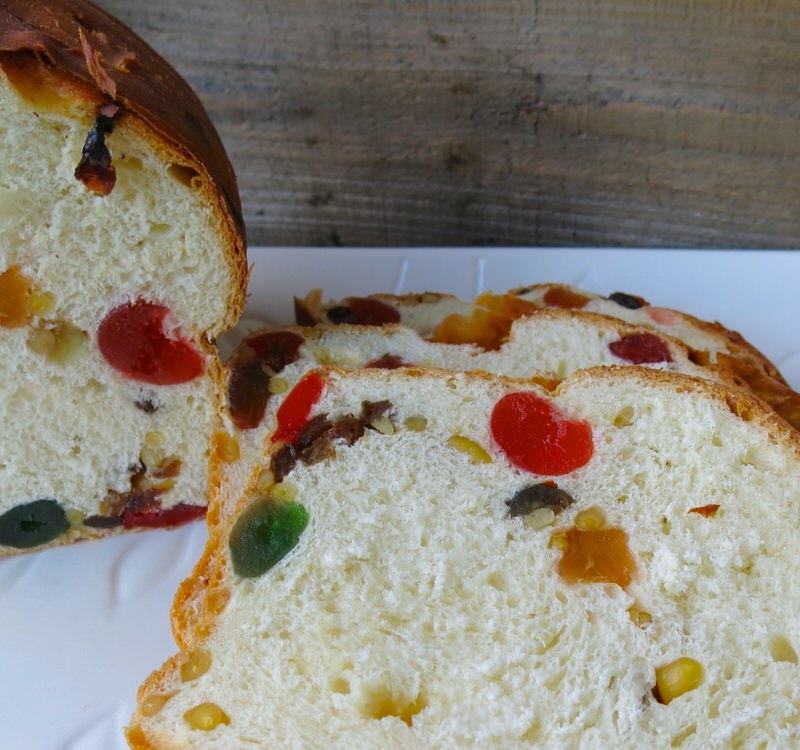 I always wish I could see a few more pieces within each slice, but when I eat it, I am not wishing for more of the fruit.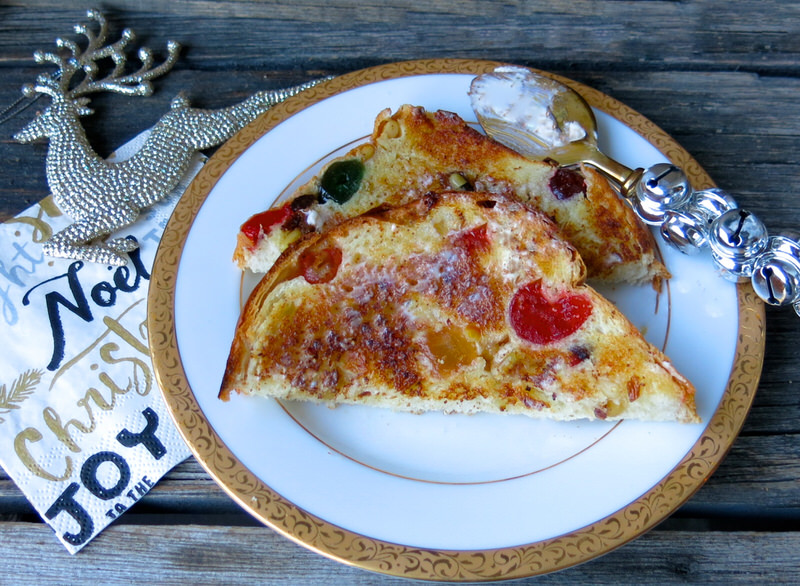 The balance of dough to fruit upon the palate is perfect. And a toasted slice of Helen's Famous Canadian Holiday Fruit Bread truly is sublime. You must make this recipe if you have never made a homemade fruit loaf. The challenge can be on if you like. I have never had one better.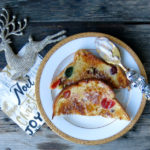 Helen's Famous Canadian Holiday Fruit Bread
Helen's Famous Holiday Fruit Bread is a traditional family favourite and one that is definitely on the "pass on" list
Ingredients
Ingredients for Yeast
1

cup

or 200 grams whole milk

3

packages

or 25 grams dry yeast

1

teaspoon

or 5 grams sugar

if making by hand
Ingredients for Dough
6

cups

or 660 grams flour

½

cup

or 100 grams sugar

½

cup

or 113 grams butter

melted

1

teaspoon

or 5 grams lemon rind

grated

2

teaspoons

or 10 grams salt

4

large know-your-farmer eggs
Ingredients for Filling
1

cup

raisins

1 ½

cup

"fancy" or "deluxe" glazed mixed fruit*

½

cup

pine nuts
Instructions
Instructions for Proofing Yeast
Dissolve sugar in warm milk; sprinkle yeast and stand 10 min
Instructions for Dough
In large bowl of electric mixer, place sugar, butter, salt, rind and 2 cups flour; add yeast mixture and beat 2 minutes

Add 2 more cups flour and eggs; beat 3 minutes

Stir in remaining 2 cups flour; form into soft dough

Place on very lightly floured work surface; knead rigorously for 8 minutes until dough pops and is elastic (avoid adding more flour)

Place dough into prepared bowl in warm place** to proof two hours or until double in size
Instructions for Kneading and Proofing DOugh
Place dough on lightly floured surface; gently knead in raisins, candied fruit and pinenuts

Shape into 2 portions; place each into prepared pan and rise until doubled or 1-2 hours
Instructions for Making Forming and Baking Loaves
Pre-heat oven to 350˚F and bake 45-55 minutes, or until golden on top; butter surface of each loaf to provide nice sheen
Instructions for Dough in Thermomix
Weigh milk and yeast into TM mixing bowl; proof for 5 minutes at 37˚C speed 2

Weigh sugar, butter, salt, rind and 220 grams flour into TM mixing bowl with yeast mixture; combine 1 minute speed 4

Weigh 220 grams flour into TM bowl with combined ingredients and add eggs; fully incorporate for 1 minute at speed 3.5 stopping at 30 seconds to scape down sides of bowl

Weigh remaining 220 grams flour into TM mixing bowl; combine for 15 seconds at speed 4-7 until dough clumps

Knead 3.5 minutes; prepare large bowl to proof dough by greasing well with butter

Dust non-dominant hand lightly with flour; remove sticky dough from TM bowl into very lightly floured work surface with floured hand

Place blade back into TM mixing bowl; spin at speed 10 for 5 seconds until sticky dough flies off blade and onto sides of bowl

Remove blade; remove all remaining sticky dough from sides of bowl with hand and add to dough on work surface

Place dough into prepared bowl in warm place** to proof two hours or until double in size

Place dough on lightly floured surface; gently knead in raisins, candied fruit and pinenuts

Shape into 2 portions; place each into prepared pan and rise until doubled or 1-2 hours

Pre-heat oven to 350˚F and bake 45-55 minutes, or until golden on top; butter surface of each loaf to provide nice sheen
Instructions for Serving Fruit Bread
Delicious warm with butter and even better toasted, slathered with butter
Instructions for Freezing the Dough
Wrap well in plastic wrap and place into a labelled and dated freezer bag; freezes well for up to three months
Recipe Notes
*Tip 1: "fancy" fruit mix can usually be found at Bulk Bark in Canada; it is much larger pieces of a greater variety of candied fruit than the "regular" mixed fruit at most grocery stores *
*Tip 2: place glass of water in microwave on high; remove quickly and place covered dough into warm moist microwave to proof