Not just food blogs, people – all Canadian Blogs!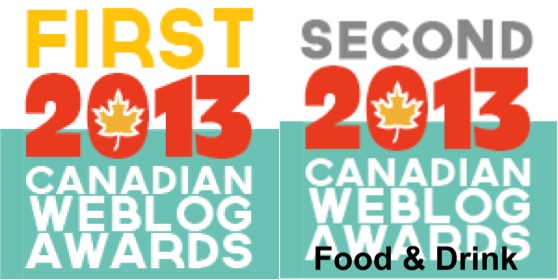 Needless to say, this was a tickled pink moment in 2013 for me. I have been writing and working on my site since August of 2008 nominating and celebrating the achievements and work of others as that is the phase of life I am in: best at playing the supporting role.
I truly had no idea how honored and gratified I would feel to be acknowledged by my peers when I received the Canadian Weblog Awards 2013 message: First in Lifetime Achievement.
There was no dinner. No presentation. No ceremony. Not even a phone call. Just an e-mail saying I had been award this award according to the specific criteria outlined by the judges of this process. Fine by me.
There is no system of public voting in the Canadian Weblog Awards. The Canadian Weblog Awards are instead judged by a volunteer jury of both bloggers and blog enthusiasts using the following criteria. This way, each of the weblogs is judged by its quality, not its popularity.
The jury uses a number system to value the criteria and weight their decisions. The weblogs in each category will be judged against two divisions of elements: Design and Content. Each division's elements will be awarded 0 to 2 points — 0 if the element is poorly executed, 1 if the element is average, and 2 if it is excellent — for a possible perfect mark of 20 points.
Design
1. Usability and Accessibility: Is the website user-friendly and easy to navigate for people of all abilities? This link is an excellent and detailed read.
2. Functionality: Do all of its components function properly?
3. Interactivity: Are a comments section and author contact information available? Are its interactive components (including comments, audio, video, etc.) effective and functional?
CHEAT SHEET:
Things to keep an eye out for when you test drive your weblog for interactivity
:
Do you have a link to author contact information such as e-mail?
Do you have a comments section that is quick and easy for even first-time readers to use?
What is the state of your widgets? Are they functioning properly and appearing as you want them to on the page?
Do your video and audio components actually relay video and audio?
4. Aesthetics: Is the website pleasing to look at? Is its design original? Each of these links is an excellent and detailed read.
Content
1. Originality: Is the content original and creatively expressed?
CHEAT SHEET:
3 Factors That Contribute to the Creation of Original Content
Ask yourself what differentiates your weblog from others of its kind and use that difference to your advantage.
Don't let your weblog fall into the Me-Too Trap.
Write what you are passionate about.
2. Intelligibility and Clarity: Is the content well-written? Are the content's messages clearly and effectively delivered?
CHEAT SHEET:7 Tips for Writing Clear and Intelligible Weblog Entries, In Brief
1. Make your opinions and ideas clear.
2. Use plain and concise language.
3. Stay on topic.
4. Add depth to your entries.
5. Make your weblog entries easy to scan.
6. Test your entry with the five Ws and the optional H.
7. Edit, edit, edit, and then edit some more.
3. Currency: Is the content timely? Is the weblog updated on a regular basis?
4. Transparency and Authenticity: Is the author's purpose and realness both trusted and apparent?
5. Attention to Detail: Has the content been edited for spelling and grammatical errors? Is the content arranged for ease of consumption?
6. Engagingness: Is the content interesting? Does it contain broad appeal within its genre?
In the second and final round of judging, Category Fit will be added as an extra criterion for an additional score of 0 to 2 points, and weblogs with their own domain name (weblog.com rather than weblog.blogspot.com, for example) will have an additional point added to their final score.
Impressive criteria. Reminds me of marking the Alberta Government English 30 or 30-1 Diploma Examinations.
Of course, I would like to talk to the judges. Why me? Who else did you consider? What do you like that I am doing and what do you suggest I could improve upon. Everyone has an opinion and I like to hear them.
In any case, Happy Birthday to me! I mean: Happy Life Time Achievement to Me!. Wowsers. This really means a lot.
Thanks you Canadian Weblogs!