This Garlic Stuffed Prime Rib Roast is Addictive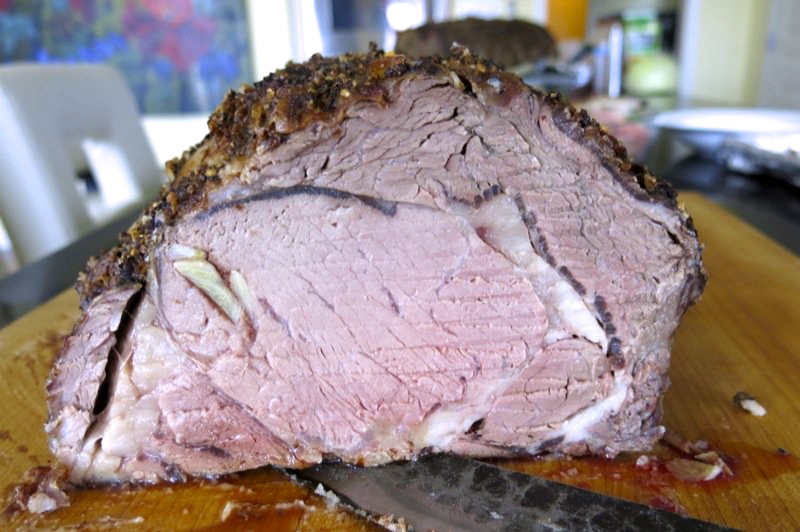 Alberta Beef! Garlic Stuffed Prime Rib Roast! I live in Alberta. Alberta beef is famous. Some believe it is famous because it is finished with barley instead of corn, as it is in the US or Eastern Canada which creates a white fat instead of yellow fat. I believe it is because of our terroir. I buy beef that doesn't finish anywhere… but is grass fed and raised by a farmer I know. There is no beef like Alberta beef anywhere in the world. And prime rib is my ultimate choice for flavour. Some prefer tenderloin. Tenderloin is incredibly tender with a completely different mouth feel. But, the flavour of prime rib for me is, well, … prime. It's all about the fat.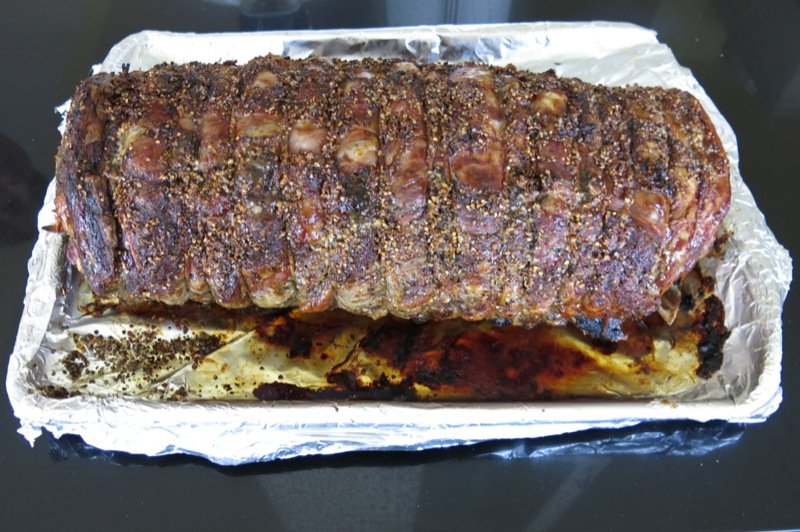 Garlic Stuffed Prime Rib Roast Beef and my dad, George McKinney

Dad loved it, too. So, when working to fulfill his request for the food to be served at his memorial: "I want really good food.", we knew that beef on a bun had to be the star of the show. Dad loved his Alberta beef: roasts, steaks, hamburgers off the grill. But, the ultimate sandwich for dad which all of us have heard his describe with an intimate passion many times is "roast beef, sliced thinly, on buttered white bread with thinly sliced onions, mustard and salt and pepper; even better on your mother's homemade Alberta Prairie buns!" There was just no question that there would be prime rib served at the celebration of dad's life Saturday, February 8, 2014. The above is a Grass Fed Alberta Beef 8 rib prime rib roast from Ben's Meats grown by the Hutterites: 18 pounds, on a half sheet pan. I roasted three of these for dad's favourite "Beef on a Bun."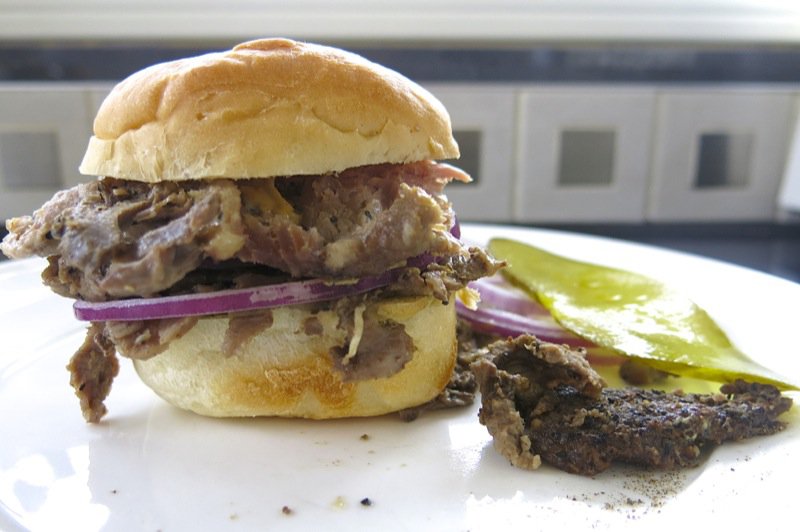 We were expecting 60 people at dad's celebration, but prepared for 100. Dave at Ben's Meats (the third generation owner of this landmark family business in Edmonton) said 1/2 pound per person would be ample for a luncheon, thus 54 pounds of bone in prime rib it was.
Dave's specialty is cutting the ribs off the prime, and tying them back on so the roast is roasted bone in, but bones are easily removed for slicing. (see photos, below) The farmer I buy our beef from (Nature's Green Acres) hadn't the amount I needed in prime rib form. Few farmers would on such short notice. I was fortunate to have used Ben's for large events and to know of his expertise and his access to quality Alberta beef. Even then, we were lucky to acquire the grass fed beef. He had the three massive roasts cut, tied, wrapped and ready Thursday for pick up.
Garlic Stuffed Prime Rib Roast Beef: Preparing the Garlic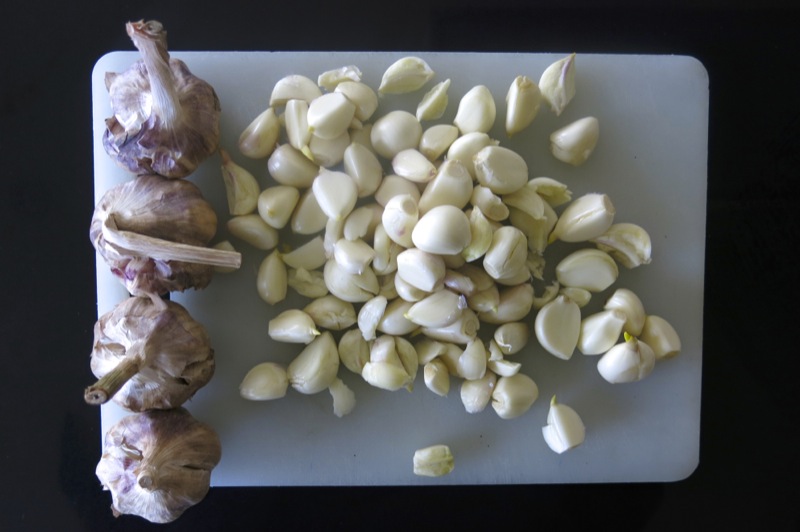 Friday morning, I got up and got started about 7 am. I was thrilled to use my own home grown garlic. I got my seed from Jackie Chalmers, owner and farmer at New Oxley Garlic in Claresholm Alberta now available at all Italian Centre Shops in Alberta. It took me 90 minutes to peel and slice enough garlic for all three roasts. I used the exact amount above, peeled and not peeled, in all three. It is a beautiful purple garlic that is quite strong.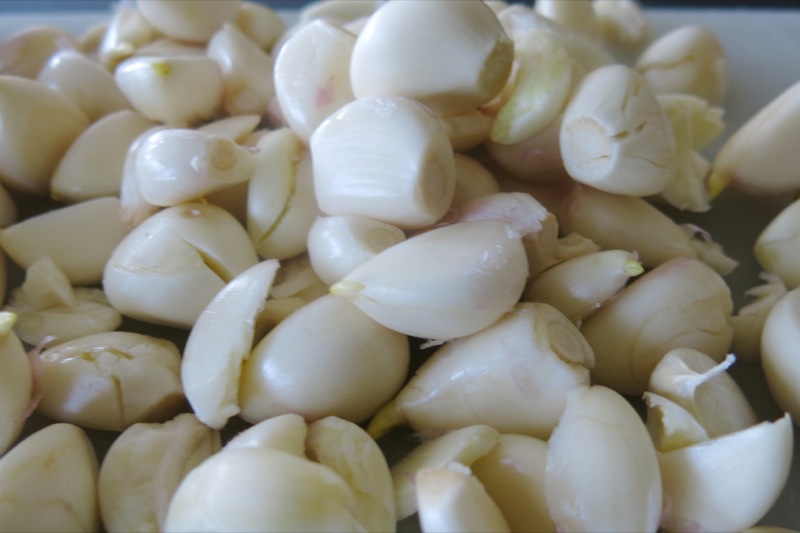 Garlic Stuffed Prime Rib Roast Beef: Inserting the Garlic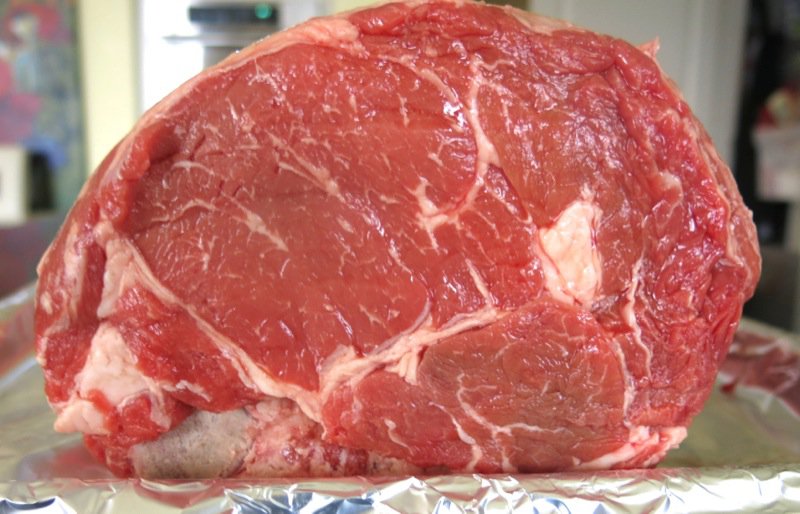 I don't eat meat. I love it, but can no longer digest it, yet seeing a prime specimen like this has the glands in the back of my mouth stand at attention. Can you see the bone in the bottom? Dave tied them across the bottom of the roast. Look at the fatty lines. These are easily separated from the meat to insert the slices of garlic as are the fold lines of the roast in both ends.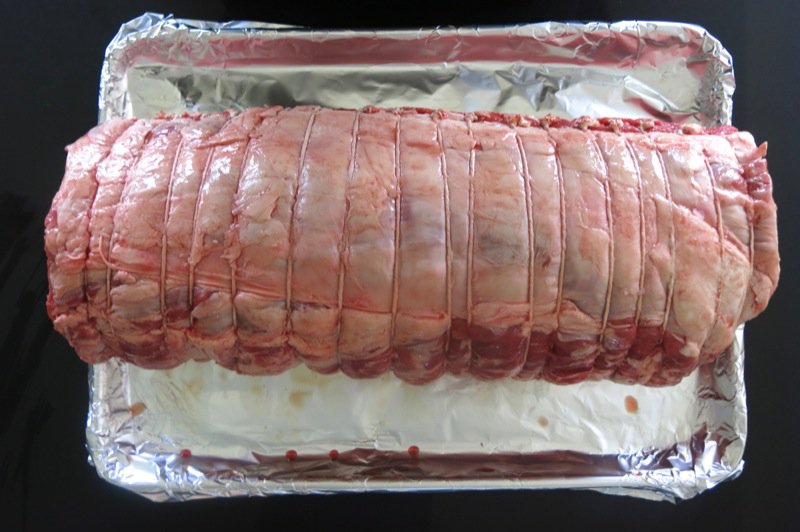 Each of the three roasts were absolutely gorgeous.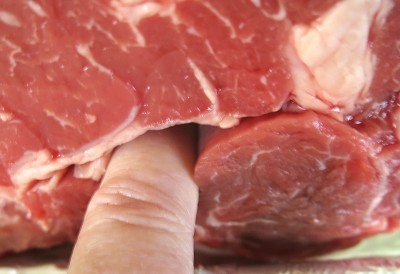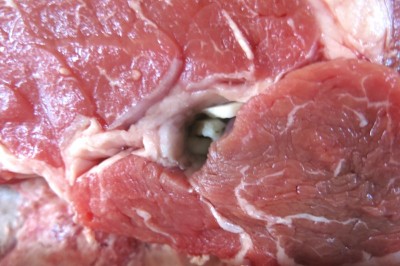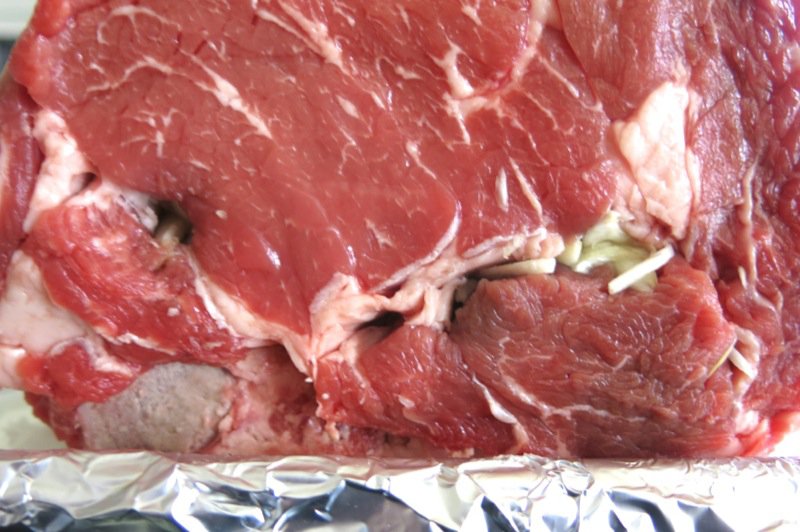 I insert my finger to get into the flesh of the roast as far in as possible, insert the garlic, then find the flesh falls back into place after the garlic is inserted. You can see I insert as much as possible, and though you cannot see, each insert has a channel of garlic stuffed in it from at least 1 to 2 inches deep. I do this on either end of the roast, and below, along four "lines" at intervals across the roast.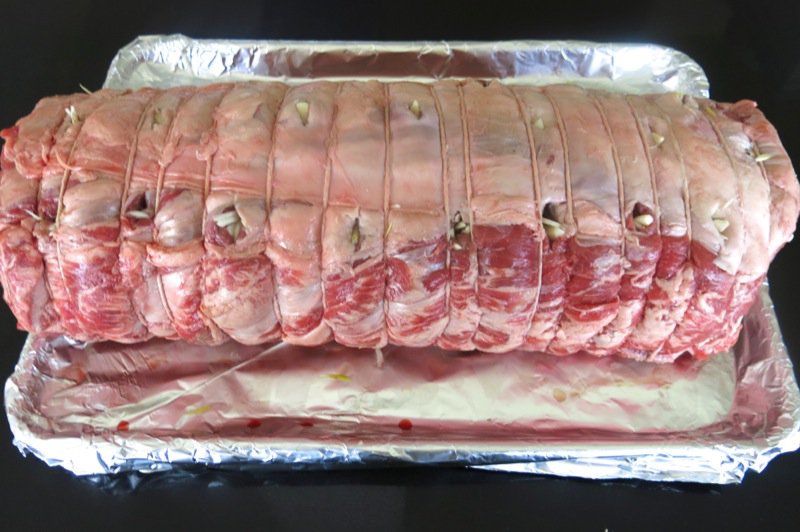 Garlic Stuffed Prime Rib Roast Beef: Seasoning with Montreal Steak Spice

The additional seasoning is our famous Canadian Montreal Steak Spice created at Shwartz's Deli in Montreal and duplicated by many spice companies world wide.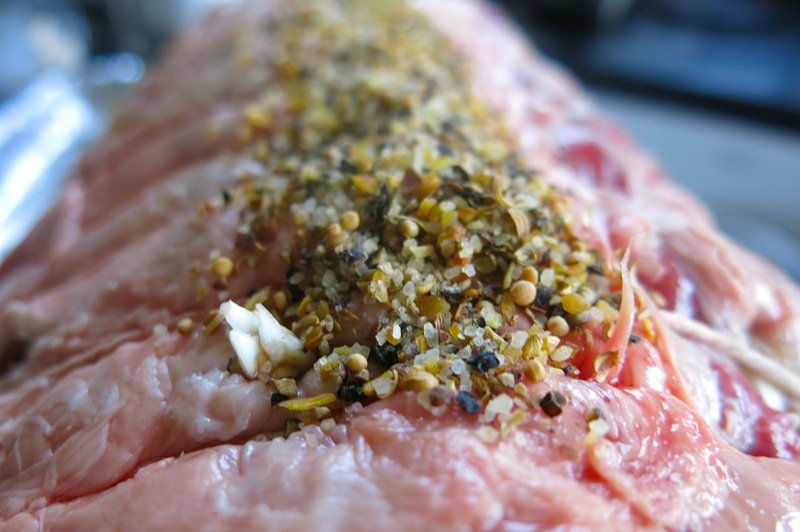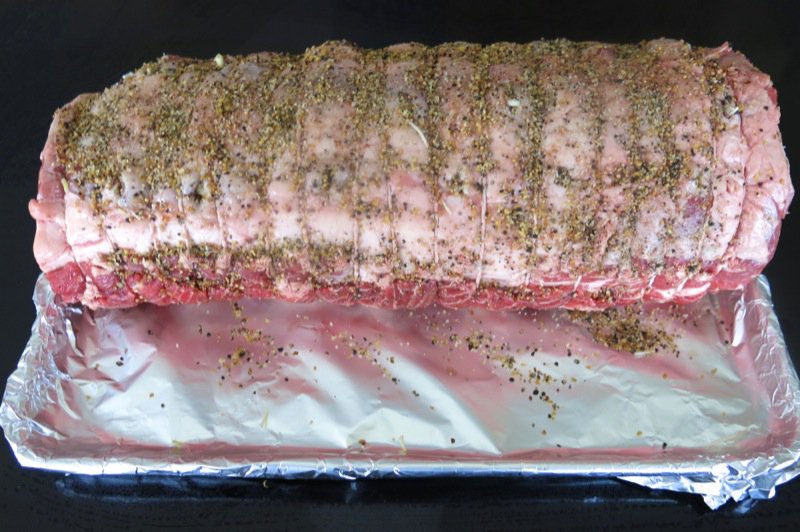 Rubbed all over, and onto both ends, the spice mix seasons a prime rib perfectly and is as significant to the flavour profile of this roast as the garlic.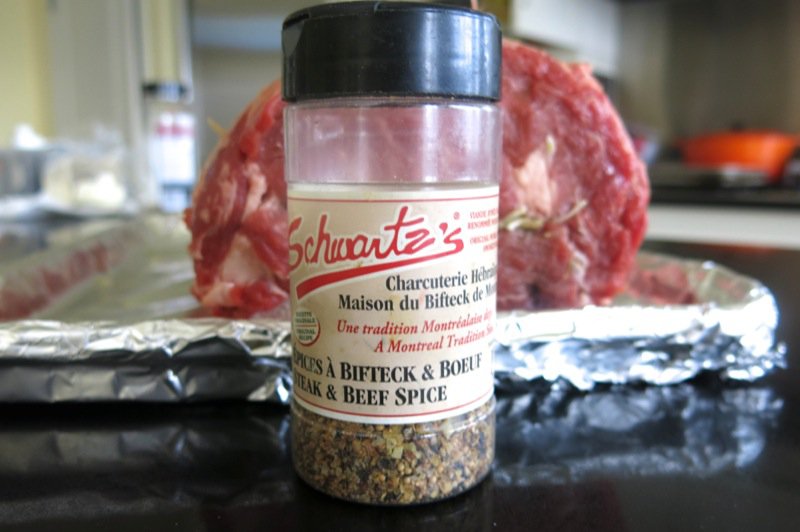 Garlic Stuffed Prime Rib Roast Beef: Roasting the Beef

There is Dave's way and there is my way. I did all three of these massive roasts Dave's way, as I had never cooked such large prime ribs. His way: into a 350F oven for 15 minutes a pound, lid on (or covered with foil). My way: into a 500F oven for 15 minutes (if under 6 pounds) and for 30 minutes (if over 8 pounds), lid off. Then, cover and reduce heat to 350 for 15 minutes a pound. I always roast my way when using my grandmothers old roasting pan with the lid.
Dave's method worked perfectly for these roasts. The aroma had us on our knees below the oven. Photo above is after tenting to rest before slicing.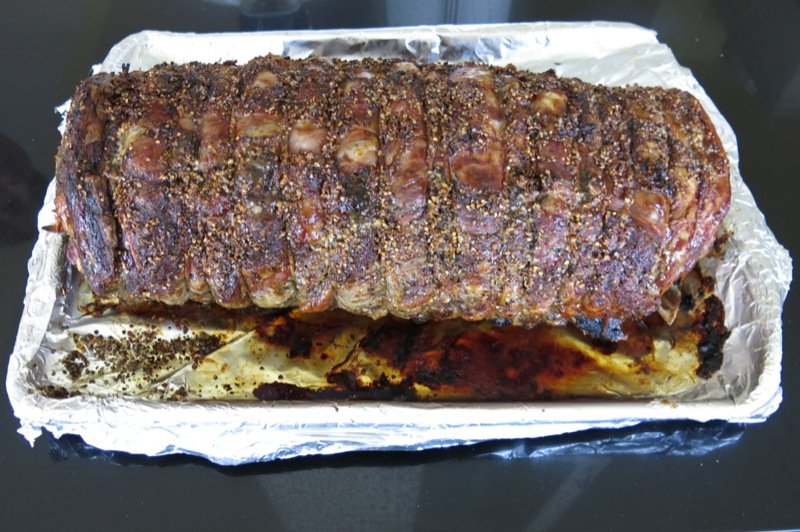 Isn't that a gorgeous looking roast?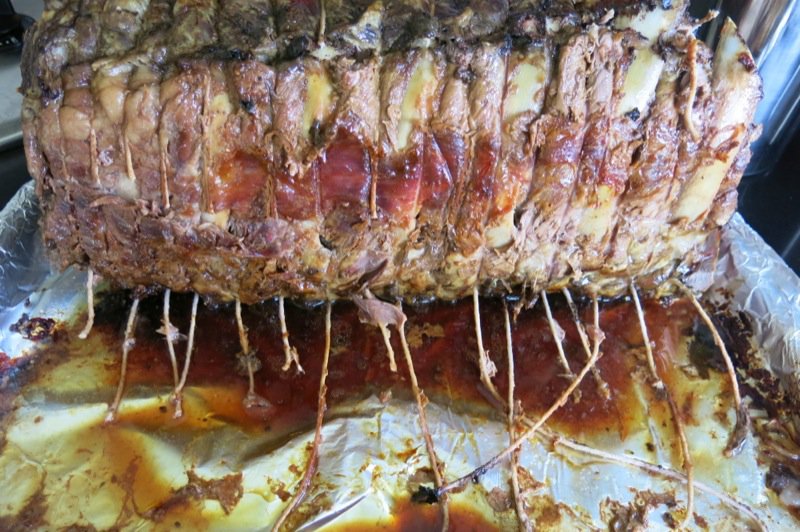 Above, I turn it over and cut all of the strings from the underside where all of the ribs have been tied on. Below, I pull the ribs away from the roast where Dave had tied them.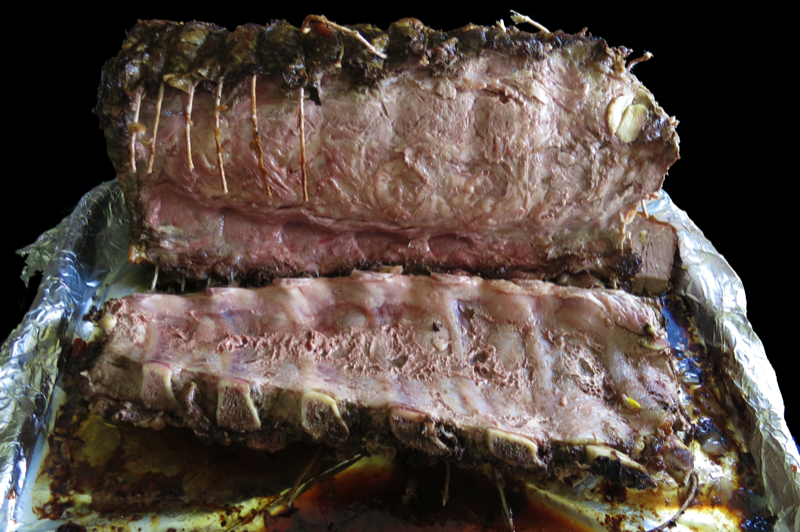 It is easy to see how Dave from Ben's Meats tied the ribs onto the roast from this view.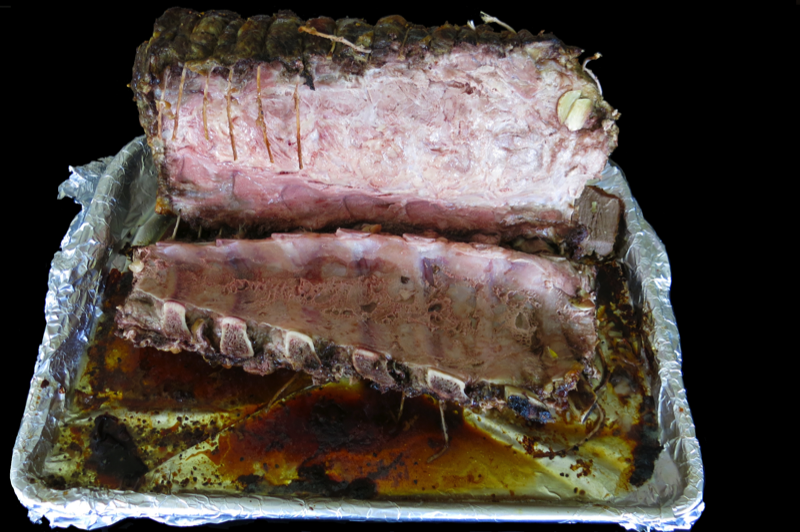 Below, I have turned the ribs over. So easy to carve the roast as well as to carve and serve the bones.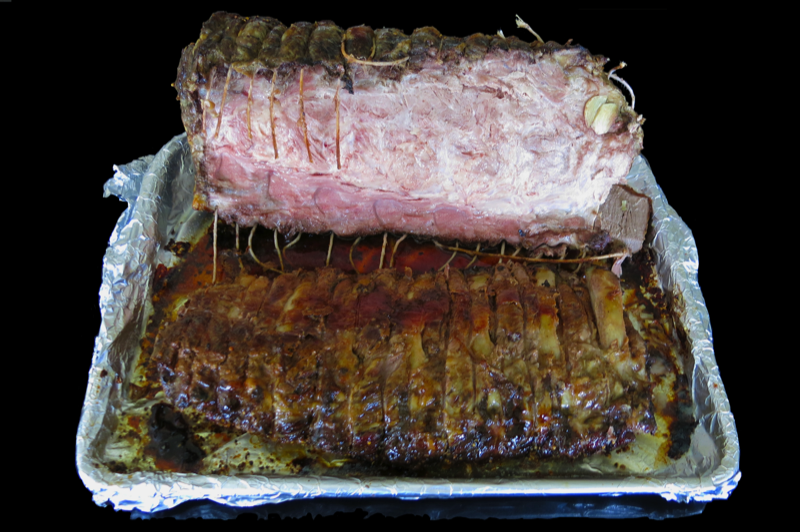 Garlic Stuffed Prime Rib Roast Beef: Slicing the Beef

Above, I have set the roast back down beside the ribs. The roasts were cut for the celebration of dad's life. The ribs? Devoured at home!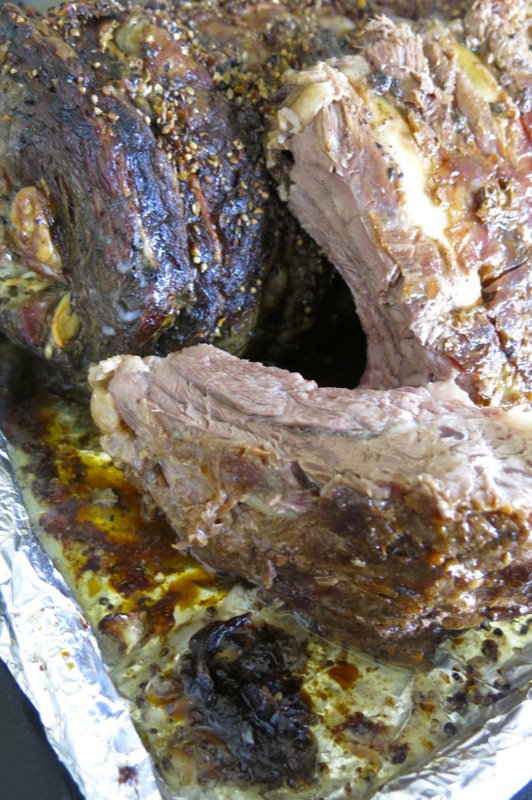 Slicing the roast revealed a medium cook rarer to the centre. Use a very sharp knife and slice thinly. The roast was moist, succulent, and seasoned perfectly. The garlic adds the addictive umami note to the flavour profile and the seasoning spice rounds out the flavour of the meat elevating it to the sublime.
Garlic Stuffed Prime Rib Roast Beef: Dad's Ultimate Roast Beef Sandwich

At the ceremony, people slathered their buns with butter, mayonnaise, horseradish and piled on the beef and thinly sliced onions.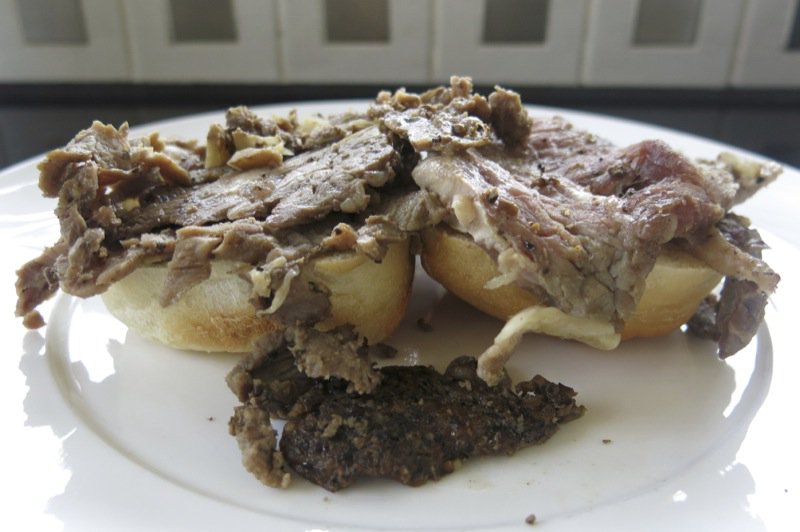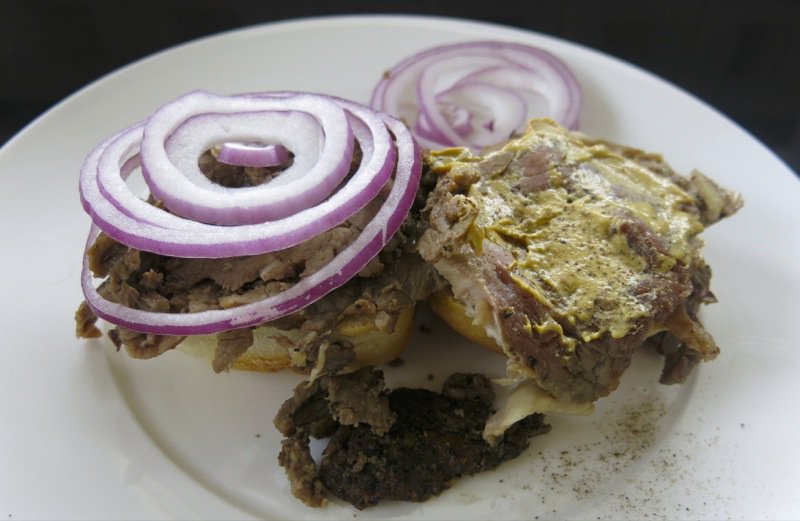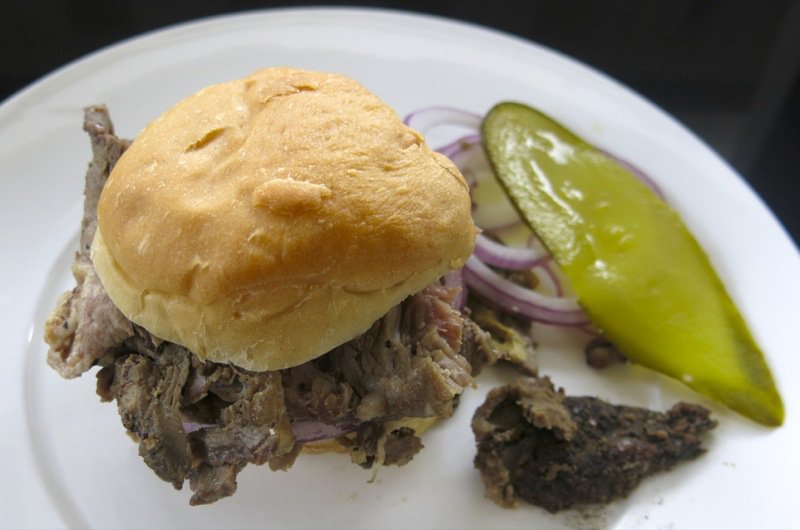 I can never resist a dill pickle with a sandwich.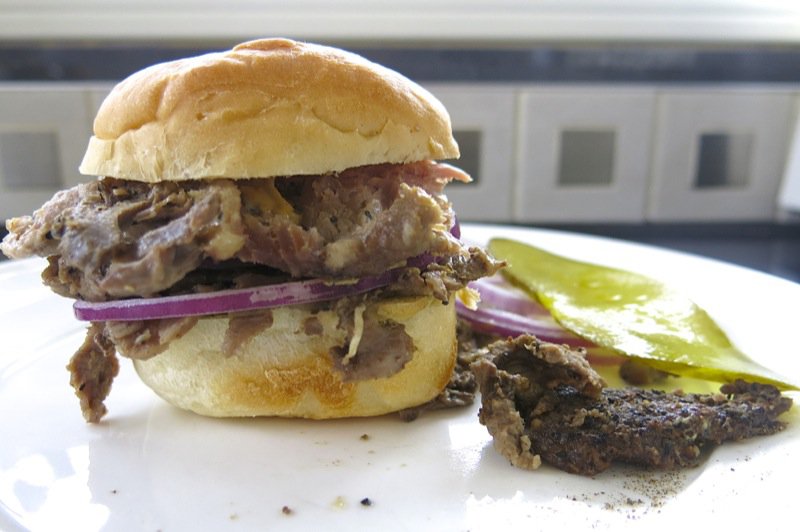 Garlic Stuffed Prime Rib Roast Beef: Serving the Roast

Did I say that mom baked the buns? Over 180 for our very last celebration with dad, and almost all were eaten. He would have been thrilled. Below, note the roast is presented beside a huge platter of sliced beef for the buns.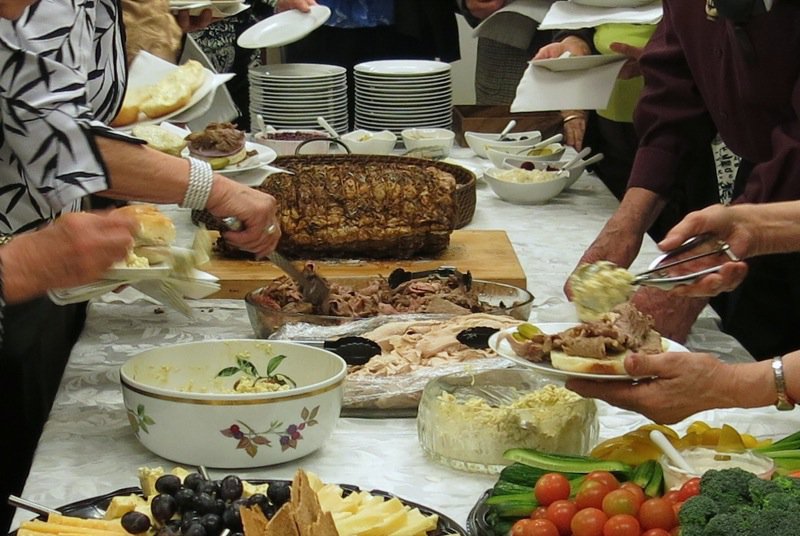 I am sure he was tickled right down to his toes. Succulent prime rib on one of mom's homemade buns with thinly sliced onion, mustard, salt and pepper? Oh, I can remember many, many lunches with dad grinning over the breadboard as he sliced the beef thinking of this sandwich.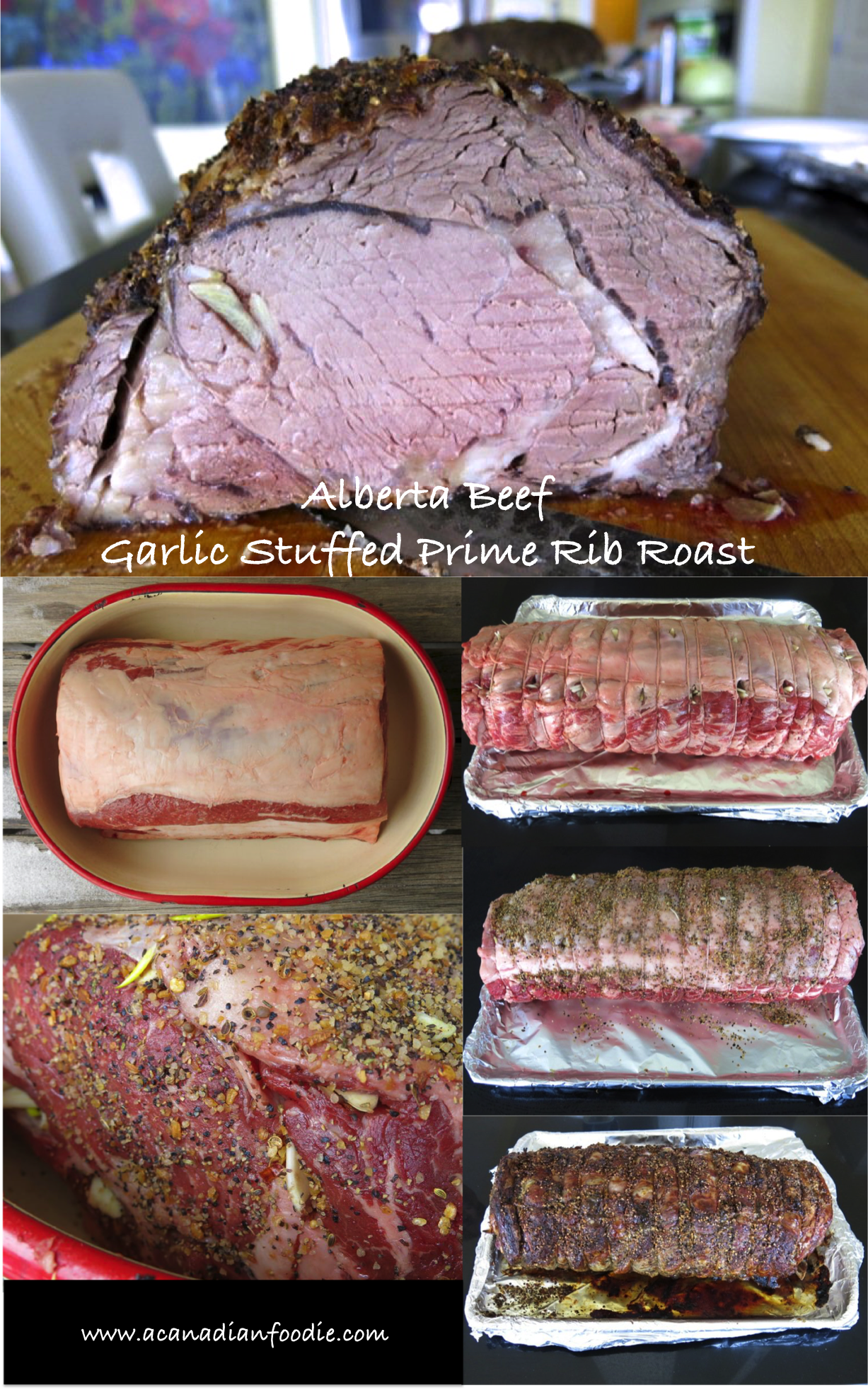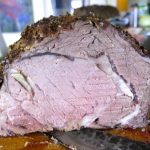 Garlic Stuffed Prime Rib Roast Beef


This is my specialty recipe; the ultimate Canadian Sunday Supper! Alberta Beef! Garlic Stuffed Prime Rib Roast is succulent and addictive. Absolute bliss!
Cooking Time
15-20 minutes a pound, depending upon roasting method
Servings1/2 pound per person of bone in roast
Ingredients
Know-your-farmer Prime Rib Roast Beef

(preferrably grass fed beef)

1

head know-your-farmer Garlic for every 3-4 pounds beef

(I use Oxley Garlic, or a similar quality)

1

generous tablespoon Montreal Steak Spice for every 3-4 pounds beef

(Schwartz'sis the original)
Instructions
Peel garlic; slice large cloves into thick wedges or slices or slivers

Embed several slivers of garlic into each end of prime rib; look for openings along fat, insert finger to make opening and push slivers into each opening as far as possible

Insert a knife at intervals along outer roast, insert shards of garlic as deeply as possible (see photo: number of rows is dependent upon size or roast)

Preheat oven to 350 F or 500 F (depending upon method used), setting rack in lower third of oven

Set roast on a parchment covered sheet pan if huge; otherwise, set inside roaster

Rub steak spice on both ends and all around roast
Roasting Method 1
Roast uncovered at 350 F 15 minutes per pound for medium done roast

Rest, tented with foil, for 15 minutes (a half hour, if large) and slice

Pour pan juices over sliced meat, or use them to make a dark roast gravy while resting meat
Roasting Method 2
Roast uncovered at 500F for 30 minutes if 12 pounds or larger and for 15-20 minutes if 10 pounds or smaller; cover and reduce heat to 350F cooking 15 minutes a pound for medium done

Rest, tented with foil, for 15 minutes (a half hour, if large) and slice

Pour pan juices over sliced meat, or use them to make a dark roast gravy while resting meat
Recipe Notes
Yes, it is this easy, and it will be the most succulent, well seasoned roast you have ever eaten.
Garlic Stuffed Prime Rib Roast Beef: A Review

In my grandmother's roasting pan (that has a lid I use to roast with lid-on).

Look at that marbling. Fat is flavour, people, and it melts into the garlic in this roast and creates the ultimate Prime Rib experience.

Such succulence.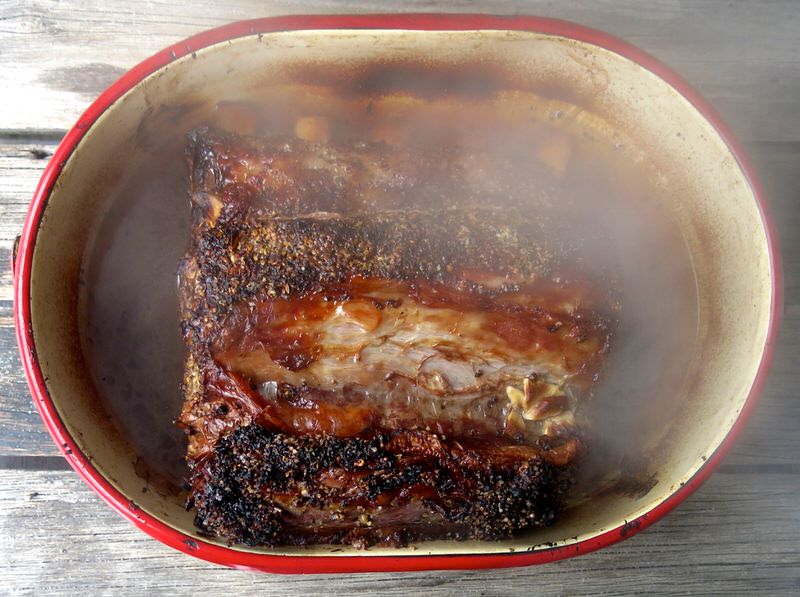 A quick peak before removing, tenting and making the gravy!