Homemade Angel Food Cake: Our Traditional Family Birthday Cake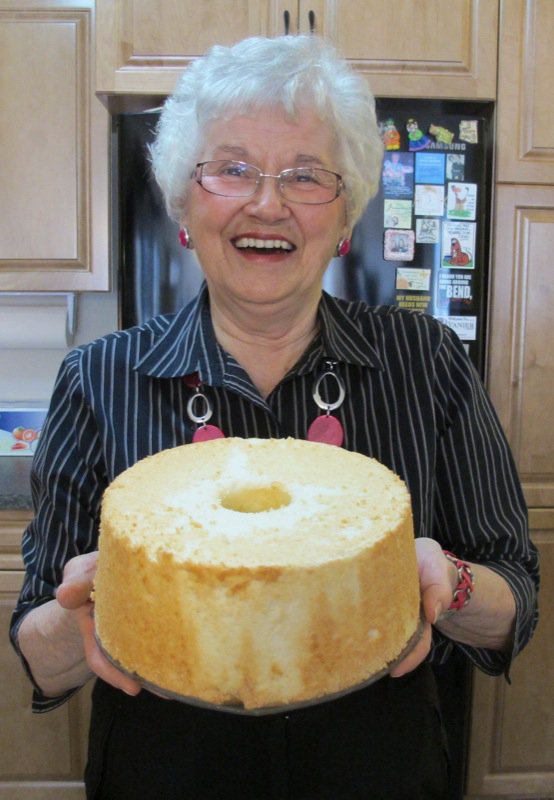 I asked mom to demonstrate how to make our family famous homemade angel food cake so I could make it for her 80th birthday.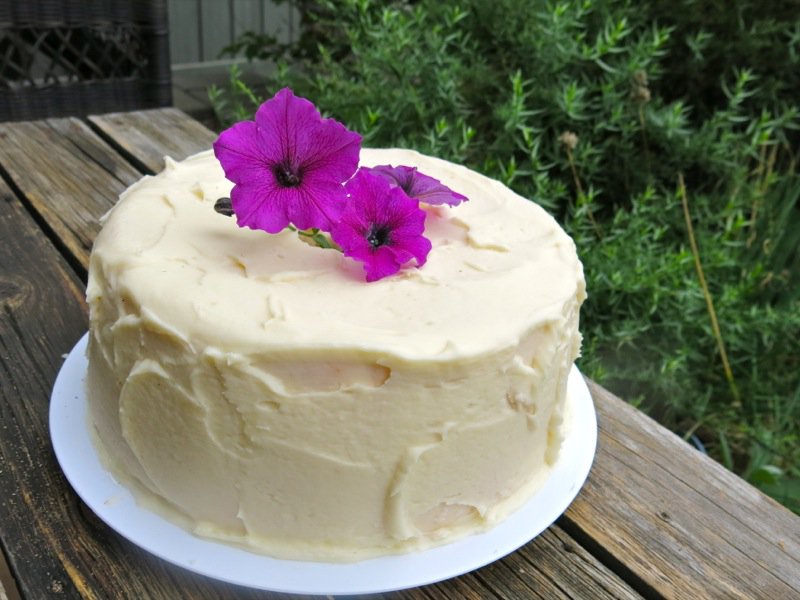 No one else could make an angel food like my mom in our neighbourhood when I was a child. Maybe no one wanted to. But, everyone loved to eat it. My mother worked to learn to make this moist light cloud of heavenly cake. She is a very determined woman.
Homemade Angel Food Cake: The Back Story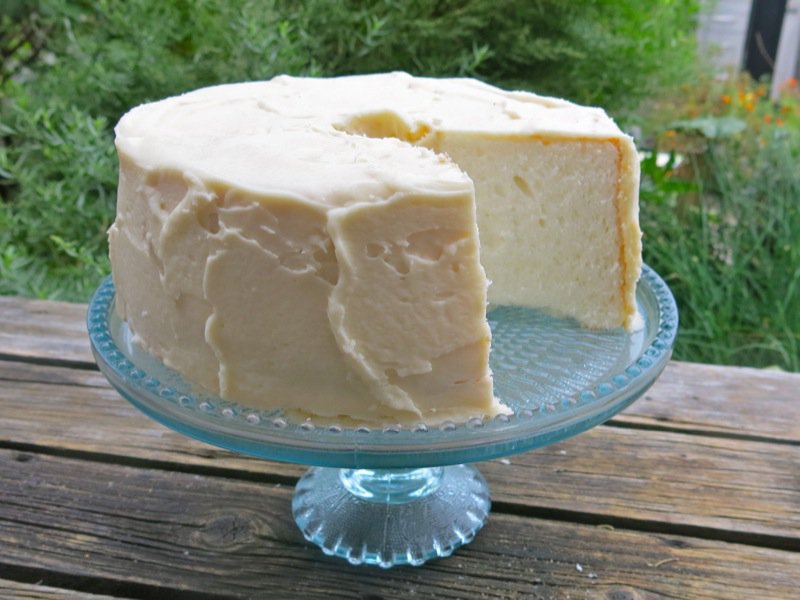 She failed. It fell. I recall laughing so hard because I had never seen my mother laugh so hard. She suddenly ran down the back alley, my sister and I in tow, wearing her frilly yellow checkered apron holding an angel food cake pan between her fluffy pink checkered oven mitts. She was taking the cake to show Auntie Blanche.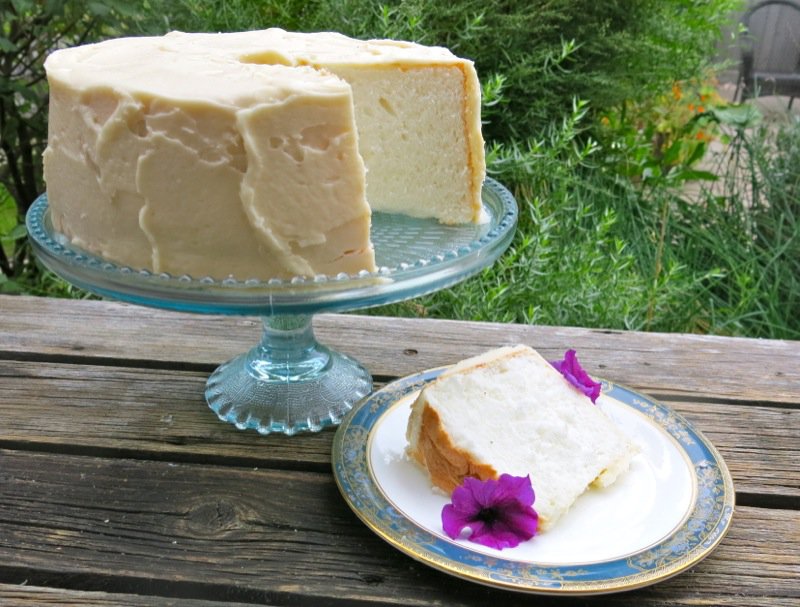 Auntie Blanche must have known as she met us halfway with her two daughters trailing behind her. She looked at the cake, and both women howled until tears ran down their faces. Then we all started taking handfuls of the still delectable and still somewhat fluffy, fallen angel cake.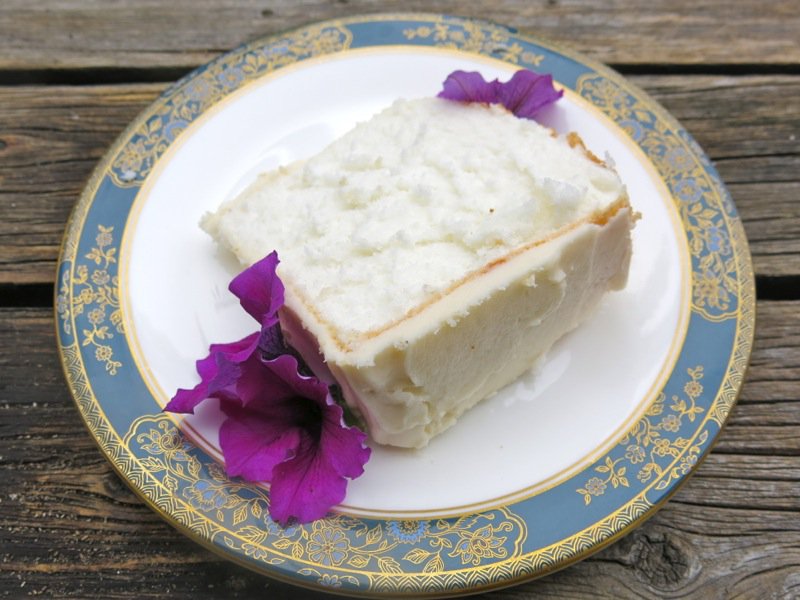 We were all too young to really understand the laughter. We were just happy that everyone was so happy and that after mom's hard work that morning in the kitchen, she was not crying. Guess what she was doing that afternoon? Yup. She never failed again, but she improved until perfection was achieved, many years ago.
Homemade Angel Food Cake: From the Hands of My Mother
In the end, she did demonstrate how to make her homemade angel food cake for me, and I still have video clips to put together, but she actually made it herself for her 80th Birthday Party Tea! Isn't that incredible? At 80, she made her own birthday cake! Mind you, I did make another "official" birthday cake for her party, but in our family, we all knew that this was the "real" birthday cake!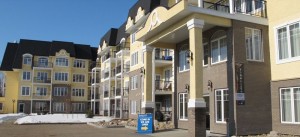 This has been a big year for my parents. mom and dad both turned 80 this past year and moved from their home of 32 years to this gorgeous adult condominium. And, this November 6th, 2010, they will celebrate their 60th wedding anniversary. Lots of changes and rites of passage this year for the two of them.
I pass the lovely waiting room in the main area and hear her door open around the corner. Yes. There she is, waving me in! Abounding energy and enthusiasm. That is my mom. If they had a condominium council in her building, she would be the Social Convener. Well, come to think of it, she is already arranging card games and is most definitely one of the many friendly owners that warmly welcome newcomers to the building.
And no time for a hug for mom. I am greeted with the unconditional joy that my little baby sister, Penny, always smothers me with. She is our hairy human ball of family therapy. She brings us together when we are too tired to be brought anywhere. And today, she is doing her little dance at the door. I am an obedient guest and do what she has trained me to do. I give her a treat, and she kisses me all over before she quietly enjoys it, and then settles in her chair on her blanket.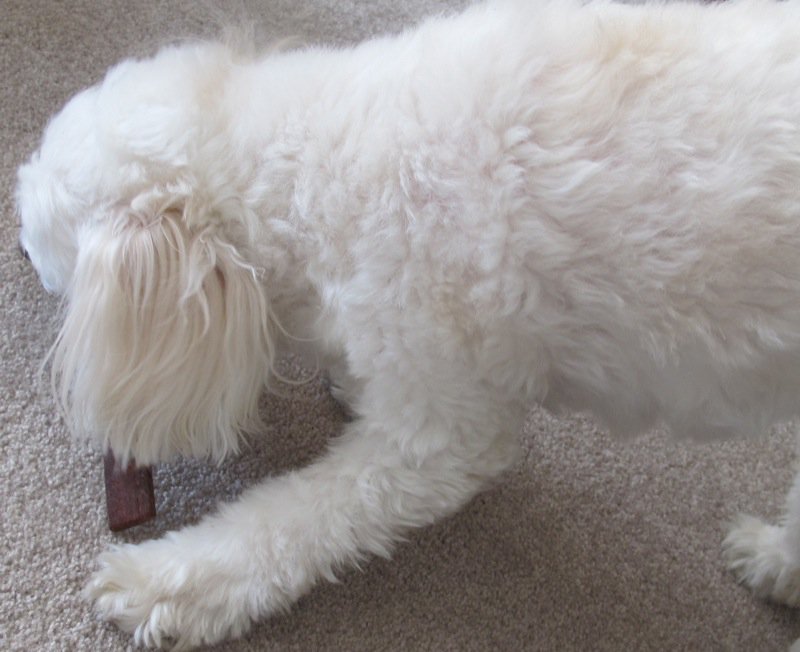 Dad is sitting in his chair by the window finishing his muffin for breakfast and laughing at the "hello ritual" we all enjoy so much. That little bundle of fluff has brought so much joy to our lives.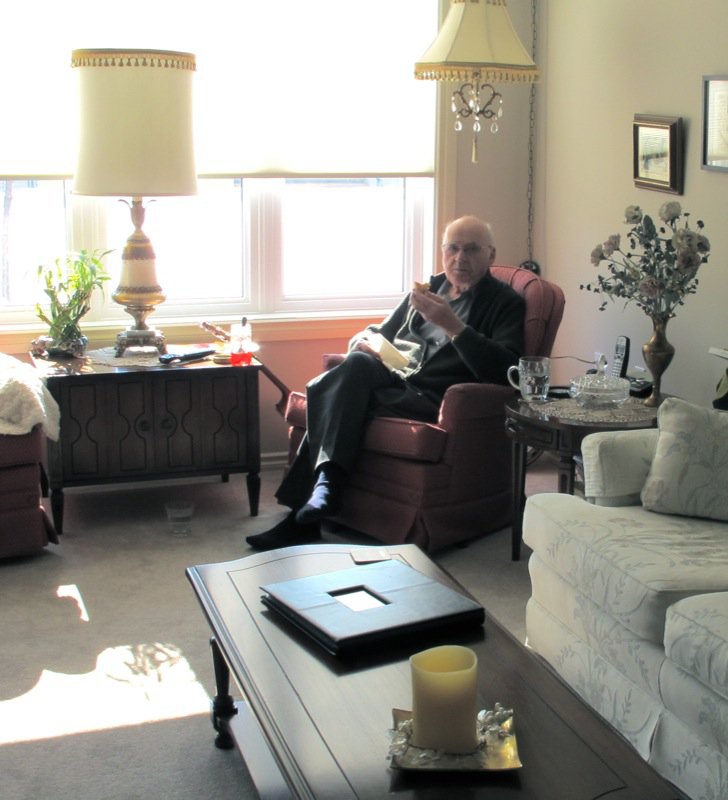 Mom has everything ready for my homemade angel food cake demonstration. Completely ready. There is no one more organized than Helen. Except, maybe George (my dad).
I turn around, and mom is raring to start.
Homemade Angel Food Cake: Mis en Place
She has her eggs separated: twelve for each cake at room temperature.
Her egg whites measured.
And her flour sifted three times for the first cake and two times for the second cake. Swan's Down Cake Flour has always been key.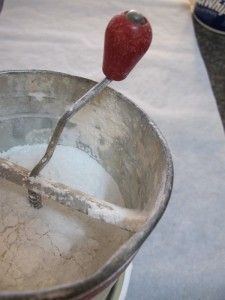 And I was charmed by this old family sifter. The beauty in this old rickety tin is found in the shadows of my memory where years flashback to my nose barely touching the counter and I see it at eye level. Even then, it was very old. It was fun to try to turn the handle and watch the flour fall like soft snow into a bowl. I remember that.
It is sitting in a Cool Whip container as the flour for the first cake has been sifted three times, and the flour for the second cake has been sifted twice.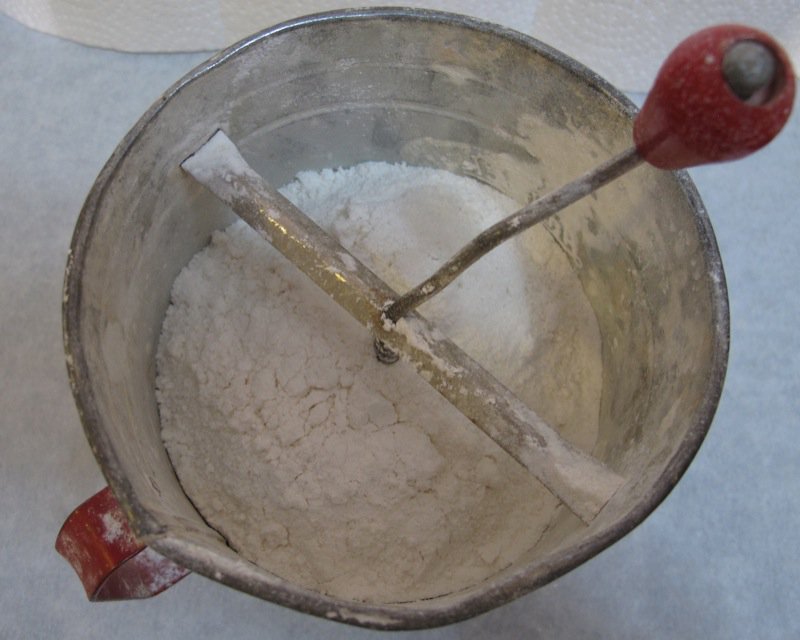 And there was her old Sunbeam Cookbook. The one that came with the machine over 40 years ago. It is the same machine in perfect condition. Mom keeps everything immaculate. Dad keeps everything working.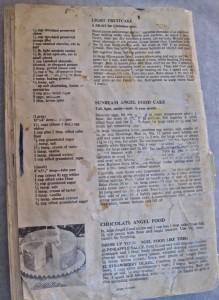 Mom has always said it was the Sunbeam that makes her homemade angel food cake so perfect. "All anyone needs is a Sunbeam, and they can make an angel food cake." I don't believe this, but it certainly does help. She and dad even gave me one that I had for a couple of years and it made beautiful angel food cakes. I obviously have not her touch as mine is long gone. Long, long gone.
The sugar was measured. For both cakes. And this is how mom separates her eggs (below). Did I mention my mother was the Queen of Tupperware back in the day of the Tupperware Party? Everyone loved to invite my mom as she always needed the latest in Tupperware. She was a sure bet for a big bill. And, she still has every piece she ever bought in perfect condition. I wonder how much money vintage Tupperware goes for?
The Sunbeam. The infamous Sunbeam. Egg whites waiting. Machine rearing, ready for take-off. Mom's coffee pot full and empty by the time we finish.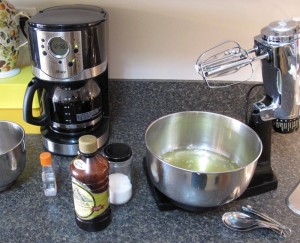 Mom has always said that it is so much work to make just one homemade angel food cake that she always makes at least two, and sometimes three or four, at a time. Today, we are making two. Well, she is.
Homemade Angel Food Cake: Preparing the Batter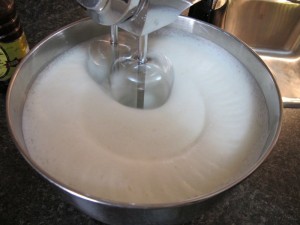 Eggs are frothed and in goes the sugar. This could very easily be a Sunbeam commercial. Look at the beauty of this over 40-year-old machine in how it evenly whips those whites! Lush.
Can you see the air being whipped into the whites? Look at how they are growing up the sides of the bowl.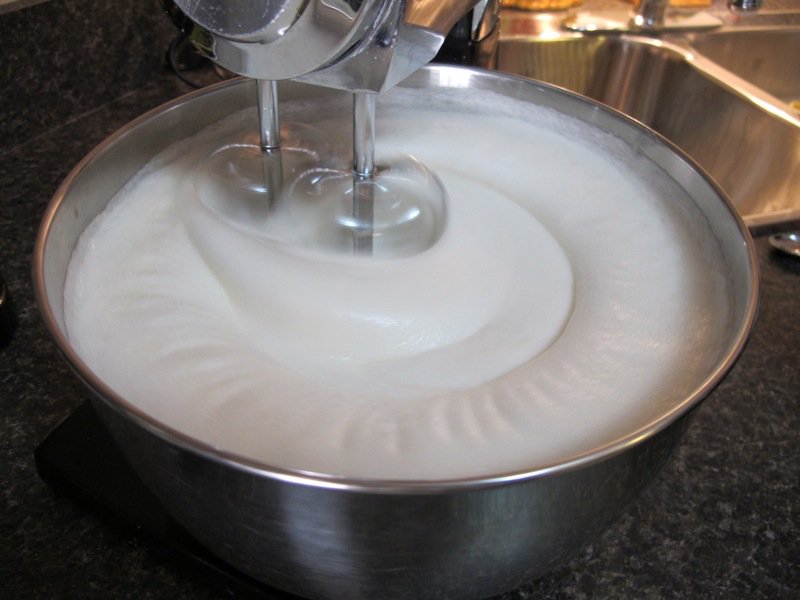 Mom is checking to see how stiff the whites are. One of the advantages of this masterful Sunbeam is that the blades stay on the far side of the bowl, not in the middle, and mom is able to fold the flour into the whites on the open side of the bowl without much danger of engaging the beaters. Not quite ready.
Now the whites are ready to fold in the flour. The peak below is holding its shape.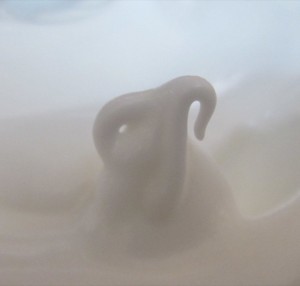 I am not certain which of the two homemade angel food cakes this little grin happened in, but it appears that I may have asked a rather silly question. Mom always overestimates my ability!
Time for the triple sifted Swan's Down cake flour. Mom folds it by hand as she sprinkles it into the bowl. She has the beater on very low and the Sunbeam affords her the opportunity to fold the flour in on the one side of the bowl across from the beaters ever so slowly and methodically and evenly as the bowl turns.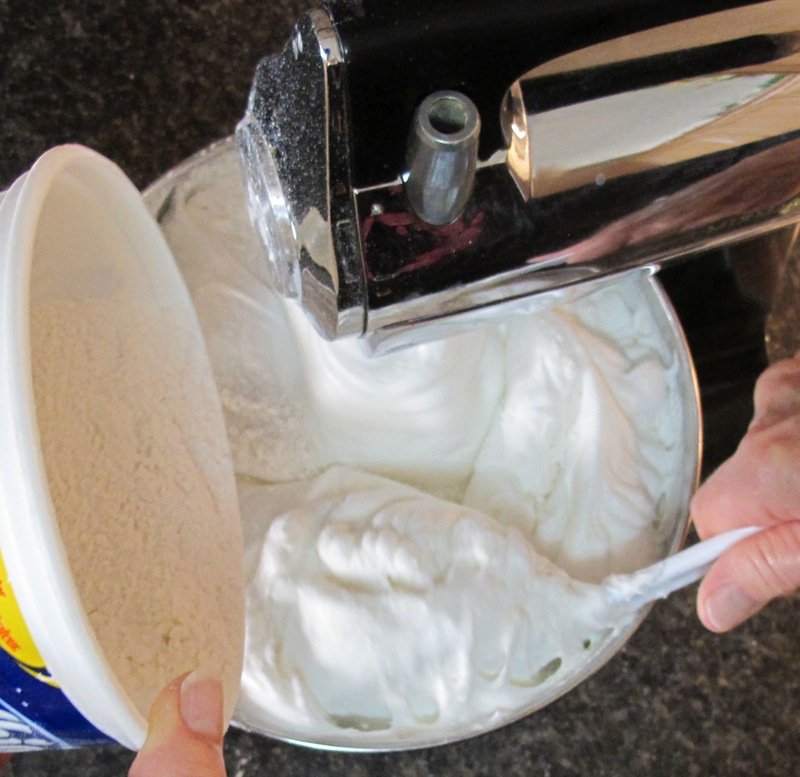 My Kitchen Aid on speed one is many times faster than the Sunbeam on speed one. She slowly and consistently folds in the flour.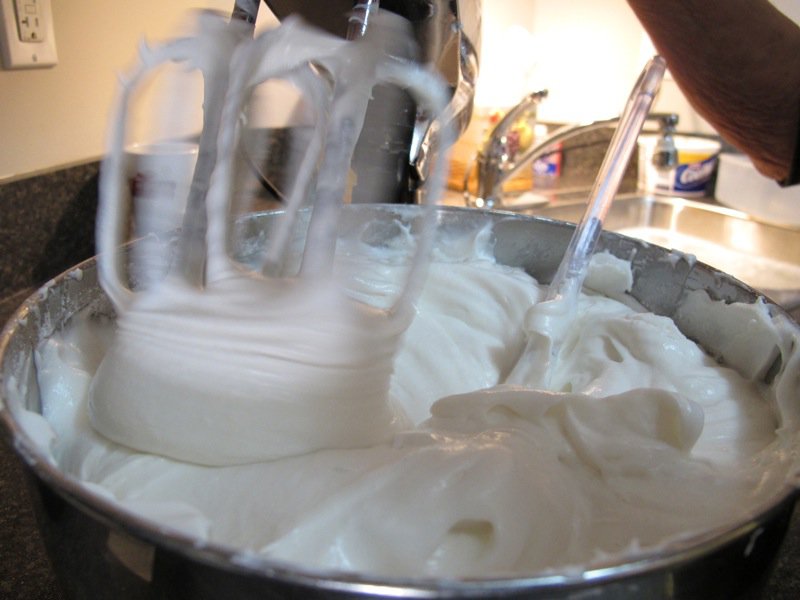 Then, ever so gently, lifts the beaters out of the bowl, still turned on low to expel the remaining whites, and is done. Into the ungreased and aged angel food pan, it goes.
Homemade Angel Food Cake: Filling the Cake Pan
Every last drop.
And then, together, into the oven.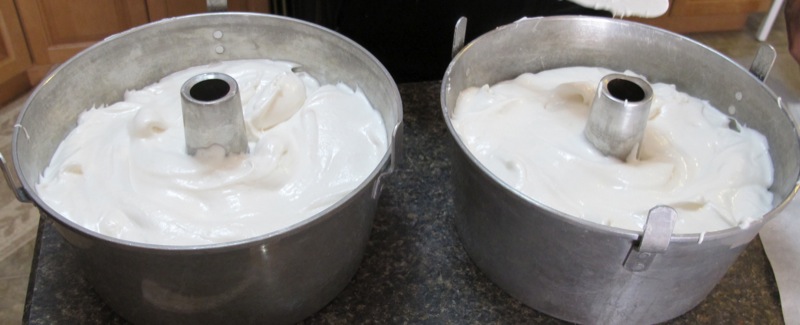 Phew! Time for a nap! I am out running for groceries, and mom is busy with something, for sure. My little baby sister can sleep for both of us.
I am sure she is dreaming of me! 🙂
Homemade Angel Food Cake: Baking the Cake
I am back in the nick of time. The cake is coming out of the oven. Look at that gorgeous crust in mom's mitted hands! And here is the other homemade angel food cake.
Homemade Angel Food Cake: My Mom, Helen McKinney (aka Her Royal Majesty) Presents her Cake!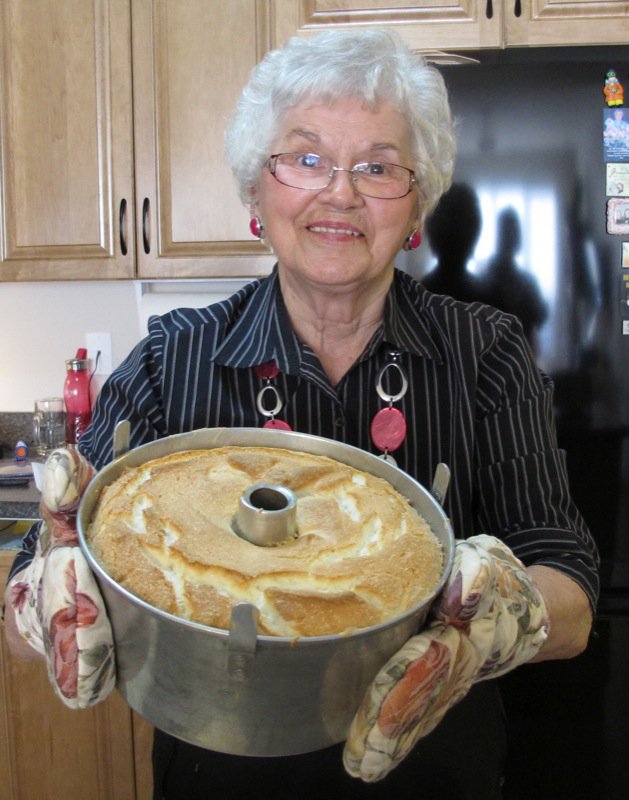 I love this part of the cake. The bottom is my favourite part. It has to be immediately inverted until cool, so we had a bit of time for a visit.
Homemade Angel Food Cake: Cooling the Cake and Inverting the Cake
Homemade Angel Food Cake: Removing from the Pan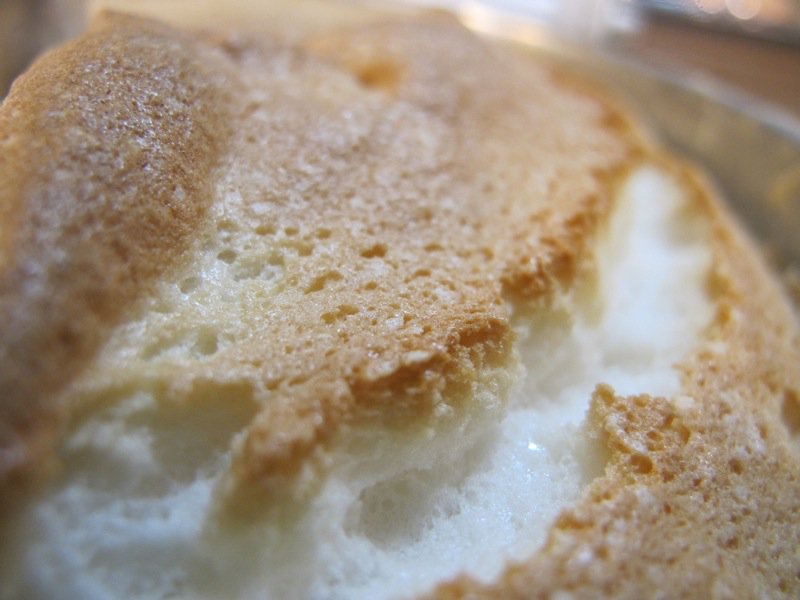 A long serrated knife is key for releasing the cake from the sides of the pan. In the left photo below, mom is releasing the cake from the pan by sawing in an up and down motion pushing toward the outside of the pan to avoid cutting into the cake.
Once that is done, she does the same thing to the bottom of the cake, after loosening the middle.
She then places a plate on top of the cake that is exactly the same circumference as the cake (which makes it very easy for icing, later), and turns the cake over on it.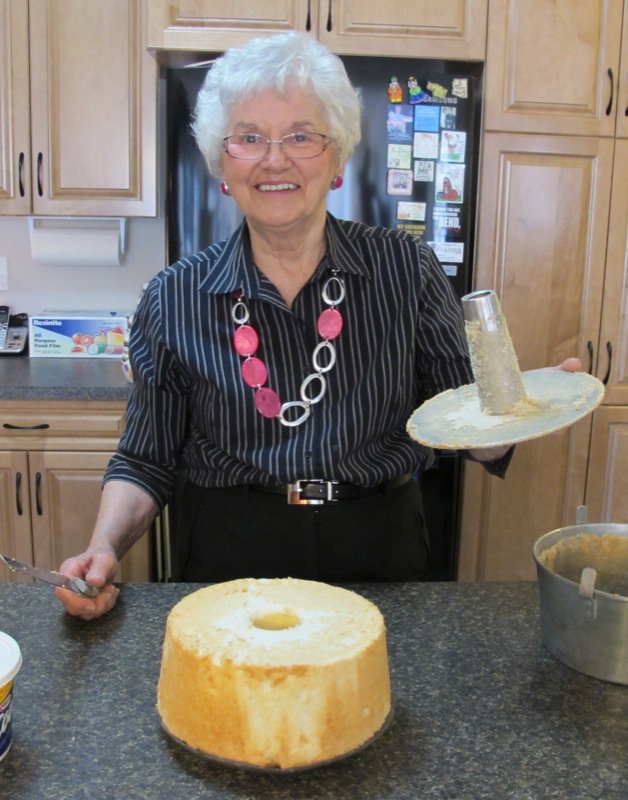 Voilà! The homemade angel food cake falls onto the plate.
She is a pro. Both cakes are absolutely perfect. Incidentally, neither of these were used for her birthday two weeks later. She baked two fresh ones the day before so she could serve all of her guests a fresh cake. But, it was frozen for one night to enable frosting. The cake must be frozen to frost.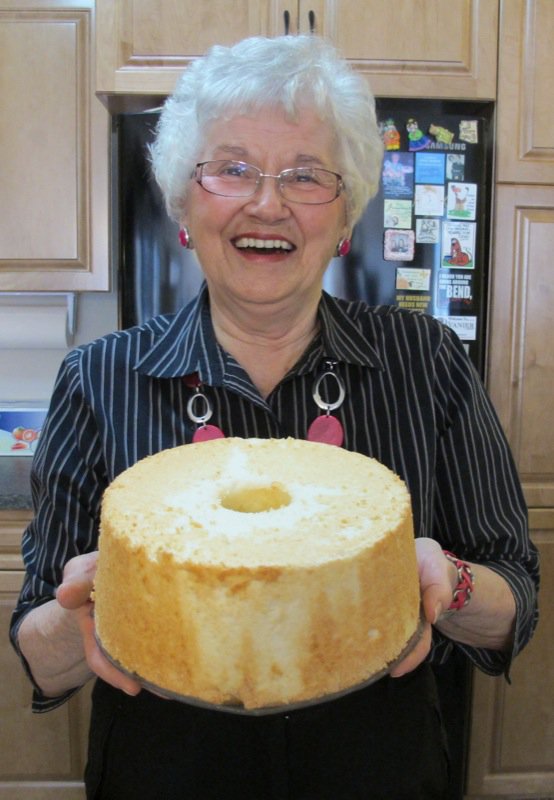 Homemade Angel Food Cake: Icing the Cake
As they ice better frozen and taste better the day after they are made, I returned the following week to learn how she ices the cake.
The recipe and instructions for this icing follow, but it is important to note that this is the consistency she looks for. Basically, mom says: "Dump half a bag of icing sugar in a bowl (about 3 cups), add a good clump of room temperature butter (about 3/4 cup). some flavourings (1 teaspoon each of vanilla and almond extract) and just enough boiling water to make it spreadable after beating like hell by hand! LOL LOL!" Yes, she is a cyber-mama, too!

Then, as you can see, she ladles the icing over the top of the cake and works is around the sides.
Mom doesn't even attempt to get the icing smooth or even. She works to have the lines go around and has it look elegant and beautifully homemade.
My girlfriends all love it when I bring this cake to our birthday celebrations; the icing is coveted as much as the cake.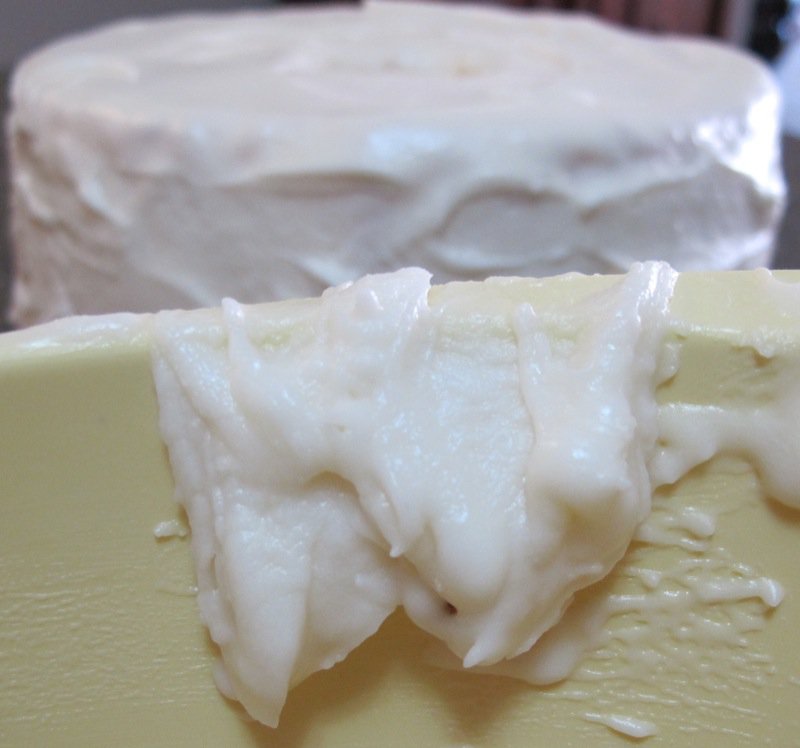 When my grandmother, Maude (whom I often write about), turned 80, mom threw her an 80th party that the entire community will never forget. My mother hails from the central Alberta area: Clive and Lacombe, specifically, as did her mother. When one turns 80 in those small towns, it goes in the paper and everyone comes. Everyone did. My mother baked 20 angel food cakes for that very special day. All iced with pastel pink almond icing and each was perfect. She made a multitude of ribbon and rolled sandwiches. I clearly recall her towers of Tupperware filled past capacity and the beautiful celebration of my grandmother's life that day. I believe there was not even a slice of that homemade angel food cake left.
Now, here I am, countless years later, preparing to honour my own mother for her 80th in a way that might come somewhat close to the masterful event that she threw for hers.
Homemade Angel Food Cake: Our Family Angel Food Cake Story
My mother told me the most amazing story after we made this cake and sat down to talk about it. I asked how this cake came to be such an important part of all of our lives; mom shared her first memory of angel food cake.
She was a little ten-year-old girl playing around her grandmother's farmhouse when she recalled the old farmhouse was aflutter with activity. All of the women in the family were plumping the pillows, dusting the rooms, and beating the rugs to get ready for something. Then all worked in the kitchen whipping up fluffy egg whites after gathering the eggs from the hen house. Someone carefully cleaned the largest dishpan. She recalled a massive round and flat whisk that was bigger than she has ever seen since (about the size of a small frisbee) that each took turns whipping the egg whites into a white fluffy cloud with. A sparkling one-quart canning jar was placed in the middle of the dishpan and the airy batter gently swirled around it and baked in the wood-burning oven. It had to be watched very closely, and turned, as the fire was built on one side, and that side always cooked faster than the side away from the fire.
And her is a close up of that very cake.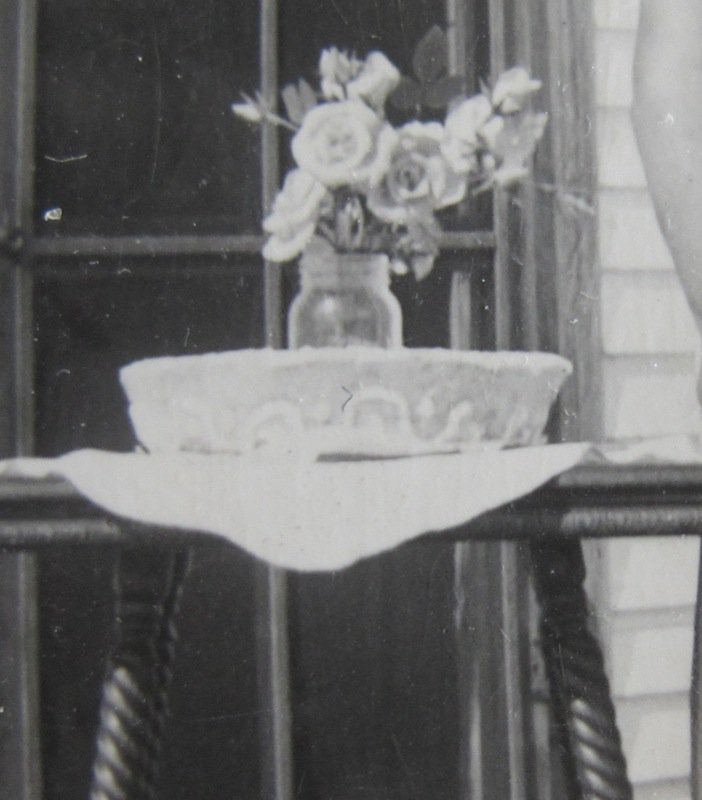 That was the beginning of our family cake…. way back then, in a dishpan, with flowers in the quart jar. The celebratory cake for her grandmother and grandfather's 50th wedding anniversary. I was mesmerized by this story. Wouldn't it be wonderful if she had a photograph of it? Her eyes lit up. She rose from the couch and came back very shortly after with the first photograph above.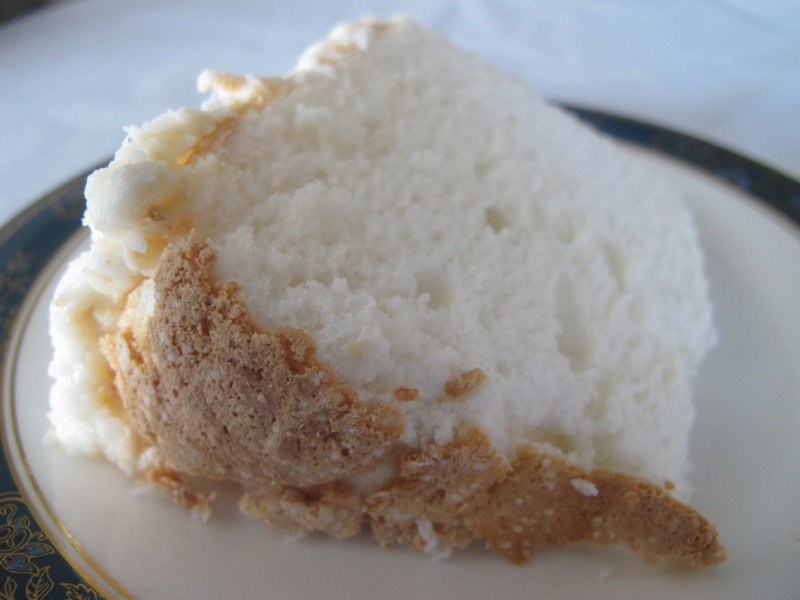 What an amazing heritage. Our present-day family celebrations are founded upon such a history. The first remembered angel food cake in the family was that of my maternal great grandmother, Etta Iris (Kling) Morrical (Born June 21, 1874) and her husband, Alberta Lincoln Morrical (born September 18, 1862, married for 50 years in 1940. My mother ten years old. Made in a dishpan around a quart jar.
And now, it is still the same beautiful cake, so many years later, shared by the descendants of this proud farm family.
Homemade Angel Food Cake: Our Traditional Family Birthday Cake
So, my mother turned 80, and she baked her own birthday cake! How better could her celebration be topped than by herself? (Update: read in the comments below. For her 85th birthday celebration, mom made 12 of these cakes for her own party!)
Homemade Angel Food Cake: Mom's 80th Birthday
Yes, my sister and I threw her a lovely tea for her 80th and laboured lovingly over a myriad of delicacies where we worked our love and admiration for her into each bite. But, nothing compares to my mother's angel food and who do you know at 80 years old that can bake as well as my miraculous mother? (If you think your mother can then let's have a bake-off! I bet my mother's cake'll be better 'n yours!) I thought this would be another outstanding example set for her grandchildren: a legacy of her never-ending hard work.
Homemade Angel Food Cake: The First Family Angel Food
In the first black and white photo above, my great-grandmother is standing beside the cake. I remember her wide and loving smile as she would wrap her wrinkled and flappy arms around me. Her bosom was ample and tired and soft, and a wonderful place to be. She had given birth to 13 children through her long life and had her two eldest beside her with her husband and some of her grandchildren in this photograph. My grandmother, Maude, was somewhere in the middle of this clan, born in 1898. My great grandfather had died before my birth.
My mother remembers this cake. It was made in a dishpan for their 50th wedding anniversary with a huge flat metal whisk. That is a dear family history and a wonderful foundation from which to build the tradition of this family cake. Below is Etta Mae Morrical, my great-grandmother. She must be in her 90's in this photograph. (My mother recently got into scrapbooking.) Now, this isn't the first family angel food cake, but it is the first mom can remember.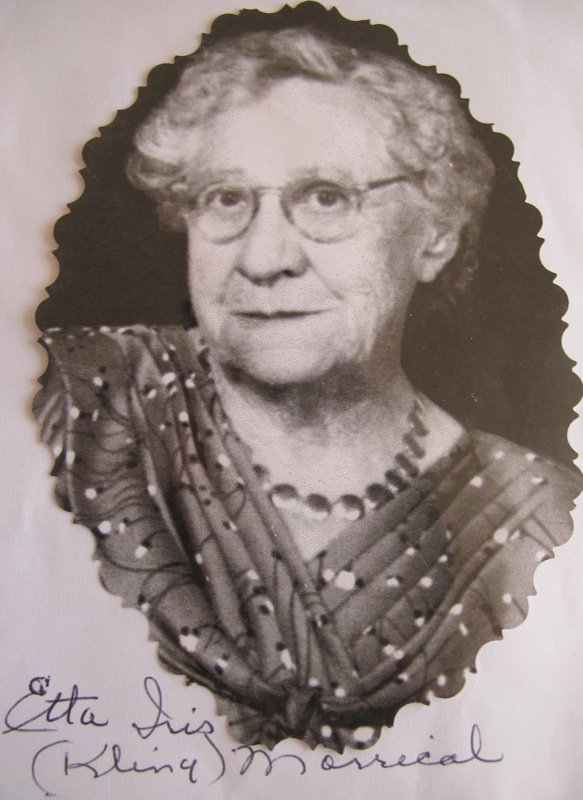 The roses were cut from the bushes lining the house. I have always grown bushes against my house… and we have often placed flowers in our angel food. When my daughter, Ragan. turned 18, her angel food had a spray of roses growing up one side and through the centre of the cake. Thinking to put flowers in this cake is not so novel. But it is a wonderful tribute to our past in this family, now that I know this story.
A legacy from my great grandmother through my mother and eventually through me is this famous family angel food cake.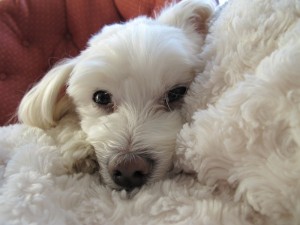 Penny is awake and clearly not very frisky, but must have sensed my awe at this revelation.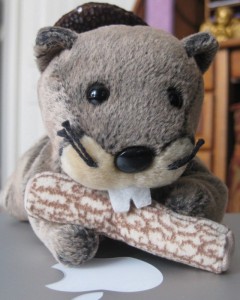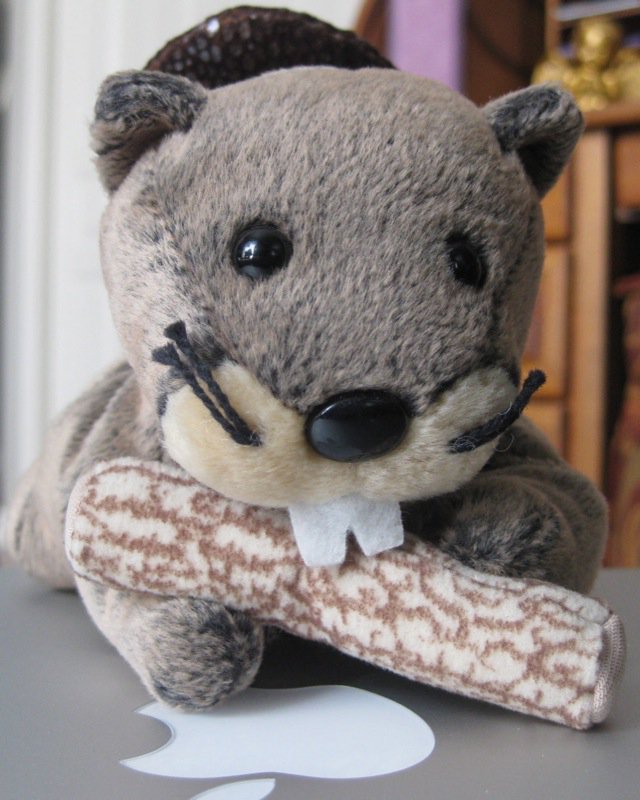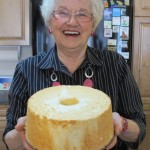 Homemade Angel Food Cake with Almond Scented Butter Icing
A Traditional Family Special Occasion Cake 6 generations strong; still beloved by each and every one of us.
Total Time
1
hour
5
minutes
Ingredients
Ingredients for the Angel Food Cake:
one large angel food cake pan

(if you have a small pan, the ingredient amounts for this are in the photocopied recipe, above)

1 2/3

cups

egg white

(about one dozen large eggs)

1

cup

plus 2 tablespoons sifted

(3 times) cake flour

3/4

cup

granulated sugar

1/2

teaspoon

salt

1 1/2

teaspoon

cream of tartar

1

teaspoon

vanilla extract

1

teaspoon

almond extract

1

cup

sifted granulated sugar
Ingredients for the Icing:
3

cups

icing sugar

2/3

cup

room temperature butter

, unsalted

1

teaspoon

vanilla extract

1

teaspoon

almond extract

1/4

cup

boiling water

, or more (or less) as needed
Instructions
Instructions for the Angel Food Cake:
Separate eggs; let stand at room temperature for at least one hour

Pre-heat oven to 375ºF

Sift together flour with 3/4 cups of granulated sugar (recipe says four times, mom does it three times)

Combine egg whites, salt, cream of tartar and flavourings in large mixing bowl

Beat (at no. 12 speed, if you have a Sunbeam) until whites are stiff and hold a peak (1 1/2 to 2 minutes: do beat until dry: do not overbeat)

Sprinkle in rapidly, while beating (number 8 speed) the sifted cup of granulated sugar (about 1 minute); scrape the bowl gently toward beaters, as necessary

Turn speed to very low, and sprinkle in sifted flour-sugar mixture slowly, folding into the whites evenly using the up and over fold motion (about 1 and 1/2 minute)

Remove bowl from mixer; using a rubber spatula, cut through batter, folding over and over a few times

Carefully place batter into ungreased pan, gently pushing into place

Cut through batter with a straight-edged spatula, moving it around and around in widening circles 6 times without lifting the spatula

Bake immediately for about 35 minutes or until cake tester comes out completely clean

Invert immediately; hang until completely cold

Insert straight-edged spatula between cake and edge of pan to release cake, pushing it around the edge of the pan to release the cake

Release cake from pan; do the same around the centre hold, then on the bottom

Place a plate over the top of the cake; invert onto the plate

Can be eaten immediately, but is usually best eaten the next day (cover with glass cake cover until next day)

Mom always wraps extremely well in plastic wrap and freezes for at least one night, then ices the cake while frozen (She prepares the icing before taking the cake out of the freezer)
Instructions for the Icing:
(Prepare the icing while cake is frozen and remains in freezer)

Place sugar and butter in small pot on low stove burner; mix together

Add extracts with scant 1/4 cup of boiling water; beat together using small electric mixer, or rigorously with hand whisk until achieving consistency in the photo (far above)

Add a little more water, as necessary, keeping the pot on very low heat: really beating the icing well should bring it together

Ice cake before icing sets, or immediately, with a large offset spatula
Recipe Notes
Mom never makes just one cake. She always makes 2 at a time, and almost as often, 4. The ingredients are prepared, lined up on her counter and she moves through each cake like a pro. There is always a frozen angel food cake waiting for icing in her freezer. I cannot imagine not being able to count on mom, in emergencies, to ask her to ice one for me.
She has never said no.
She is famous within my circle of friends and this city for her cakes. Each and everyone is perfect.