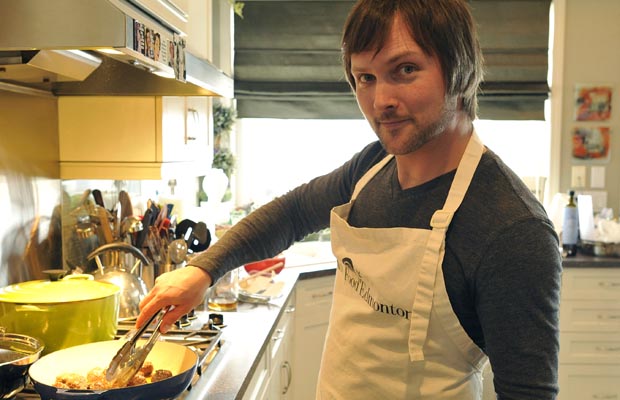 Kevin Kossowan cooks up some game meat at a game-tasting lunch hosted by Valerie Rodgers Lugonja, a local foodie who has started a company giving cooking classes. Kossowan is a local blogger and game meat specialist, who was conducting the class on game meats.
Photograph by: Larry Wong, edmontonjournal.com
EDMONTON "" When Kevin Kossowan talks about "œour land," you might think he was talking about a fabled quarter-section, something that's been in the family for generations.
You'd be wrong. He's talking about the yard of his home in central Edmonton. OK, at 48 feet by 115 feet, it's a good-sized lot. But it's still mighty impressive that Kossowan's patch of city green manages to produce almost all the produce that the local foodie, his wife, Pam, and their two little girls eat year-round. Come the tail end of winter, they're down to the last carrots (washed and stored in bins of sand to keep them as fresh as possible). But it's a point of pride for Kossowan that he's been able to develop innovative ways to prepare numerous kinds of winter slaw; the man is nothing if not resourceful. Even as Alberta clings desperately to winter, he has built a new cold frame to start the growing season anew, and come summer, he'll finish the wood-fired oven in the backyard.
So what motivates this self-styled "œurban homesteader"?
"œQuality and economics," says Kossowan, 33, a member of Slow Food Edmonton who turns to Alberta-raised and -grown products when he's not hunting, gathering and growing his own food himself.
A financial planner with his own home-based business, Kossowan knows "œto the penny" what it costs to feed his brood "" a mere $4,800 a year, including meat. Part of the way Kossowan manages to spend a mere $400 a month on his family's groceries is that, on top of growing his own veggies, he hunts, processing his own sausages and other dried meats from the kill.
"œI actually feel that taking time to make my own food, to grow my own food and value-add my own food is worth more to me than my paying job, that pays the bills," he says, noting he spends less than $200 on seeds each year, and a moose calf tag and hunting licence set him back only about $75. "œI know there is an opportunity cost for your own time, but I don't think that's worth measuring when it comes to feeding yourself. If you have the time, it's time well spent. And I do enjoy it."
That kind of devotion to hunting and gathering has led Kossowan, who does most of the cooking for his family, to come up with a wide range of ways to work with game meats. On a recent Saturday in west Edmonton, Kossowan conducted a class to demonstrate some of his favourite recipes for game meats.
The class was just one of a number of courses being offered at a new cooking school called Taste Tripping, run from her home by local foodie Valerie Lugonja. (Lugonja is also an ardent blogger at ACanadianFoodie.com, as well as a newbie leader of culinary tours and one of the organizers of an upcoming food conference in Edmonton called Eat Alberta, on April 30.)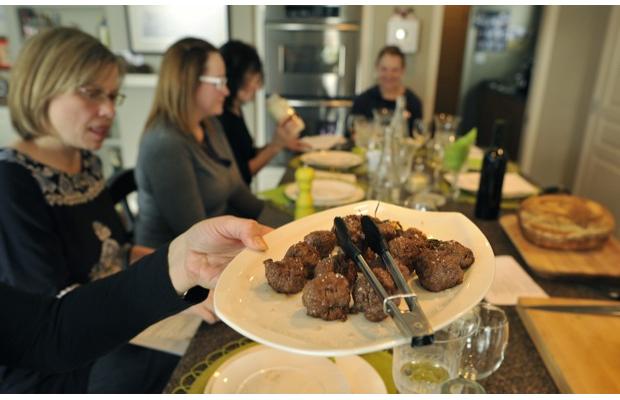 Kossowan was raised on game meats, so he was never afraid of them. But well he remembers his poor mother's despair as she tried valiantly to work with pounds and pounds of moose hamburger. When he began hunting himself about five years ago, Kossowan began to think about how to work with the better cuts of meat on a wild animal, such as the loin, to achieve gourmet results. Over a three-hour class, Kossowan showed students that any fears about gamy taste or tough texture were groundless when you're working with a quality cut and you can control the source of the meat because you hunt it yourself.
Kossowan, for one, prefers younger, more tender animals for fresh meat (he turns older animals into dry cured products such as jerky or brési). Game meats tend to be lean, so he makes sure to cook them with fat, and lots of creamy sauces.
"œMy role is to inspire people to take that first step," says Kossowan of his wild game demonstration.
Our class featured a fork-tender Black and Blue Wild Pronghorn Loin (from a southern Alberta antelope bagged near Taber) served with fresh and peppery salad greens purchased from the Old Strathcona Farmers Market that morning, as well as a Calf Moose Loin with Highbush Cranberry Paste, sliced alongside a Local Leek Potato and Chèvre Puree (the chèvre came from Smoky Valley Goat Cheese). As many hunters end up with lots of ground meat, Kossowan has concocted recipes for tantalizing variations on meat loaf and meatballs (see his blog kevinkossowan.com for ideas).
If you don't fancy killing your own meat, there are local suppliers of game that can help. Shooting Star Ranch is at the Alberta Avenue farmers market weekly, selling elk. Terry Osko markets white-tailed deer products from his ranch near Vegreville, Waskwei Creek White Tails. Wild Game Consultants in Edmonton sells bison and elk online. In the Calgary area, try Wapiti Way at the Calgary Farmers Market, scheduled to re-open in April after closing down in the Currie Barracks. They have no website, but their number is 1-888-927-4849. Canadian Rocky Mountain Ranch sell elk and reindeer from their ranch, located near Priddis.
—–
Taste Tripping co-owner Valerie Lugonja also wrote about the game-tasting lunch on her blog, here.
© Copyright (c) The Edmonton Journal