A Childhood Favourite: the only pork dish my dad would eat!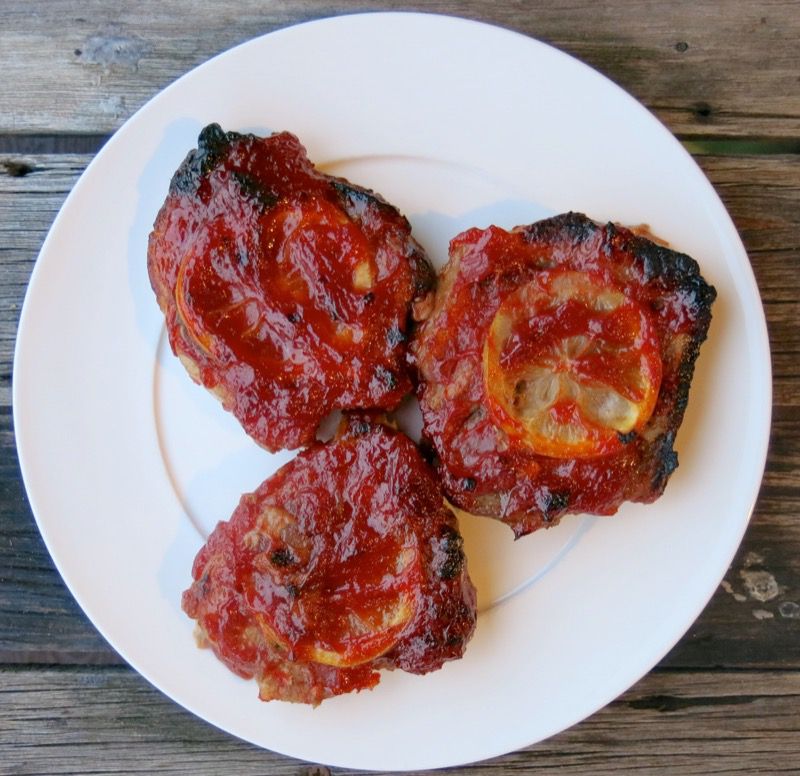 As much as Vanja loves pork, my dad detested it. "Too many years of having to eat salt pork as a child." was his explanation. The taste reminded him of a very unhappy childhood amid poverty in the dirty 30's on the Saskatchewan prairies. His family immigrated from Ireland in 1924 and dad was the only child born in Canada in September of 1929. The family sacrificed everything to escape the meager life and extreme strife in Northern Ireland at the time, to farm the black gold on the prairies in the land of plenty. Clearing the land, farming it, and providing for the family of 7 was barely possible, at that time. Then the dirty thirties hit, followed by WWII. Dad was pulled out of school at 13 to work the farm as his eldest brother was conscripted into the army. His dad couldn't do it alone. My dad was a work-a-holic. Ingenious and a bit of a genius, really. He could build anything. Make anything. Draw anything and fix everything. But, how he detested pork. I didn't even taste a pork roast until I was in high school. Dad was working away from home for a few days. Mom craved a pork roast and cooked on for my sister and myself. It was like candy. I could not believe how sweet that meat was. But, I never had another until I moved out on my own. At some point in the early 60's or late 50's. the Heinz company published this recipe. My mom was the "it" gal in our neighbourhood with the latest and greatest clothes, food, and hair. At all times. She found it. I am surprised she actually prepared this for my dad, but he loved it. I don't recall the first time, but I recall everyone loving this dish whenever mom served it. Often with scalloped or mashed potatoes and always with a crisp green salad: iceburg lettuce, tomato wedges, onions, cucumber slices and Thousand Island Dressing.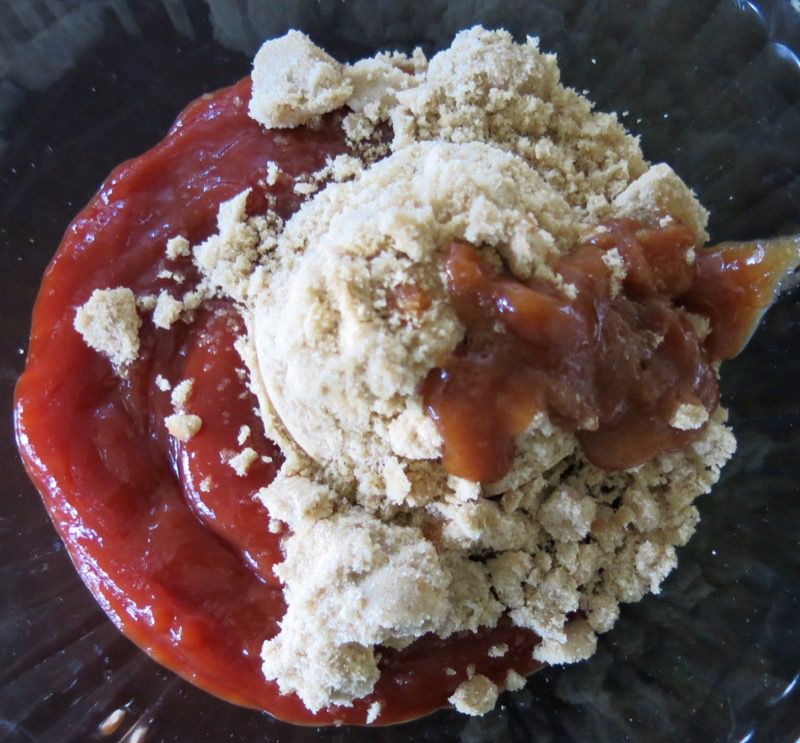 Though my early memories of pork are poignant, cooking on my own, I found I was a beef, fish, and chicken gal. Only bought pork ribs. Until Vanja. That's when everything changed. Now we buy whole pigs and from our favourite pig farmers, Danny and Shannon at Nature's Green Acres. I really enjoy preparing meals for him that he loves. I do get very tired of coming up with new ideas. Help? And for some reason, I have never made this dish, even for my own children. Never.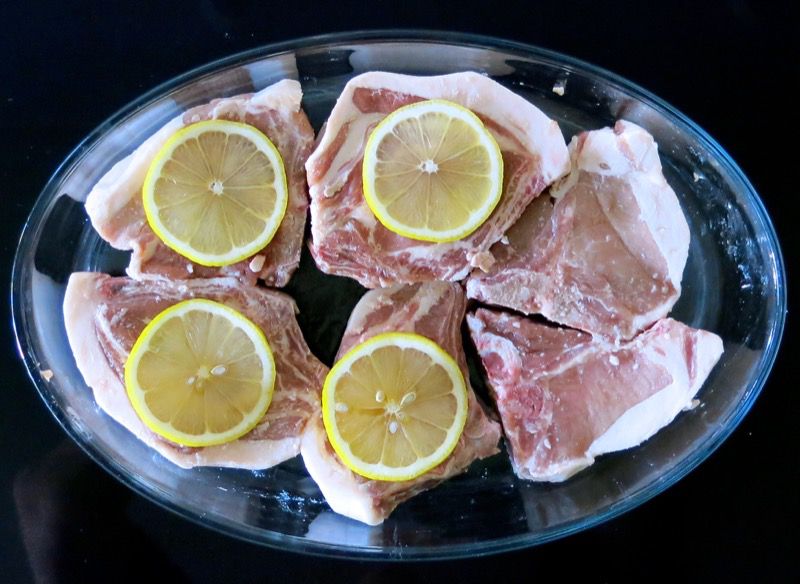 I have so many lovely memories of eating this dish around our little table in Red Deer. Mom would usually bake it in one of her white corning ware dishes with the little blue flower design on the handles. Dad would gross us out when he ate the fat. How he loved the fat when it was caramelized and crisp.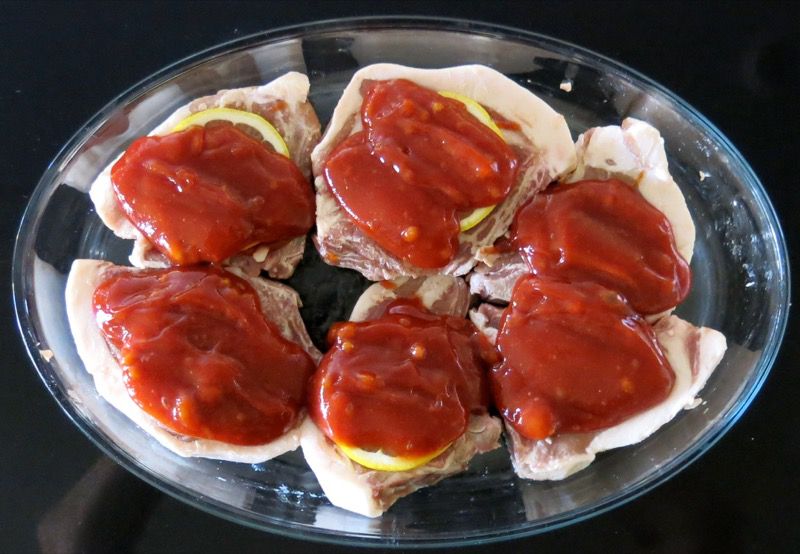 Gave mom a call. She looked up her recipe, and had changed it from the one on line, over the years. No onion in hers and double the ketchup to the sugar. I like that there is less sugar in this recipe. It is definitely sweet enough.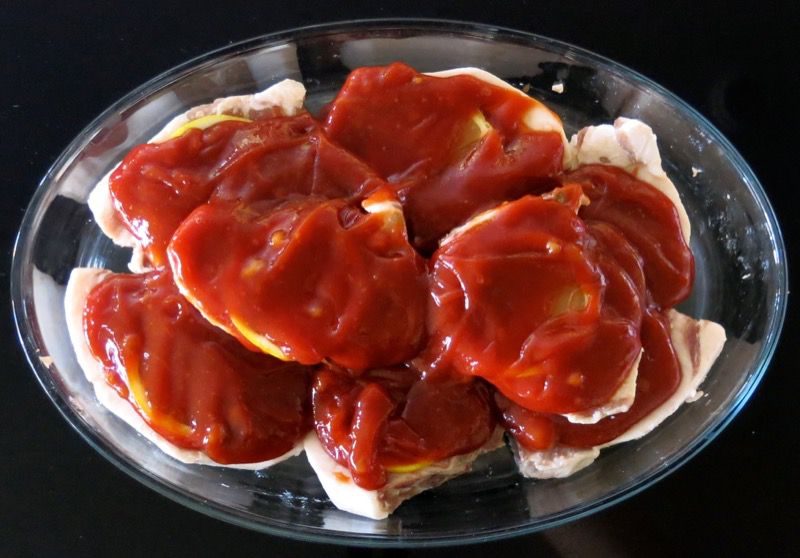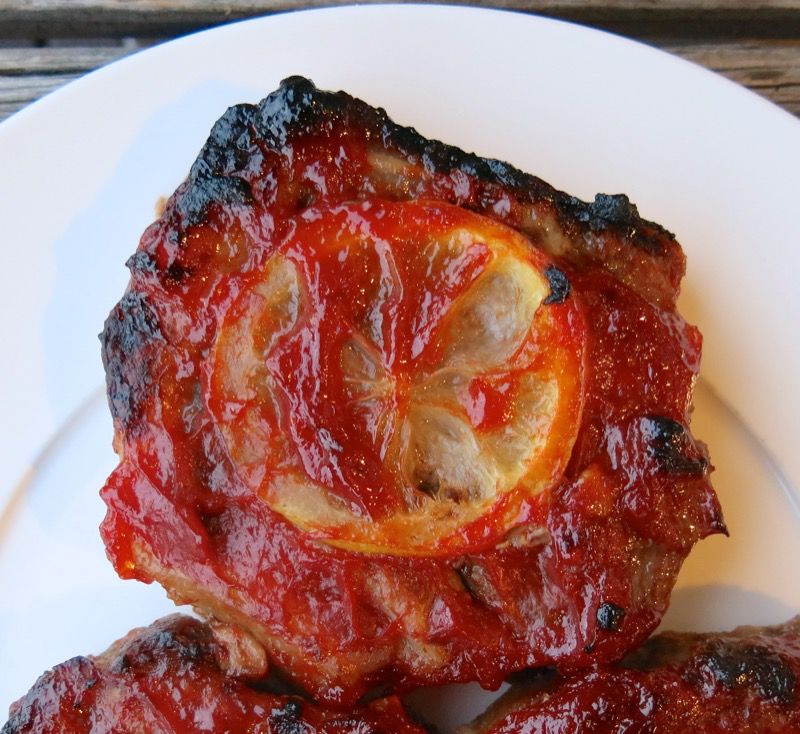 Ragan recalls eating it at grandma's a lot. Maybe that's why I never made it? So, for Sunday dinner, I served Pork Chop Supreme. Mom and Ragan were licking their fingers. I had to leave the lemon off Vanja's chops. Lemon is not his thing.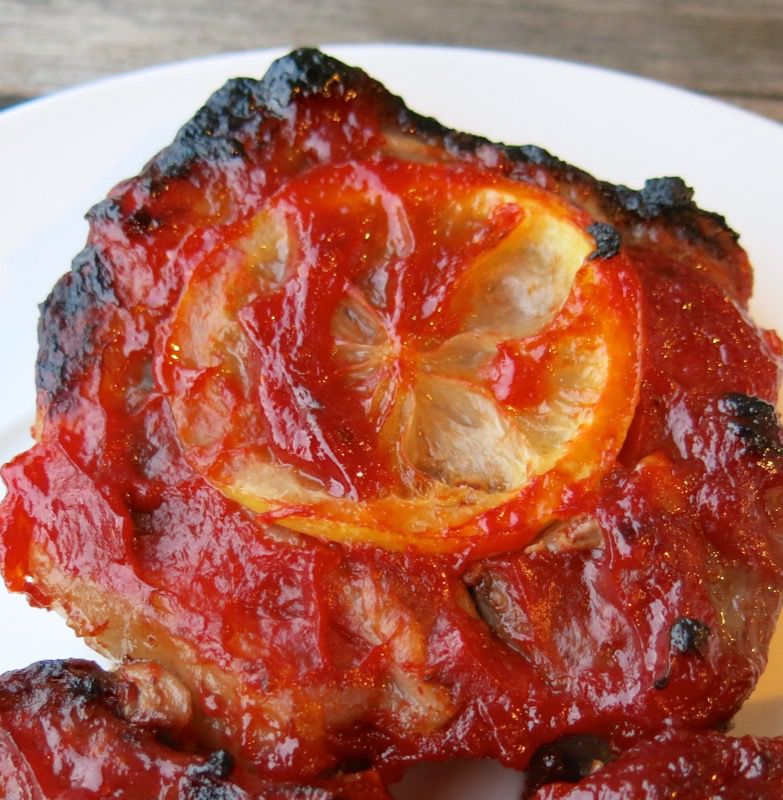 He likes it. He didn't love it. I did. I can't eat meat, but I could not resist a taste. The lemon is perfect on this simple and so easy mid-week meal – or Sunday Dinner! I loved chewing the caramely peel and still do. The citrus adds an incredible compliment to the sweet and savory sauce. There is quite an umami punch. I think this recipe will definitely find its way to our table again. Dad was with us, even though he passed last January – and I so enjoyed sharing one of his favourite home foods with my family. A perfect simple reprieve for the holiday season, too. Keep this in mind when you are exhausted and just want to feed your family a nice meal, effortlessly. This is your answer.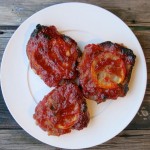 Pork Chop Supreme


This is a recipe, probably found on the side of the Heinz Ketchup bottle in the 50's or 60's and was served at my house a couple of times a month during the winter. Easy peasy and delicious.
Ingredients
8

know-your-farmer pork loin or rib chops

, about 3/4-inch thick

Salt and coarsely ground black pepper to taste

6

thin lemon slices

, about 1/4-inch thick

1/2

cup

packed brown sugar

1

cup

ketchup

(my homemade ketchup is wonderful in this dish, but Heinz is the classic)
Instructions
Pre-heat oven to 350F

Season pork; place in casserole dish, layered, if necessary

Slice lemons; place one slice in centre of each chop

Mix ketchup and sugar together; dollop equal amounts on each chop

Bake, covered for 30 minutes; uncover and bake for 20 more minutes, until crispy caramelization starts to happen on the top of the chops

Serve immediately with mashed potatoes and a crisp green seasonal salad