A quintessential Alberta culinary experience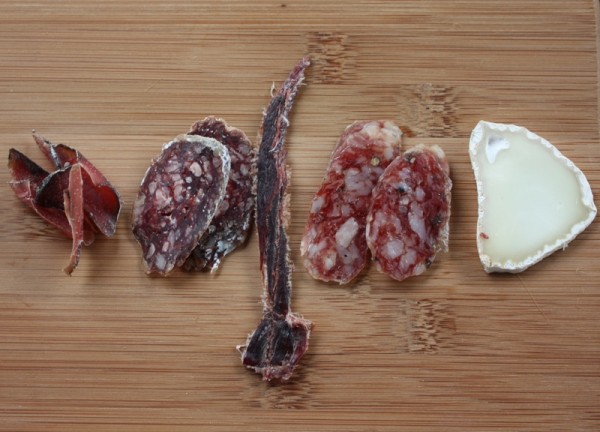 I met Kevin Last June when I invited him to my Taste Tripping party. I have learned a great deal from and with him since then and was delighted when he accepted my invitation to teach this class.
I knew the participants would be in for a treat, but he surpassed even my expectations with his presentation and the culinary experience. I was assisting, but definitely tasting.
This is the fourth class offered in my Winter Session and the first one that was a cooking demonstration and not full hands on, so a lovely tasting meal to enjoy with a friend. I had a wonderful time, and I was hostess and Kevin's Sous Chef!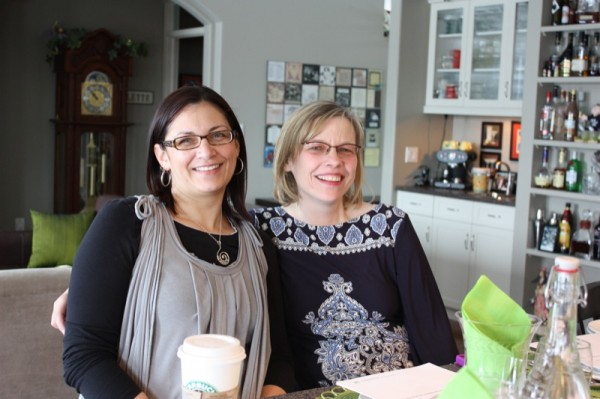 Above is Su and Kathy. Su's face may be familiar as she was at the Sausage Making Class and will be at my Bread Baking Class. She is most definitely my number one customer! She emulates positive enthusiasm wherever she goes which is a pleasure to have at our classes here!
The Menu:
Wild Game Tasting and Cooking Demonstration with Kevin Kossowan
2010 "˜Gary' Crabapple wine aperitif
Charcuterie board [brési, dry cured sausages, aged St. Maure]
The Humble Meatball w/ Boule Artisanale la Valerie (yet to be posted)
Black & Blue Pronghorn Loin w/ Arugula from Mornvilled Greenhouse
Calf moose loin with highbush cranberry paste, shaggy parasol powder, morel powder, local leek-potato-chevre purée, paired with 2009 Saskatoon wine
Cow elk loin in aged St. Maure cream sauce w/ Carrot Slaw with Mighty Trio Organics flax seed oil
Greens Eggs & Ham's Duck Egg Zabaglione (yet to be posted) over Winter Berries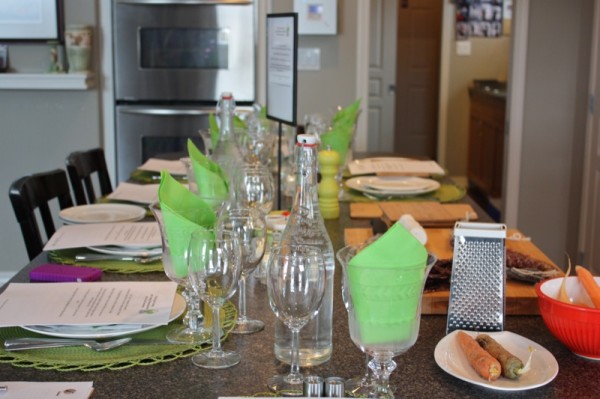 Kevin arrived with his arms laden and immediately started to prepare the charcuterie and cheese tasting course. All of the meats below have been made with his own hand and cured in his temperature controlled root cellar.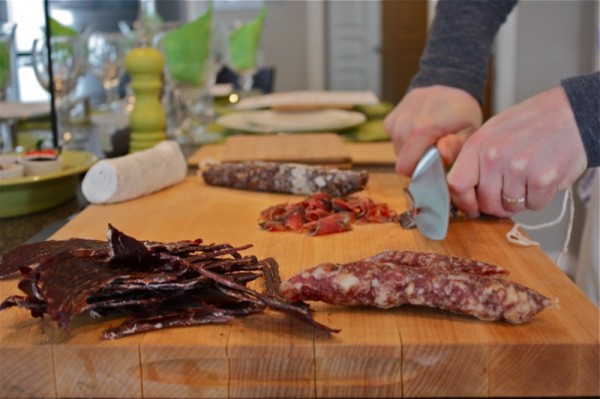 With guests in place, Kevin began to explain his food philosophy and his desire to provide as much food as possible for his family by his own hand with economic calculations a part of everything he does. In brief: a family of four CAN eat delicious, nutritious, local food cooked from scratch that is incredibly economical. IF they take the time to investigate how (the how is on Kevin's site) and cook from scratch.
Then he introduced each of the tastings on the board.
We were fortunate to also have two local food bloggers attend, Courtney and Brook from Take it and Like it, as well as Liane Faulder from the Edmonton Journal and Eat My Words.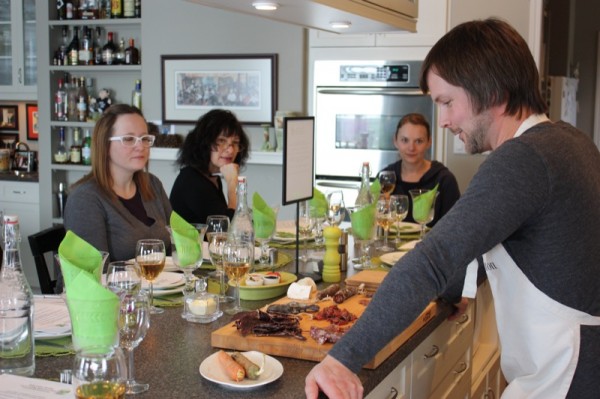 The bresi is a dried cured calf moose. The calf moose saucisson sec is (in Kevin's words) "made the same way as a pork saucisson sec exactly, but comes across differently. The vastly leaner meat, even with the same proportion of fat, creates a drier, denser dry cured sausage with a light sense of game meat". The elk jerky is "cured in a marinade of sorts, then dried in the oven. I put the racks of jerky over a wood fire for a touch of wood smoke". The pork saucisson sec is "a classic preparation; this recipe from Ruhlman's 'Charcuterie', but carries a complex, old-world cellar flavor from the dry cure".The St. Maure is one of the cheeses from Smoky Valley Goat Cheese that Kevin has aged in his temperature controlled root cellar to a new taste experience. Each was absolutely delicious. Kevin provided the pork as a standard to compare the wild game to. There was nothing gamy about this charcuterie. Everyone had a different favourite. Mine was the moose. The cheese had actually developed a heat through the extra aging that was surprisingly delicious and very unexpected.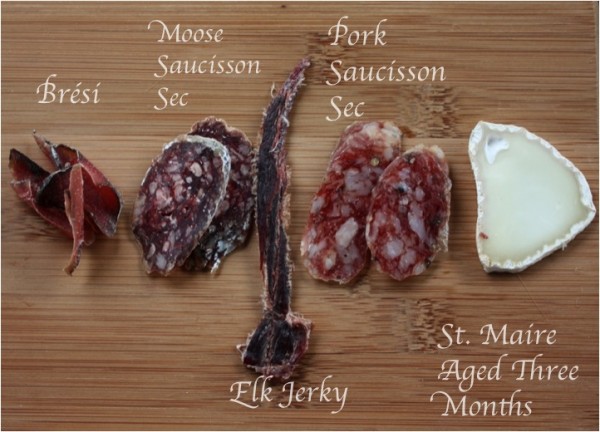 Kevin's crab apple wine was paired with this course. It was bright and almost sparkly, light, fruity and the best fruit wine I have ever tasted. Truly. It paired perfectly with this course.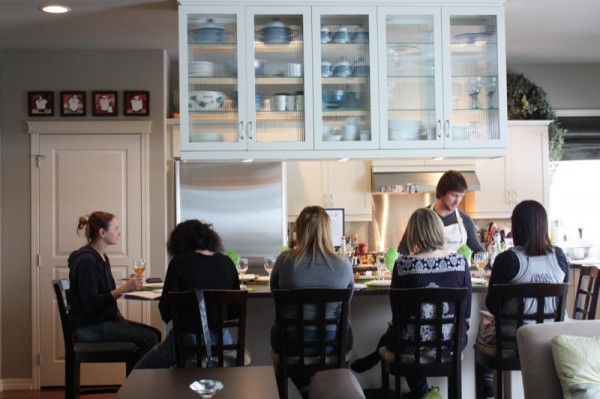 The lean texture of the bresi was really beautiful. The ultra thin slices almost melted on the tongue.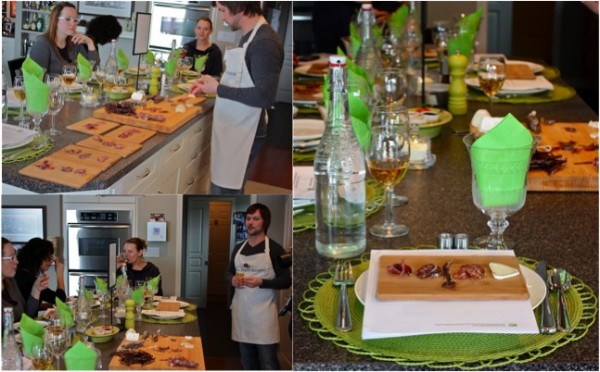 Kevin was equally as thoughtful about presenting a tasting of each game sample. The calf moose meatballs were first, and he purposefully chose to serve them with only salt and pepper so that the crowd could taste the true flavour of the meat. The colour of the ground meat was a much darker red than is portrayed below.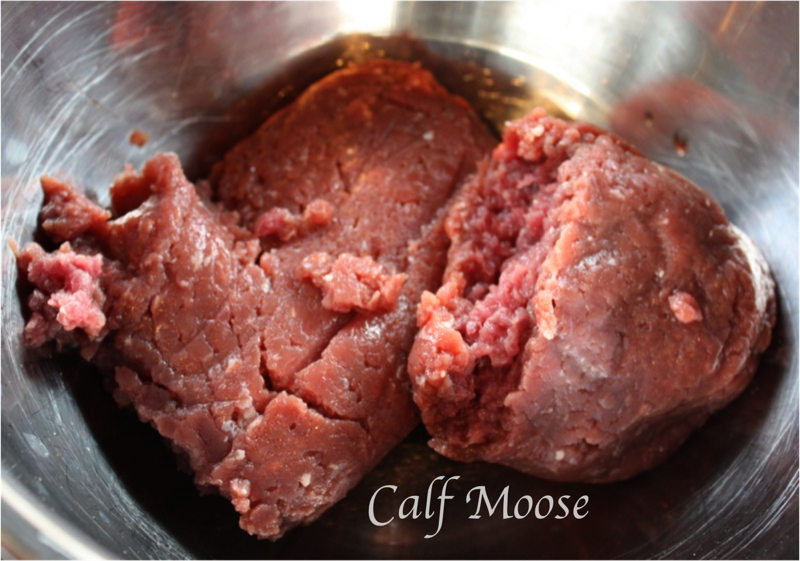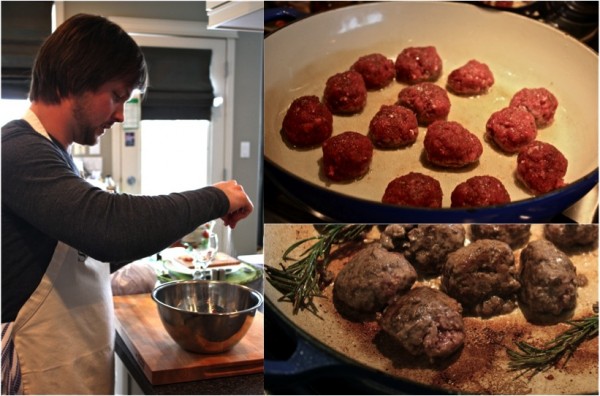 They were fried in olive oil with salt and pepper added along side a couple of sprigs of rosemary. The flavour was almost veal-like. Certainly, it was not gamy. It was a little lean and Kevin said that he would normally add pork fat to add moisture to the meat. The flavour and texture were surprising to all. Kevin has found that the moose calf is a sought after protein in his household. That was easy! The Humble Meatball was served in its pure simplicity and demystified the assumption that many hold: game needs to be "doctored up" to taste good.
Look at the beautiful Pronghorn Loin, below. None of us had tasted antelope. Kevin said he was cooking it like people cook Ahi Tuna: seared and blood red in the centre as that is best for this cut. I had read that was the best way to cook mallard duck breasts, too, which I have done with incredible results a few times, thanks to my good friend, Marie for keeping me in supply.
Kevin seasoned the board with salt, pepper and thyme.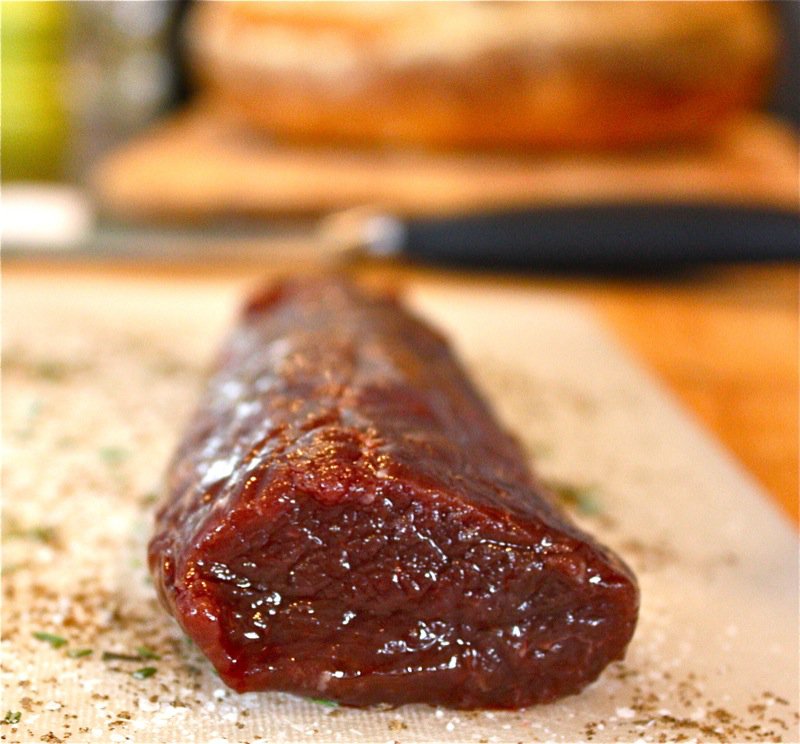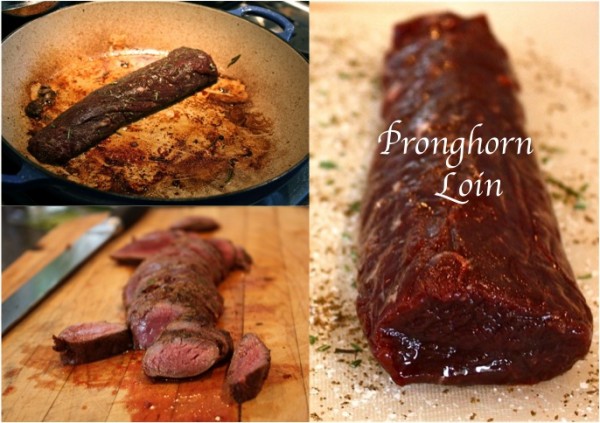 My "boule artisanale" had been out of the oven only about fifteen minutes before we could no longer resist cutting into its crusty steamy depths. The NAIT instructors say bread shoud be left to completely cool for at least two hours before serving. That didn't happen, nor was it mentioned at my bread making L'attelier at Le Cordon Bleu in Paris, nor by Richard Bertinet in Bath, UK. Both Master Bread Makers sliced into hot loaves and slathered them with butter while hot as we did on this day! Mmmmm.
And, I did get a crunchy crusty crust! I have that down to a science, now.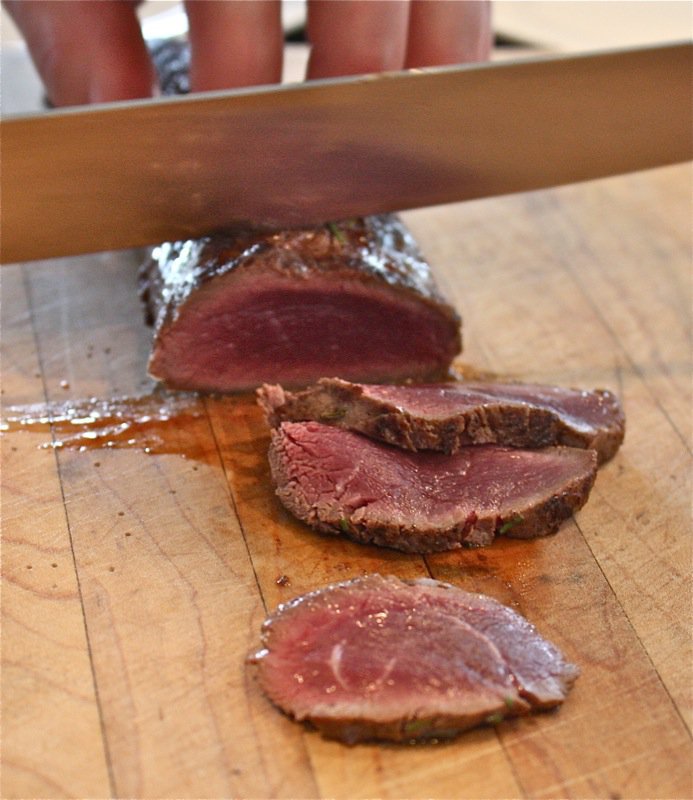 I have always liked rare meat. I love steak tartar, and even though I don't eat meat, this was calling my name. We were all transfixed.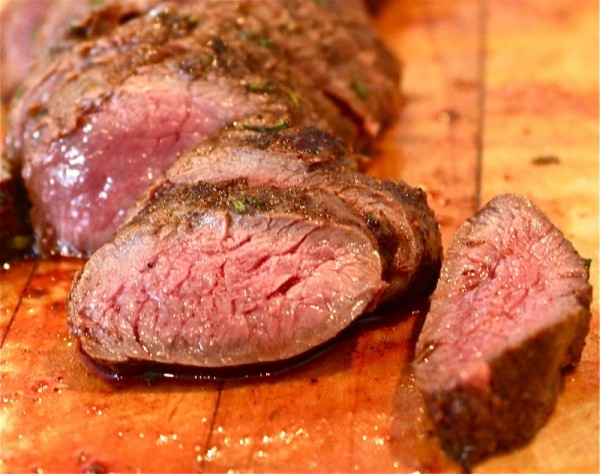 Each of the courses was incredible, but the Black and Blue Pronghorn was French Laundry quality. I have never tasted a meat with the tenderness of texture and the depth of flavour coupled with the unexpected subtlety that this pronghorn loin presented to us cooked rare blue and seasoned so simply, yet to perfection. Everyone was dead silent (not counting the audible moans of pleasure) while tasting this dish. Alas, pronghorn is rare and not something a hunter can count on because there's a priority system in the drawing of licenses. For this particular animal the WMU (wildlife management unit) that Kevin hunts in down south only releases tags every 5-7 years, depending on the gender. So it's essentially a 5-7 year waiting list, for wildlife management reasons. Thus, we were very fortunate that Kevin shared the delicacies of his with us that he did.
And this would be the time to say that Kevin donated his meat to this tasting. When I asked him to teach the class, he jumped at the opportunity as one of his passions is educating people that game is not strong and off putting when cooked correctly. However, he was crystal clear that this meat would be donated for this class as he had more than enough to share. Thus, we were able to learn and taste and enjoy an incredible luncheon due to his generosity.
What I love about Kevin's food is that it is simply cooked. What is on the plate may not be so simple. Oh, no. But his plating and preparation celebrates the flavours that each item brings to the plate.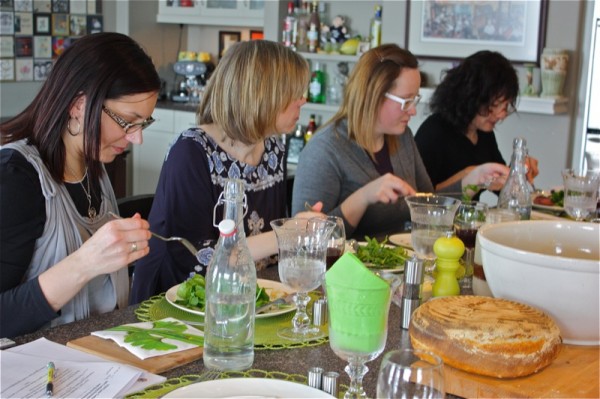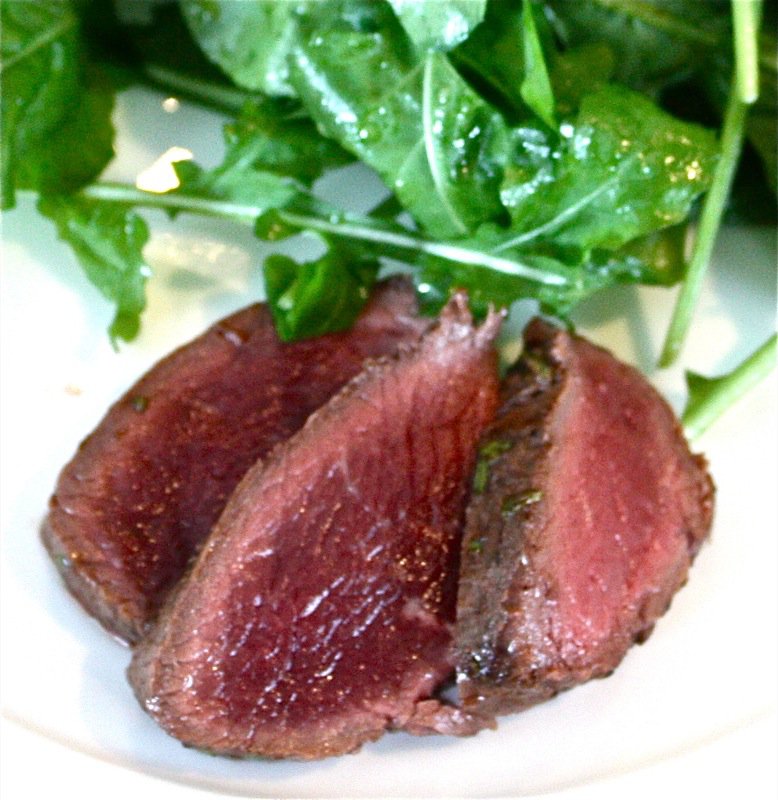 What a thoughtful tasting: three loins. Look at the difference between the size of the elk and the moose loin below, and then compare it to the pronghorn loin, above. The tasting and cooking demonstration was also carefully thought out and presented to the class from the subtlest of flavours to the strongest.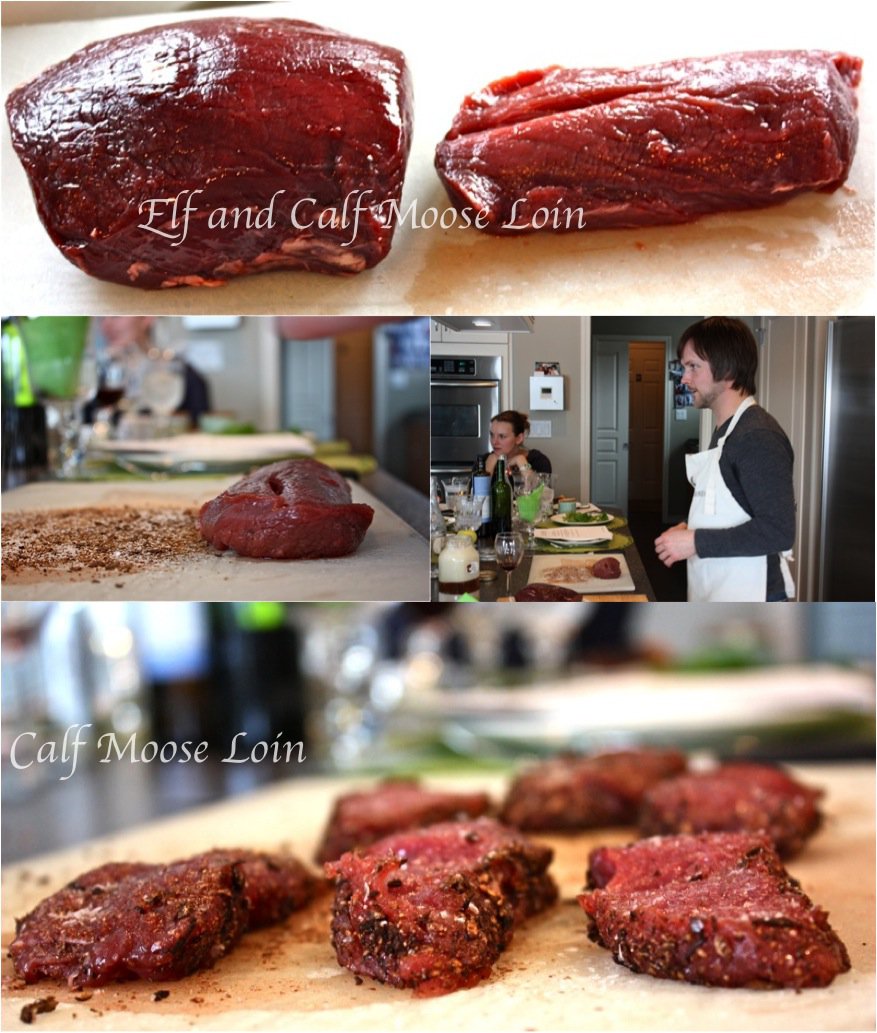 Again, Kevin seasoned the board, this time with salt and pepper and his own shaggy parasol powder. I was stunned to find that this was a very intense earthy scent so similar to dried porcini. I always buy dried porcini when in Italy and it is outrageously expensive; however, there is nothing like it. (Except, truffles.) These mushrooms grow on Kevin's property. He dried them, and has, in my opinion, pure gold in his jar.
The question was asked: how do you determine whether you have a poisonous mushroom or not? Kevin referred all questions to the Local Mycological Society, yet added that he also wrote about determining this on his site: shaggy parasol pore print verdict.
The calf moose loin was rolled in the seasonings, then sliced. Greens Eggs & Ham's pink potatoes with butter fried leeks and Smoky Valley goat chêvre are just about to be mashed. The vibrant pink potatoes were a surprise to Kevin. Neither of us had seen them so pink before, yet, somehow it all seemed perfect.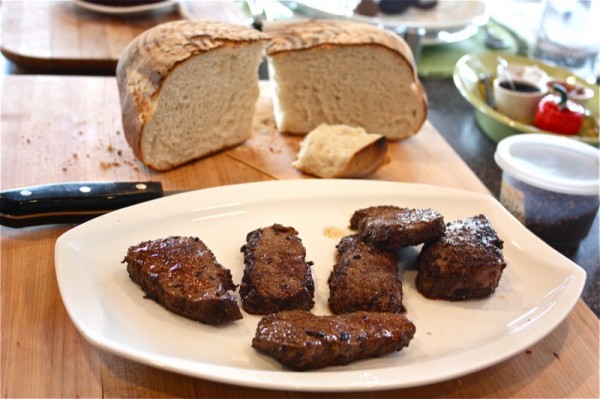 Perfect as for some odd reason, only women bought seats for this "manly meal" and perfect as this meat would be paired with Kevin's Highbush Cranberry Paste which was actually a jelly that never jelled that was cooked into a paste. And, now, we all want the "recipe". It was wildly delicious paired with the cow moose. And the potatoes? Well, I have already had the pleasure of eating Kevin's food. But, if you want a drop dead delicious side for any lovely dinner, gently fry chopped leeks in butter, add then to boiled potatoes and Smoky Valley goat chêvre. Rice or mash them all together: season to taste, and be prepared to want to bury your head in the soft pillowy mounds. Yes, they are just that good!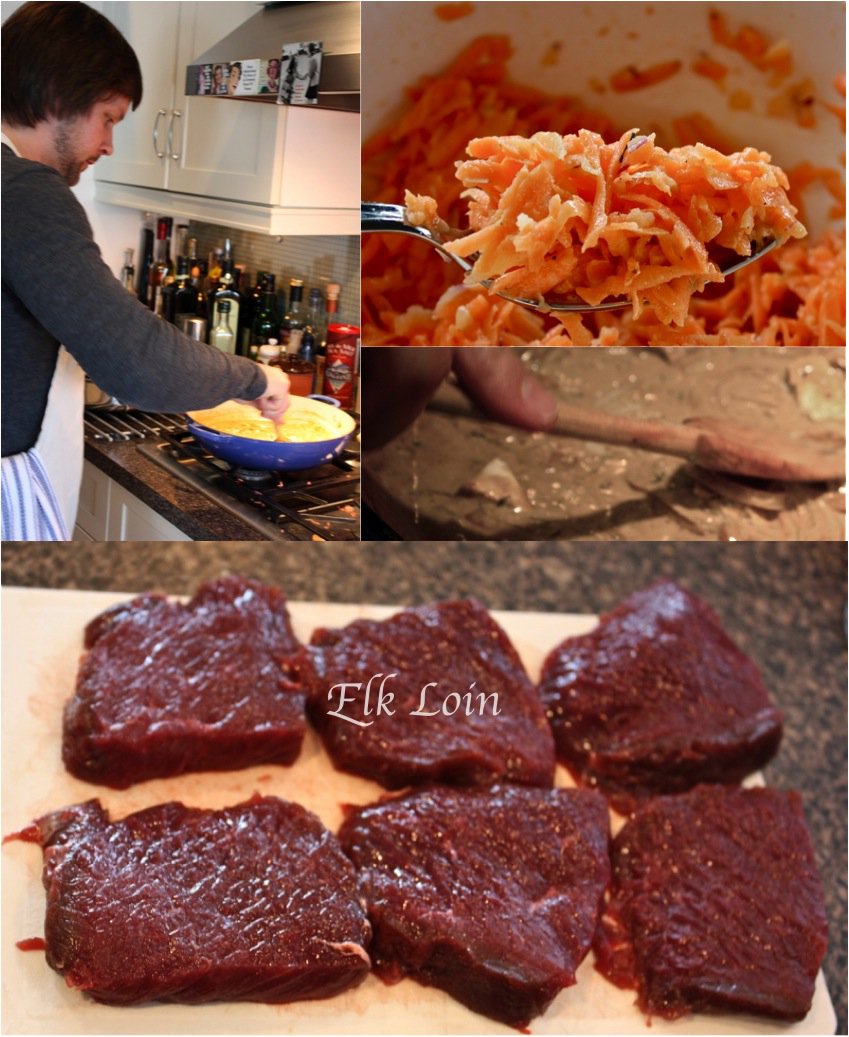 The elk loin was sliced and fried, then smothered in a strong cheese sauce made by frying onions in the heavily browned pan, deglazing it with heavy cream and melting in the aged St. Maure. Oh, yum!
The light and lively crunch of the carrot slaw paired perfectly with the bold deep meaty flavours of the elk dish. This taste was gamy, but not in an off putting way. It was gamy in an exotic and pleasing manner that was strong, yet not foreign. It had a liverish quality. I do not like liver. At all. But, I was drawn to this and enjoyed it immensely.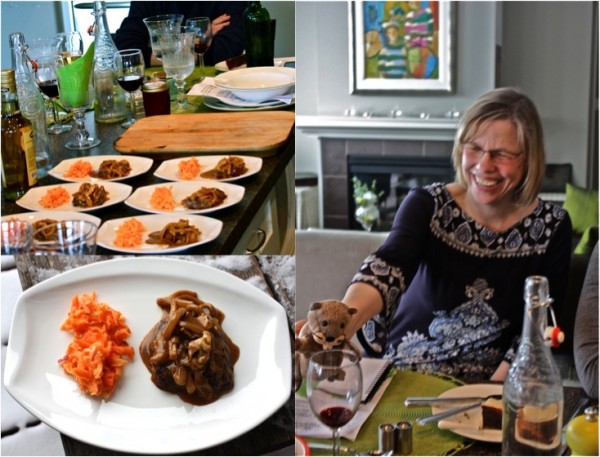 Beavie and Su were loving the 2009 Saskatoon wine with the meats. It was not a light wine like the apple. It was the perfect complex fruity partner to this game.
Then, my turn. Well, I was failing as Sous Chef. I did really well until the dishwasher was full and then both sinks were full. Even with a class of six I have learned there needs to be two on clean up, or the class needs to be more involved in the clean up. This was definitely not that kind of class!
Winter berries are varied in my freezer as I have Saskatoons, black currants, Evan's Cherries and they are all grown in my yard. Raspberries were perfect for this, mixed with a bit of concentrated non-sweetened orange juice. There is enough alcohol in the Zabaglione for me, so the fruit are not macerated in it beforehand. I will eventually post this recipe, but methinks it was the perfect ending to a very educational and flavourful afternoon!
Leisurely chatting continued, as it always does after a class of this nature, this time with espresso.
I thought I knew what to expect during this class, but I learned so much and that is why we do what we do!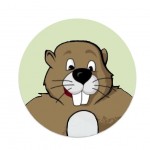 The remainder of the cooking classes this season are sold out.
If you have wishes or suggestions for future classes, or repeats of classes you have read about here, please let me know and I will surely make it happen!
And where is Beavie? Sleeping off the wine… with purple lips, face down on the counter. That's where.