Cloudberry Puree aka Bakeapple Purée: a delicacy the world over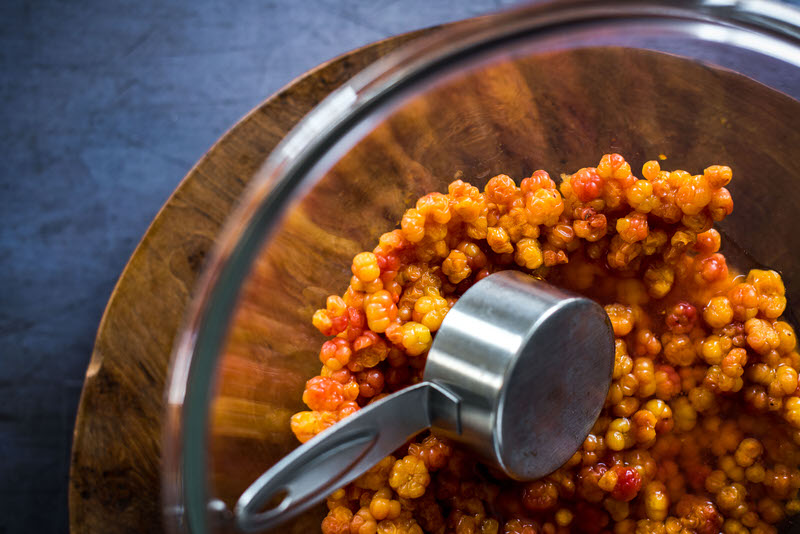 Cloudberry Puree was the answer. My goal was to distil the essence of this elusive Canadian Newfoundland berry and bury my palate deep into its flavour. I wanted to get to know it. Intimately. Purposefully. Passionately… and unite it with my Canadian identity. My first trip to the Atlantic provinces was in April and May of 2014 for a Slow Food in Canada conference. Vanja joined me once the conference was over and we spent 10 unforgettable and blissful days of our 3 1/2 weeks on the St. John's side of Newfoundland, yearning since to go back.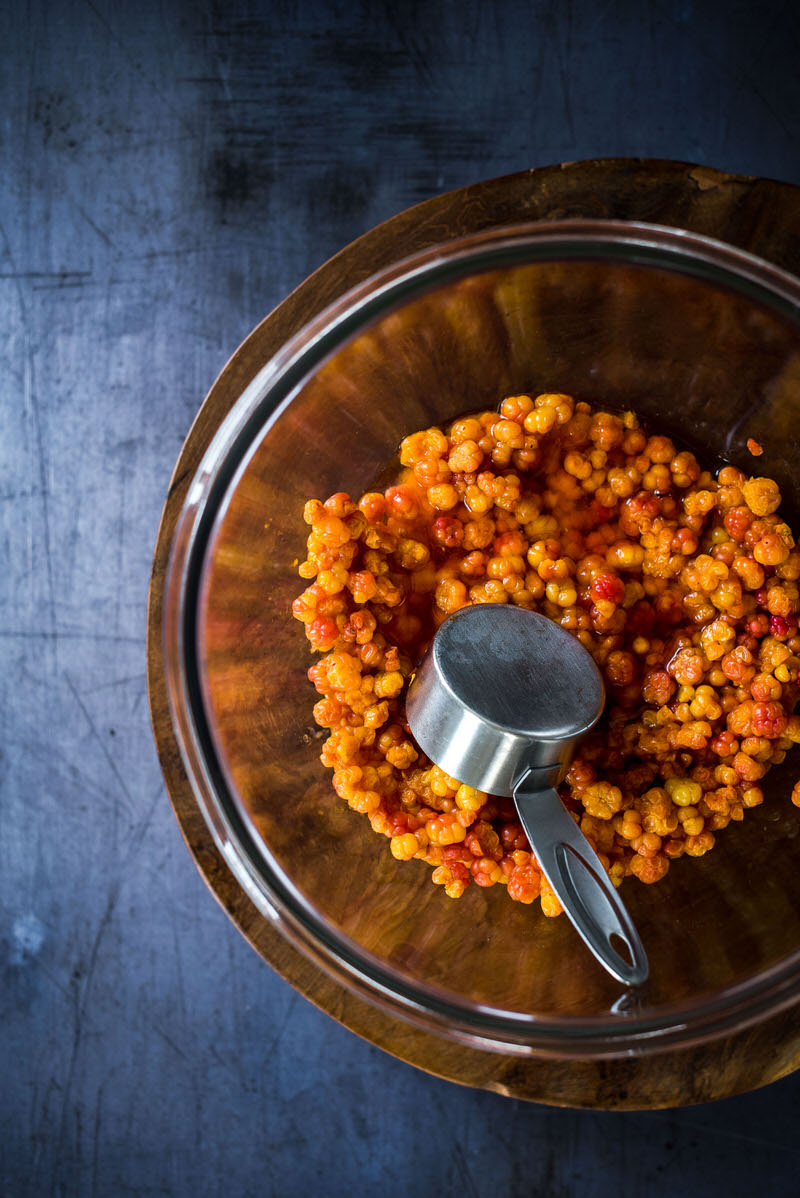 Many of those stories yet to be told. My first introduction to the cloudberry was topping a cheesecake in Trinity NL. Addictive as the flavour was so subtle, yet elusively captivating. I was able to find a big jar filled with berries only at Bidgoods. No sugar. No water. I brought it home and made my own lovely Cloudberry Jam. They were much bigger than these and not as colourful as they had been through a preservation process.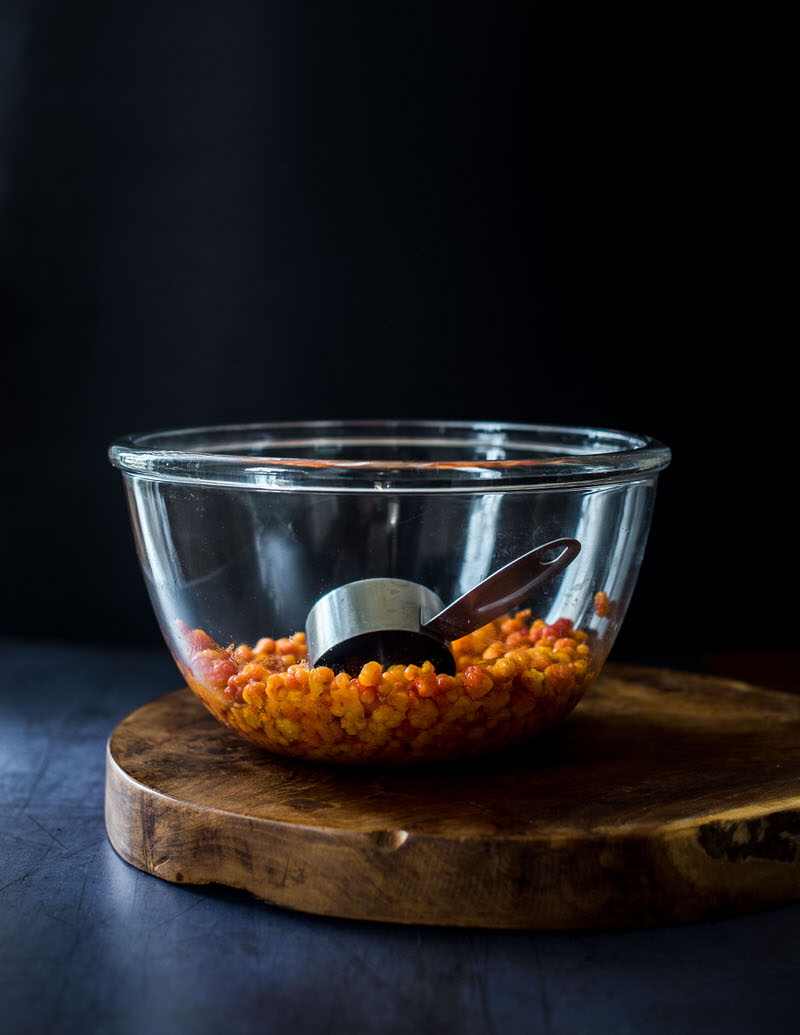 So, however did I happen to have a kilo of carefully frozen cloudberries in my kitchen? Our local Dietician and friend, Emily Mardell from Get Joyfull @getjoyful who has been my mentor for all things Newfoundland (find our other Newfoundland food cooking adventures here) invited me to share the day with her and Jessica Musslewhite from Mushrooms and Thyme @mushroomsandthyme in the creation of cloudberry recipes. Her goal? To have some gal pal fun. My goal? Stop my fingers from shaking with excitement and develop a recipe that would sing the song of the Cloudberry flavour. And, enjoy some gal pal fun. The above three images were all captured by Jessica who is a local gal that has morphed into professional photography through her love of art and now, mostly food photography.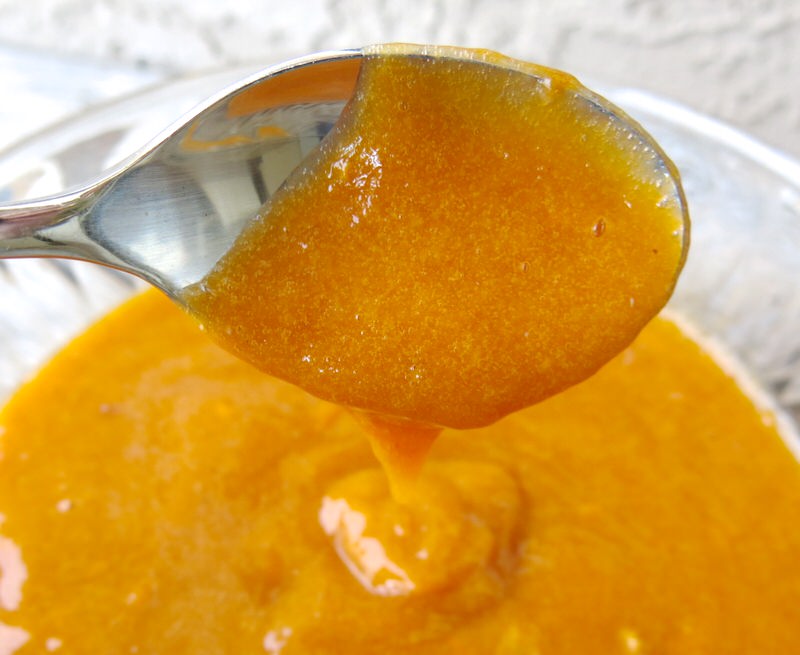 Like apples, cloudberry puree oxidizes and darkens the puree. At its freshest, above, it is a vibrant orange.
Cloudberry Puree aka Bakeapple Puree: Start with Fresh or Frozen Berries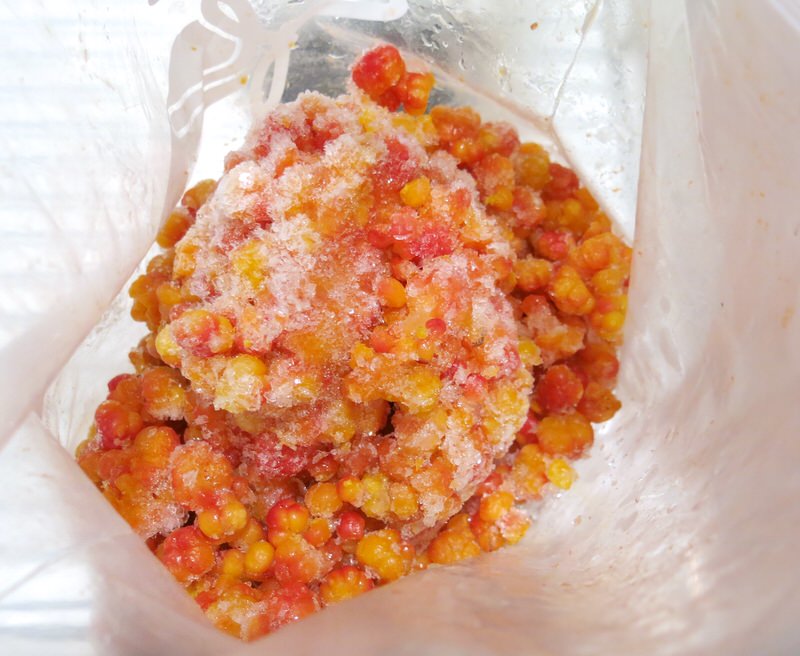 I didn't know the berries were so colourful. Though they look frost bitten, when they thawed, each berry held its shape much better than a raspberry would. They have less juice, larger seeds, are more fibrous and the thawed frozen berries presented beautifully on their own. This is a berry that is typically not "delicious" eating when picked. The flavour is enhanced with sugar. Not so much sugar, but certainly, the "apple-apricot" flavour is much more present with sugar.
Cloudberry Puree aka Bakeapple Puree: Expel the Juice and Pulp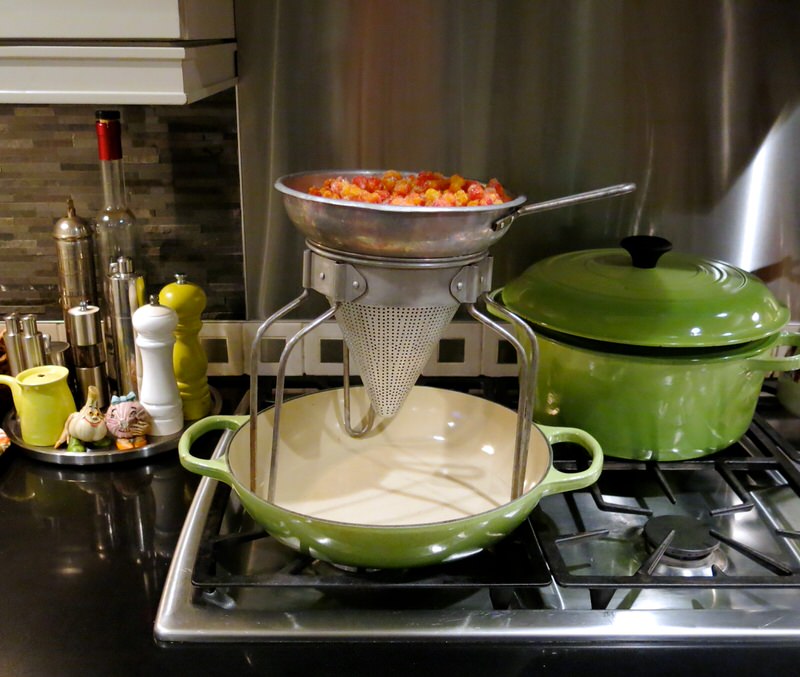 I am so grateful for my Grandma Maude's Chinois. I have used it so many times and every single time, recall her hand on the conical wooden mallet, heaving over it as she put all her muscle into extracting berry juices. I find I enjoy the process more taking my time. The night prior to the gals coming over, the berries went into the Chinois to thaw and drip.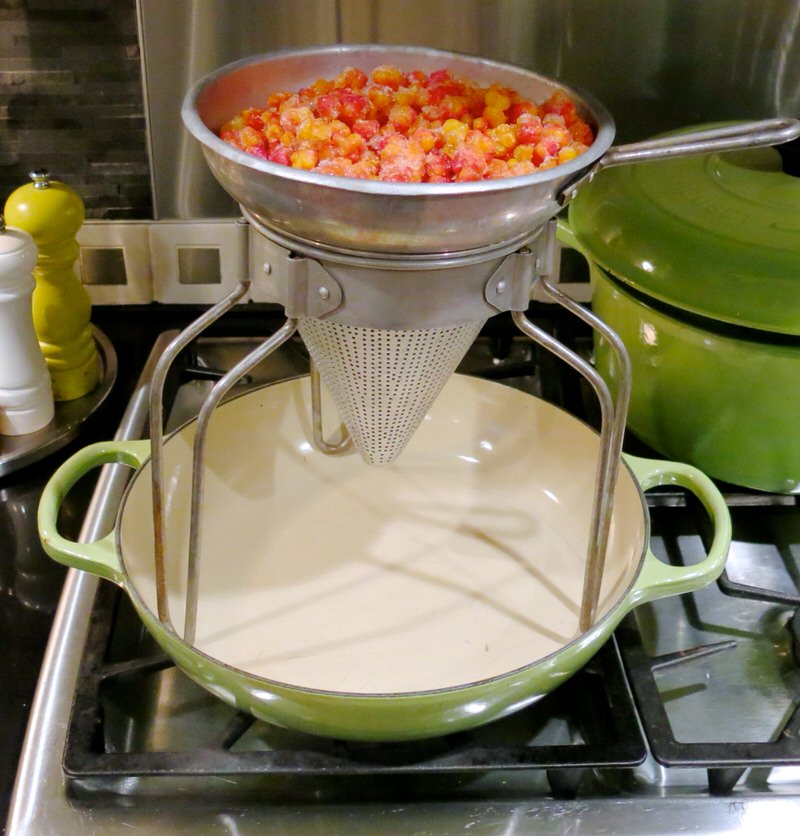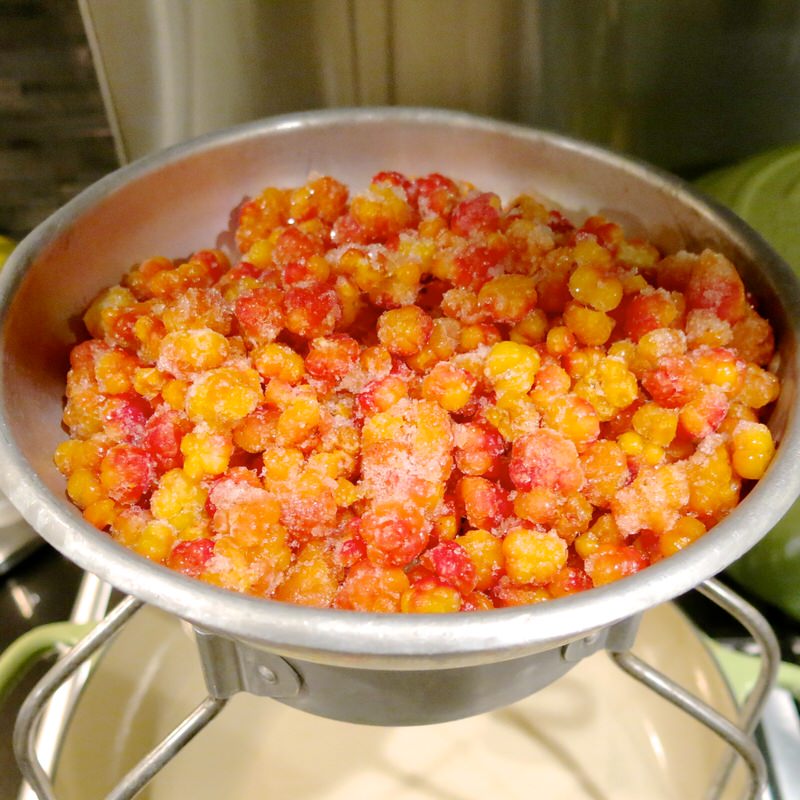 Before bed, I checked it out. Still frozen in the middle. This was going to take some work in the morning, no doubt.
Cloudberry Puree aka Bakeapple Puree: A Closer Look at the Cloudberry and why you can't eat them until you are 40!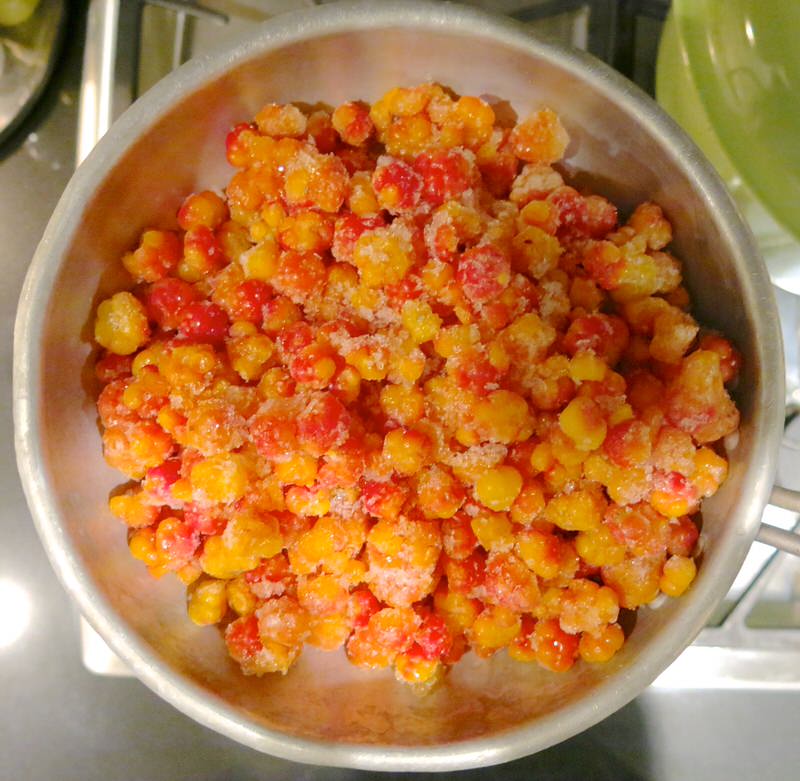 Cloudberries are rich in vitamin C often made into jams, juices, tarts, and liqueurs. In Newfoundland and Labrador cloudberries are most commonly used to make a jam and a "bakeapple pie" or for very special occasions, as a good pie would take a considerable amount of the berries. Therefore, it is more common to find the jam ladled over cheesecake as the amount of berries per person is much less. Cloudberries contain enzymes that aid preservation which is why they can be preserved in their own juice without added sugar as I was so surprised to find at Bidgood's grocer in St. John's.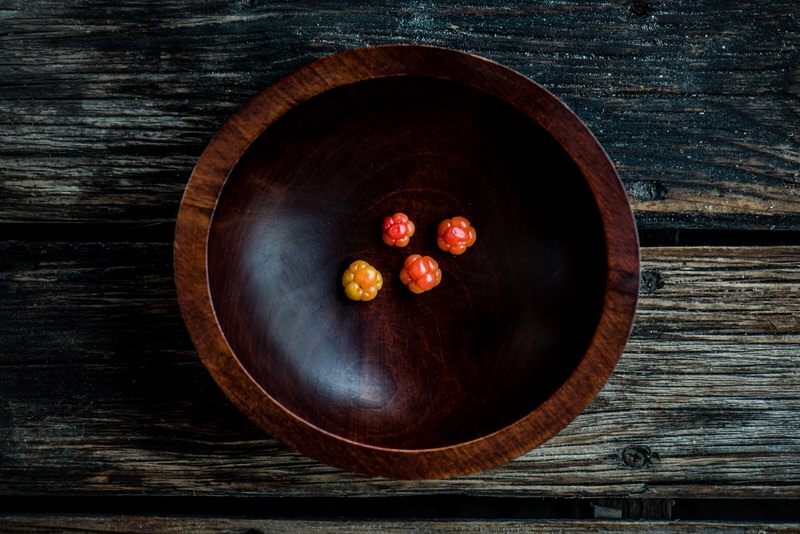 Jessica also took these two jewelled images. Emily really didn't taste cloudberries until she was a little older. Her mother's sister loved them so much that she told all of the children: "You can't eat bakeapples until you turn 40." I imagine the young ones were curious about the forbidden fruit and the mystical elixir that somehow must be inside of it. Anyway, it worked. Most of the children steered clear, and aunty got the biggest share of her coveted berries each season.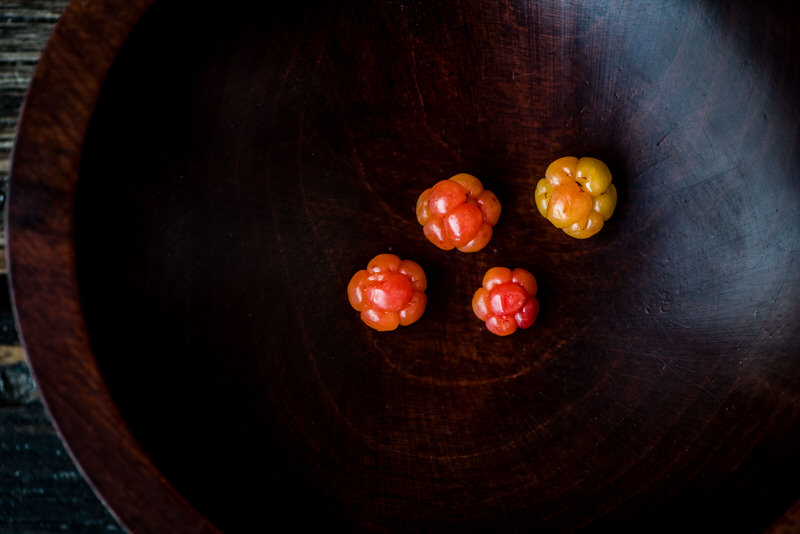 Thank you for capturing such powerful images of this gorgeous berry, Jessica.
Cloudberry Puree aka Bakeapple Puree: Only Seeds and Dry Residue Remains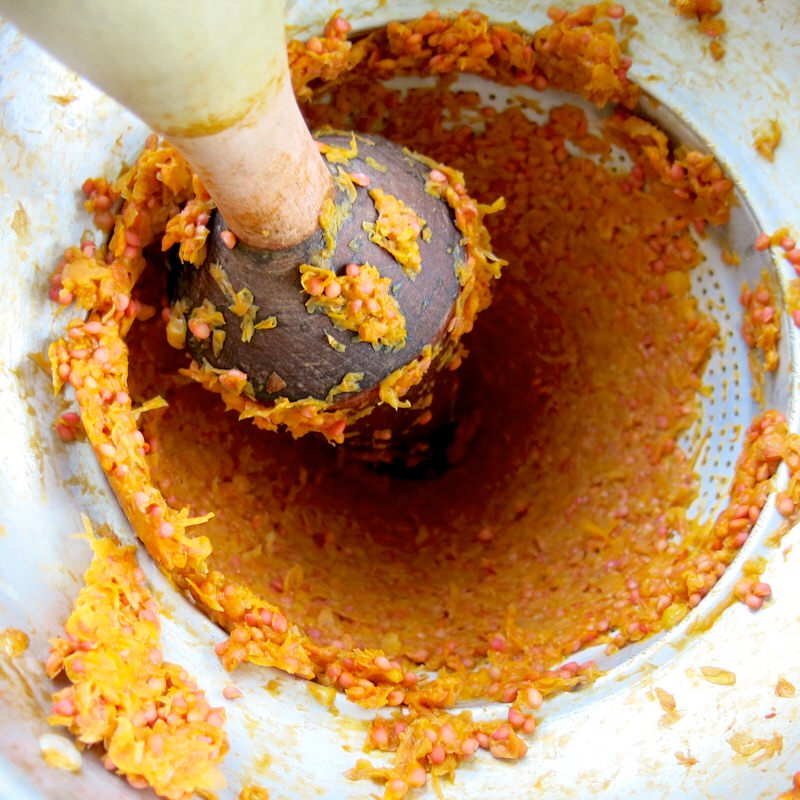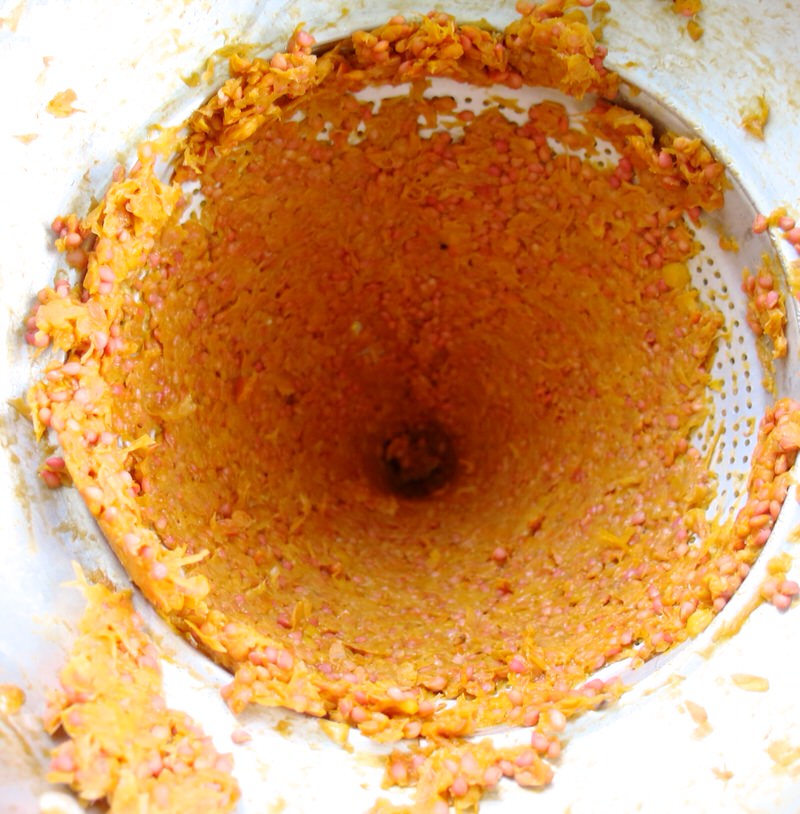 Though I was avoiding the workout my Grandmother Maude had invested in time after time, it didn't work. I was up at 3 am checking on the berries and started churning them through at that time. Upon waking, every 15 minutes or so, I would work at this as I went about other preparations. Vanja was finally called in as I could see that without some real muscle, this was not going to happen in a timely fashion.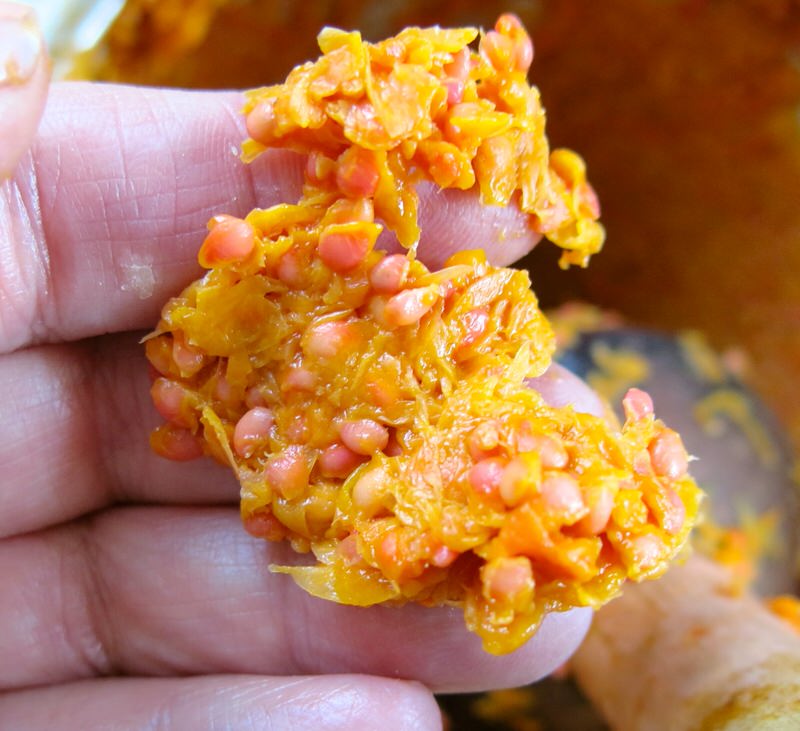 All recipes I have found regarding cloudberry puree say to push through the strainer until only seeds remain. I say, "Bah! Humbug!" This berry has a fibrous pulp that you can wring no more juice from and if you get what you see above, you are, indeed, finished.
Cloudberry Puree aka Bakeapple Puree: Presenting the Puree!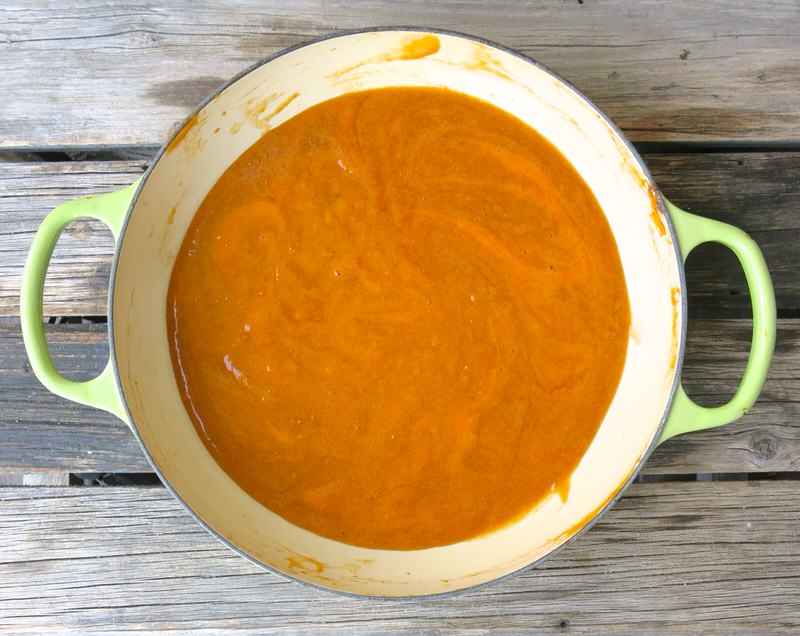 The unsweetened puree is already starting to darken, but once the sugar is added, below, it darkens more rapidly.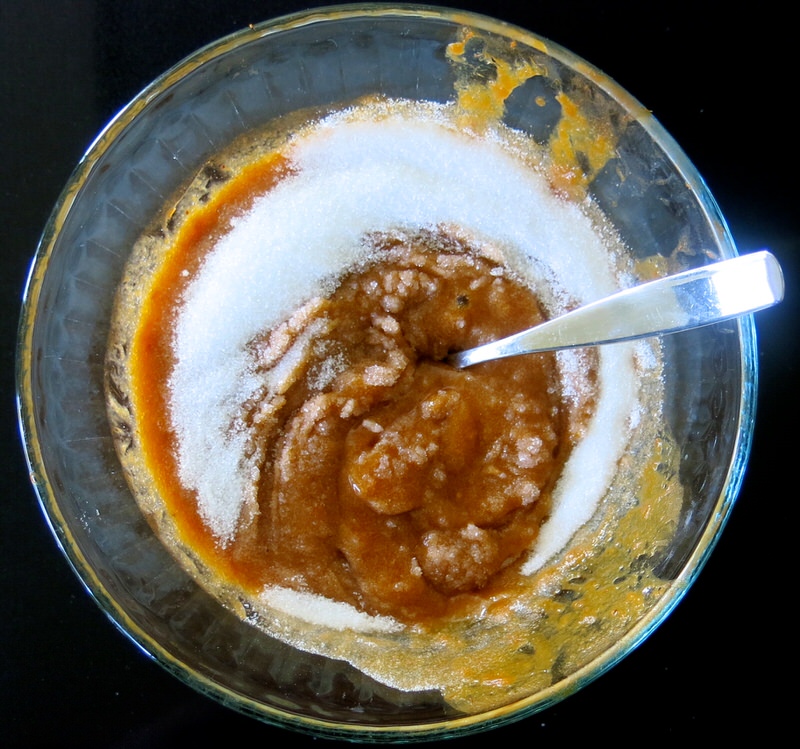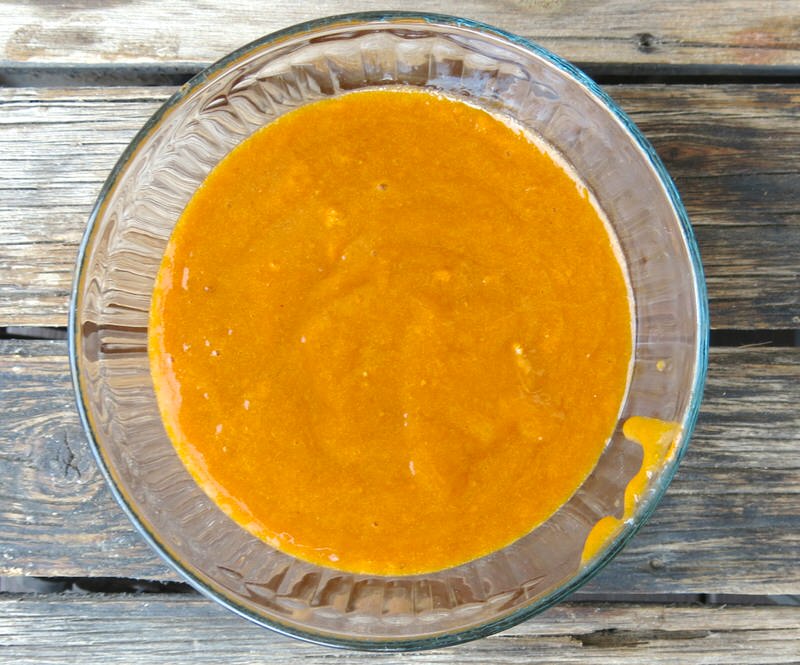 However, it is the oxidization process that will, over time, darken it more. This will keep frozen for a very long time, but we will be using the entire amount in our recipes today. Oh, what fun we have planned and how excited I am to once again be in the kitchen with Emily and her Newfoundland food stories.

Cloudberry Tart Recipes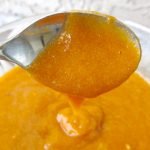 Cloudberry Puree
This fruit puree recipe can be used for a variety of fruits; it is used as a base for Cloudberry Whipped Cream, Cloudberry Tart Gelatin, Cloudberry Caramels and could be used for much more.

Ingredients
Ingredients for ¾ cup Cloudberry Puree
340

grams

of frozen unsweetened cloudberries

50

grams

or ¼ cup granulated white sugar

to taste (I used ½ cup and 2 tablespoons sugar)

1-2

tablespoon

freshly squeezed lemon juice
Instructions
Instructions for Cloudberry Puree
Thaw unsweetened frozen cloudberries in fine meshed strainer placed over large bowl or in a chinois overnight

Force juice from berries by gently pressing berries with back of spoon or by using the conical chinois plunger until only seeds and very dry fibrous pulp remain; discard pulp and seeds

Add white sugar and lemon juice (which will brighten the colour and heighten the flavour: I didn't add it, but would next time)

Cover and store in refrigerator up to a week, or freeze up to a year.
Recipe Notes
Straining the berries is lengthy; it is a process that takes 2-3 hours after thawed unless you want to work up a sweat and just go for it. I pushed pulp through every 15 minutes next morning finishing effortlessly in 2-3 hours
I used 1020 grams of cloudberries; the yield was 3 and 1/3 cups