A Canadian Aboriginal Food Fest at River Cree Resort: June 17-22, 2014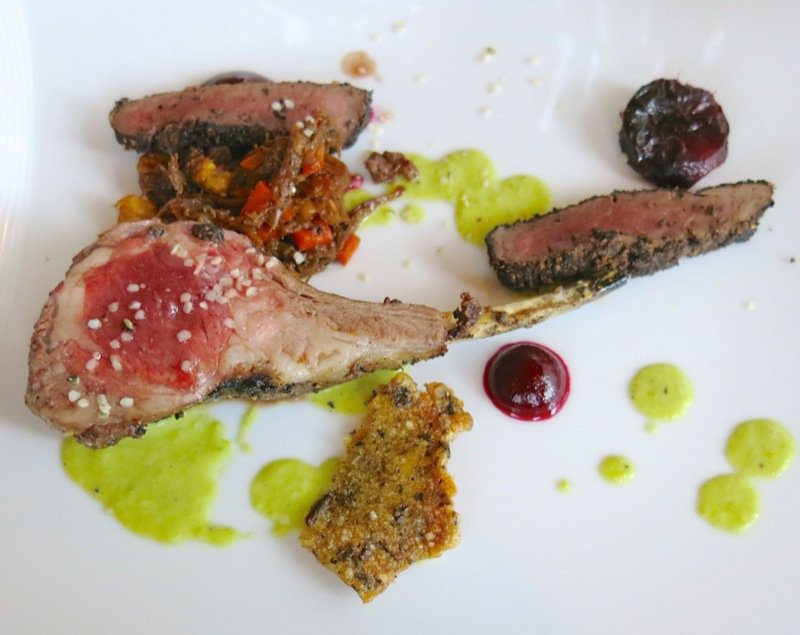 Chef Shane Chartrand is definitely a local food hero. He is so generous with his time and works to support our community in so many ways. He is back at Sage Restaurant at the River Cree Casino, and back with a vengeance. Invited to preview his Aboriginal inspired menu for the Summer Sage Signature Series that will be showcased in the restaurant for a 6 days only starting today, June 17th to June 22, I was delighted. And what an exceptional menu this is. Phone. Book. Get thee to Sage to experience this inspirational, innovative and delectable series: each plate filled with unexpected pleasure. Here is your preview, and it is only $49.00 per person!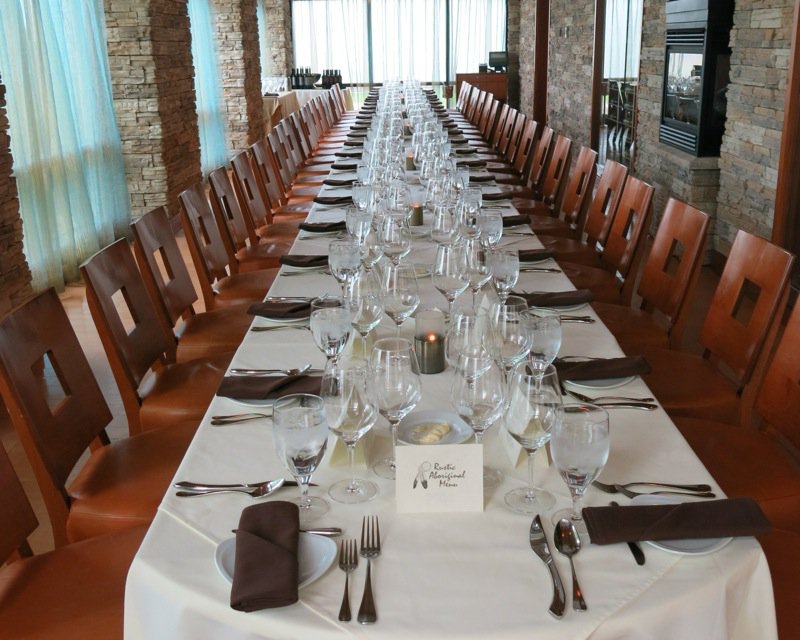 The atmosphere is gorgeous in this space. Our community table held great expectations.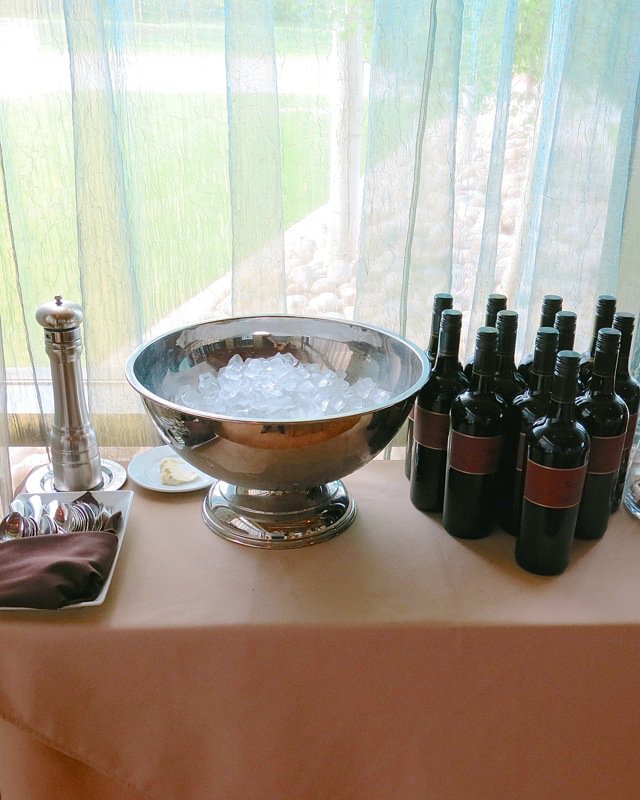 Simmer Wine was featured during the meal and Jamie Salé, their Alberta Marketing Manager, and wife of part-owner, Craig Simpson, energized the room with her endorsements of the wines and Chef Shane. Each pairing was explained with zeal and clarity by representatives of the company.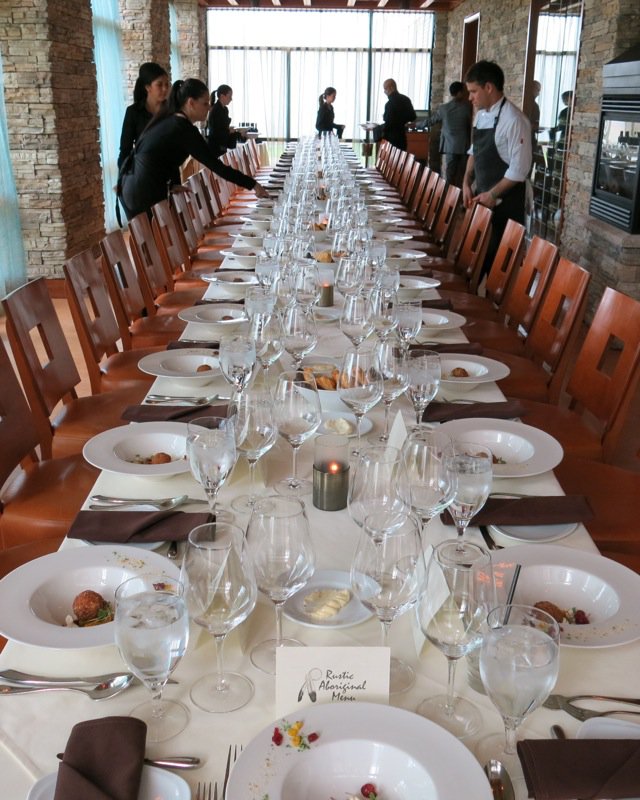 The service was second to none. This team works with synchronicity and a genuine spirit of loving what they do. We were very well taken care of.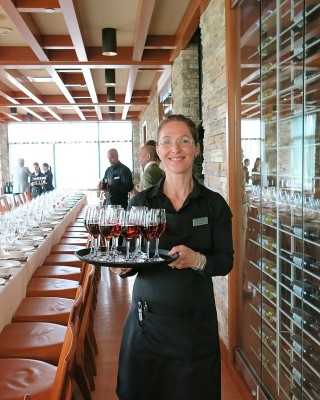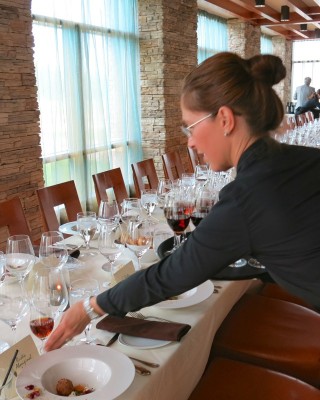 The first course was paired with Bristol Cream. Eyebrows were certainly raised at our end of the table with such a pairing for a first course, and a Turkey Soup, nonetheless. It was brilliant. An absolute compliment to the soup and I will never think of Bristol Cream in the same light, again.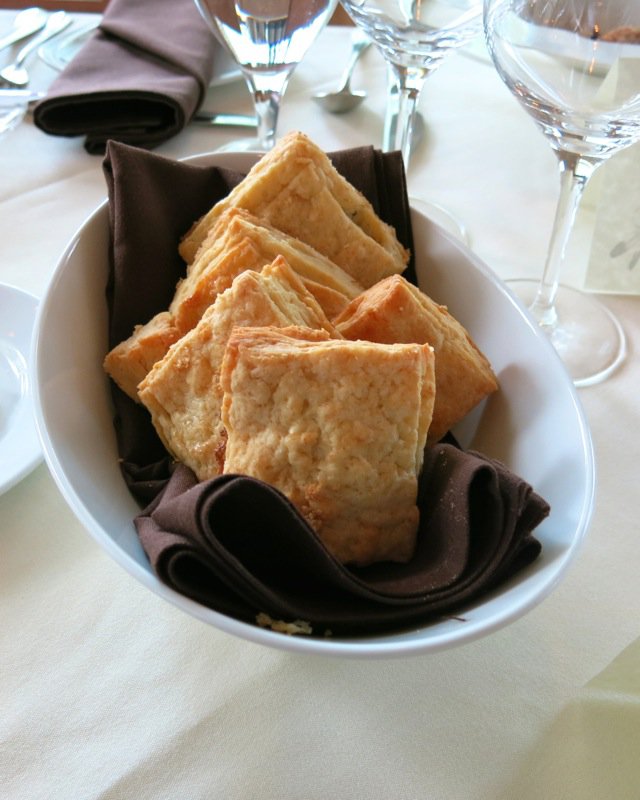 There were many highlights throughout this meal, but this was the first: a French Canadian Metis biscuit style recipe called "Bannock de Galette".
This is a traditional Métis bread, generally round as the French term galette means cake. Bannock evolved from Indian Fry Bread and combined with baking powder that the Métis were able to receive from the Hudson's Bay Company, the "Bannock de Galette" was created. I would say the major difference in this recipe and the traditional ones would be that these were made with lots of butter.
I had two and will be asking him for this recipe.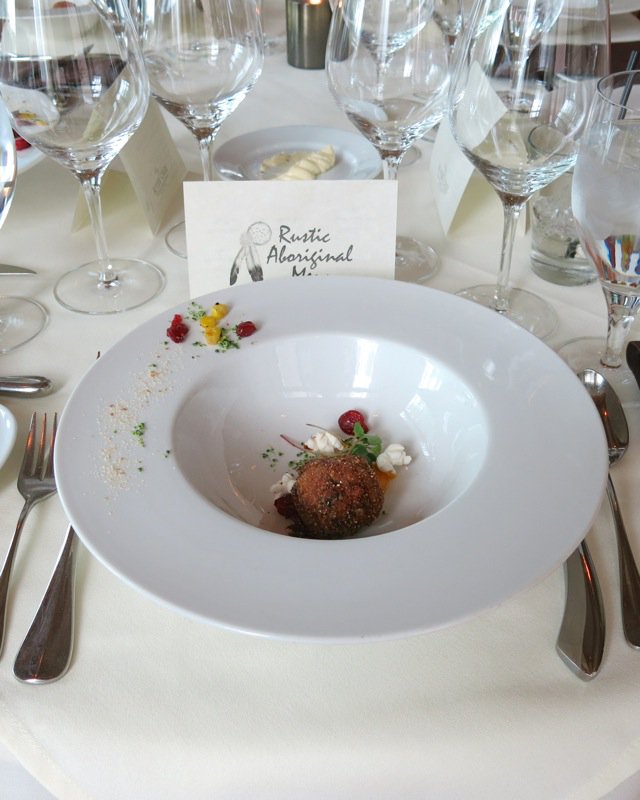 Wild Turkey
Wild turkey meatball with corn confit, popcorn, mustard foam, dried broccoli meal, dried cherries, pea shoots and carrot puree settled in the bottom of the bowl.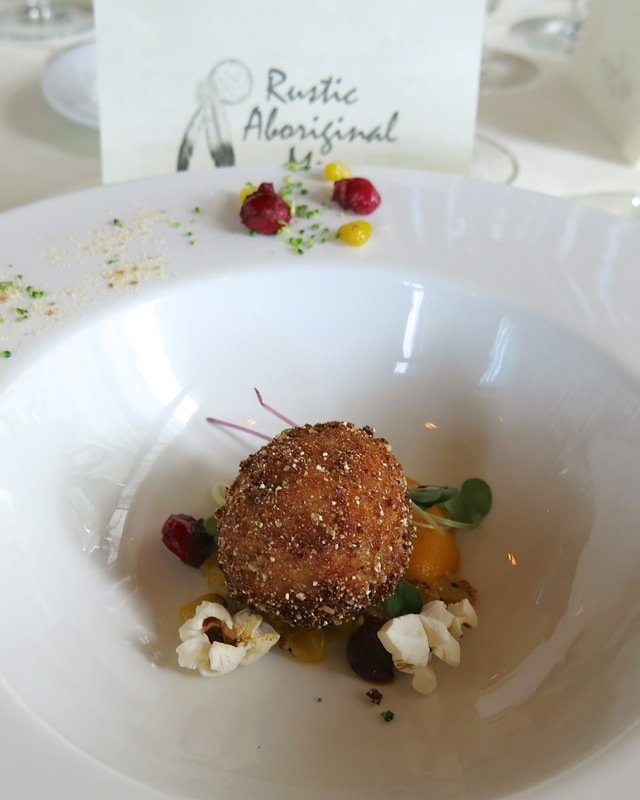 The meatball was enough. It looked so delicious. The colour and texture on the lip of the bowl was curious and somewhat reminiscent of the forest floor.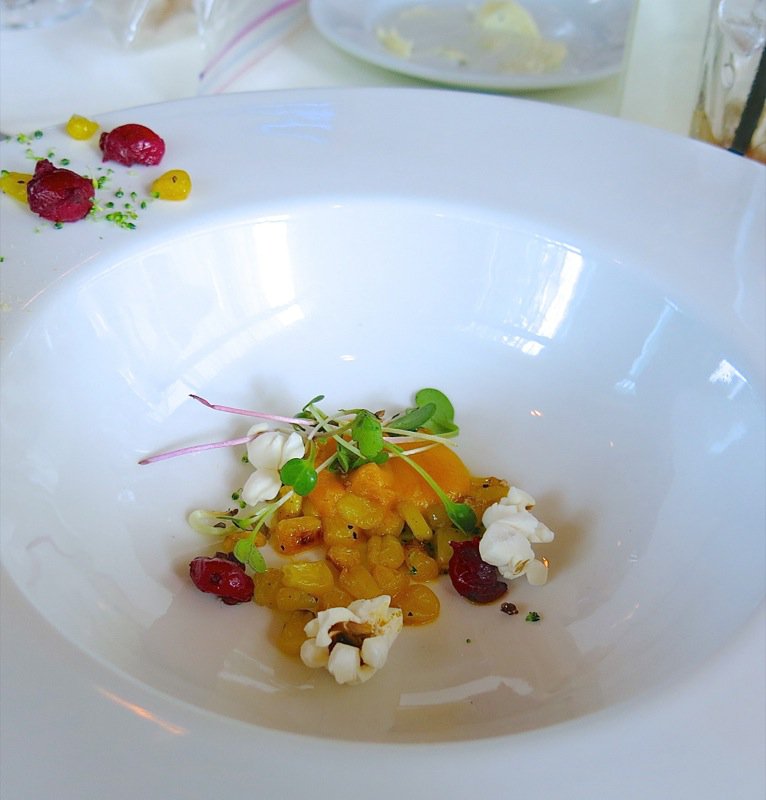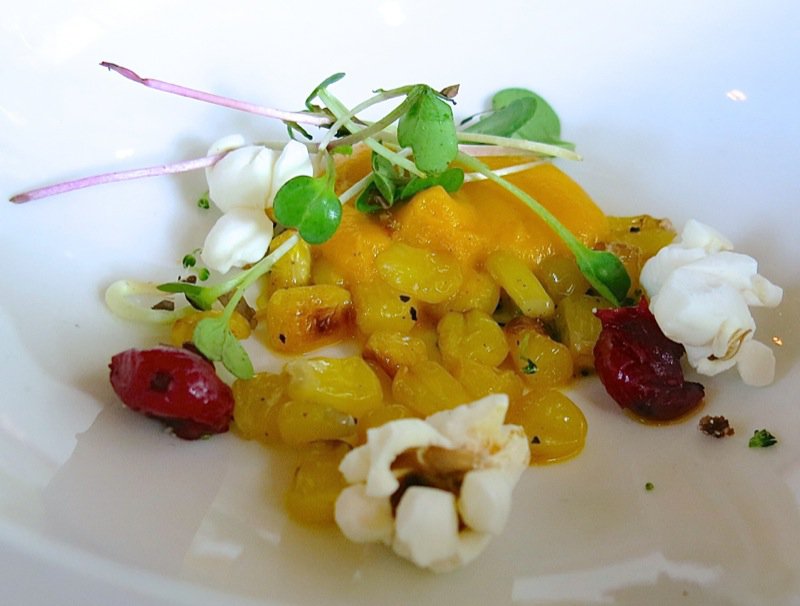 Now, let's take this all in. I have removed the meatball so you can see: corn confit, popcorn, mustard foam (to the right under the popcorn), dried broccoli mea (on the lip of the bowl and throughout)l, dried cherries, pea shoots and carrot puree (the 12 o'clock position under the pea shoots). The texture and flavour combination with the thick, gelatinous, confit turkey soup was unexpectedly delicious: sweet, sour, salty, crunchy, chewy, hot and cold – all in one bite. Serious pleasure.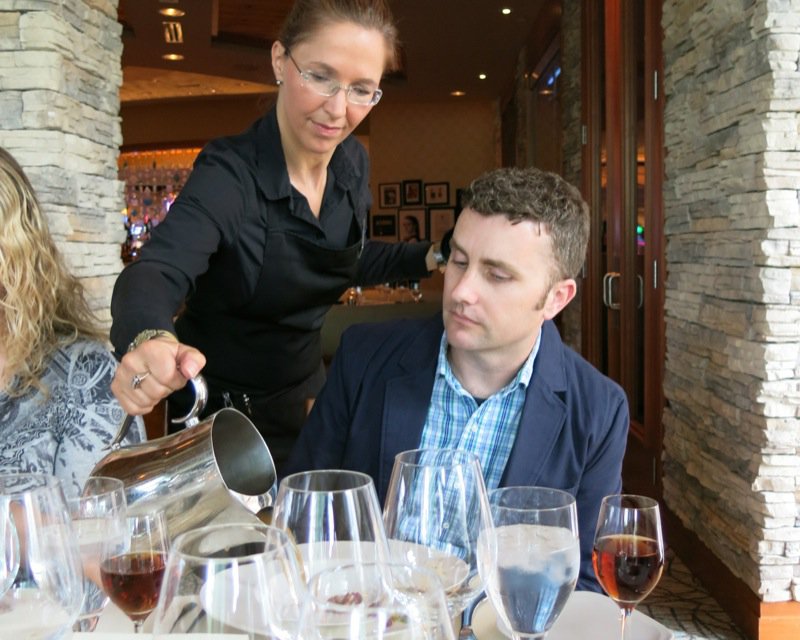 The presentation was smart. All had plenty of time to ogle at the bottom of the bowl. The confit turkey soup was poured over the edible art at the last minute.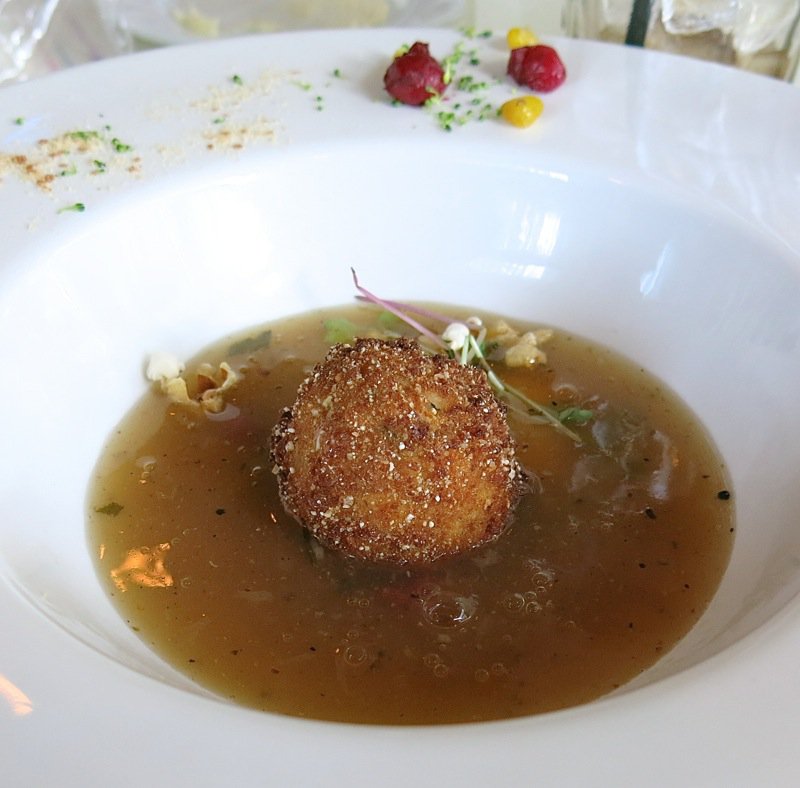 Not too much. Just enough to cover the treasures. Time to dig in.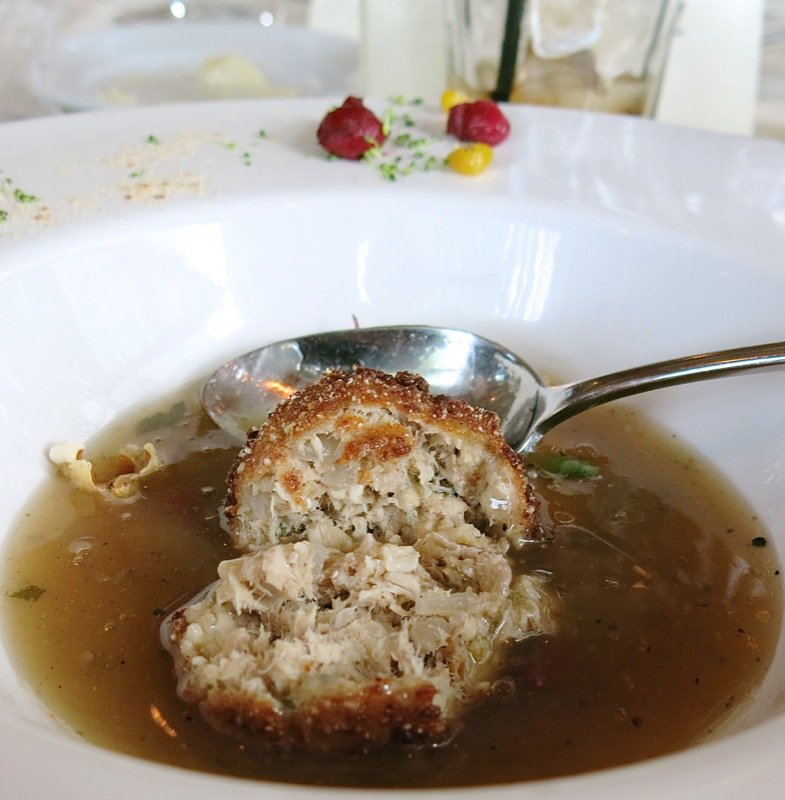 The intense turkey soup flavour was so delicious, yet the texture was thick and curious. Meatball was packed with wild turkey. The thought Chef Chartrand invested in preparing this dish was clearly evident.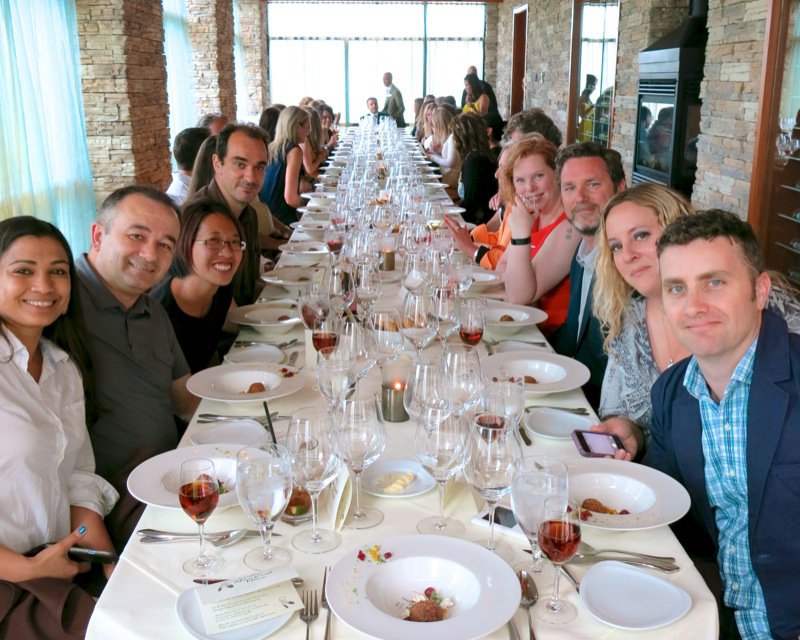 Good company contributes a great deal to the evening!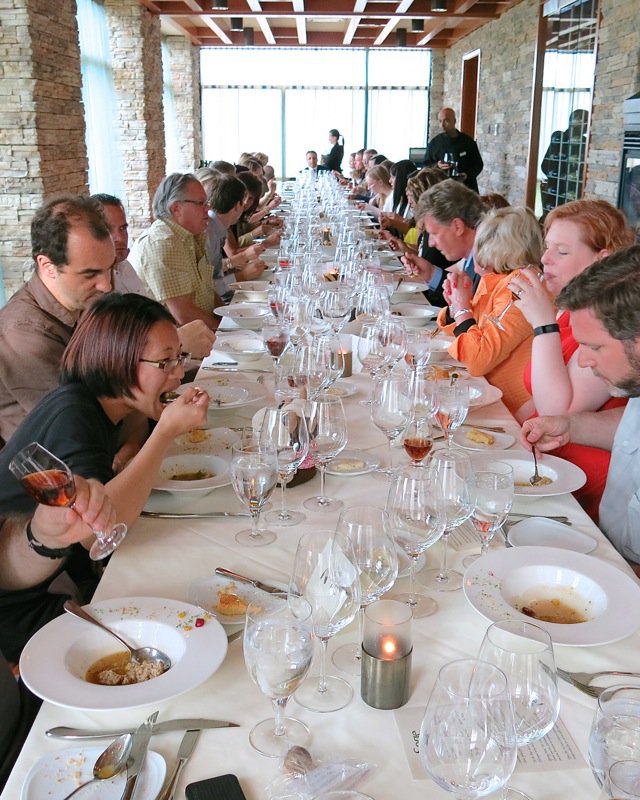 Seashore
Chef Shane introduced each dish with a vivid personal story. This one was of his experience killing a buffalo in Northern Alberta in the old ritualistic Cree manner. He explained how stones were heated in the fire, then plunged into the carcass and the meat was cooked in that manner. The stone on this dish represents that ancient way of cooking. The West coast scallops were done in the SousVide machine (there is no other way to get that kind of texture) accompanied by a rainbow trout preserve or conserve in oil. The trout was as fresh as any freshwater could possibly by, unlike most trout I have eaten. He included a dehydrated scallop chip to represent the drying and preserving process. That scallop chip was powerful. It was crisp, intense in flavour, and did make that connection between then and now, metaphorically. The pickled onions were aromatic and a welcome interlude between fishy bits. Salmon caviar is a favourite of mine, but usually not without créme frâiche and a buckwheat bilini, yet it worked seamlessly with the flavours and textures on this dish. A little pop on the plate.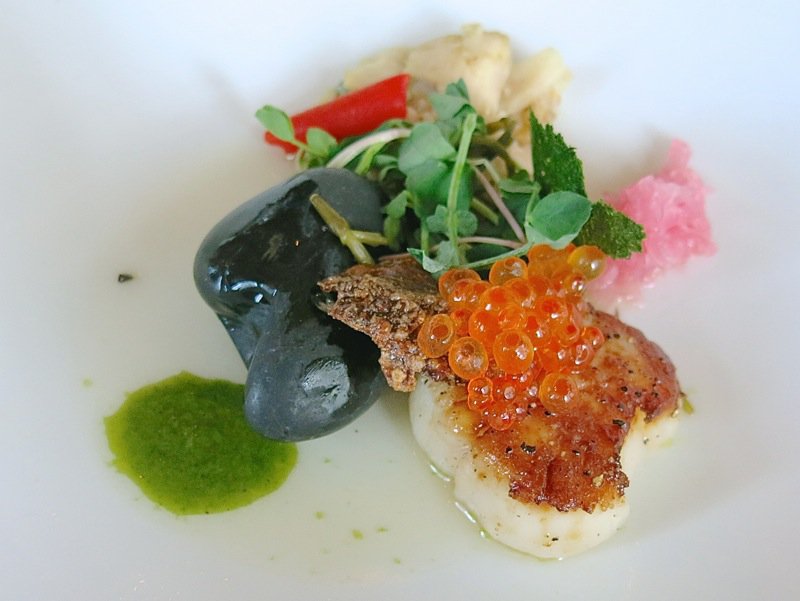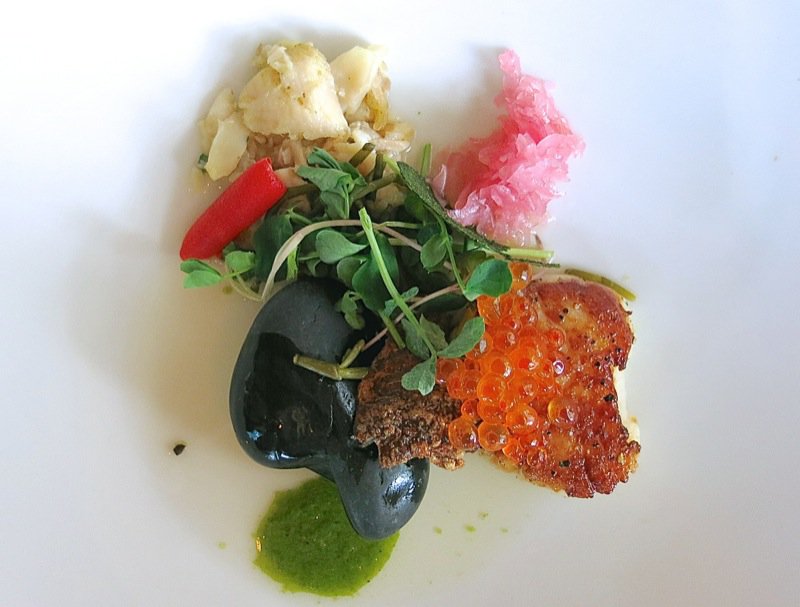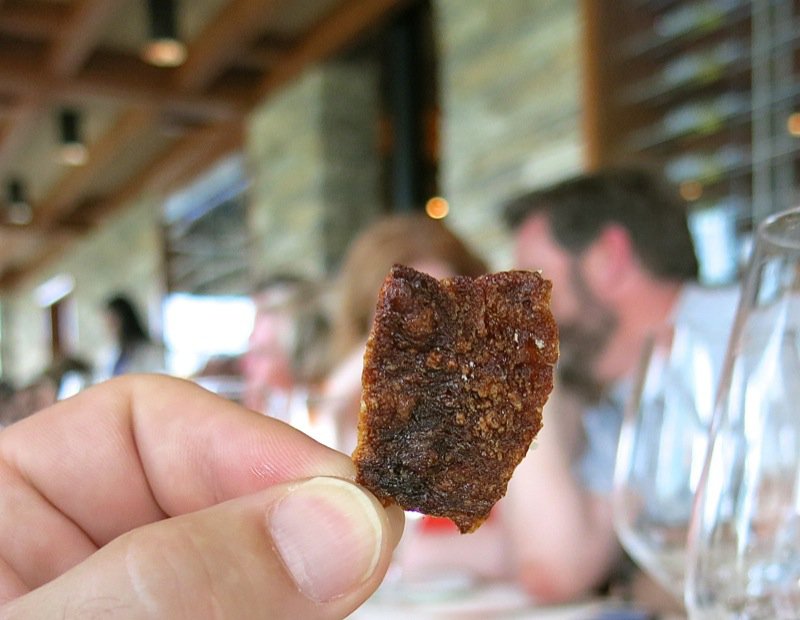 The scallop chip is above.
On the run
The Bison shortrib crepinette with the garlic scape and a barley and black garlic risotto was outstanding. He makes his own black garlic in house. I am no longer tongue squeamish if sliced very thin. I have found there are many kinds of tongue charcuterie I do enjoy …just a little. The sliver of Elk tongue was tender and tasty.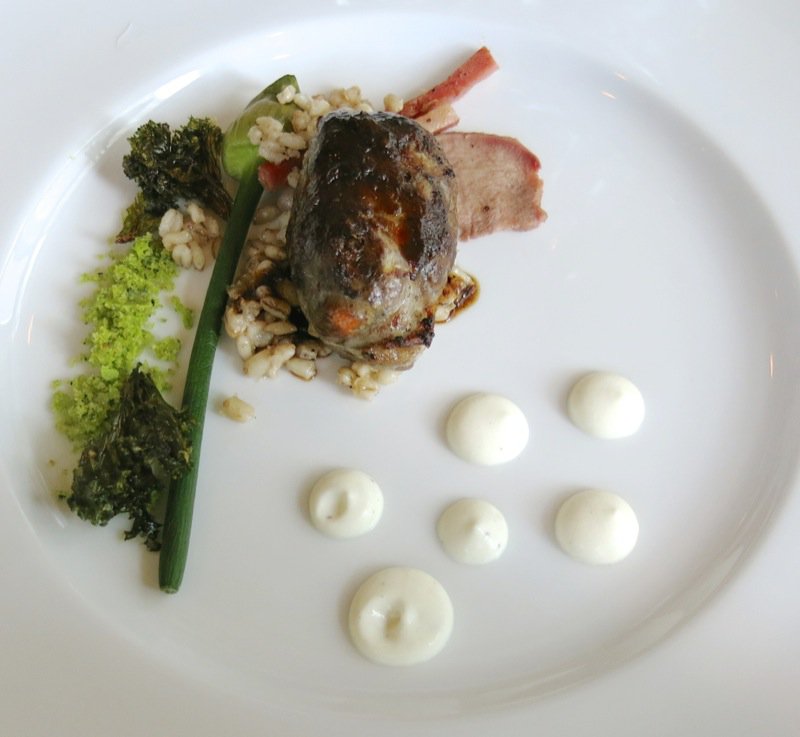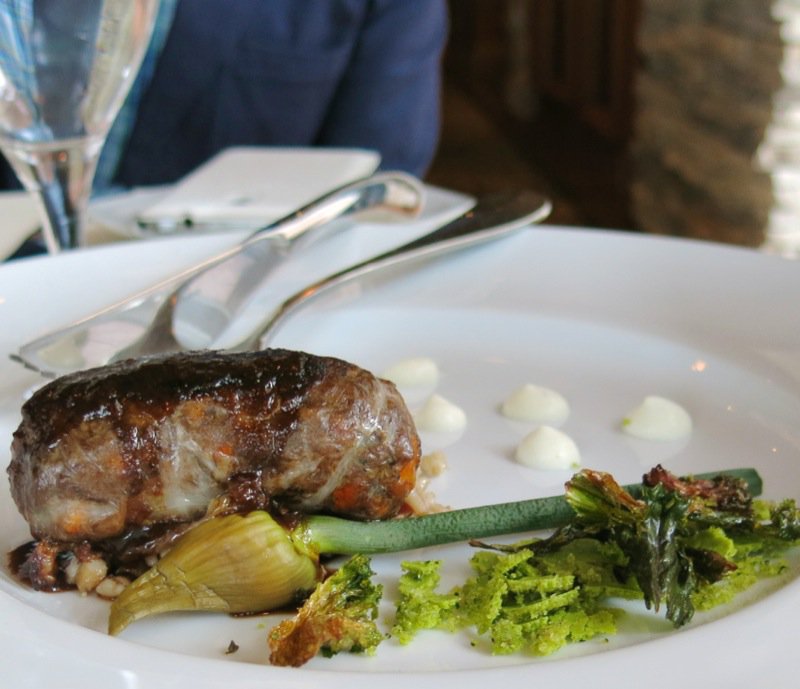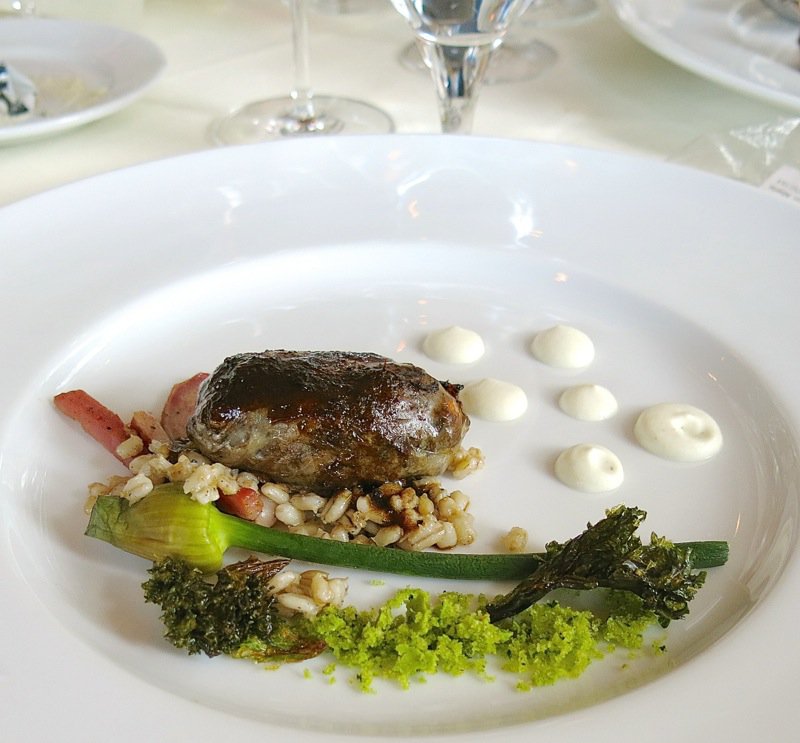 Spring hunt
Ah, the Spring Hunt and lamb three ways….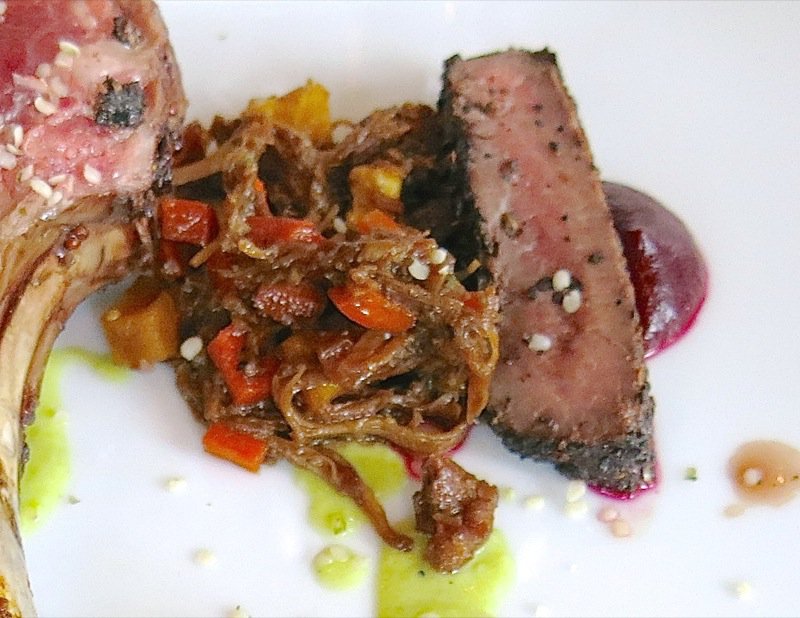 The BBQ lamb mixture, above, was succulent and addictive. Everyone raved about how delicious it was.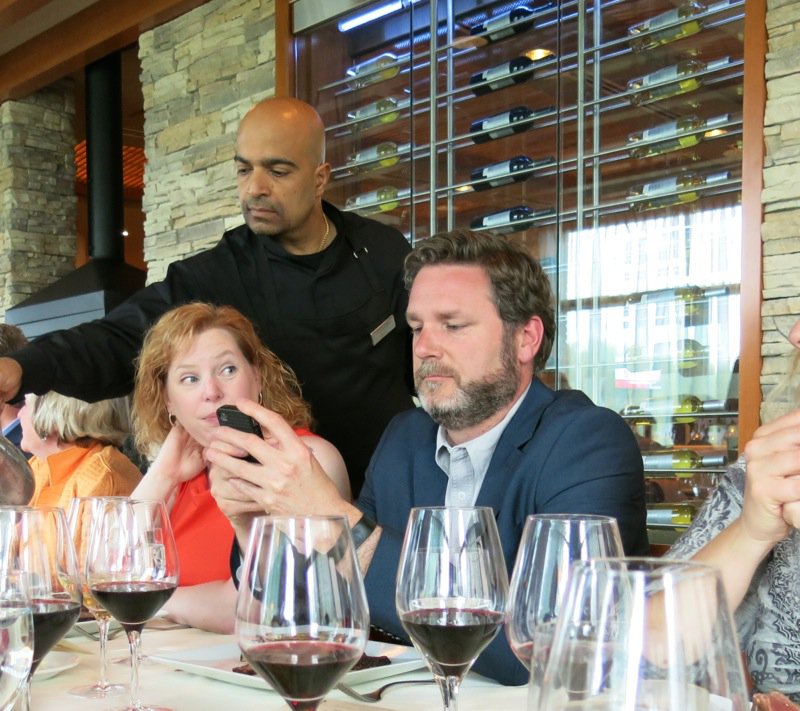 Phil tweeted about it.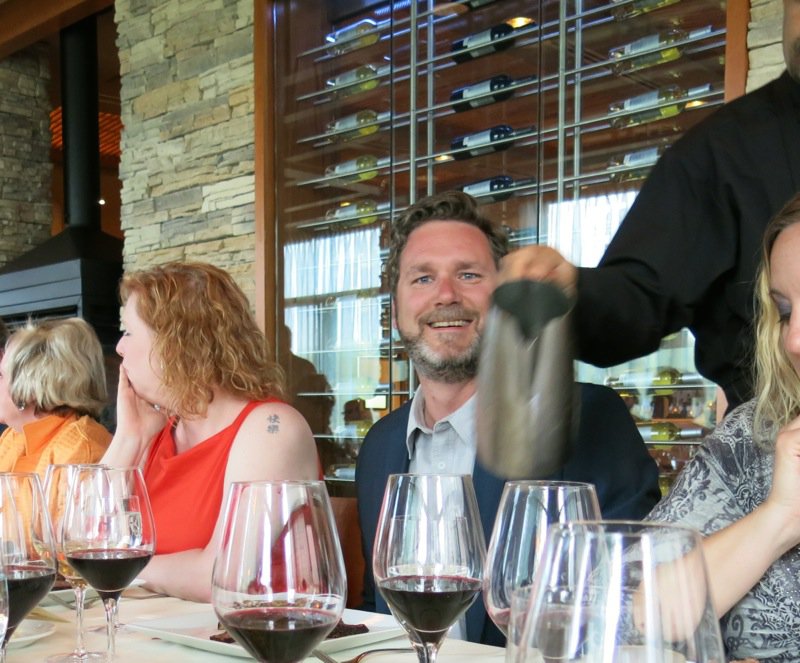 Got ya!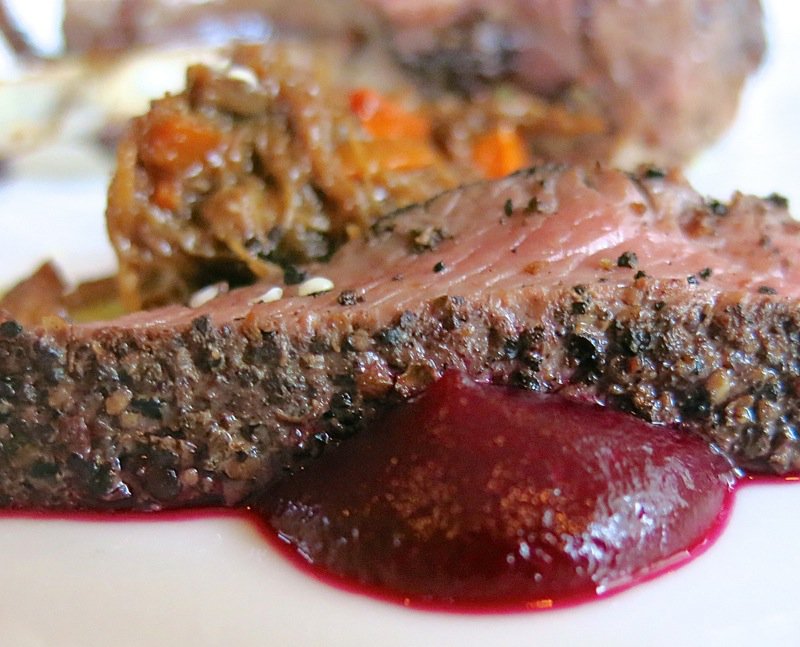 The crust was rubbed with cloves and licorice. It was the beets that won my heart. Oh, my. The thick ruby red earthy mineralized mounds of velvet were divine.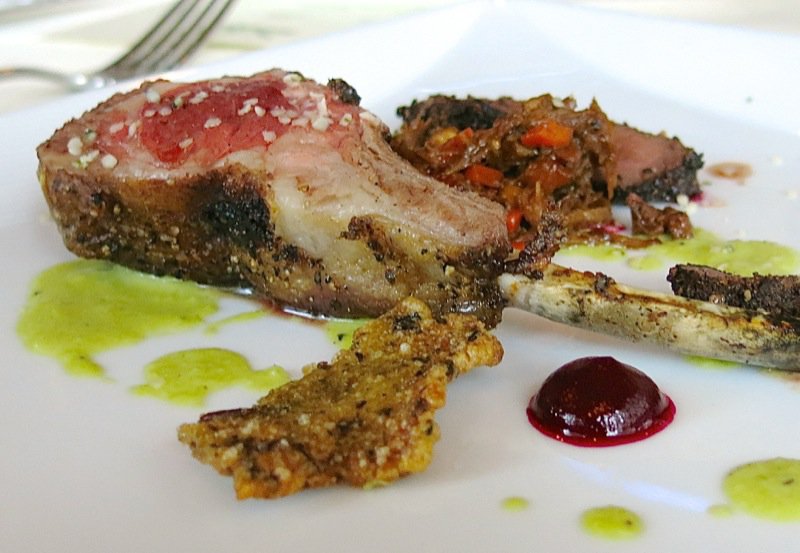 Shane dedicated this plate to his dad. "It is supposed to look messy". My dad taught me how to hunt and fish [for which I am every grateful] and it drives him crazy when I work to plate food carefully. "Just do it, we're going to eat it in a minute, anyway!"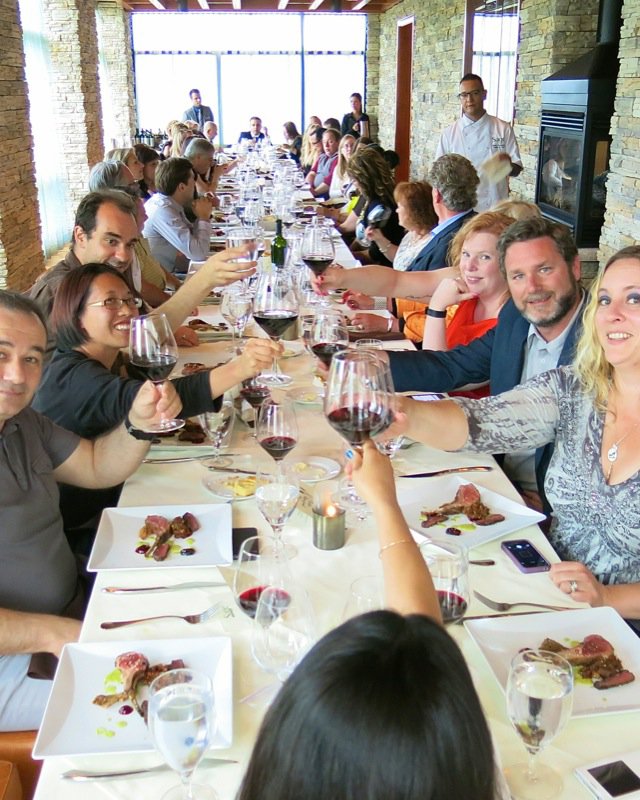 Let's raise our glass to Chef Shane Chartrand for this valiant meal.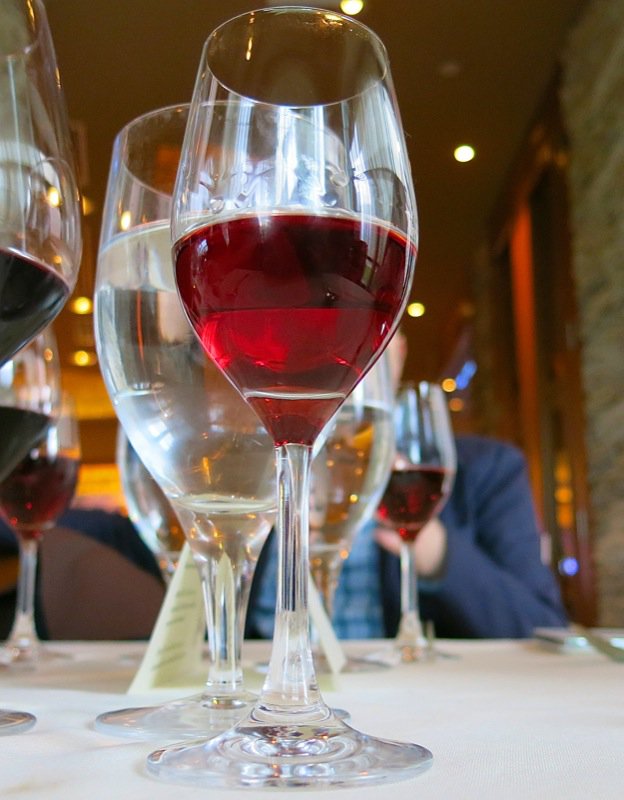 Simmer is apparently having a name this wine (ice wine) contest, but didn't get the details and there isn't any information on their website, yet. It is scrumptious and was paired with the grand finale!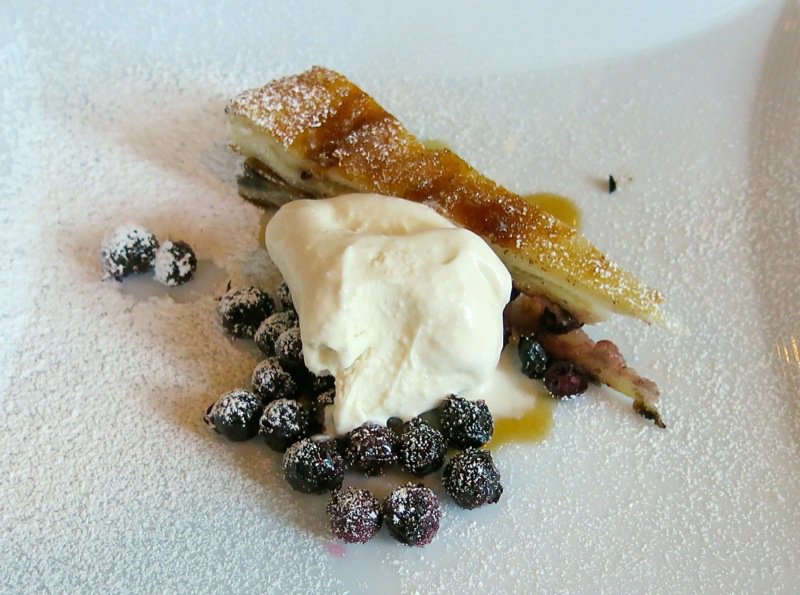 Open fire
Saskatoon berries on fry bread with maple ice cream. The maple ice cream brought this dish together with grace and finesse.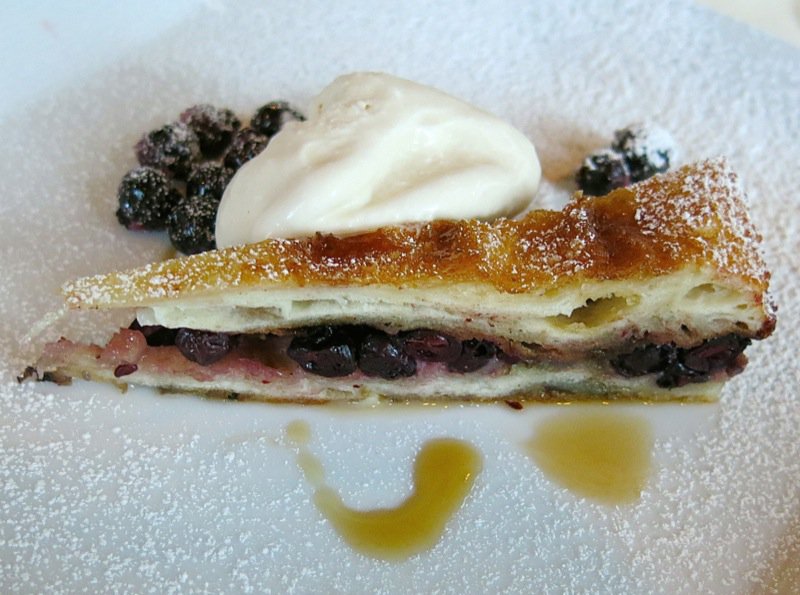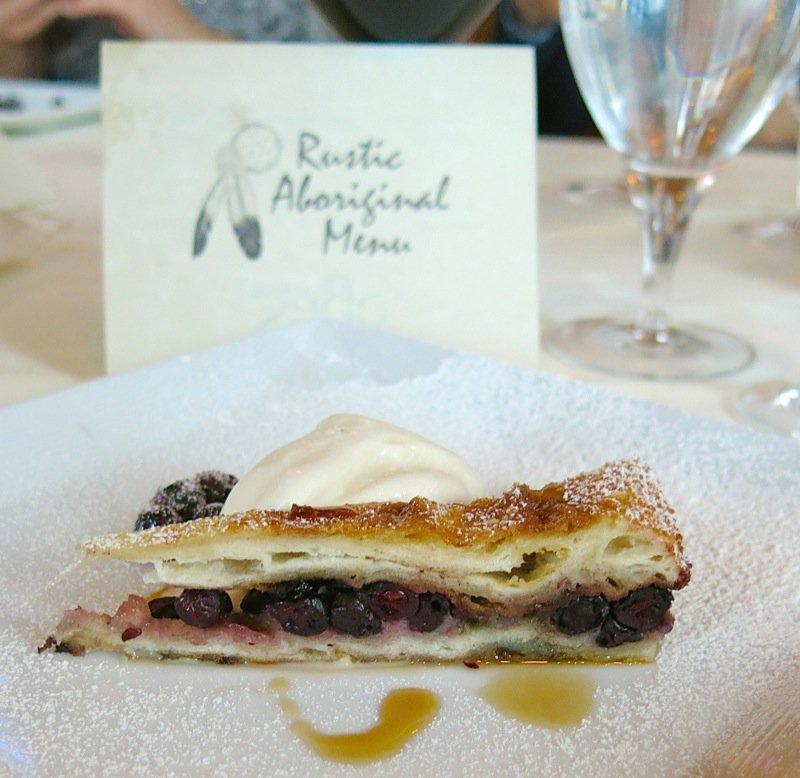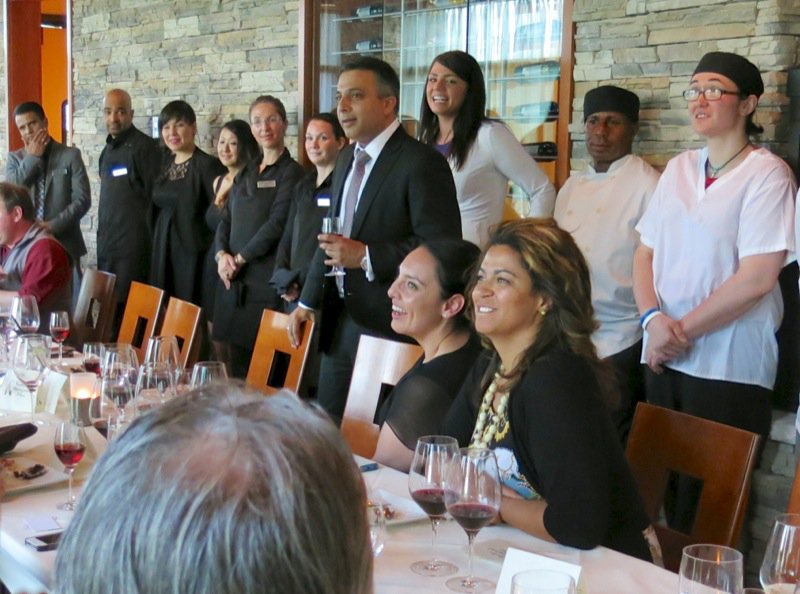 Thank you to Chef Shane Chartrand for your innovation.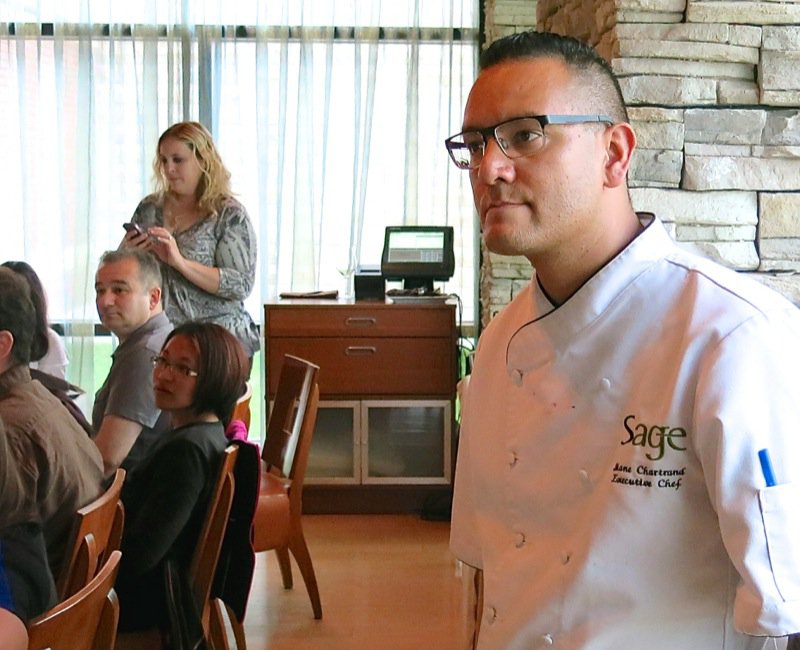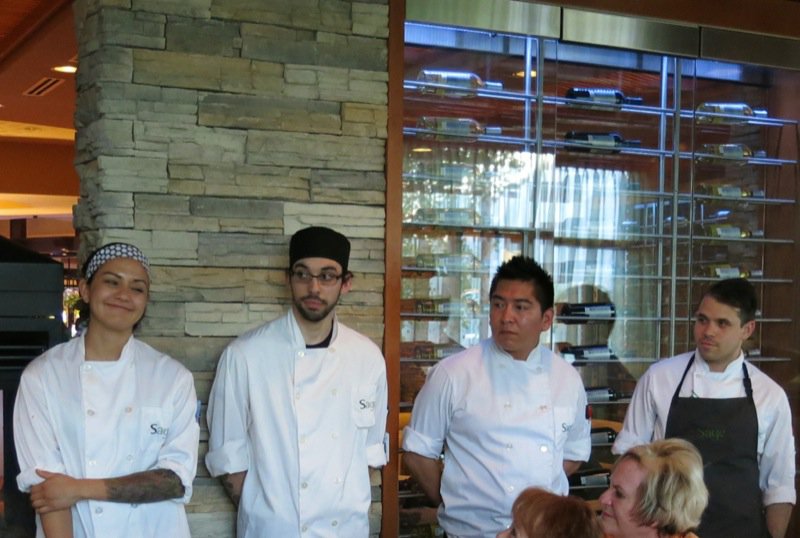 Thank you to the kitchen and waitstaff for their incredible attention to detail.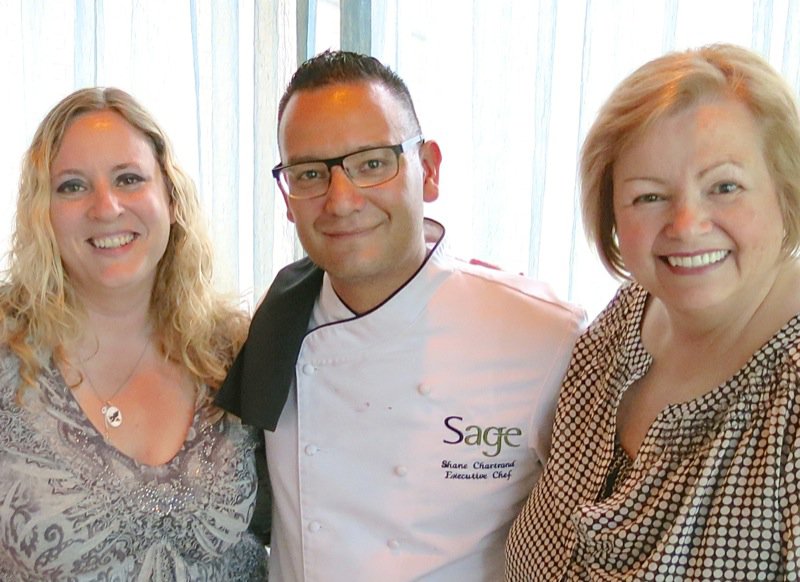 Karlynn and I with our favourite Chef!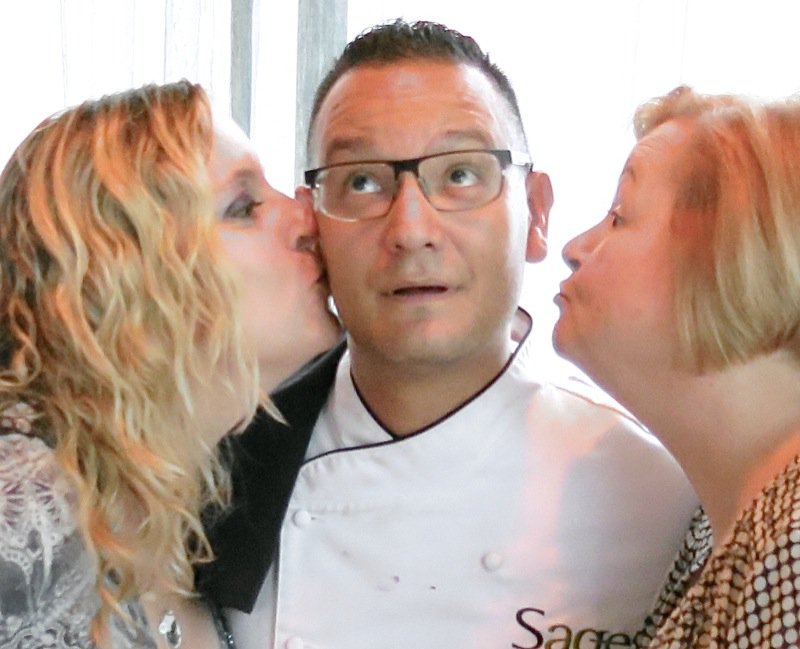 And we must…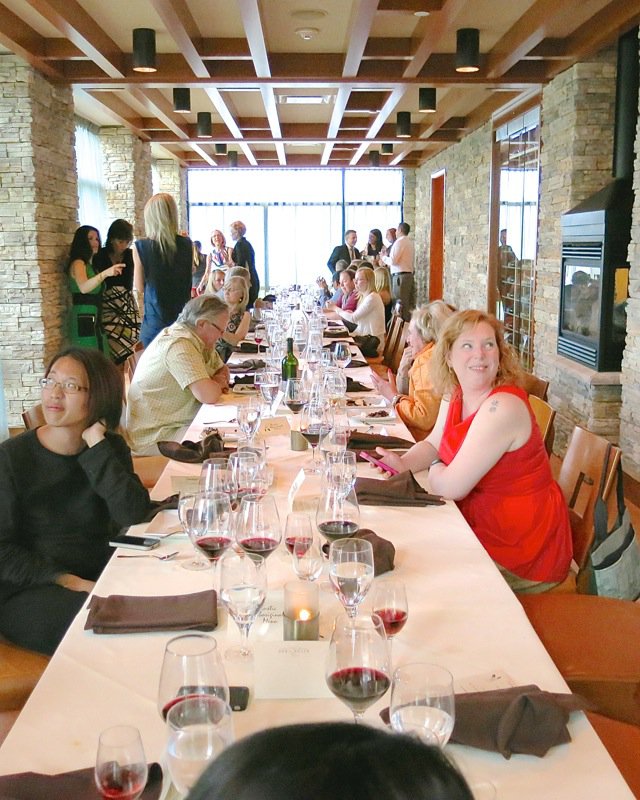 Get thee to Sage for the Signature Series Menu this month. You will enjoy it as much as we did. At 49.00 per person, this is value for money, but so much more. Each plate holds a story and each will introduce your palate to a new experience. Let me know if you go!