This would be a MODERN Acadian Breakfast!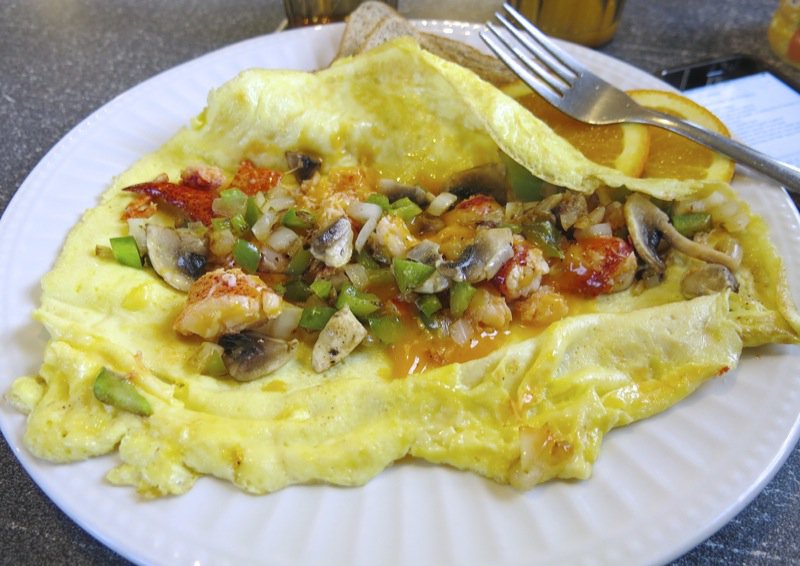 I wasn't planning on eating at 6am. Only drinking a gallon of coffee and a glass of orange juice, but the night before, Bernice twinkled at me again, "I have another surprise for you. I have arranged a traditional Acadian breakfast for you tomorrow morning, but I am not telling you what is on the menu." Oh, my. When Bernice has a surprise, it is a surprise.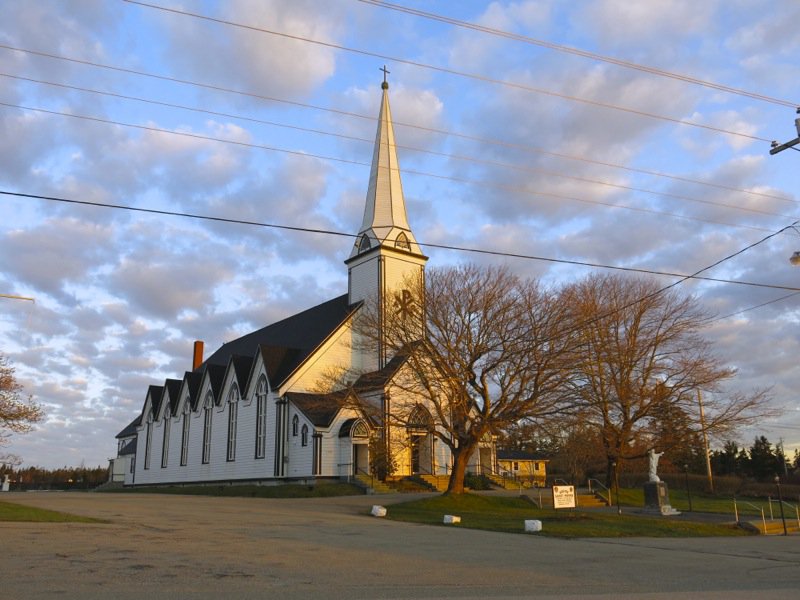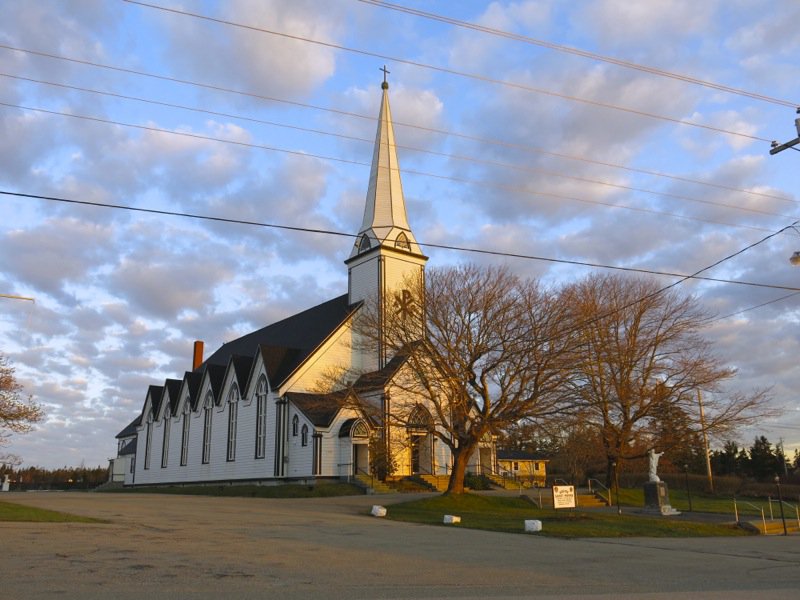 Driving down the main road through Pubnico at 5:45 am, the sun just stretching up over the horizon, the small village was quite, proud, and important. It was surreal, like I was moving through a period painting. Above, Église Saint Pierre or Saint Peter's Church built in 1889 and aptly named after St. Peter, the patron saint of the fishermen. We had visited it the night before and it was lovely. The Acadian people are deeply rooted in the Catholic religion, though, like everywhere in modern times, the younger generation is not. The church used to be the centre of each community, and this one is certainly the pride of this community.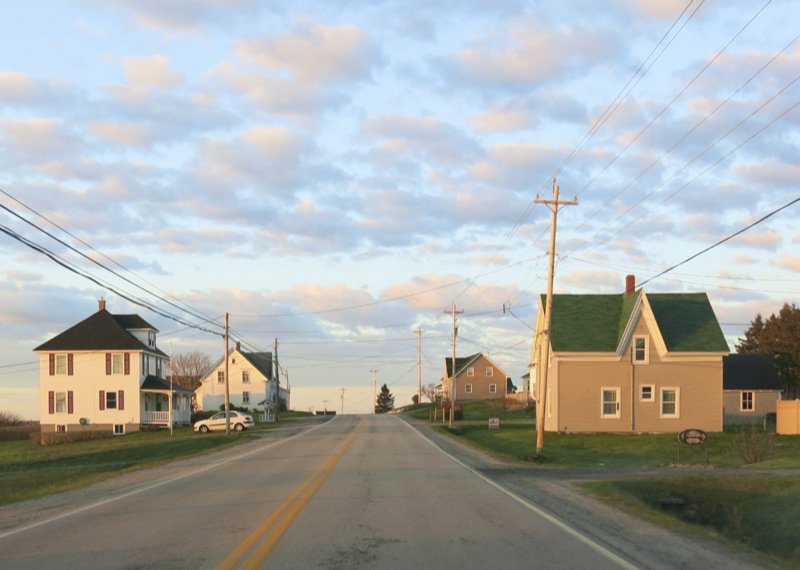 You get a sense of how the town is structured, above. I am driving down the main road, and the houses are lined along it, as above, but not close together. In a couple of places, there are side roads to a street or two behind the main road.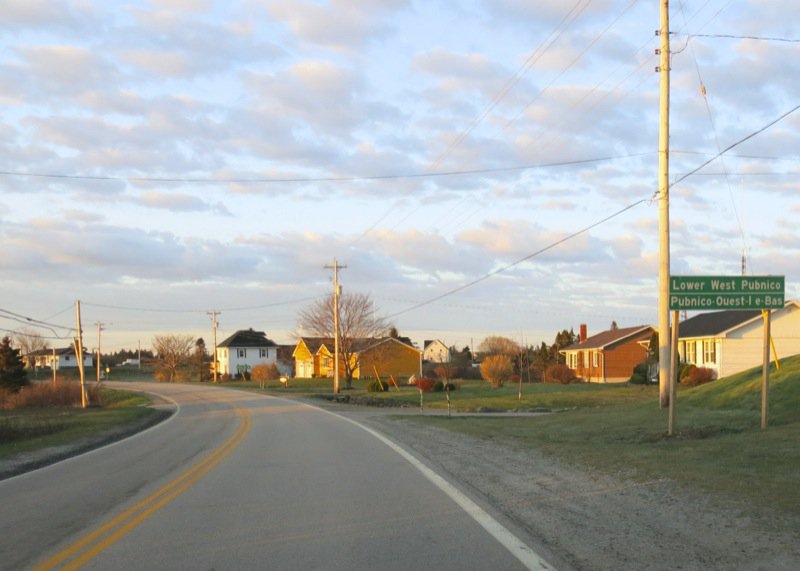 You can see a more densely populated area, above. It was funny to me that such a small village would have a "Lower West" side, and an "East" side. Bernice explained that these designations were made for postal reasons.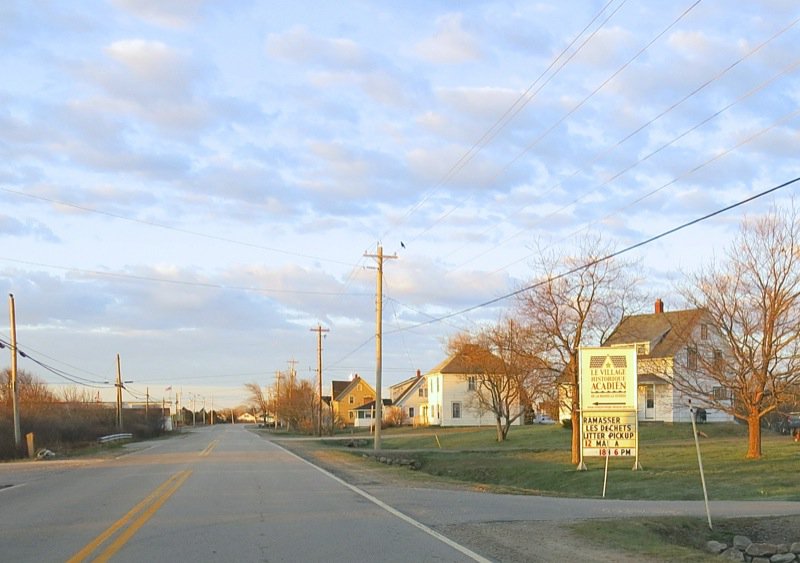 We have not yet been to the Acadian Village, sign above. It is off the main road to my left. Definitely a sense of pride for this community and I will get a tour later in the morning.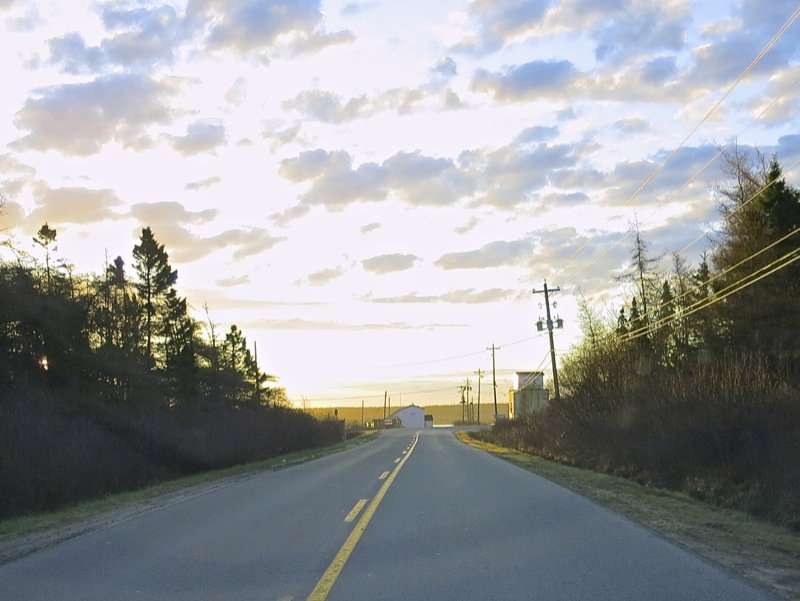 I have found the road to Dennis Wharf Café. Vanja has stayed home in bed. Why Dennis Wharf Café for breakfast at 6 am when we don't even eat breakfast? Bernice had told me that if I wanted an authentic local fisherman experience, this was it. Especially on a rainy day. "The lobster fishermen will all be at the café if it is a rainy day, and you will definitely want to be there to hear the dialect of the Acadian lobster fishermen [especially once they get going]. It will be a din and an experience like no other." I could actually imagine it. I had to be there to experience it.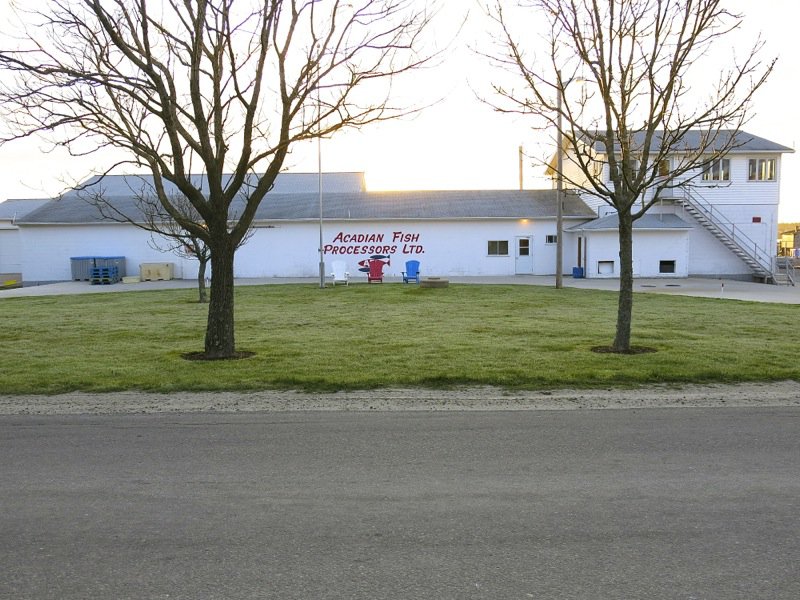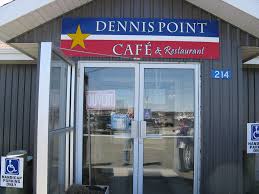 I arrived. It was sunny. The lot was filling up with cars.
Dennis Point Café is owned by Vernon d'Eon; his daughter Wanda Devine is the manger.
I met a fellow outside of the door and had a chat with him for a few minutes. I could barely understand a word he said, then my school teacher ear kicked in, and then I was fine. He was speaking English, yet with such a heavy influence of something… not a French accent, that is for certain. I later learned that his manner of speaking is unique, but after meeting him, upon entering, I was thinking: Holy cow! The dialect of these local fishermen is like a completely different language! Yet. Réal didn't speak like this? Bernice later explained that there is what I will call a "company or public speak" and an "at home speak." Bernice and Réal spoke to us in their company speak. Their "at home speak" is riddled with slang and sung in a completely different melody and is a very localized combination of English and French. When they get together, without any "outsiders", their dialect is so specific in Acadian Nova Scotia, that people in a village 15 kilometers away will know where you came from. Village to village, everyone knows where each person is from, by their dialect of accent.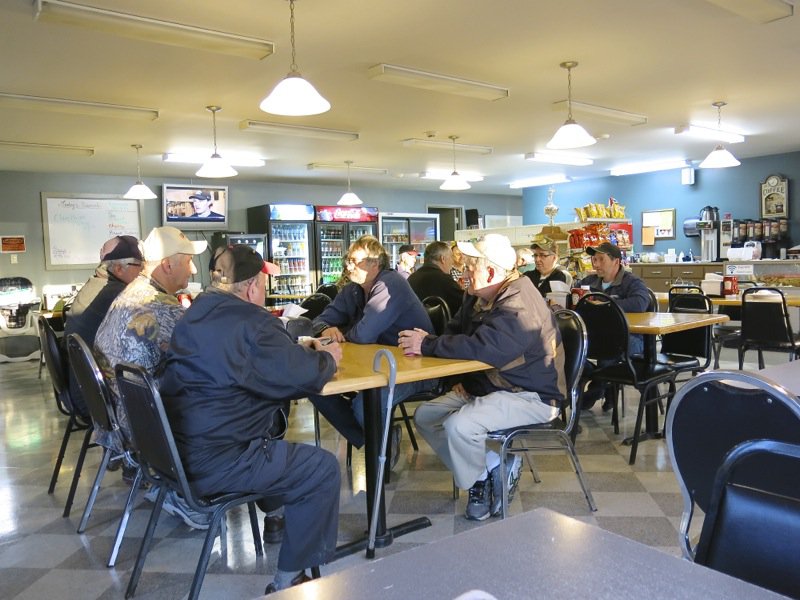 Somehow, planning the itinerary, I had envisioned a very small and very old rustic café closer to the wharf, almost "under the bridge". Maybe I have seen too many movies. Dennis Point Café was huge, clean, modern and there were a few lively souls seated on the "fisherman's side" of the restaurant. I found myself to a corner table, certainly an outsider.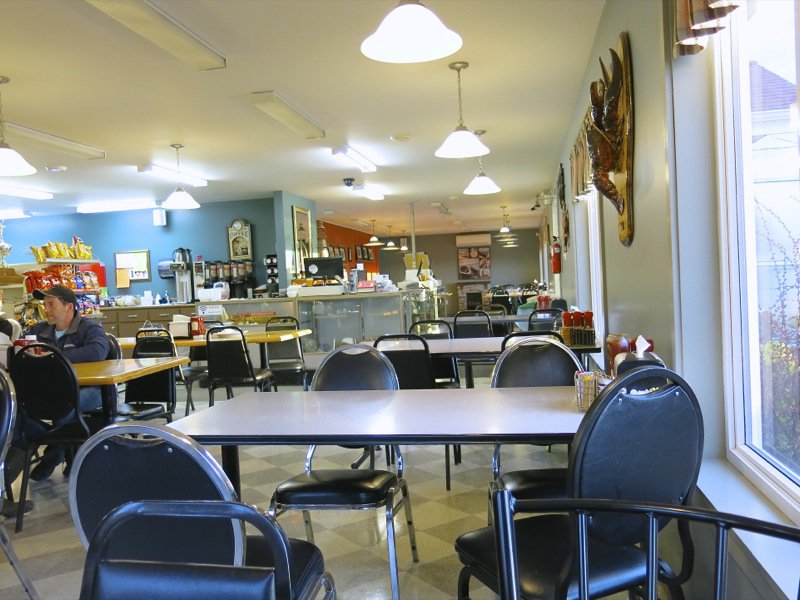 The space on the far side is for those who may want to avoid the fishermen chatter? The gal did ask if I wanted to sit on the fishermen side or the quiet side.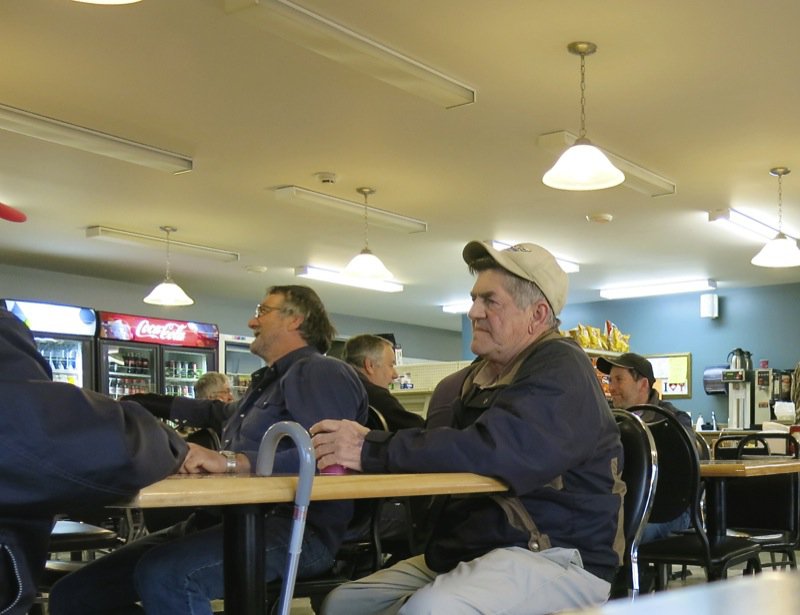 I was there to saturate myself in the fisherman morning chatter, and that I did. An obvious voyeur with my camera. I took a few shots of the gentlemen and almost every one of them looked over at me, smiled, winked, nodded or in some manner, completely independent of one another, politely acknowledged my presence with warmth. And that banter! I have never heard anything like it: a combination of English smattered with French coupled with a cadence that one just has to hear as it is not easily described. And remember, the village down the road will sound a little different… though all of the lobster fishermen from small villages around the area that do fish at Dennis Point Wharf, gather here, chattering as the ancients around the Tower of Babel with major exception: language was confounded so they would not understand one another's speech at The Tower. The Lobster Fishermen of Pubnico understand one another and revel in their descant. Each seemed to speak a language different from the other, yet the room clamoured with this foreign-only-to-me Acadian tongue spoken by our lobster fishermen, creating a spirited din in the room.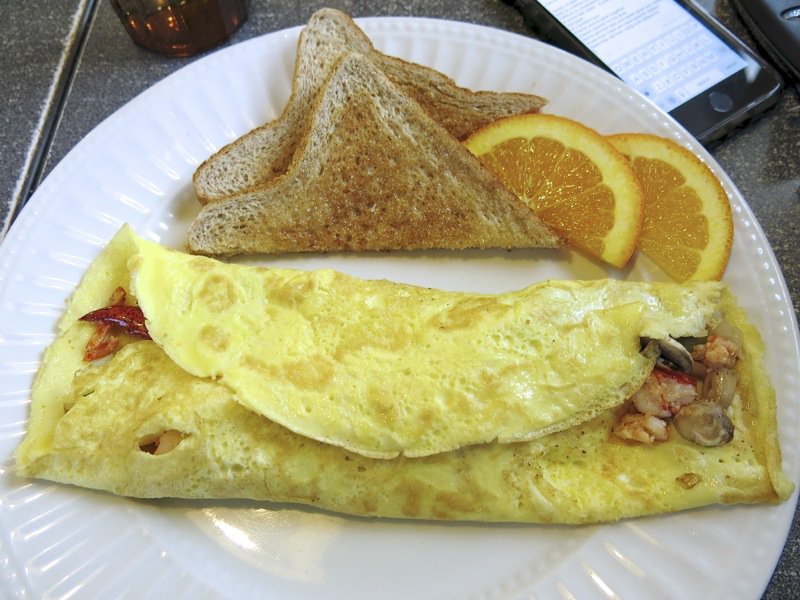 And breakfast is served.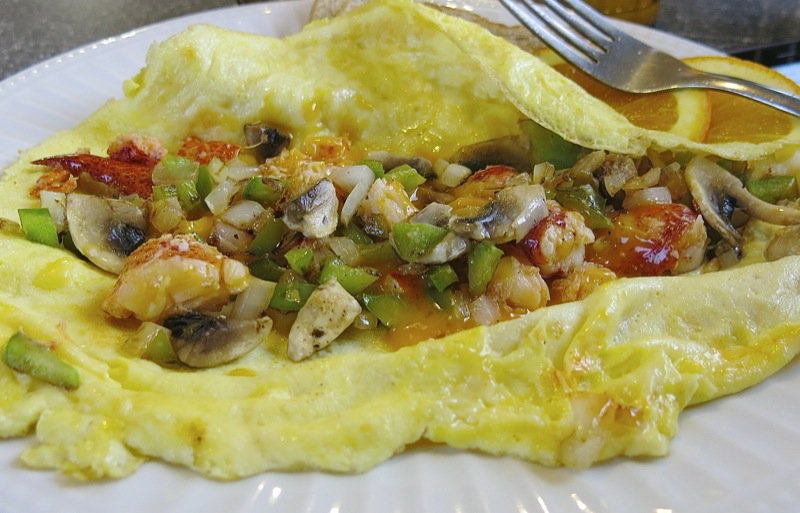 I was expecting a Traditional Acadian Breakfast, but was served a gorgeous omelet stuffed with lobster. Stuffed with lobster.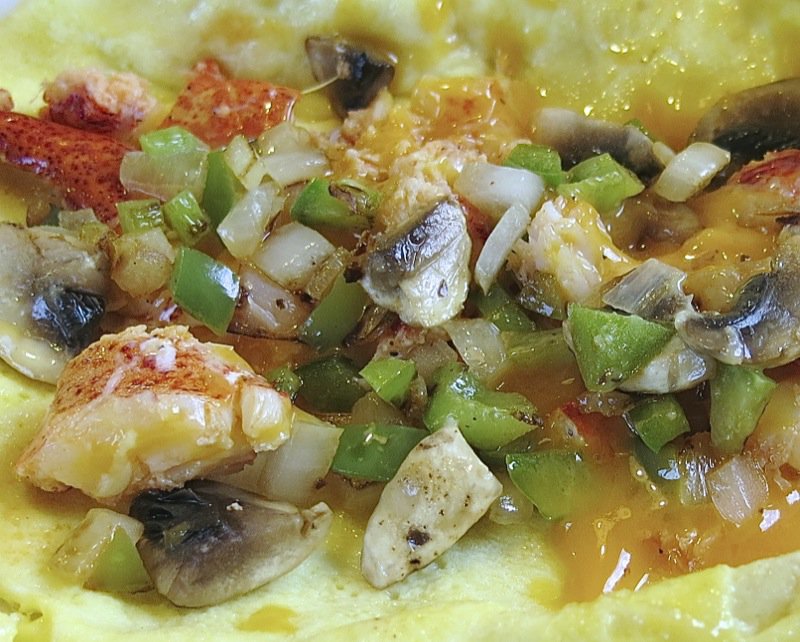 The mixture was sumptuous. What a perfect start to a day in the Lobster Capital of the World. A lobster omelet at The Dennis Point Café. I will add, they have a huge menu, but this dish is a must. Now, I am wondering what their lobster roll tastes like, as I haven't liked any that I have tried. I didn't have a hot one, but I am thinking that they probably make one here that I would like even though it is so odd to a prairie gal to see such a delicacy served on a bun on in an omelet. Bernice later explained to me that this dish, or ones similar to it, come from a long tradition of families having eggs from the farm and always trying to make the lobster last as long as possible . Lobster and eggs pair very well together and is a way of feeding more people with less lobster and the taste of lobster is still front and centre. Makes perfect sense to me. Brilliant… and probably why I do love lobster mac and cheese, as well.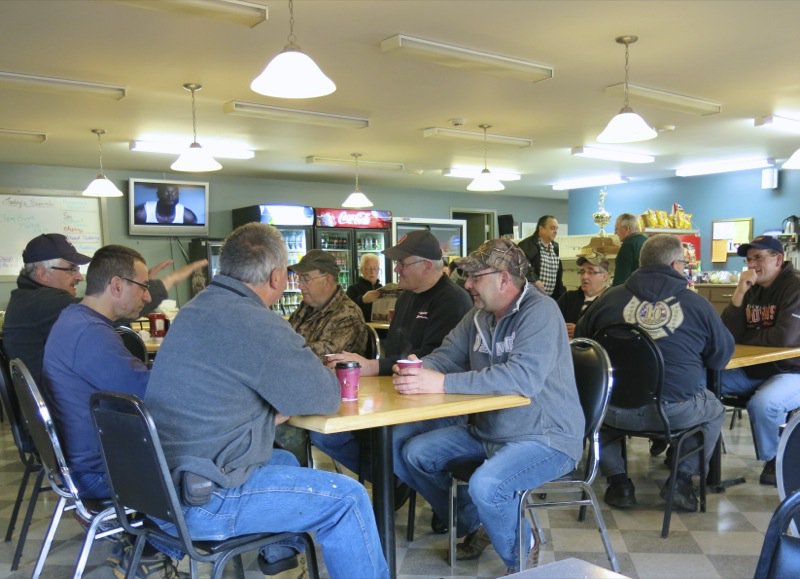 The breakfast was delicious, but if you are ever in the area, this is a must stop for a unique Canadian lobster fisherman cultural experience at 6 am in the morning. Highly recommended. The only thing I will add. Get up, go over, and sit at the table with them. Insist they do not change the way they speak for you… participate in the visit. I almost did this myself and after Bernice met me there, I was introduced to the fellows at the tables and really knew I missed out by not following that urge. Such a friendly bunch with so much to learn from!