Charmian Christie will have you laughing via her new The Messy Baker cookbook!

I have sat with Charmian's cookbook, grinning and tearing, as her authentic voice and unexpected wit charmed me into submission. I already knew I was baking one recipe from the book, but I have several ear-marked. It will be the same for you. Cookbooks often inspire me. This one motivates.

The old fashioned charm of this Classic Welsh Griddle Cake recipe will never lose it appeal over time. It certainly hasn't over the past few hundred years, with the exception of the fact that most people do not make their own food from scratch anymore. On a tiered porcelain platter, these simple little ditties would hold their own amongst the high-browed Devonshire Cream and exquisite dainties at a formal British High Tea. They will also please anyone who pops in for a little visit with tea, but most of all, they will charm you. I find them addictive.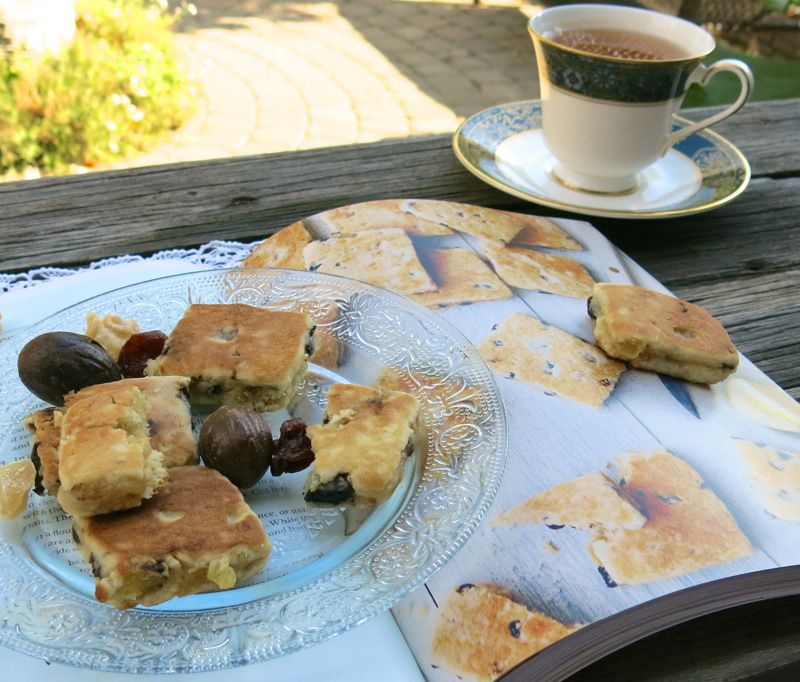 I chose this recipe to celebrate Charmian's launch of her first Cookbook, The Messy Baker. as the Welsh Griddle Cake is completely new to me; making the recipe absolutely inspired me as I can see endless combinations with this one recipe, alone. Charmian and I met last year at the Food Bloggers of Canada Conference, and got to know one another "cyberly" via her very important monthly contributions to The Canadian Food Experience Project. Chatting, Charmian was tickled about that, "It's a Gateway Cookbook. At least that is what I hope it will be to people. That's how I see it. I hope it will inspire those who use it to take my recipes and make them their own [or make something completely different inspired by one of my recipes.]" Can you see my Griddle Cake on top of the picture page in her cookbook, above?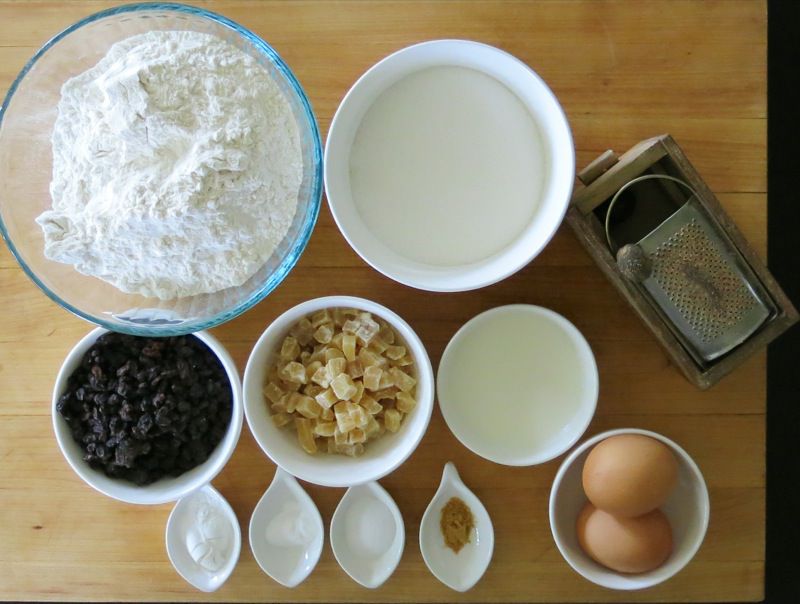 s
Charmian Christie's hope is that The Messy Baker is the Gateway Cookbook….
Mis en place: the ingredients are simple. The crystallized ginger makes all the difference. I may even put more in next time. And, snacking on bits of it while eating one of the little cakes makes an excellent accompaniment!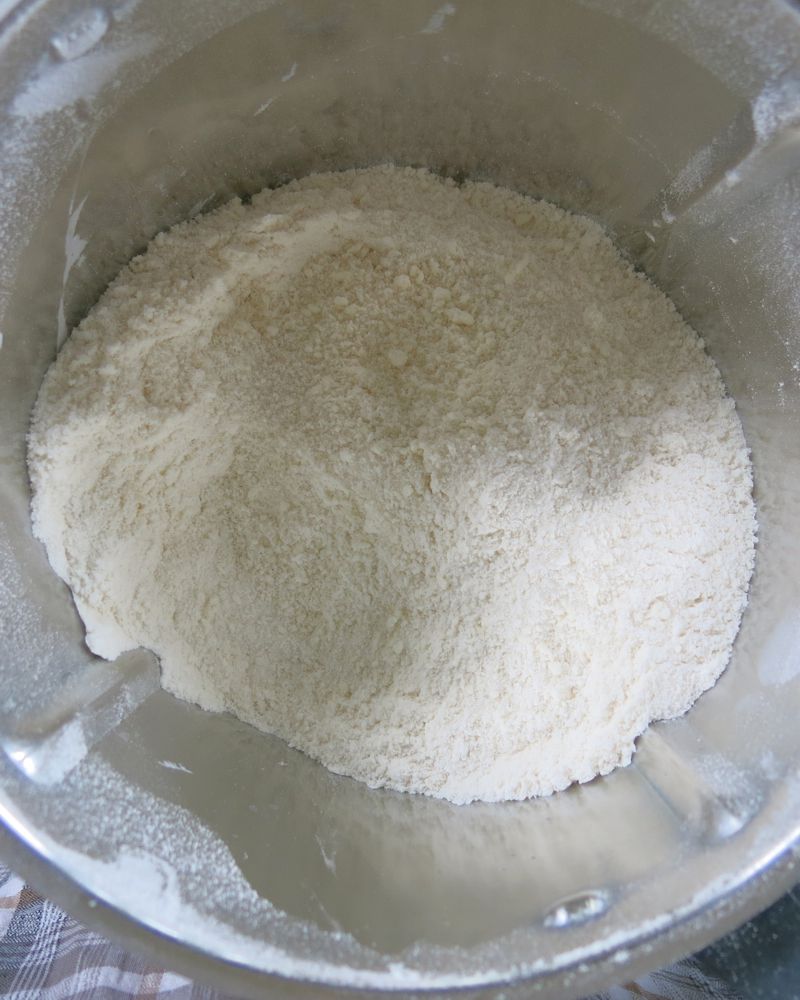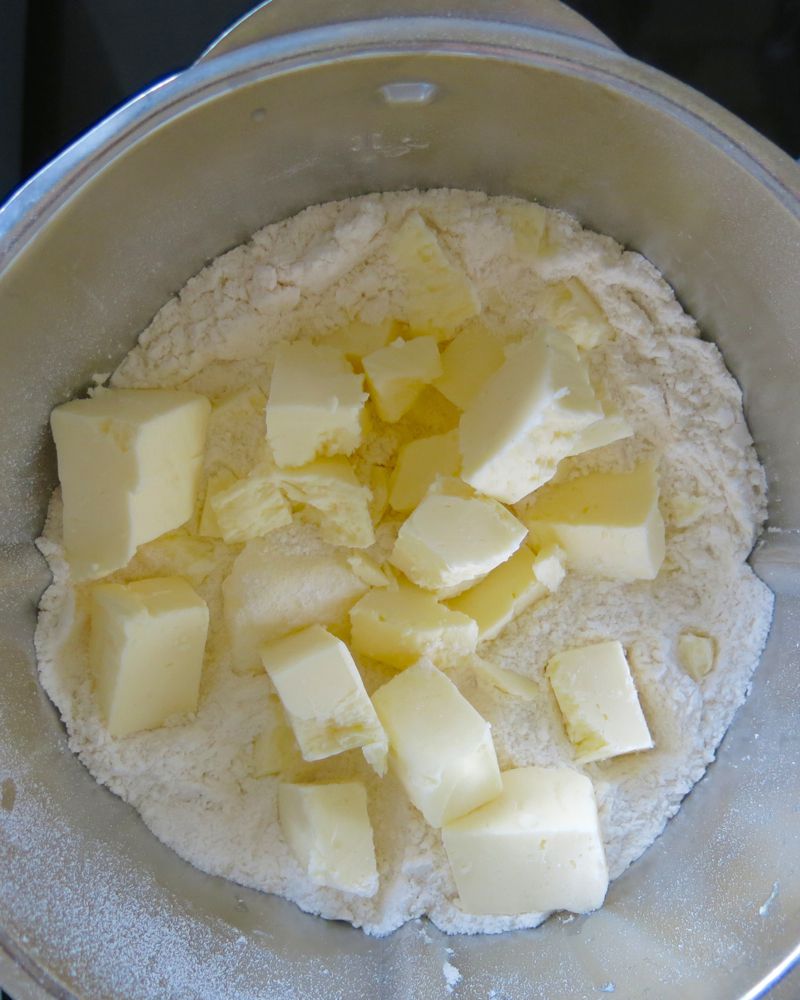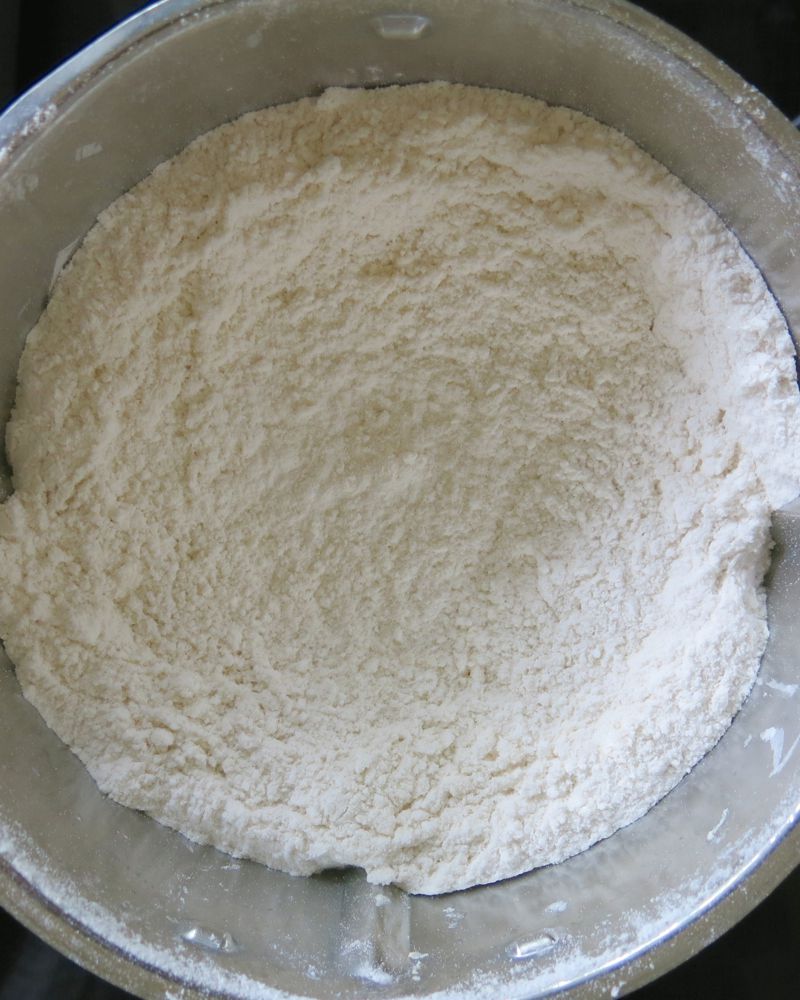 If you want the recipe, you will have to buy the book. I have adapted this recipe to the Thermomix Machine, so if you have one, this is an excellent recipe and I have actually developed a new Thermomix technique for mixing in the wet ingredients, so read carefully.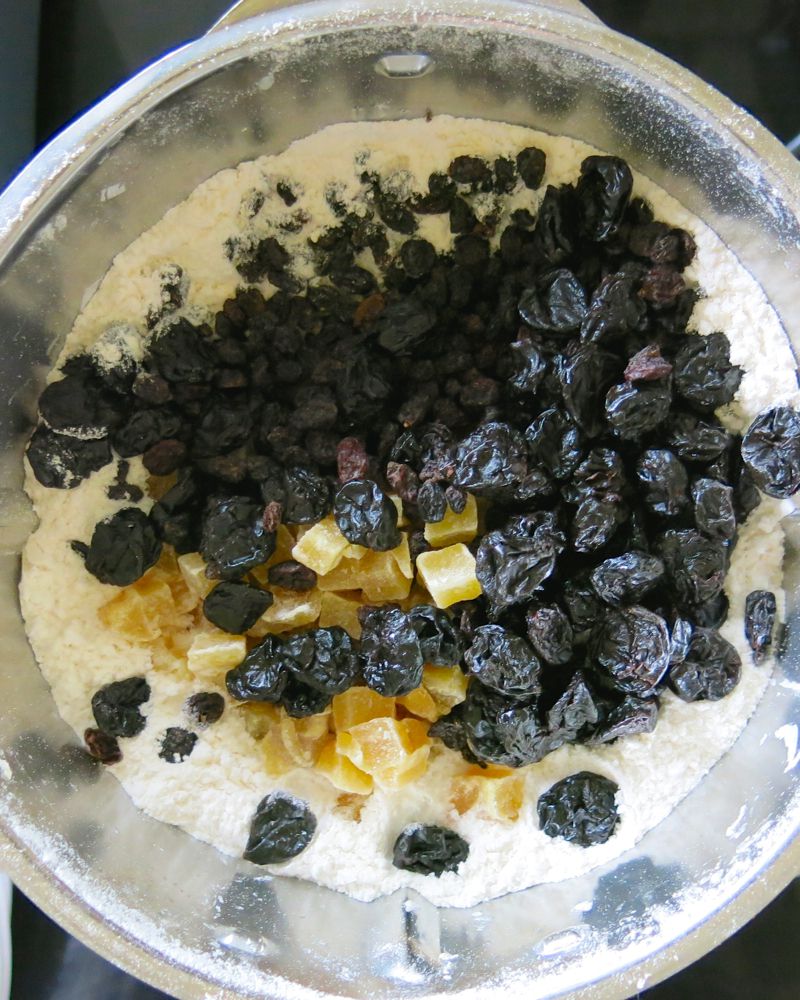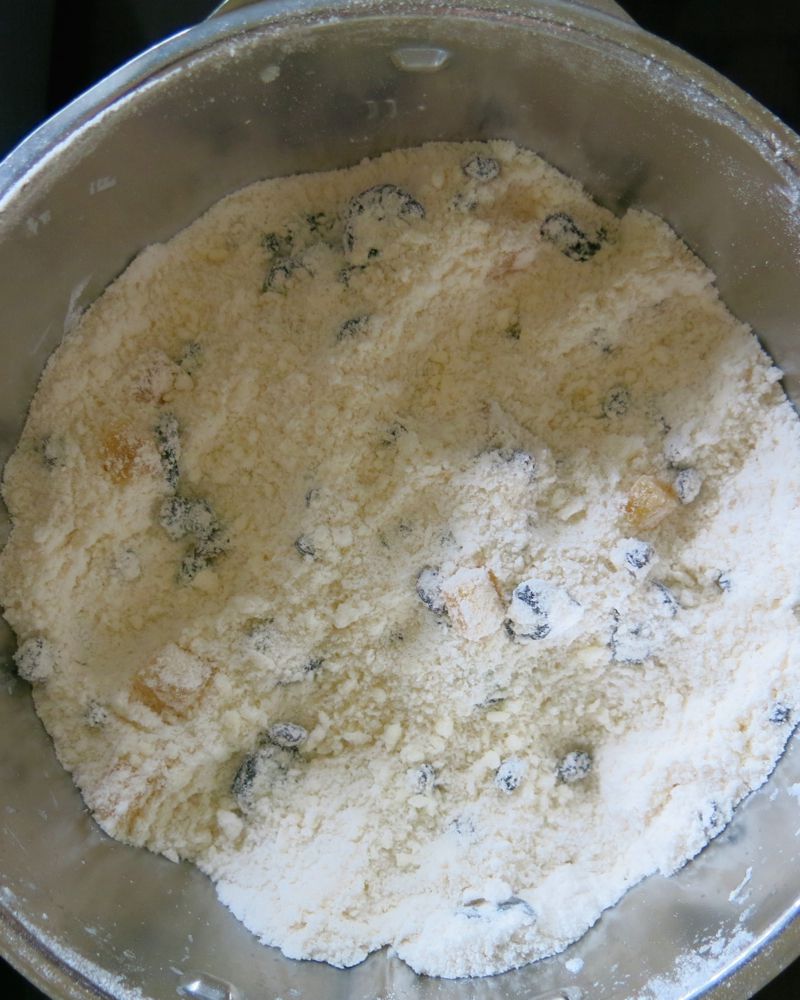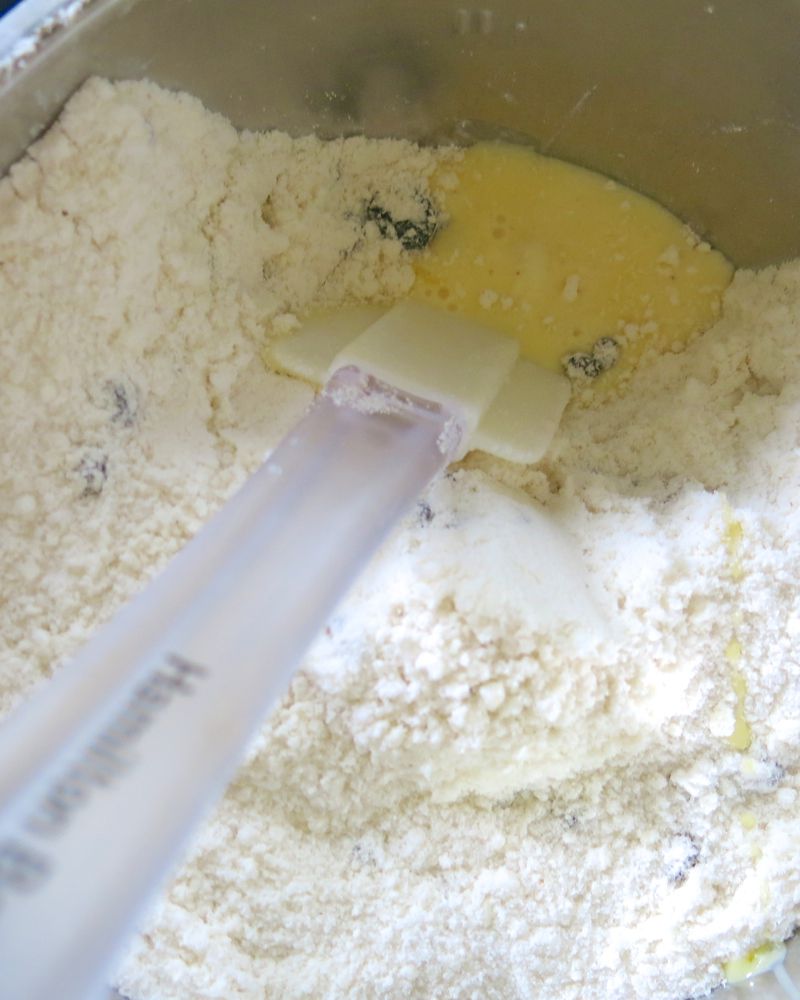 I added some of my homemade preserved sour cherries with the currants in this recipe. Of course, the ginger was also present. The cherries added a delicious perk.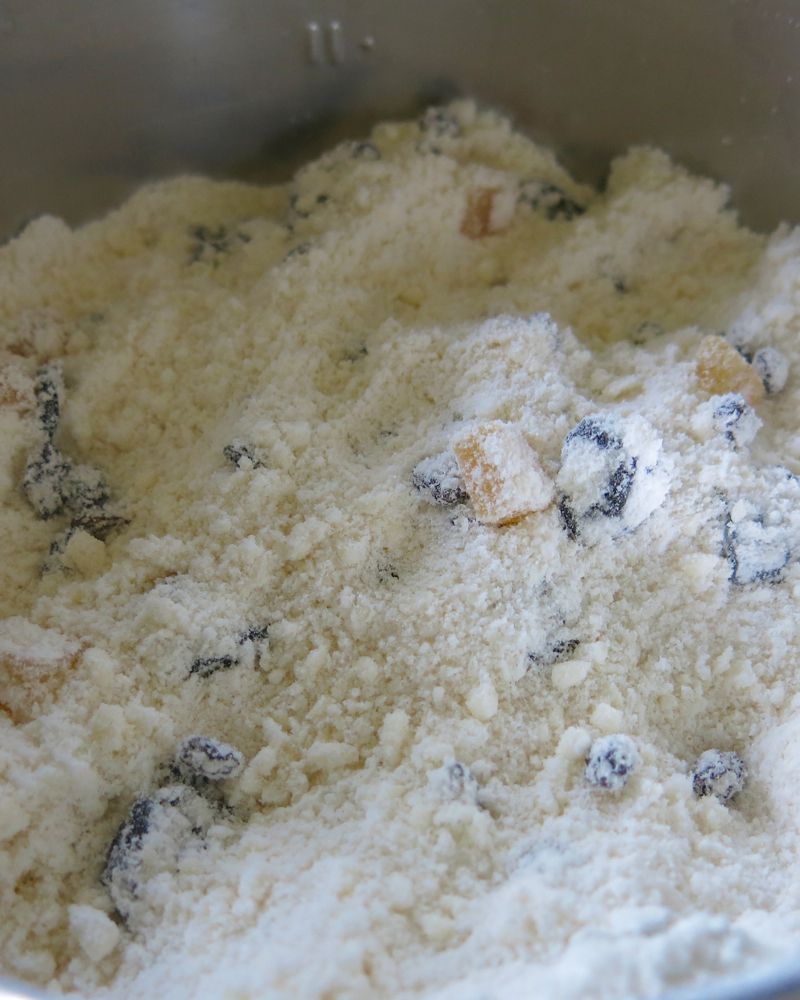 With the fruit in the mix, this makes a stiff batter. I didn't want the power of the machine to pulverize, or even chop the fruit in the mix, and as the dry ingredients were heavy, the wet ingredients must reach the bottom of the TM bowl. To do this, use a rubber spatula in each quadrant of the bowl, moving the dry ingredients away from the side and toward the blade until you can just see the bottom of the bowl, or almost see it.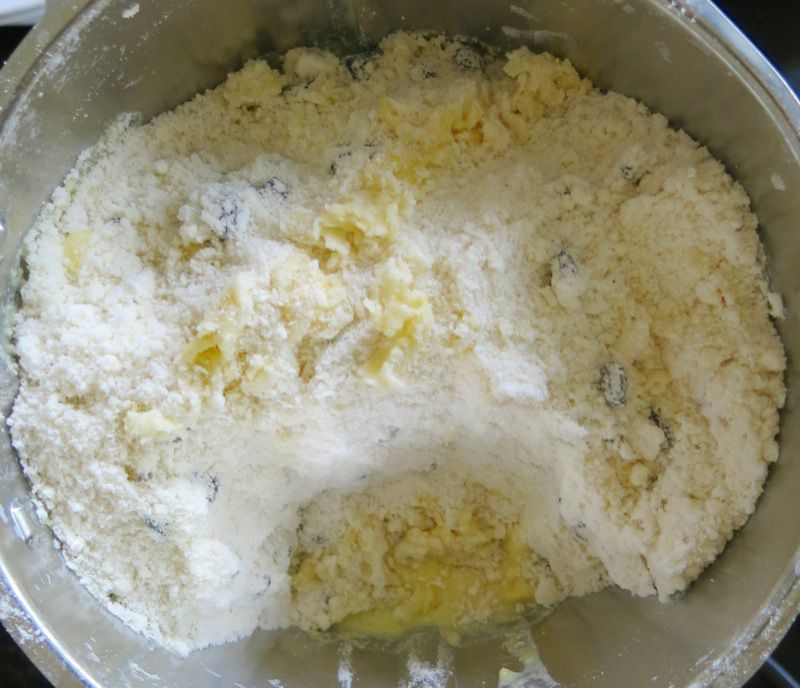 Above, the last portion of the wet ingredients have been added.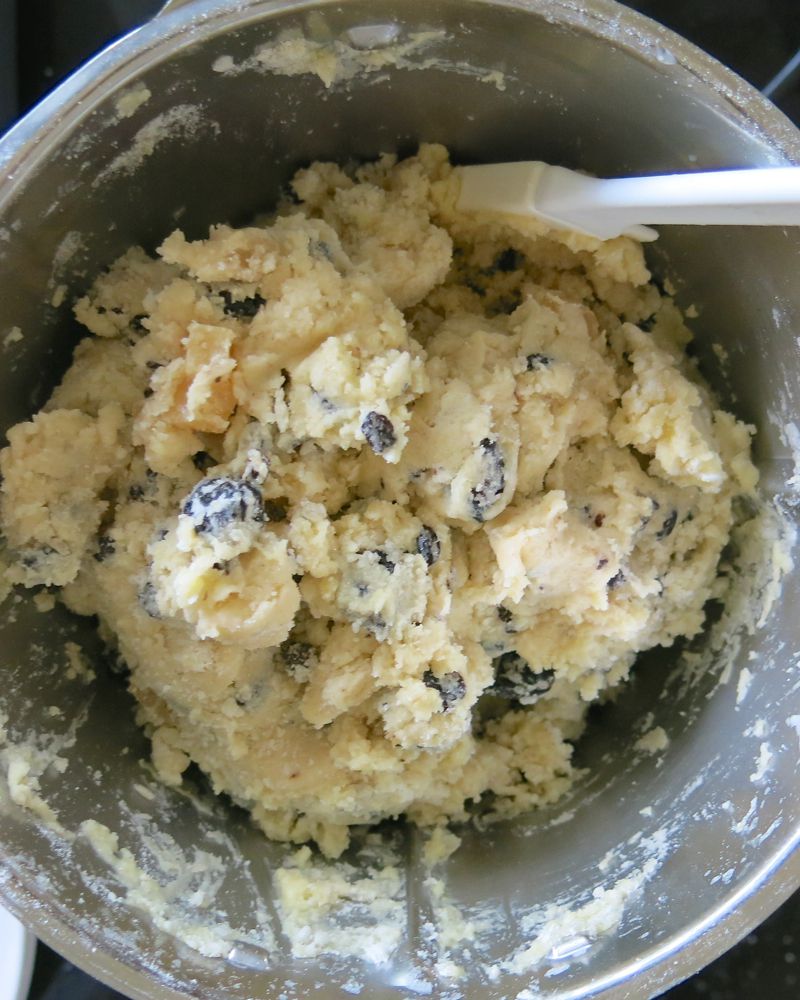 Add 1/4 of the wet ingredients to each quadrant of the TM bowl using this procedure. The final trick is to set the machine on Reverse and knead until the dough just formed into clumps, or for 10 – 15 seconds.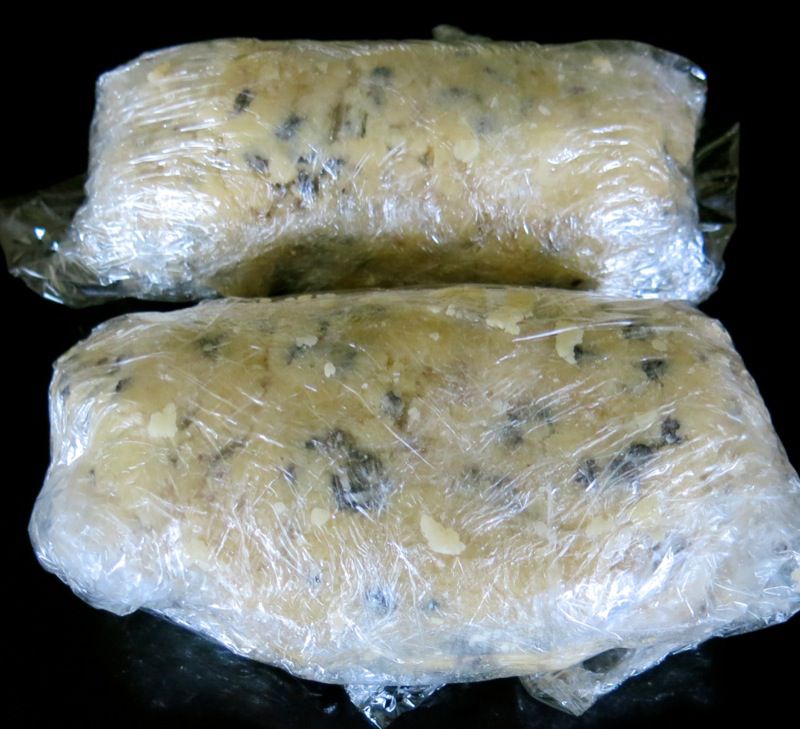 Divide the dough into two portions, wrap tightly.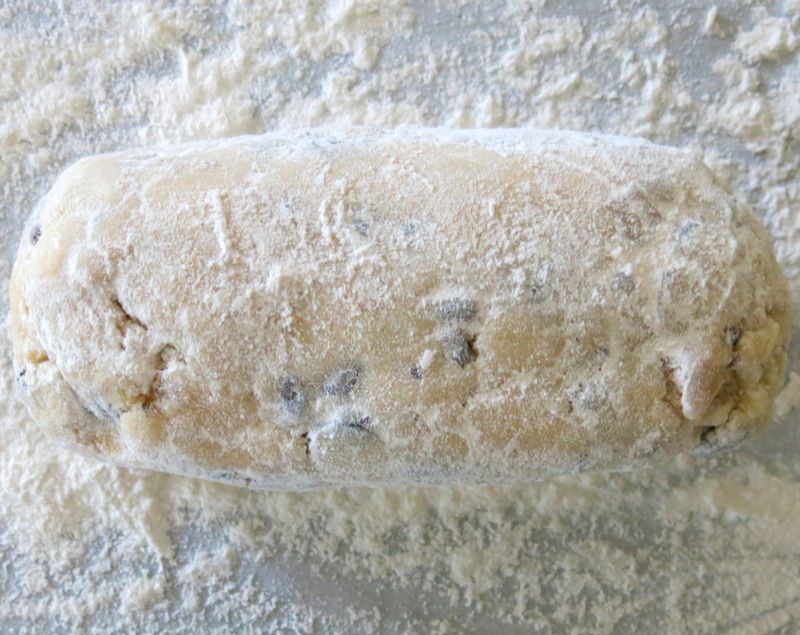 Roll out the first half on a floured surface to about 1/2 inch high. Traditionally, the Welsh Griddle Cakes are round, but there is such waste as the end pieces are not nearly as tender once re-rolled and cut. I cut mine in squares as Charmian did.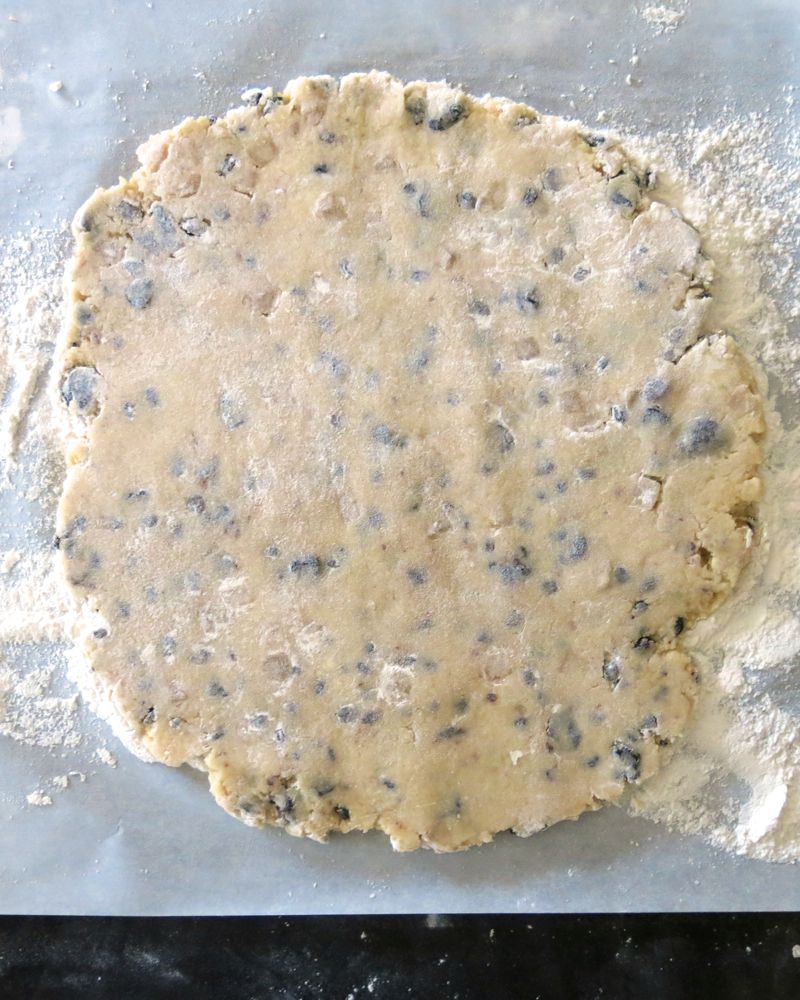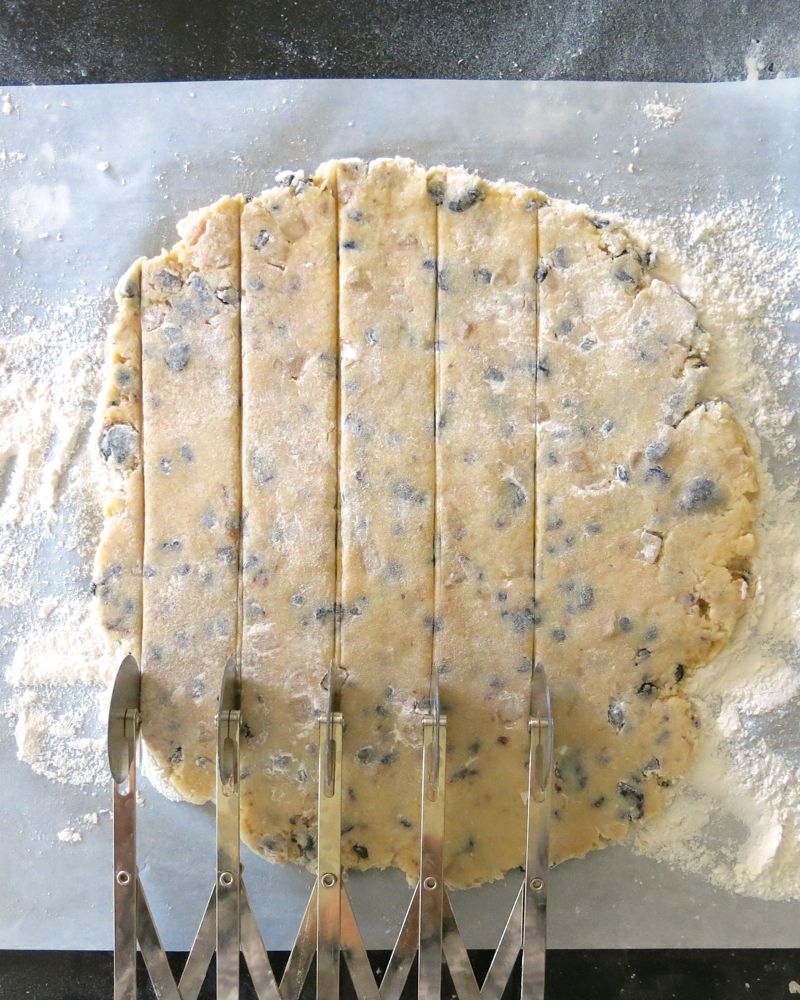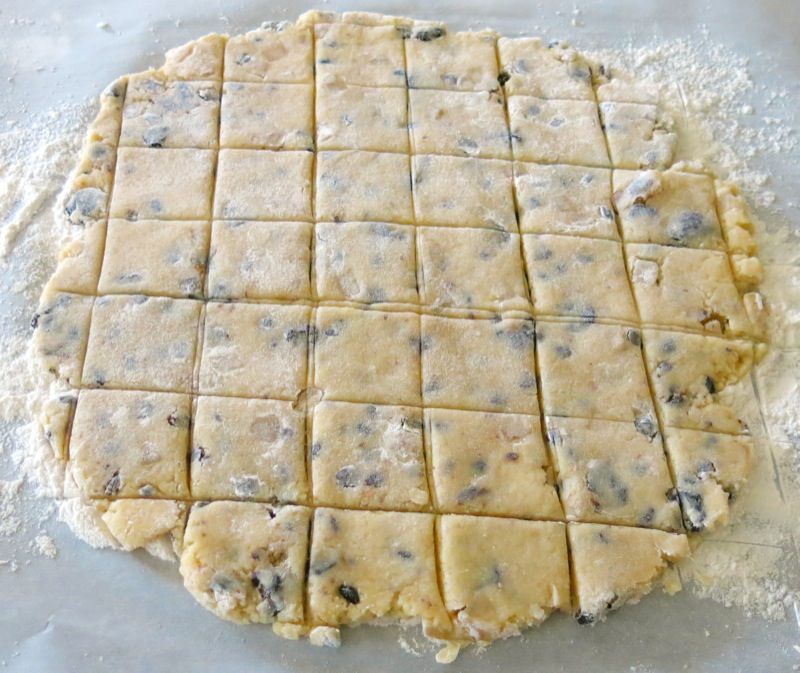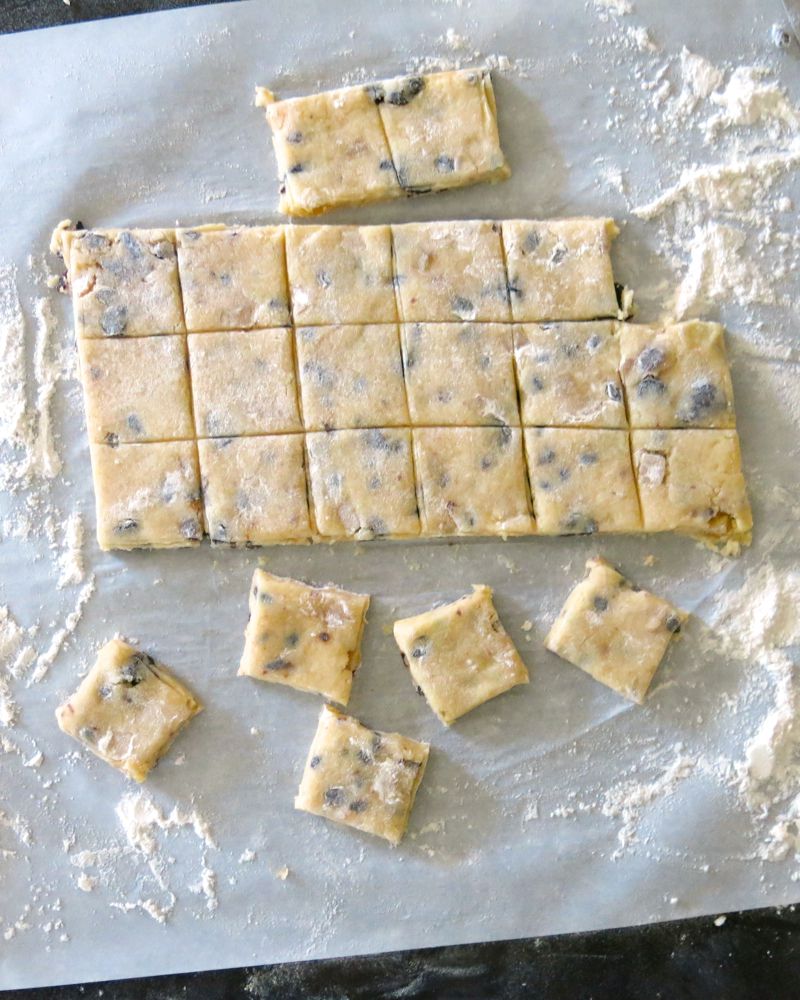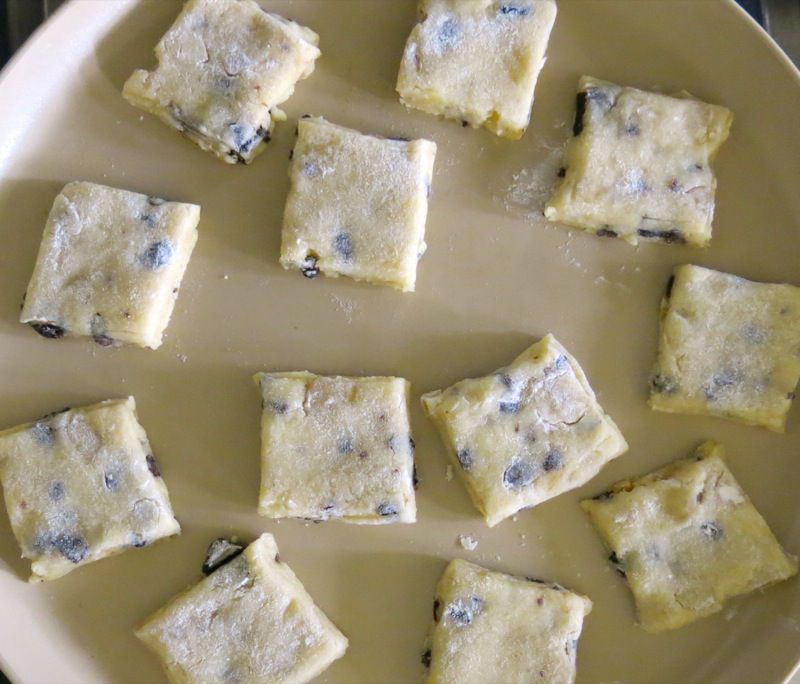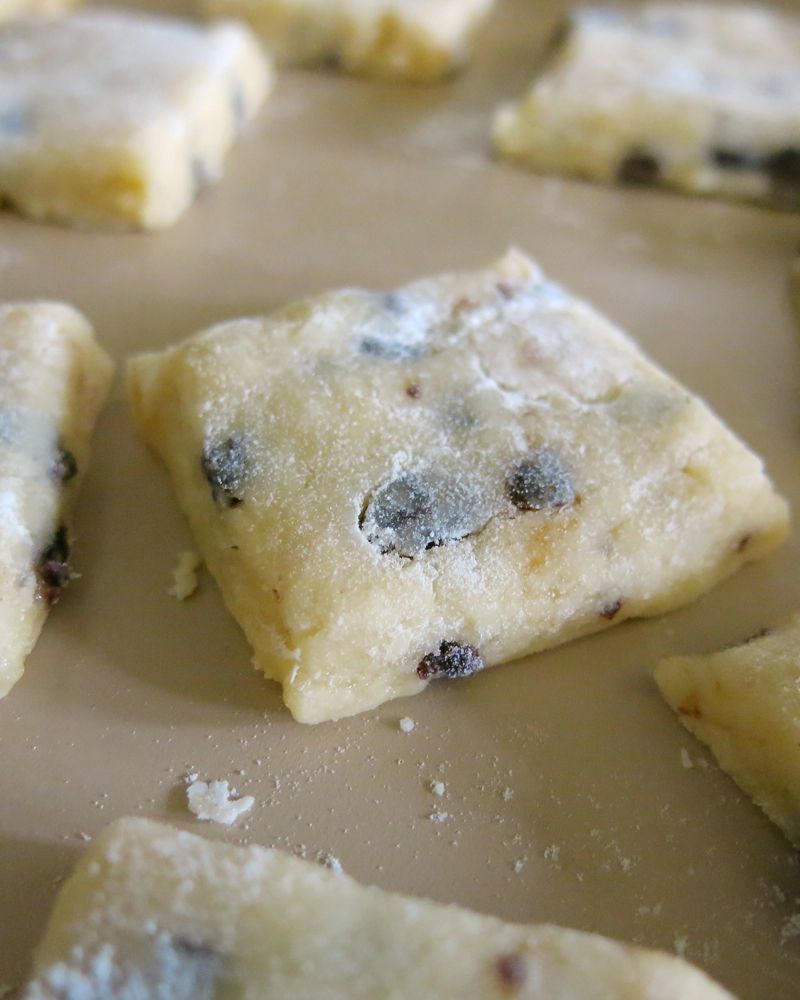 I don't know if you can visually see what happens when this stiff batter hits the griddle. It slumps. Ever so slightly. It gets warm, the bottoms brown beautifully, and they turn with ease, but after the first thirty seconds of hitting the pan, the batter turns to a liquid consistency and wobbles on top of the forming crust. I was mesmerized.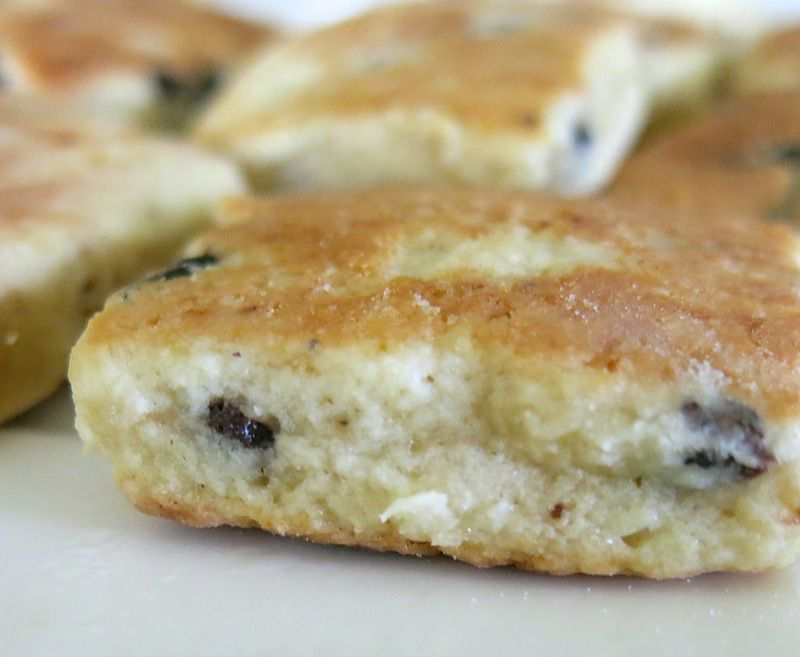 Seriously, so easy to make! I did not cook the second batch for a couple of days as I was busy. I also wanted to see how the dough would perform after that length of time. I took it out of the fridge 30 minutes before rolling, and the second time round, of course, making these little cakes was a SN-ap! I would definitely make the dough ahead if wanting them warm for a special occasion, but seriously, they are every bit as tasty at room temperature. It is just nice to have a guest feel pampered, no?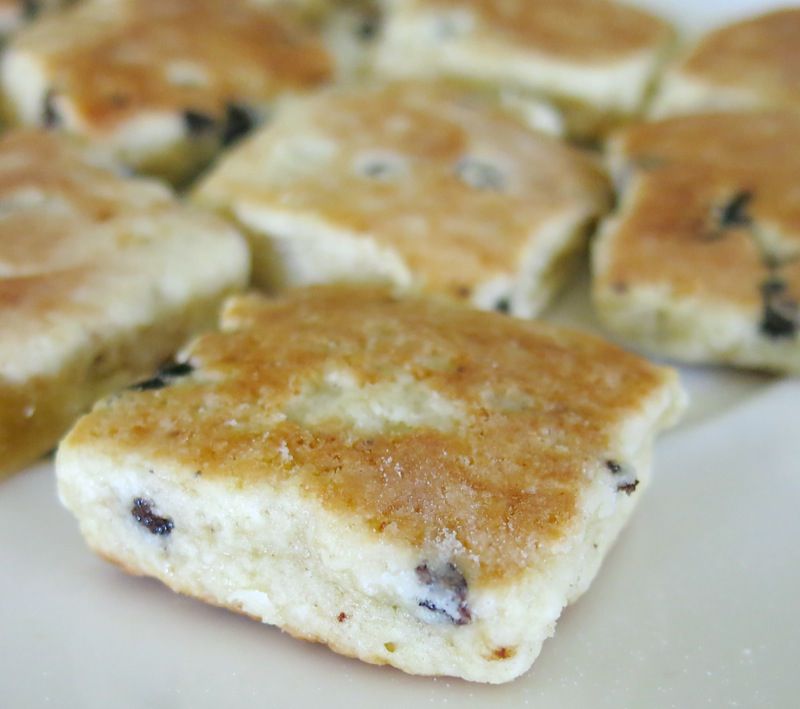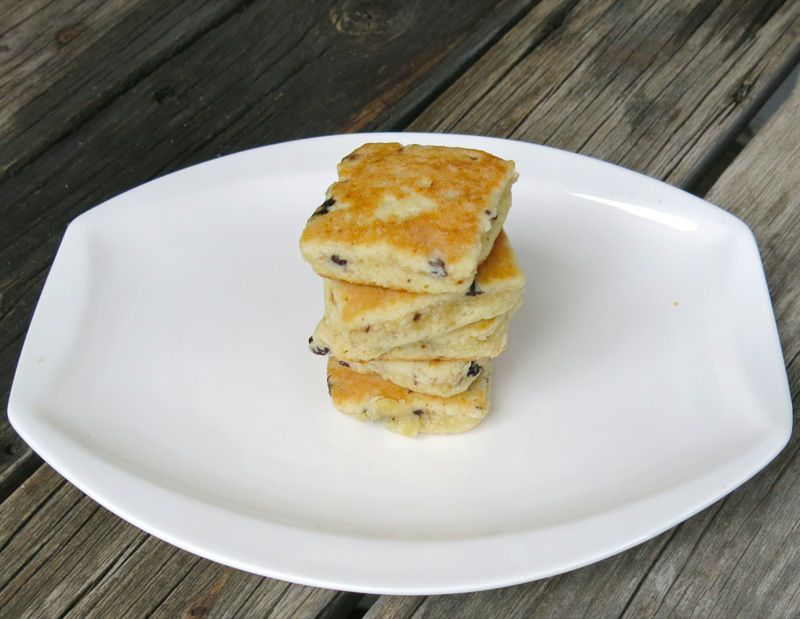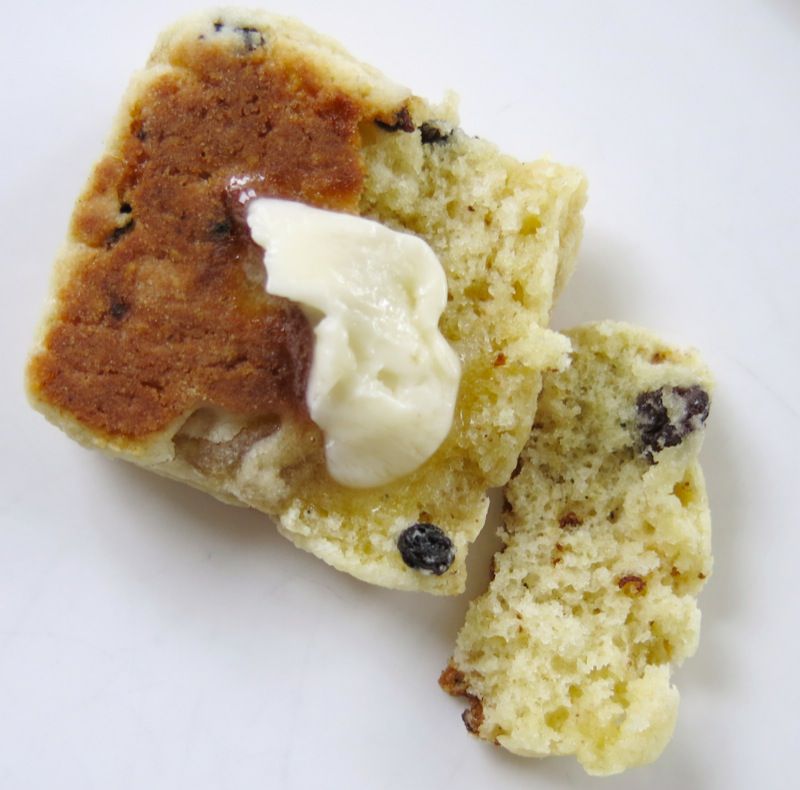 I was thinking biscuit when I added the butter. I love butter on everything. No need for butter here. A drizzle of honey over the butter hit my sweet spot, but again, no need.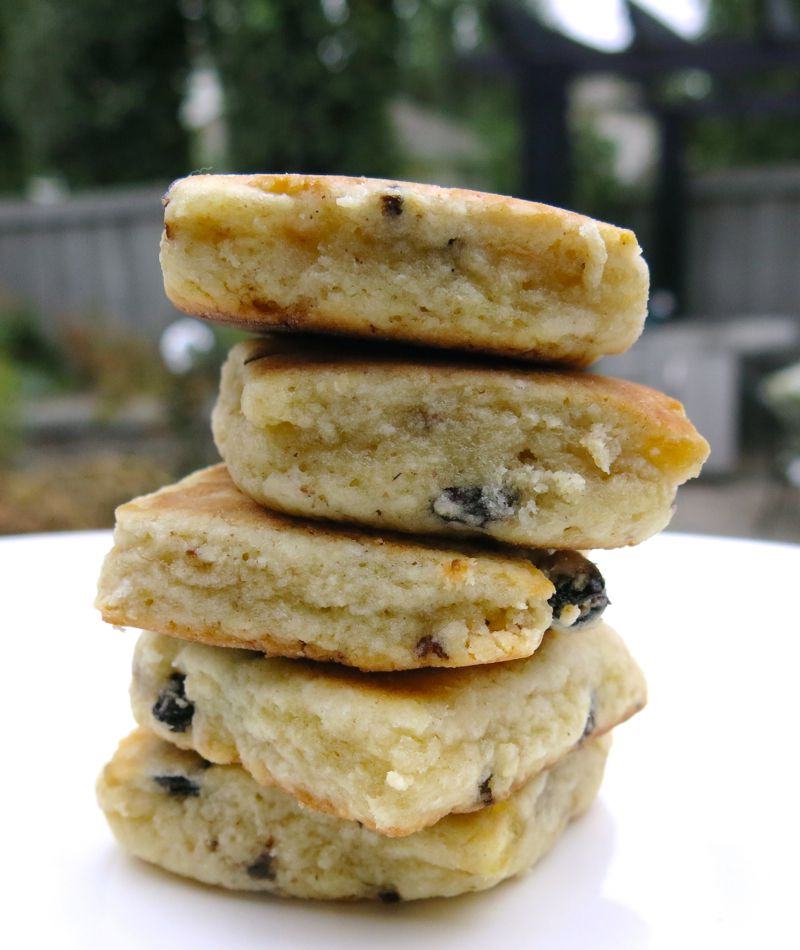 Charmian writes that this makes a big batch. Well, everything is relative, isn't it? I suppose 5 dozen is a big batch, but they didn't last a week here. Everyone was snacking on them, and then they were gone.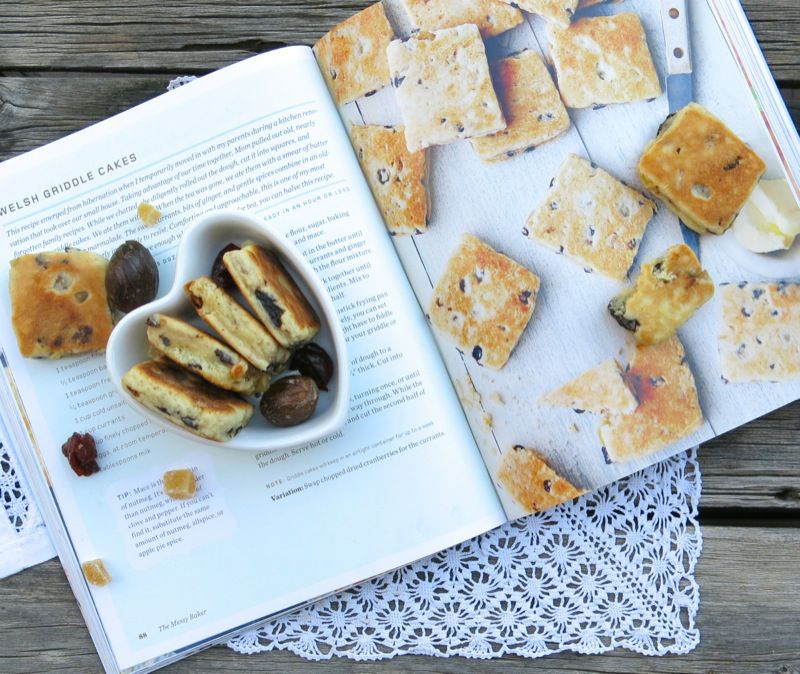 Time to make more. Time to investigate other recipes in her lovely new book that mirror her quirky humor and warm charm. Charmian is a reformed journalist turned food writer who specializes in recipe development, gardening, and a lot of other things. You can find her at her light-hearted, witty food blog: The Messy Baker. Don't mistake her humor and messy approach for lack of attention to detail. She is a well healed cook and knows her stuff. If she has written it, you can make it, and succeed. That is The Messy Baker blessing. The Messy Baker gift is Charmian's ability to open doors and windows to one's own creativity through her words, her recipes and her new book. That's a sweet bang for your buck, don't you think?
An exclusive moment with Charmian Christie about The Messy Baker:
1. Which The Messy Baker recipe would you hope someone would make and write about, if there could only be one?
"I wrote the book to break down some of the barriers that keep people out of the kitchen. The intimidating/unrealistic expectations of perfectionism, the fear of not being accurate enough, the perception that baking is hard. If there could be only one recipe that someone made and wrote about from the book, I would hope it would be the one recipe that captured their attention. My selfish wish is they would tell me why the chose it. Was it the ingredients, the type of recipe, the headnote? Did it remind them of a time or place, or was it so new to them they had to explore? Learning that would be my hope." As a food write and recipe developer, I get that. I am so interested in how what I do appeals to others, as well, as each connection is unique and personal.
2. Which recipe did you develop on your own that you are most proud of, and why?
"I developed most of the recipes on my own, so it's very hard to pick just one. Although I start from a familiar base — scones, galettes, pies, cookies — I make them my own through flavour combinations and doable techniques. That said, I'm likely most proud of the Double-Stuffed Uber Oreos. Not because it was hard to develop or took a lot of imagination, but because the Oreos resonate with almost everyone who tries them. I love watching how people eat them. They seem surprised at how good they are and then quickly realize how much mess they're making. When you bite one, the filing escapes, sometimes dramatically. I'm intrigued by how the eaters react. Some people lick the edges clean, some pull the cookie apart, some just stuff the remains in their mouths and reach for a napkin. I don't have a theory fully developed yet, but am pretty sure you can assess someone's personality based on how they react when eating their first homemade Oreo." Yup. This is the Charmian I know, and love. If you are not following her blog, you must. She will have you in stitches daily!
3. Tell me about the Welsh Griddle Cakes. What is your family story here? Do you recall your first griddle cake
"The Welsh Griddle Cakes have been around as long as I can remember. One side of my mom's family originally came from Wales and this is a fairly standard biscuit there — if my Mom is to be believed. I wish there was a great story behind them involving ancestors and a long ship voyage, but there isn't. I don't even recall my first griddle cake. They were always part of the snack rotation, like the poppy seed bars. Cookies and biscuits tended to cycle in and out of favour in our family. Mom would make coconut oatmeal cookies every week for a few months and then we wouldn't see them again for a year or two. I guess the griddle cakes came and went in my youth only to return in my teens. Mom was never one for currants, which might have been why they were absent for so long. However, she was very practical and embraced the currants when necessary. She was feeding her own three kids and our friends after school, so this recipe was a lifesaver. It made a big batch, used relatively inexpensive ingredients, stored well and had no offensive flavours to turn fussy eaters off. I think one of the reasons people always ask for the recipe is griddle cakes are clearly an old-fashioned treat, but having escaped the recent food trend cycles remain relatively unknown."
4.

What is the biggest lesson you learned from authoring this cookbook – as a writer, as a blogger, as a person and as a cook and baker?
The biggest lesson, which sunk in by stages, was that a book is not a blog in print form. As a blogger, I'm used to being my own team. I develop recipes, cook, photograph, write, publish and publicize. I naively thought I could do it all on my own. I learned that the author is just one tiny part — a catalyst, if you will.
Not only do you need a concept beyond a collection of recipes, you need a team — or rather several teams — to bring this concept to life. On the publishing end there's the editor, copy editor, art department, sales team and PR. But before the manuscript is even submitted, each recipe is taste-tested and tweaked before being sent to recipe testers. The 75+ recipes took a group of 33 testers to ensure the results could be duplicated in real kitchens with real ovens using a variety of non-branded ingredients from local stores. For the photo shoot another team emerged. They consulted extensively with the publisher before meticulously planning the shoot. For seven days, I watched (answering the odd question) while the food stylist and back-up baker made the food and placed it on whatever vessel the prop stylist selected from the roomful of plates, cutlery, backdrops and fabrics she hand-picked for the shoot. The photographer perfected the lighting, created the "story" and built the shot. He saw light and shadows where I saw only a plate of brown cookies. And then, once we had flagged the best images, the assistant processed them — in between delivering lunches and keeping the office running. Then it was handed over to the art department who began putting words and images together in what would eventually become the book.
They say it takes a village, but I think it takes a whole city. A very busy, bustling, vivacious city."
#MessyBakerMonday
Take a look at the posts from the following Canadian Food bloggers to see how The Messy Baker Cookbook (aka The Gateway Book) inspired each of them….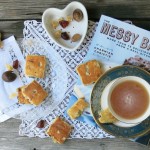 The Messy Baker: Welsh Griddle Cakes
Ingredients
510

g

flour sifted all purpose flour

1 1/2

teaspoons

baking powder

1/2

teaspoon

baking soda

5

g

salt

210

g

sugar

5

g

freshly grated nutmeg

(one nutmeg is about 1 1/2 teaspoons or 7.5g)

1/4

teaspoon

mace

210

g

ice cold butter

, cubed

140

g

currants or other dried fruit

(I used 70g each of dried sour cherries and currants)

100-110

g

diced crystallized ginger

2

eggs

90

g

buttermilk
Instructions
Instructions for Thermomix
Scale flour and sugar into TM bowl adding baking powder, baking soda, salt, nutmeg and mace; pulse at Turbo for 1 full second to combine

Scale cubed ice cold butter into TM bowl; pulse at turbo for 1 full second, two times

Scale currants and candied ginger into TM bowl; whisk eggs into milk and pour over dry ingredients in TM bowl in four portions as follows

Using a spatula, move dry ingredients along side of TM bowl to make room for liquid to reach bottom; pour 1/4 of the liquid into side of bowl

Repeat three times until each quadrant of TM bowl has received 1/4 portion of liquid ingredients

Selecting Reverse and Knead settings, knead dough 6 times: dough will form into clumps

Remove from bowl; dough will be stiff

Portion into two balls or logs and wrap tightly

Heat ungreased griddle over low or set electric frying pan to 250F; I used my ceramic crepe pan on my gas stove at medium low and it worked perfectly

Roll first half of dough on floured surface to 1/4 inch thick; cut into 2-inch squares

Repeat with second half while first half is cooking

Cook first batch of cakes on heated griddle for 8 minutes, at 4 minutes per side or when golden brown

Serve hot or cold; store in airtight container for up to a week, if they last that long