A brilliant fantasy of the senses seasoned with a delicious underlying sense of humour!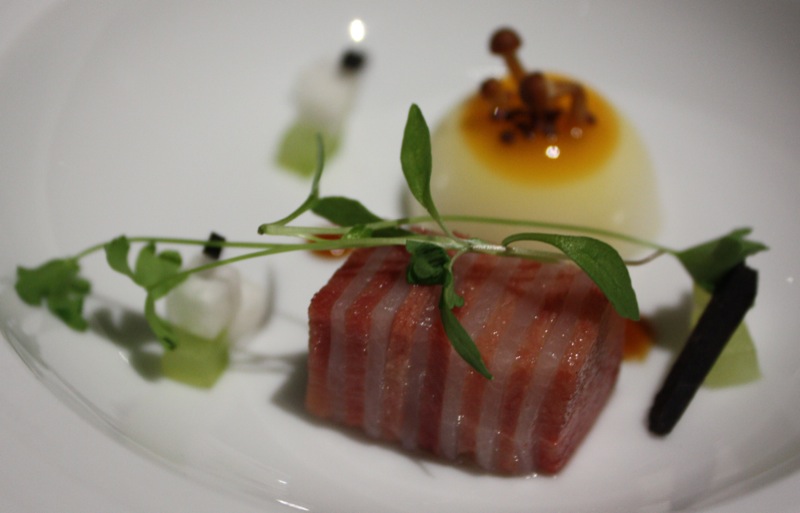 We took the underground to Paddington Station from our hotel in London and transferred to the train for Maidenhead which was a short 25 minutes away. Come with me from the train to The Fat Duck! Our taxi took us down the hill around the corner and through a lovely green residential area to a very quiet road, then stopped in front of a plain white building with a simple brown door and said, "This is it". We looked at each other and I stepped out of the car looking for evidence while Vanja paid. Then I looked up, and smiled.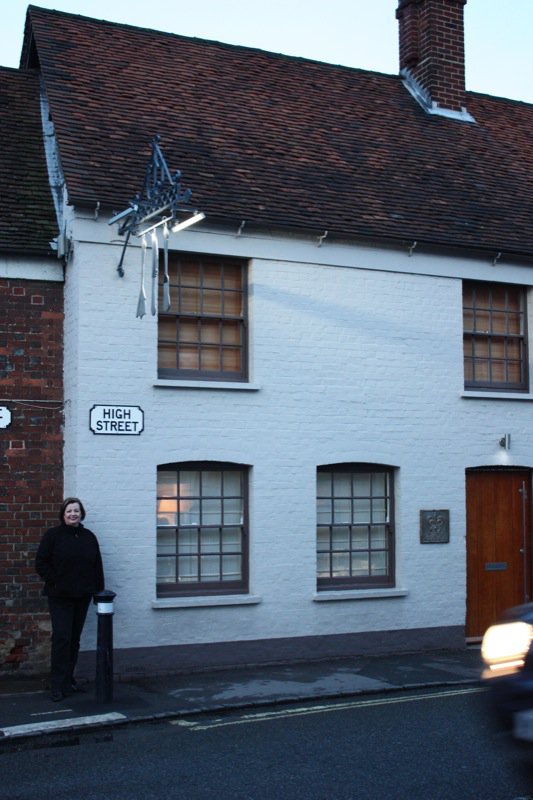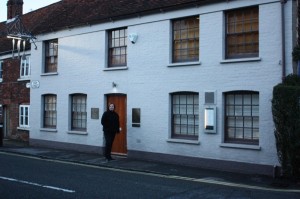 The sun was setting. It was 7:40 on a gorgeous Spring evening and the street was eerily silent.
We were greeted the moment we walked through the heavy oak door by a man in a suit and two happy cheery gals that immediately dropped what they were doing and came to the door beaming the sweetest smiles up at us. I was enchanted. Though we were twenty minutes early, we were seated at a lovely round table with ample room and both chairs fairly close together facing an interesting portion of the restaurant. Detail.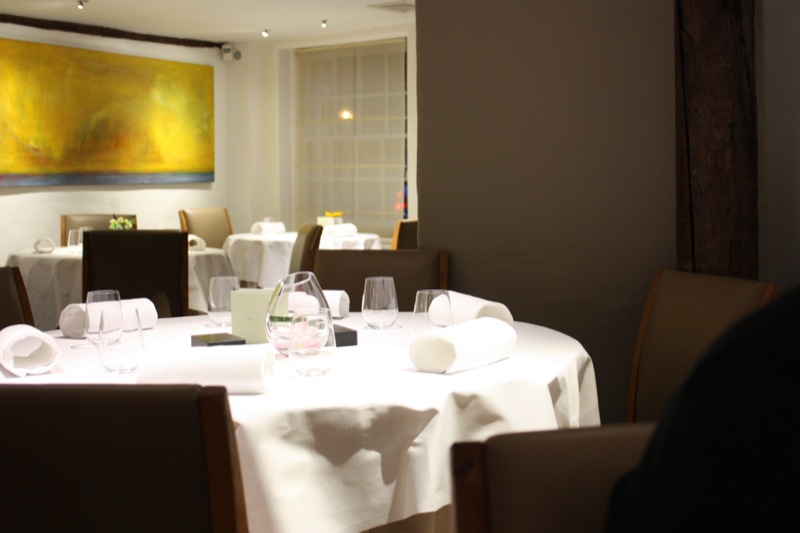 The simplicity of the room was stunning. Heavy beams lined the rustic white walls and ceiling. Modern art lined all walls in horizontal form. All staff were in their formal service while the guest were clearly dressed for a special evening, though most men were not in jackets as required when dining at The French Laundry. We were definitely in casual attire as our travels would take us nowhere needing anything formal, except here. Black is a wonderful colour when casual. It worked.
The simple white napkin: detail.
We had just oriented ourselves in our seats when out of nowhere appeared this ultra modern over-sized champagne cart in front of us. "No, thank you." Were words I did not want to utter as the young man formally offered us incredible celebratory choices. Yet, Vanja doesn't care for champagne, and I can no longer tolerate it. So, sadly, "No, thank you." it was. I appreciated the beauty of the cart, the choices and the lovely young man with his formal, yet warm manner.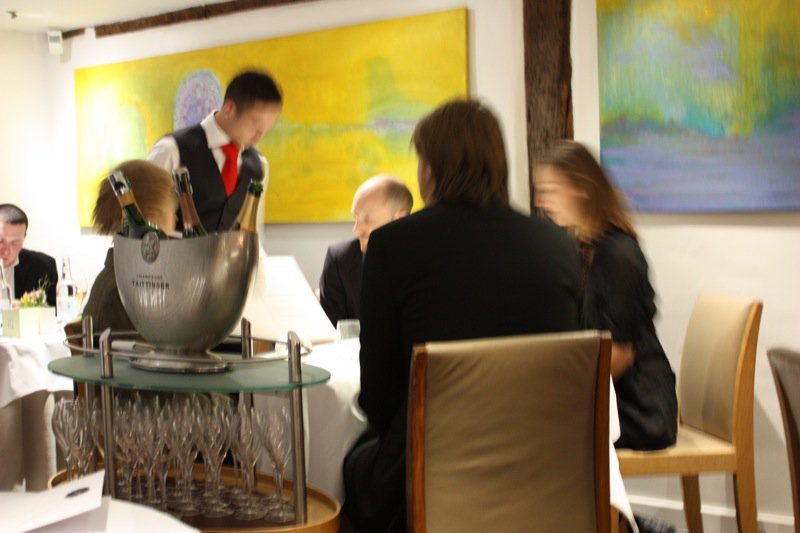 Olives and a bottle of still water were placed on our table seconds after we sat. Vanja even nibbled an olive, though he detests them: a testament to how hungry he was.
The finely leather bound wine list appeared; it is the most lengthy list I have laid my eyes upon. I love a taste of wine with my meal, but no one serves "tastes", and I can no longer tolerate any alcohol.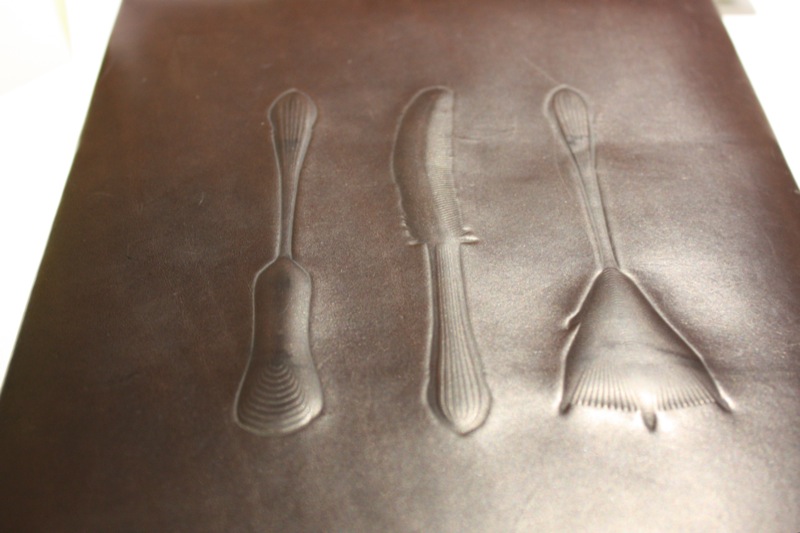 Vanja considered his beer selection.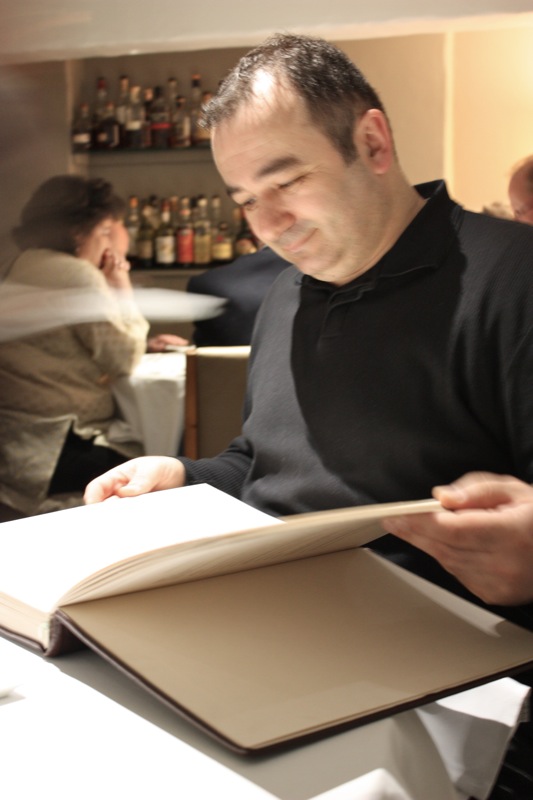 We were expecting an amuse bouche, but a gentleman in a formal jacket appeared with a tray to place on the table that had been moved into position moments before. Now this looks interesting. When we arrived, the restaurant was almost empty. The first sitting had been cleared and a few tables for the second sitting were seated so we had no idea what was in store for us.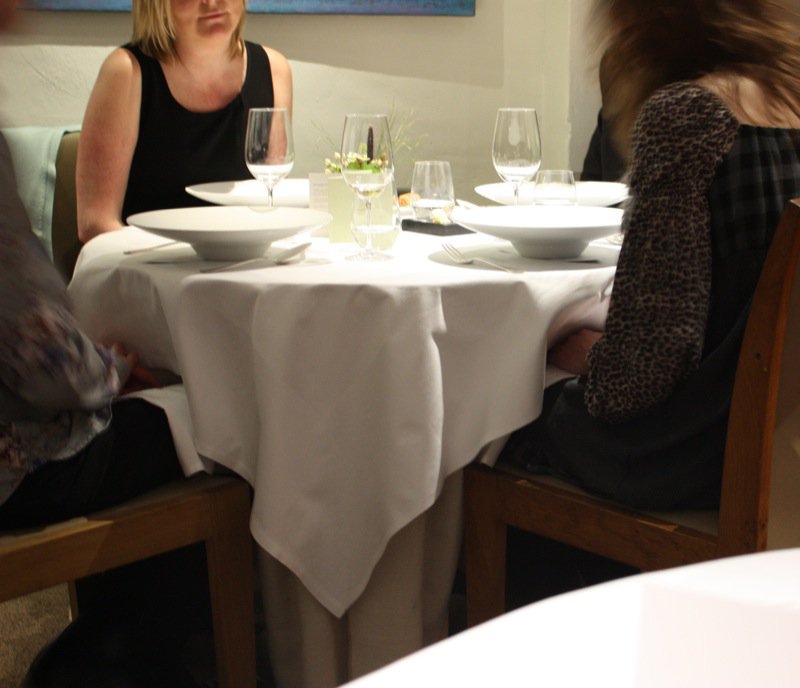 We hadn't time to see anything served to another table and the anticipation mounted as he told us that he was about to prepare a bite for each of us with liquid nitrogen in the open pot that was -198ºF that would cleanse our palates and prepare us to dine .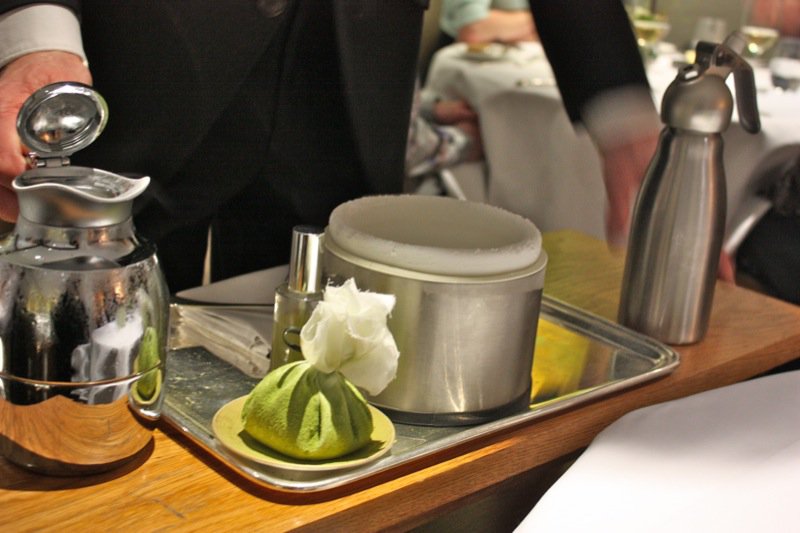 LIME GROVE
Nitro Poached Green Tea and Lime Mousse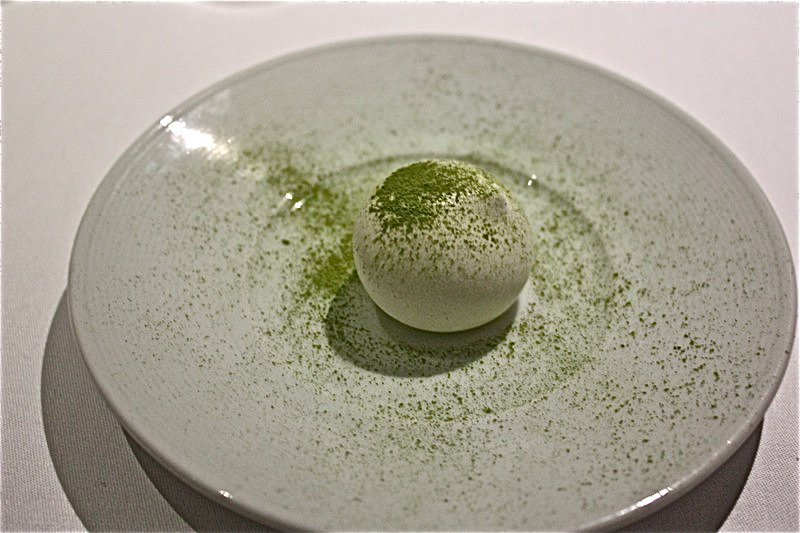 One delicate bite to be placed in the mouth all at once evaporates immediately leaving a lime citrus breath of air freshener. Mmmm…. Magic.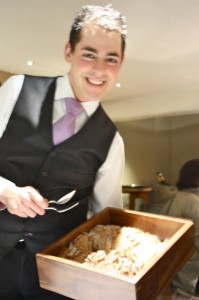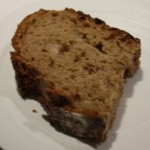 And the bread and butter were second to none, but it was curious to both of us that it was served immediately after the palate cleanser. I commented that it was a shame, in a way, to cleanse our palates for bread and butter. Though, I must take a moment to sing my praises to the butter.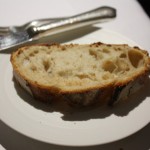 As a server placed it on the black slate on our table, we were told it was unpasteurized salted butter. This seemed to be a recurring theme. Again, I could not get enough of it. It was only butter, but nothing at The Fat Duck is usual. This butter was clean and salty and creamy. I could have taken a spoon to it. Instead, the bread was perfect. They should sell it to take home.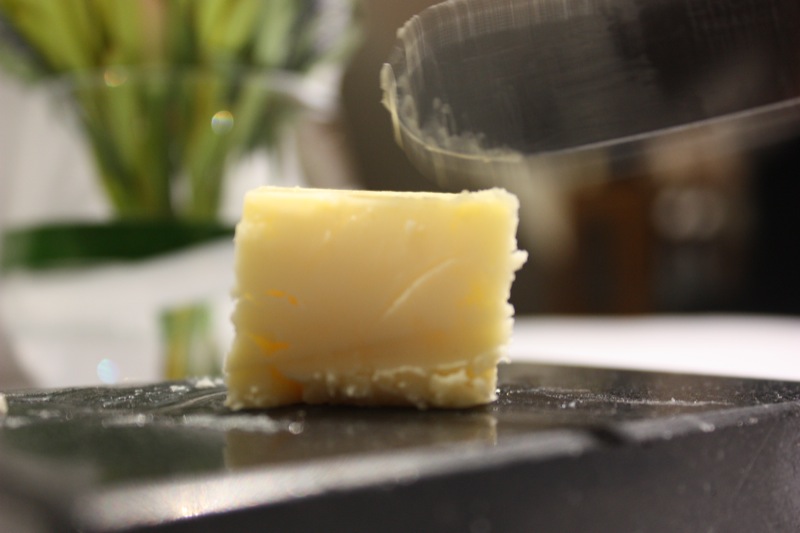 Before we got very far into our tasty whole grain bread, a canelle of mustard ice cream was served with a red cabbage soup. The intensity of the soup was unexpected and exceedingly pleasing. Chef Blumenthal, how do you come up with such ideas? It was refreshing, savoury, sharp, and completely unexpected. The flavours paired perfectly. Who would have thought? Heston Blumenthal. Simply perfect.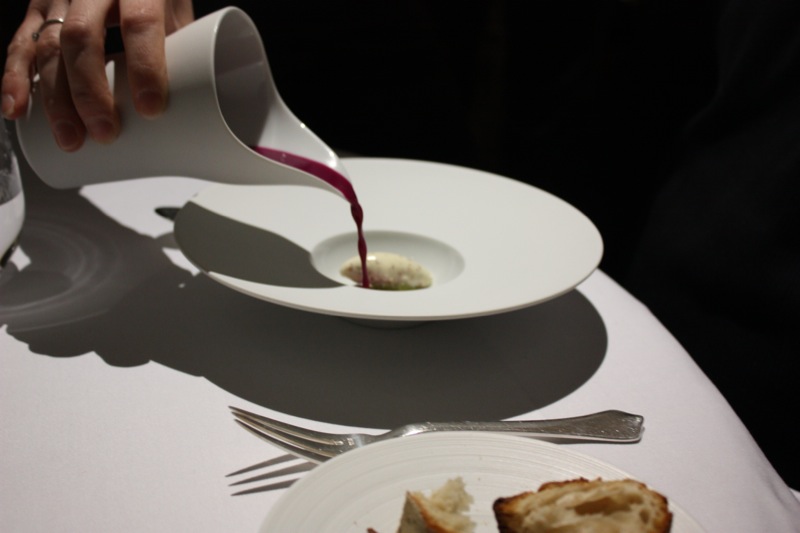 RED CABBAGE GAZPACHO
Pommery Grain Mustard Ice Cream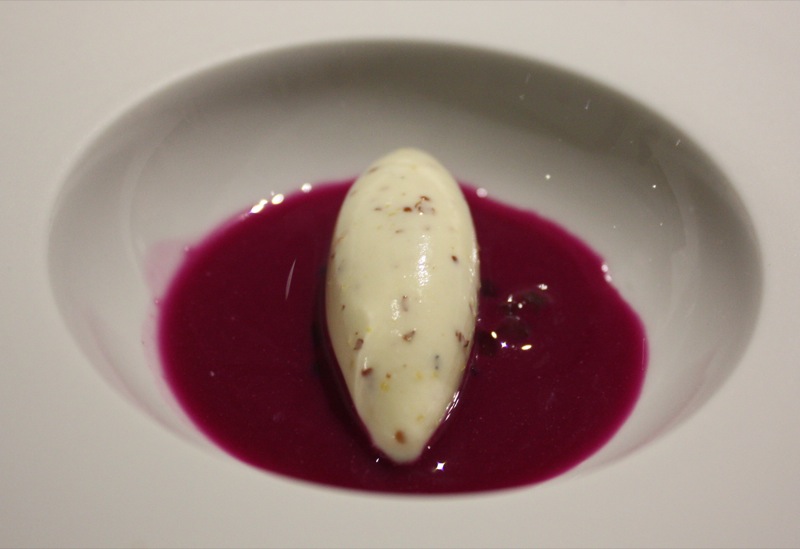 What is this? A miniature package awaiting your pleasure, madam. Place it on your tongue to prepare your palate for the tastes of the forest floor…. and the forest floor appeared before us covered with moss, fragrant vapours rising as the steamy pot of water poured into it….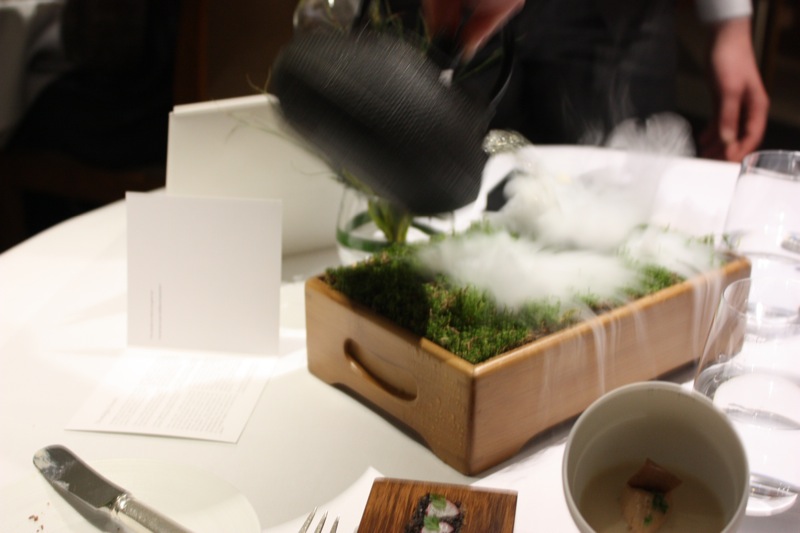 …bubbling over the table to greet us as we partake of the mossy oak jelly and cream. It cannot be explained, but it was exceptionally delicious. This was one of my favourite taste and texture experiences of the evening. The chicken liver was silky and thick and unctuous and the lighter layers inside of the bowl rounded that richness into such a pleasurable delight. I almost forgot I had a truffled cracker. Who could forget that? And it was earthy and chewy and crunchy and the perfect textural compliment to the bowl of velvet silky jellied perfection. Simply perfect.
JELLY OF QUAIL, CRAYFISH CREAM
Chicken Liver Parfait, Oak Moss and Truffle Toast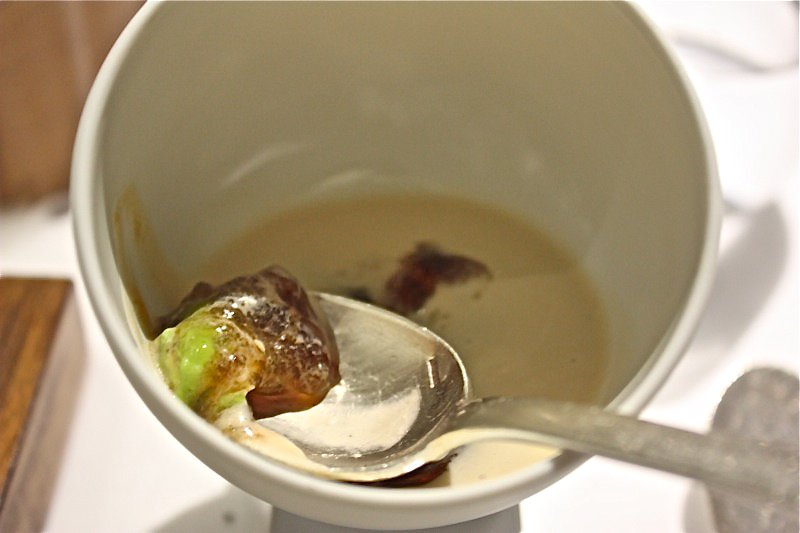 SNAIL PORRIDGE
with Joselito ham and shaved fennel
I love bright green everything. This was a vibrant dish. The freshness of the parsley was perfect. The porridge was really satisfying. The textured creamy bowl of luscious goodness was just what I needed. It wasn't rich, but clean and thick and chewy and the fennel shavings add an exotic aromatic hit. The snails gave an earthy depth of flavour and a warmth to the bowl through the unexpected je ne sais quoi that motivated my spoon to scrape the bottom of the bowl.
As we were seated directly in front of the service preparation table, it was interesting to watch perfect synchronicity of the service staff. Someone from the kitchen would bring out a tray of food for service and place it on the table. Whoever was closest and available would immediately come to the tray, read the little note under it (still on the photo to the left, above) and then take it to the correct table. Depending upon which course it was, and how many people were at the expecting table, others may join in the service. It happened as perfectly as a well practised dance and was definitely enjoyable to watch.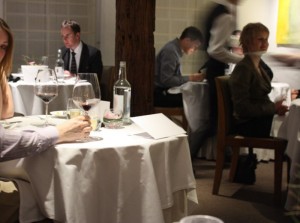 ROAST FOIE GRAS
Rhubarb, Braised Konbu and Crab Biscuit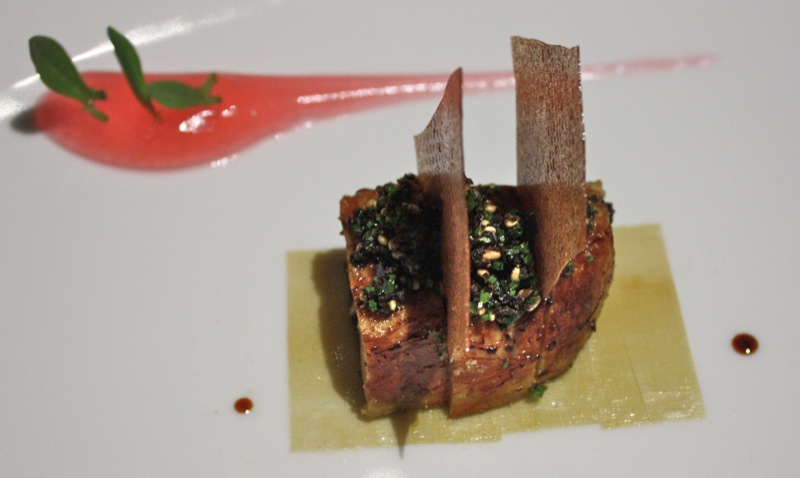 But usually we were too engrossed in our own plates. Look at this beautiful foie gras! It was just a little bit on the plate, yet it was plenty to eat and perfectly cooked. Look at the creaminess of the bite in the bottom left photo. The crab crackers were toasty and salty and crisp while the foie gras was, well, just about the most perfect food ever created on this planet. I knew by now that the garnish was not just to be looked at. Each little whisp or drop would burst with flavour and always elevate the feature. The rhubarb gel, balsamic dots and paper thin konbu were no exception to this. The acid from the gel and the vinegar lifted up the heaviness of the foie and it danced in my mouth. The seaweed added an exotic saltiness that transported the entire experience to an unknown realm. Who would have thought to add braised seaweed to this dish? Simply perfect.
A bookmark arrived in the middle of our place setting. Not just any bookmark. A bookmark made with exceptional cardstock, letters embossed in silver and with The Fat Duck's signature knife, fork and spoon raised proudly at the bottom in sparkling splendour. Anticipation. An invitation.
The March hare took the watch and looked at it gloomily; then he dipped it into his cup of tea… "Have you seen the Mock Turtle yet?" "No", said Alice. "I don't even know what a Mock Turtle is." "It's the thing Mock Turtle Soup is made from," said the Queen.
And there was a bowl with a little Wonderland inside of it: a small hill with toadstools growing out of it, some puddles and bridges and logs and blocks and greenery to explore.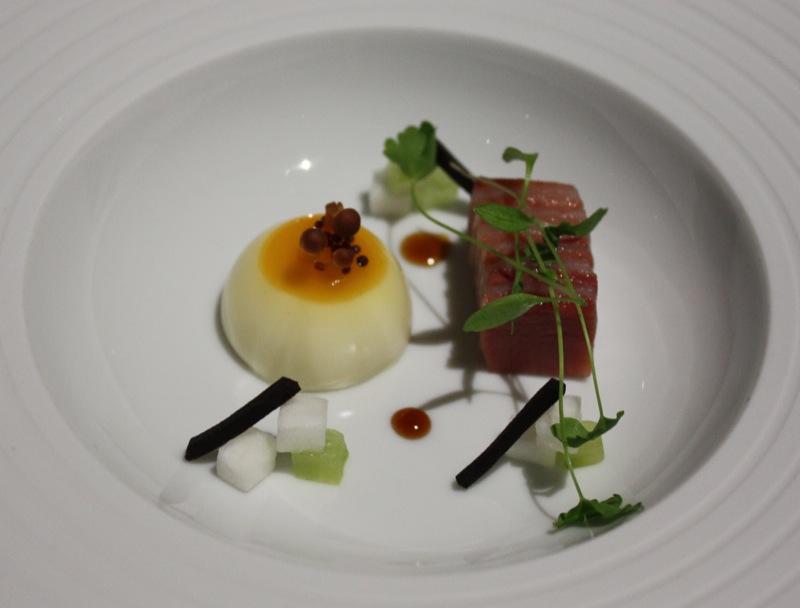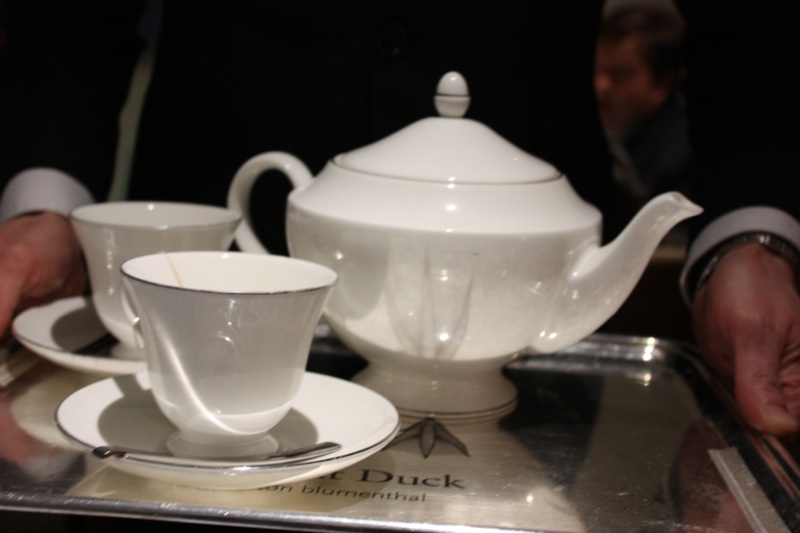 Then the waiter arrived with our Mad Hatter Tea. The 24k golden watch was slipped inside of our cup, and before I could even hold it for a moment inside of my hand, the hot water was poured over the carefully created and hard pressed bouillon and it immediately began to dissolve into a gorgeous golden tea…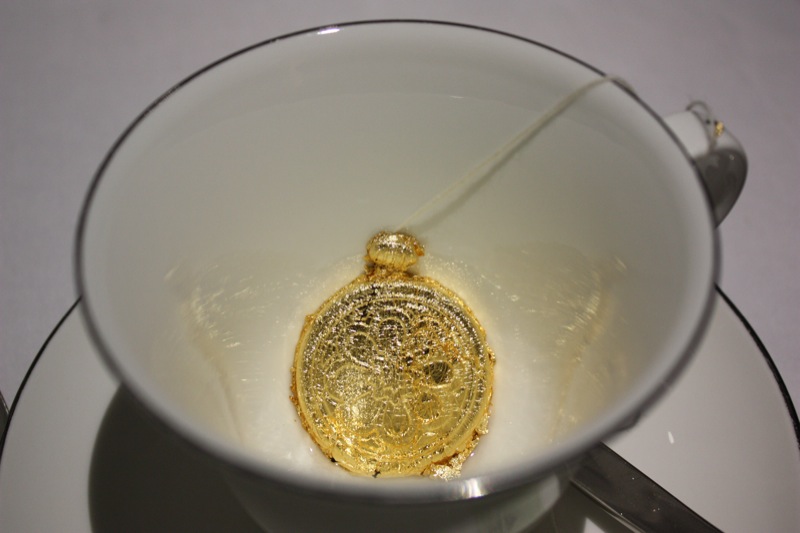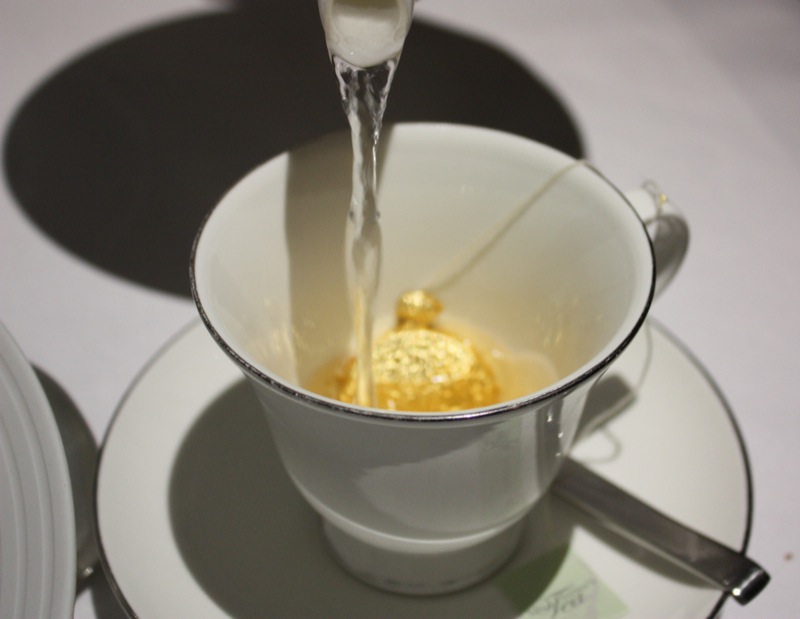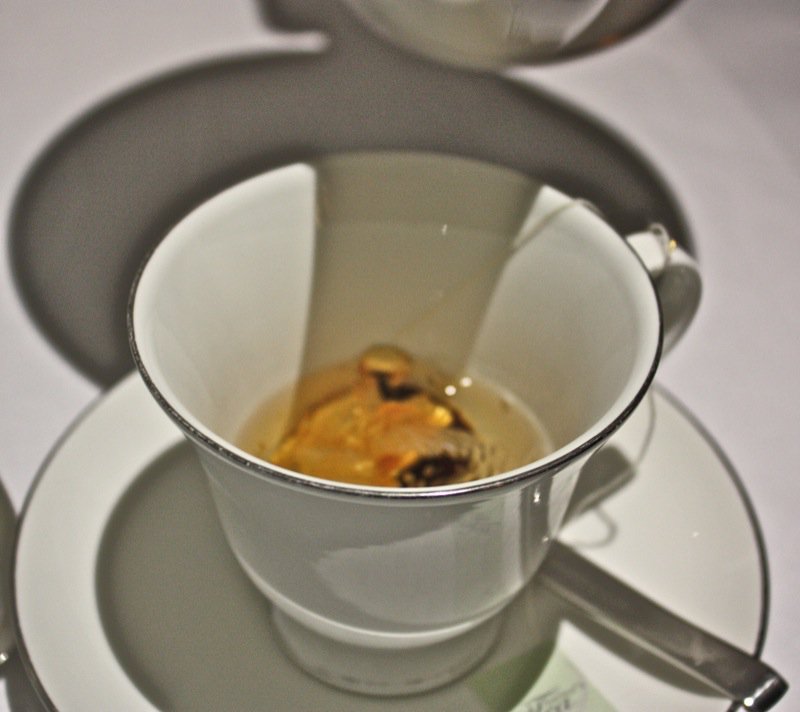 …which the server then instructed each of us to pour over the bowl to create our Mock Turtle Soup. The clichéa feast for the eyes evolved because of moments like these. The golden broth sparkled with golden bits of the dissolved pocket watch did actually make time stand still for a few seconds as I breathed in the fantasy. I now recalled seeing Anthony Bourdain speak about this dish once upon a time. He held the watch in his hand and Heston Blumenthal talked to him about how he created the dish. I held my spoon and dipped into the golden broth expecting the unusual, yet not the intensity of delicious flavour that was there. Still, and again. surprised by the ability of our master chef to create a broth with such a delicious intensity. Yum. And the mock turtle egg was a creamy, rich and decadent pleasure. The miniature terrine was flavourful and tender and the chewy texture was a welcome bite. This soup was extraordinarily scrumptious and probably the most beautiful savoury plate I have every laid my eyes upon. Perfection.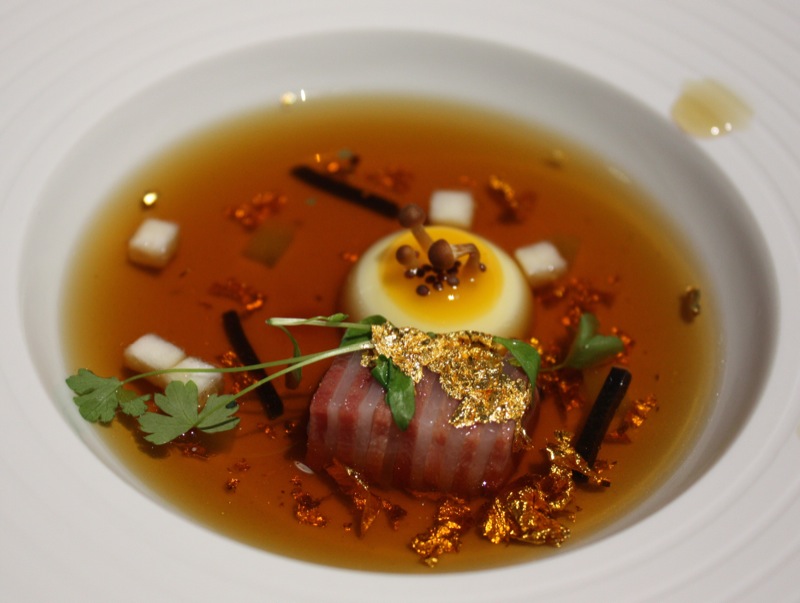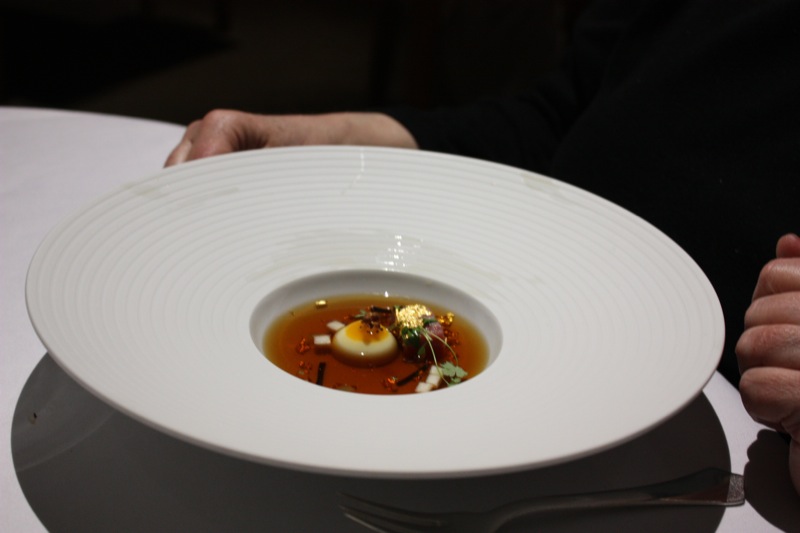 MOCK TURTLE SOUP (c.1850)
"Mad Hatter Tea"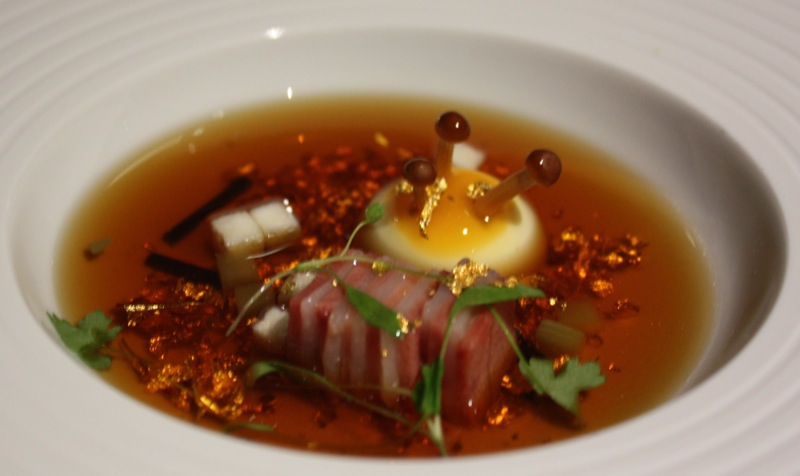 Mad Hatter's Tea with Heston Blumenthal
…and Vanja and I experienced this pleasure. Simply perfect.
httpv://www.youtube.com/watch?v=Gghb4vaQVvo&feature=channel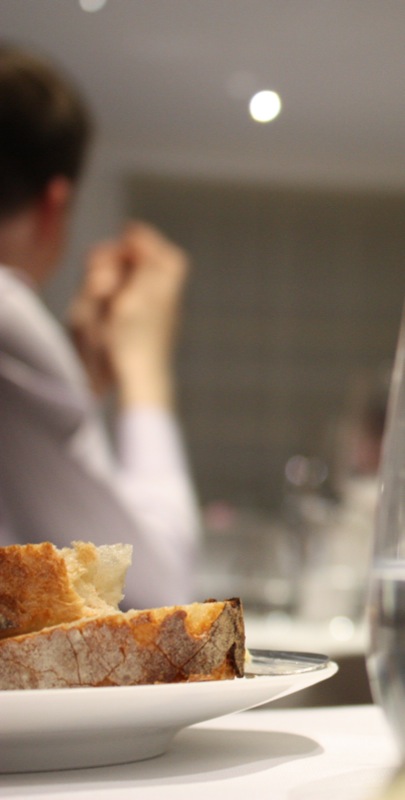 The serving staff was exceedingly sensitive to the needs of each of us in the room and had an inherent manner of just knowing what you needed next without any feeling that you were being watched or over attended to. Vanja loves his bread, and each time his plate was empty, the basket would reappear. Butter was replenished. Water glasses were filled. All of these details were done in a whisper of time without a sound.
At this point, listen to Heston Blumenthal himself explain his philosophy and this dish. We were prepared for this as we had seen it arrive at the tables before us. Two of Nature's most magnificent gastropod shells arrived on a tray with earphones neatly protruding from their inner depths. When inserted, the sounds of the sea was overwhelming and immediately transported me to my childhood frame of reference of waves and water and seagulls: Sylvan Lake. I closed my eyes. It was a dark and stormy day on the water and the water was warm and perfect for rolling with the waves.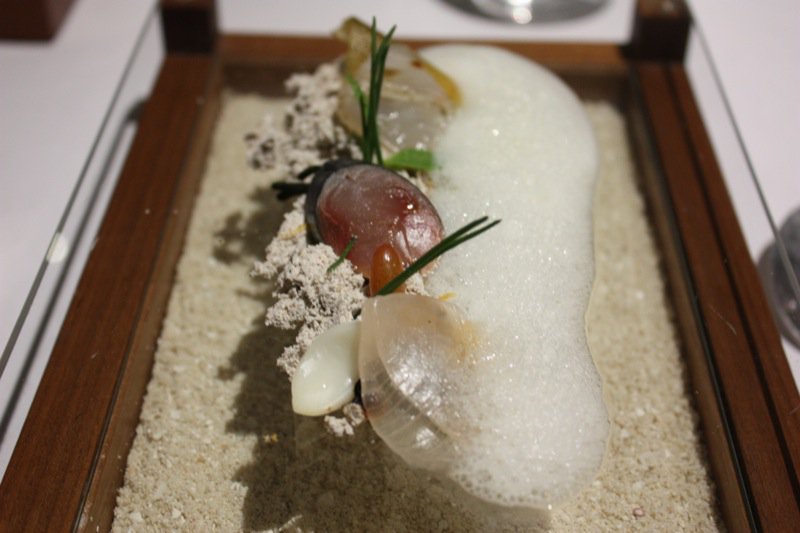 Our beach then arrived. The iridescence of the seafood morsels on the plate reminded me of abalone and the sand and seaweed were hiding a little snail or slug escaping the waters washing onto the beach. My first impression was awe. The artful plating of the food was perfect. Simple. Yet, not at all simple. We had agreed to go inside of ourselves during this course, and not speak while listening to the sounds of the sea. My first bite was of the foam and the sand and the reality of the flavour experience was so powerful I was jolted through my past to a memory at the lake where I was swallowing water. I laughed out loud. I had tasted these tastes of the sea. The textures and flavours immersed inside of the sound was an intensely personal eating experience. I would not say that it was delicious. But, it was an incredibly powerful and personal trip inside of myself through a kaleidoscope of memories that warmed my spirit and awakened all of my senses. And I laughed more that a few times through this trip. Biting into the squishy snail-slug and chewing it with relish to determine what it really was, chewing the salty seaweed, inhaling the foam, having the fishy sand explode with flavour and and then dissolve inside of my mouth each elicited a humorous response. I was so inside of the moment I almost stood up and clapped as I giggled with glee.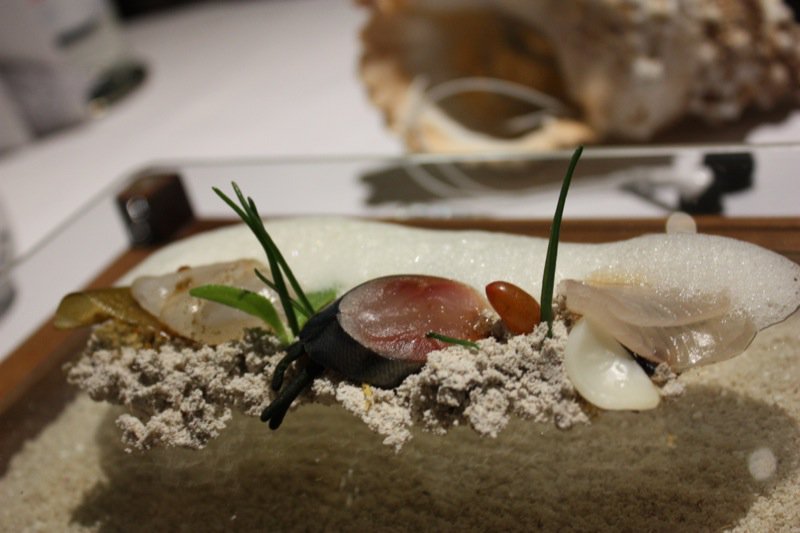 "SOUND OF THE SEA"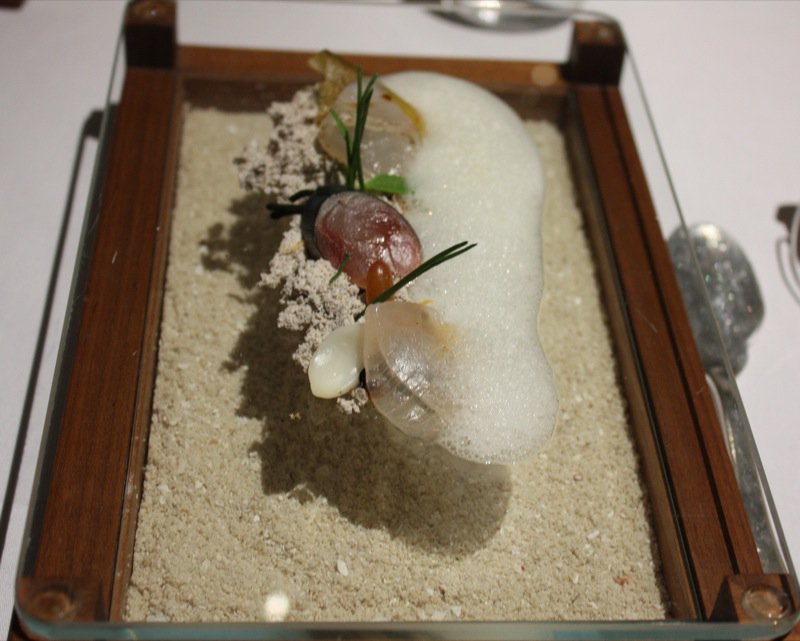 Vanja and I looked at one another with disbelief as each of us wiped the last traces of the beach from our lips and took off the headset. Nothing was said. Thank goodness this was an experience shared as it could never be explained. Brilliant.

The art work left a space for my eyes to rest and at times was a backdrop for my imagination to play our taste memories across it as each plating was significantly different from the other and the personal connection from within was overtly apparent upon experiencing each dish.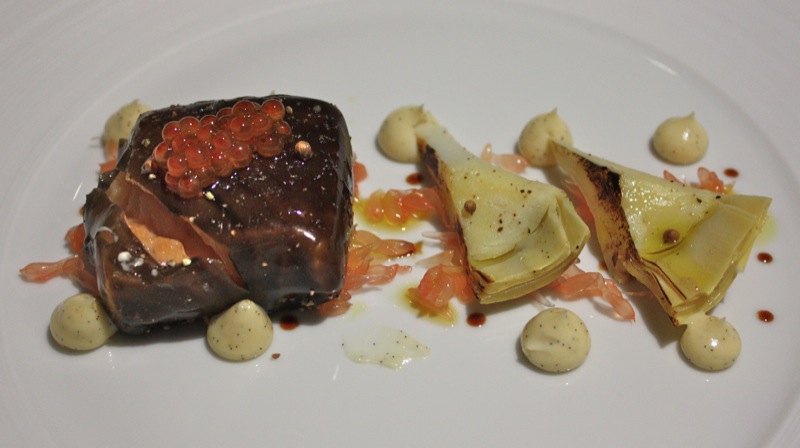 The salmon poached in licorice was wrapped in a licorice gel, and poached. It was topped with trout roe and was very clean and clear in flavour. The trout roe burst little sparkles of salty sea fireworks over the salmon. Here, the grapefruit tendrils really elevated the taste experience as the citrus notes cleansed my palate. At the same time, the decadence of the seemingly decorative vanilla mayonnaise played a very important role in this dish as it brought the artichoke and the salmon together as the perfect pair. Vanilla mayonnaise is scrumptious! I loved this succulent dish. Not so simply perfect.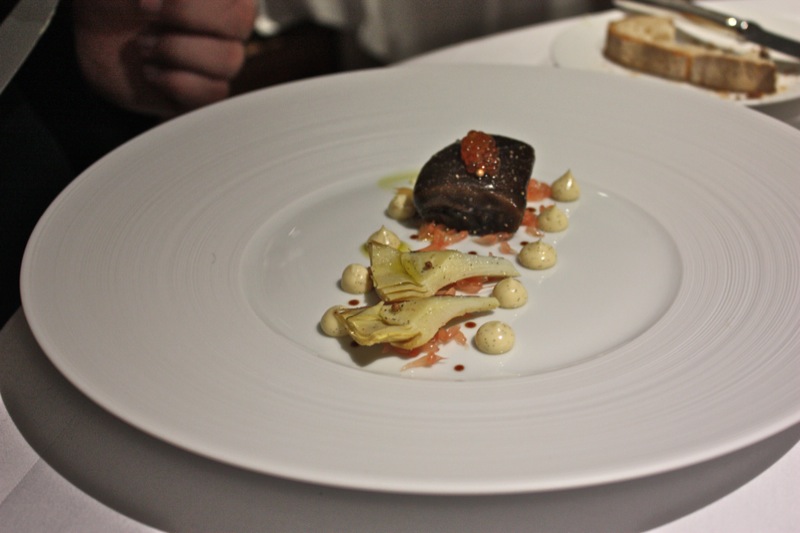 SALMON POACHED IN LIQUORICE
Artichokes, Vanilla Mayonnaise, Golden Trout Roe and Manni Olive Oil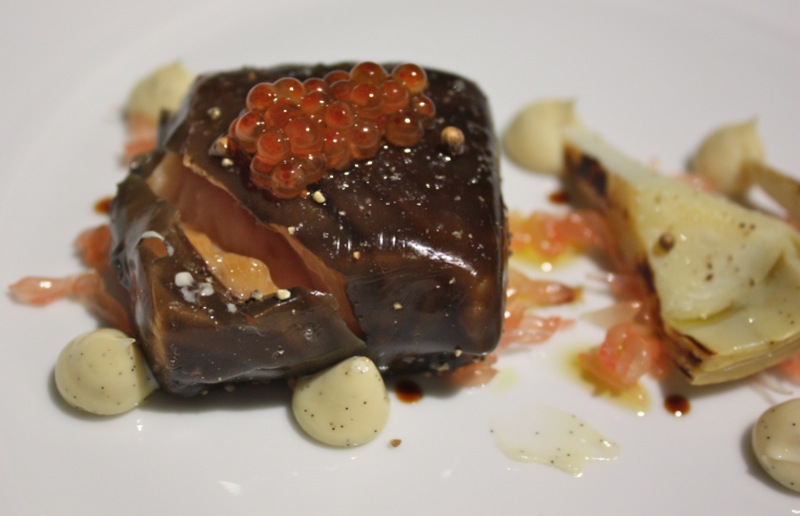 Hmm… the preparation table had a misting bottle on it. I wonder what course that is for? And, as the evening is wearing on, the wines are disappearing from the side shelf. There is no bar in the room, and I am amazed at how the serving staff is able to do all that they do as quickly and quietly as they do it without any defined space to do it in.
The last savoury dish appears. The pièce de résistance: pigeon.
POWDERED ANJOU PIGEON (c.1720)
Blood Pudding and Confit of Umbles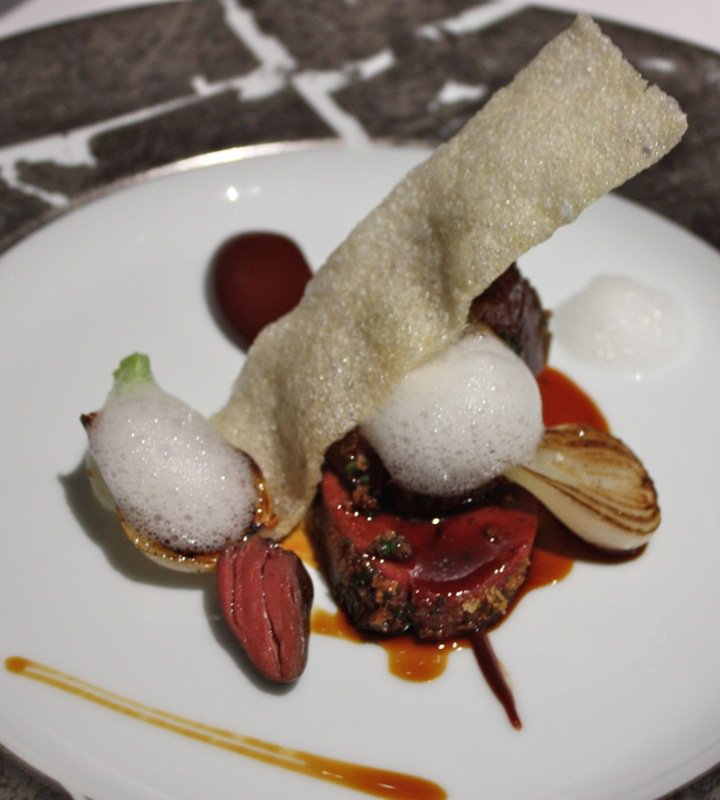 I had heard "humbles", and asked, "What are humbles?" The young man blushed just a bit and said, "Offals?" I nodded and then said, "Which?" "The heart." I was looking forward to tasting that. I was always the one at our family dinners that would scramble for the turkey or chicken heart as a child. I believe that love was instilled by my grandma Maude who would whisper to me, "Make sure you're the one to get the heart when the plate comes around. It is always the best part of the bird." I would chew on the rubbery bits proudly, and learned to love them. This heart was so tender. How tender it was actually surprised me. Is that the pigeon, or the chef? It is the heart shaped bit in the above photo. It was very delicious.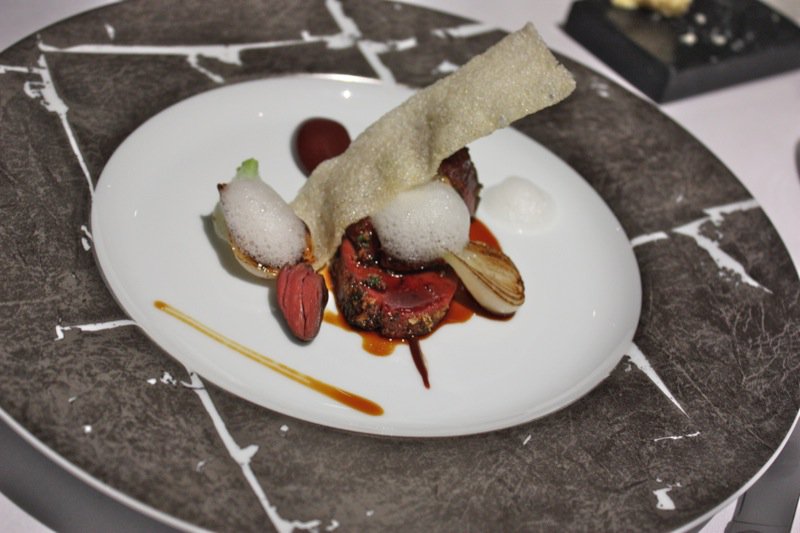 The texture of the blood pudding was unbelievably silky; the flavour surprisingly mild and lush savoury richness. Exactly the texture of a perfect chocolate pudding, and the flavour of a savoury gamy pudding. Really delicious . Yet, I couldn't eat more than that. I could not shut my mind off of the fact that I was eating blood pudding though my logic had already told me that it was delectable. The incredible silkiness beckoned me. Yet, I could not. The golden warm jus was inviting and flavourful and somehow beefy. The flesh was tender and gamy and wildly delicious. Yet, I was too full. I loved this dish. It really was the crowning glory of this feast as it celebrated British tradition and the wild game I had seen in every butcher shop passed by in London. I was thrilled to have tasted pigeon and to have had this completely British plate: heart, blood pudding, and pigeon. Quintessential British cuisine to the nth level.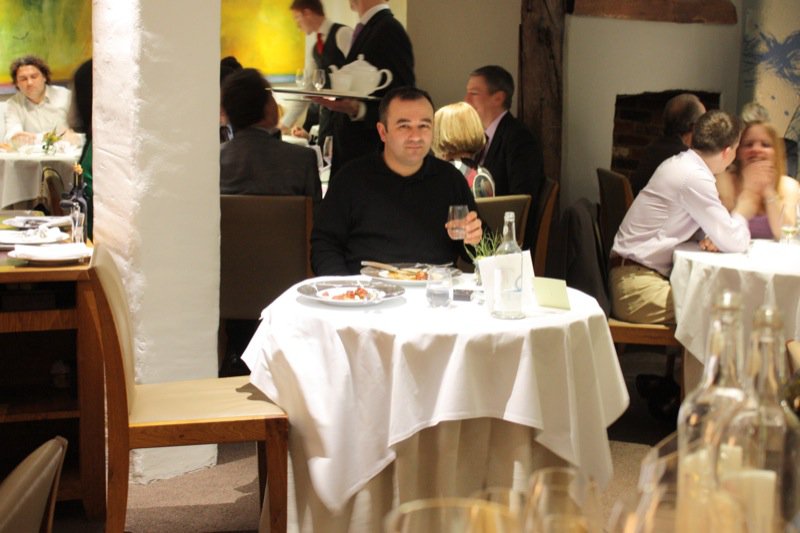 Two and a half hours had passed at the blink of an eye. We could not believe that we needed to catch our train back to London and that we still had the dessert courses before us. I have never spent that amount of time sitting at a table without being painfully aware of the time. This really was a Wonderland. Time stands still and flies at the very same time at The Fat Duck.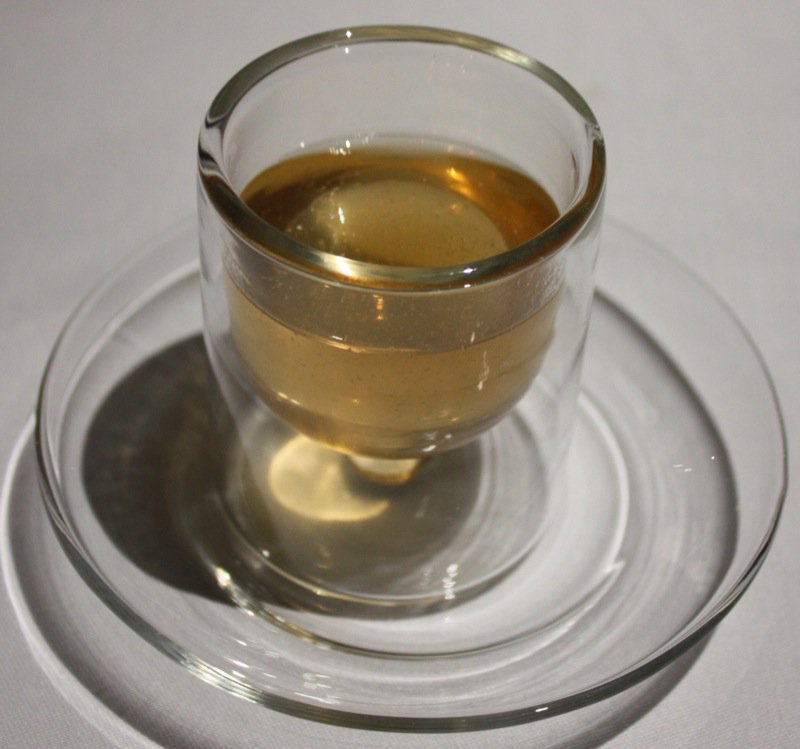 Our hot and cold tea arrived next. Heston Blumenthal, how do you do what you do? This was pure magic in a see-through glass. Magic. One sip was hot, the next, cold. One sip cold, the next hot. The latent scientist in me kicked into action. Hmmm… density of solutes… gelatin… emulsion… how did he do this? It has to be something to do with gelatin and ice and hot water. The flavour, I should add, was a refreshing mild honey tea and the texture was unusual… or was it just the temperature change playing games with my palate? This really was a Wonderland. Magical.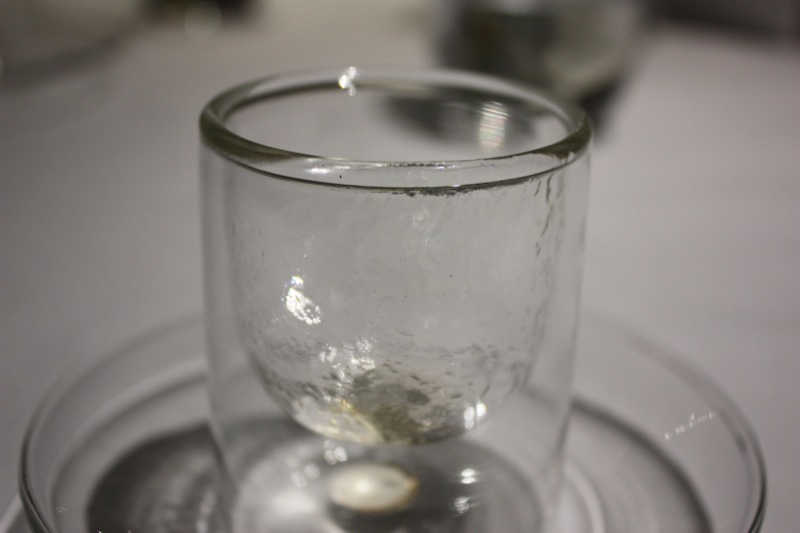 This little glass cup was simple perfection. The perfect tea cup for a hot and cold tea. Simply perfect.
TAFFETY TART (c.1660)
Caramelized Apple, Fennel, Rose and Candied Lemon with Cassis Sorbet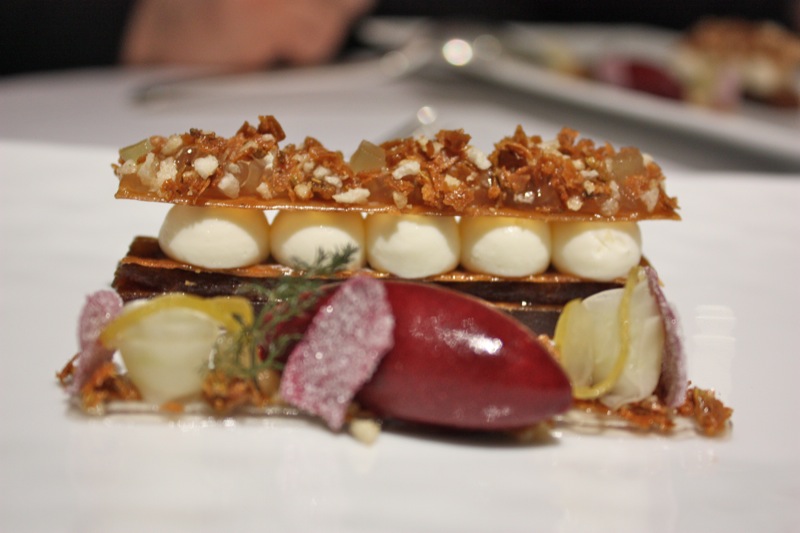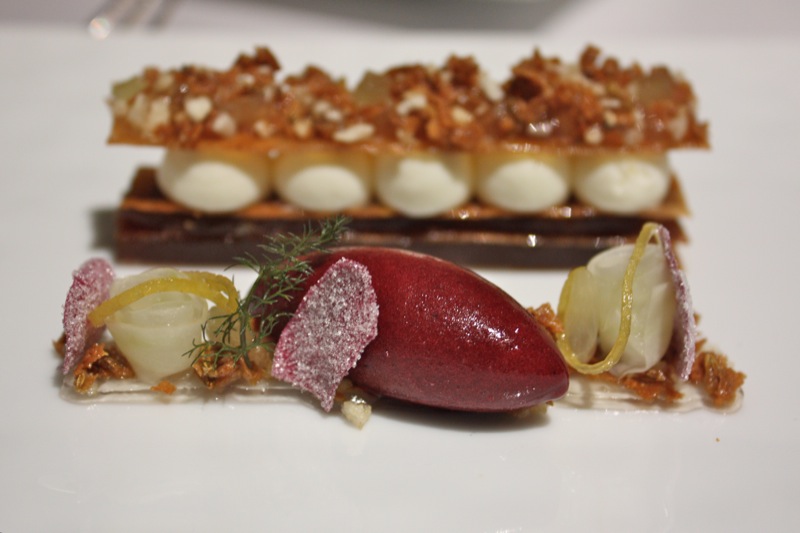 There was a lot going on in this dessert. I was sure I tasted violet. The server assured me it was rose, but I tasted violet. I wonder why? What was it, Chef Blumenthal, that brought that taste memory forward for me? The crunchy pastry and rose scented cream with the lemon bits and the cassis sorbet… all heaven. And I was really ready for a sweet treat by this time. The rose petals must have been made in house as they are just like the ones I make and nothing like the commercial ones in the South of France. There was a gelatin layer in the tart that created yet another layer of texture. Gorgeous, and yummy. No so simple. At all. But, perfect.
Now, what is happening. A dark, earthy musky whisper of a scent is settling over us. And, we have now been served the "BFG".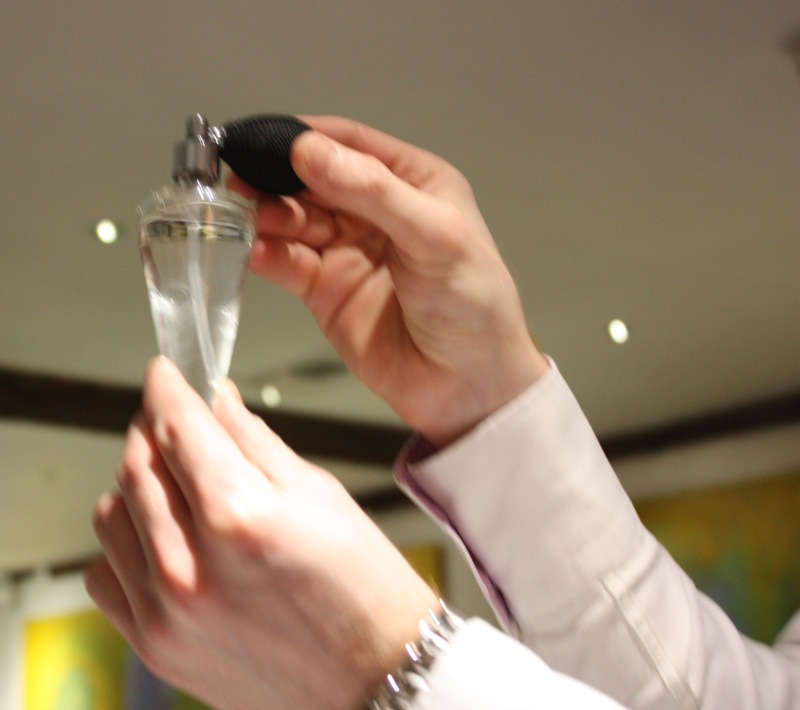 The "BFG"
Kirsch Ice Cream and the smell of the Black Forest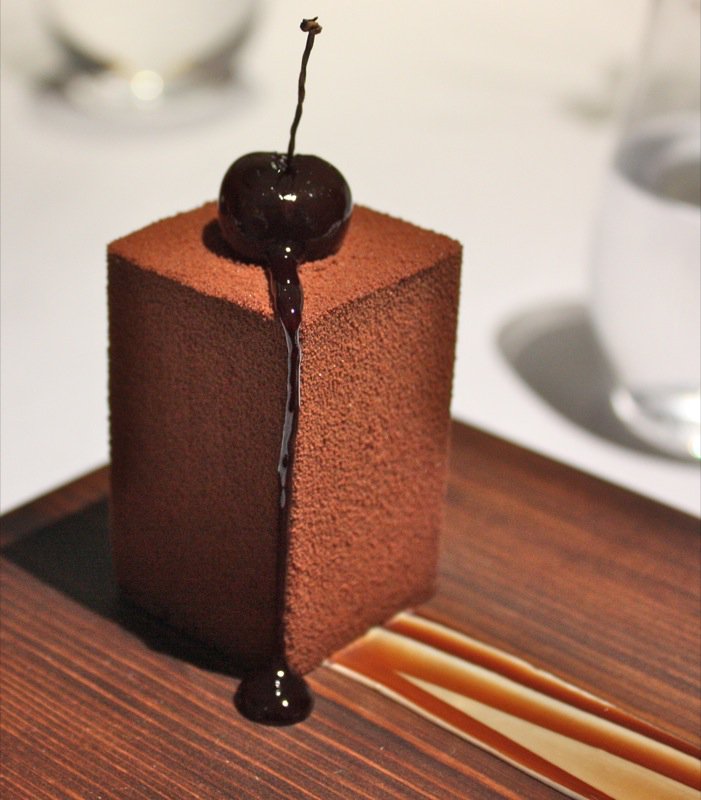 Simply perfect. Simple perfection.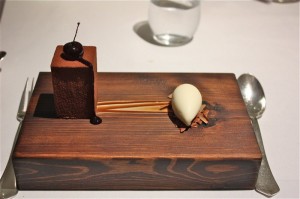 I cannot imagine how Chef Blumenthal creates such complex and intense delights to appear so simple. Certainly, many of his dishes are not, but all possess a clarity that is compelling. Here, our gateau, stately erect in all its decadent splendour. The ice cream was my first bite and almost brought me to my knees. There is no photo of the interior of this cake as I was not thinking about anything else during this eating, tasting, smelling, and self indulgent experience. The cake was more cream filled that cakey. It was layered with three other cherry-crowned layers hiding within cream and chocolate and cakey goodness that cannot be described as most of us have no frame of reference for the quality of food that this Chef and his staff create. Unforgettable. Brilliant.
The tea and coffee menu was offered after we let the staff know that we regrettably had to rush the remainder of our service as it was after 11 and our train was leaving before 11:30. They assured us that it wouldn't be a problem, and kindly called a taxi for us, but I was quite sad to not be able to linger and savour the wonderful experience we had just partaken of. To rush off was disconcerting… but there was no choice. The time had passed so quickly as we were both fully immersed in each moment.
WHISK(E)Y WINE GUMS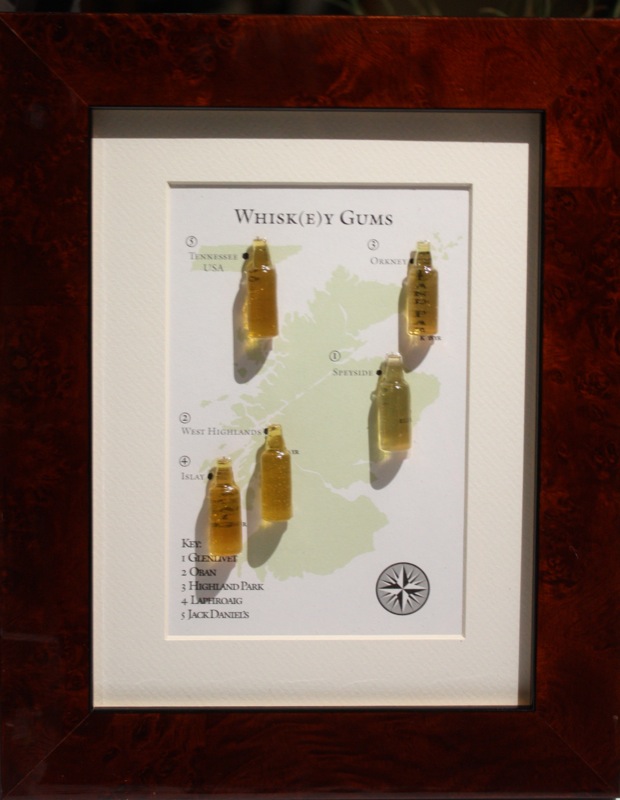 And then… more. Wine gums representing all of the whiskies from Scotland. Each with a completely different flavour and each completely intense and wonderful. The Oban was my favourite. Sadly, they had one American Jack Daniels instead of a Canadian Crown Royal.
I had requested a trip to the kitchen and was told that would be welcome and probably best at the end of our meal. A server brought us these tablets and said, "A little something for your hands before you visit the kitchen." Everything was scripted. Comfortably scripted, but purposefully so. Tablets? I was confused. Startled, momentarily. What was I to do with this? Then the water was poured over each and they magically grew just like Alice in Wonderland.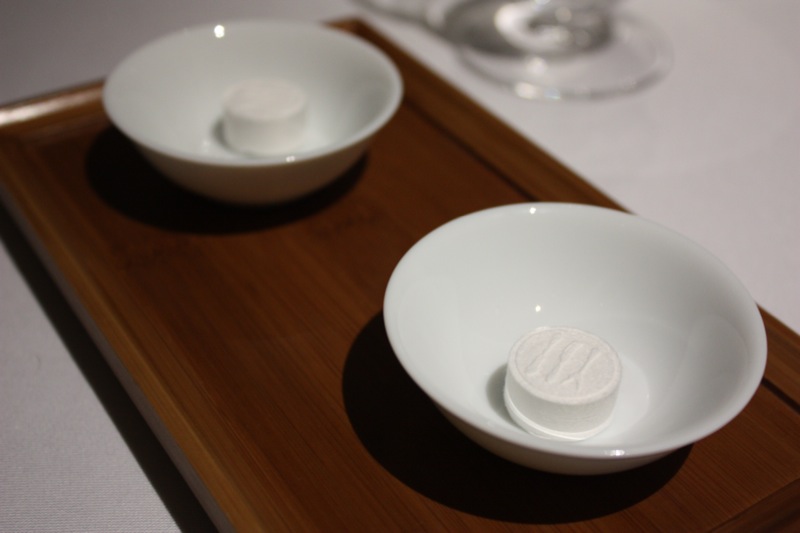 And the warm, steamy cloth was the perfect hug caress to end this magical evening. Refreshed, warmed, and clean, we rose to visit the kitchen.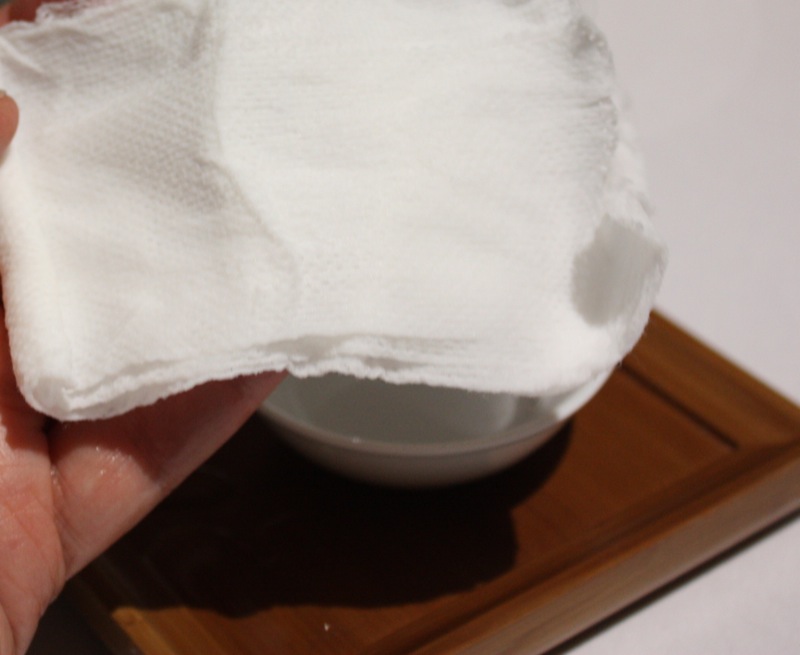 Johnny Lake was the Chef de Cuisine for the evening in charge of expediting the food. We were taken down a preparation hall, or aisle, similar to the one in the French Laundry, but shorter and smaller and then positioned in front of a service window from the kitchen. The young man who guided us here asked that no photos be taken in this area or of the kitchen staff. The kitchen was shockingly small. All I saw through the window was about 5 male heads working and they looked up as we appeared. I thanked them all for the wonderful meal and told them how much we enjoyed the experience. I am sure it showed on our faces. The server then pointed out Johnny Lake, and we thanked him again, personally. At that point, our guide explained the workings of the kitchen and that we could not possibly enter, as we could see how small it was. He opened the door to the kitchen to let us peak inside. And, seconds later, much to our surprise, and that of our server, Johnny Lake came out to speak to us and thank us for coming. We shook his hand and he asked where we came from. He is from Montreal, so I was proud to have shaken the hand of such a successful young fellow Canadian. I am also disappointed that there is no reference to him, or any staff member of The Fat Duck anywhere to be found on the website.
I was told that it is Johnny Lake that is there every evening and that Chef Blumenthal has not been in the restaurant for quite some time. Clearly, the dishes were all created by Chef Blumenthal, but it takes a very special Chef to be able to expedite the food to the perfect quality it reaches each table at. I am disappointed that there is not any evidence to be found about who those people are. I did find one little bit to validate that Johnny Lake is there. There is a test kitchen apparently very nearby that Chef Blumenthal uses to continue to create food and where staff prepares many of the parts of the meal that we enjoyed.
"LIKE A KID IN A SWEET SHOP"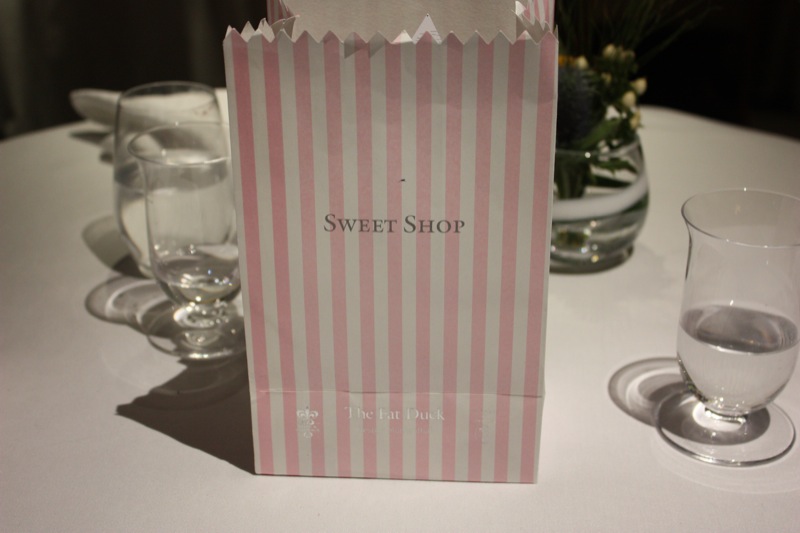 So, back from the kitchen, and a goodie bag was waiting for each of us at the table. I was bubbling with delight, overflowing with gratefulness. And, as we rushed into the cool night air and into our cab to race through the small town and climb into the empty train heading back to London, I had a glazed smile pasted on the side of my face the entire route.
It is still there. It will always be there. You cannot go to The Fat Duck and return unchanged. That is impossible. You were there. You now know that anything and everything really is possible. You know that magic is real. That there is a Wonderland. You were there, and you can go back, or create your own. I have a new frame of reference for taste and food and experiential eating that was gifted to me there. And. now, impossible possibilities have reared their heads within.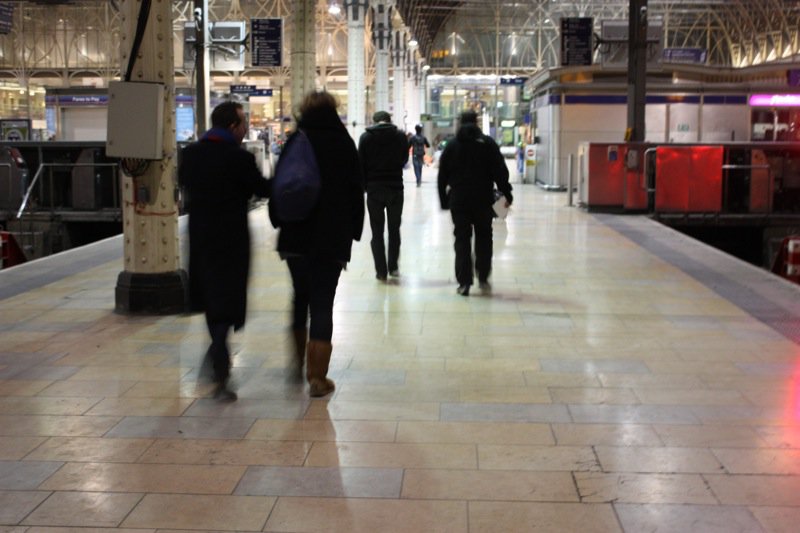 Thank you, Chef Blumenthal, Johnny Lake, and Staff at The Fat Duck.
Standing Ovation.
Brilliant.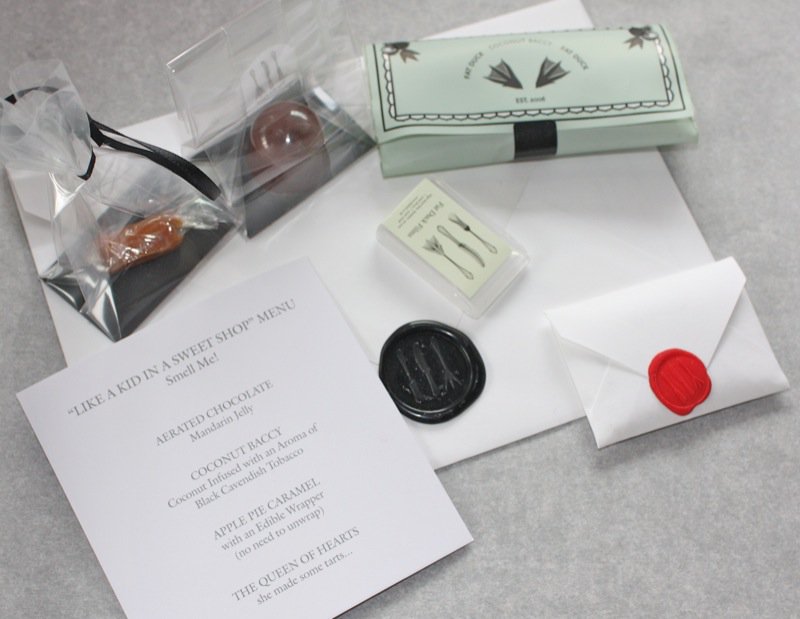 When home in Canada, I opened our gift bags. Here is what we found. Such fun! And, I ate mine ALL up! The Queen of Tarts was my favourite. I did not expect there to be anything inside. Silly me. Of course, she was filled with TARTness. Beautiful berry tartness that was perfect with her white chocolate cloak. The caramel melted, paper and all, in my mouth, slowly and creamily. The chocolate fragrance was as powerful as its taste, and the chewing tobaccy… well, it tasted like coconut to me when I really chewed. And I did. If it had any tobacco scent, I would not have gone near it.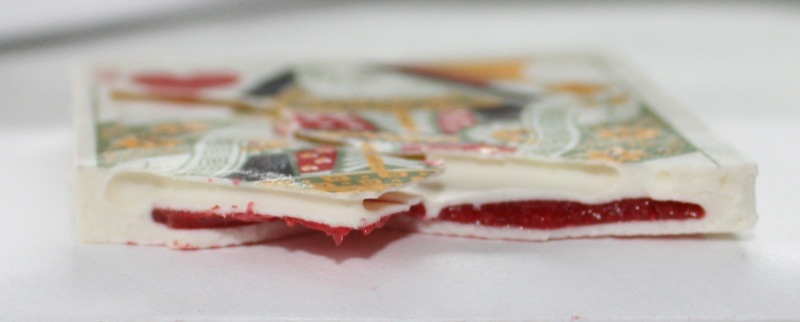 All gone! I wiped my mouth with my sticky fingers, folded the bag up neatly and tucked it away so that one day I will come across it again, and smile even wider than I am right now.
Try Chef Blumenthal's Cinnamon and Vanilla Experiment to learn about odour adaptation and how our senses are far more selective and subjective than we think, and then have fun thinking like he does to create a Wonderland on your plate! Just the thinking alone will bring about a change in perception regarding food and tasting and flavours and one's palate. This was not just dinner. This was a performance of excellence, or brilliance, and it motivated a level of personal response and involvement that has nestled a new awareness within. Heston Blumenthal, you are the Mad Hatter: the consummate (power) pourer of the Tea of Possibilities that will be forever brewing.