Fergus Henderson's Famous Bone Marrow Salad on Toast
Can you see the elation in my smile? We have arrived! We are in London and at St. John Restaurant for our first meal after a very long day and a sleepless night on the plane, but, energized and filled with anticipation. What is this restaurant all about? I cannot wait to taste the quintessential British cuisine. This is a very unassuming spot, as noted on the website, though the area is alive with night life. We wind our way through the overhang and into the bar and bakery. Brilliant use of the old warehouse space. Tonight, it has been rented for a private party.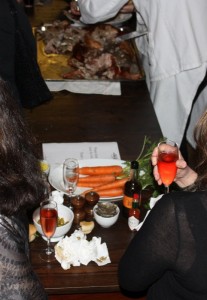 The large space has the bar to the left and the Bakery immediately in front and clearly is the perfect place for a stand up evening. The rustic table across the room from the bar was laid out with feasting foods starring a whole roasted pig which the chef is carving above. The fare appeared to be basic. The pig, buns, sauces, cheeses, and raw vegetables. The room was packed within the hour of our arrival, yet the restaurant appeared completely unaffected by the affair.
I asked if I may take photos and if it would be possible to visit the kitchen at some point throughout the evening. I have never heard a "no" and tonight the gentlemen at the door was extremely gracious. Actually, a highlight of the evening for both Vanja and me.
Our reservation was at 7:15 and we were seated against the wall at a table to ourselves. When going, you are told to be prepared to sit with others as the restaurant is organized in long farmstyle tables.
Vanja has a tradition of ordering the local beer wherever we travel and St. John has a lengthy wine and beer selection. He chose Meantime, a locally brewed lighter ale, and enjoyed it a great deal. I loved the novelty of the champagne shaped bottle.
The gentleman at the door suggested I take as many photos as I could before the restaurant got too full. This was a kind invitation which I appreciated, and took advantage of.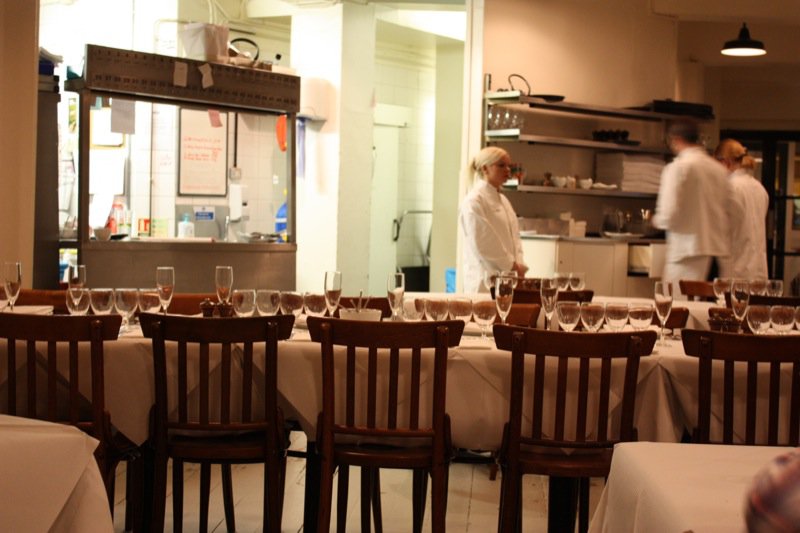 The window is directly into the kitchen with posted notes above it. The meals are placed on that counter for service.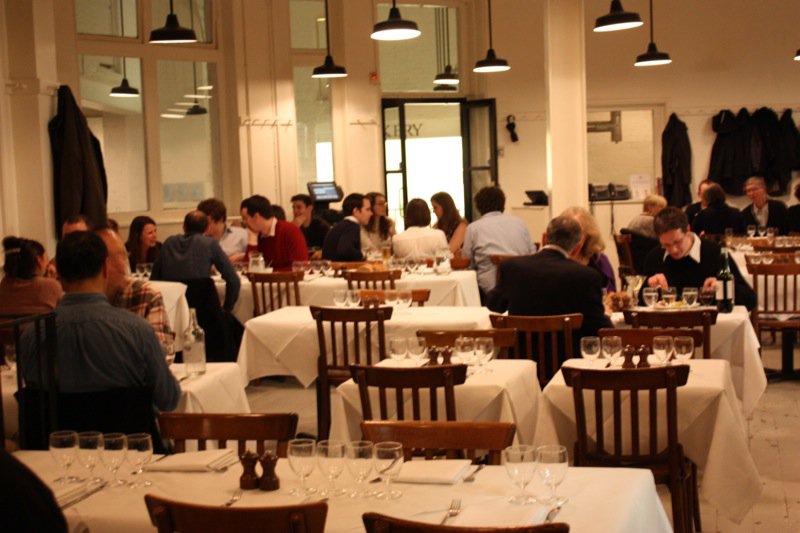 Our waitress appeared with the menu and announced the specials for the evening: rabbit saddle and goat tongue. I have had some really delicious tongue, so did not shy away from it for that reason. I cannot eat much meat and so after a brief discussion about what this is and that, and what would be tender enough for me, we ordered our starters: the Marrow Salad for me, and the Jellied Ham for Vanja. Then, the Devilled Kidneys for Vanja and The Old Spot Ham for me. I was absolutely planning on having the Eccles Pie with Cheese as recommended by Brûlée Blog while she was away after she ate here earlier in the month.
The wait staff was dressed completely in white with a full jacket overtop of a floor length front apron. It was a very formal medieval look. We noted that this was a look found in other restaurants of like kind throughout the city. Customer dress was absolutely casual. There were children at more than one table dining throughout the evening.
The bread and butter arrived. This is a part of the meal ritual that Vanja and I really appreciate and most good restaurants do pay attention to ensuring they have really great bread and a special butter. This one was an unpasteurized salted Jersey butter and so delicious I could not get enough of it. The more we travel, the more we have noticed an onset of artisan butter making. Why not at home? Even the Wildflower Grill in Edmonton serves a lovely goat milk butter, but it is made in Ontario.
I plan on making my own butter very soon as part of my cheese making initiative, and April's Tasting will be a Butter Tasting later in the month. Watch for that!
Our waitress then invited us to tour the kitchen before it got busy. We followed her to it and then she walked past it to her station. I followed her there, and she motioned to the kitchen and said to "go on ahead". That was really an uncomfortable moment. To ask if a tour was possible and for that request to be so warmly received, then to be invited to take the tour "now", and be left outside of the kitchen and told to "go on ahead" was really inappropriate.
I am far from shy, but I am also very aware of each individual's differences. I did not feel at all comfortable entering a chef's kitchen or "going on in" without being taken there… yet, here we were, at the door of the kitchen, being uncomfortably nudged in. "Excuse me? Our waitress said that now would be a good time to visit the kitchen? Is that all right?" The kitchen is extremely small, and we could not actually go into it. I didn't realize this, but one can basically see the entire kitchen from the window where the food is set for service to the tables.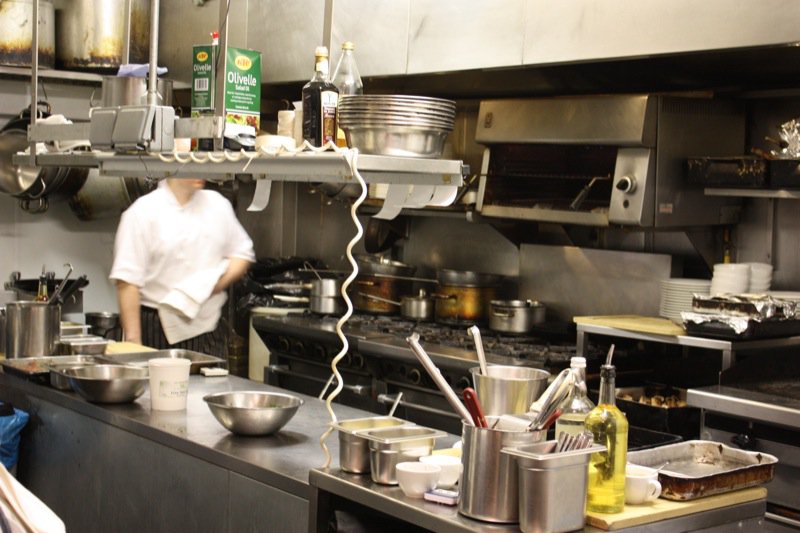 I stood at the end of the island against the wall of the kitchen to take this photo. This is it. The Chef had seen the waitress motion us in and glanced our way as I spoke to him. He was busy and nodded saying "of course" and continued to work for a moment. The food went out and he was standing against the window facing us. I asked if it was all right to take photos and he nodded. I had to do a double take. I was not expecting Fergus Henderson here, but this chef was wearing Fergus Henderson's large oversized thickly set glasses. Truly. But, I could tell it was not Fergus Henderson.
I then asked how long he had been the chef here, and he answered "four years". I then asked if I could take his photo as he worked and he said that he would rather I didn't. At that moment, he turned his back to us to look out at the customers through the service window. I was very uncomfortable. He was icy cold and it was painfully obvious that he did not want to answer any questions. I was very unimpressed.
I am certain that the gentleman at the door would have been advised to tell us that a kitchen tour was not possible due to the small size of the kitchen if we were not to have been there, and we would not have been in this position. But to have my request so warmly received and then "invited to visit our kitchen" to find this kind of reception left my palate cold and with a bad taste in my mouth before the meal even began. Arrogant would be an understatement for this Chef. He said he had been the head Chef for four years, but his photo looks nothing like that of Chris Gillard so we have no idea who he was.
I saw the bone marrow salads set to go out and the wet grey salts that they are served with. Anticipation!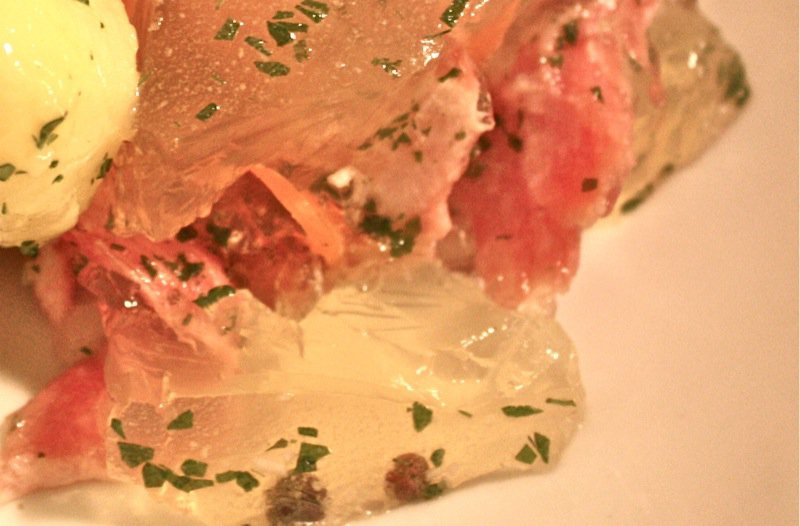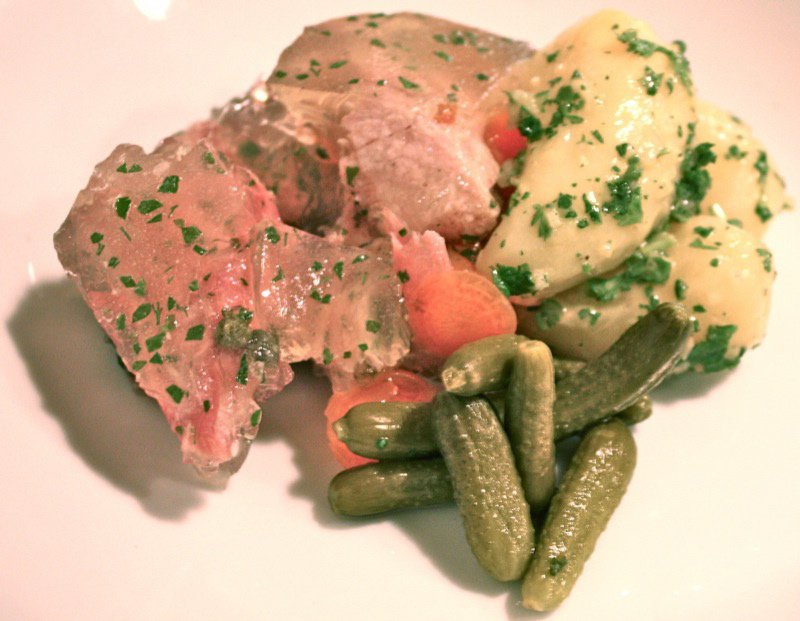 Vanja's Jellied Ham arrived and it was succulent and delicious. I was surprised at the generous serving and way it was accompanied as it appeared to be a complete meal, to me. It reminded me of the canned Jellied Chickens my Grandma Maude and mom would make when I was a child. The taste was actually very similar. I loved that jellied chicken until I was at a slaughter one day. The chicken never tasted the same after that. I could always taste the smell of the kill.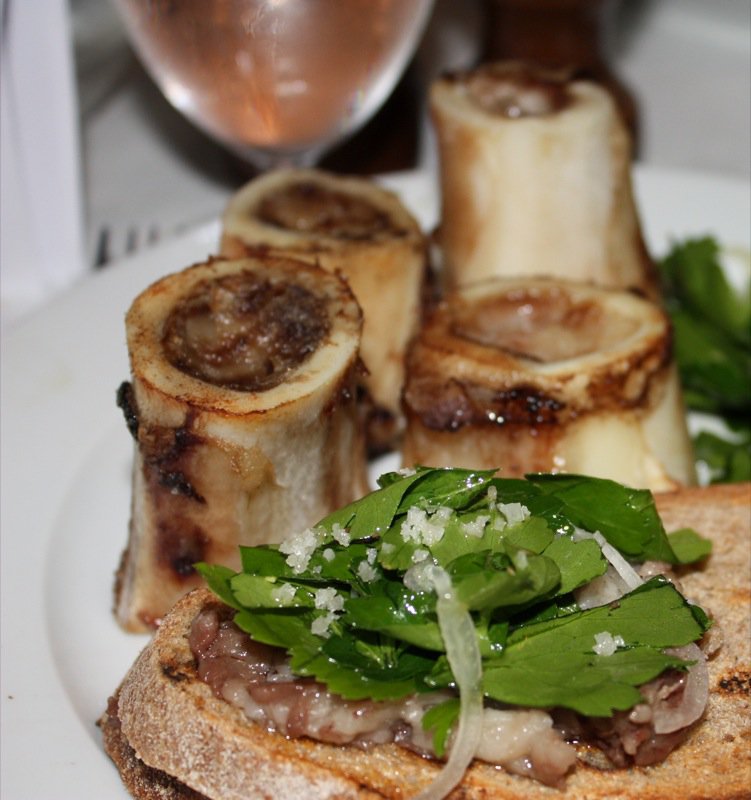 My Marrow Salad arrived with more bread, lightly toasted and a parsley leaf salad with capers and gently pickled onions. I was given a lobster pick to scoop the roasted marrow out of the bones with and our now new best friend, the lovely gentleman at the door (our guide) advised me to "scoop it all out, slather it all over the toast, smother it with the salad, sprinkle over all with grey salt and enjoy"! It was really scrumptious, but surprisingly familiar.
I suddenly realized that I had eaten this many times in my life . Not like this, but the marrow from bones in soup is the same. Roasted, on toast with this particular salad and the salt, it is truly a succulent treat. Very rich. I could only manage to get through two of my four bones. This would be the perfect dish to share. Vanja wasn't interested, but our guide said that it was the perfect sharing dish and far too rich to expect one to eat in entirety.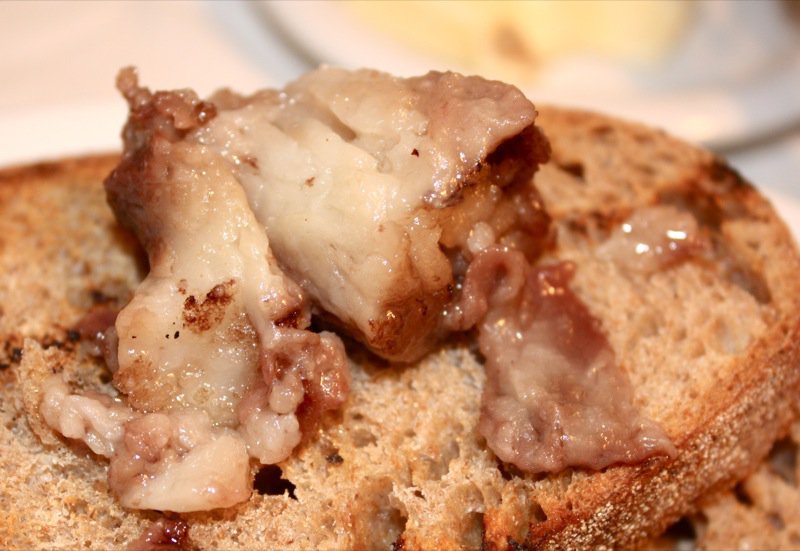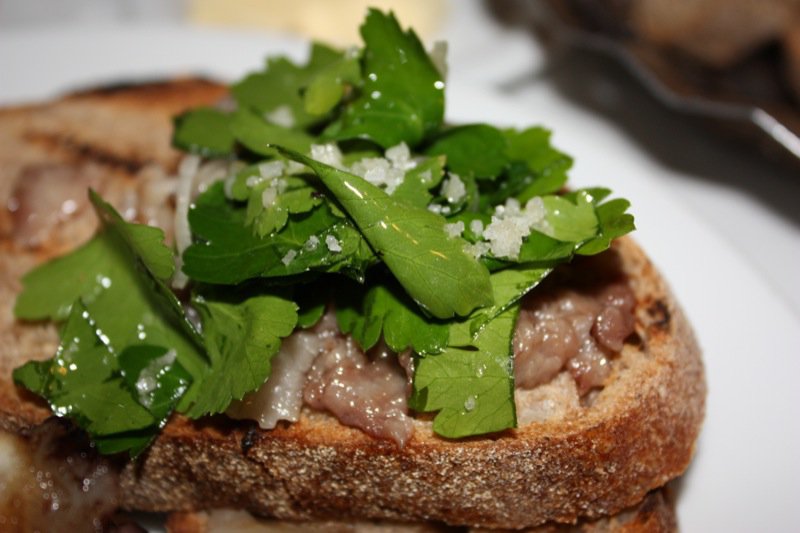 I had a lot of fun eating it and soaking in this long anticipated tasting. The spread was meaty and lush and unctuous, though not greasy at all; it was full of beefiness without the texture of meat. Really, really tasty.
I was expecting real marrow scoops and had hoped to buy some here. I had come across a set earlier in the day at the Portobello Market: a set of 6 silver plated for 70 pounds. I was silly to not buy them. Of course, I would have been silly to buy them, too! In any case, the lobster picks worked just fine, but I wanted to use the real thing.
My fussy husband really surprises me, at times! Devilled Kidneys was his first choice. He does love liver, yet is turned off by most other offal's that I have enjoyed through my life (heart, tripe). Again, his came served on bread. It seems that a lot of the food is served on a really great bread, but it is too much when we just nibbled through a couple of substantial slices waiting for the meal. His dish was outstanding. The sauce was really tasty. I did have the end of one, and it tasted "ok" to me. I didn't care for the texture. He enthusiastically lapped up every morsel.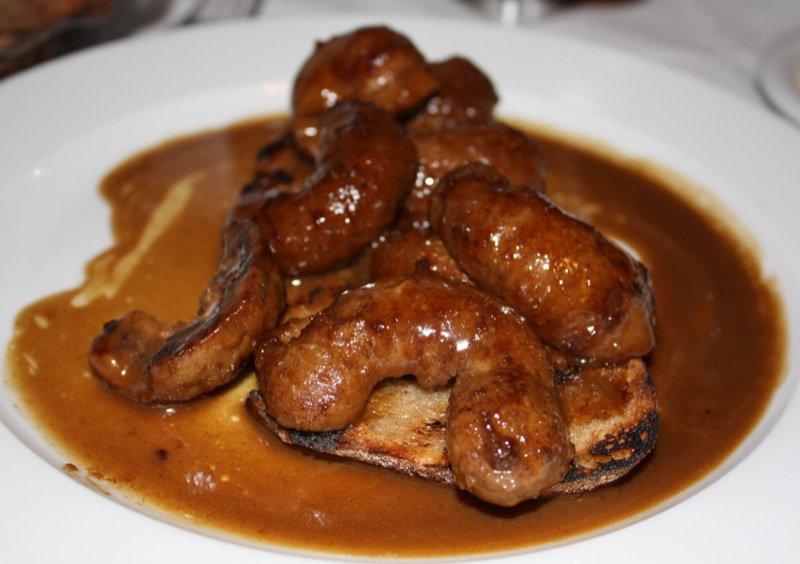 We were almost finished eating when the Welsh Rarebit appeared. I forgot that I had ordered it. I had always wanted to try one as I have seen recipes of it forever, yet never made it as it looked like a glorified mixture of cheese on toast. Well, guess what? That is just what it is. Really tasty, again, but more toast. Just too much bread. We both ate a little off of the top.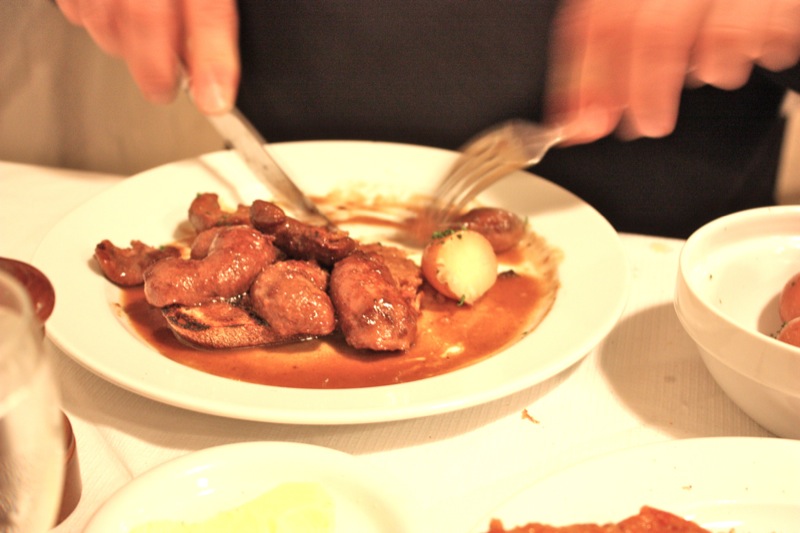 Vanja ordered potatoes to go with his meal. I had a beautiful vegetable mash with mine. The name of the root vegetable was Swede, or, in Canada, rutabaga. This is much more orange than any rhutabaga I have had, and I would venture to guess it is mixed with yam as there was a definite sweet that balanced the bitter. Scrumptious.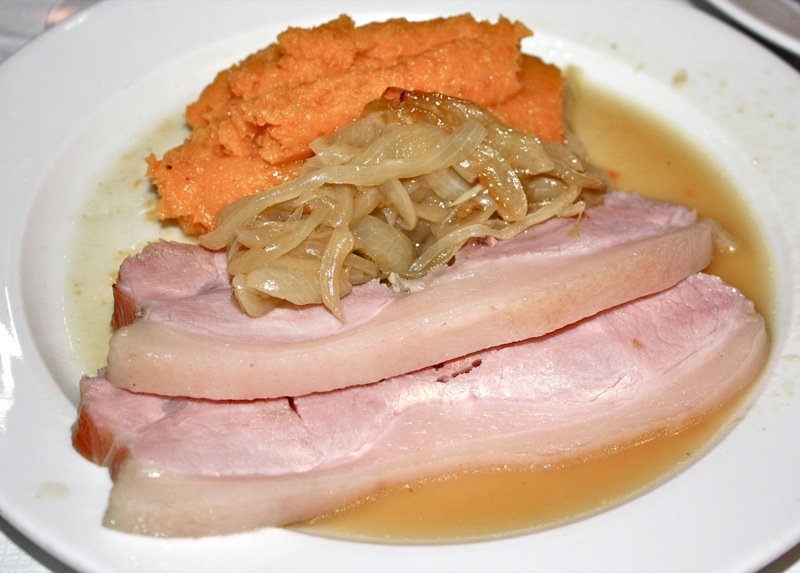 I couldn't believe the anemic look of my plate. The mash was really good and the braised cabbage really tasty. Exactly how I would make both at home. Homefood. Straightforward and simple. The Old Spot ham was horrid. First of all, it looked like pork belly. It tasted like someone's dirty armpits. Well, how I would imagine them to taste! I am not hard to please. I have a very open palate and this was really terrible ham. I left it on my plate and was never asked why. We were never asked how our meal was or attended to by our waiter at all after the initial order. Our wonderful guide became very busy as the restaurant filled, and we certainly didn't expect as much attention and information as we had been treated with from him during our starter. I would have appreciated being asked about my ham. I would never complain, even with an invitation. I believe it would be important for the restaurant to know why I didn't eat it. Or, for me to know that it was supposed to taste like that. That would be hard to believe.

In any case, I found myself too full for the dessert and really disappointed as I was very sure it would have been a highlight of the evening. I enjoyed my Bone Marrow Salad and will probably make it myself for guests sometime. But, I am truly surprised that this is on Anthony Bourdain'slist of the Top 13 Places to Eat Before You Die. I think that it was the chef that was the problem. He certainly is not Fergus Henderson. There was no passion there. There was no light in his eyes and certainly no effort to connect with his customers. No joy apparent in his work. Maybe I would have agreed with Anthony had I eaten this food made by Fergus Henderson. But, for now… the appeal is no longer there. I would not recommend this restaurant.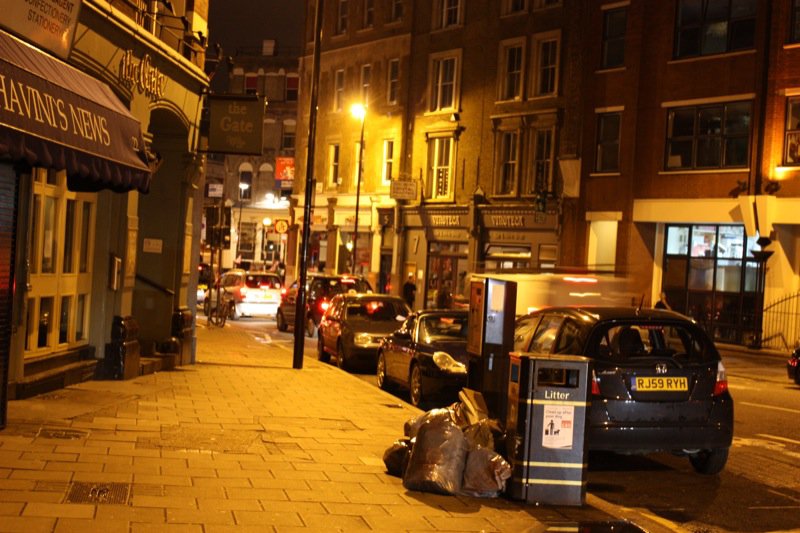 The evening was one I had to have. And, we were out into the fresh evening air before we knew it.