Phase Two or Lesson Two on my Quest to be a Good Balkan Wife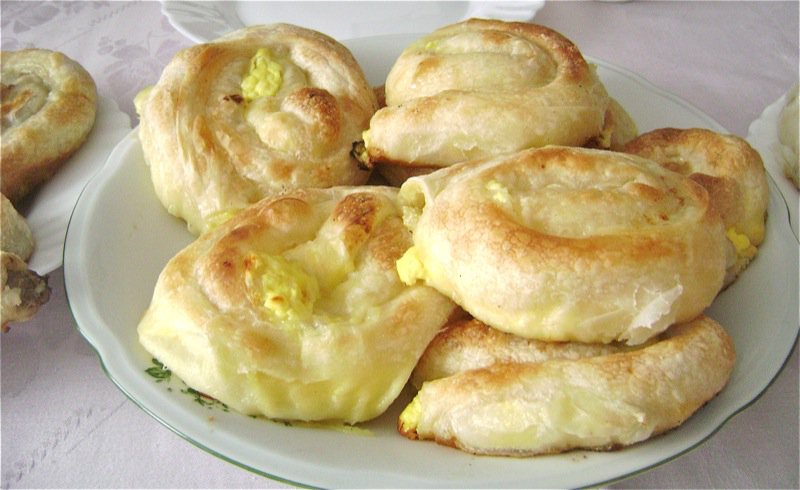 … though impossible as I am seven generations Canadian, but I try!
Last year was my first lesson of how to make homemade phyllo dough or of how to make burek. It was impossible for me to repeat this learning at home though I had left with such confidence. I couldn't find flour as fine or as soft to make it with. Then, Amina's dear friend, Ljerka, told me she uses Sunny Boy brand flour from Planet Organic and that it worked perfectly. By the time I learned this, we were headed back for the summer. I had asked Vanja to arrange another lesson with Elsada so that I could regain my confidence and try again. The morning in Tuzla started bright and early, just how I like it, but not early enough. Ako, Vanja's dear friend, had already run out to his favourite local neighbourhood butcher and selected the meat for the burek, and had it ground. I was disappointed. I had not told him I wanted to go this time, but I missed it last year, and as soon as I heard a footstep, I was up and out to make sure I didn't miss this trip. He was already back!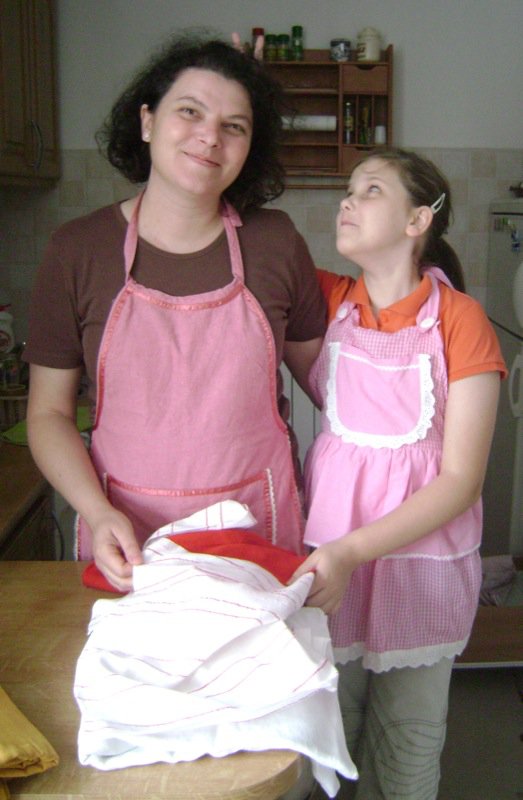 But, Elsada suggested that we also make Sir Pita (Cheese Pie) and I love that, too. It is made with Mladi Sir, a very young cheese (using unpasturised milk) and we are in luck. Every Saturday morning, farmers, or villagers from nearby, pull into a side street near the multitude of high rises in this densely populated area to sell their fresh local wares to the senior tenants who crave their fresh farm food. I don't know if this is legal. It must be. One finds people almost everywhere in high rise areas throughout the Eastern block, on the streets, selling wares. Ako said that these people come very early and are usually gone and sold out by 9 am. We ran over as we wanted a selection to choose from!
There were just three cars selling today. See them, above, left. They had produce and products in their open trunks and on the ledge beside the sidewalk. None of this milk or cheese in pasteurized. Lovely, old, wisened toothless farmers with smiles that welcomed us immediately. Ako was looking for a firm mladi sir. I was looking for a lighter one. One with a lot of bounce and give. He said the one I picked wasn't good. (I think it was, but I have learned I still have a lot to learn.) He also bought some smoked cheese. He loves it and wanted me to taste it.
Elsada's mother makes mladi sir all the time on the farm and she told me how to make it. I cannot wait until I get my hands on some unpasteurized milk. There is nothing in this cheese, but the milk: time and temperature make it as delicious as it is. The cheese is traditionally placed in a colander and you can still see the markings of it on the mladi sir (young cheese) below.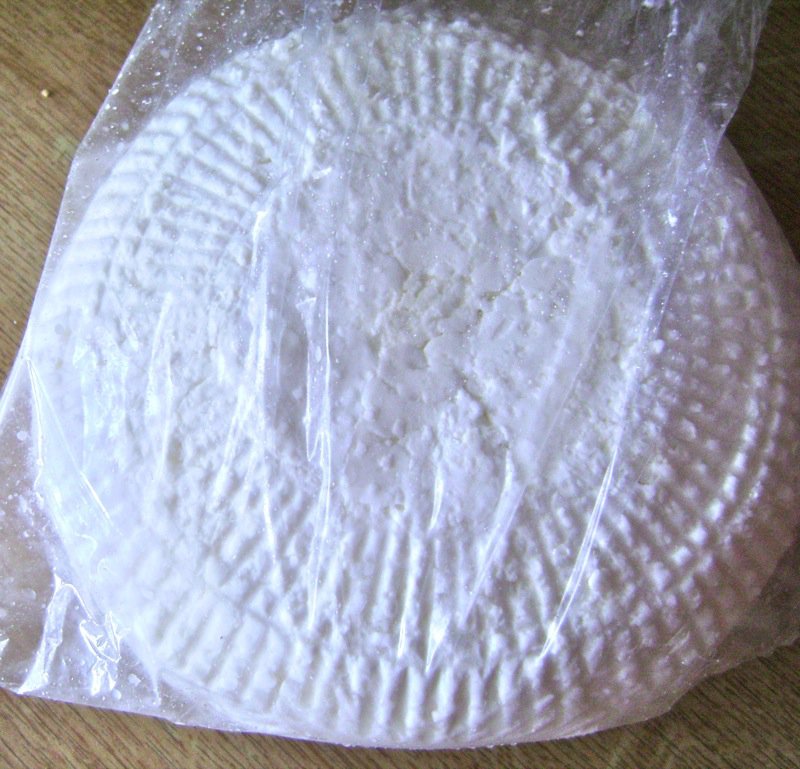 Elsada told Ako that this would be all right for the sir pita (cheese pie) but that it was too firm. A softer, more gelatinous cheese was best. (I thought so… I am learning about the food here!)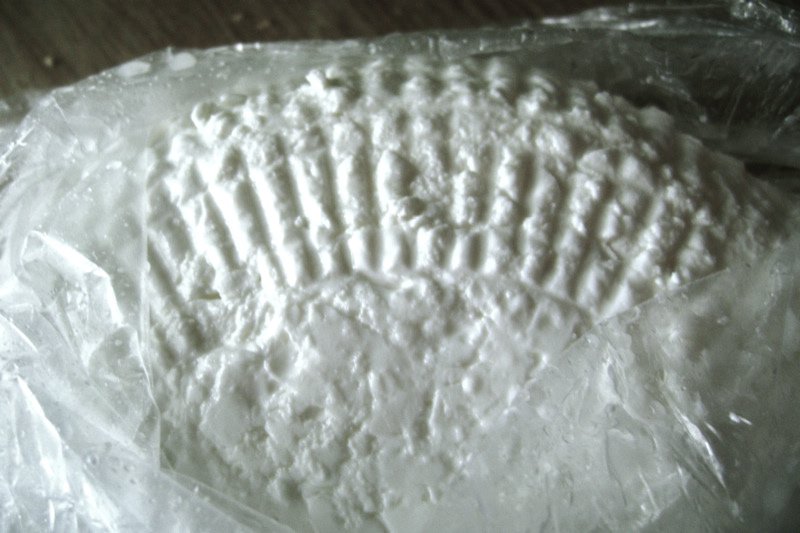 Once again, we started. I had brought aprons as gifts for mommy and Emina. Emina had grown so much in one year that her apron hardly fit her. She is a very special child and her grandmother (Elsada's mother) has worked with her and taught her to make this dough for the traditional meat pie (burek) and cheese pie (sir pita) as it is said in that area:
"When a woman is able to make this dough perfectly, she is ready for marriage."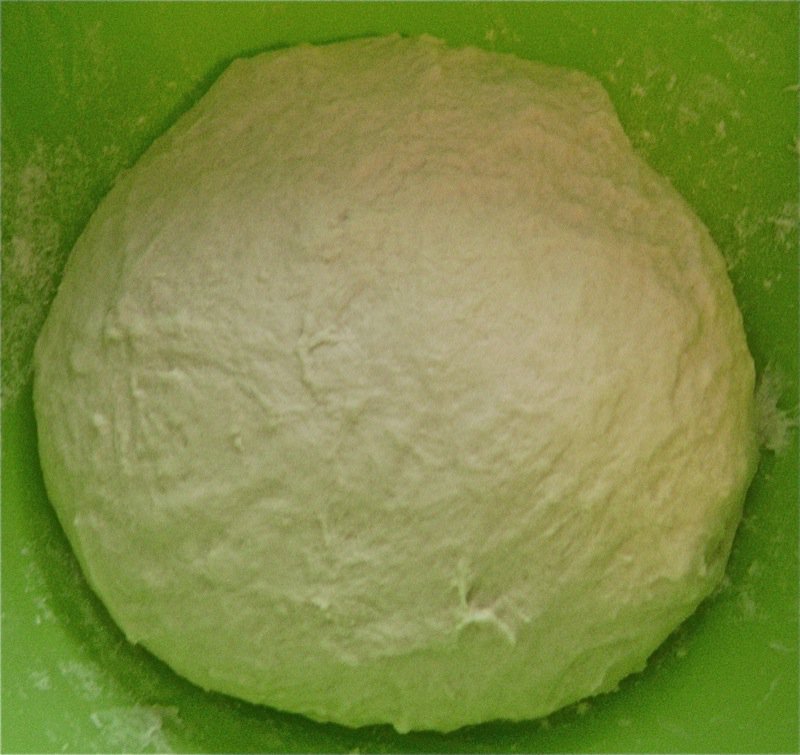 Below, Emina models her gift from me and she and her mom have just gifted me with a bošca which is a traditional cloth to cover the table to stretch the burek on. I had told Vanja that nothing we had was working and asked him to ask them to find one for me that would work. Believe me. I had tried to make burek. Oh, I am a Master of Failure. But, I am also a Master of Determination! I was so delighted with my very special gift.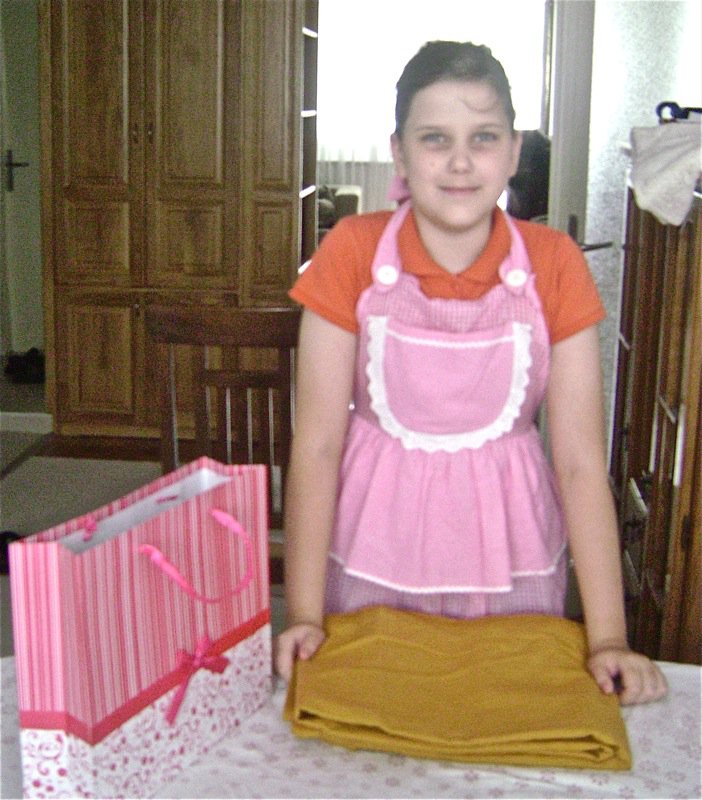 Elsada then shows me the one her grandmother, and Emina's great grandmother, actually made herself on a loom. This kind of family history and heritage is so precious. Look at that bošca below. To think that one's great grandmother wove the entire cloth and now it is in your home for you to make your burek on and that skill has also been passed down through the family is so tangible and meaningful and incredible.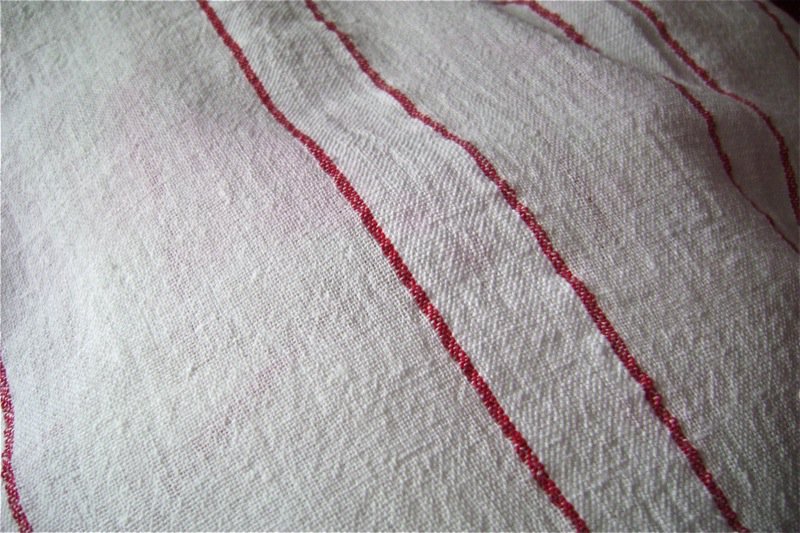 Emina is setting up the paper and taking charge of the burek making. She is showing her mother and me how much her grandmother has taught her.
Elsada saves the bags her flour comes in to roll the dough out on. It is a great consistency for this purpose.
Everyone needs a paper and a rolling pin (one paper for each piece of dough).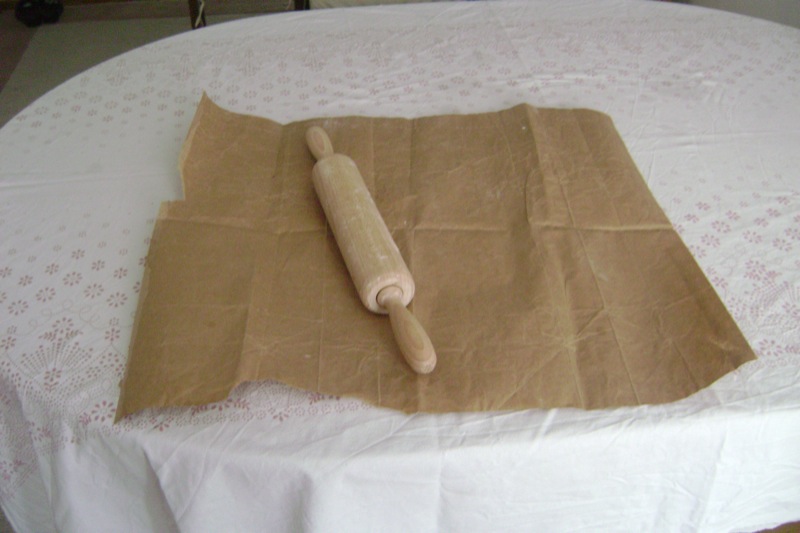 The paper is dusted with flour and the rounds of rested dough are each rolled onto the paper.
Look at little miss go! At this point, I am getting a little concerned. I really need to learn what to do, and Emina is such a good helper she is doing everything for me!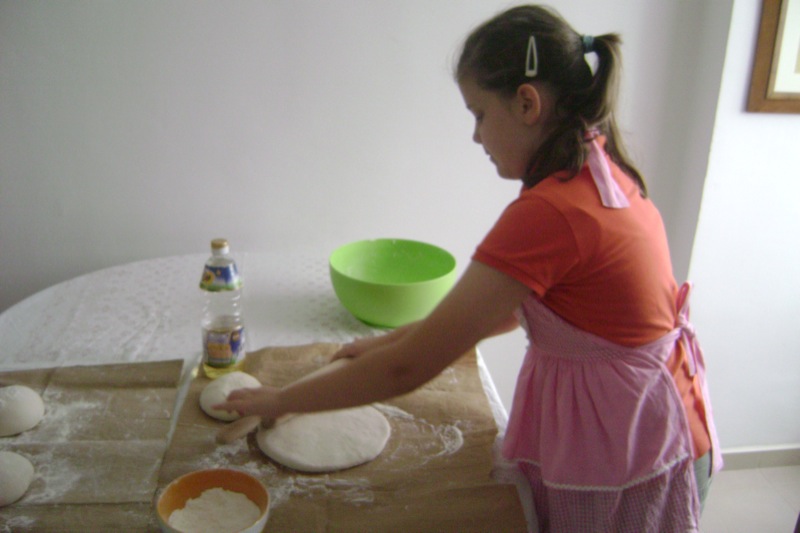 After each round is rolled into this shape and thickness, it is covered with a thin coating of oil that enables the stretching after it rests.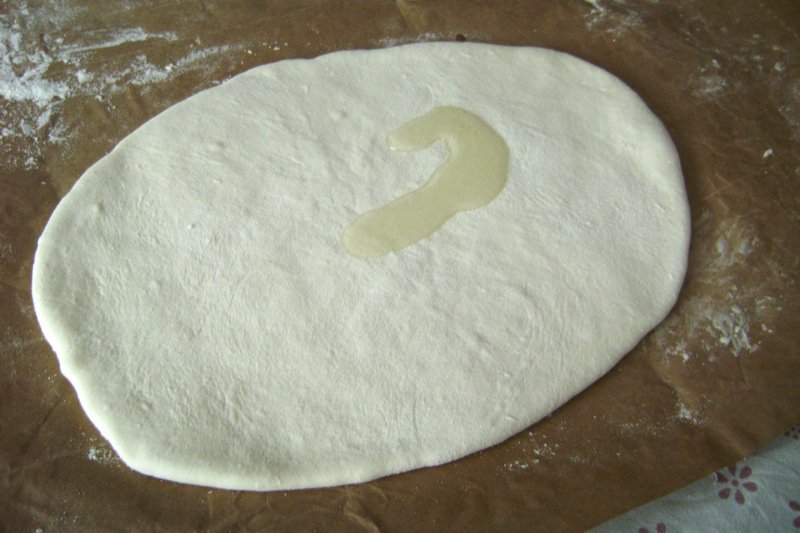 Emina covers the dough with the oil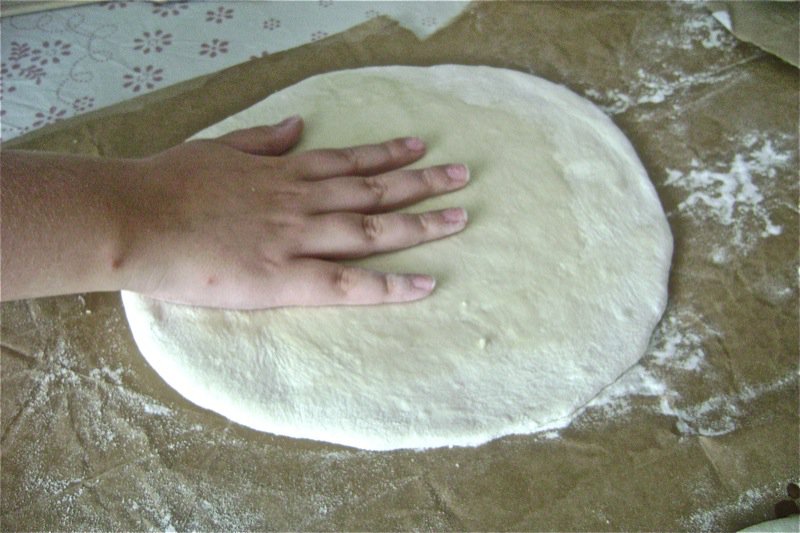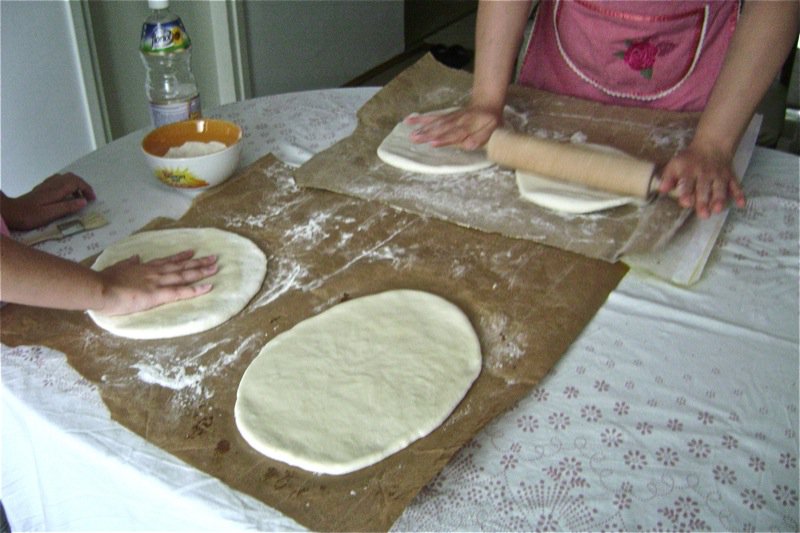 Elsada is doing the same on her side of the table.
I am smiling proudly as I rolled out my piece and cover it with oil. It is all coming back. But, the flour here is magic to the touch. It reminds me of the flour at Le Cordon Bleu. Why do we have so few choices in Canada?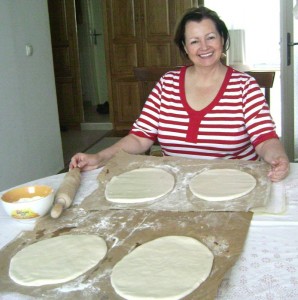 Below, I am ogling the lovely flat well oiled dough.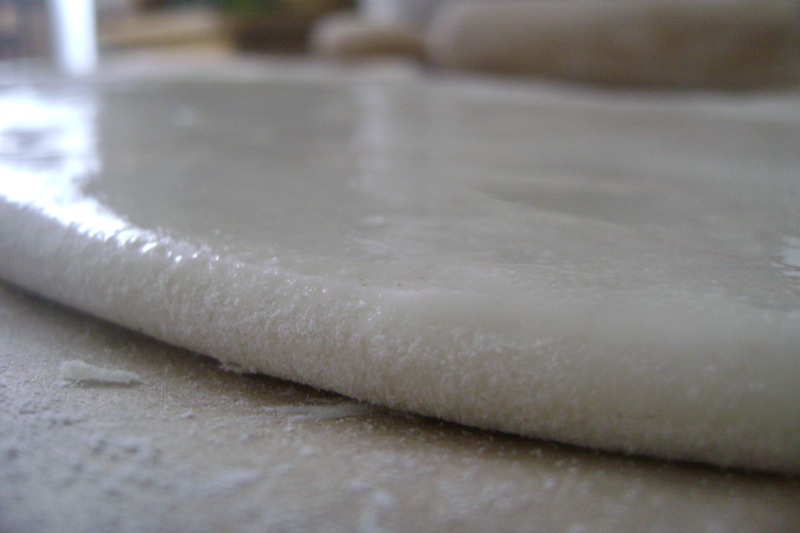 While the dough rests, we make the cheese filling with the mladi sir. Ako told me it was the same thing as cottage cheese, but there is nothing like this cheese in out stores. It is very delicate and lovely. Below, it is broken with a fork.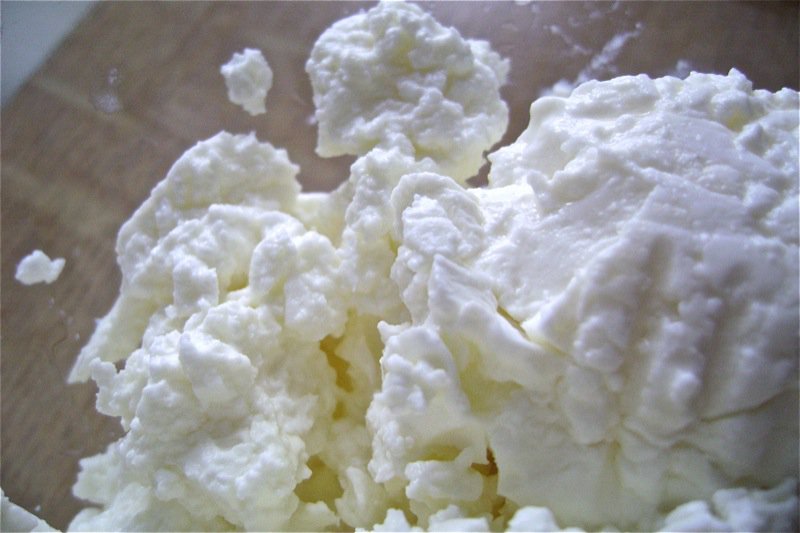 It looks drier than it actually was as it was still a very moist cheese.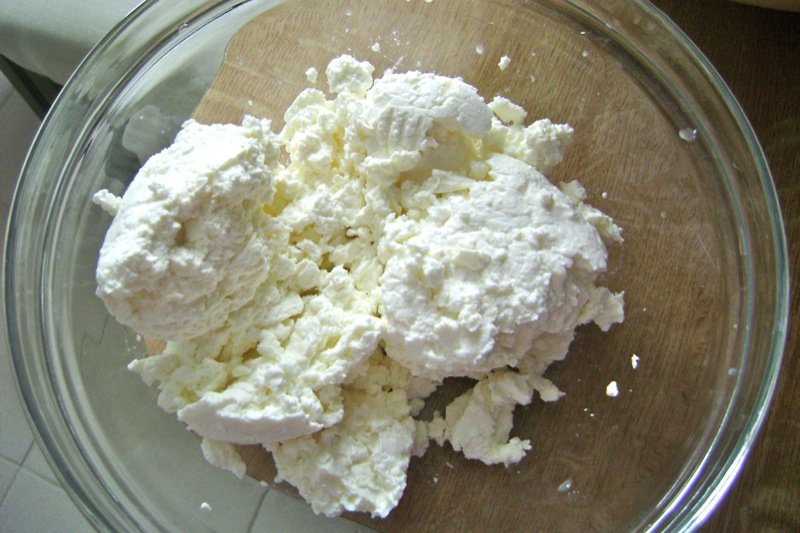 Look at those eggs. This is the expectation for eggs here. One has to know who farmed the chickens, where they came from, what they are fed. Buying eggs from a store is happening by the really new generation, but it is clearly understood that the quality of an egg purchased from a mega store is significantly diminished.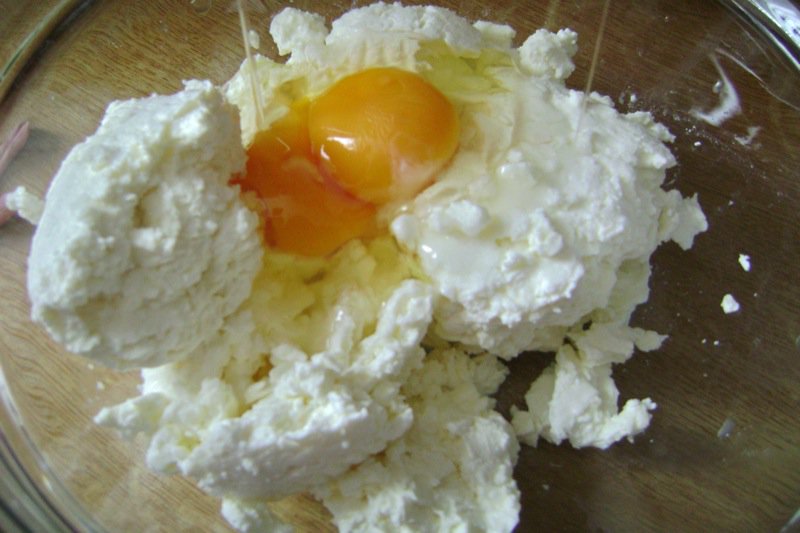 Emina loves to cook! She mixed up the cheese filling in no time!
Now, the freshly ground meat purchased from the butcher early in the morning will be made into a filling for the burek.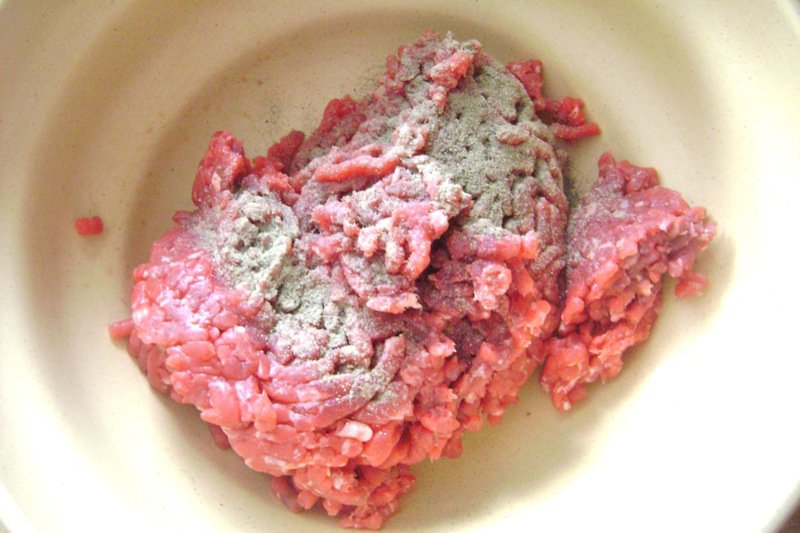 The ingredients are very simple and straightforward: onion, garlic, sparkling mineral water, salt and pepper and the best beef possible with some flavourful fat.
These are Emina's cool shades to protect her eyes from crying when we cut the onion.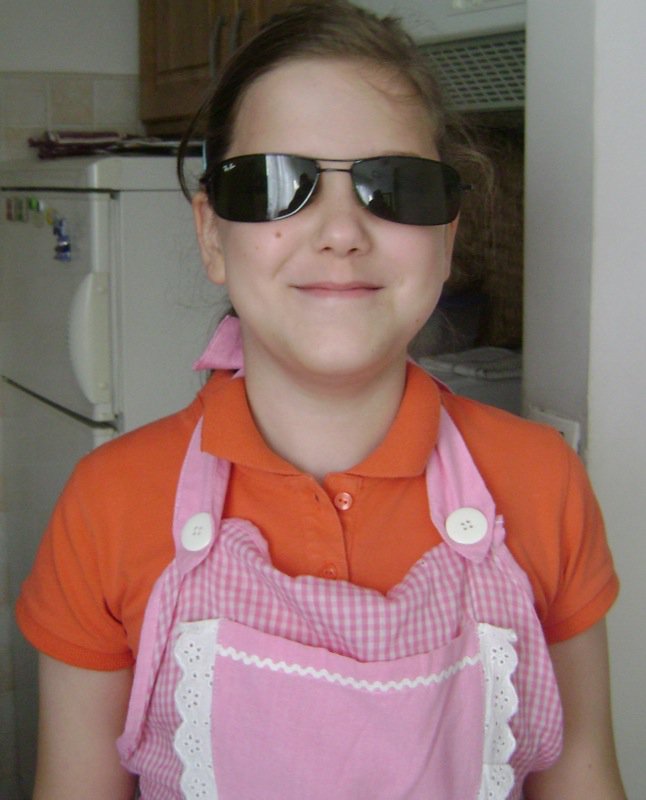 In goes the sparkling mineral water. You could definitely use soda water, instead.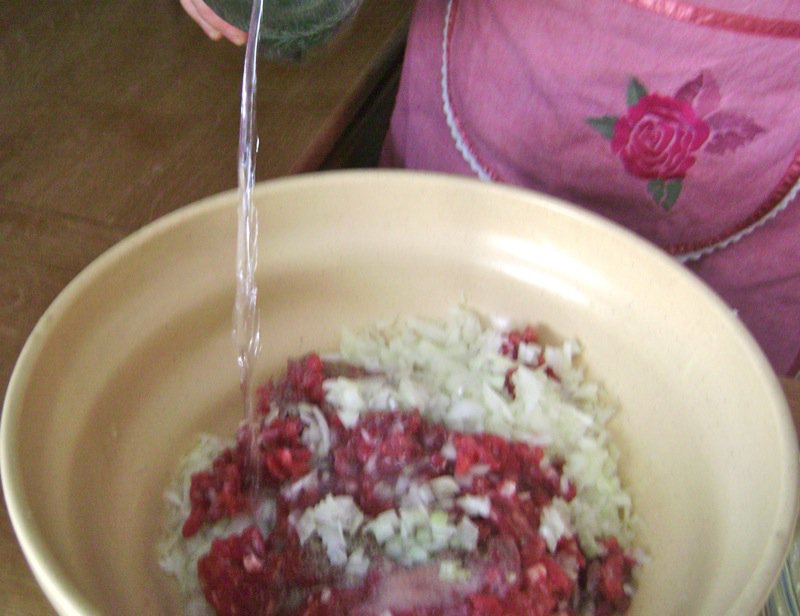 The meat is fragrant with the finely minced aromatics kneaded together. Emina checks the resting dough for elasticity. Yes, it is time, she says. How she knows, is beyond me. Elsada said it was 15 minutes resting, that is how!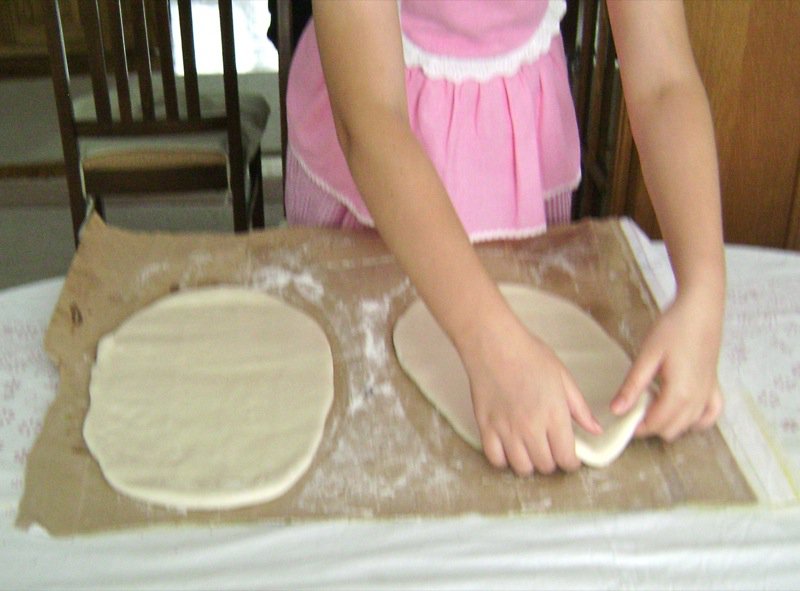 Look at her serious expression. I imagine that is how I look making it, too, but with less confidence. Mom and daughter worked together. It was a beautiful sight, but I interrupted it anyway, "Can I try? I really need to learn!"
I could see I was going to be in the way. They really had it down pat. There were no words between them. They read one another's mind and just moved from one section to the other pulling the dough out effortlessly, like magic. I was getting antsy. I needed a lot of practice. I remembered this feeling. I think I was in kindergarten when I last had it, waiting at the water fountain!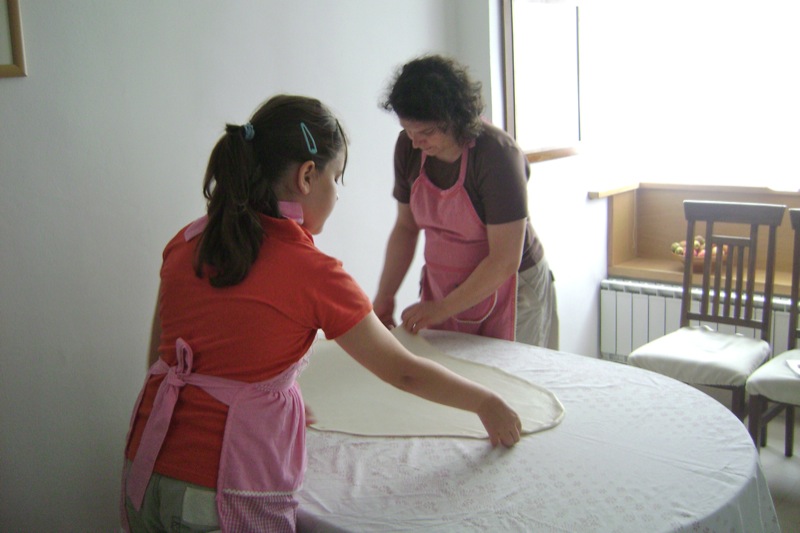 Look at what they have done in less than 5 minutes. I was sweating. Perspiring? Beading? Flushed?… becoming very, very impatient for MY turn!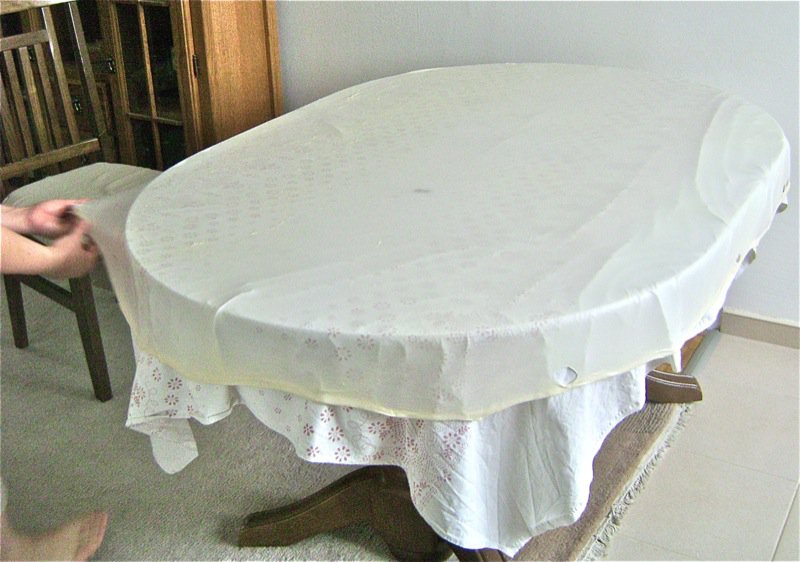 Elsada said I could put the meat around the edges. This was the easy part! Well, you still have to be very skimpy with the meat. Look at the quality of that beef. It is actually from a very young cow.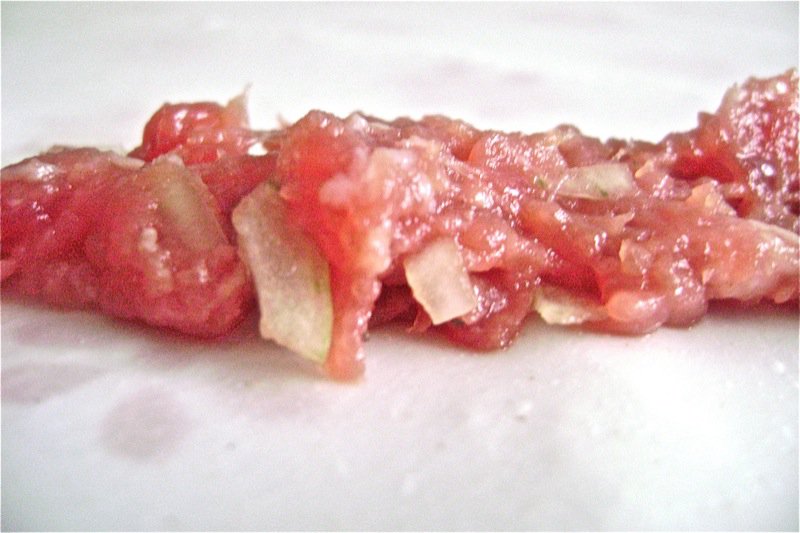 I think this might be a little too much here. Let's check.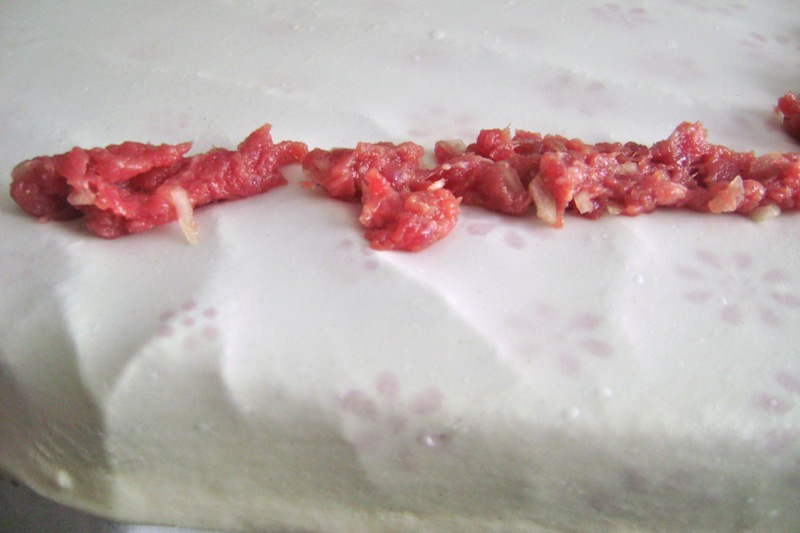 No. It is good. Emina is already using the knife exactly like her mother does to trim the extra length off of the sides of the dough.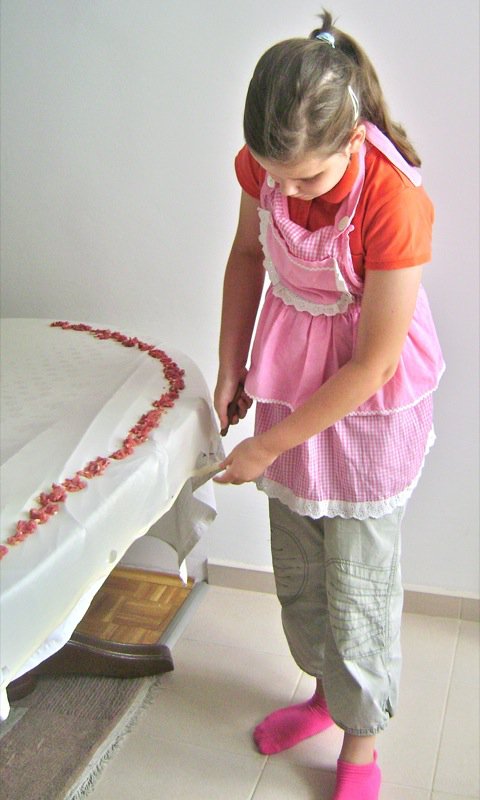 The dough is scored down the middle and the burek is rolled form each side into the centre to form two long rolls. But, first, Elsada drips a very careful amount of melted butter on the surface of the dough.
See how beautiful and thin this dough is?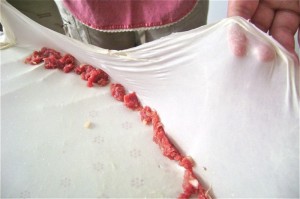 The draping edges are folded up over the meat and the melted butter is sprinkled onto the dough.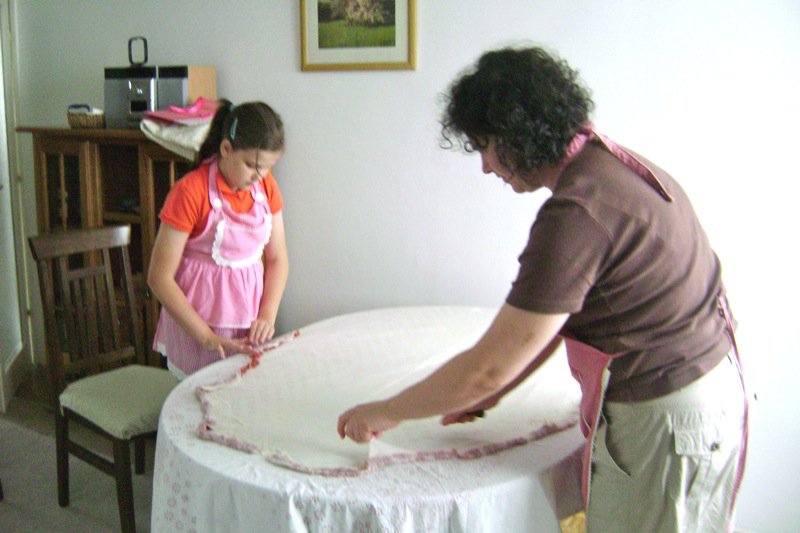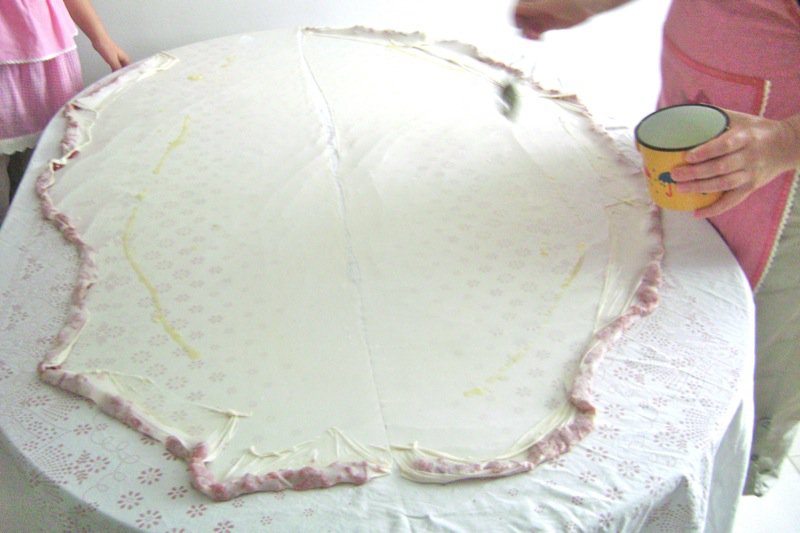 Now, the cloth is lifted on each side to enable the meat inside of the dough to roll over onto itself and form a roll. See how Elsada is doing it, below, right?
The very ends of the dough are covered. each rope makes about three burek, or six from the entire batch.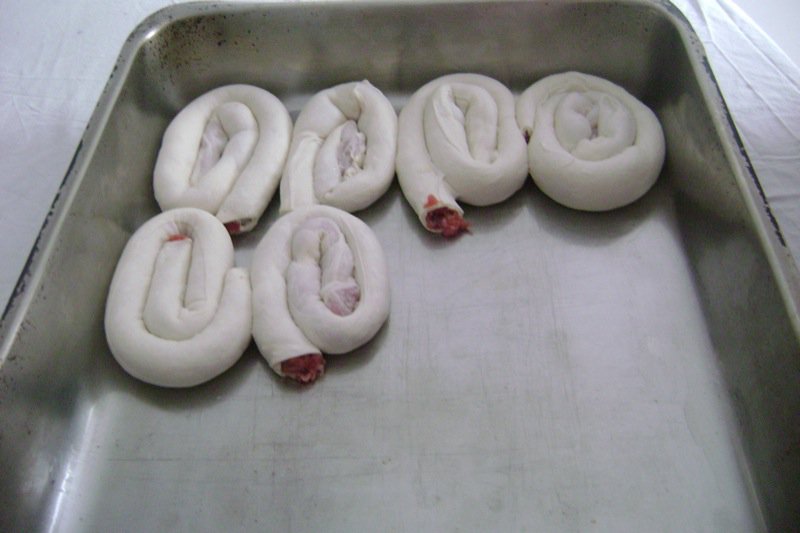 Elsada was so excited about the lovely texture of her pastry or dough. She showed me the air bubbles in the dough which you can see, below.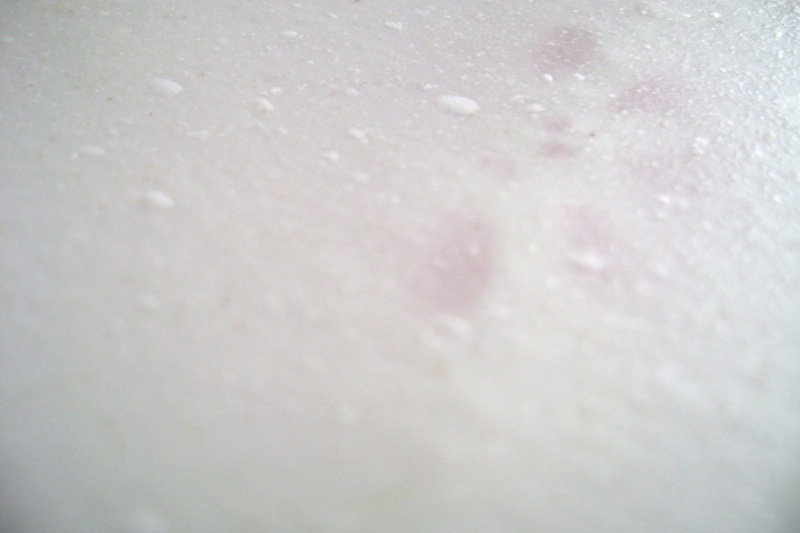 Later, she was able to show me dough that was not nice as it had clumped when it was being stretched. You can see this below. I would be thrilled with this clumpy dough. You would never know eating it… but, you would see it, I guess, on the outer layer, when baked.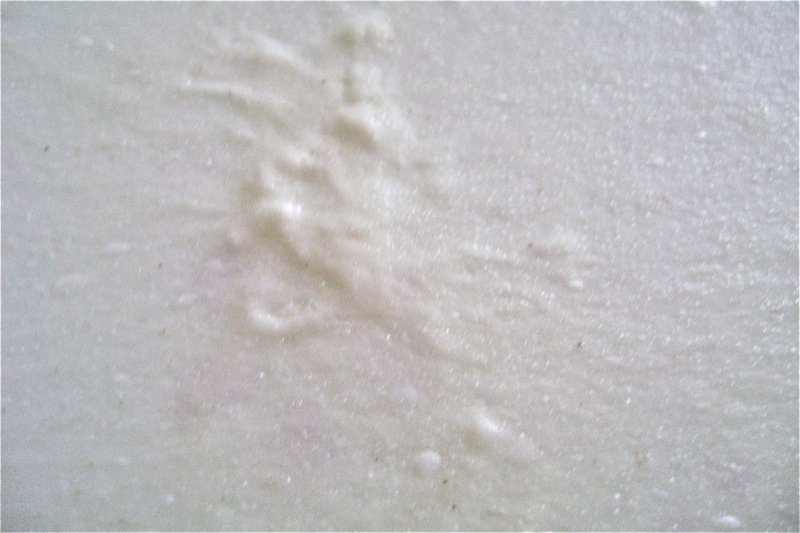 After the pan is full, she again is very careful to use the melted butter sparingly.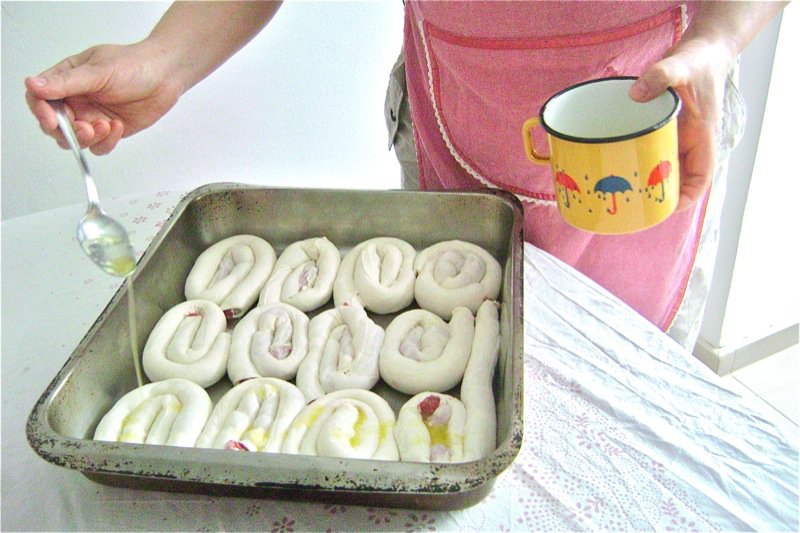 In they go to the oven she has preheated (all specifics are posted below with the recipe). Look at me! I ripped the beautiful dough! Elsada taught me how to fix it, but I think I would have figured that out… no one will know, but I can tell even though no one will ever know, if she did it, it would really bother her. A perfectionist is a perfectionist, and I have to admit that when I know how to do something well, if drives me bananas when I make a mistake. It is about no one else, only about me and my own ability and my personal goal to succeed.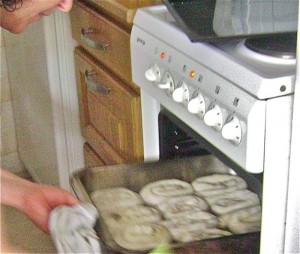 This looks like scrambled eggs, but it is young cheese with eggs and salt and pepper. The gorgeous yolks colour the cheese a really bright yellow to the egg yolk colour standard urban Canadians are used to.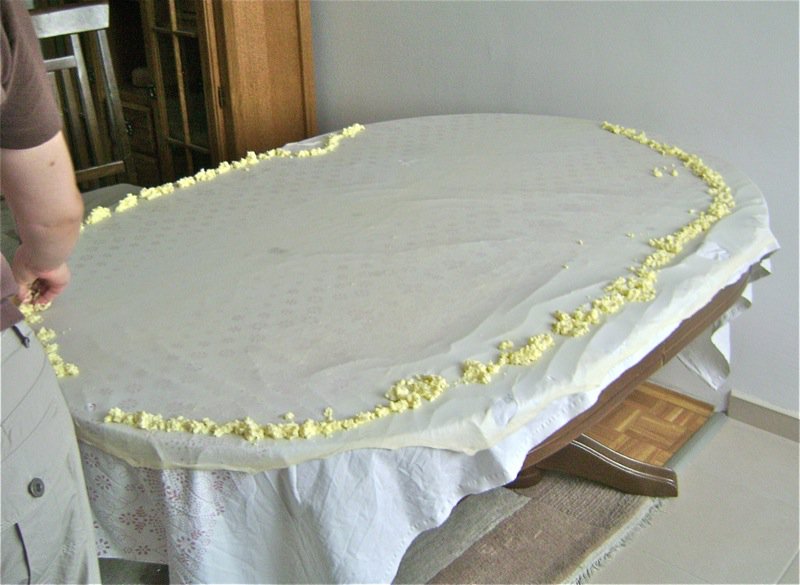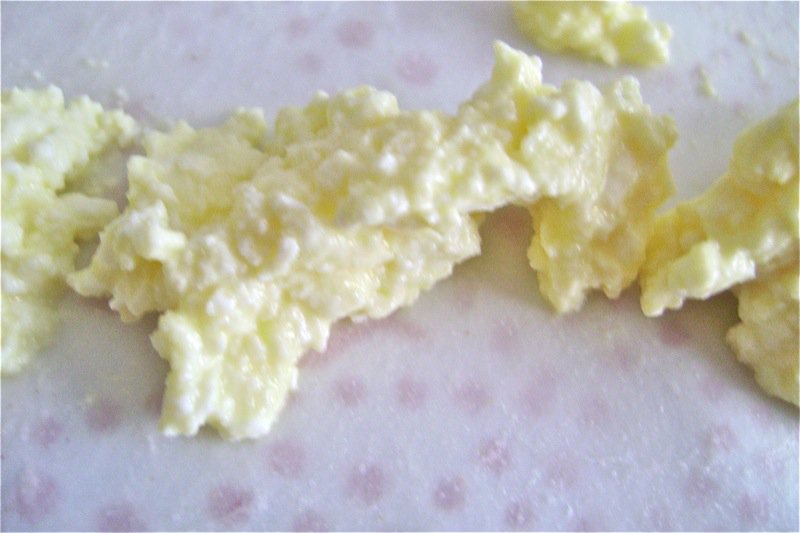 This is just milk with nothing added made into this beautiful young unpasteurized cheese with gorgeous farm eggs and salt and pepper. How good for you is that?
The process is exactly the same all over again: cut off the sides of the pastry (belowt)so there is no thickness there to be rolled into the pita (above, left).
And, roll the pastry onto the filling by using the cloth it is sitting on, then continue by hand.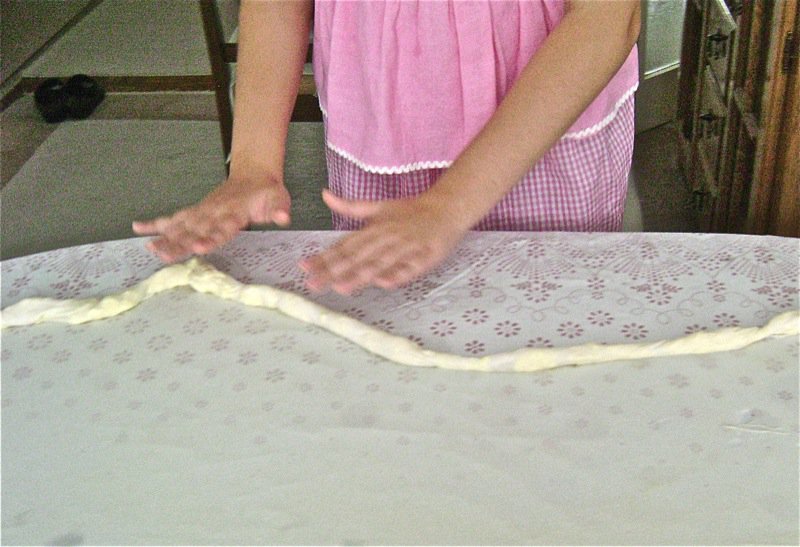 The butter is sparingly sprinkled on the pastry, and then it is rolled, cut and placed into a well oiled pan for baking, too.
The burek is ready to come out as the sir pita is ready to go in!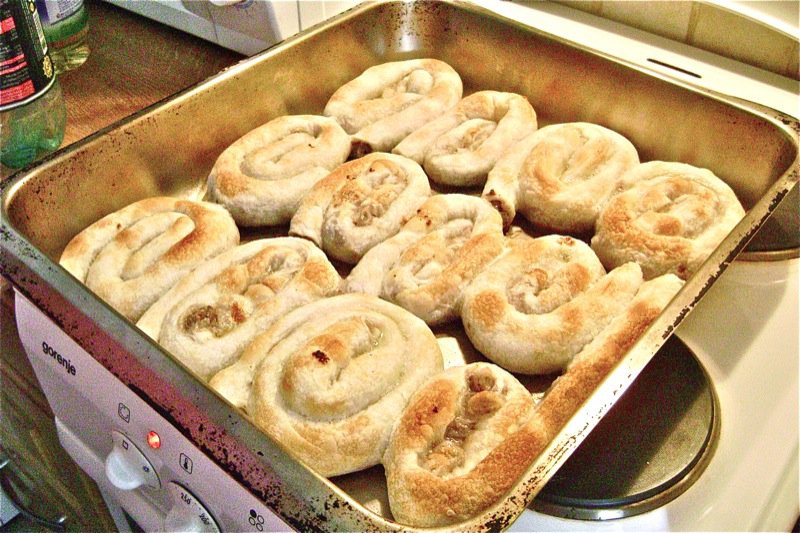 As soon as it is out of the oven, Elsada pours sparkling water over the burek sparingly to soften the dough and then pops it back into the oven for a few more minutes. The last beautiful sheer pastry will finish up the meat and the cheese fillings.
Doesn't this look delectable? It does to me as I know how it tastes. I love that this layered lovely paper thin flaky pastry is not laden with butter. Don't get me wrong. I love heavily buttered phyllo, too, but this is such a welcome alternative and a much healthier version.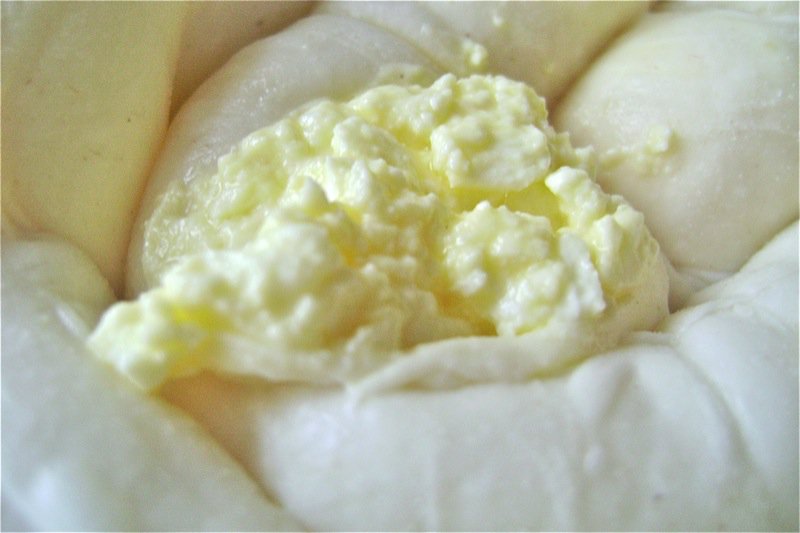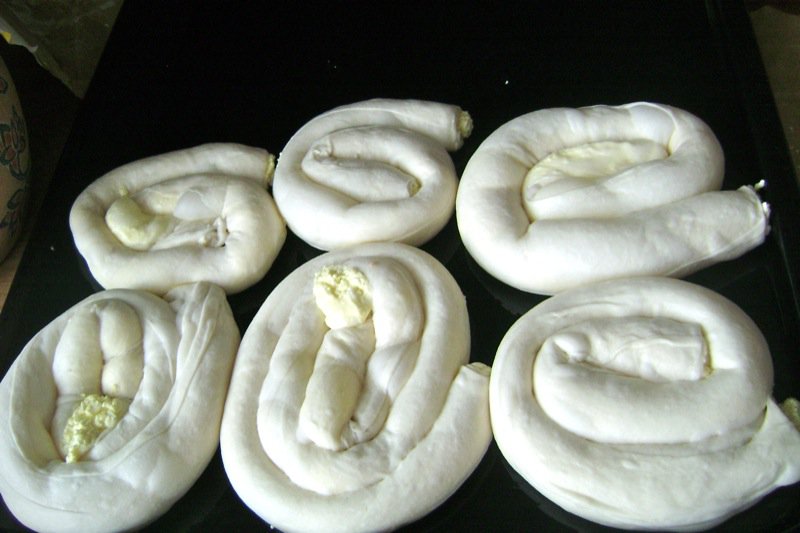 At this point, Elsada explained that the woman always wears a marama when making burek. It is the old fashioned scarf you see on TV when some of the village women are wearing their traditional garb. Then she went on to explain that she and Emina wear these caps to keep their hair out of the burek and the pita. I was thrilled! It drives me crazy to find a little hair in anything and I am vehement in my classroom about my students having their hair up and off of their face securely. Brilliant idea! What fun! Look at me! We definitely had a few giggles here.
The burek is resting under the tea towel staying hot for our breakfast while Elsada butters the last batch.
YUM. In they go and time to tidy up and to set the table.
This is a tradtional treat: burek.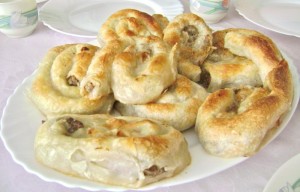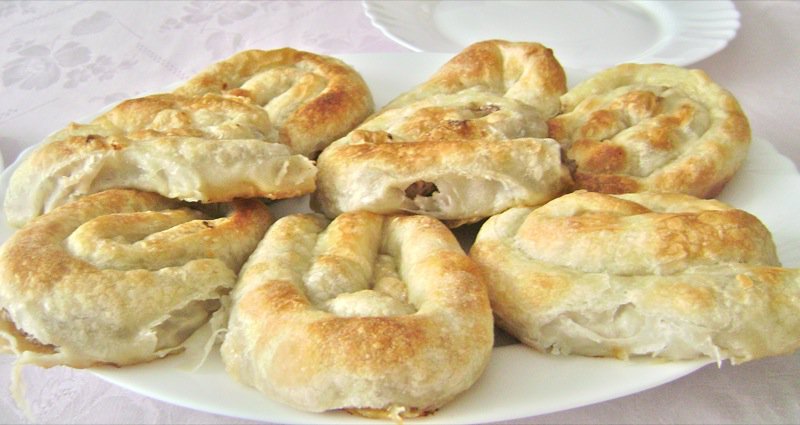 And, accompanying the burek, another very special traditional treat: sir pita.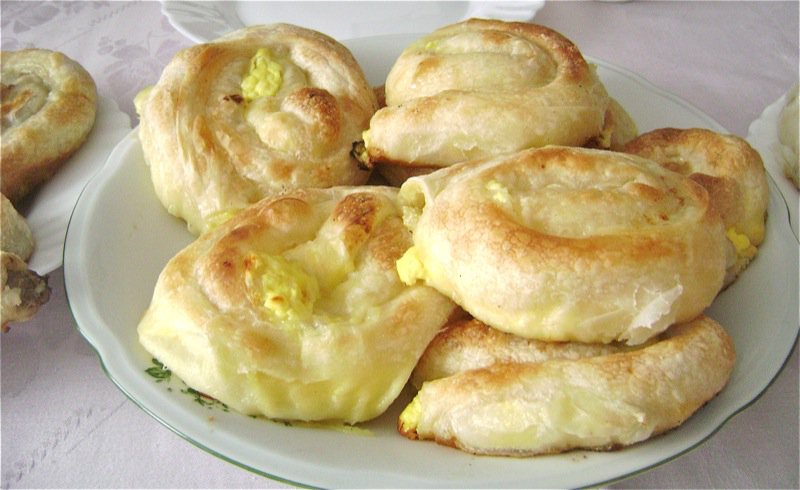 Where is Vanja? He was out visiting a friend, and we are all waiting. The meal is getting cold and the aroma is intoxicating. We must eat. Look at Mirza giving his dad (Ako) "the eye" for being so silly. Is this role reversal, Ako?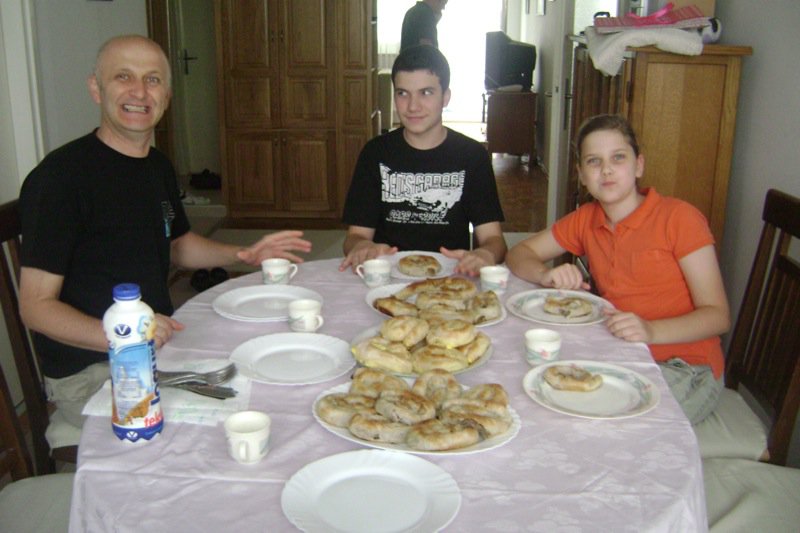 Never mind. I must begin. Cheese pita is my favourite. Yum!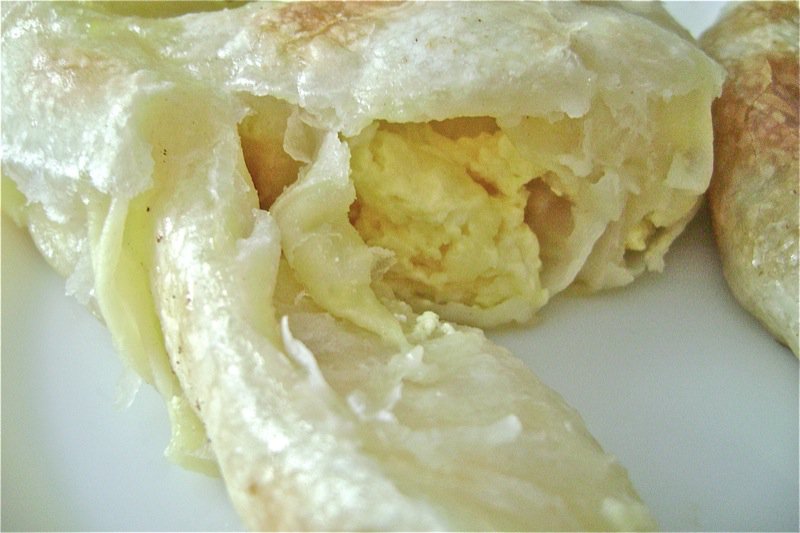 Oh, here is the tardy guest! He said he could smell it from the parking lot. He was lucky he arrived in the nick of time! Burek is his favourite.
After the meal, we had a lot of dough left from all of the bits hanging over the table that were cut off of each pastry laden with filling. Elsada had them rolled into another dough ball, rolled, and resting while we ate. Now we make yet another traditional treat: maslenica! This is the pastry with nothing in it. Apparently they love to eat it as a treat with kajmak (impossible to describe unless you have had it, but it is a very sour milk cheese-like food) and pavlaka (similar to sour cream). Look at the gorgeous thin dough. Yes, there are some thicker bits as this is made with the left over pieces. It will probably not have the beautiful air bubbles in it, but it will be a beautiful treat.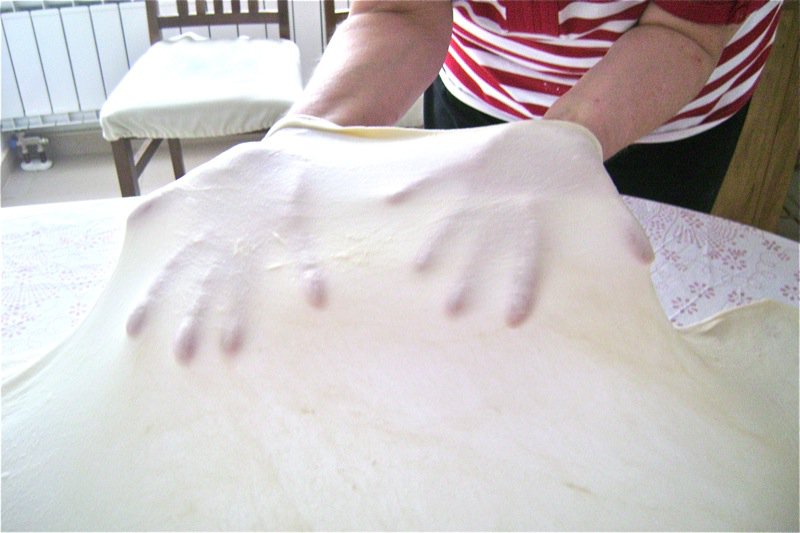 We work to stretch it over the table…. there we go.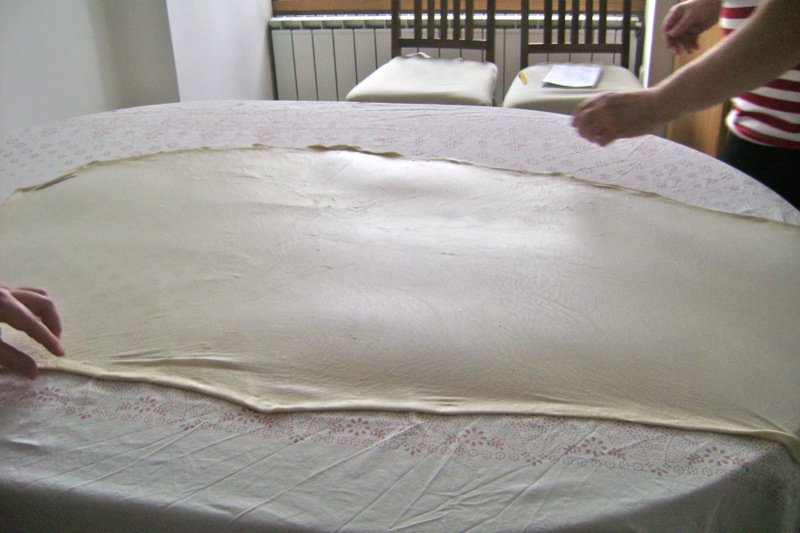 Elsada then sprinkled it with butter and folded one third of the pastry over on top of itself.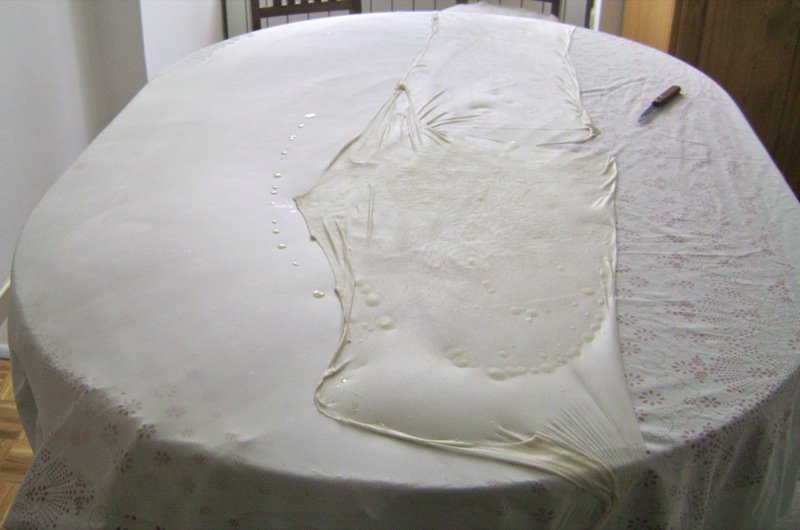 She folded the other one third back on top of the folded portion to have three layers of pastry in the middle of the table: a little more butter.
Again, the pastry gets folded into three.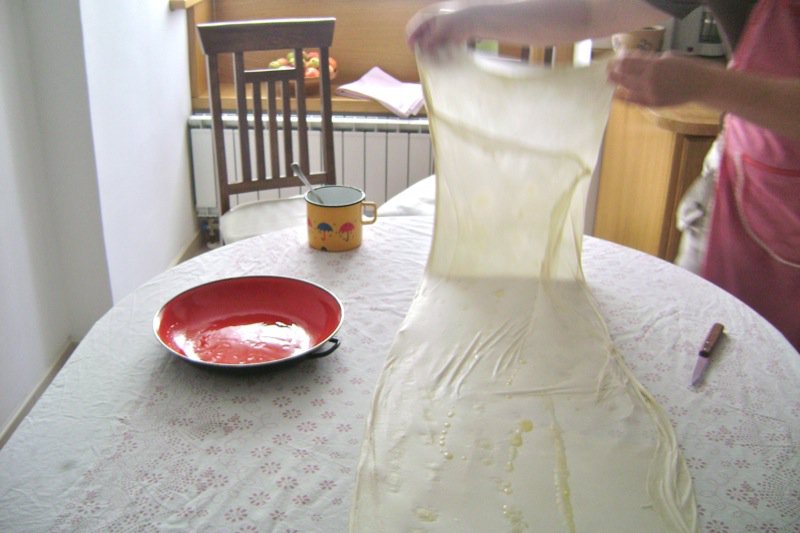 And then into three again, or in half; whatever it takes to fit into the baking dish at this point.
There it is before and after baking (below), but the after has already been tested. I wasn't fast enough with my camera!
I was astounded by the flakiness of this pastry. I didn't care for it too much on its own. It was definitely tasty, but there is no comparison with this to the filled pitas. I could not imagine going to the trouble of making this incredible ultra thin pastry and then leaving it without a filling. It was hard for me to understand. However, it is a cultural treat, and that I do understand. I would fill it with grated apples and cinnamon and sugar which is another traditional pita in this region, and another of Vanja's favourites, as well!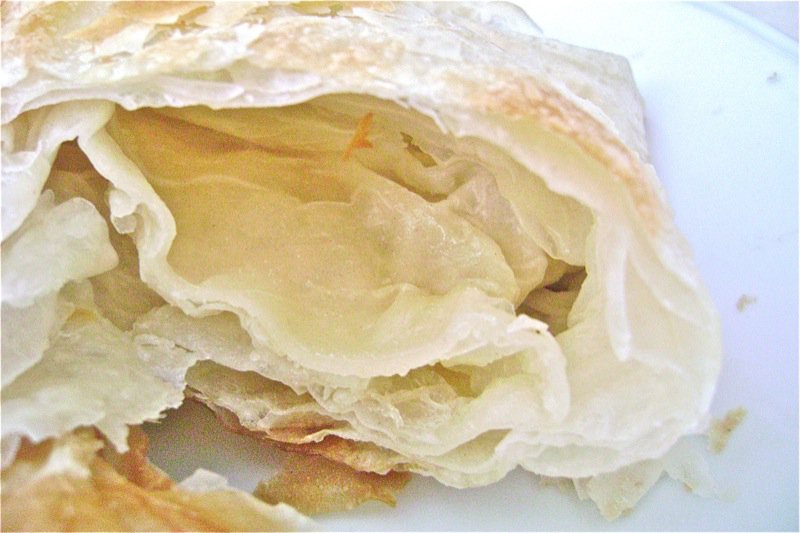 Once again, with warmth and love and such appreciation: thank you Elsada and Emina for sharing this family tradition with me. I will work hard this year so I can make it for you next summer. I really will try!
Pastry Recipe (for Burek and Sir Pita)
Yield: 12 burek or sir pita (two rounds of dough)
Ingredients:
1 kilo flour
2 teaspoons salt
340g (400ml) wate

r

1/4 cup melted unsalted butter

1 tablespoon oil
Instructions:
Mix all ingredients together, and knead until dough is soft, but not sticky (about 5 minutes, once experienced – see pictures in both posts)
Cover with plastic wrap and a tea towel and rest for thirty minutes
Divide into two portions and make each into a ball (each will make 6 burek or 6 sir pita)
Preheat oven to 500° F
Roll each ball on a flour dusted sturdy paper, turning only once, until about 1/4 inch thick
Spread oil over the surface of each rolled pastry oval very lightly, but cover the entire surface area to enable easy stretching later
Rest for 15 minutes (and not more than 5 minutes longer) and prepare the meat (mince the onion and mix all ingredients together)
Transfer one disc of pastry dough to the middle of the table covered with a boÅ¡ca ("œburek" cloth); using hands gently from the middle of the pastry to stretch it and lay it out
Then, pull the dough out little by little around the table and around again until it covers the table and then pull it to just go over the edge of the table; use your fingers in a pinching motion very lightly
Take half of the meat portion and lay it out on the edge of the table little by little until there is some meat all around the circumference of the table
Add the oil to the melted butter and sprinkle just a little over the pastry on each portion (make a circle with the sprinkling)
Cut the dough in half down the middle of the table; and cut off the thickened edge of the dough from the overhanging portion
Flip the overhanging pastry from the side of the table to over the meat laid out on the table until all is covered
Then, lift the cloth gently to force the dough to gently roll toward the centre of the table; stop it when you can easily roll the rest by hand
Use the butter and oil to grease the baking pan; roll each end of the two ropes of dough into two burek portions and leave enough in the middle for a third
Place all in the pan and very lightly brush with butter oil mixture
Bake for 10 to 12 minutes at 500 and remove from the oven
Pour about 1/2 cup of sparkling mineral water over the golden burek and return to the oven for 5 more minutes
Take out of the oven and cover with a tea towel for at least five minutes before serving
Serve with yogurt to drink
Burek Recipe
Yield: 12 burek
one pastry recipe (above)
1 kilo freshly ground beef
1 teaspoon salt
1/4 teaspoon pepper
60 mls sparkling mineral water (or soda water)
1/4 large or 1/2 medium onion, minced
Mix all ingredients together
Sir Pita Recipe
Yield: 12 sir pita
one pastry recipe (above)
1 kilo mladi sir (fresh young cheese as pictured and described above)
1 teaspoon salt
1/4 teaspoon pepper
2 farm fresh eggs
Mix all ingredients together