Apple Roses in Puffed Pastry with Nadja Kerstane!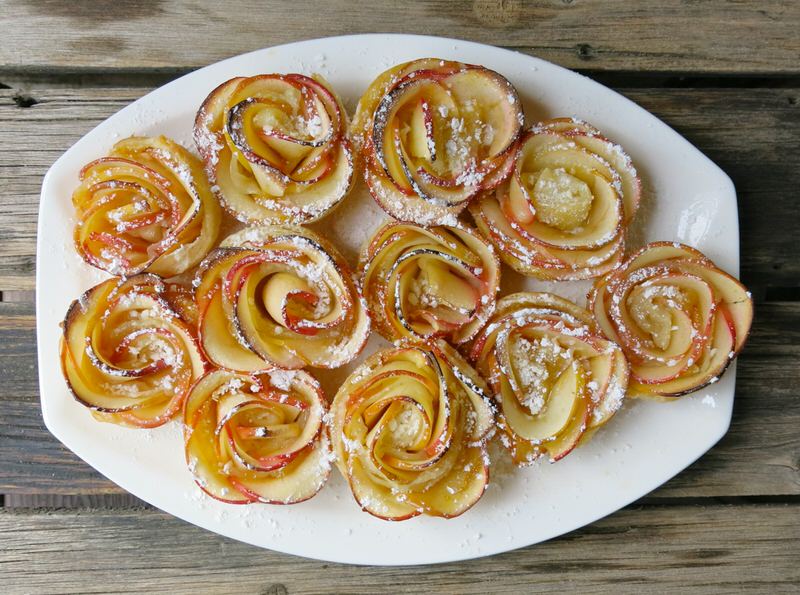 Not only do these Apple Roses look divine, but they are a lovely delicate treat and not too sweet. Best warm from the oven.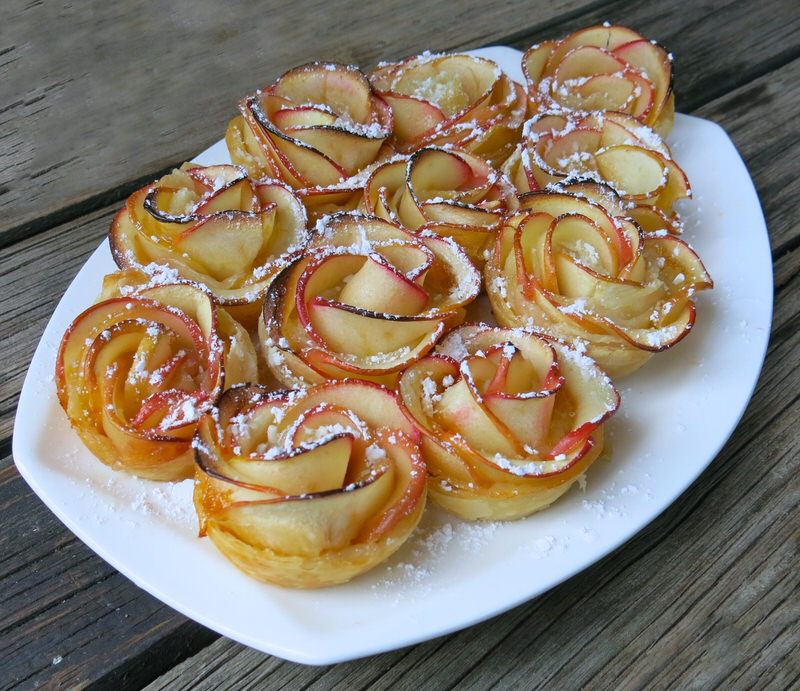 I saw a photo of these on Nadja's Facebook page, again. I say "again', as it was her Russian Dumplings that motivated me to beg her to teach me how to make them from her Facebook page.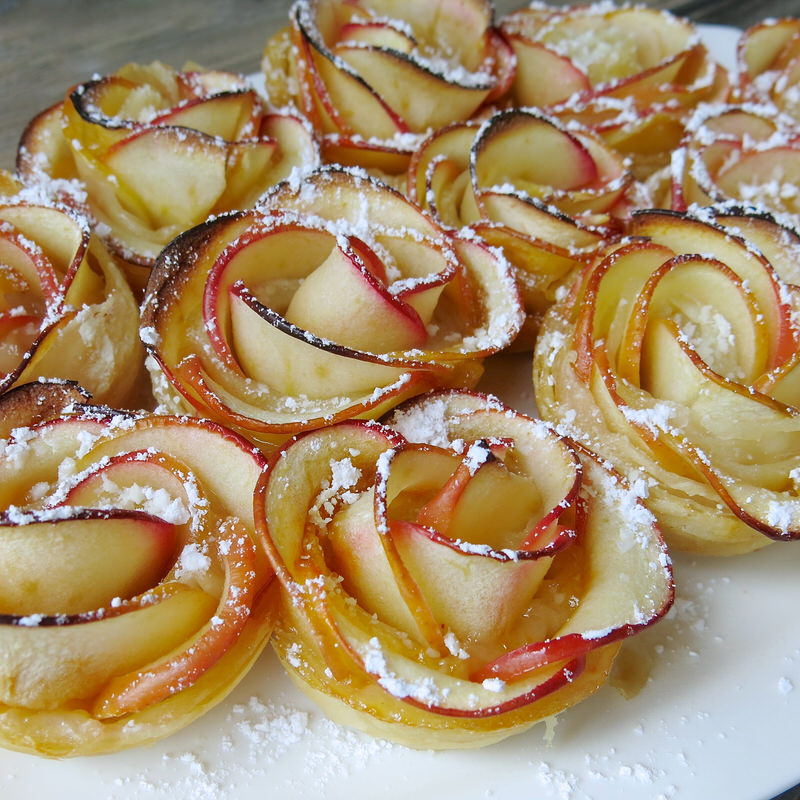 That gal makes the prettiest looking food. And, she always says, "Oh, it's so easy!" Bah! is my reply, and after she teaches me – I have to agree. It is easy.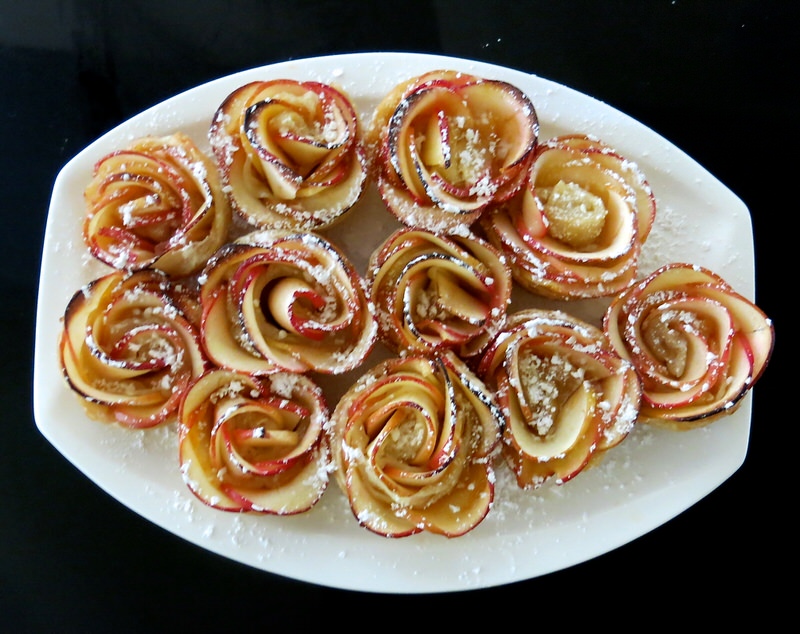 However, a good little step-by-step lesson definitely helps. Reading a recipe without the step by step images and the handy little tips and tricks won't get you to home base. Nadja is a master at conquering such recipes and then teaching me how "easy they are"! Lucky us! Now, I can show you!
Apple Roses: Make a Quick Puff Pastry (or buy it)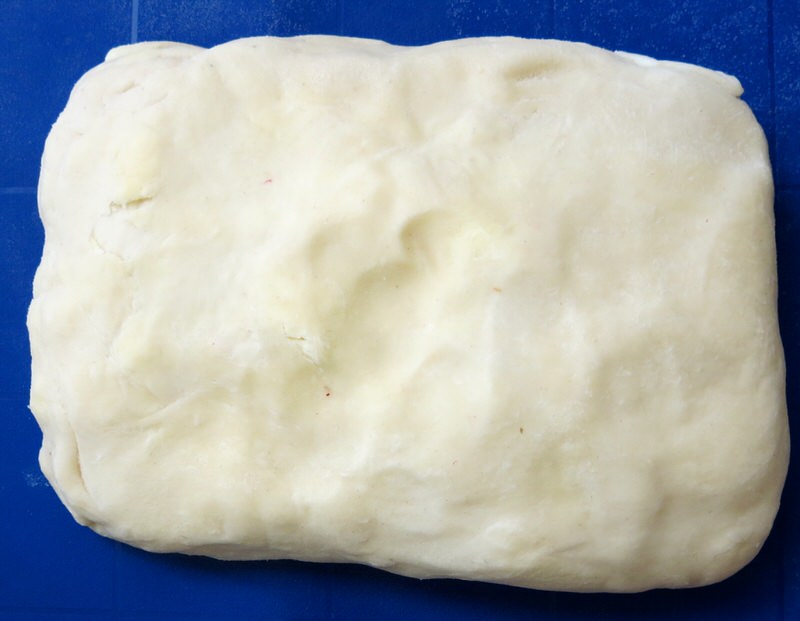 Nadja used the recipe from the front of the Thermomix Basic Cookbook for Quick Puff Pastry, but added and chilled it overnight.
Apple Roses: Rolling the Pastry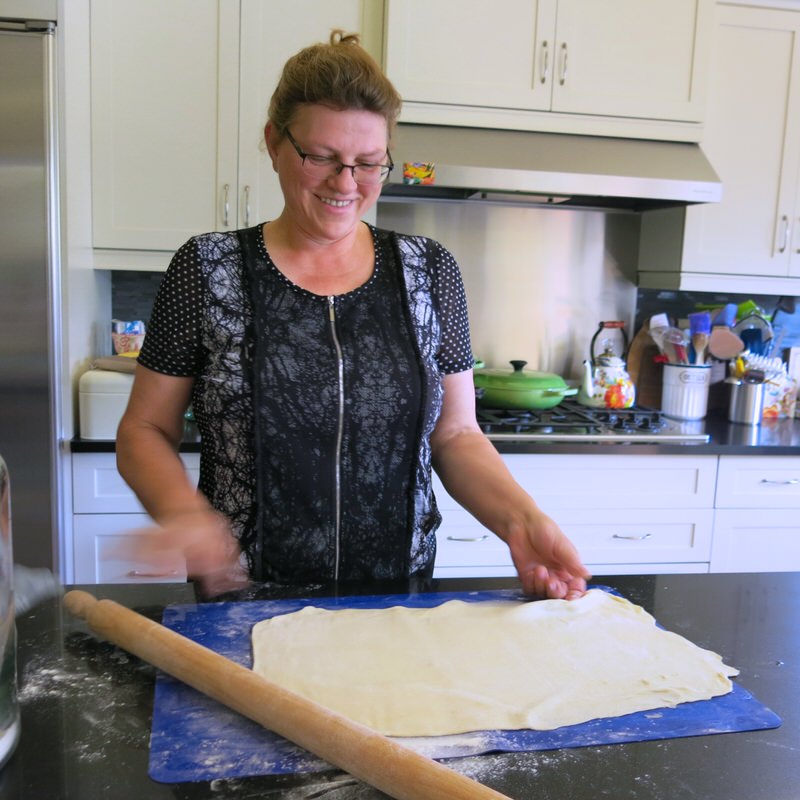 She has muscles! She had it rolled out quite thin in no time.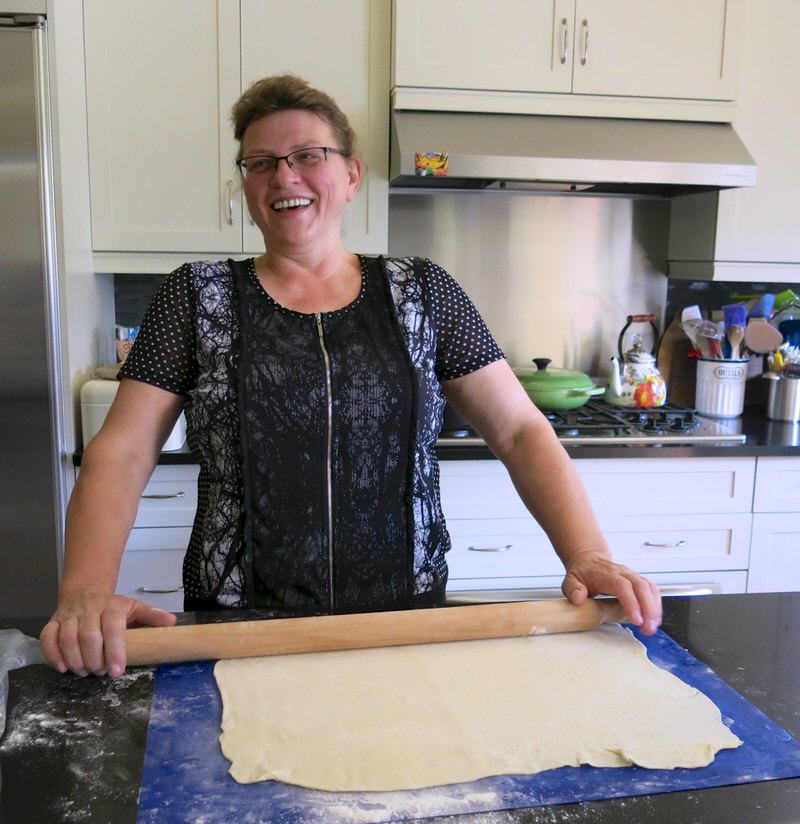 Of course, there was an audience. We had our first ever annual Thermomix Regional Retreat the last weekend of July and I had asked her to share how to make Apple Roses with all of us in attendance.
Apple Roses: Preparing the Apples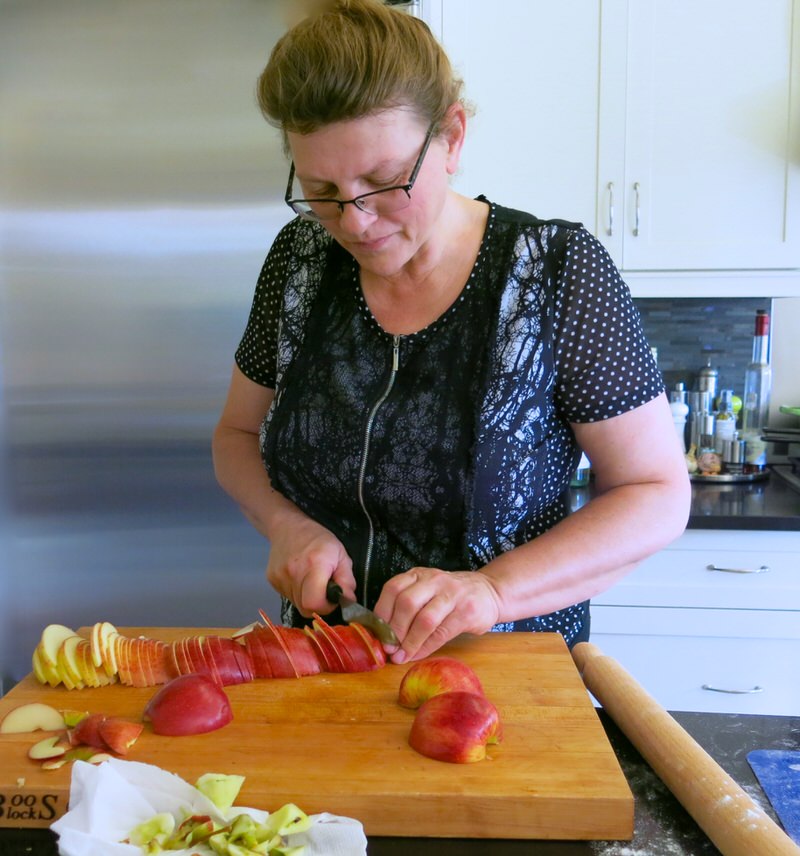 She asked for a tart red skinned apple. We used Gala. Not so tart, but certainly don't use a red Delicious or one with a high sugar content.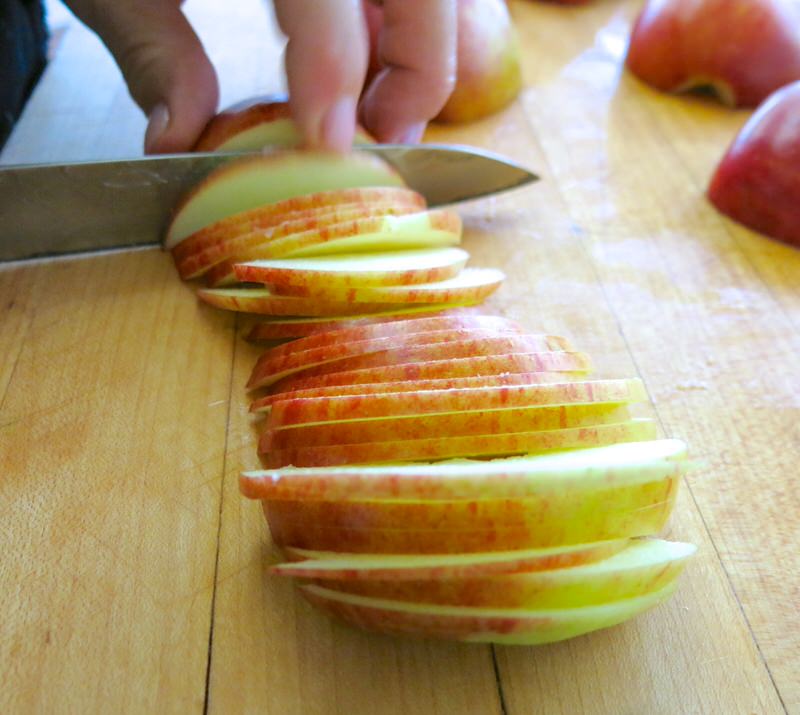 Halve and core the apples, then thinly slice. Two and a half apples made 11 Apple Roses.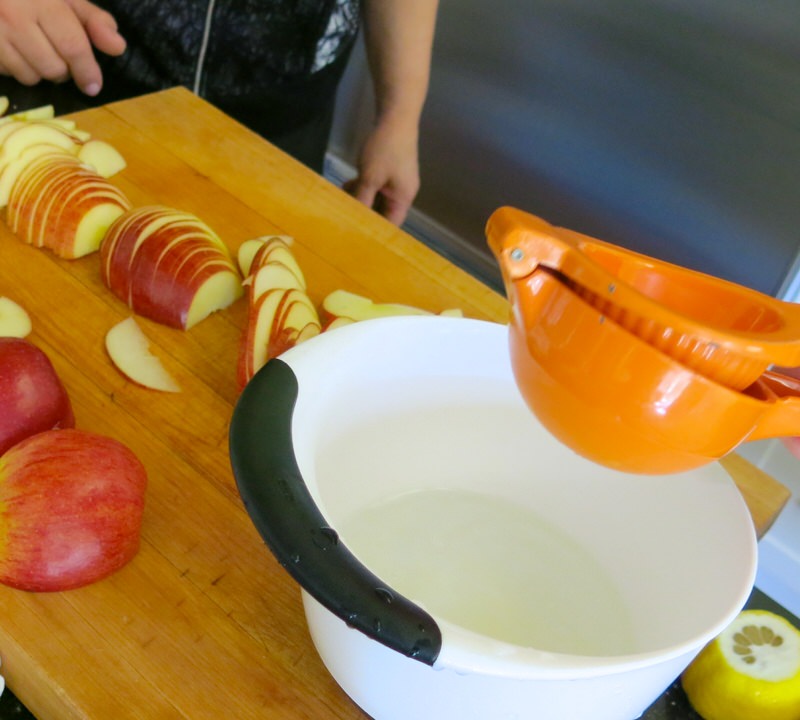 Juice of one lemon into a cup of water.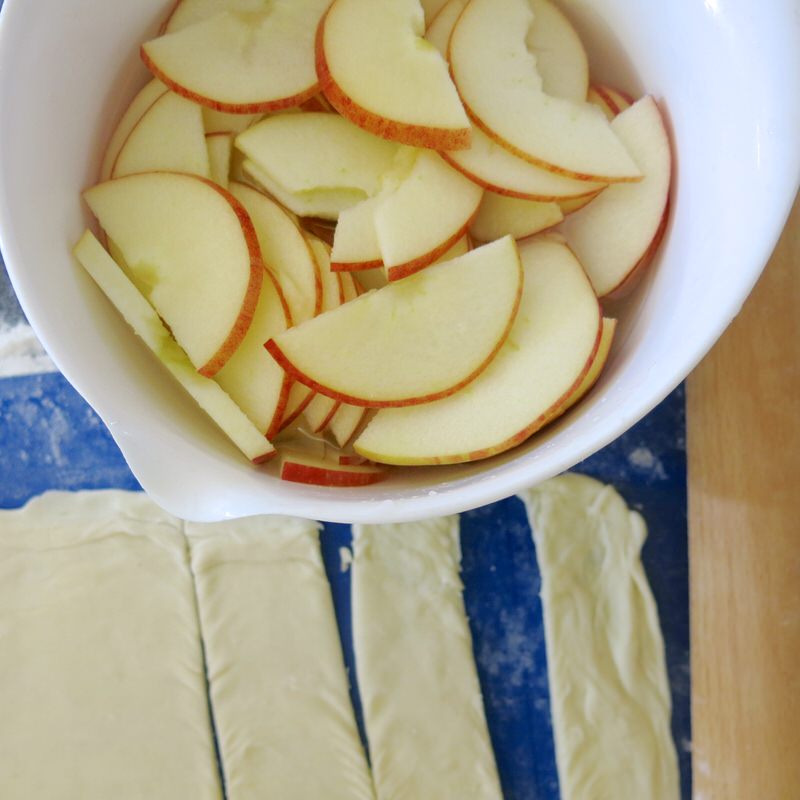 Apples all into the water and soaked while slicing, then microwaved for 3 minutes.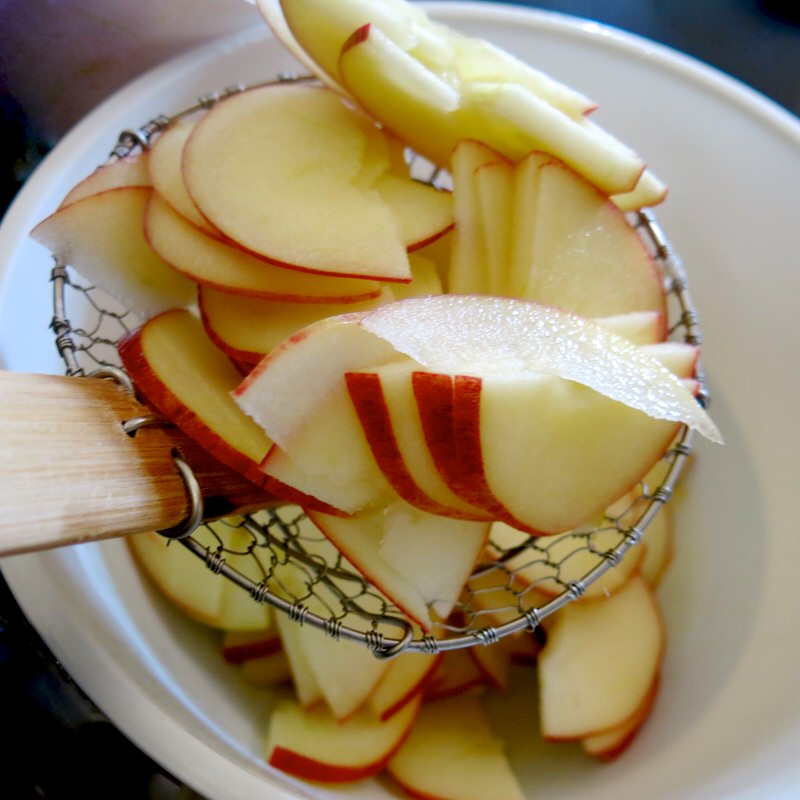 Strained, and ready to be placed in the tart.
Apple Roses: Cutting the Pastry and Brushing it with Apricot Jam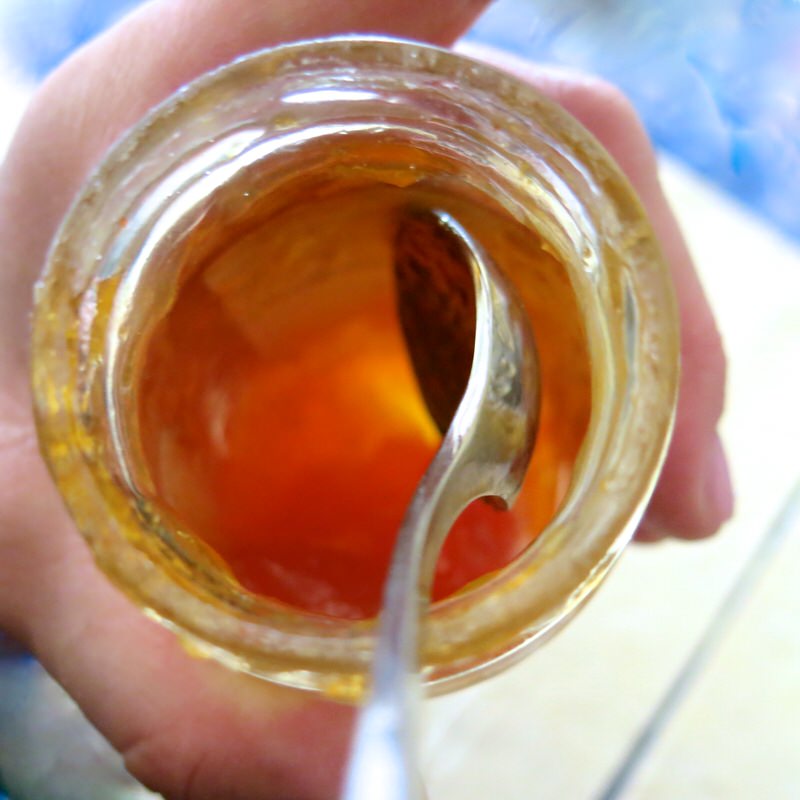 Homemade apricot jam was the intent, but I'd just run out.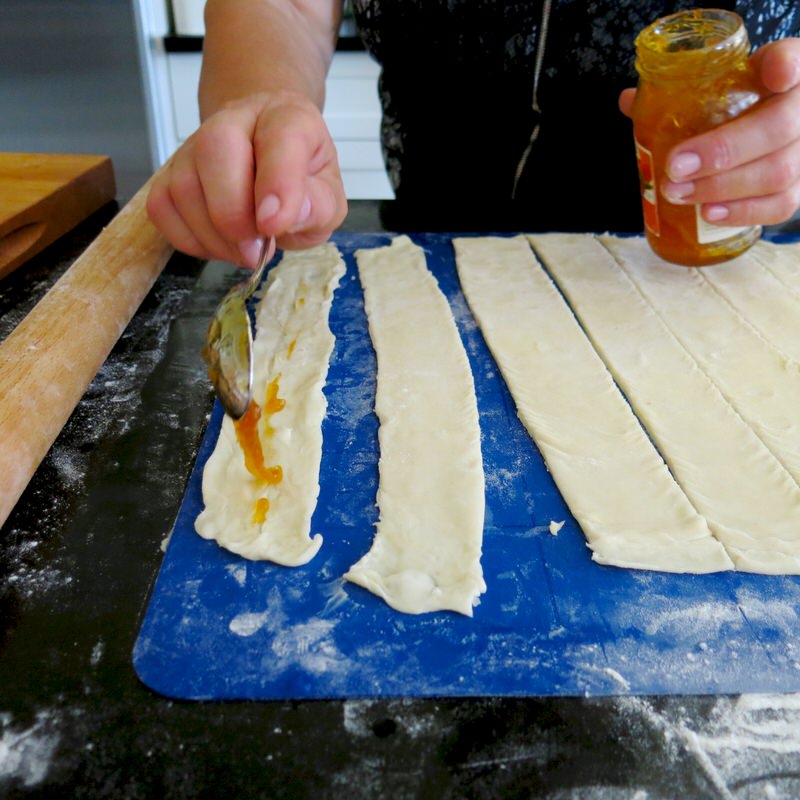 A good generous run of it all along each pastry strip adds a great deal of flavour to the tart.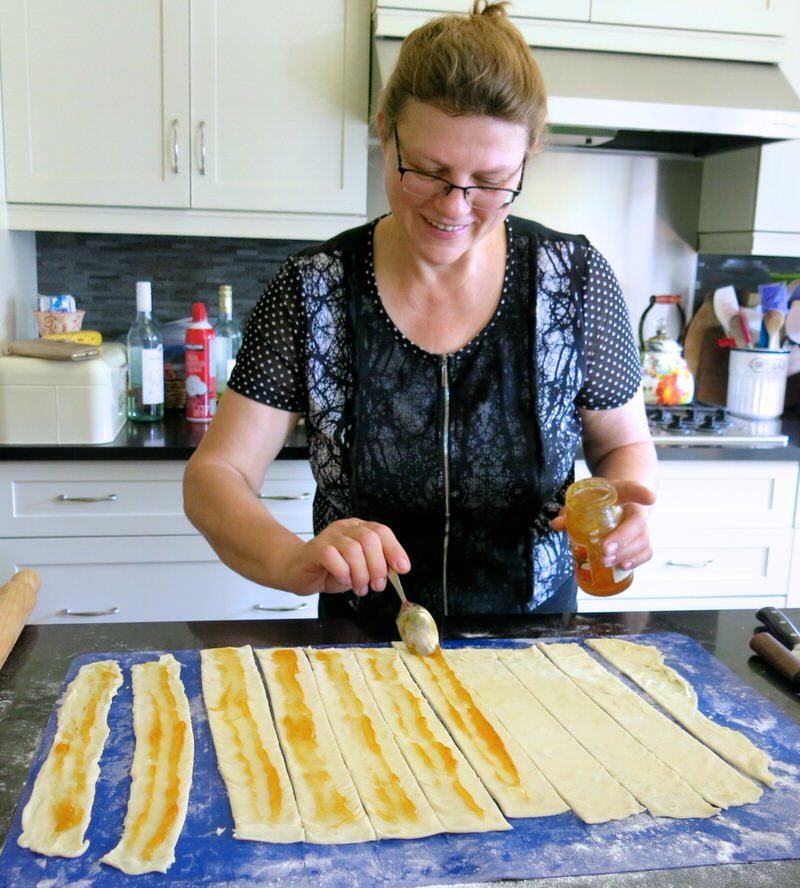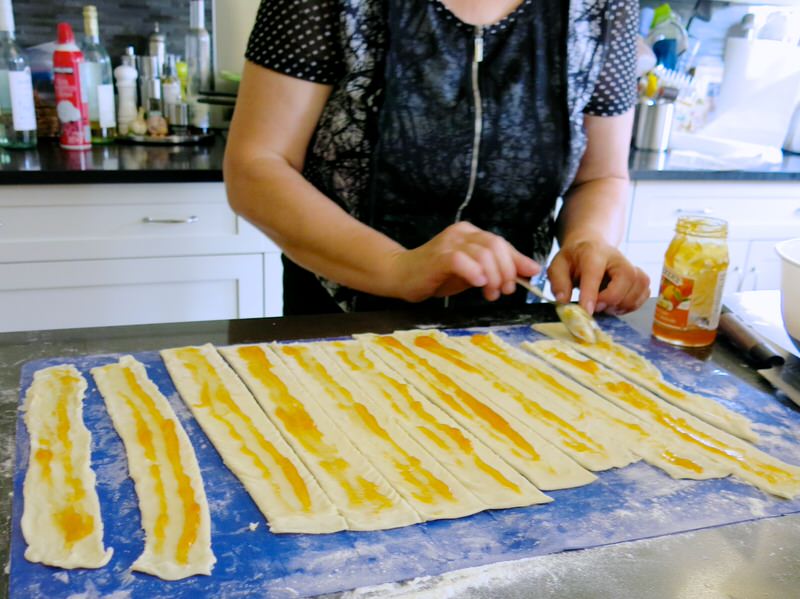 We didn't measure the amount of jam, but a scant tablespoon per tart is what we used and for 11 tarts we used about a 1/2 of a cup.
Apple Roses: Making the Roses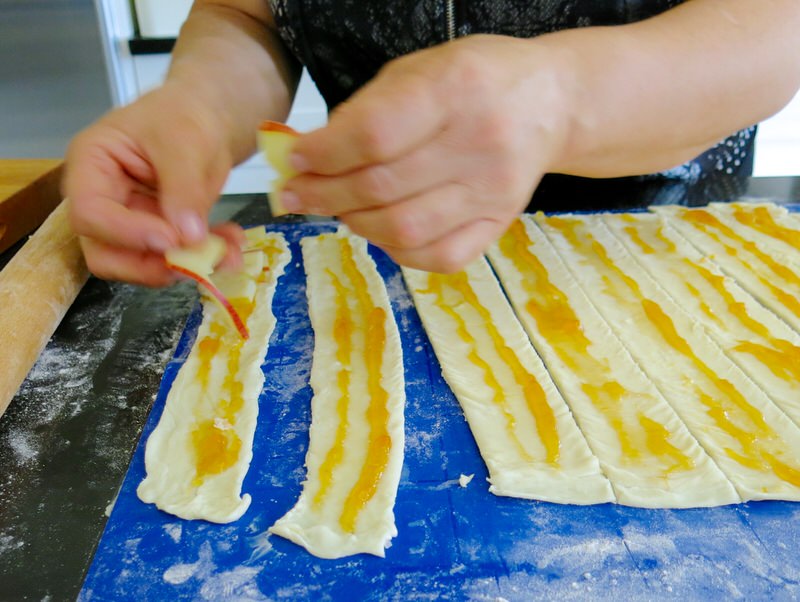 This is the tricky part: how you overlap the apples. Take a close and careful look at the close ups as it wasn't as easy as she made it look until implementing her tips.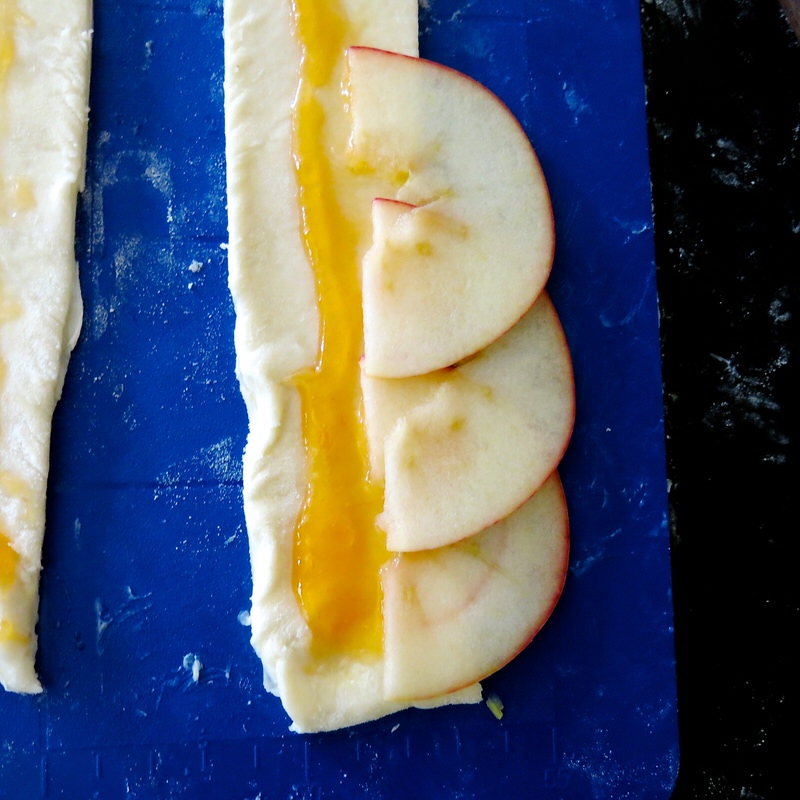 Apples laid on the pastry, not in the middle, but about 1/3 over. When the pastry is folded over the apple later, the apple has a generous rose on top.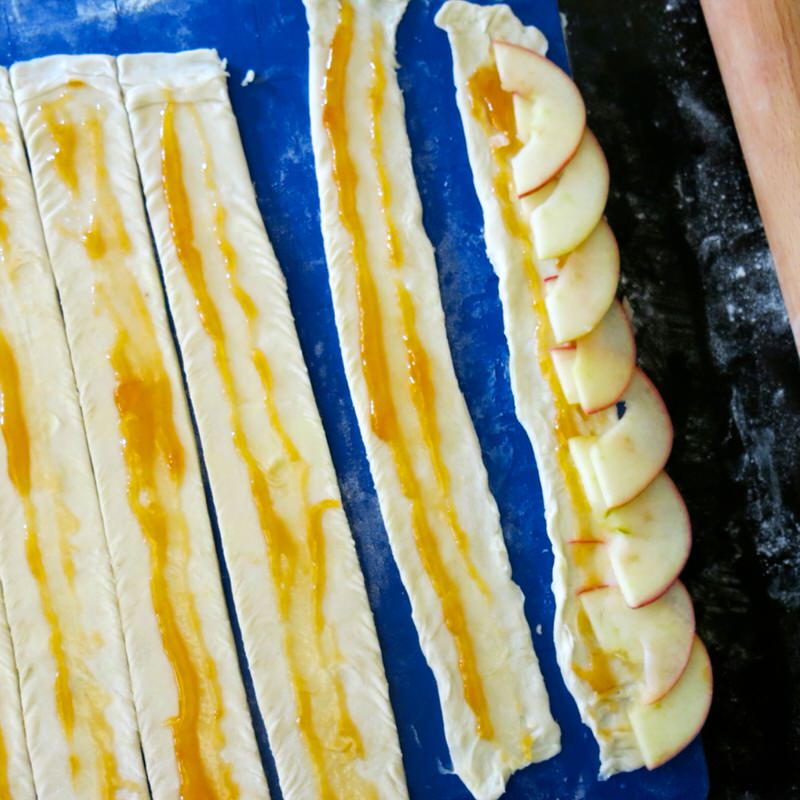 Eight to nine apple slices per row, at least. Preferably nine, overlapping over each end and a bit toward the middle of each apple slice.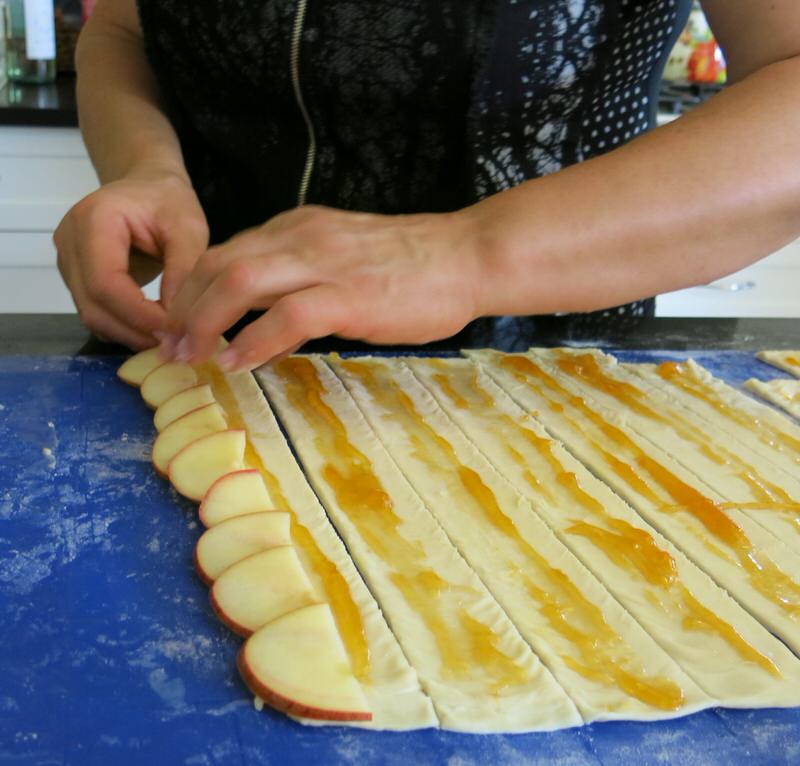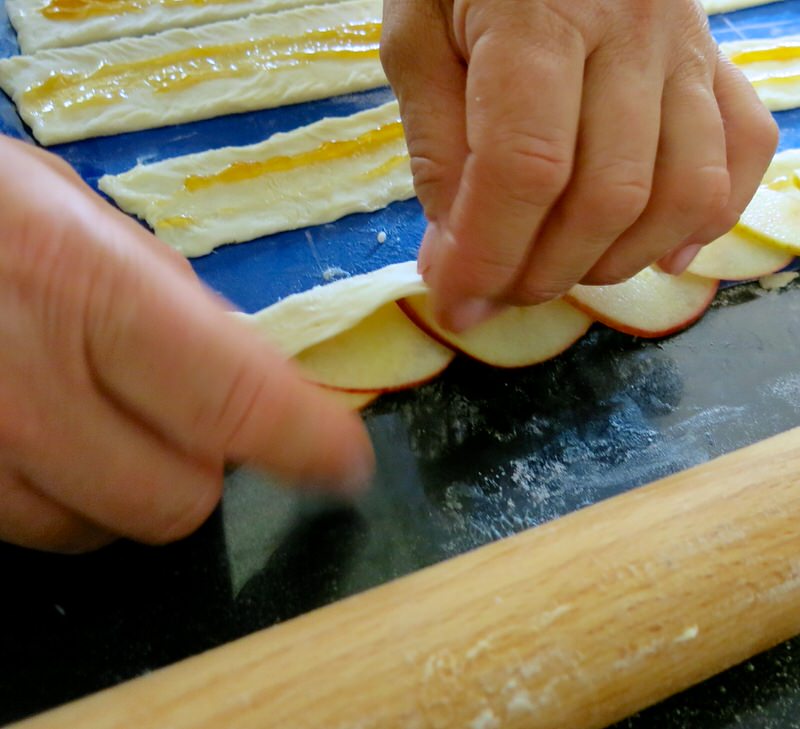 Turn the edge up and press to each slice.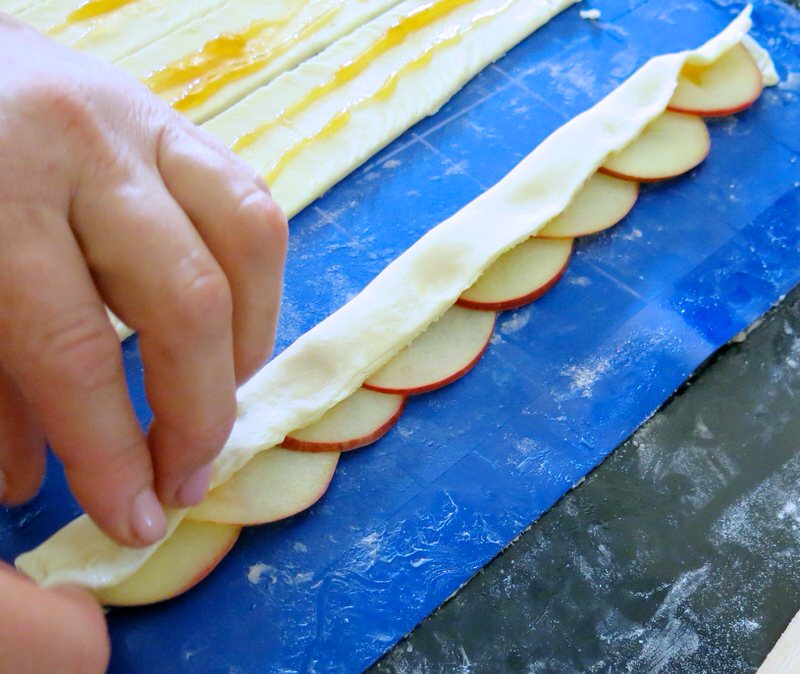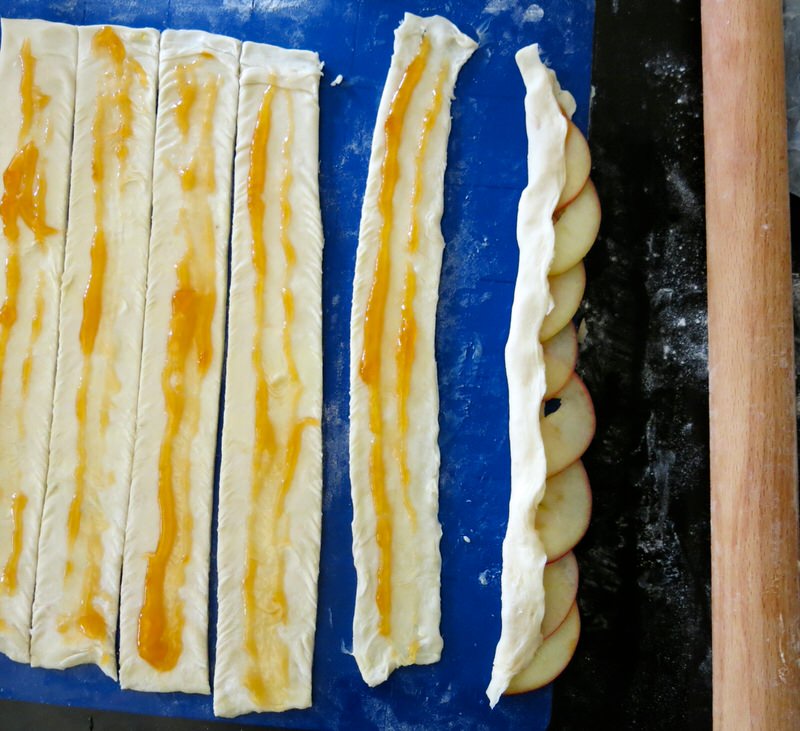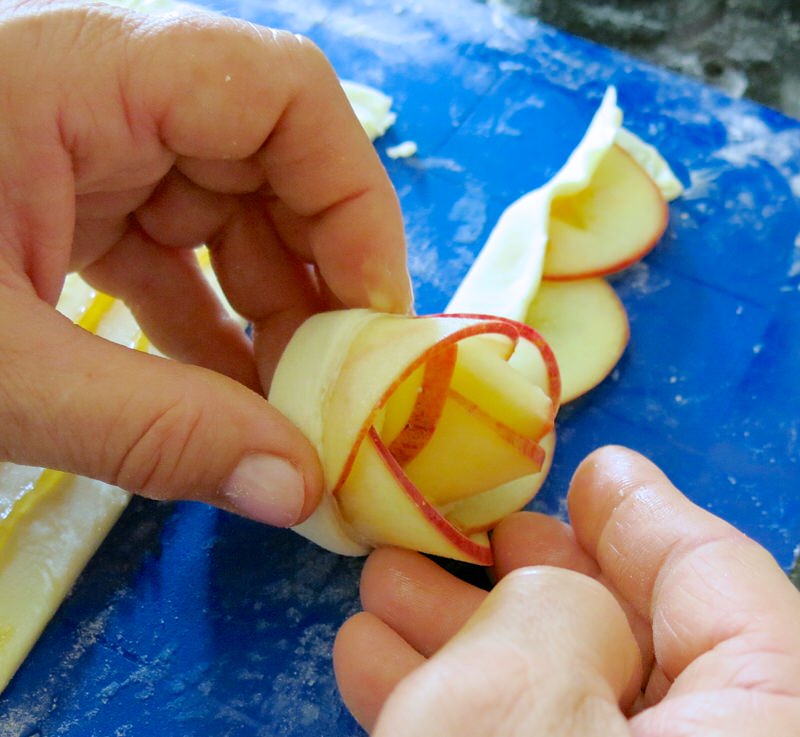 Staring with the end closest to you, turn it in and roll it up snuggly.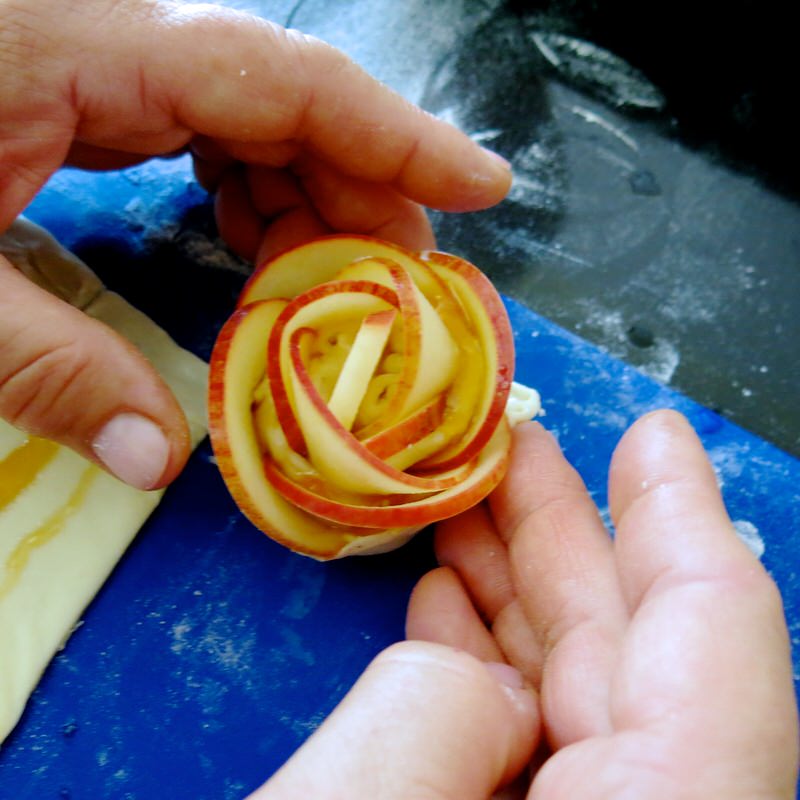 So pretty.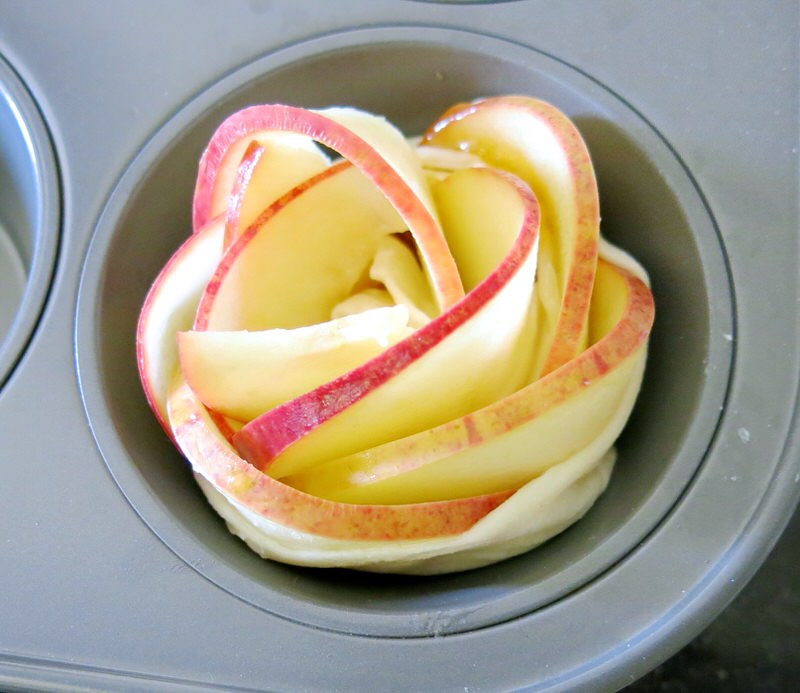 Set it in a muffin pan to hold its shape. No prepping the pan.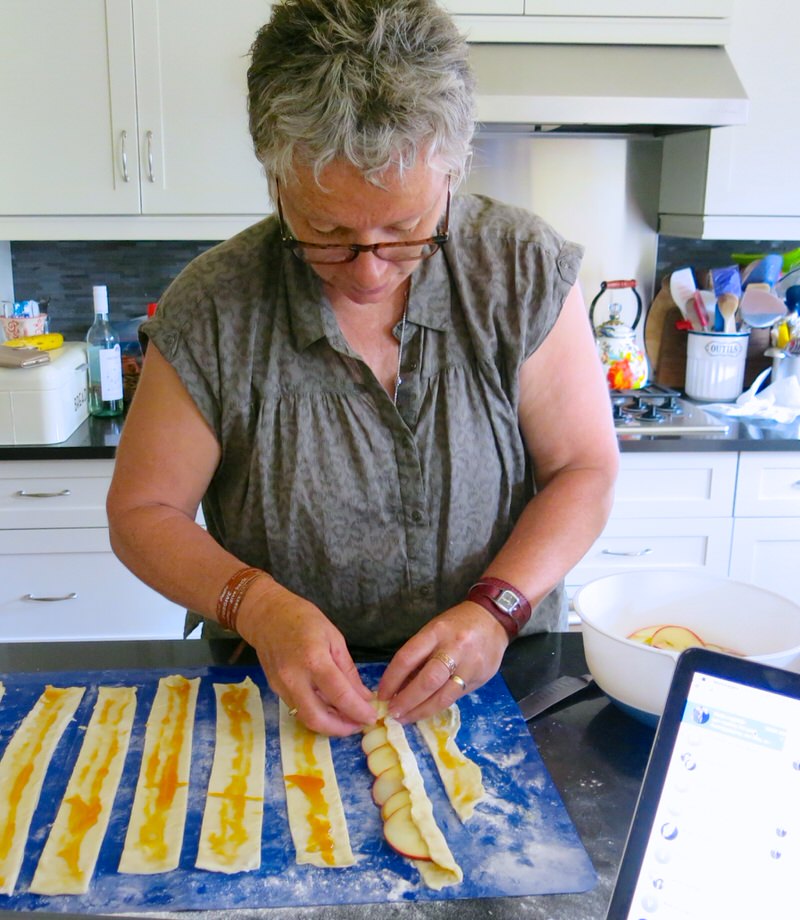 We each took turns!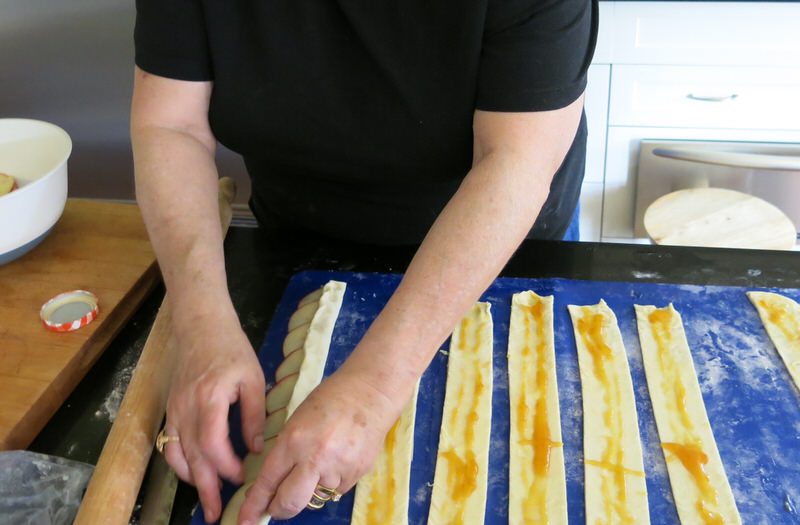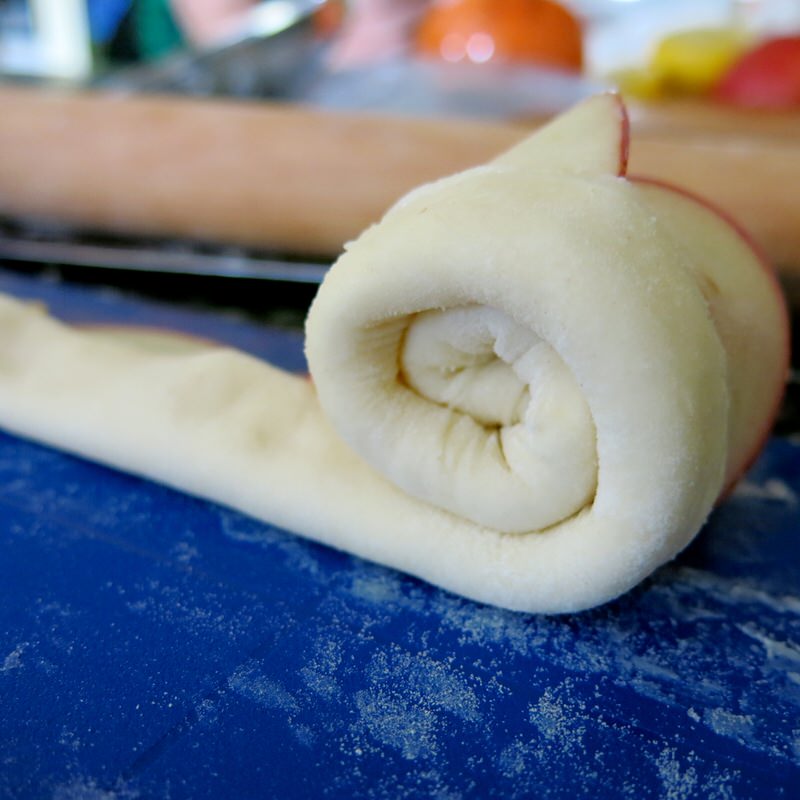 The snug roll view from the bottom.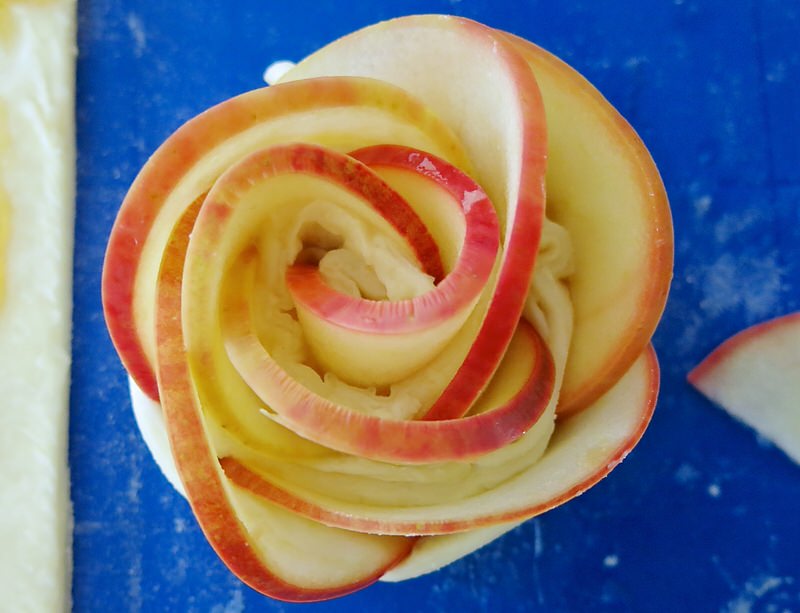 Look mom! I did it! I did it!
Apple Roses: Baking the Roses

Above, ready to go into the oven. Below, baked. You can see the juices have released.

Look at the beautiful layers on that homemade quick puff pastry, above.
Apple Roses: Serving the Roses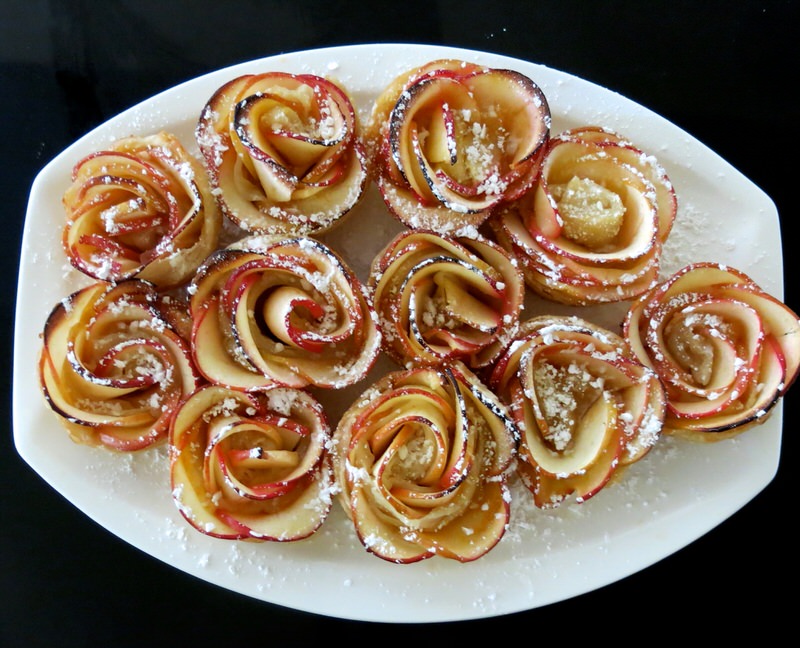 Warm, out of the pan, a sprinkling of sugar. The only sweet that is in this tart, is the jam, so the powdered sugar not only offers a whimsical Apple Rose, but is a little welcome added sweetness to the tart.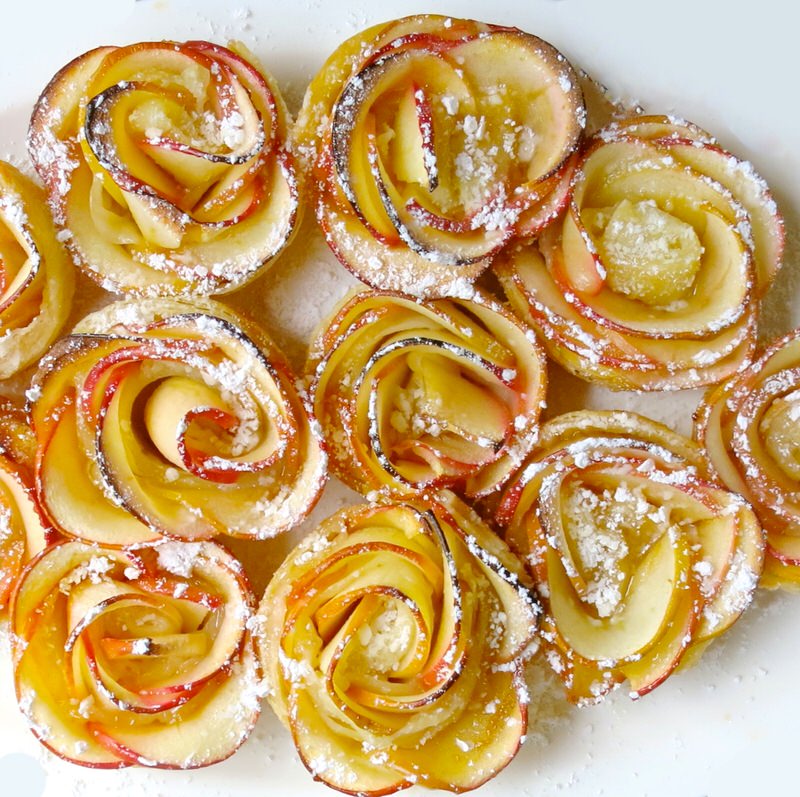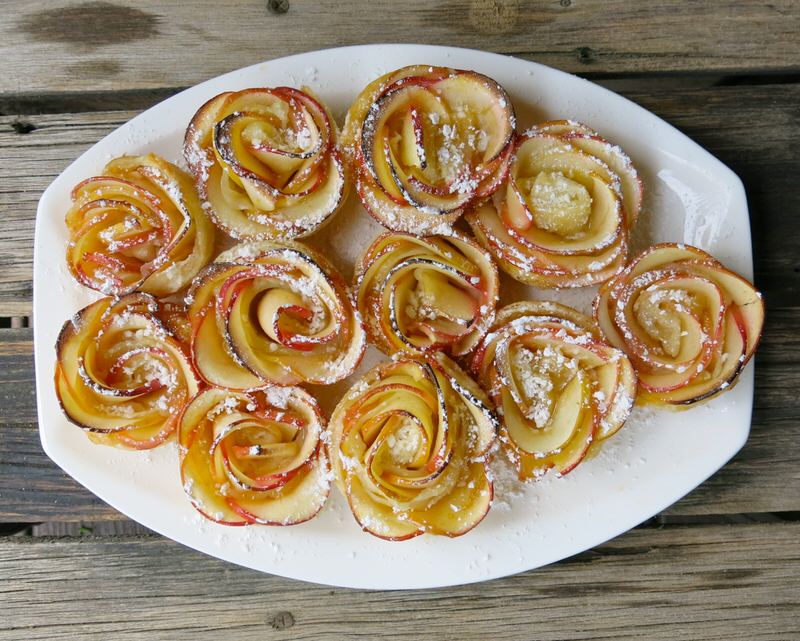 Tasty cold, but at their prime when warm, flakey, buttery and oozing a little jam straight out of the oven.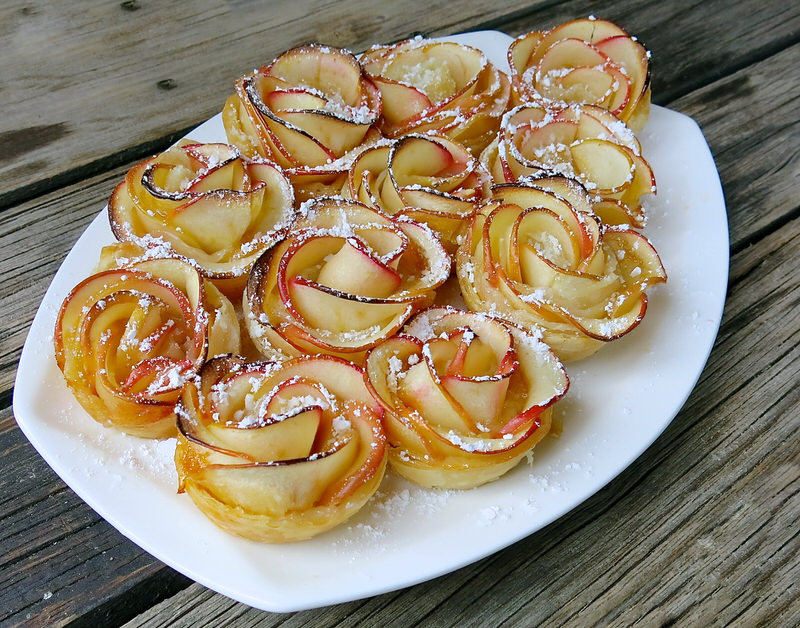 Let me know if you make them and what you think. I cannot wait to wow my gal pals with this recipe!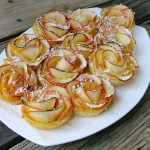 Apple Roses in Puff Pastry with Apricot Jam
This recipe makes 11 delicious and gorgeous apple rose tarts, so adjust it according to your needs.

Total Time
1
hour
30
minutes
Ingredients
Ingredients for Quick Puff Pastry
250

grams

flour

250

grams

butter

110

grams

water

5

grams

vinegar

1/2

teaspoon

salt
Ingredients for Apple Rose Tarts
2 1/2

medium/large

red skinned, tart apples, washed

1/2

cup

apricot jam

1

lemon, juiced

1

cup

water

powdered sugar for garnish
Instructions
Instructions for Quick Puff Pastry
Follow instructions exactly as on the chip for the Quick Puff Pastry in the Basic Cookbook, adding a teaspoon of water to the vinegar

Instructions for the Apple Rose Tart
Take pastry out of fridge; roll into large rectangle about 1/8th inch thin
Combine the juice of one lemon and the water; set aside


Wash, halve and carefully core apples; thinly slice and place in lemon water


Continue until all apples are sliced; ensure slices are completely immersed in water and microwave on high for 3 minutes


Strain apples and place into another container; While apples cool, slice pastry into 2-inch lengths


Spread a scant tablespoon of apricot jam down middle of each pastry portion; preheat the oven to 375 F


Using about 9 thin, somewhat pliable apple slices, layer them overlapping one another over 1/3 of the length of one strip of pastry ensuring that they are similar to the photo


Once the end of the pastry is covered with overlapping apple slices, start back at the bottom of the pastry strip; fold it over onto the apples so the pastry edges meet (not so the bottom is the fold where the apples start; the fold will be just a little below that)


Roll the length of dough into a snug circle


Gently lift the apple rose and place it into a muffin tin; continue with each until all 11 are complete


Bake at 350F for 40-45 minutes, or until a light golden; avoid burning the edges of the apples (less is more!)


Remove from oven; carefully plate, immediately, dust with powdered sugar, and serve