Vegetarian, Vegan and Gluten Free: the one made for the EA Lunch 2011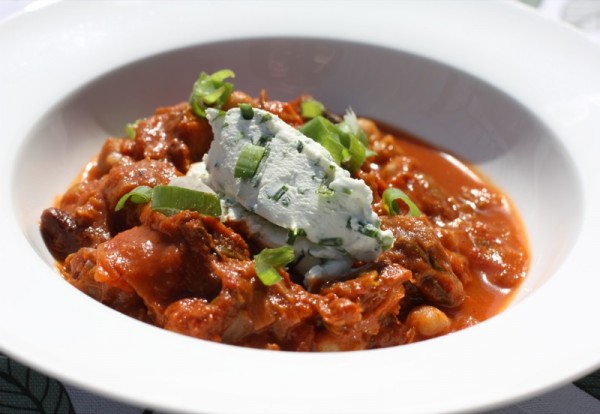 Home from Eat Alberta yesterday with so many thank yous to deliver and so much left to say to all who made that day better than any of us (Sharon, Allan, Mack, Su, Ming, Nicole and I)Â imagined it would be!
Talk about a grass roots event! In February of 2010, the beginnings of what evolved into Eat Alberta were stirring within and by last year at this time we were just getting the details finalized for the big event that happened April 30, 2011. We hosted at the University of Alberta Faculty of Extension within the windowless basement of he Enterprize Centre downtown. Our sixty spaces were sold out within three days (the first 80% sold within the first three hours) and we were ready to roll! And roll we did!
The night prior, we were at the location delivering carloads of equipment and supplies at 4pm and were there until 8pm setting up. Equipment? Supplies? We were doing full on cooking classes in classrooms without sinks or stoves or ovens. So, burners, and scales, and basins, buckets, cleaning supplies and kitchen equipment were all moved in.
Suzanne Dennis was our Volunteer Coordinator last year and had her host of 8 eager incredible volunteers at the door of the Centre at 7:30 am to assist the 16 or so presenters as they dropped off their supplies before parking. The Faculty of Extension Student Assistant that we hired for the day to assist was incredible. By 8am Sharon and Mack had the registration table up and running, all presenters were setting up in their classrooms, participants were arriving and volunteers were putting the last minute touches on the breakfast we had made and purchased locally.
Made? Yes. I had made the granola and the yogurt. The Queen of Tarts, now Dauphine's, made a sweet and tart scone. The Jam Lady provided incredible jams. We had Saskatoon Berry juice and coffee provided the entire day by Transcend. We just sent volunteers running down the street and across for it, as needed. Oh, and Steve and Dan's provided apples and pears, too! What a feast.
The Key Note was held in the biggest classroom. Packed. Positive energy and exciting information by James Vriend and Jenny Berkenbosch of Sun Dog Organic Farms.
After that, I really don't remember much. The day, until lunch, was a blur. The bathroom sinks weren't working to wash the dishes in (as we had planned – we had closed off one bathroom for this purpose alone), the chairs needed moving, we needed more coffee – and I didn't do any of this. Su and her volunteer team did. I immediately went to work taking down the breakfast, preparing the lunch and the Tasting Boards. I remember nothing else. I didn't even get to the session where I was to introduce Holly Gale. Thank goodness Kevin was in there.
The lunch? Last year, the Italian Centre Shops provided Italian Sandwiches for everyone and there were the most delectable cookies provided by the Confetti Sweet Treats (City Market). Maria and I spent a day making this very cassoulet: two massive turkey roasters full of it. I also made all of the tastings, except Kevin Kossowan fire roasted the bison in his out door oven.
We got everything set up. It was all hot. Tastes were all out, thanks to Ming and Nicole (both volunteers last year), and then people swarmed into this tiny little space for lunch bubbling with enthusiasm from their morning adventures. I knew right then that we had something very special here. I knew right then that Eat Alberta had only just begun.
Amid the clamor and chatter, a lovely woman asked me for the cassoulet recipe, and I promised her I would post it on the Eat Alberta website, thinking I would make it again to do just that. Well, when one makes two massive turkey ovens full of The Great Northern Bean Cassoulet, one does not want to make it again any time soon!
This year, I made it for our preparation potluck evening for volunteers and presenters, and serendipitously, that same woman asked me again during lunch this year if she could have this very recipe. I looked down at her name tag, vowing to remember, but I don't. However, this post is for her!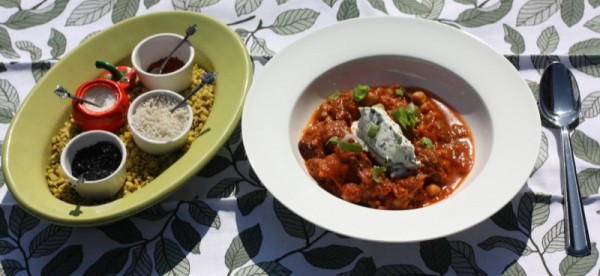 Eat Alberta 2012 was held at NAIT this year. We felt so very privileged to be granted the opportunity to use this space as they have never done this before. What a difference it made to elevating our humble little event to a world class culinary event equivalent to any I have ever been to or could ever wish to go to. The staff at NAIT was second to none and I wish to publicly thank Chef Stanley Townsend and the Head of House,Samantha Wall, both of NAIT, for making this happen. The Four TA's that worked in the kitchen, as well as the staff in Ernest's, were exemplary.
In our own little grass roots way, we had still planned classroom set up details, supply details, plating and pouring assistance for all classrooms, and on and on – but NAIT took care of everything for us. Our volunteers worked hard unloading cars, bringing in supplies and setting up teacher materials, but after that, there was time for them to actually enjoy their day this year. What a team of volunteers, too, I may add! Exceptional!
This cassoulet is made with our own Alberta pulses: this time, a variety. There is so much goodness in this recipe, it is hard to imagine that it can actually be eaten (sans crème fraiche) by almost every kind of eater. Below is a photo essay that is self explanatory regarding the makings of this dish, followed by the recipe. One of the many tastes of our Alberta that we showcased at last year's event.
Much more to come about the food at this year's event on another post.
And tomorrow, I will publish the photos I took of Eat Alberta, as well as more thoughts about the day and a list of all posts written to date. Please also check out the website for that information as we will continue to update it as we discover posts and publications about the day.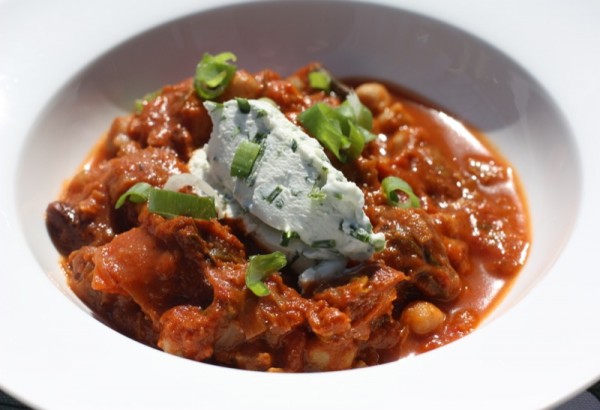 Eat Alberta Great Northern Bean Vegetarian Cassoulet Recipe (also Vegan and Gluten Free)
Serves 12-16, Active time: 40 min, Start to finish:1 1/4Â hr
Ingredients for cassoulet:
3 medium leeks (all parts from Sun Dog Organics or August Organics or my garden)
4 medium carrots, quartered of halved lengthwise and cut into 1/2inch pieces  (my garden)
3 celery ribs, halved lengthwise and cut into 1/2inch pieces (Sun Dog Organics or my garden)
1 ounce dried porcini mushrooms soaked in 1 cup of boiling water (Mo-na Foods)
4 garlic cloves, chopped finely (Sun Dog Organics)
1/4cup olive oil (Italy)
4 thyme sprigs (my garden)
small bunch of flat leafed parsley (bundled, from my garden)
2 Turkish or 1 California bay leaf (my tree)
1/4teaspoon ground cloves
6 c Great Northern beans, rinsed and drained (I rehydrate my own the night prior, and cook separately without salt to desired doneness; this time I used what beans I had available through Live Local from Vauxhall Seeds: chick peas and Cannellini beans are)
3 19 oz can DOP tomatoes (Italian Centre Shops)
½ tube of Mutti tomato paste concentrate (Italian Centre Shops)
2 tablespoons of really good Paprika (from Serbia)
salt and freshly ground pepper, to taste
Instructions for the cassoulet:
Halve leeks lengthwise and wash; cut crosswise into 1/2inch pieces
Cook leeks, carrots, celery, and garlic in oil with herb sprigs, bay leaf, cloves, and 1/2teaspoon each of salt and pepper in a large heavy pot over medium heat, stirring occasionally, until softened and golden (about 20 minutes: my pan is huge and this huge batch does fit if added in stages)
Stir in beans, then tomatoes, and tomato paste, paprika and simmer, partially covered, stirring occasionally, until carrots are tender but not falling apart, about 15 minutes
Strain mushrooms, reserving liquid, chop and add to pot; sieve flavourful mushroom liquid into pot to avoid grit
Simmer for an hour, low and slow
Discard herb sprigs and bay leaf
Remove some of the beans (1/4or so) and mash then return to the pot to thicken broth
Season with salt and pepper
Instructions for the Chive Crème Fraiche
Make Crème Fraiche from the recipe here
Add finely minced chives to the crème fraiche just before serving
Serve a dollop over each bowl of Cassoulet and top with more chives or slivered green onions
Note: I made a double batch in the photos and did have to divide all ingredients by 2 and then pour into two pots for the simmer part