This is a guarantee to "impress your guests" dinner finale!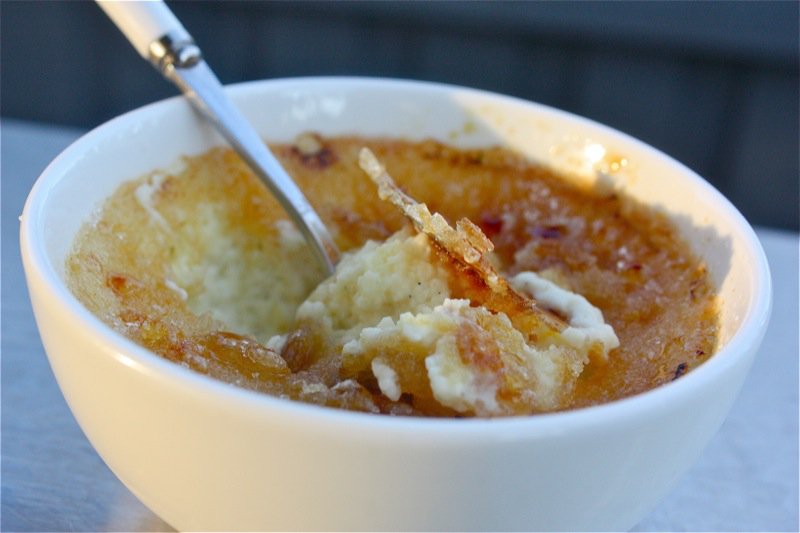 Mmmmm…. eggs. I used to hate them when I was a child. The gelatinous texture and the seemingly unpleasant flavour made me squeamish. I still remember.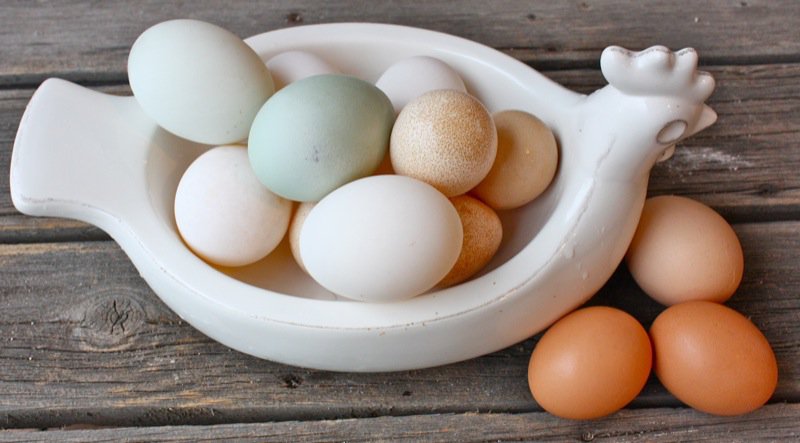 Now, I believe they are a divine creation: the perfect food. The perfect gift to any chef or baker. When in Paris this past summer, I was reminded daily how much the French celebrate the egg. I have decided to do the same. I had already started. I never buy eggs from the Supermarket. I do have a supermarket and do shopping at a supermarket (The Real Canadian Superstore is my Supermarket of choice.) but, I buy all groceries first at a Farmer's Market, second at The Italian Center Shop (and now and then some other independent grocers like The Budapest Deli), and finally at the Super Market. That is a decision I made long ago to support my local community. My eggs must come from a farmer. There is nothing better. I have been buying them from Sunworks Farm at Old Strathcona Farmer's Market. Lately, though, I am doing egg tastings, asking egg questions, and learning more about my eggs.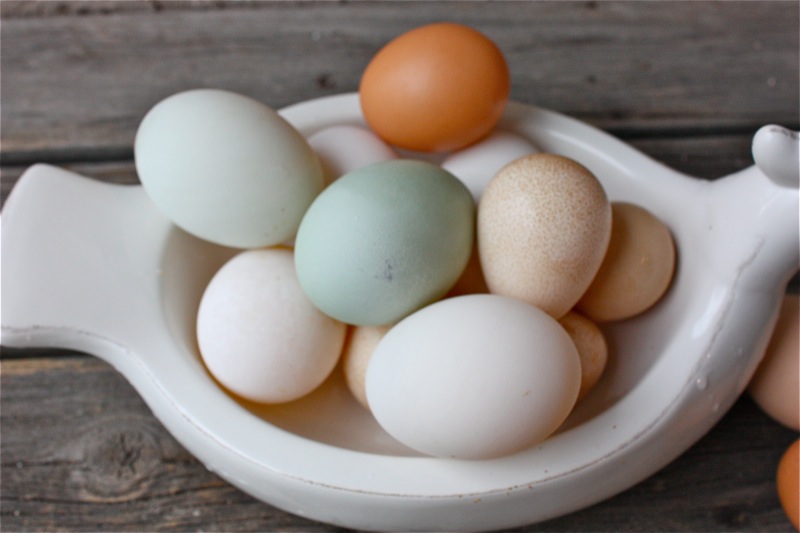 Questions like: What do you feed your chickens? Are they really free range chickens?
And I am an adventurer. I always have been. In the above photo are duck eggs (the big blue and white ones), guinea fowl eggs (the smaller light speckled brownish ones) and chicken eggs (the dark brown ones). The all taste very similar. The duck eggs are more gelatinous than a chicken egg and don't break down when making a zabaglione. They hold up and that lovely dish lasts so much longer than anyone would expect when made with duck eggs. In the creme brulee, the duck eggs were gorgeous. I will have to make chicken egg creme brulee and duck egg creme brulee at the same time to do a taste test to really know if there is any difference at all. (Won't that be an ugly challenge!) Mary Ellen (from Greens Eggs and Ham where I got both the guinea fowl eggs and the duck eggs)Â said the guinea fowl egg tended to be a bit more acidic than a chicken egg. I didn't find that. I found that there was less albumen around the yolk and that when hard boiled, they were a bit rubberier. Otherwise, they were very similar. Quail eggs are not pictured here. Sometimes they are fresh at various stores. They were just in Super Store last week. I can never count on a source, so don't use them as much as I would like to. They are a lot of fun for me to use on appetizers or miniature platings as I find they taste very similar to a chicken egg. I always have a can of hard boiled quail eggs in the cupboard so I can have them near a charcuterie platter with pickles and cheese. They are also delicious after spending the night in dill pickle juice: all garlicky and dilly and fun to eat.
When in the former Yugoslavia this summer, I had eggs with bright florescent orange and almost red yolks (which you will see when I post Vanja's mother teaching me how to make "Floating Islands"). The farmers took great pride in the colour of their yolks the more yellow, the better. Then, the more orange, the better. Now… red? Yikes. What are you feeding your chickens? Apparently, there, the answer is: corn. The more corn, the better.
But, what are you feeding your chickens? Soy is cheap. Is it good for the chickens? Is it good for me? Is it good for my family? I want the best eggs. Maybe that is why I went to the farm with the River City Chicken Project to investigate having my own chickens!
So, for now, I buy from Sunworks Farms. They are really good organic eggs. I am looking at and tasting others, too. Suggestions?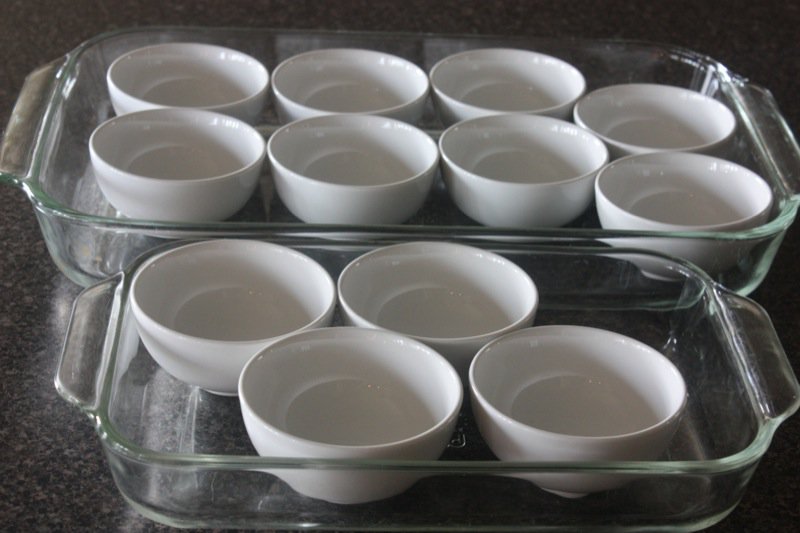 Dinner at Kevin and Pam's aroused my thinking in many ways. First, I have to make Créme Brûlée again, and more often. We love it. Second, I need a "real" blow torch! Not that little kitchen gadget blow torch I spent forty dollars on a few years ago that takes 5 minutes to caramelize one brulee. And, third: I need to try brûlée with duck eggs, too! It was really good. (Next time, it will be the taste test: I will do both!)
Interestingly, one chicken yolk is about 15 grams. Every one of mine were. And, each duck egg yolk was 30 grams. I was struck by that. It doesn't seem natural! Then again, almost every lemon has 4 tablespoons of juice. There are somethings that you can just count on. But, there are big lemons, and little lemons, and juicy lemons and dry lemons. The average lemon has four tablespoons of juice. Every one of my duck egg yolks was 30g and every one of my large or extra large chicken egg yolks (used for a different purpose) we 15g. Hmmm….
I decided to translate this recipe to make it in my Thermomix. Why not? I have it, and it makes my life so much more full. (grin)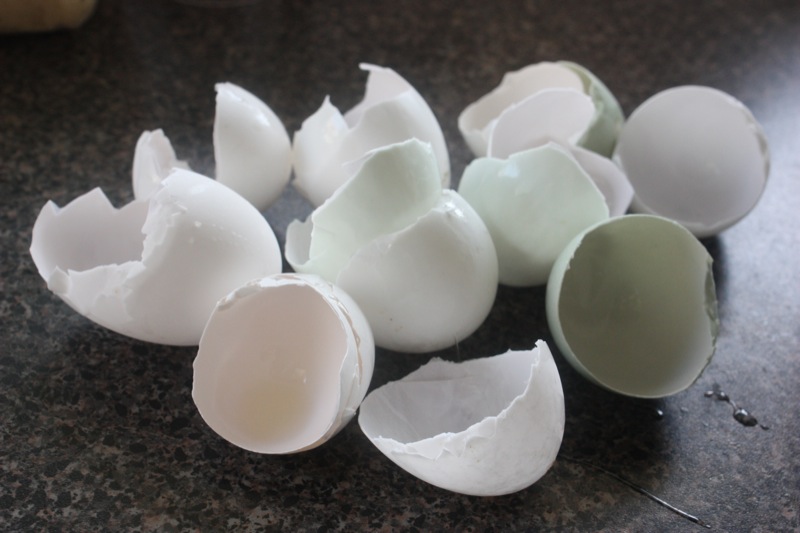 The shells are beautiful. Are we attracted to blue shells because they are different, or because Martha Stewart had them first? When Mary Ellen handed me the duck eggs at the market on Saturday and there were two blue shells in the half dozen package, I was delighted. Past delighted. Beyond delighted. I recall learning why the duck eggs are a certain colour when I went to the farm with the River City Chicken Project . Did you read that post? Here is that excerpt from it:
Although, Chrystal made it very clear that there is no difference whatsoever on the inside of the egg. "The colour of the shell determines the breed of the chicken; there is no flavour or nutritional difference between them!" You can generally tell what colour of egg the hen will lay by looking at the colour of their ear lobe. If it is brown, they will lay brown eggs, and so on. She sells her eggs and delivers once or twice a week into the city (but is currently not able to take on any new customers). Every dozen gets one blue egg. You can see the exact assortment in a photograph at the end of this post.
I can try my vanilla from G. Detou in Paris! Which one should I pick: Tahitian or Bourbon? Well, bourbon is more common. Hmmm…. I love cutting the moist beans in half and scraping out the minuscule seeds that have the purest essence of vanilla distilled with in each past the point of understanding. How can such a small particulate pack such an incredible punch? Aren't they gorgeous? And, worth every penny. YUM! It costs between $5 and 6 Canadian dollars for a good vanilla bean here. (Of course, these were bought on a very special deal in Paris this summer at G. Detou.)
I decided it would be Tahitian. They are to have a little sharper in flavour possessing a clarity that the Bourbon beans lack. We shall see. I always keep the pods in my sugar bowl to offer their still significant flavour to my sugar. Wrapping up the beans very tightly to keep them fresh is also key.
Returning from my pantry where I tucked the pods into my sugar jar, I took in my working space and had to take a picture. Don't you just love those moments during the day, or a certain time of the year, when all is clean and calm. The world has order. Your life has order, and you are cooking in your kitchen. Nothing could make me happier. I wanted to remember the feeling. I do appreciate what I have, where I live, who my friends are, and who I am every day. I take nothing for granted. Being thankful drives me. I am so thankful for my kitchen and my opportunities. And, for eggs.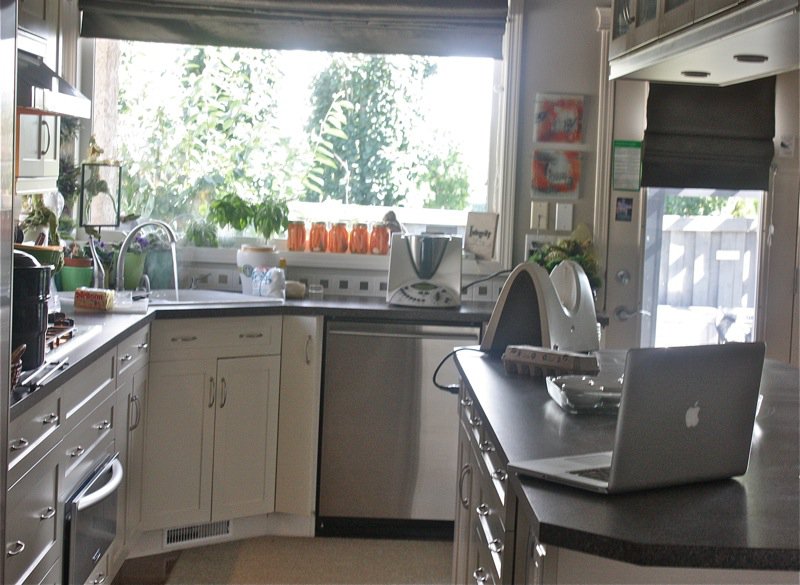 As it happened, I got thinking about how to do this in my Thermomix, and it turned out perfectly! The process is different than Kevin's but the idea and results are the same. I didn't scald the cream with the sugar and steep it with the vanilla first. Instead, I scaled the yolks and sugar into the TM bowl that I would normally temper into the hot milk. I whipped them and then added the cream, vanilla and seeds and heated them while whipping them with the butterfly to create the custard. I did it similar to when I make Hollandaise or a Zabaglione in the machine. Except, that I didn't cook the custard long enough, on purpose.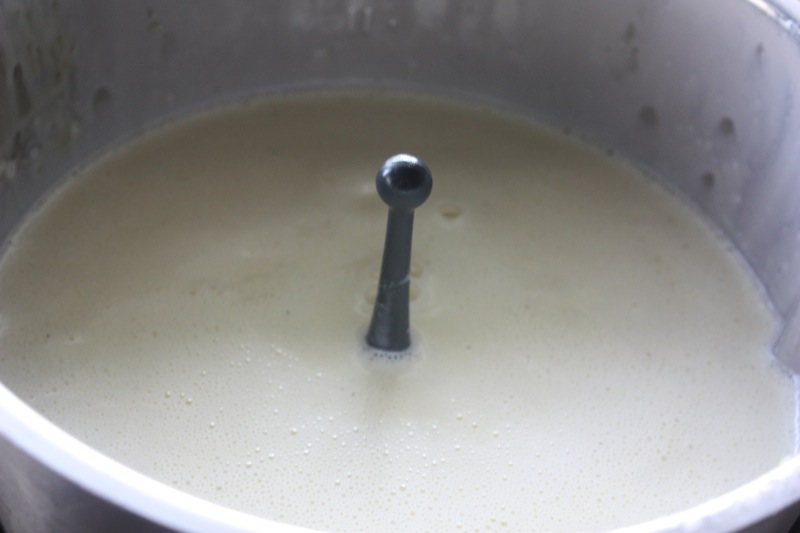 I have made this before without the Thermomix and could see the consistency was perfect. Into the serving bowls it went. A double batch makes exactly 12 half cup servings.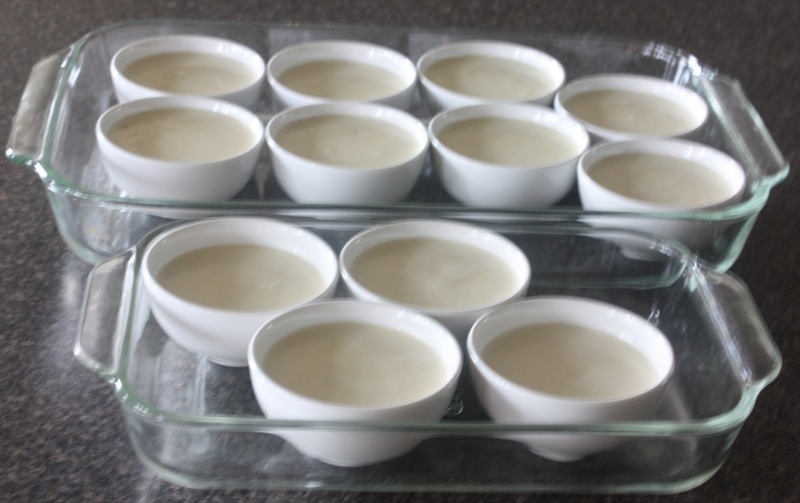 I probably should have watched the oven closer. I set it for 40 minutes instead of 45 to check it, but I did have it on convection. These would take 45-50 in my oven without convection. The convection heat made them brown on top. I will not use it next time. The need to jiggle in the centre, but the surface area should be firm. Read Kevin's tips.
There is not a photo with me using my new blow torch. Everyone was too afraid! I wasn't I was too focused on getting it to work! It took only five brûlées before I developed the touch. First, I had added too much sugar: just a skiff will do. It had been too long since making them last. Secondly, hold the torch at a 45 degree angle (even though I thought I was, I kept hearing these male voices "angle it!' "ANGLE IT!")
In any case, they were silenced soon enough as every one in the room was inside their own little private place in their head once the first spoonful was in their mouths. I must say that the deliciousness of it all even surprised me. It does, every time. Crème Brûlée. YUM. I love this! And, it is always better than I remember. Not by a little. By a seizure.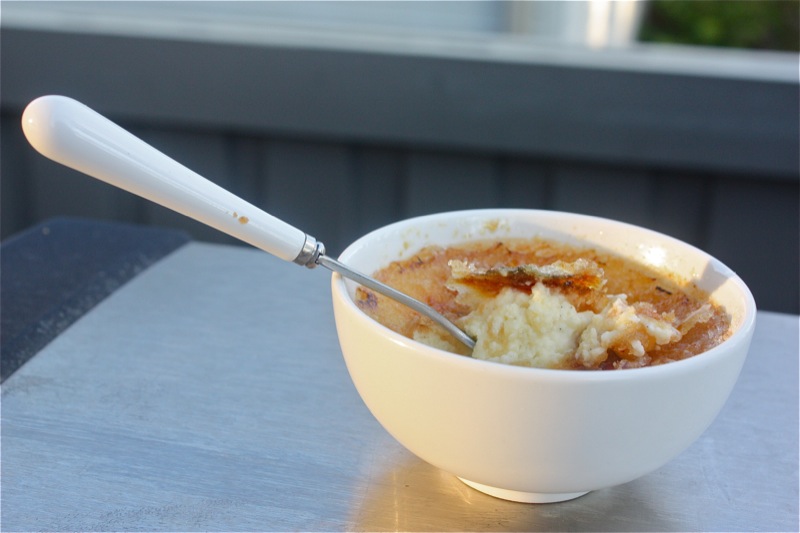 What can I say? Thank you, Kevin, for reminding me to get back to my eggs and this dessert. And, now, to continue my quest for the farmers: What do you feed your chickens? Are they really free range? And, I need to do an egg taste test and a Créme Brûlée taste test.
Oh, I love how I make plans!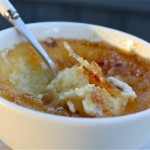 Créme Brûlée


One batch makes 6 servings; I usually do a double batch which makes exactly 12 half cup servings.
Ingredients
500

mL

heavy whipping cream

1/2

organic Madagascar vanilla bean

95

g

sugar

118

g

duck yolk or chicken yolk
Instructions
Instructions without the Thermomix:
Bring cream to simmer with scraped vanilla bean contents and half the sugar

Whisk the yolk with the remaining half of the sugar

Temper the hot cream into the yolk mixture

Pour into ramekins and bake in a bain marie at 325°F until just set [about 45 minutes]

Kevin thumps the oven handle with his fist to see how much jiggle they have, and just as they start to lose the center jiggle, pulls them out of the oven

Cool, then chill

Sprinkle sugar on top, roll ramekin around to spread, and dump off excess; torch and serve
Instructions with the Thermomix:
Scale the yolks and sugar into the TM bowl; insert the butterfly attachment and whisk for 4 minutes at speed 4

Scale in the cream and add the vanilla bean seeds; cook for 4 minutes at 80°C on speed 2, with butterfly still in place

Pour into ramekins and bake in a bain marie at 325°F until just set [about 45 minutes]

Thump the oven handle to see how much jiggle they have, and just as they start to lose the center jiggle, pull out of the oven

Cool, then chill

Sprinkle sugar on top, roll ramekin around to spread, and dump off excess; torch and serve
Recipe Notes
When using thin wide dishes to enable more crunchy caramel on top, the baking time is 20 minutes.